I've said it before and I'll say it again, Dubrovnik really is one of those places you won't soon forget. After spending a full day strolling around this magnificent medieval city, there's no better way to spend day two than by taking an easy day trip to Dubrovnik's Lokrum Island.

Getting to Lokrum Island really couldn't be easier. It is a stone's throw away from Dubrovnik — only 500 m away from the old town — and takes only 15 minutes by taxi-boat, which depart from the old harbour every half an hour in the summer. Tickets cost 70 kn return (9 euros) and includes entrance to the island as it is a Nature Reserve.


Lokrum Island is only small — less than a mile wide — and so navigation is no problem. Making this day trip really is a beautiful way to escape from the hustle and bustle of Dubrovnik as, clearly, I'm not the only one who has fallen for this city!. Here are some top things to see and do on the island:
1. Swim in the 'Dead Sea'
Or Lokrum's miniature version at least. The island is home to an idyllic little salt lake connected to the open sea and surrounded by steep rock walls and fragrant pines. Take a dip in the 10 metre deep lake and marvel at how difficult it is to sink!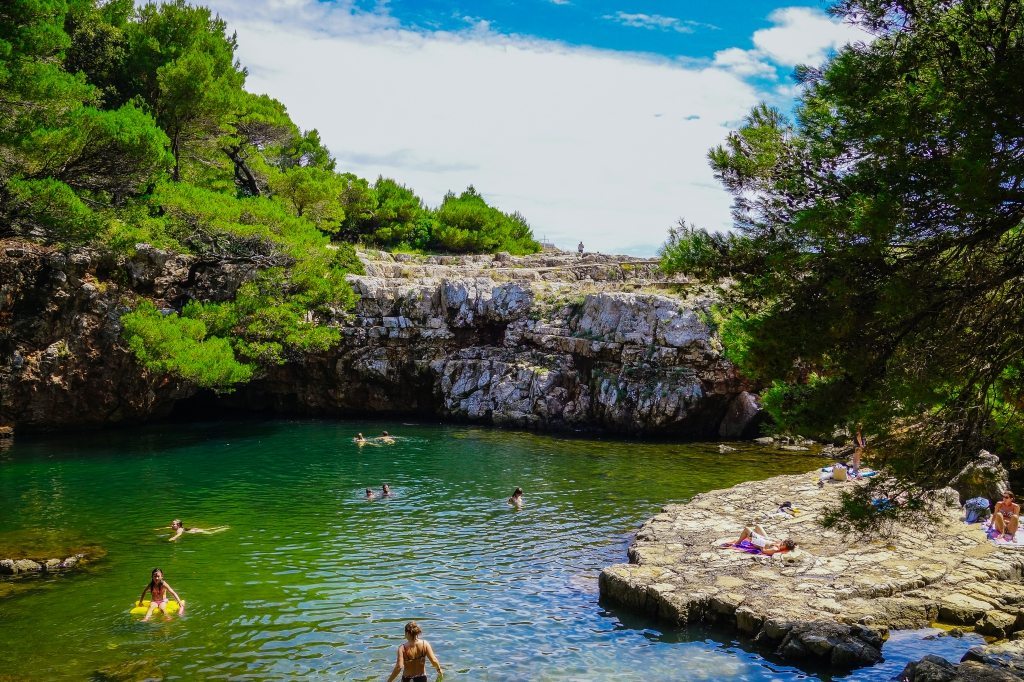 2. Meet the locals
Given the fact that this island is a protected nature reserve, it is forbidden to stay overnight here. Unless you are a peacock that is! One of the unique features of this island is its large, wild peacock and peahen population. Brought over from the Canary Islands 150 years ago, these beautiful birds have flourished on Lokrum Island. Far from timid, don't be surprised to have them approach you while you relax on the rocky beach or in the lush gardens.

3. Take in the views
Gaze out on to uninterrupted views of the Adriatic sea from the far side of the island. The glimmering water appears to stretch on forever, even whilst knowing that Italy is at the end of that horizon! If you have brought some lunch over with you, like a spinach and cheese burek perhaps, this is the perfect place to enjoy a picnic.


4. Find the perfect swimming hole
If you're looking for a spot to swim without being swamped by tourists, the rocky beaches that line Lokrum island's shore are your perfect answer.

Don't expect a gentle sandy slope into the sea; instead, be prepared to enter the water via one of the many steel ladders that have been affixed to the rocks. Tip: bring some goggles with you — the water is crystal clear.

5. Go back in time
Lokrum Island once belonged entirely to the Benedictine order and exploring the crumbling ruins of the monastery buildings will ignite your imagination and transport you back to medieval times.

Other things to do on the island:
6. Stroll through the exotic Botanical Gardens
Lokrum Island is home to a spectacular and diverse Botanical Garden which contains over 500 varieties of exotic plant species from South Africa, Australia, Chile, California, among other varied geographical locations.
7. Let it all out
Hate those tan lines and prefer suntanning in the nude? Head to the nudist beach on the island's south side and not far from the salt lake.
8. Get lost among the olive groves
Planted during Benedictine times, a wander through Lokrum's old, shaded olive groves is a true pleasure.
9. Ascend to Fort Royal
Built on the point of highest elevation on Lokrum Island at 96m is the star-shaped Fort Royal, constructed by the French in 1806 after their occupation of Dubrovnik. It's a small hike for a beautiful view of the surroundings.
10. Enjoy a refreshment at the café
If you're feeling parched or your belly is beginning to rumble, a small refreshment at the café near the harbour will ensure that you don't need to return to Dubrovnik too soon!
A day trip to Lokrum Island truly is a lovely way to spend some of your time in Dubrovnik. Have fun exploring!