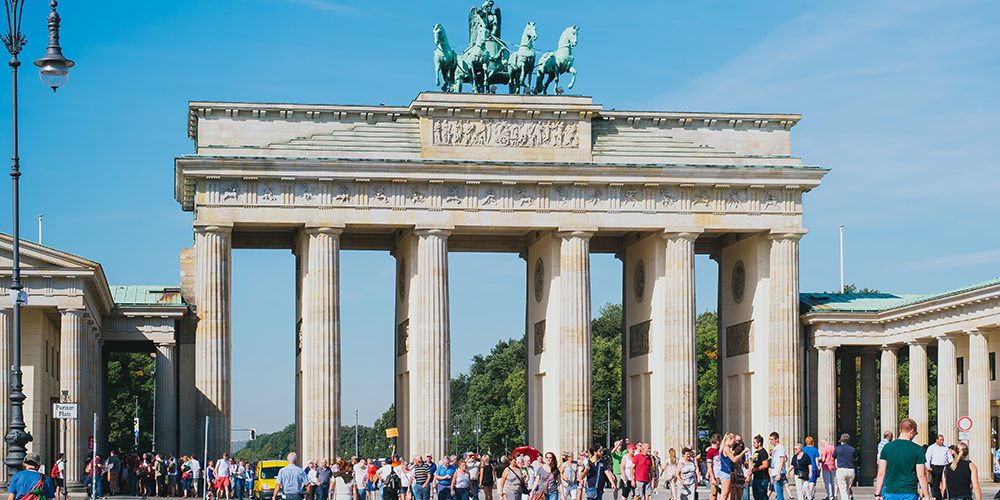 Mitte translates to 'middle' in English and is Berlin's central district and the neighbourhood where the majority of tourists choose base themselves. Home to the city's most famous landmarks and most beautiful architecture, here is The Department of Wandering's guide on how to make the most of Berlin's historic centre.
Where: Central Berlin
Popular U-Bahn and S-Bahn Stations: Hauptbahnhof, Friedrichstrasse, Rosenthaler Platz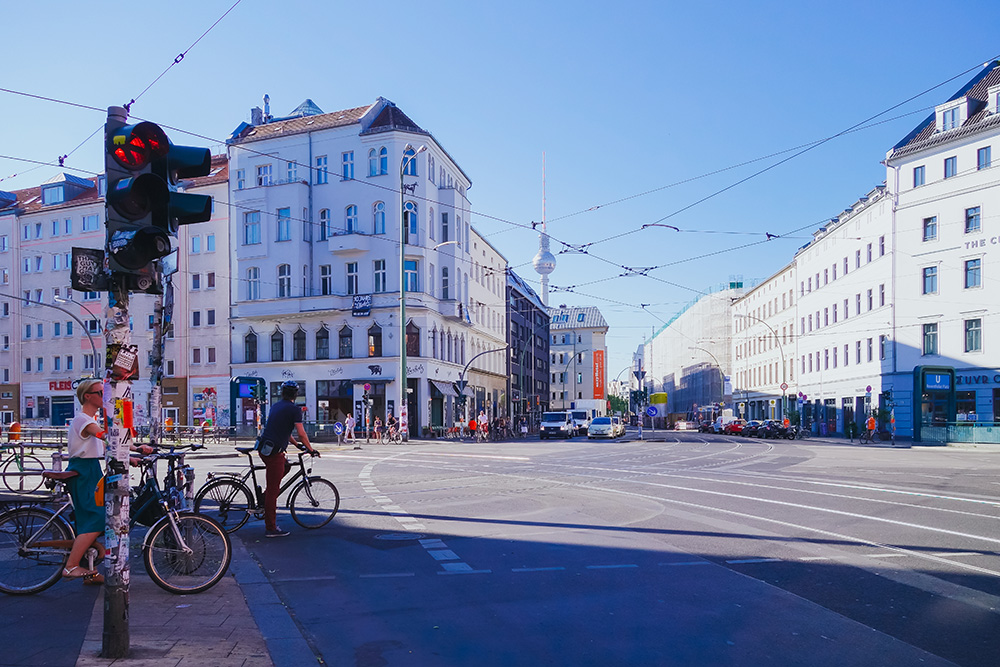 Coffee:
The Barn Roastery and Café
The Barn's opening three years ago signalled a marked change in coffee culture in Berlin. Coffee is taken very seriously here, with all manner of Third Wave coffee contraptions filling the expansive roastery space on Schönhauser Allee. For a quieter, more relaxed vibe, head to The Barn Café, located off trendy Augustraße.
Kaschk
The beautiful, wooden, Nordic design and friendly baristas at Kaschk make it a lovely place to grab a coffee and set up your laptop for the day. The coffee here is some of the best in Mitte. If you're not a coffee drinker, they also have a great range of craft beers on offer too.
Distrikt Coffee
Tucked away on a quiet street off hip Torstraße, Distrikt Coffee is a lovely place to spend a slow morning. It's spacious but homely and you'll want to linger over a few cups of great coffee after a great brunch. Top menu items here include the super food bowl with acai, chia seeds, goji berries, cacao nibs, berries and granola, or the buttermilk pancakes with berry maple syrup, banana, citrus butter and basil.
Oslo Kaffeebar
Owned by the same team as Kaschk, Oslo Kaffee Bar has been fitted out in a Scandinavian style. Its location is out of the way of the main tourist thoroughfare, which makes it that little more special.
Father Carpenter
This new café has been open for only a year and is tucked away in a beautiful brick courtyard off Münzstraße. They serve top-notch coffee in pretty blue cups along with yummy small treats.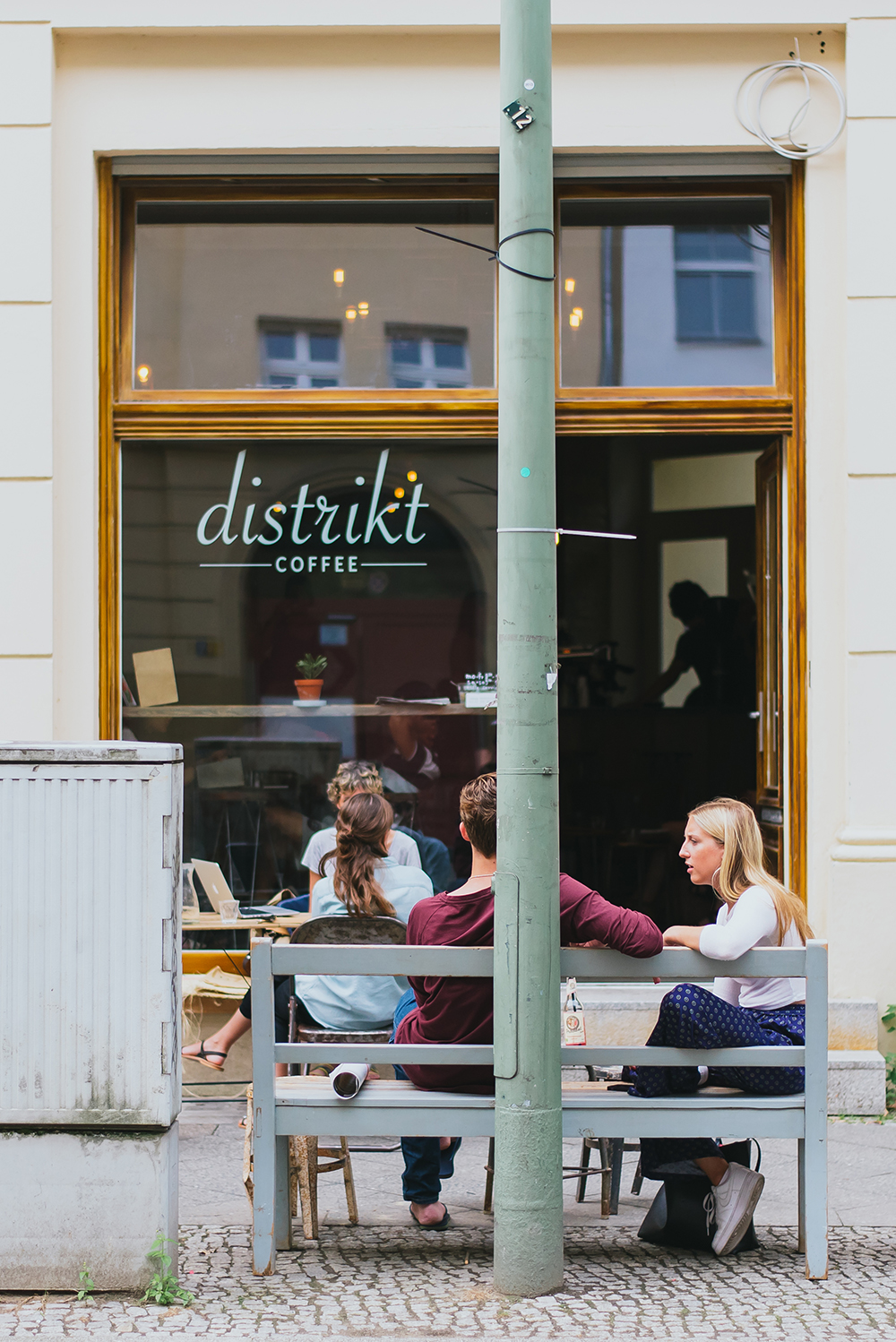 Lunch / Dinner:
Café Oliv
This tastefully designed café is located only five minutes from Alexanderplatz on one of Mitte's popular shopping streets. This is the place to go if you're craving healthy food and quality ingredients. Prices are on the pricier side but you'll be feeling fabulous afterwards!
Neta
Newly opened Neta at Rosenthaler Platz is a Mexican street food eatery with a focus on authentic cooking and simple, fresh ingredients. Mexican food can too often be heavy and oily, but the opposite is true at Neta. The pork burrito here is my favourite.
Shiso Burger
This little Korean and American fusion eatery serves the best Asian burgers in town that don't make you feel like you want to curl up and fall asleep afterwards. The burgers are of a sensible size and are served in bamboo steamers. I always order a chilli lemon burger, sweet potato fries and edamame.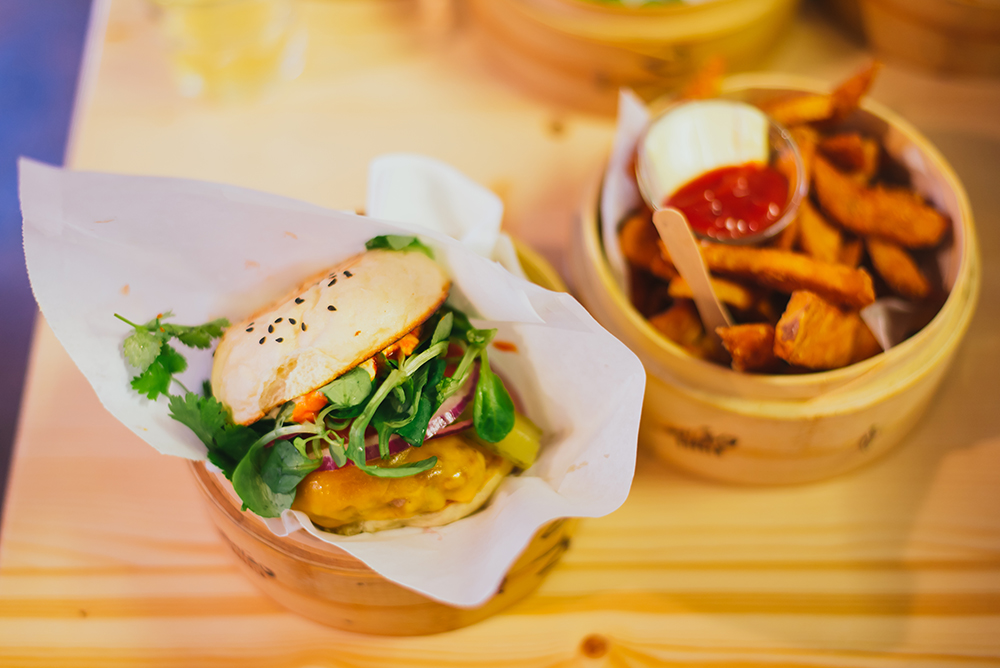 Daluma
This popular hipster health food cafe serves nutrient-packed, vegan and raw food as well as fresh juices and smoothies. The health conscious will never want to leave!
Transit
Always packed, Transit serves mouth-watering Southeast Asian tapas. Order three or four small plates per person to share, which has the extra benefit of allowing you to sample more of the menu! Reservations are a good idea here.
Cocolo Ramen
Although a larger, second Cocolo Ramen has opened in Kreuzberg, the original, tiny restaurant is in Mitte right around the corner from Shiso Burger. Come here for the best ramen in Berlin and watch the chefs prepare it right in front of you.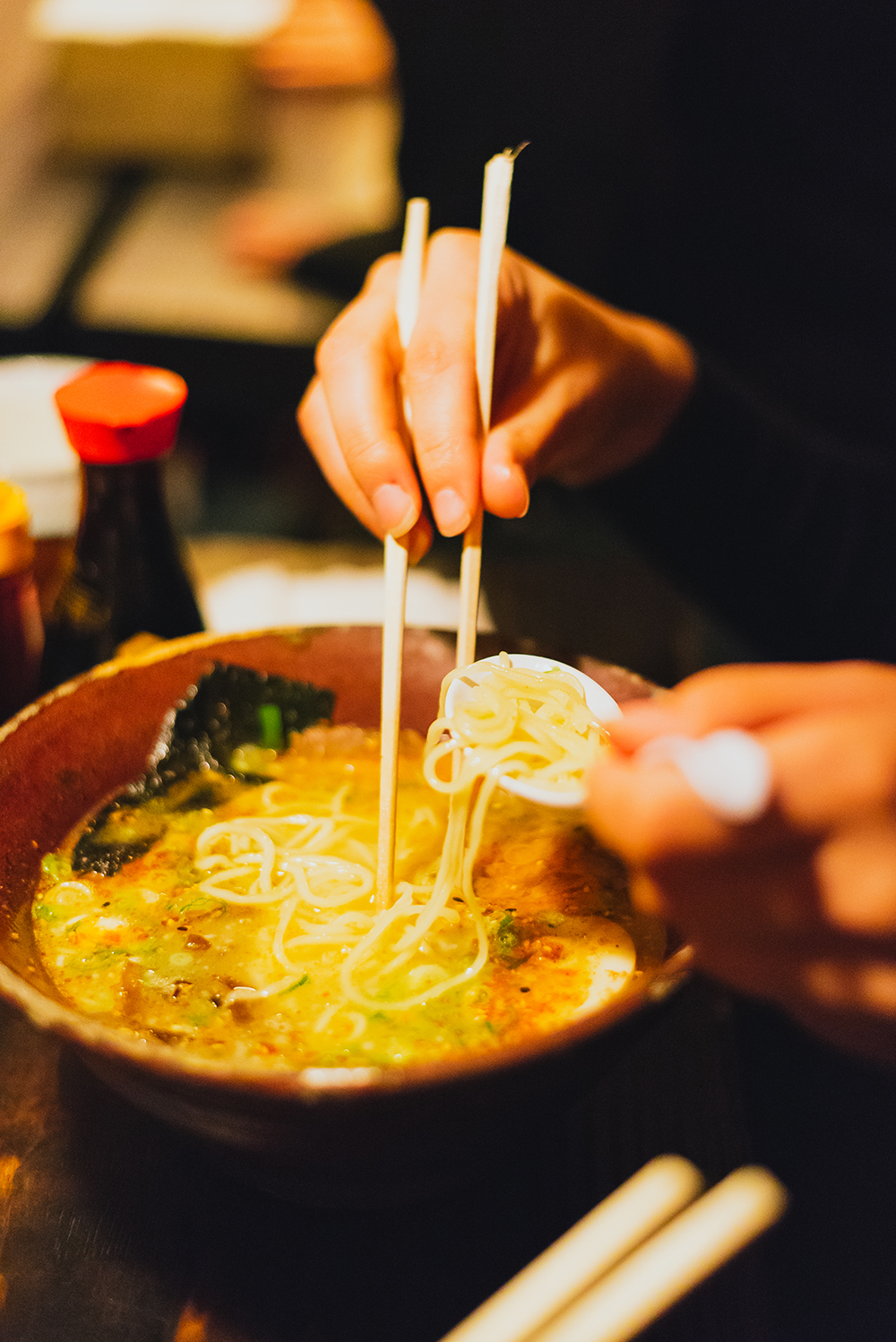 Mogg
This Jewish delicatessen located in the beautiful old building of a former Jewish Girls' School is THE PLACE to come for the best pastrami sandwich going around. While service can be slow and prices aren't the cheapest in Berlin, it's so worth it.
Katz Orange
Save this one for a special occasion; Katz Orange serves some of the best food in Mitte with a focus on seasonal ingredients and beautiful presentation.
Dean & Dan
You can't miss newly opened Dean & Dan at Rosenthaler Platz with its bright neon sign advertising 'superfoods and organic liquids'. I love the acai bowls here.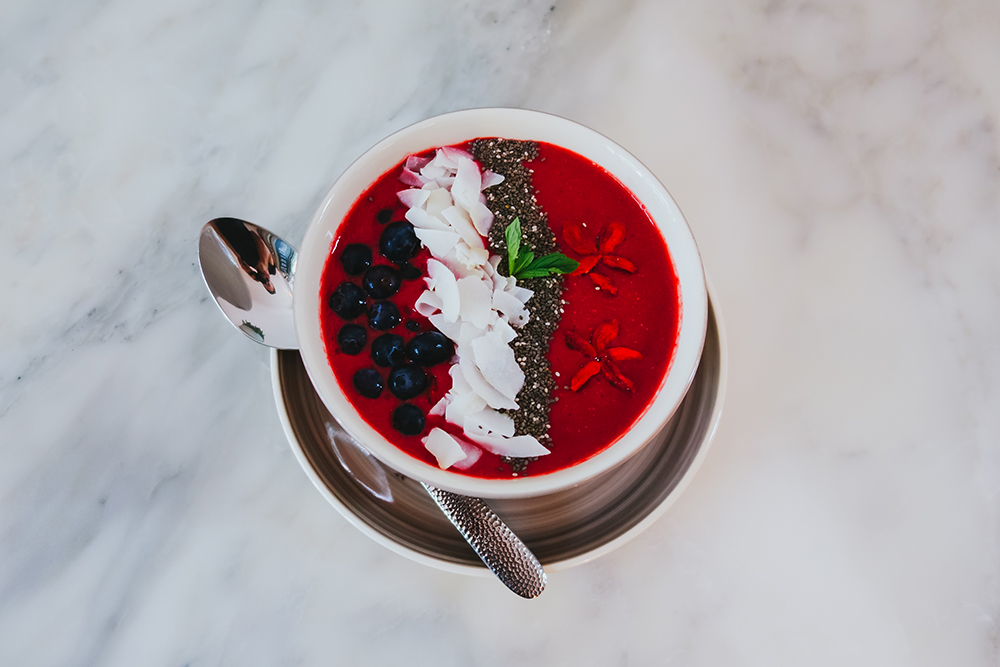 La Foccaceria
For a quick, cheap lunch, duck into La Foccaceria near Zionkirchplatz. They serve focaccia topped with all manner of pizza toppings and you can buy them for only €1.50 per slice.
Chicago Williams
If you like your meat, Chicago Williams is your place. Come here for multi-person meat platters, ribs and smoked meat of all kinds.
District Mot
Although the service here is not the friendliest, District Mot serves surprisingly authentic Vietnamese food. While Monsieur Vuong might be busier, the quality of the food at District Mot is far superior. The focus here is on Saigon street food and I can never go past the Bun Cha.
To drink:
Mein Haus am See
Mein Haus am See is a former bookshop and warehouse located at Rosenthaler Platz and is a favourite gathering place. With its homely feel, flea market styled décor and unique stepped seating area, it's a fun place to unwind at the end of the day.
Café am Neuen See
A Biergarten located in leafy Tiergarten, Café am Neuen See is a peaceful location for a drink in summer. Relax by the water or hire a boat and go paddling.
Strandbar Mitte
An open air bar located on the banks of the Spree opposite the Bode Museum, the Strandbar Mitte transforms into an open air dance party in summer, with salsa, tango and cha-cha evenings rotating.
Amano Hotel Rooftop Bar
For stunning views of the city skyline from a central location, the rooftop bar at the Amano Hotel near Rosenthaler Platz is a lovely spot to head around sundown in the warmer months.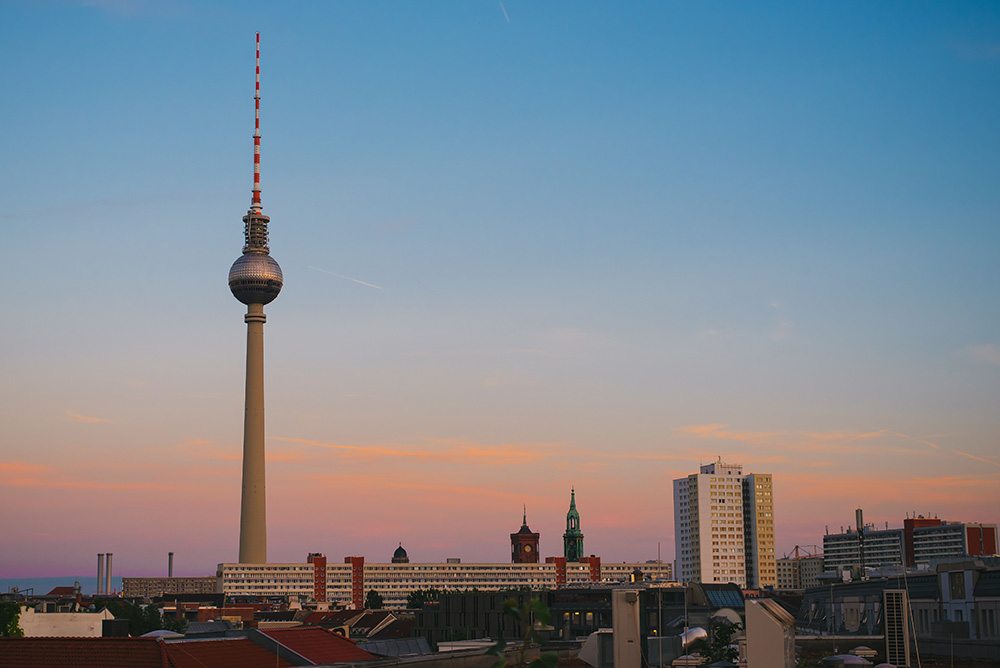 To see:
TV Tower
While the iconic TV Tower can be seen keeping a watchful eye over you from just about anywhere in the city, it you're keen to ascend to the top of Germany's highest structure, you'll be rewarded with sweeping views across Berlin.
Bebelplatz
In 1933 it was here at Bebelplatz outside Humboldt University that thousands of books went up in flames during the infamous Nazi book burnings. Today there is a thought-provoking memorial here that should be viewed by any visitor.
Museum Island
The UNESCO World Heritage listed Museum Island contains a cluster of five world-renowned museums filled with treasures. Buy a three-day pass for the most economic way to see the best museums the city has to offer.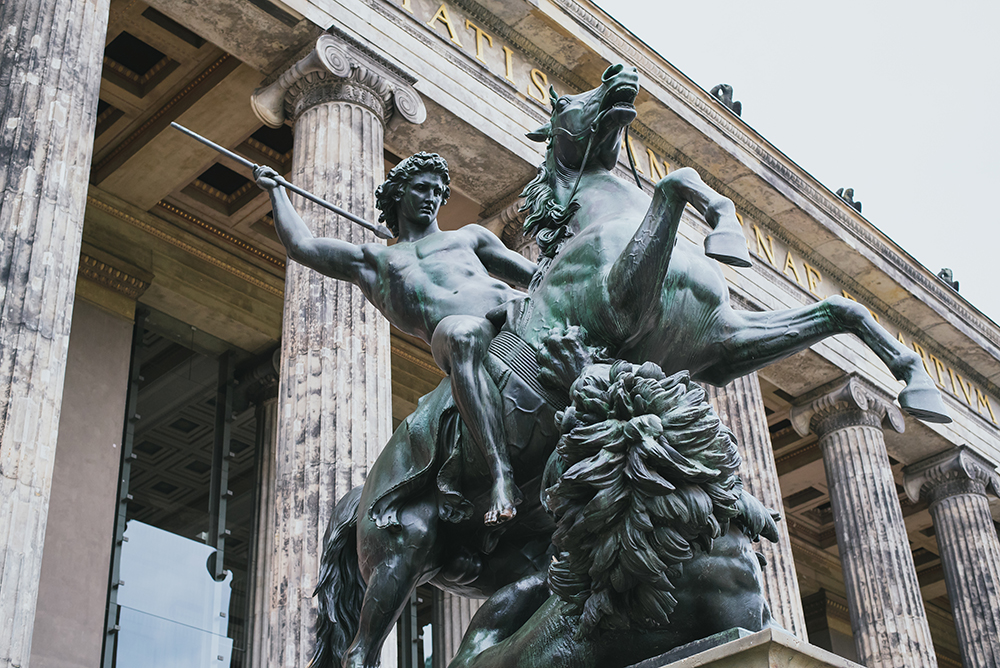 Hitler's Bunker
When Berlin was burning in 1945 and the Soviets were advancing, Adolf Hitler committed suicide together with wife Eva Braun in his bunker. Although the bunker no longer exists having been blown up by the Soviets, you can visit the site of it where an unassuming car park has been built over it. A small information panel is the only clue as to what happened here.
Humboldt University
Here at Berlin's oldest university, this was where Albert Einstein and the Brothers Grimm taught and Marx and Engels studied. A number of Nobel Prize winners were produced here and the grand structures are something to behold!
Reichstag
The seat of Germany's parliament should have a place on every visitor's itinerary. The building is magnificent and to truly appreciate all its history, book online to go inside and up to the glass dome for incredible views of Berlin.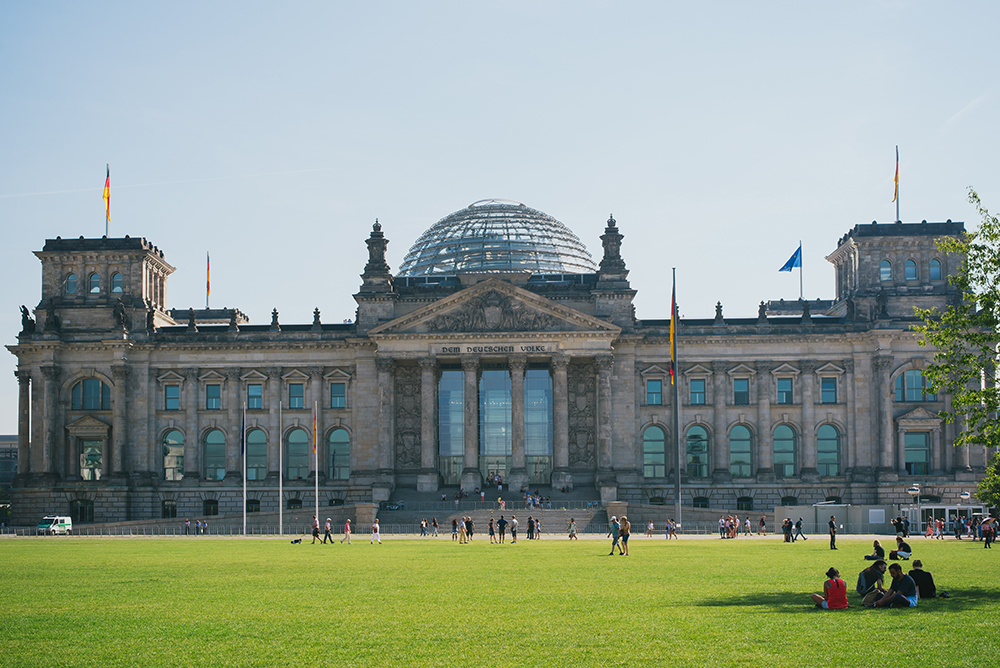 Gendarmenmarkt
One of the most beautiful squares in Berlin, Gendarmenmarkt, with its grand, opulent structures feels like no other place in the entire city. Home to two huge cathedrals and the magnificent Konzerthaus (concert house), this district feels more like Paris or London than Berlin.
Deutsches Historisches Museum
Covering 1500 years of German history, this incredible museum is housed in a Prussian-era armoury. There are a lot of very interesting artefacts housed here.
Memorial to the Murdered Jews of Europe
The extraordinary design of this memorial creates a feeling of unease and dislocation within visitors, replicating the Jewish experience during the Third Reich.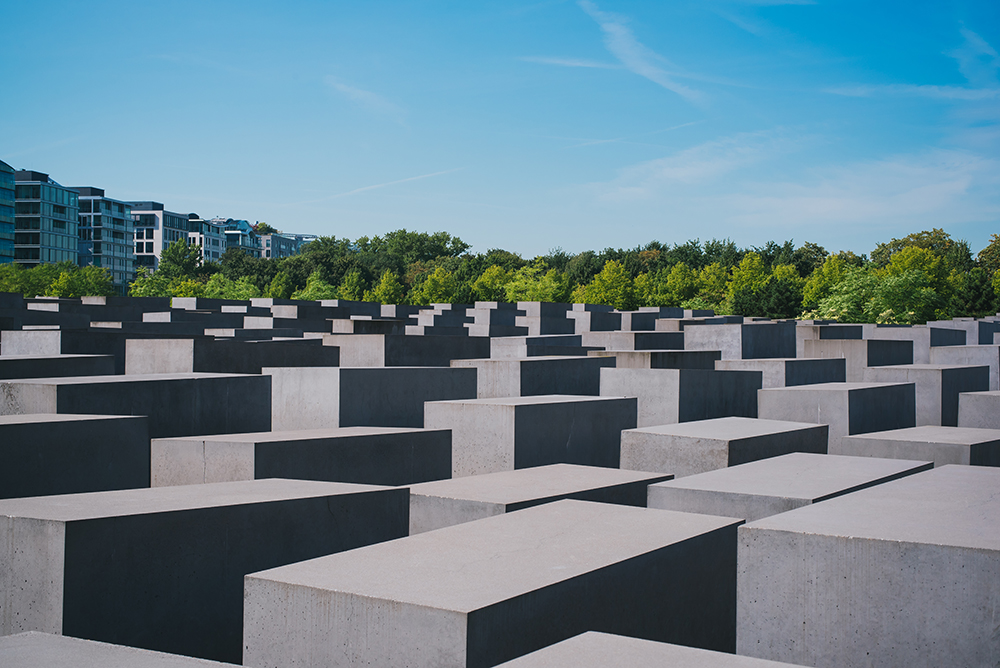 Berliner Dom
Berlin's largest cathedral is located right next to the museums of Museum Island and is a truly magnificent piece of architecture to appreciate. Climb to the dome for great views of the immediate area.
Topography of Terror
On the foundations of where the Gestapo and SS Headquarters once stood now exists a chilling exhibition that tracks the stages of terror and persecution by the brutal institutions in power. Entry is free.
Brandenburg Gate
Undoubtedly one of Berlin's most famous attractions, the Brandenburg Gate sits at the end of the beautiful tree-lined boulevard of Unter den Linden. Try and arrive early to beat the crowds.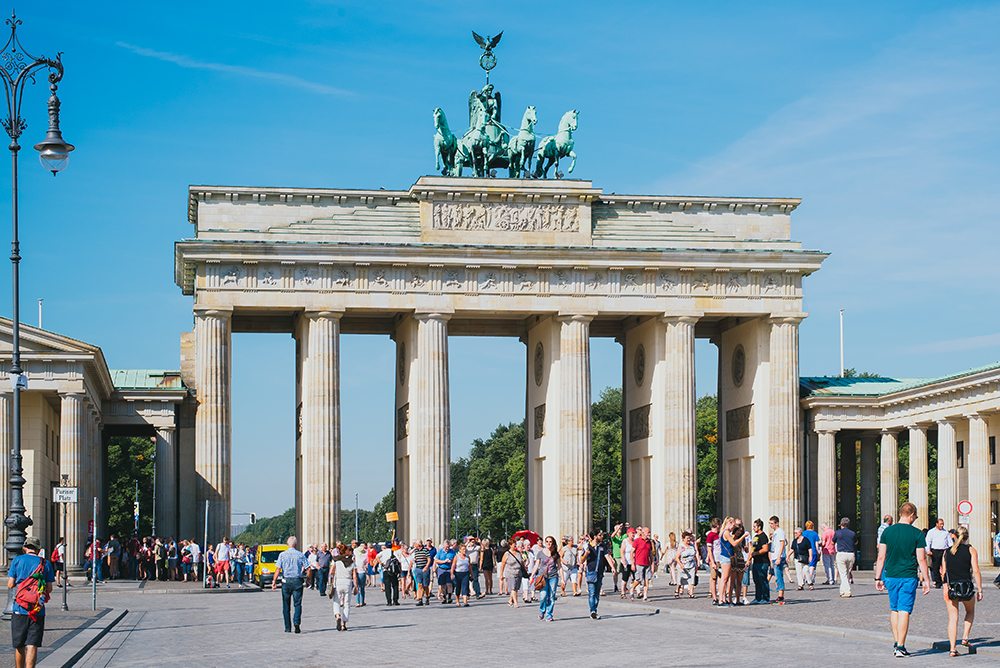 Potsdamer Platz
Potsdamer Platz is located in the heart of Berlin at the junction between the former east and west. Be sure to check out the impressive architecture that is the Sony Centre and maybe check out a movie for a low-key evening.
Tiergarten
Tiergarten is to Berliners what Central Park is to New Yorkers. This enormous park located in the centre of the city opposite the Brandenburg Gate makes for a lovely place to take a walk, ride a bike or have a picnic.
New Synagogue
The beautiful golden dome of the New Synogogue peeking out above the buildings is a dazzling sight. This historical structure is now on of the most important places of worship for Jews all over Germany. For a small entry fee you can go inside and learn about its turbulent history and admire its beautiful interior.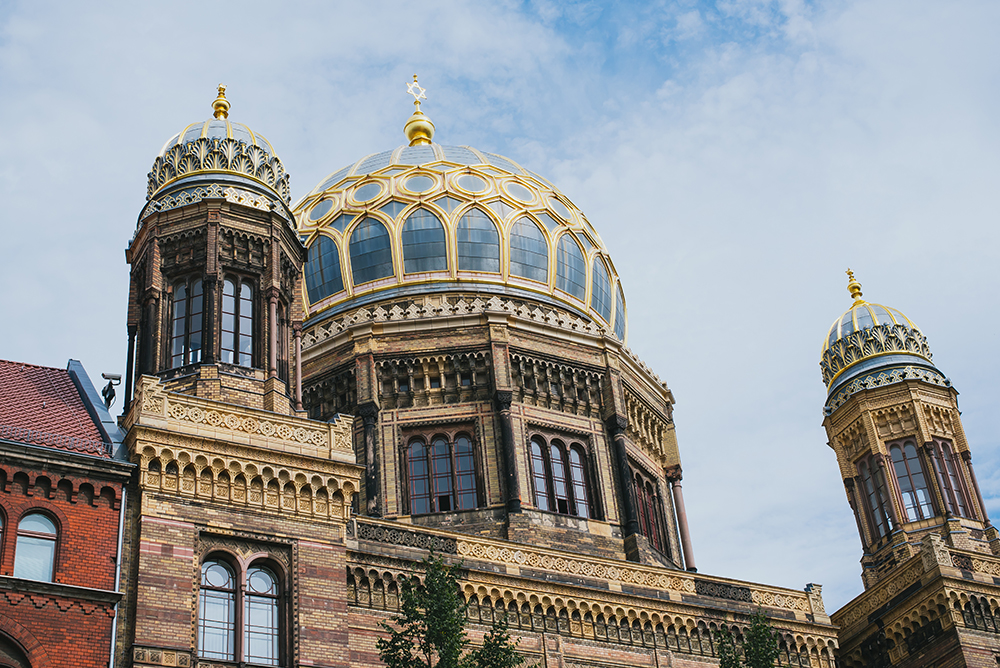 The Spree
Grab a drink and find a spot to relax along the Spree, the river that snakes its way through Berlin.
Platoon Kunsthalle
This exciting art venue constructed out of 34 shipping containers regularly holds exhibitions, workshops, performances and events. There's always something exciting going on!
Do You Read Me?
This is the place to come if you need some new reading material for an upcoming flight. Stocking a huge selection of beautiful, indie magazines on travel, food and art, you won't walk away empty handed.
What are your favourite places to eat, drink and see in Mitte? Share them in the comments below!