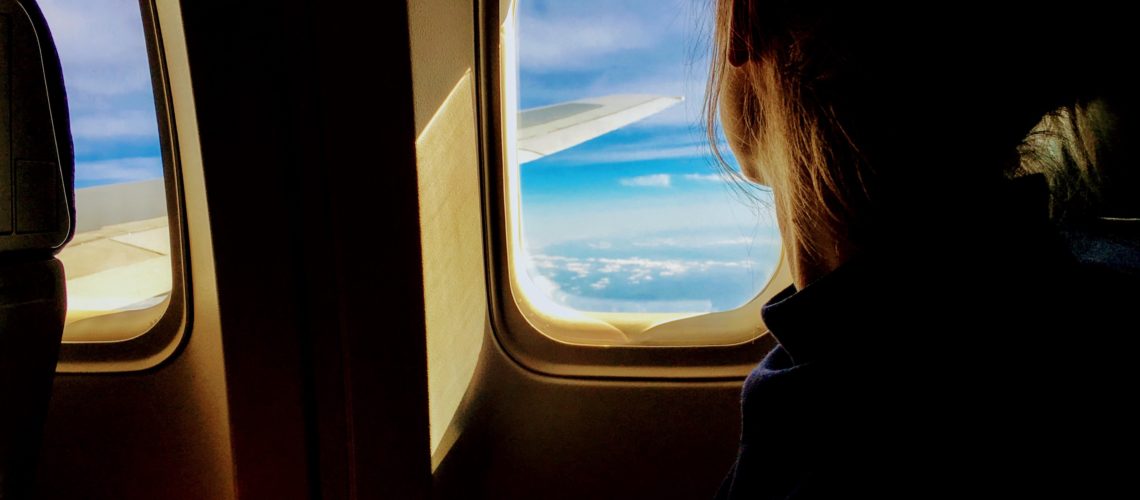 We don't know about you, but all of us at The Department of Wandering have gone on our fair share of flights. Whether it's a quick two-hour flight to a nearby city or a long haul flight around the world, we're seasoned pros at air travel. What we've discovered is that the key to making a flight not only bearable but enjoyable is knowing what to bring with you on board. We decided to compile a list of carry-on essentials you should back for every flight. These products will keep you feeling fresh and relaxed no matter if you're flying across the country or the continent.
9 carry-on essentials you should pack for every flight:
1. A good paperback book
While you can, of course, just bring a Kindle or read on your phone, we infinitely prefer a paperback book. It's a little easier on the eyes, especially with how dry the air can be, and you don't have to worry about a flight attendant asking you to put it away during take-off and landing. We recommend picking something that'll keep you turning the pages. I just read In a Dark, Dark Wood by Ruth Ware, which had me balancing my book while trying to eat dinner during my flight to Korea. Or, get excited about your new destination with a city guide.
Shop our favourites:
2. Noise cancelling headphones
Realistically any headphones will do, but noise cancelling ones really are magical. Even if you just want total quiet while you try to sleep, they're absolute gold.
Shop our favourites:
3. A pair of cozy socks
Strip off your shoes and put on a fresh pair of socks! This keeps you decent (no one likes seeing someone's bare feet) without having to keep your sneakers on. Plus many planes are either too warm or freezing, so they come in handy if you get cold easily.
Shop our favourites:
4. A scarf or sweater
Even if it's the dead of summer and you're sweating in a tank top, bring a scarf or sweater with you on the plane. It's better to not need it than to sit there shivering with only the airplane blanket to keep you warm.
Shop our favourites:
5. Sunglasses
This can sound silly, but I promise it's for more than just vanity. You can't always control who's opening window blinds around you and some people can be seriously inconsiderate. I've had people in front of me open their blinds in the middle of the day and leave them open. This leaves me squinting the whole time. You can always ask for them to close their blinds, but in case you don't feel like it or they say no, a good pair of sunglasses will be a lifesaver. You don't need a fancy pair, there are a tonne of cheap styles available online.
Shop our favourites:
6. A facemask
I don't know about you, but my face dries out completely in the air and it's not a pleasant feeling. Living in Korea has made me a bit of a facemask addict, so I always try to take one with me when I fly. I don't always use them on shorter flights, but they feel heavenly if my skin starts feeling gross.
Usually, I go to the bathroom to wash my face first and then I follow the instructions on the package. Trust me when I say, you'll have your own little spa experience in the middle of your flight.
Shop our favourites:
7. Gum
I always chew gum to help with my ears popping and just because it's something to do while I'm in the air. Also, if you're on a long flight where meals are served, gum is great post-meal to freshen your breath.
8. A hydrating mist
Back to skin care! Of course, you can't wear your facemask the whole flight. Most only recommend maybe 20-30 minutes. For those quick fixes, a small hydrating mist can come in handy. I use either Glossier's rose water mist or Avéne's thermal spring water mist.
Shop our favourites:
9. Backup clothes
Until now, I would normally never recommend bringing a pair of backup clothes with you on the plane. I never did and was fine until this last flight when my luggage was delayed for two extra days. A backup dress would have come in handy, especially because I can't fit into 99% of Korea's 'free size' clothing.
Shop our favourites:
And there you have it! Nine carry-on essentials you should have on every flight.
Looking for more posts about packing and air travel? You're guaranteed to love these:
Like this post? Pin for later!
What essentials do you pack on your carry on? Leave a comment below!
Disclosure: this post contains some affiliate links which earn us a small commission at no extra cost to you. Thank you for your support!