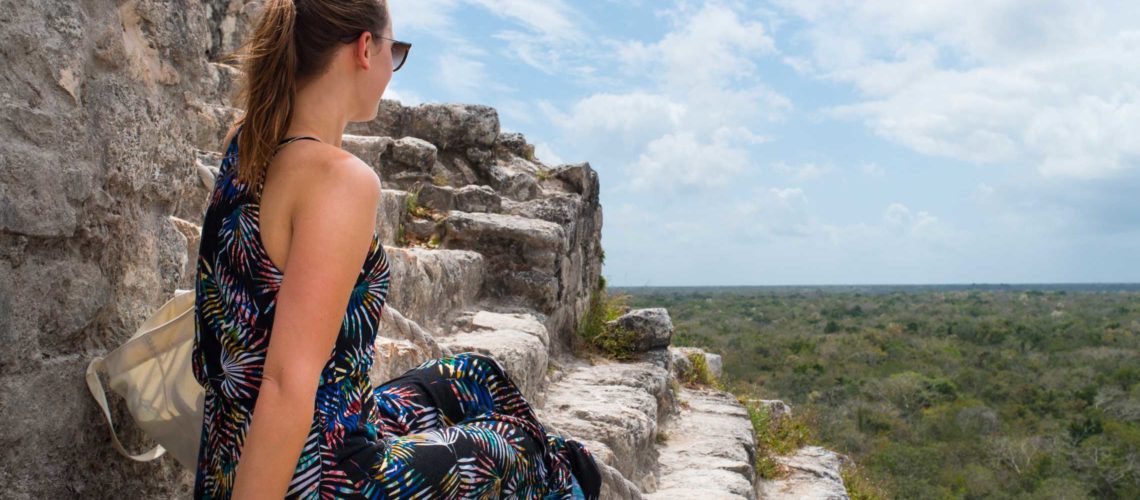 The taxi had seen better days. It was scuffed, dusty and the broken springs in the back seats dug into my ribs with every bump in the road. The dashboard was a holy shrine dedicated to some unknown saint, the image of which was carefully pinned to the dashboard. A colourful dreamcatcher and a creepy, stuffed Christmas tree with goggle eyes hung from the rearview mirror, hypnotically swaying with the breeze from the open windows.
'Where to mis amigos?' The plump taxi driver turned around with a broad grin.
'Coba per favor.'
'Ah, Coba, si. Muy bien,' he nodded in approval, reaching for the stereo dial to turn up the Mexican duranguense already blasting up a notch or three. Ben and I smiled at each other. It's going to be a good day.
Passing through Tulum town, we hit the straight and narrow, single-laned highway and headed inland. The road was lined with vendors offering fresh coconuts, makeshift shops selling brightly-coloured fabrics, dreamcatchers and hammocks as well as signage marking the entrances to the cenotes dotted around. Our driver pointed out all the best ones in a running cenote commentary as we passed by. 40 minutes later, we pulled into a parking lot and the taxi spluttered to a stop.
'Okay, mis amigos. This is Coba. I will wait here for you. Disfruta!'
We stepped out, had a little stretch and made for the ticket office, ready to get our Indiana Jones on for the morning. The only thing we were missing now were the safari hats.
How to visit Coba
I can never visit a destination without trying to learn something about it's history, so visiting some of the Mayan temple ruins in Mexico was something I couldn't pass up. While most tourists in the Yucatán Peninsula take organised bus trips to Chichén Itzá, the largest and most famous Mayan site, Coba is overlooked by most. Let's be real, being herded around with throngs of selfie-wielding tourists is basically the polar opposite of how I like to travel, so when I learned that Coba, a vast, largely unexcavated temple complex, was so close to Tulum (Chichén Itzá is about a 2hr drive each way whereas Coba is only 40 minutes), I jumped for joy because it meant that I could easily travel independently — my kind of travel style.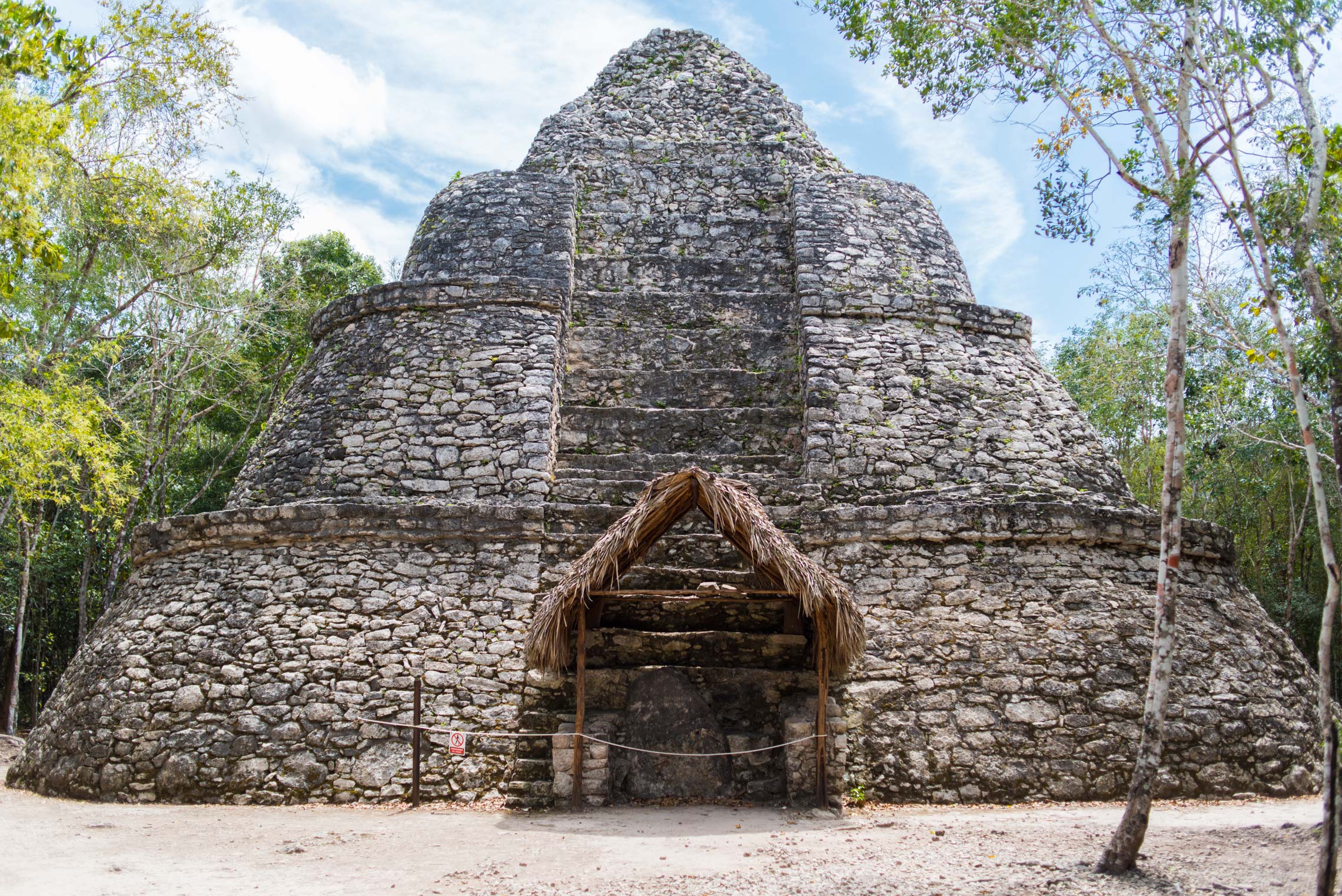 History
Coba was first inhabited around 100 CE and flourished between 400 and 1100 CE. It was the most important Mayan city in the region, home to an estimated 50,000 people and an important trade link between the Caribbean coast and inland cities. One of the most interesting things about Coba is its large network of raised, stone causeways, called sacbe that connected residential areas to the heart of the city and the water sources. More than 50 of these roads have been discovered, some running for as long as 100km out into the jungle, but only 16 are open to the public. Of the 6500 structures have been discovered at Coba, only 2% have been excavated, giving visitors the feeling of being in a real-life Indiana Jones movie!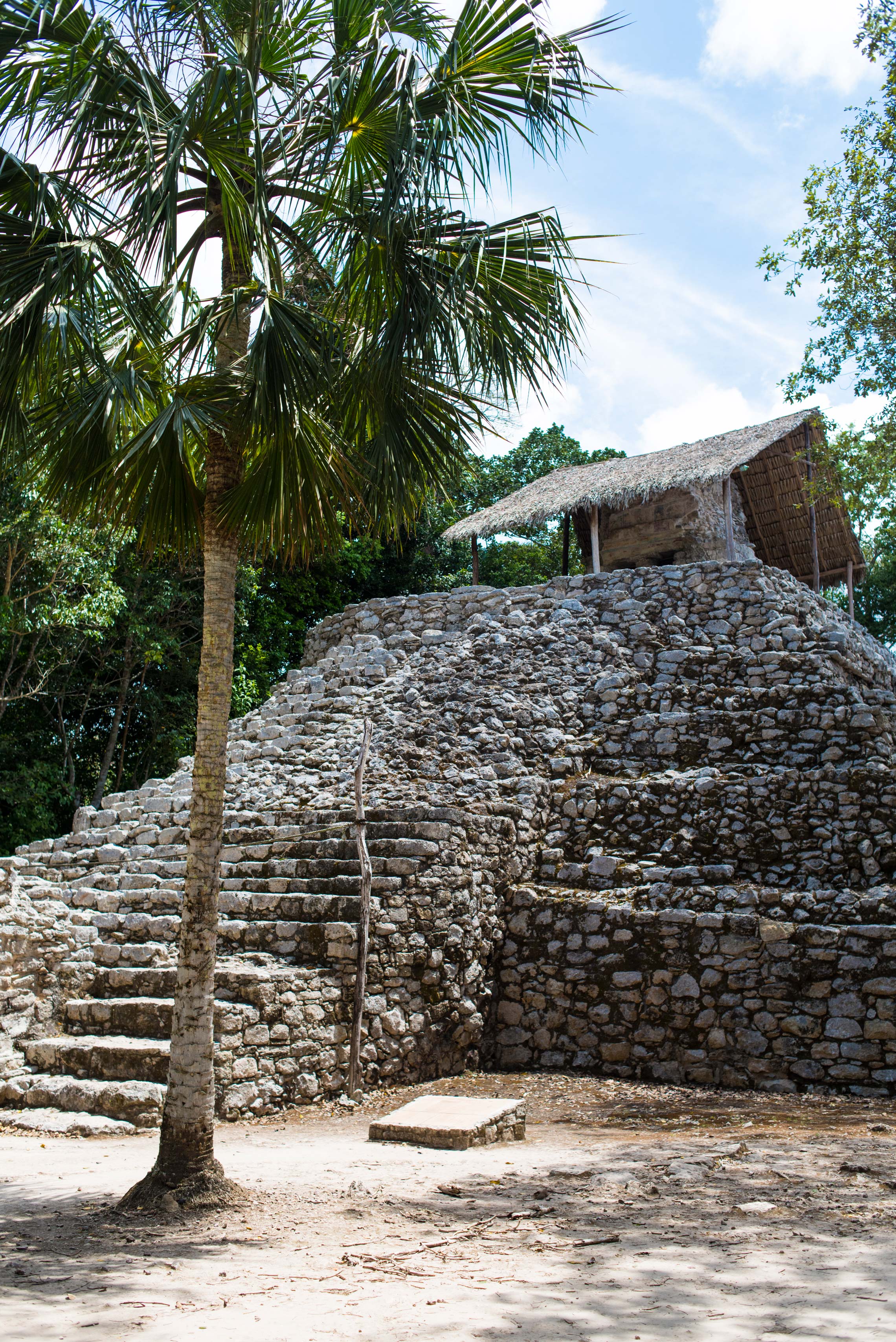 Rent a bike
After purchasing our entry tickets for 65 pesos ($4 USD) each, we headed into the complex. There were lots of guides milling about, offering to take us on a guided tour, but we opted instead to explore on our own. There's a map at the entrance that shows where the main sites are, but the scale can be deceiving. The complex is HUGE. There's no way you want to be walking between all the sites — you'll be there literally all day and will be exhausted from the heat before you've even seen much. Hire a rusty bike from the little rental shop just inside the complex for around 45 pesos ($2.50 USD). The bikes aren't the best maintained but it's all you need to get around. If you're not so confident on a bike there are also bicycle taxis that can ferry you around for a small fee.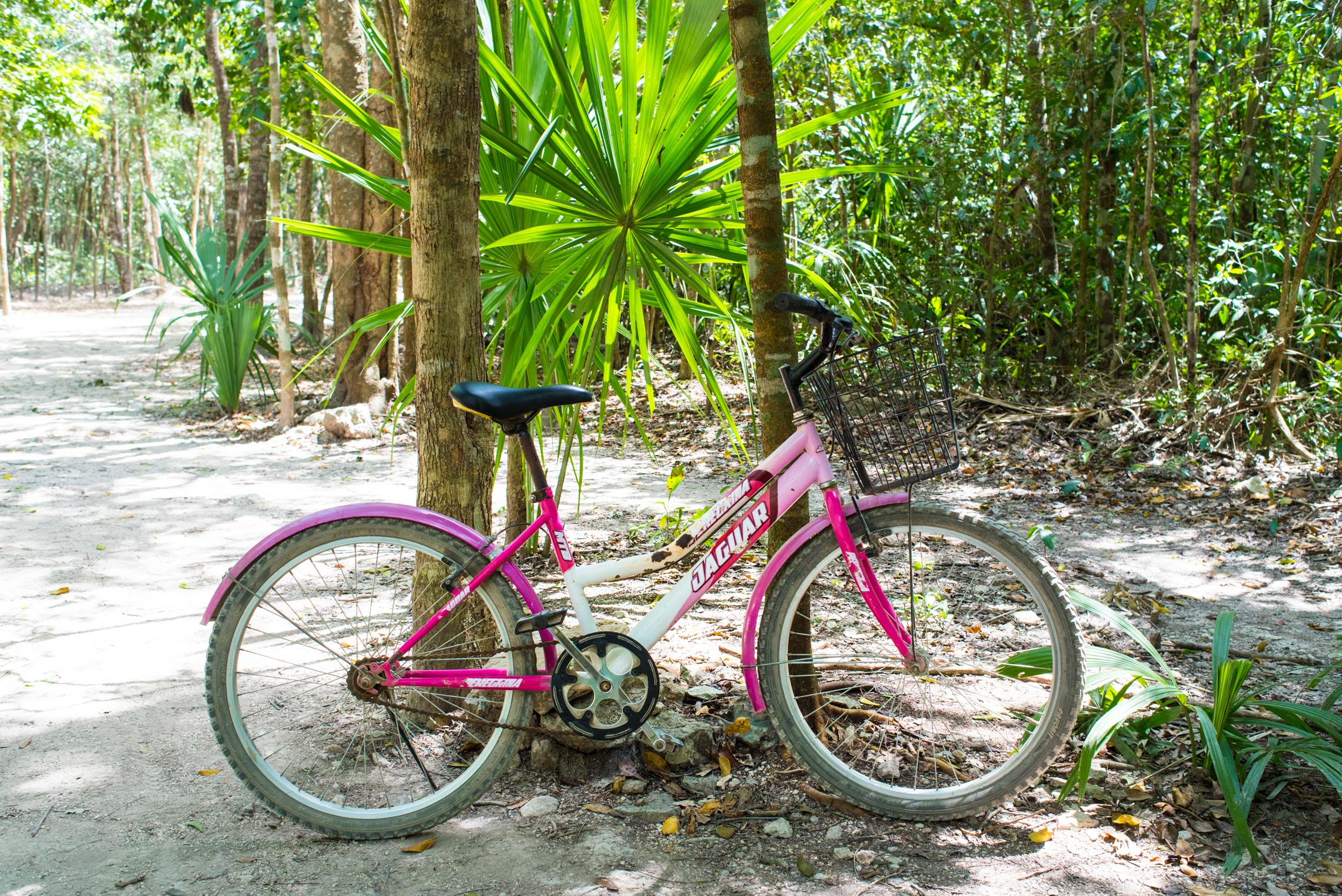 Climb the pyramid of Nohoch Mul
We made a beeline for Nohoch Mul, the largest pyramid at both Coba and the entire Yucatán Peninsula. This was the heart of the ancient city and is located 2km from the entrance. Unlike other Mayan sites, you can actually climb to the top of this pyramid. Be warned, even though it's only 42 metres tall, the 120 stone steps up are much steeper than they look — so much so that there's even a thick, rope running down the middle for safety! When you make it to the top, you'll be rewarded with the most spectacular view of the jungle stretching out below you in all directions.
WARNING: be very careful getting up and down. There are no safety barriers and it's a long, long way down if you trip and fall and unfortunately there have been some fatalities in the past. The stone steps have been worn smooth and are slippery so be especially careful coming down. I took off my shoes to come down for more grip with my bare feet.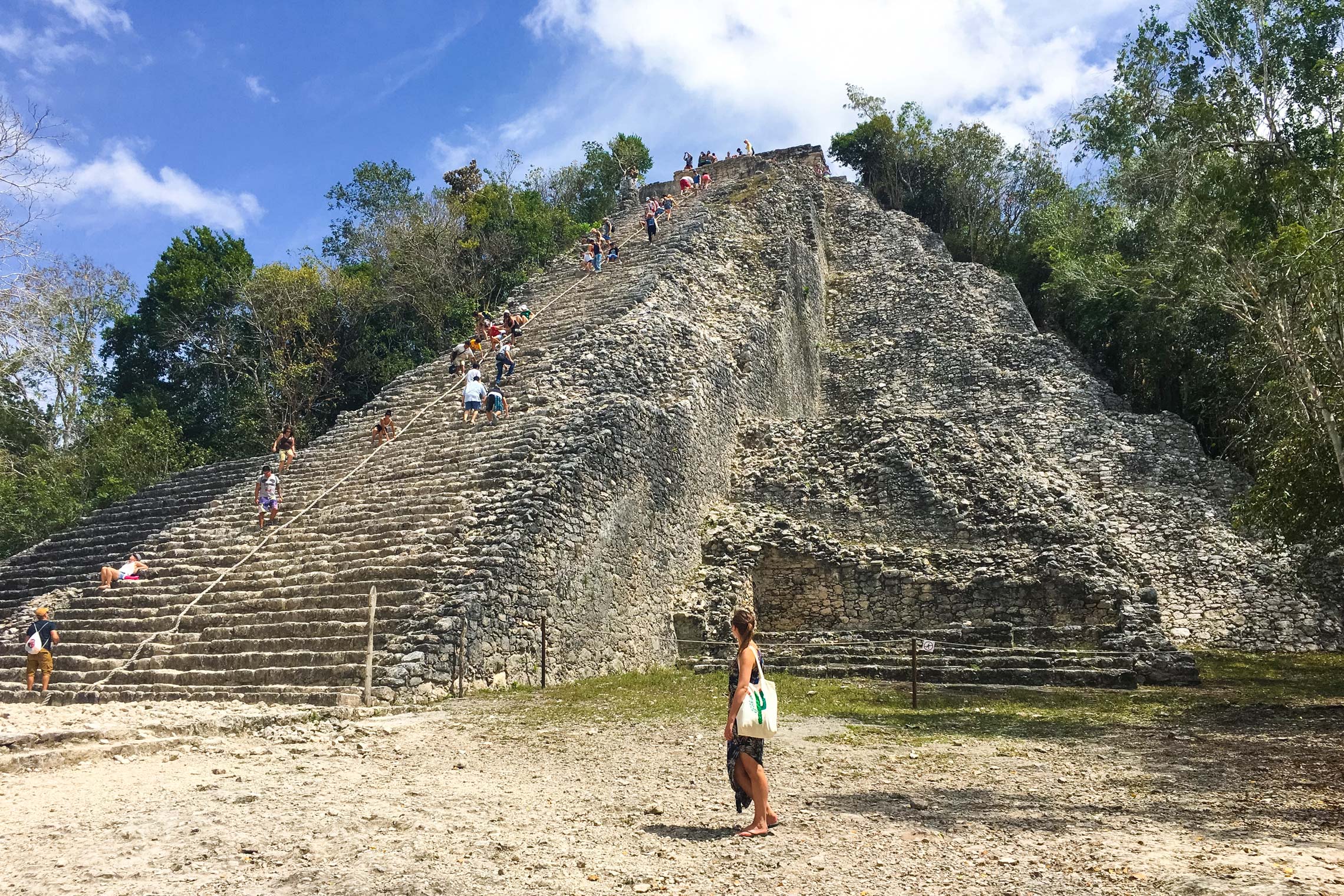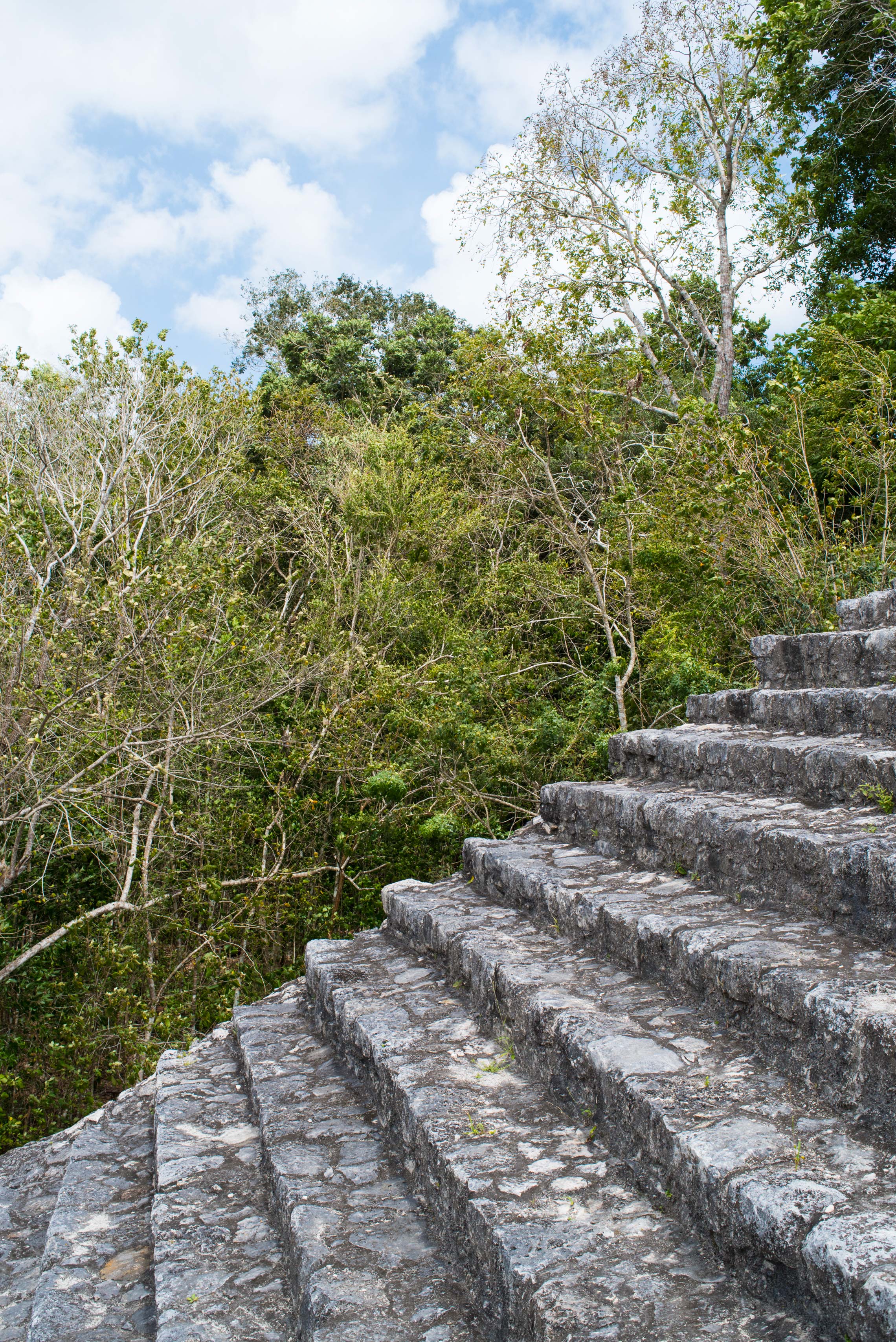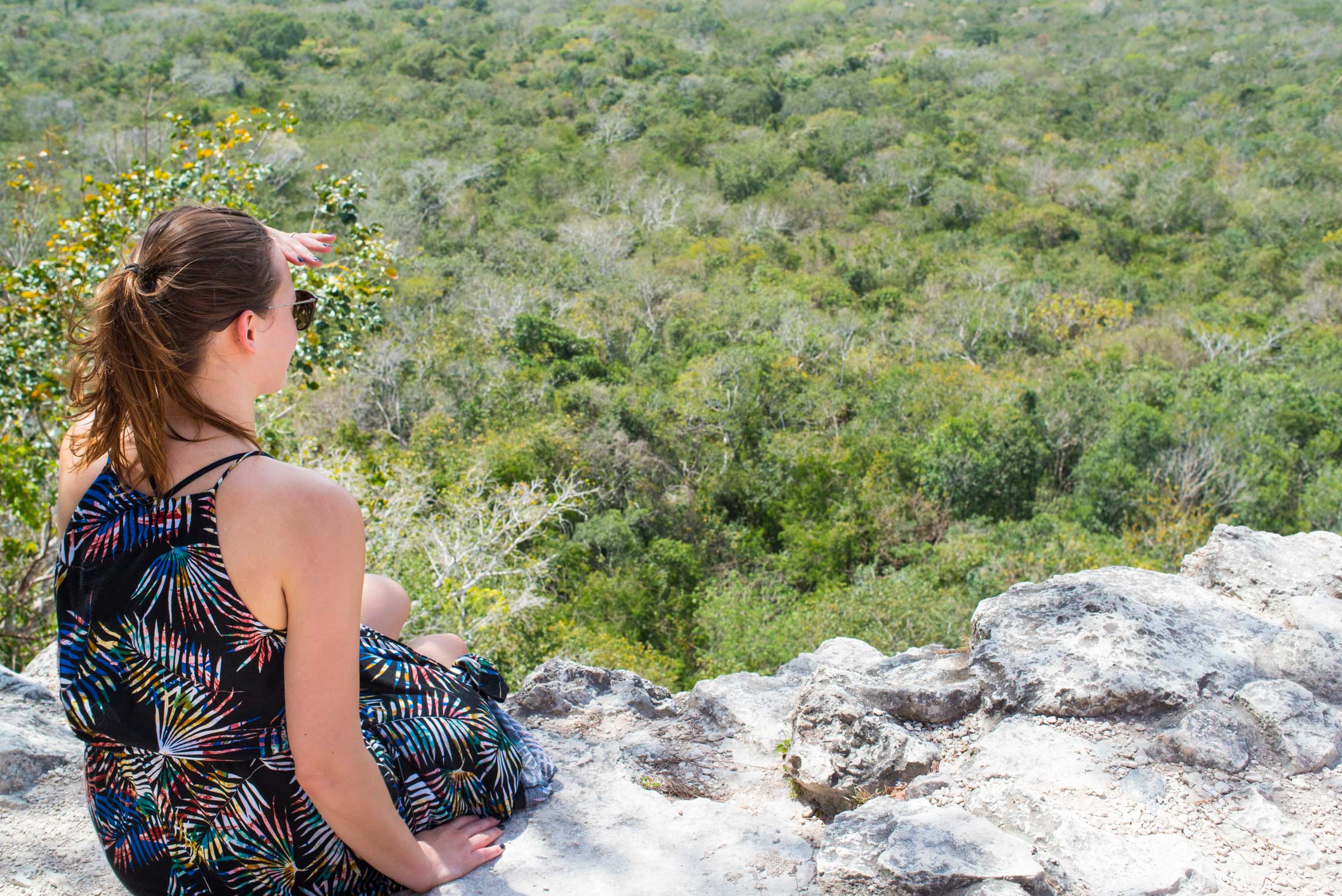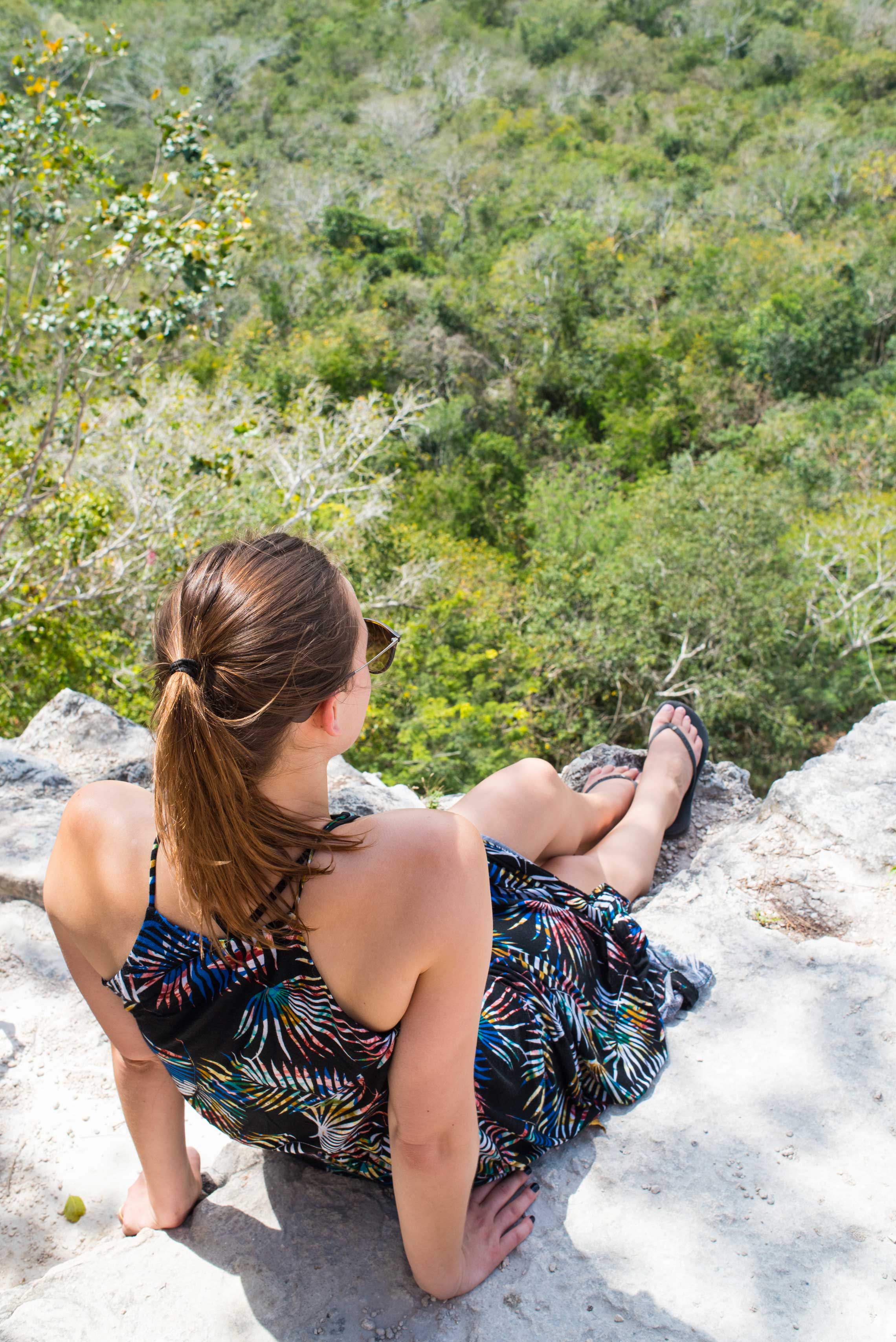 Exploring the other structures
After we explored Nohoch Mul, it was off to discover some of the other sites. Because the complex is largely unexcavated, the jungle hasn't been cleared (unlike at Chichén Itzá) and many of the ancient structures are still covered in trees, reclaimed by nature. Small paths connect the main sites within the complex and it's lovely to ride around under the shade of the lush jungle canopy stopping at different structures along the way.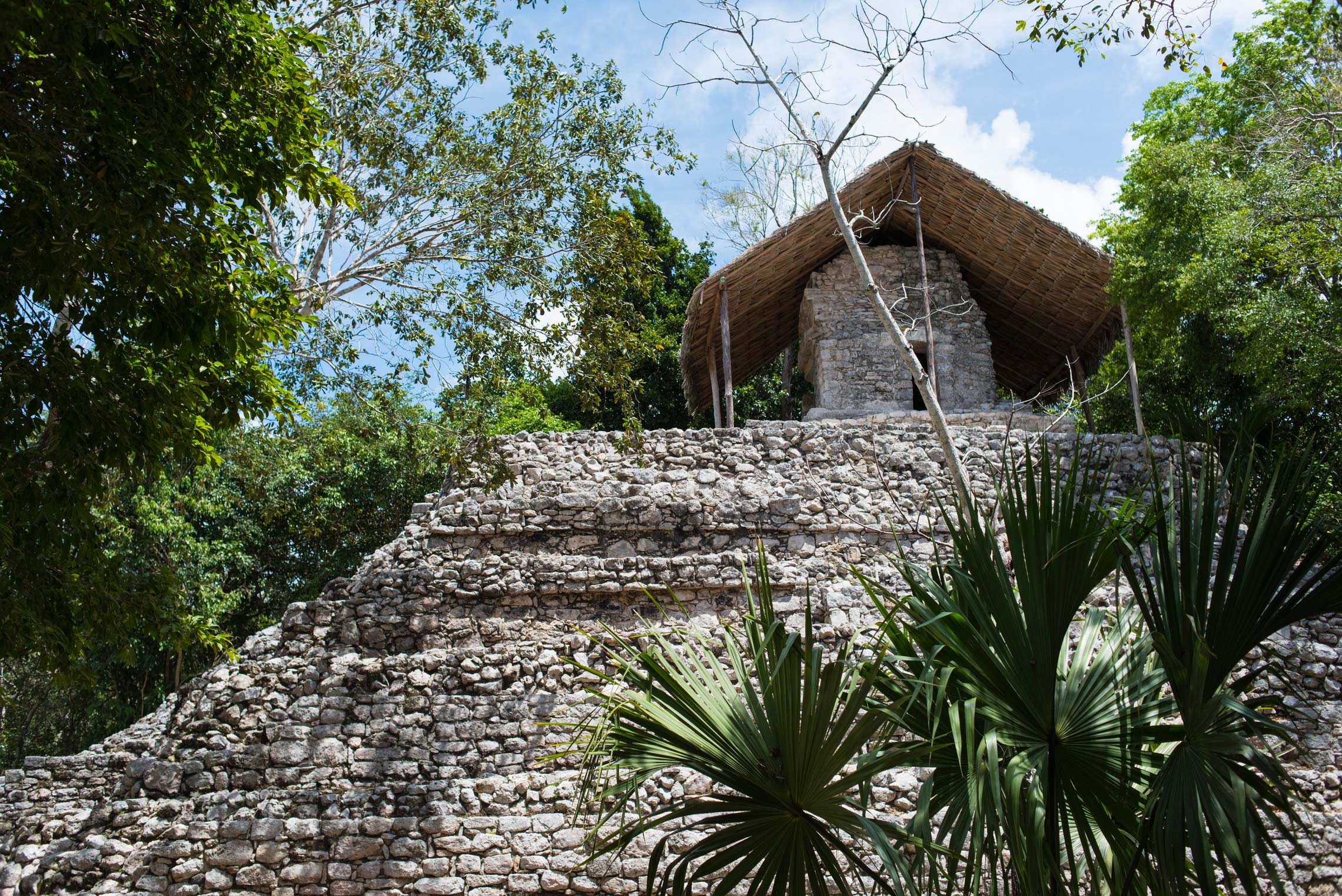 An ancient Mayan ball court
At one point we stumbled upon a structure with slanted walls and stone hoops — an ancient Mayan ball court where a game between two opposing sides was played. The aim of the game was to get a heavy ball through the hoop made even more difficult since players were not allowed to use their hands. The game was literally one of life and death as the losers were often ritualistically sacrificed to the Gods.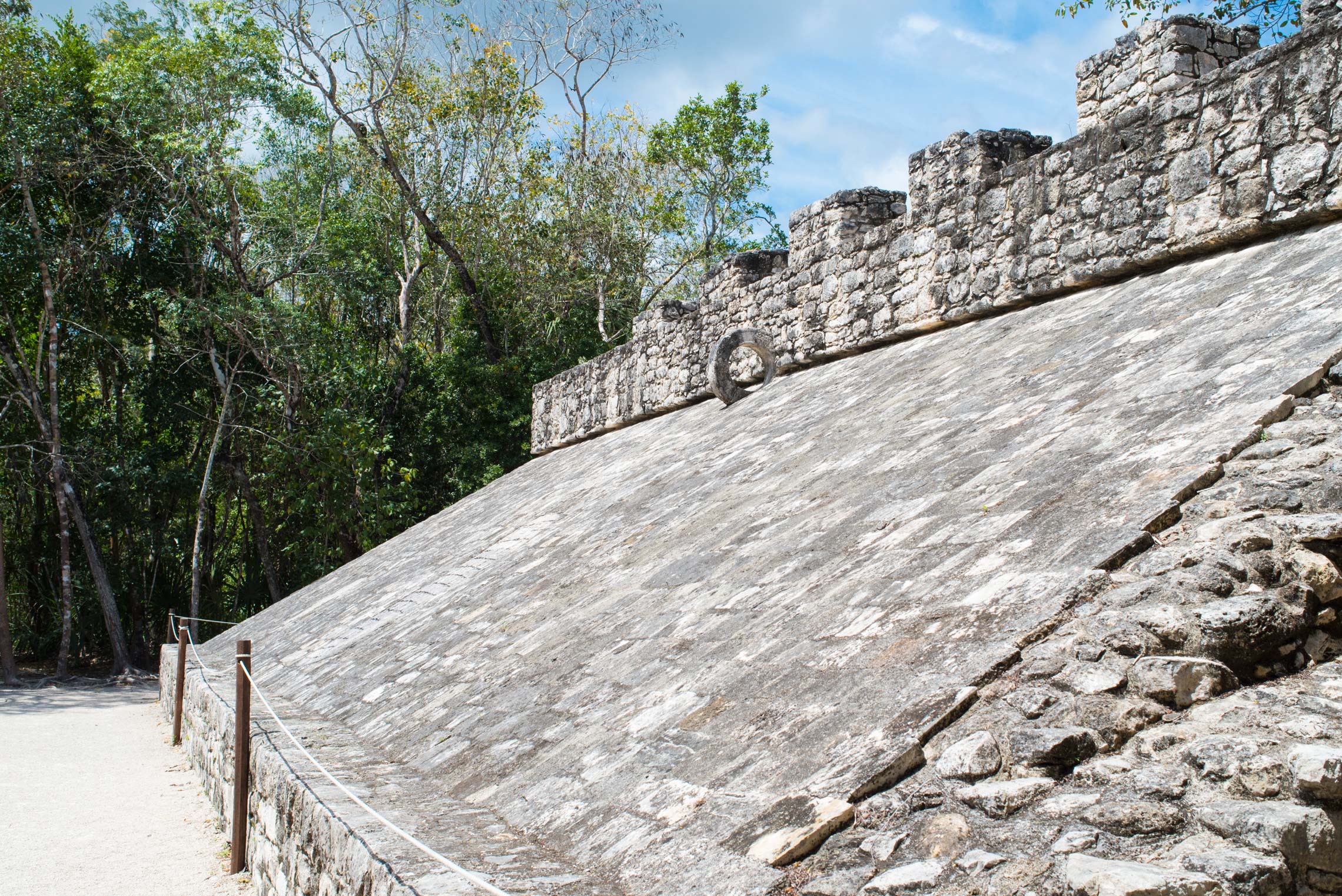 La Iglesia
Another impressive structure we rode past was the enormous pyramid of La Iglesia, the church of Coba. Located only 100m from the entrance, it's easy to miss because it's hidden amongst the trees. This one was probably my favourite. We had the whole place to ourselves and could just sit awhile and imagine the grand civilisation here 1,000 years ago.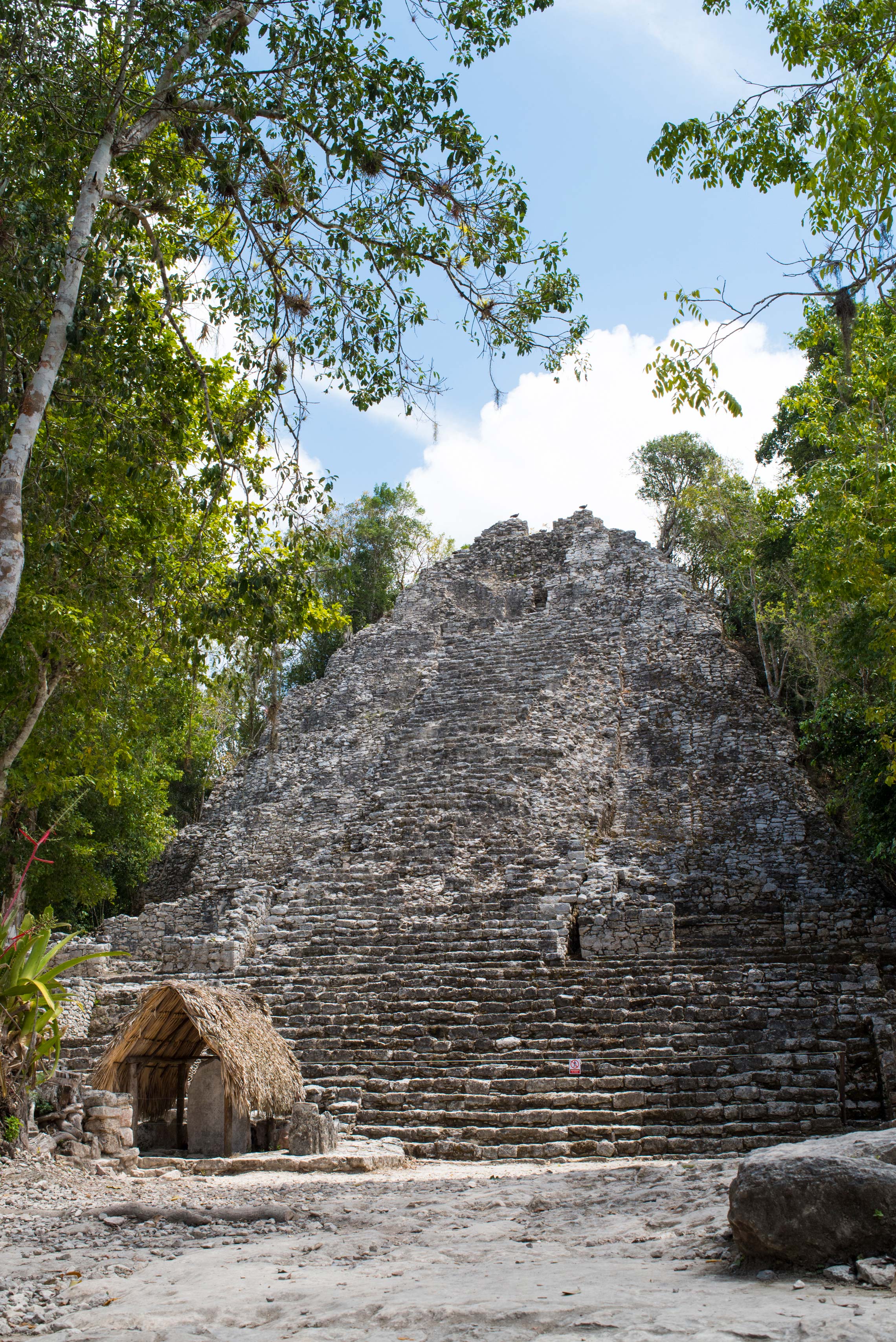 Tips for visiting
♥ Don't make the same mistake I made and wear flip flops! Wear comfortable, sturdy shoes, especially if you plan on climbing Nohoch Mul.
♥ Hire a bike or be prepared to walk kilometres upon kilometres to see the sites. They're pretty spread out.
♥ Pack sunscreen and water. It's hot here!
♥ After your visit, consider a stop at one of the nearby cenotes, like we did. It's a great way to cool off after your sweaty exploration.
Planning a trip to Tulum and need some inspiration? You might like to read:
♥ Why I Can't Stop Thinking About Tulum
♥ Beachside Chic at the Papaya Playa Project in Tulum
♥ A Tranquil Hideaway in Tulum: Checking in to La Posada del Sol
Have you been to Coba? Share your tips below!