We all know that Instagram is not a true representation of reality, don't we? That it is a carefully curated, edited portfolio that intends to portray a desired image. Yep, Instagram might not be an instantaneous, raw, uncut version of life (get on Snapchat for that), but everyone likes to look at pretty pictures don't they? I know I do!
I first joined Instagram way back in 2012 although didn't really understand how to use it or bother with it much until I moved to Berlin two years ago. Now? I am shamelessly addicted to one of the world's fastest growing social media platforms, which has over 400 million active users and is second only to Snapchat (you can follow me here too at deptofwandering). Visually captivating, inspiring and engaging — what's not to love?
Whilst my Instagram account (@departmentofwandering) grew slowly at first — admittedly, I did not take it too seriously or worry much about it — I've seen a steady increase since I launched The Department of Wandering three years ago. Realising how important it was for bloggers to have a strong social media presence, I've been working hard on cultivating an inspiring feed that reflects what I'm all about and my followers now reach 33K +. I've learnt a lot about Instagram over this time and have been playing around with different strategies and techniques that seem to have make an impact. What are they? Read on to learn about my favourite Instagram tips and tricks I've been using to grow my following.
How to grow your Instagram following fast:
Make your profile clear
The first things that someone is going to see when they click on your account are your profile picture and your bio, so make them both clear. Your profile picture should be representative of what your account is about. Be sure to write a few lines about yourself in the bio description too, as this commonly is what draws in new followers. Make a good first impression by including your name, what you do and include your website link if you have one. This is the only place on Instagram where you can include a clickable link, so make use of it in your bio!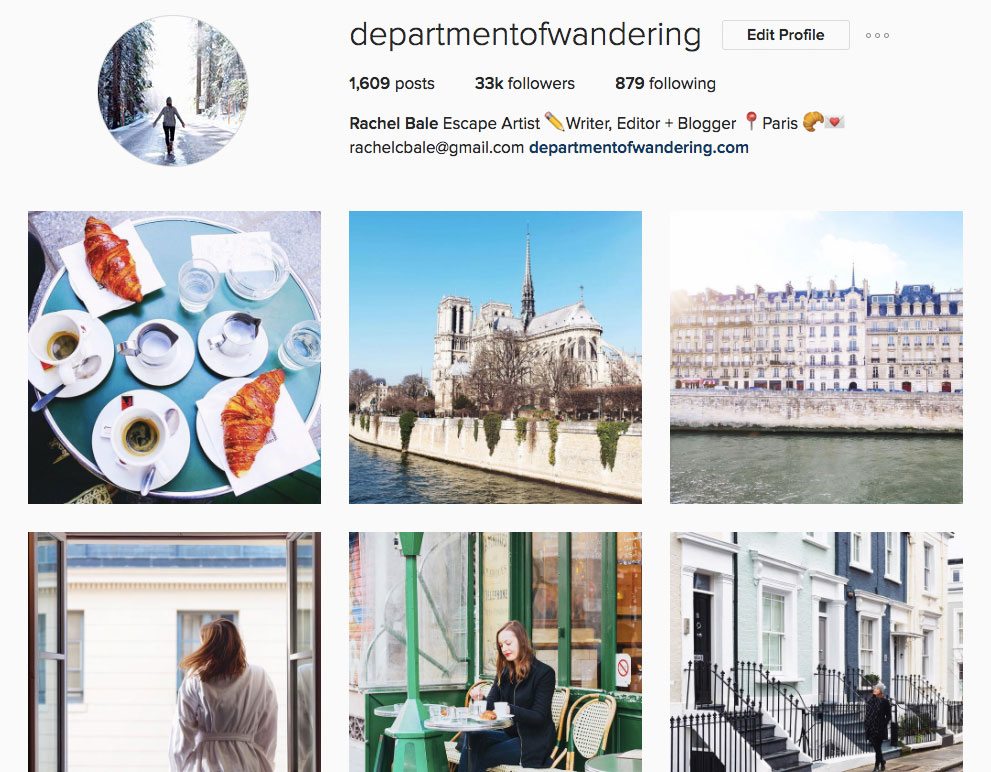 Set your account to 'public'
If your account is set to 'private', that means that no one can view your Instagram feed that you have not approved. While this is a good security measure, it unfortunately also means that you have pretty much a zero chance of attracting new followers that you don't personally know. You wouldn't follow an account you couldn't first see the feed of, so why would someone else follow yours? Set your account to public and start showcasing your best images for the world to see!
Only share the best of the best
If you want your Instagram account to get noticed, the primary thing you need to do is to only post quality content. These days, Instagram is becoming more and more like a digital portfolio and when you think of it this way, a portfolio only includes the best of your best. If a photo is of poor quality or isn't consistent with your account, you'll do more harm than good by posting it. When I'm out photographing, I take photos like a crazy woman so that I have lots of options to choose the very best image from to post. You're guaranteed to attract more followers if you have a gallery full of beautiful images. Sometimes, you can even get lucky when a popular account re-grams one of your posts and tags you in the caption. This image of colourful Wrocław was re-grammed by 'Beautiful Destinations' (@beautifuldestinations), to over 4 million followers! When this happens, you'll see a spike in your numbers instantly.
Be consistent with what you post
It is important to be consistent with your theme, layout, editing and posting schedule. Because my Instagram account is directly linked to my travel blog, I'm careful to keep a consistent travel-related theme. Whilst you might see a photograph of a coffee, a juice or a meal featured every now and again, my feed is primarily travel-focused. You'll find that as you grow your Instagram presence, people are attracted to a certain type of style or theme, which they want to see more of. When your Instagram gallery lacks consistency, people can be unsure as to what you're all about and are less likely to want to keep up to date with your posts.
Ensure your photos are high-quality
Until recently, I never used my phone to take photos for Instagram since I wasn't happy with the photo quality. Now, since I've upgraded to an iPhone 6S with a much better camera, I'm totally happy to use phone pics for Instagram. I also use my Sony DSC-RX100II and my Nikon D750 and transfer the photos to my phone for editing on my favourite apps before uploading.
Be creative
Instead of posting that same, stock-standard selfie image all the time, look for other angles or poses to give variety to your photographs. Look for different ways to frame your subject or for leading lines to add interest. Think about the angle your taking the photograph from. Rather than standing at eye-level, could you get down lower or take a shot from above to make it more effective? In this shot from my recent visit to Tuscany, I asked my boyfriend to sit on the edge of the pool and bring the camera (carefully!) down towards the surface of the water so that he could capture this particular angle.
Take inspiration from other popular accounts
One of my favourite sources of inspiration for new posts is through the feeds of my favourite Instagram accounts that have a similar theme as I do. I'm inspired on a daily basis by my favourite Instagrammers that include Jack Morris (@doyoutravel), Nicola Easterby (@polkadotpassport), Lauren Bath (@laurenepbath), Lauren Bullen (@gypsea_lust), Liz Carlson (@youngadventuress) Melissa Findley (@melissafindley) and Jessica Stein (@tuulavintage), just to name a few. You'll have your own favourite Instagrammers, but ask yourself what makes them your favourites? What is it about the images that makes you want to follow them? Try and replicate this in your own individual, creative way in your own account.
Be sure to edit your photos before uploading to Instagram
You want your images to look the very best that they can. Almost all photographers edit their photographs before publishing them. If I have taken a photograph with my camera rather than my phone, I will always retouch it in Adobe Lightroom first. Some of the key things I like to do is to make lens corrections, bring up the brightness, increase the contrast a little, boost the vibrance and saturation as well as reduce any noise. I then transfer the image to my phone where I open it in one of my favourite editing apps. Finally, I open the image in Instagram where I might add a little fade before finally uploading. Wow, what a process! Yes, it takes quite a long time to get the photograph up to a point I'm happy with.
Avoid the filters and borders in the Instagram app
To put it plainly, to me, the filters and border features within the Instagram app suck. I edit my images outside of Instagram for the most part and only put the smallest final touches (see above) on them before posting. Many Instagrammers like to use VSCO Cam for applying filters instead. See more of my favourite editing apps here.
Remember to geo-tag your location
I always use geo-tags on my photographs. Geo-tagging means adding a location tag that indicates where the image was taken. I like to do it for two reasons. Firstly, I generally find that people like to know where the photograph was taken so that they can better connect with what they see. Secondly, if you geo-tag your images, they get filed into that location, meaning that when people tap the geo-tag, all the images taken using that same geo-tag are displayed. I personally love browsing other Instagrammers' photos taken at the same location as mine and it's fun connecting with people who are sharing a similar experience to you. Instagram also allows you to search by place, which is great inspiration for upcoming travels!
Don't underestimate the power of #hashtags
Hashtags are the key to getting your photographs out there in the Instagram world to attract followers. If you don't use any hashtags, no one is going to see your posts except the followers you already have. Hashtags work by essentially filing your image into that hashtag category. For example, one of the most common hashtags I use is #travel. All photos that are tagged with #travel in the Instagram world get grouped together. Anyone can click on this hashtag to browse the photos that have been labelled with it. Instagram allows you to use hashtags per post and I always tag each photo with the maximum number. This ensures maximum exposure. To avoid appearing spammy, I never include my hashtags in the caption. Instead, I post the image with a simple, short caption and then go back and include the hashtags I want to use as a comment. I like doing this because once a few people comment on the image, the hashtag comment becomes hidden in the comment feed.
Tag another account if relevant
When you upload a photograph, you have the option to 'tag' the photo. This means that you can enter another Instagrammer's account to alert them to the image. The photograph will then be stored in the 'Photos of You' tab on their profile page. This option is particularly handy if you are staying at a hotel, eating at a restaurant, or taking part in an activity or tour. By tagging the photo, you are alerting the other Instagram account of your photograph, hopefully attracting their attention for a like, comment or regram. In the photograph below that I took during my recent stay at Villa Le Maschere, a luxury villa that I was reviewing for World of Wanderlust, I tagged three accounts: @villalemaschere (the villa's account), @unahotels (the hotel group) and @worldwanderlust (the travel blog I was on assignment for). The little black and white head icon at the bottom left of the image indicates that it has been tagged.
Figure out when the best time to post is
The location of your followers will determine, to some extent, the time of day they are the most active on Instagram. Finding this out is easy through the great website, Iconosquare, although this is a tool you have to pay for. Syncing your Instagram account with this site gives you loads of features you can use to analyse your growth, engagement levels and understand your audience better with. This handy visual tracks your posting habits (day and time) and correlates it with the interactions on your post from the community. The dark circles tell me that I should avoid posting on Fridays, but generally, posting in the evenings is quite effective.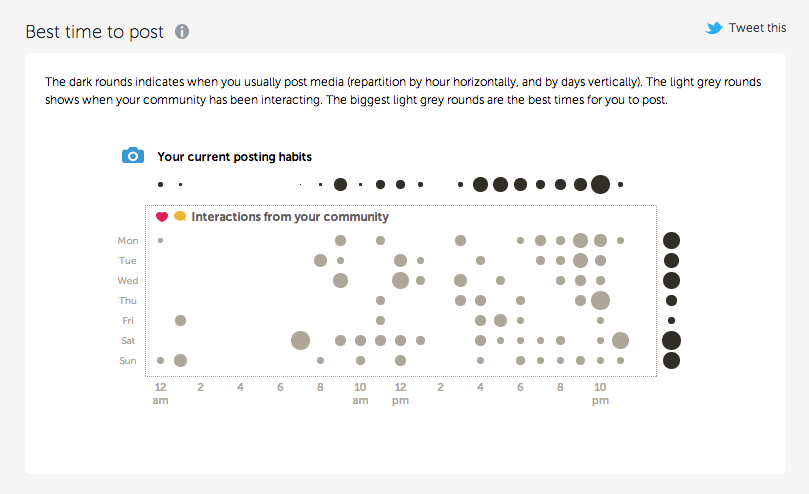 Show some love
Instagram is a great platform for interacting with others and you'll find that the more you interact, the bigger your community will become. Instead of just scrolling past a photograph you really admire, why not give it a like or leave a comment instead? The Instagrammer will receive an alert and will sometimes click on your profile to see what you're all about. If they like your feed, they might follow you back. This goes the same for browsing tags and locations. When you come across a photo or account you like, show some love and interact. If people find that you are friendly as well as admiring your gallery, they are more likely to want to keep up to date with your posts.
I'd love to follow along with you on your travels! Tag your photos with #departmentofwandering for your chance to be featured on my feed!
What are your Instagram tips and tricks for growing your following?