If there's one thing that inspires my travels above all else, it's food. You can learn so much about a place, its people and its culture through your tastebuds and eating my way around a city is just about my most favourite thing to do. You can imagine my excitement when I started to plan our NYC foodie adventure. Grilled, cheese, bagels, pastrami, pizza, BBQ… it's safe to say that I took a pretty big bite out of the Big Apple. Here's a look at what I filled my belly with in this NYC food diary:
Coffee
El Rey
Located just around the corner from our hotel in the Lower East Side, the Hotel on Rivington, El Rey is a tiny coffee and lunch bar that not only serves delicious coffee but comforting vegetarian food as well. The interior is minimalistic yet cosy — grab a seat (if you're lucky) and order a flat white and the Avocado del Sur with flatbread and poached eggs to kickstart your morning.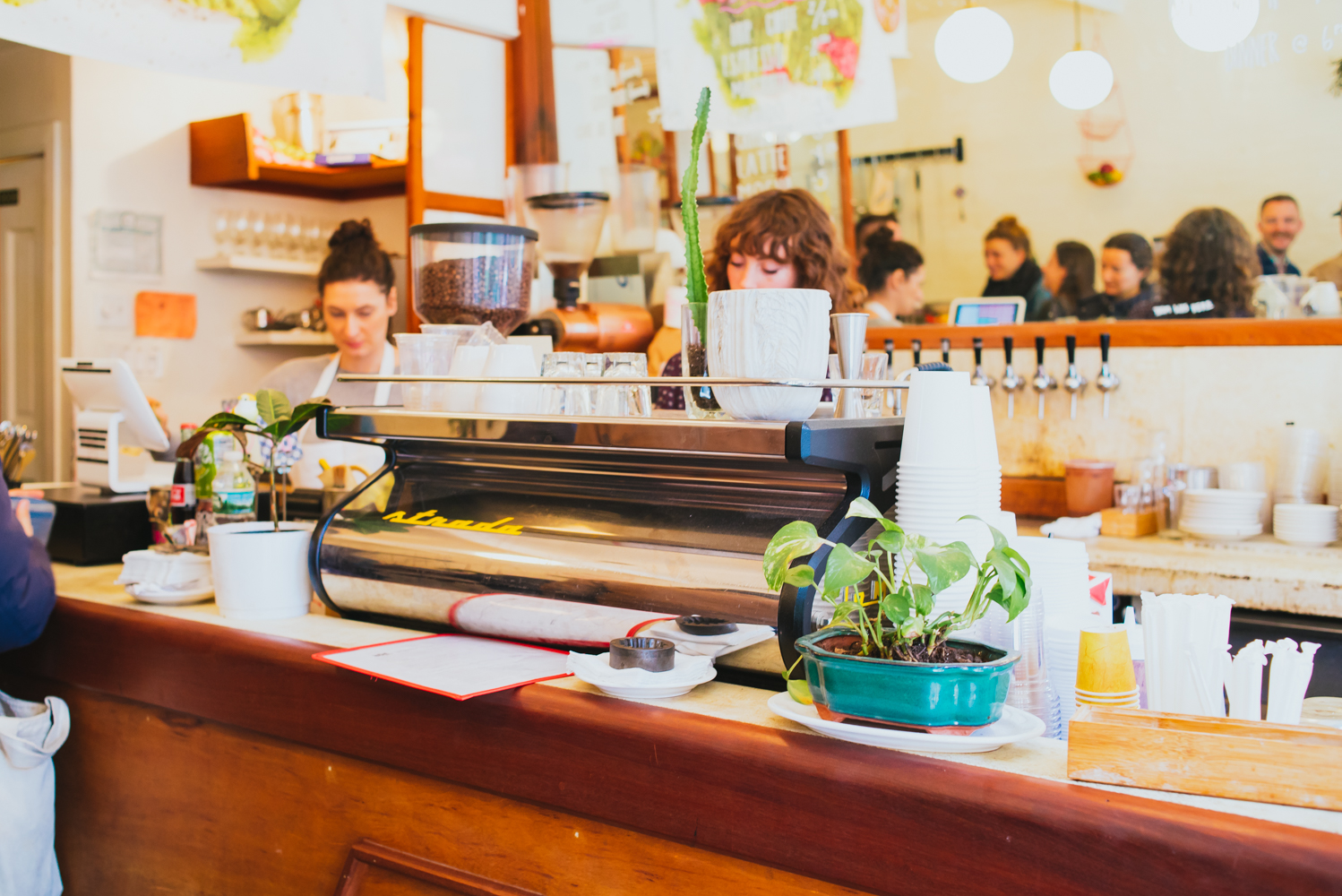 Location: 100 Stanton St, New York, NY 10002
Sweatshop
Another of my favourite cafes in NYC was Sweatshop in Brooklyn, but I may be a bit biased considering the owners are Australian (hence faultless coffee) and they're actually our friends! But believe me when I tell you that the coffee and brunch here is top-notch. The space, with its neon sign, white brick, local artwork and design studio out back makes it a pretty hip place to hang, not to mention being an Instagrammer's delight. We sipped on a few rounds of flat whites (because they're THAT good) as well as an 'Avo Smash' with feta, avocado, citrus and mint on sourdough topped with a fried egg and bacon as well as a 'Toasted Loaf' of honey, mascarpone, berries and pistachios on toasted banana bread. Mmmmmm.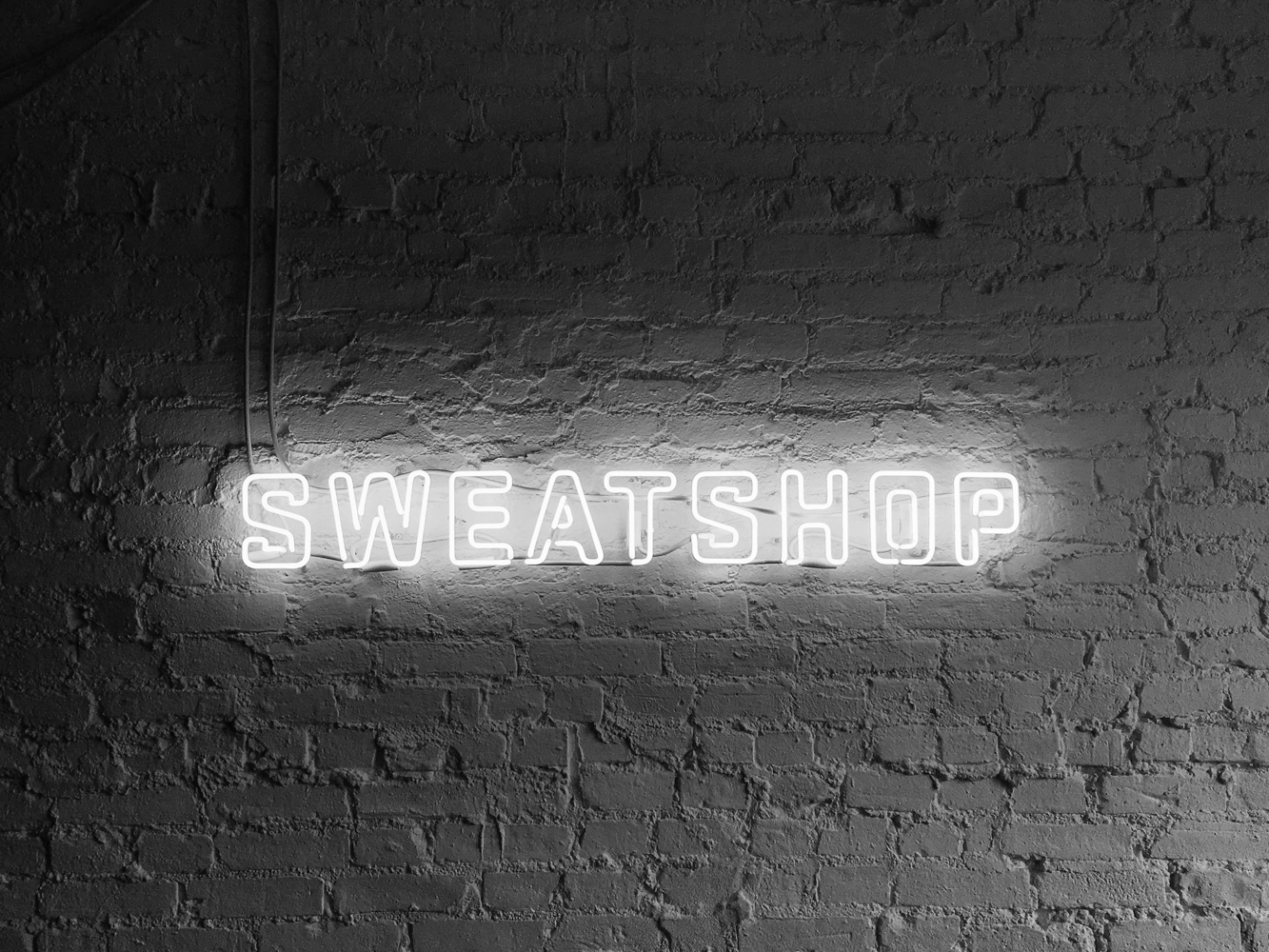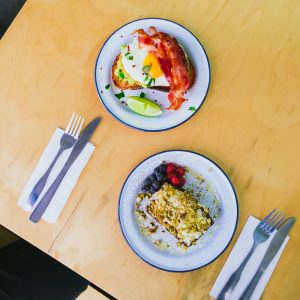 Location: 232 Metropolitan Ave, Brooklyn, NY 11211
Brunch
The Butcher's Daughter
Bleary eyed from our red-eye from LA, the first thing we did after checking into our hotel was hunt out some food. We went for a little wander and happened upon The Butcher's Daughter and stopped in for a bite. Nicknamed the 'vegetable slaughter house' this light-filled, relaxed little cafe serves simple yet delicious vegetarian and dairy-free fare; exactly what I always crave after a flight. We ordered the smashed avocado toast on 7-grain bread with curry and mustard seeds and lime before heading off to explore the city.

Location: 19 Kenmare St, New York, NY 10012
Russ & Daughters
Can we just talk for a moment about how next-level New York bagels are? Admittedly, I love a good bagel any time, but an average bagel doesn't come anywhere close to the NYC variety. And the bagels of Russ & Daughters are the standard to which all other lowly bagels aspire. This family-owned, Lower East Side icon celebrated its 100th birthday recently and once you taste its bagels, it's obvious why it has acquired legendary status over the years.
You'll wait in line, maybe for half an hour, but that's nothing compared to the delight that awaits. Order 'The Classic' with smoked salmon and creamed cheese, perhaps with a few capers or red onion and watch it being prepared with painstaking attention to detail right before you. Now take it out onto New York's streets and devour it like a real New Yorker. Nothing can compare to how fresh and light the bagel is and the perfect balance of flavours. Be warned though: every other bagel experience from now on will be agonisingly disappointing once you've had the real New York deal.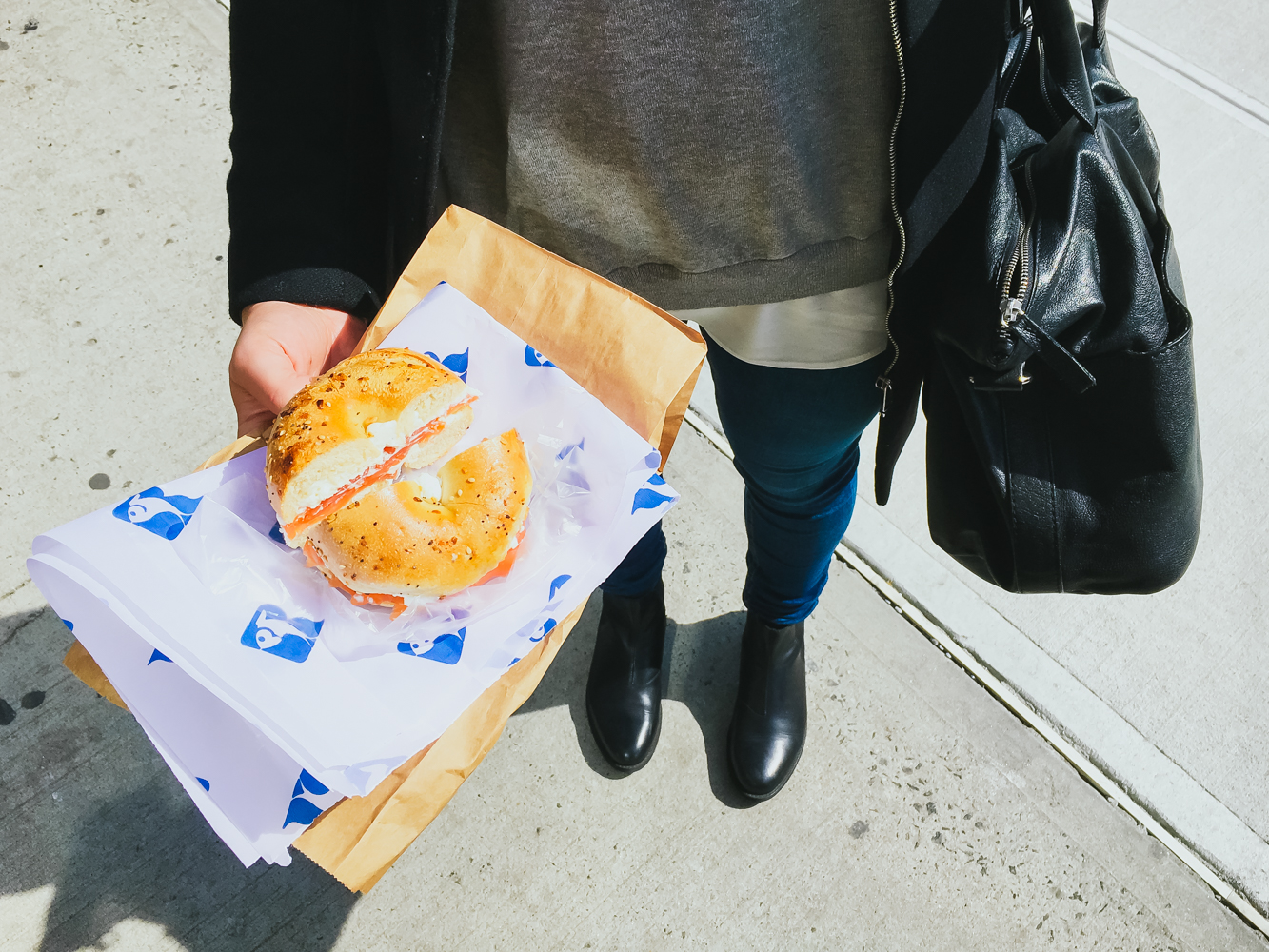 Location: 179 E Houston St, New York, NY 10002
Pause Cafe
All that deliciously rich food that you've been indulging in (because if you haven't, you're really missing a big part of the culture here) can definitely have you craving a clean start to the day. For a solid hit of nutrients, head to tiny Pause Cafe in the Lower East Side and order a 'Very Berry' açaí bowl before hitting the streets. Second image via @ashleyturchin.
Location: 3 Clinton St, New York, NY 10002
Lunch & Dinner
Katz's Delicatessen
I'm a pretty big fan of reuben sandwiches, aren't you? I was pretty excited by the fact that I could get the mother of all reubens at the iconic Katz's Delicatessen in the Lower East Side. This family-run deli has been serving up some of the best corned beef and pastrami, dare I say, in the world, since 1888 although is perhaps most famously known for being the setting for THAT Meg Ryan scene in 'When Harry Met Sally'. This place is constantly busy, teeming with hungry masses eager to get their fix and can you blame them?. If you visit at off-peak times e.g. 5pm like we did, it's not as crazy. Order only one reuben sandwich from the counter to share — trust me, it is HUGE — it'll be the best you'll ever have.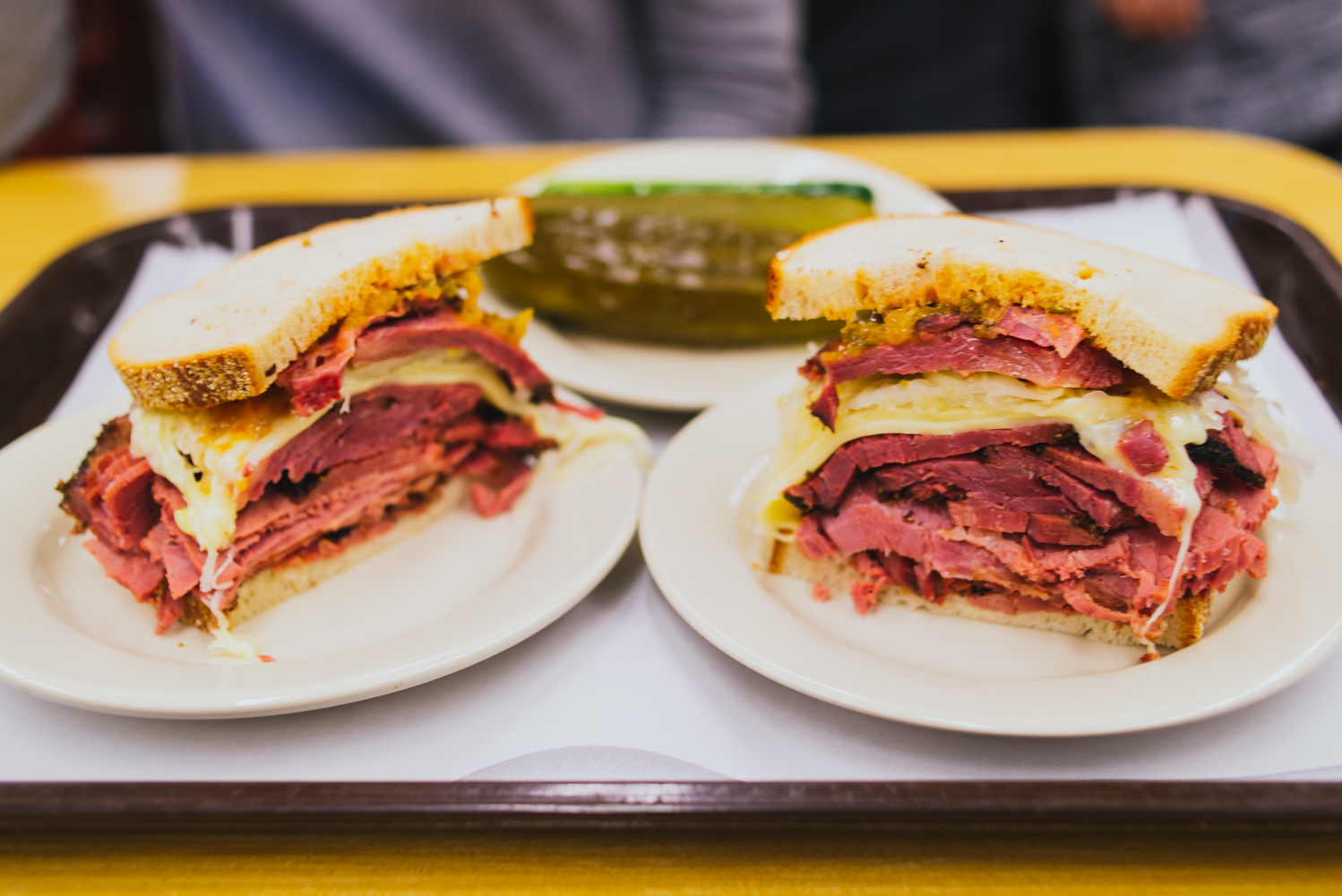 Location: 205 E Houston St, New York, NY 10002
Cheese Grille
Is there anything more satisfying in this world that a big grilled cheese sandwich? Hungry from a big day on our feet, we happened past Cheese Grille in the Lower East Side and were lured in with the wafting aroma of molten cheese. We ordered the 'Sloppy Joe' with cheddar, ground beef, mascarpone and pickled jalapenos. It doesn't get any more comforting than that.
Location: 188 Allen St, New York, NY 10002
Fette Sau
You don't want to wear nice clothes to Fette Sau. And you definitely don't want to wear anything white. You see, there are no plates at Fette Sau, only trays. Cutlery is offered, but it's more of a token, since handfuls wet wipes are what people really go for instead. We came here on our friend's recommendation as being a Williamsburg BBQ favourite. All their meats are sourced from organic or small family-operated farms, meaning that their menu changes daily with the availability of the cuts. When we arrived, the line was out the door, which is common for this famed joint. We ordered the brisket and ribs and sides of the burnt ends baked beans and a broccoli salad. Oh. My. God.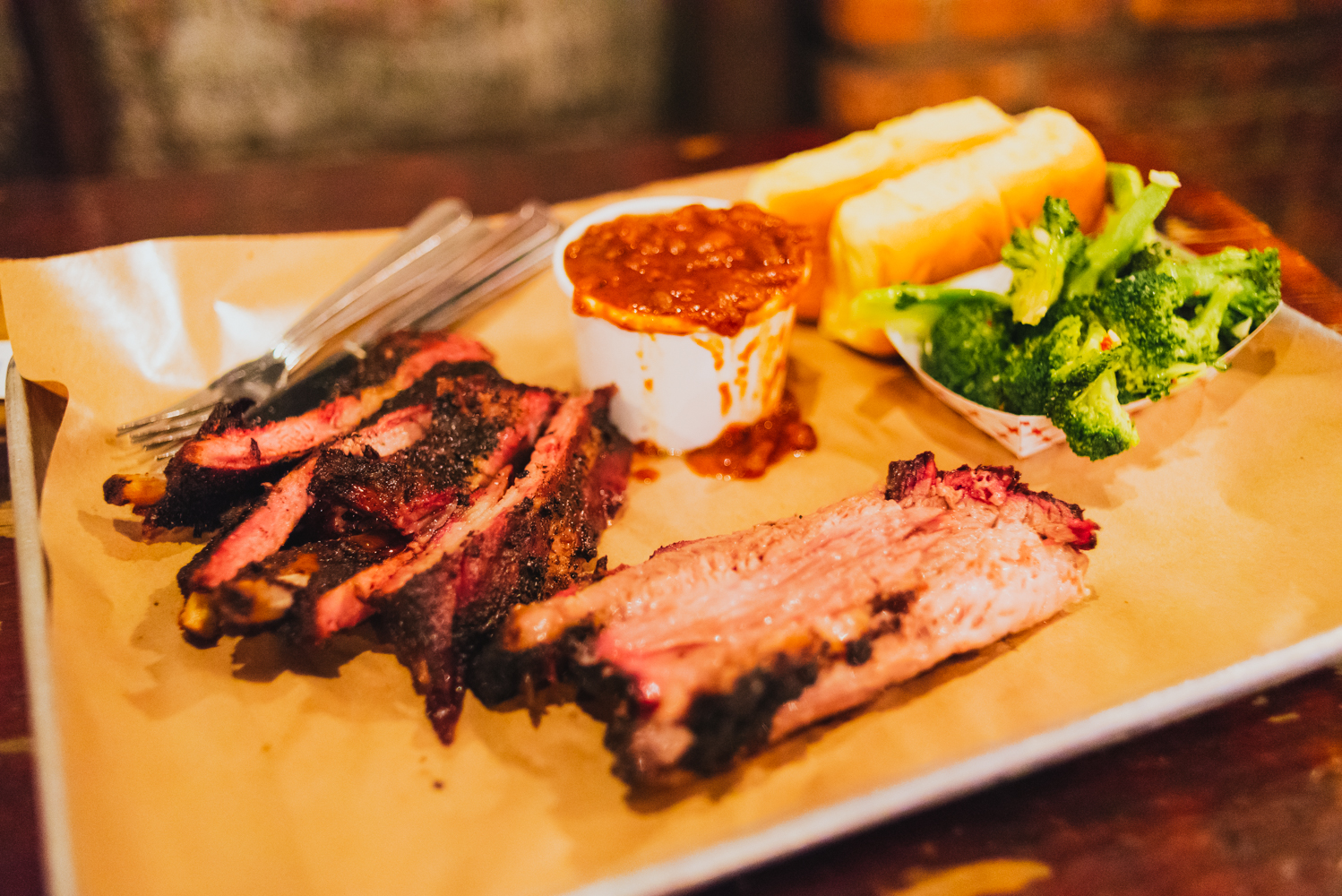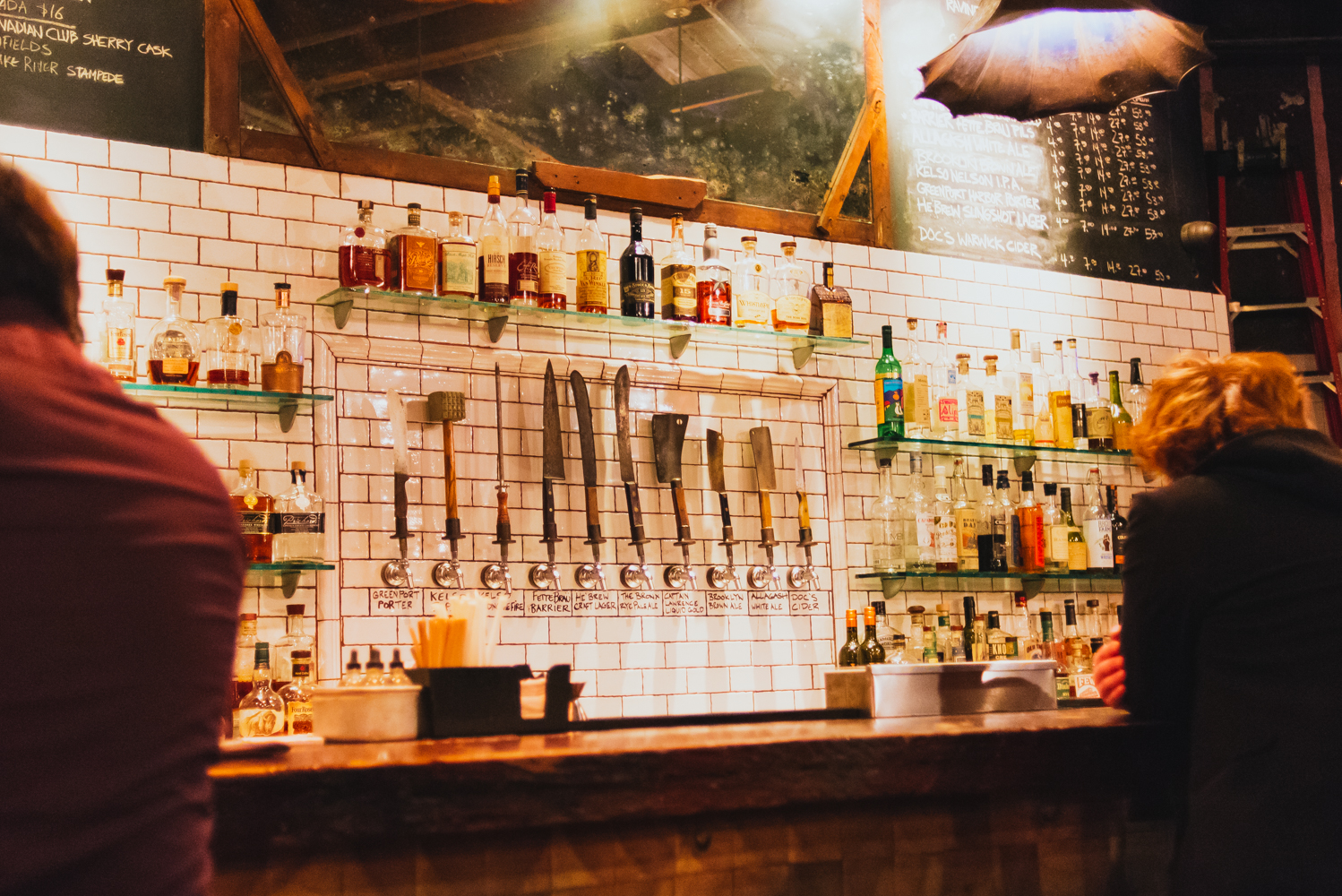 Location: 354 Metropolitan Ave, Brooklyn, NY 11211
Paulie Gee's
It's said that NYC is home to some of the world's best pizza so there was no way we were leaving without trying some. Italian immigrants brought pizza over with them in the early 1900s and it has remained a New York speciality ever since. One night we headed to Paulie Gee's in Greenpoint for their famed pizzas. The interior was dark and cosy and we ordered a 'Hellboy' with fresh mozzarella, Italian tomatoes, Berkshire soppressata piccante, parmigiano reggiano and hot honey as well as a 'Ricky Ricotta' with Italian tomatoes, sweet Italian fennel sausage, pecorino romano, fresh ricotta dollops, baby arugula and extra virgin olive oil. The bases were chewy with just the right amount of char and the toppings fresh and downright delicious. We skipped the salad because, really, why would you order salad in a place like this?

Location: 60 Greenpoint Ave, Brooklyn, NY 11222
Afternoon Tea at the Peninsula New York
Okay, although not technically lunch, afternoon tea at the grand Peninsula New York is a feast that is most definitely a meal in itself! Ben and I were invited to enjoy a champagne afternoon tea in the hotel's Gotham Lounge on our arrival in the city which was such a treat. It was such a lovely way to celebrate our arrival in a city we'd dreamed about for years. Read the full review of our experience here.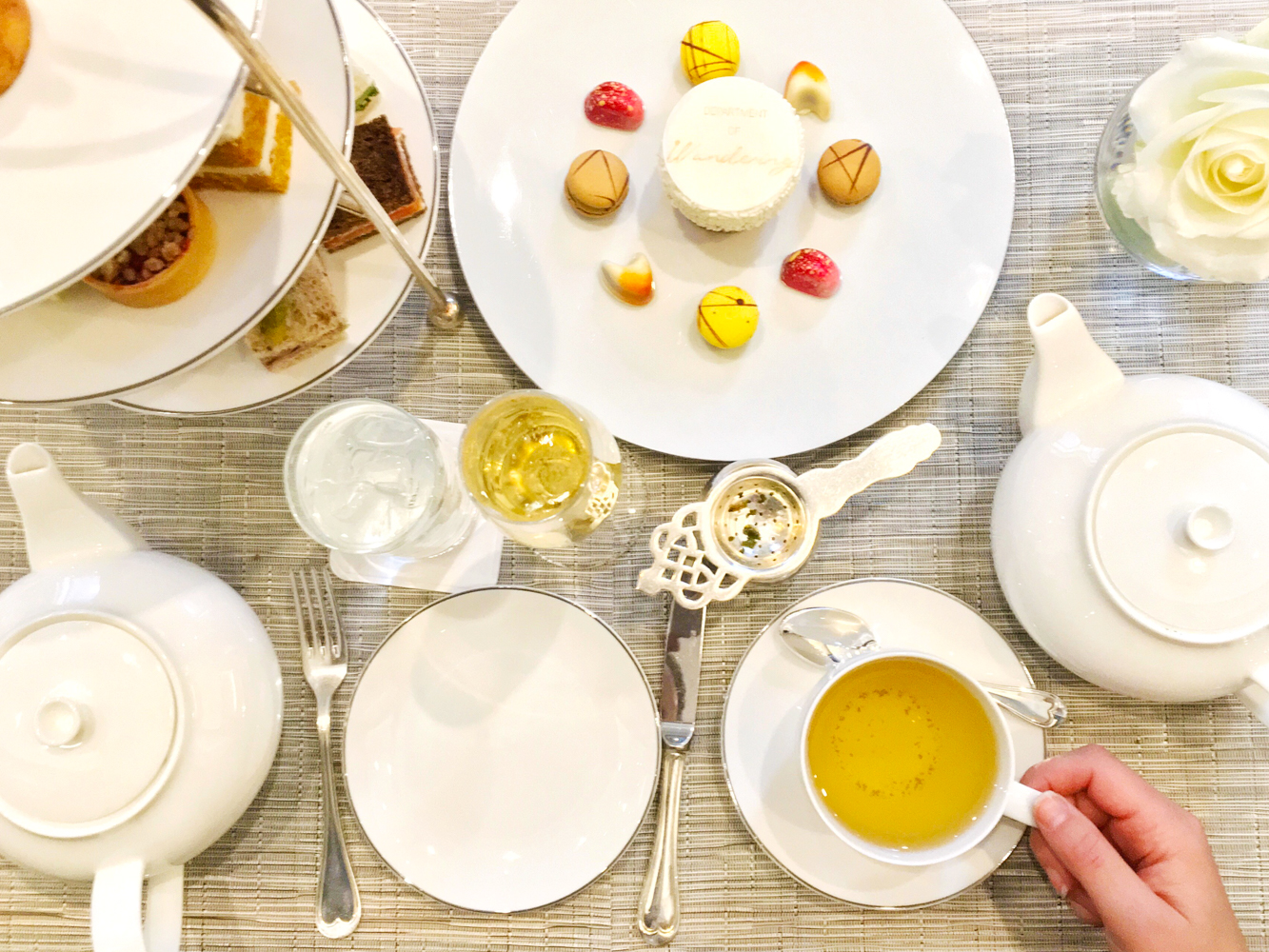 Location: 700 5th Ave, New York, NY 10019
For more travelling foodie inspiration, you might like:
♥ 10 Must-Have Culinary Experiences in Tokyo
Tell me, what did you eat in NYC?