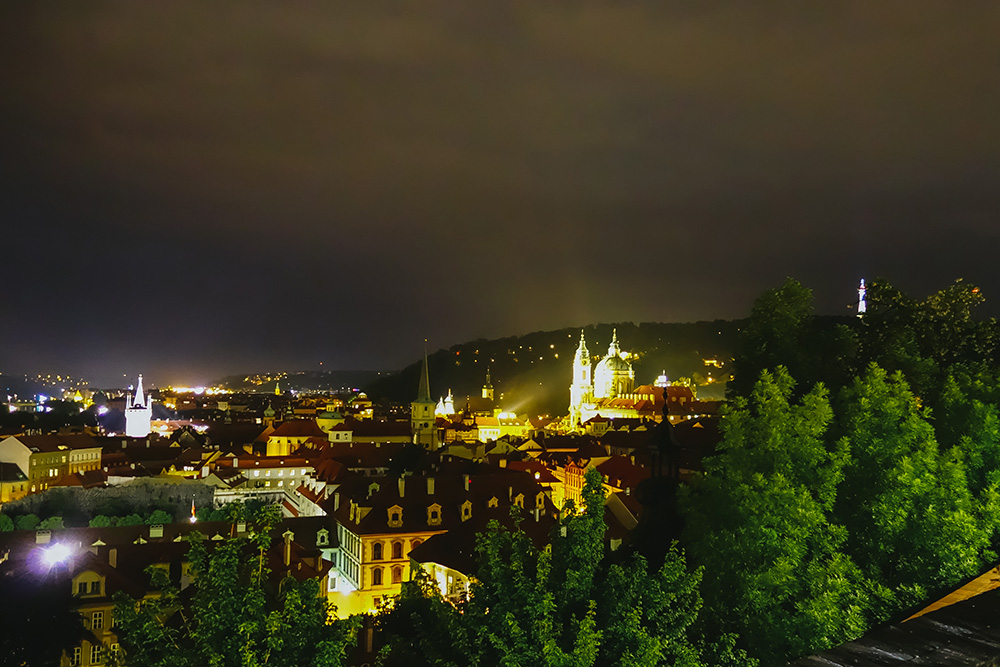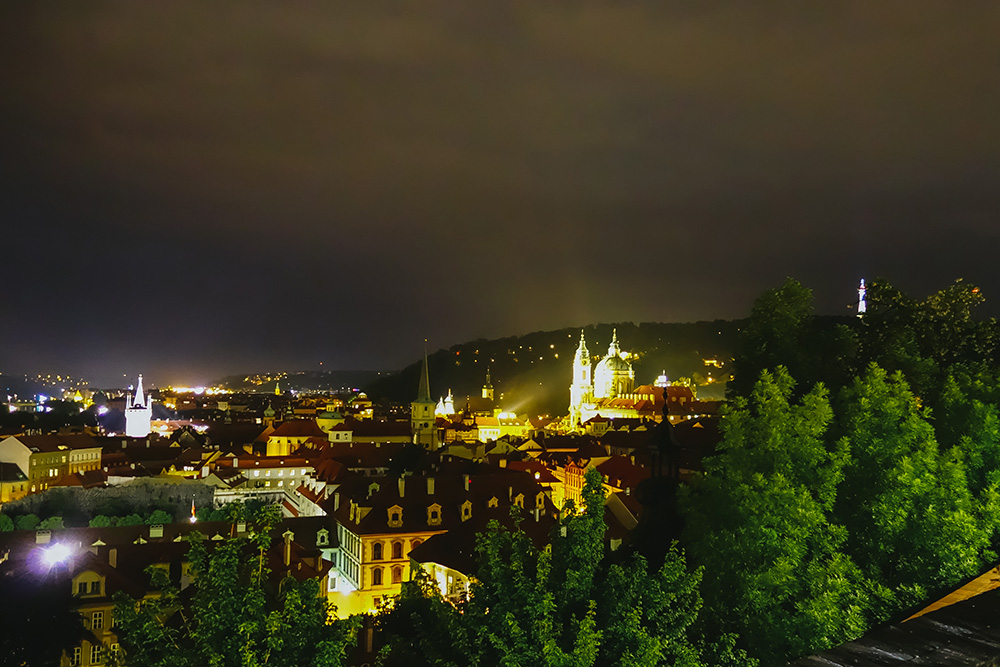 I have to admit that there's not much I despise more when travelling than having to contend with hordes of tourists at a city's most popular sites. Seeing the crowds from afar just makes me want to run in the opposite direction! I've learnt a thing or two over the eight years I've been travelling and one of them is that if you want to see the most popular city sites without the relentless crush of tourists waving around selfie sticks and ipads, you need to pick the time of day you visit very carefully. When I discovered that Guidilo, a tour company in Prague that is all about offering authentic experiences with Prague locals, offered a 'Prague By Night Walking Tour', I knew that this would be my best bet at exploring Prague minus the crowds.
Prague By Night Walking Tour
After an afternoon feasting on the most delicious, authentic Czech food, the perfect time to head out and see the city was in the evening and after a much-needed, food-induced nap. We met our guide, Kristian, a Prague local passionate about sharing his beloved city with others, at the National Theatre at 8pm. Right from the get-go we knew that it would be an entertaining evening! A trained actor, Kristian's energy and enthusiasm was contagious. He was full of smiles, jokes as well as knowledge; the perfect mix.
After spending a few minutes chatting about the beautiful National Theatre, we made our way over Most Leglí (Legion Bridge) as the sun dipped lower and lower, its golden rays washing over the city.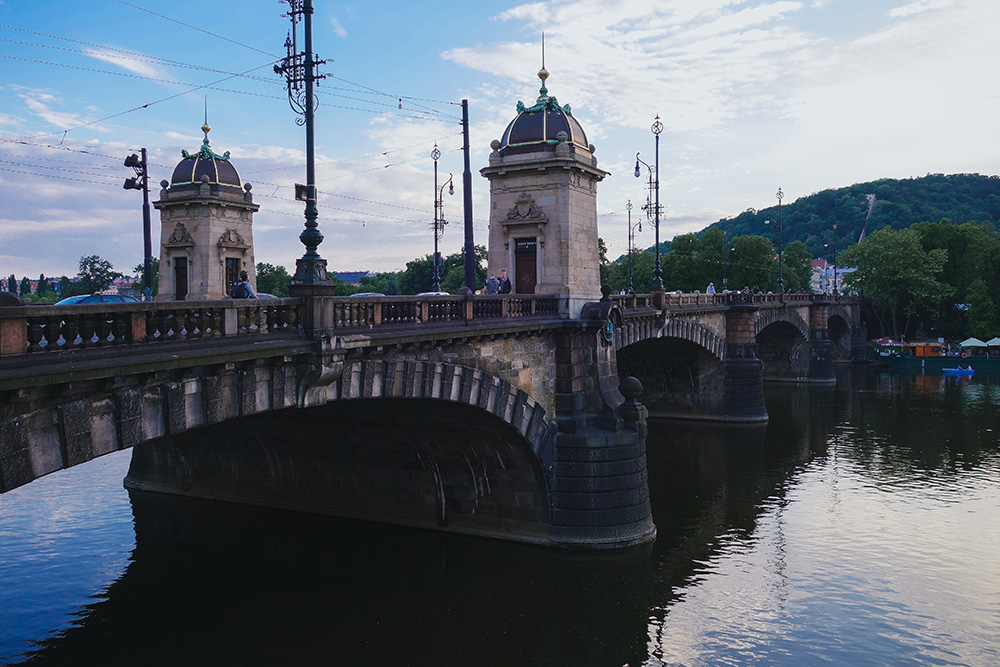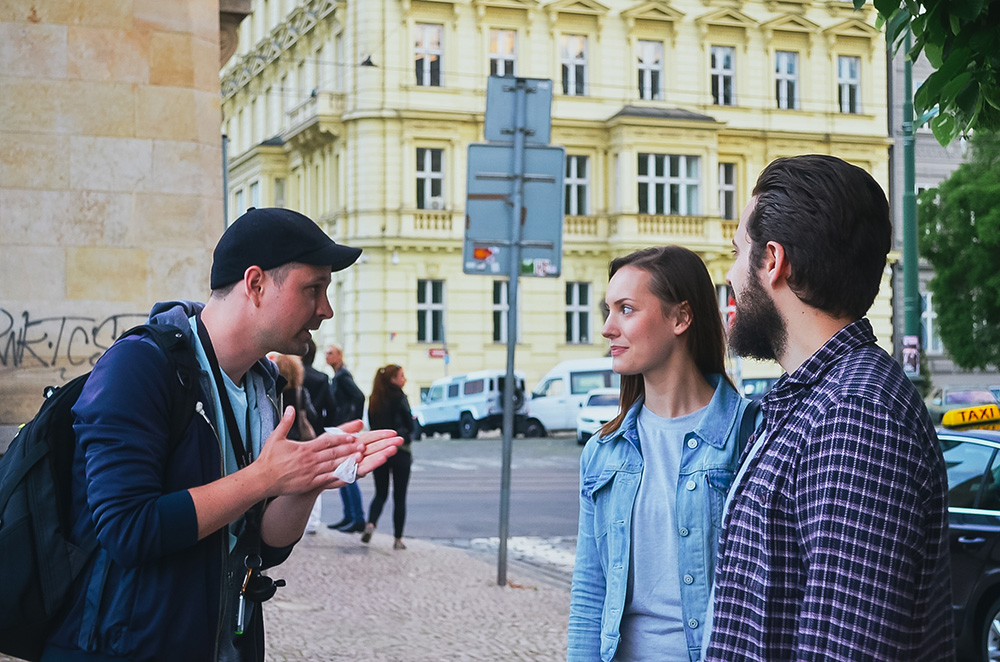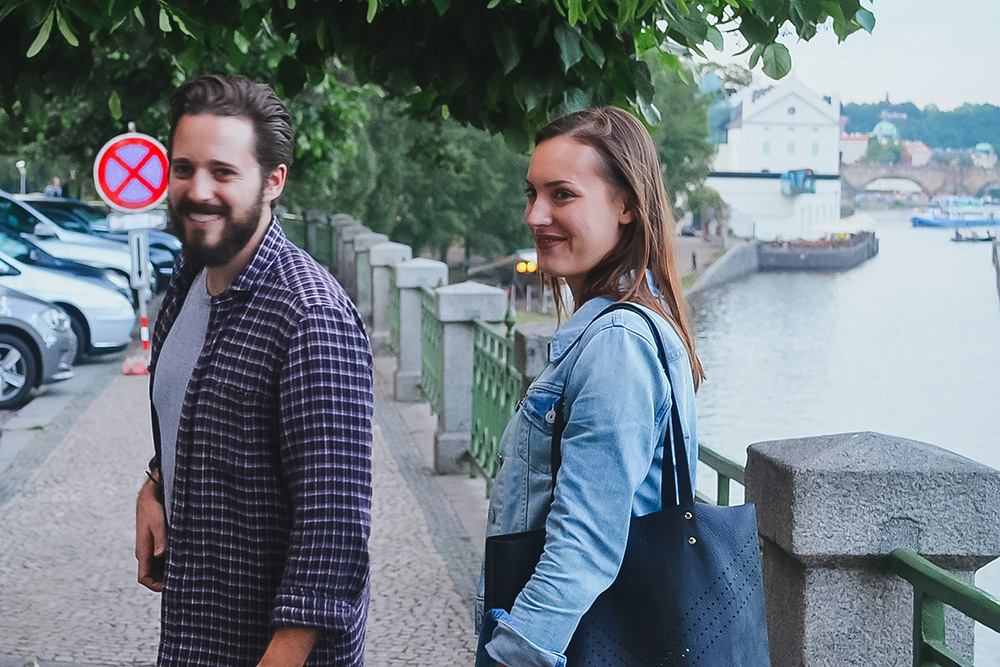 Kampa Island
The bridge delivered us to picturesque Kampa Island. There are a number popular attractions on this 'island' that Kristian was keen for us to experience as dusk began to fall. I noticed that the island was strangely quiet — there was almost no one around at this time of the day. This was definitely how I preferred to see Prague's sites!
David Černy's Giant Babies
One of our first points of interest on the island was outside Museum Kampa where two giant crawling babies guard the entrance. These creepy babies with imploded, slot-machine faces are just one of David Černy's controversial and famous sculptures that are dotted around the city.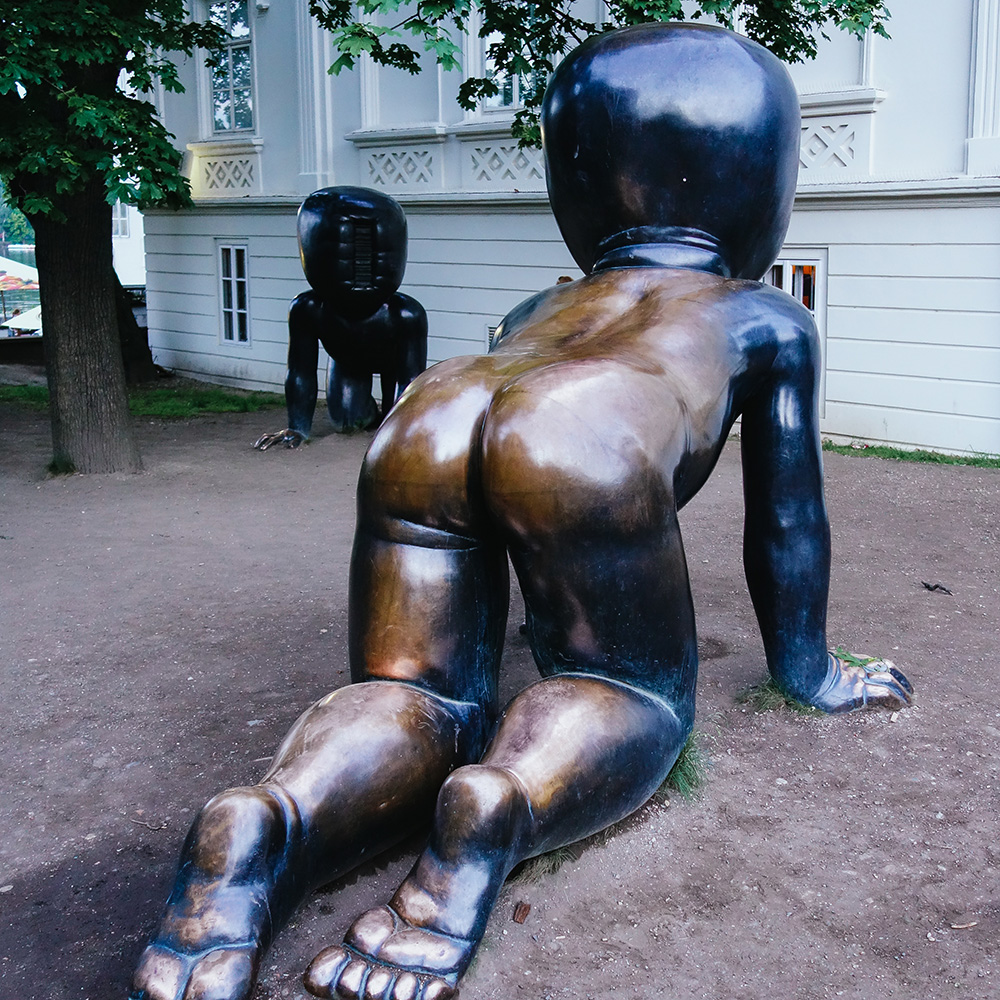 John Lennon Wall
We then headed towards Kampa Island's most famous attraction: the John Lennon Wall. During the totalitarian communist era in Czechoslovakia, western pop music was banned by the authorities. Songs by John Lennon of The Beatles were especially forbidden as they praised a freedom that simply didn't exist at that time. After Lennon was murdered in 1980 he became a symbol of free speech and pacifism to young Czechs. The Beatles' lyrics, odes to peace and images of Lennon's face began to appear on this small stretch of wall near the French Embassy overnight. Under the cover of darkness, activists risked prison for their 'subversive actions' against the state. Despite repeated attempts by the authorities to paint over the 'graffiti', the messages continued to reappear until the government reluctantly accepted them.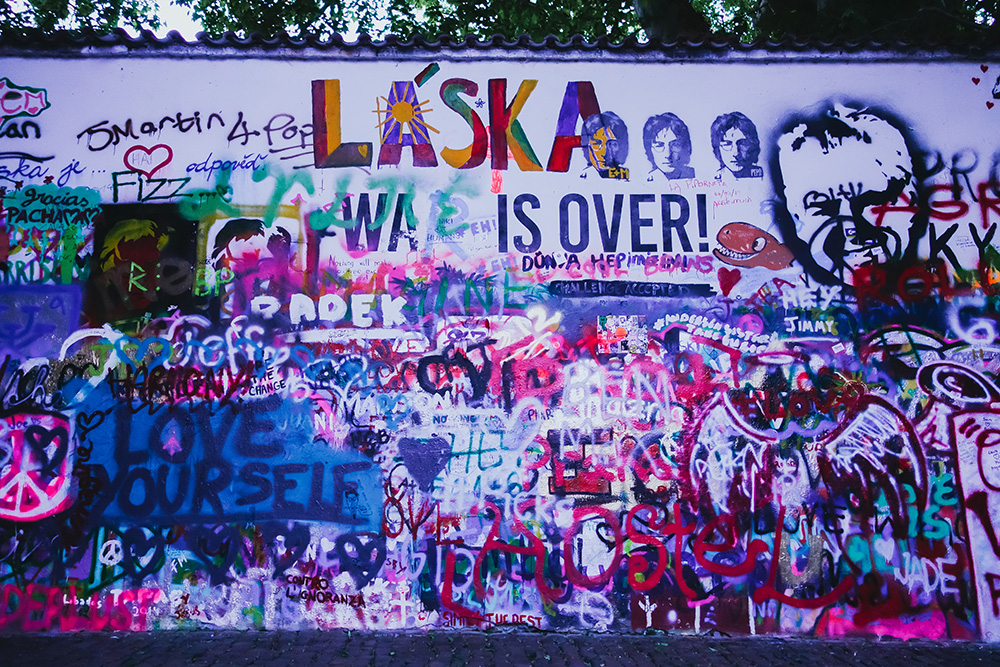 'Piss' fountain by David Černy
Around the corner from the John Lennon Wall is another cheeky piece by Černy. This fountain is located outside the Franz Kafka Museum and, like all his work, is intended to be both controversial and amusing. Aptly named 'Piss', the sculpture features two men urinating on a map of the Czech Republic. Visitors can even send a text message to a particular number and the men will spell it out for you. So what does it all mean? There's a Czech idiom about 'peeing over somebody' which essentially means to get one over somebody. It is said that the urinating men represent the politicians of the Czech Republic. I'd say that Černy's intention is pretty clear!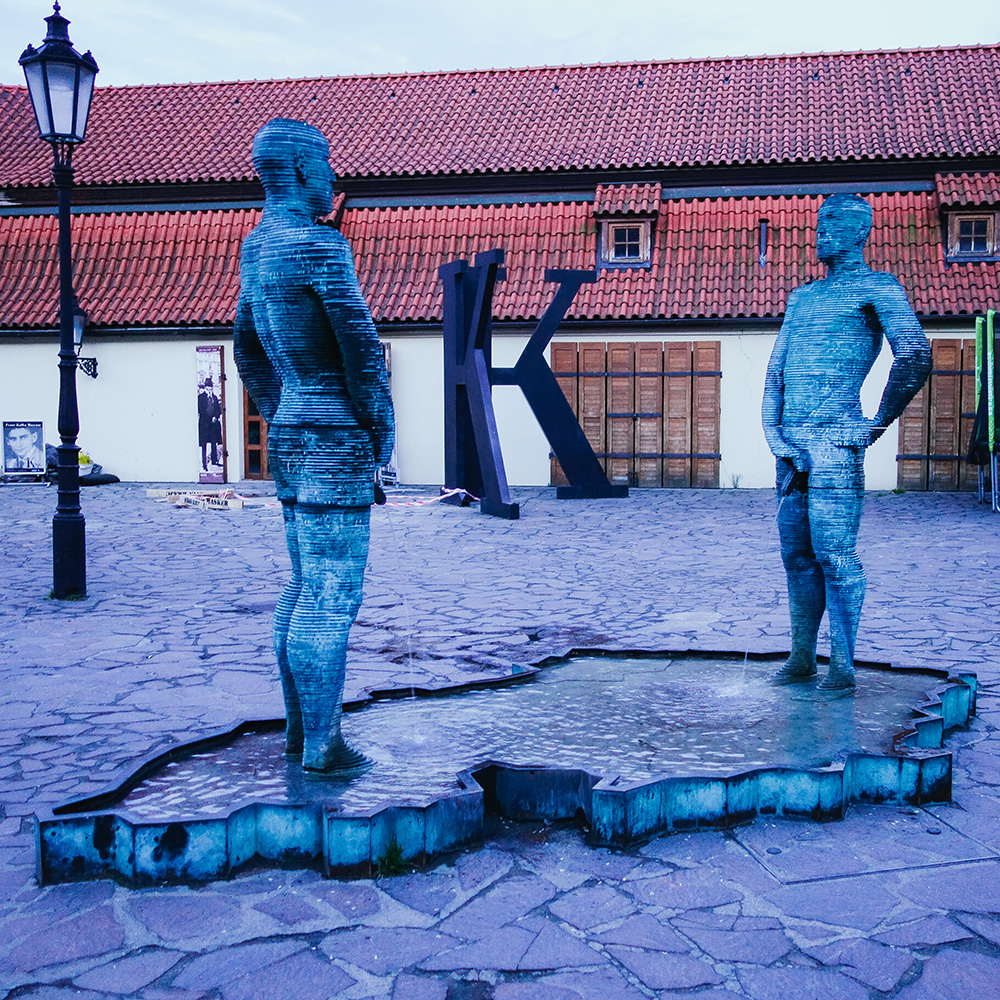 Charles Bridge
By this time, the sun had now dipped below the horizon. Making our way onto the iconic Charles Bridge, we beheld our ultimate destination for the evening: the glowing, majestic Prague Castle.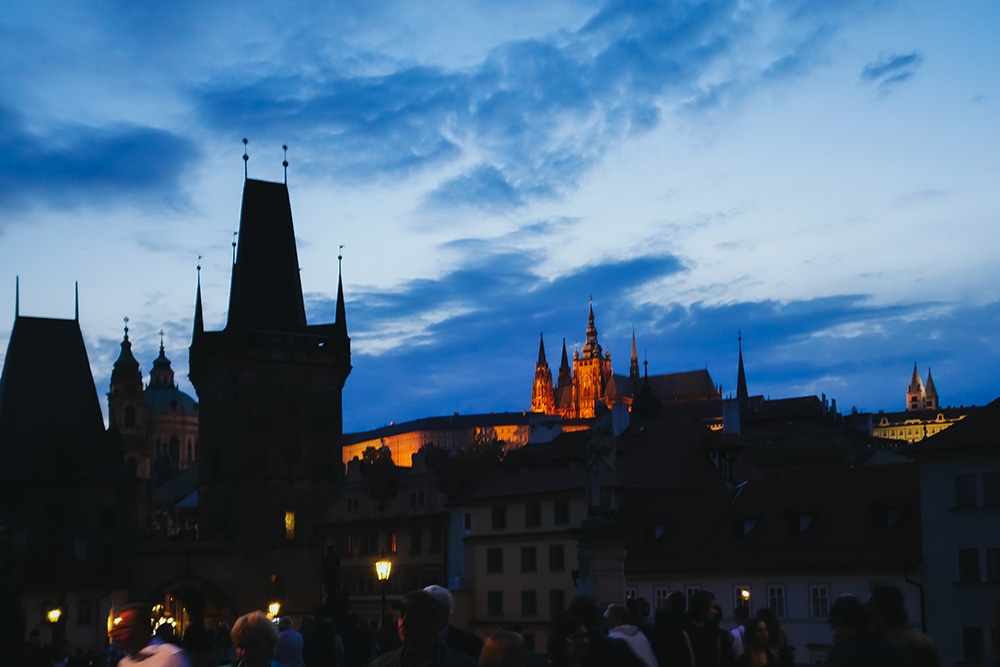 Into the Lesser Town
Crossing Charles Bridge, we made our way into the Castle district, Hradcany. As we followed the charming, sloping streets upwards towards Prague's most famous landmark, Kristian pointed out lots of interesting facts about the architecture of this district and its history. For example, did you know that many of the medieval houses in this district are decorated with large, gold symbols of animals, figures or objects above the doors? At a time when the majority of people were illiterate, these symbols signalled the profession of the owner of the house. Interesting, right?
Prague Castle
Reaching our destination, I was struck by how quiet Prague Castle was! On another trip to Prague two years ago, I had visited this site during the middle of the afternoon (bad move, I know) and wasn't able to see much beyond the crowd-crush of tourists. But tonight? It was positively peaceful! Perhaps due to the fact that it was the Night of Churches where the churches across the city are open free of charge to the public, many people were tucked away inside St. Vitus Cathedral. We briefly went in to have a look around before focusing on the exterior and the stories behind its magnificent architecture.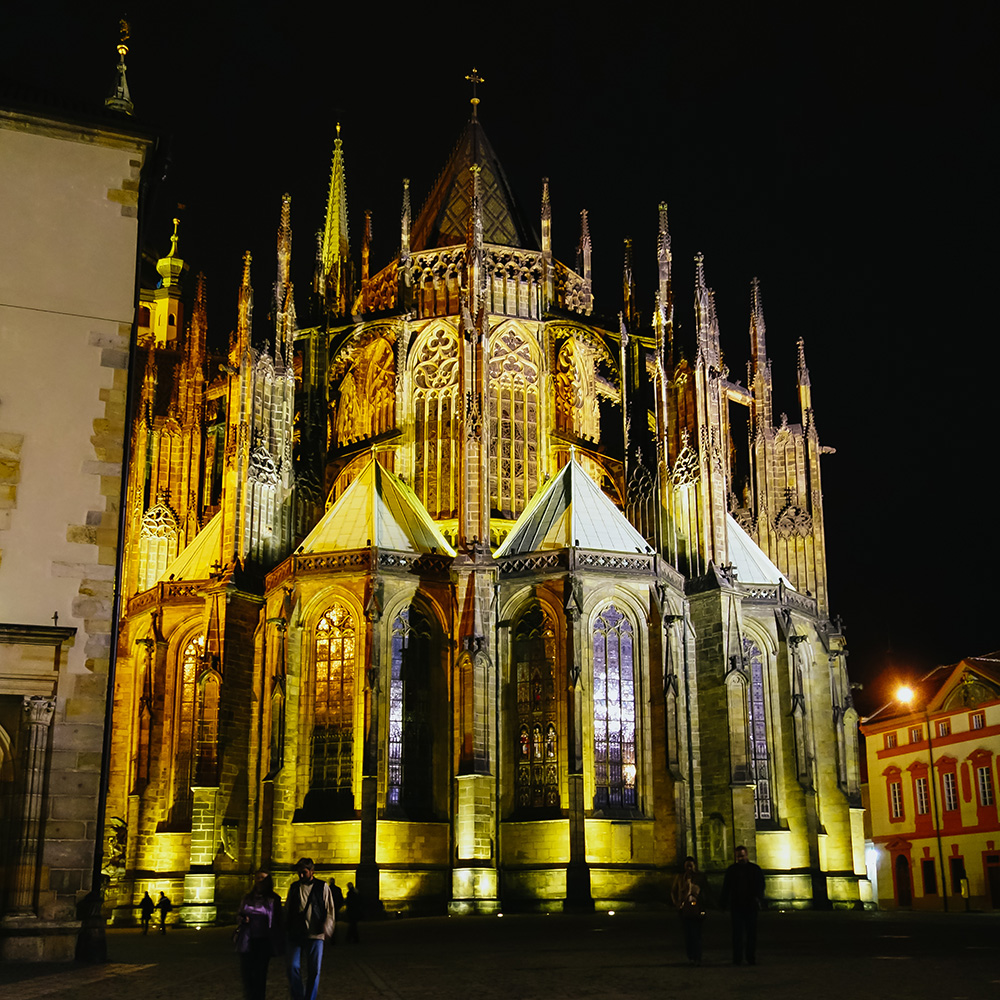 Close to 10:30pm, we began our descent back towards the Old Town, but not before we snapped some shots of the stunning city below us. What a view!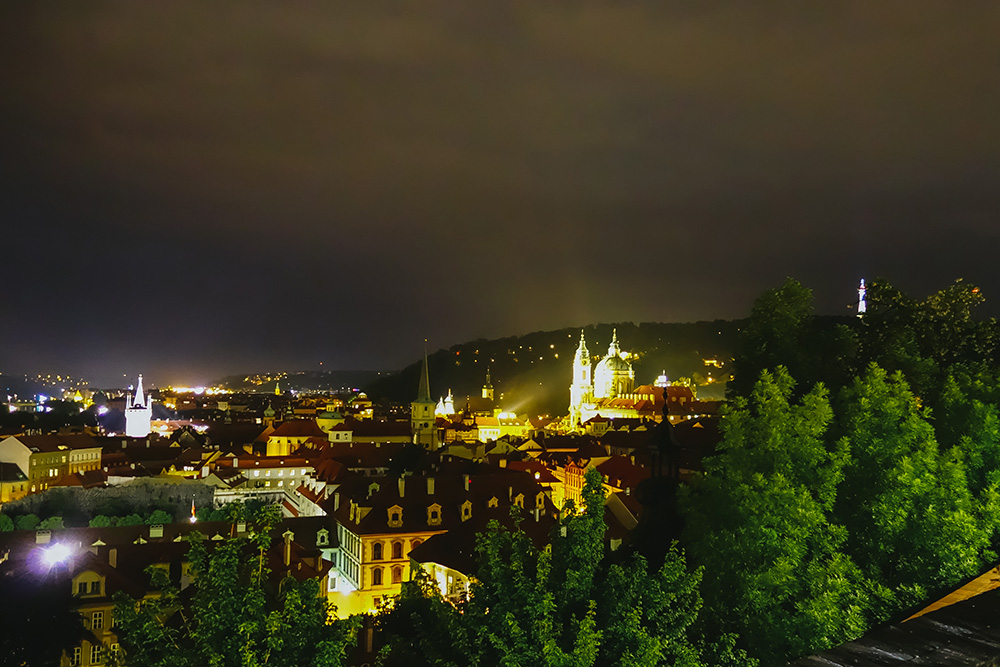 Crossing back over the river, our 'Prague By Night Walking Tour' was due to end at the magnificent Neo-Renaissance Rudolfinum (House of Artists). Just as we began wrapping up for the evening at 11pm, a few drops of rain began spotting around us. Within a matter of seconds, the heavens opened and we found ourselves stranded in a torrential downpour! Thankfully, Kristian had some emergency ponchos for us and we sprinted to find some shelter, hoping to wait out the storm. After no sign of the deluge easing after half an hour huddled under an awning, the unanimous decision was to just embrace it! We stepped out into the warm, wet night and made our way slowly back in the direction of our hotel, trying our best to dodge the biggest pools of water that had flooded the streets. Kristian was good-humoured and caring, walking with us to ensure that we got back safely.
Overall, Guidilo's 'Prague By Night Walking Tour' was a great way to spend an evening in Prague. A lot of key sites were covered in a relatively short amount of time and our guide had an excellent knowledge of the history behind every point of interest we visited. Seeing the sites by night is definitely much more peaceful than doing so in the daytime when tourists are out in force. If you are tired or if you have already done a lot of walking that day, be prepared for the fact that this tour is fast-paced, covers quite a distance and ends late. Despite this, Kristian's energy should definitely keep you going!
Have you been on a great walking tour on your travels somewhere? I need to know about it! Share your experience in the comments below.
Disclosure: I attended the Prague by Night Walking Tour as a guest of Guidilo. As always, my opinions are my own.