Remember recently when I announced my ambassadorship with Tinggly, the company that enables you to gift incredible experiences around the world, I mentioned that I would be reviewing a selection of Tinggly experiences? As an Ambassador, one of my roles is to independently review a range of Tinggly experiences so that you can get the real deal on what they're like before you book on yourself. Well, I've just been on my very first Tinggly experience, in fact, the only Tinggly offering in Berlin, and I have the full review for you here!
Skip-The-Line Berlin TV Tower with Lunch or VIP Dinner
Berlin's Fernsehturm or TV Tower is one of the city's most iconic landmarks. No matter where you are in the city, you can always spot the TV Tower looming over you from the city skyline. With over 1.2 million visitors per year, it is also one of the city's most popular attractions. In my two years living in Berlin, I still hadn't visited Berlin's tallest structure, so when I discovered that Tinggly offered a Skip-The-Line Berlin TV Tower with Lunch or VIP Dinner experience, I booked right away!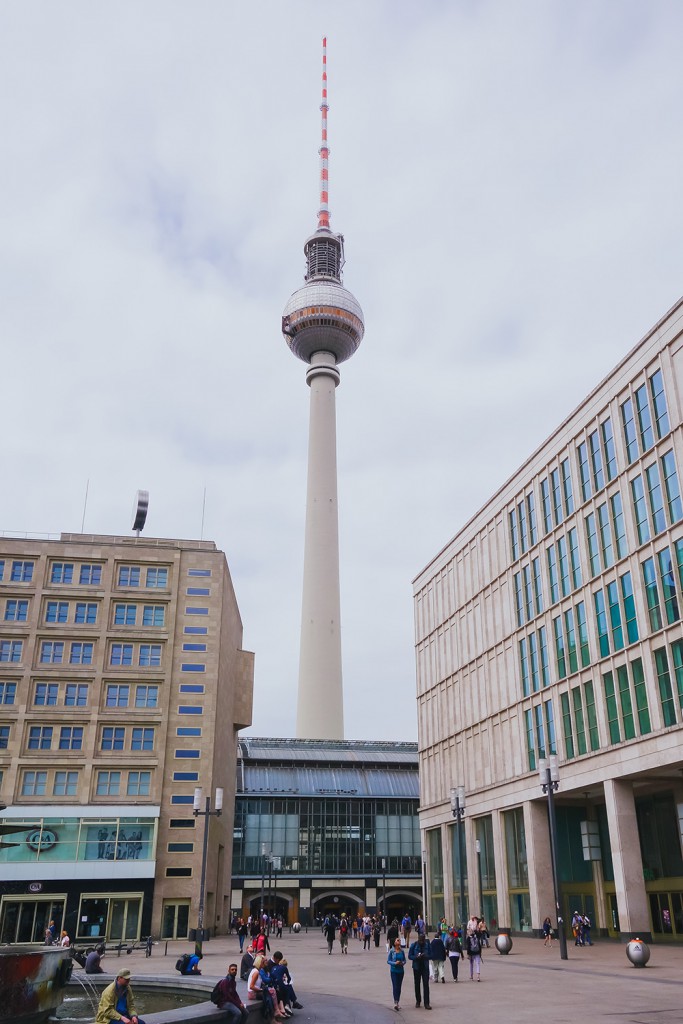 Skipping the line
With my Tinggly voucher I was able to skip the line altogether, which saved at least 30 minutes of queueing time. The Berlin TV Tower is one of Berlin's busiest tourist attractions and queues for tickets can be quite long, especially around lunchtime.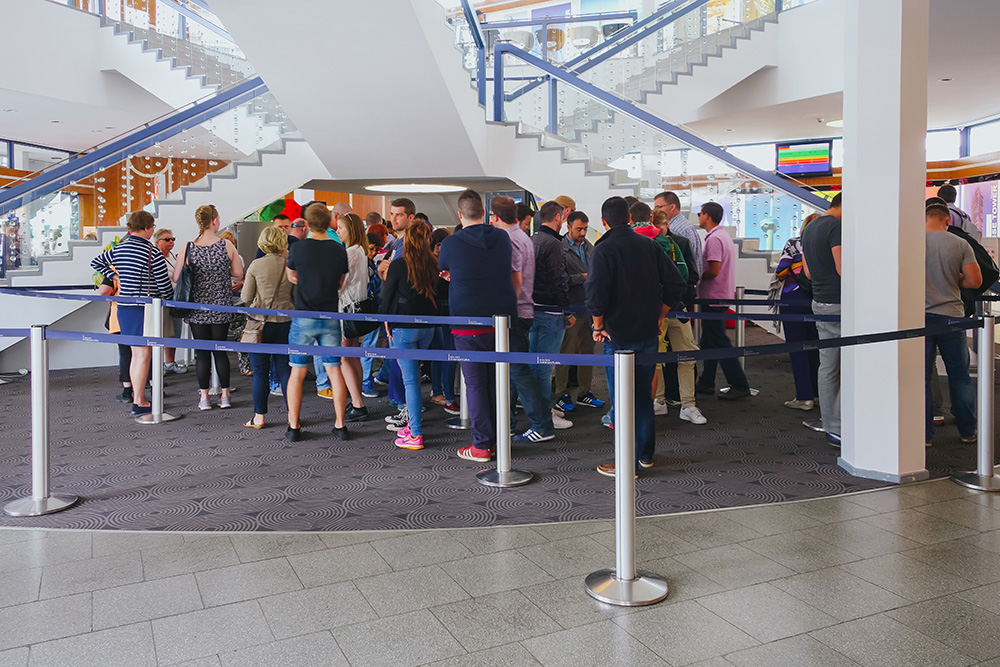 Instead of wasting time queueing, I was able to head straight to the souvenir shop to exchange my voucher for a ticket. I was served immediately and the whole process took less than one minute!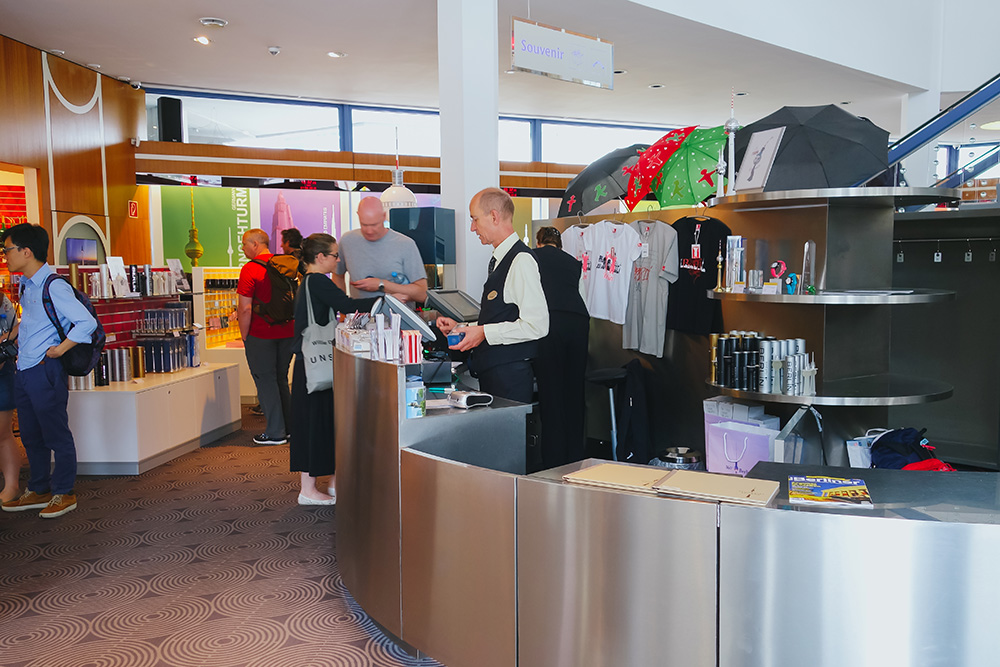 VIP ticket holders are able to wait in a small lounge area before going through the security clearance, but I bypassed this and headed directly through security where I was given priority screening. My bag was checked and I passed through a metal detector.
Rounding the bend to approach the elevators, I was hardly surprised when I saw yet another queueing area! This really was a busy attraction. Fortunately, there were two lines: one for ordinary ticket-holders and another one for VIP ticket-holders. I joined the shorter one. The elevators are run very efficiently and people waiting in the priority line are always ushered in first.
The elevator trip itself was quite exciting. An attendant rides along in each elevator and explains both in German and English how fast we were travelling (6 metres per second) as well as how high we would be going (203 metres). The ceiling of the elevator was glass and it was entertaining to be able to watch ourselves rush up the interior of the tower so quickly! We arrived before I knew it — in only 40 seconds in fact — with my ears popping a couple of times on the way up.
The observation deck
Taller than the Eiffel Tower, the views from the Observation Deck from 203m are astounding! I beheld the entire city in front of me, with views stretching for miles and miles. Up there, you really get a sense of just how big Berlin is (nine times larger than Paris actually)!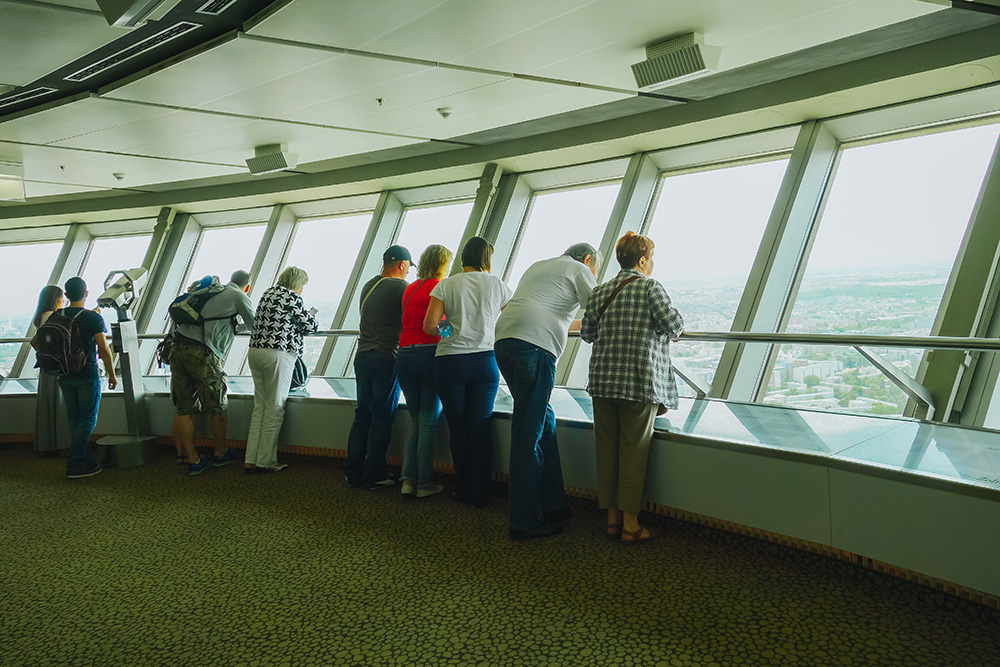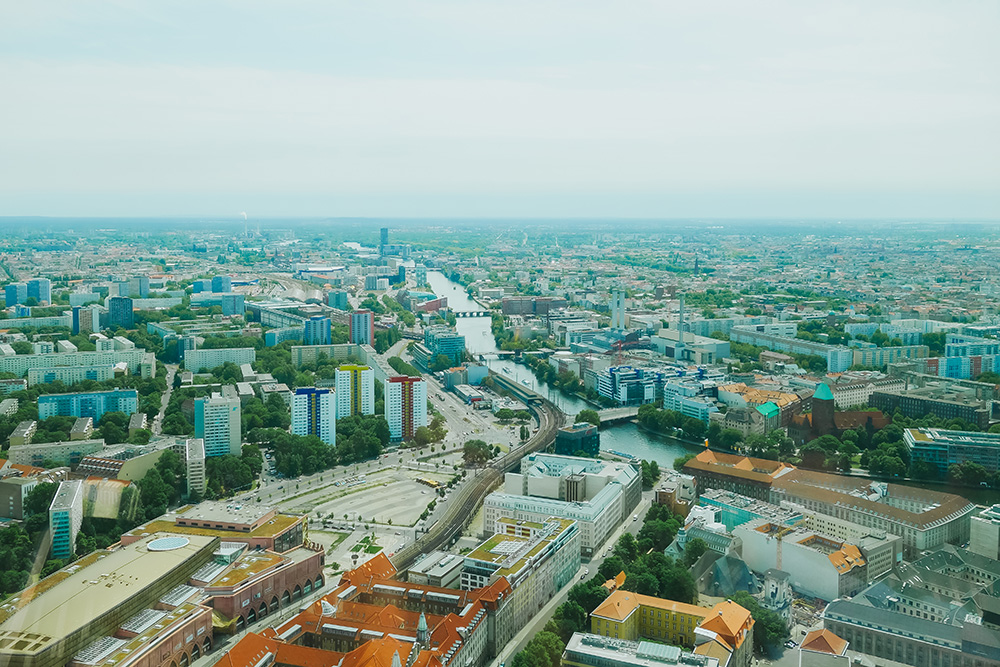 As you move around the panoramic Observation Deck, informative signs placed strategically around the viewing deck point out various important landmarks that can be seen below you. I loved spotting the building that I live in as well as landmarks such as the Reichstag, the Berliner Dom and Tempelhofer Feld.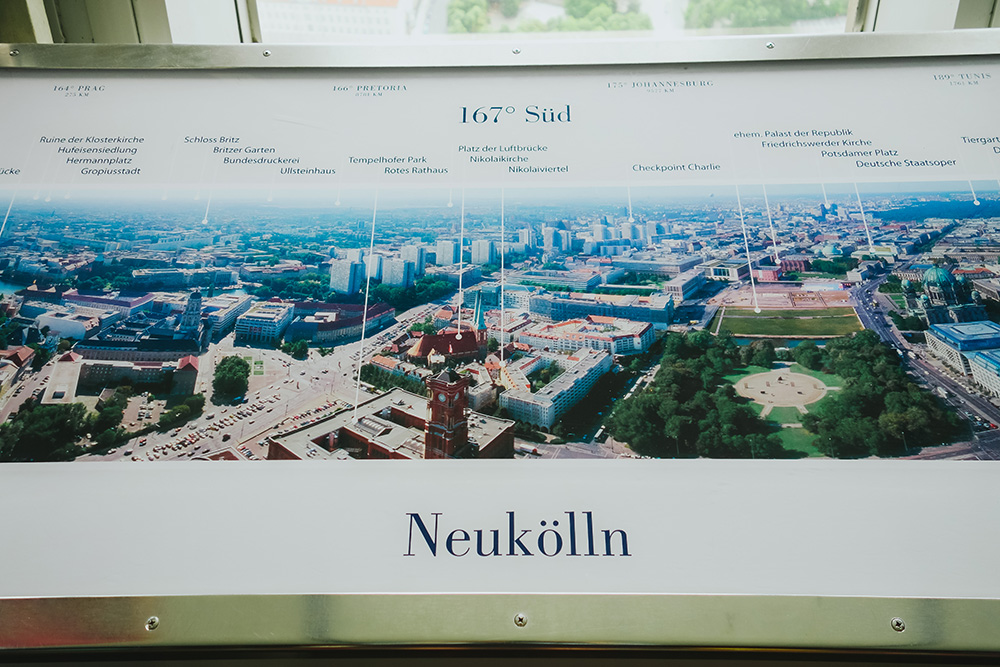 VIP Lunch
It was nearing 12pm and, eager not to be late for my VIP lunch reservation in the Sphere restaurant, I made my way to the entrance point. I was shown to my table, one with uninterrupted views across the entire city, and handed a menu. I was told I could choose two courses: either a starter and a main or a main and a dessert.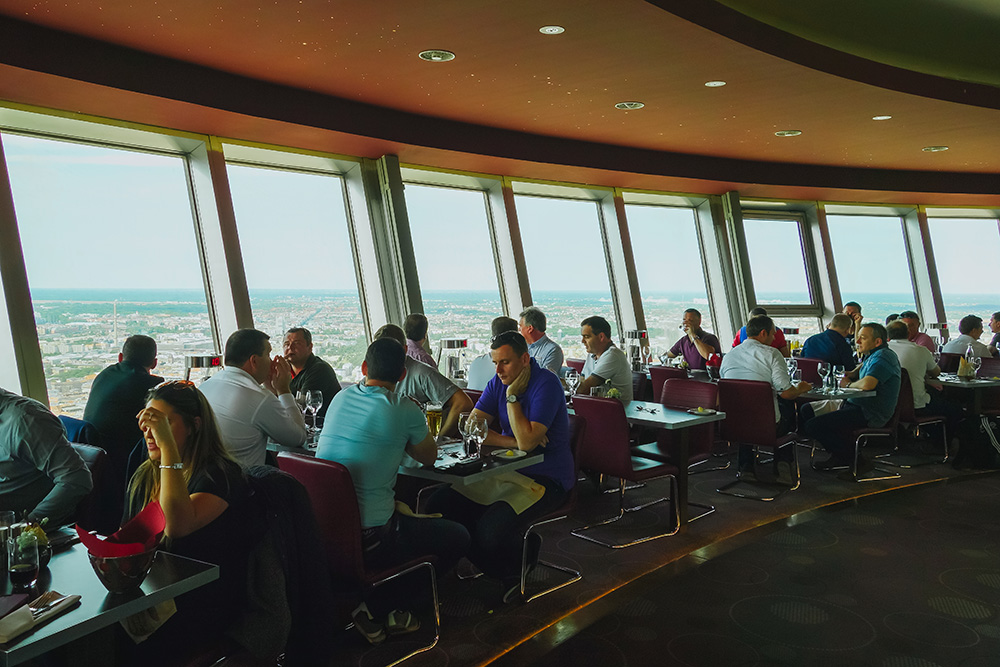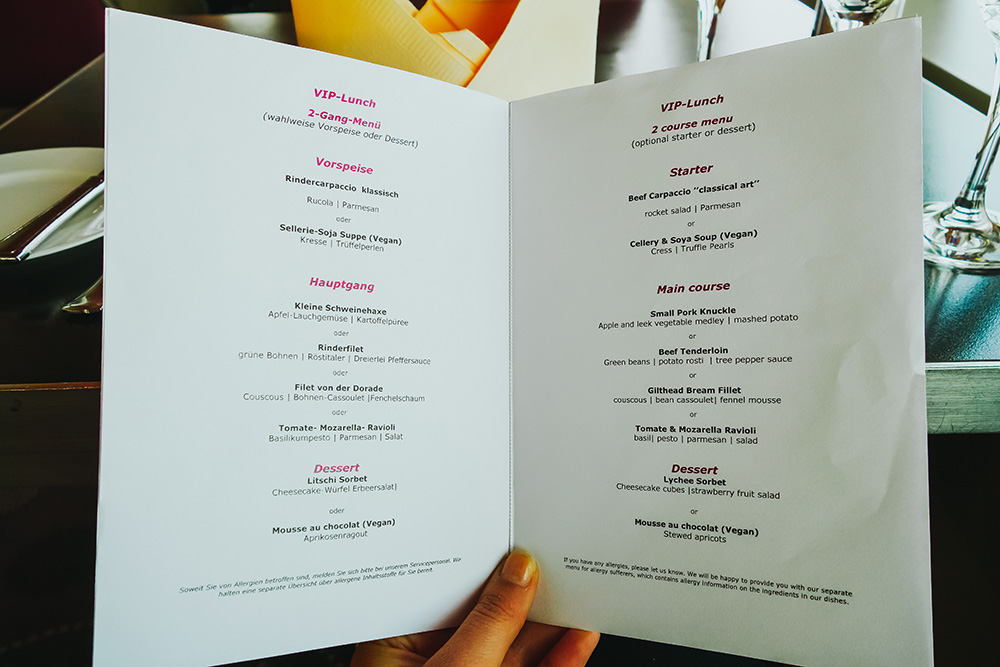 As I was making my decision, my drinks appeared: sparkling mineral water and a glass of both white and red wine. The waitress took my order and I sat back and enjoyed the view.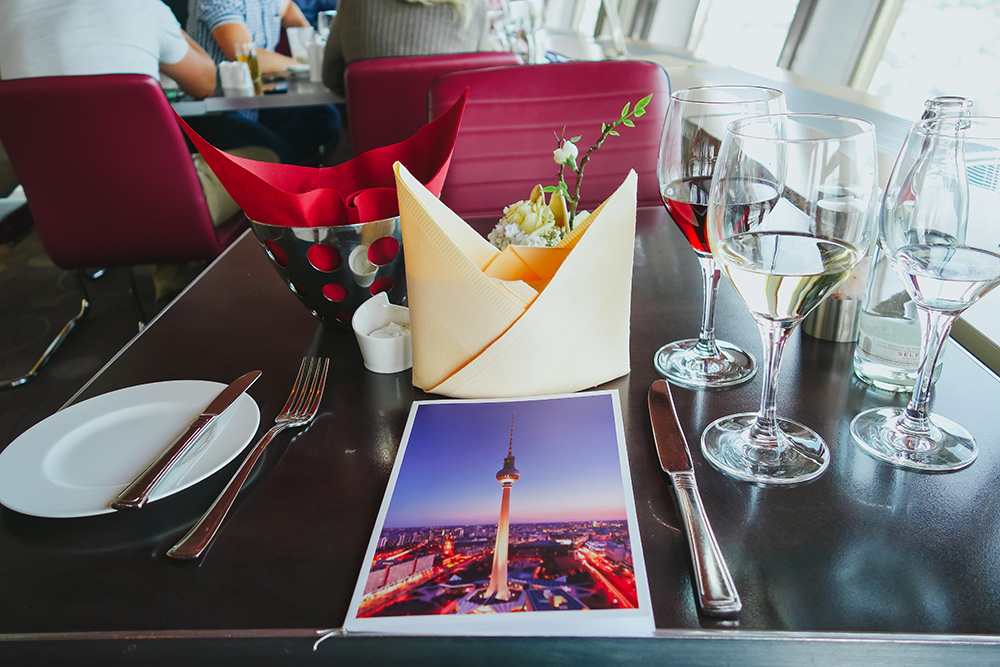 As I gazed out over the city trying to spot the various landmarks I knew, I realised that the restaurant was in fact slowly revolving! Sipping on my wine before lunch arrived, it was time to kick back and take it all in.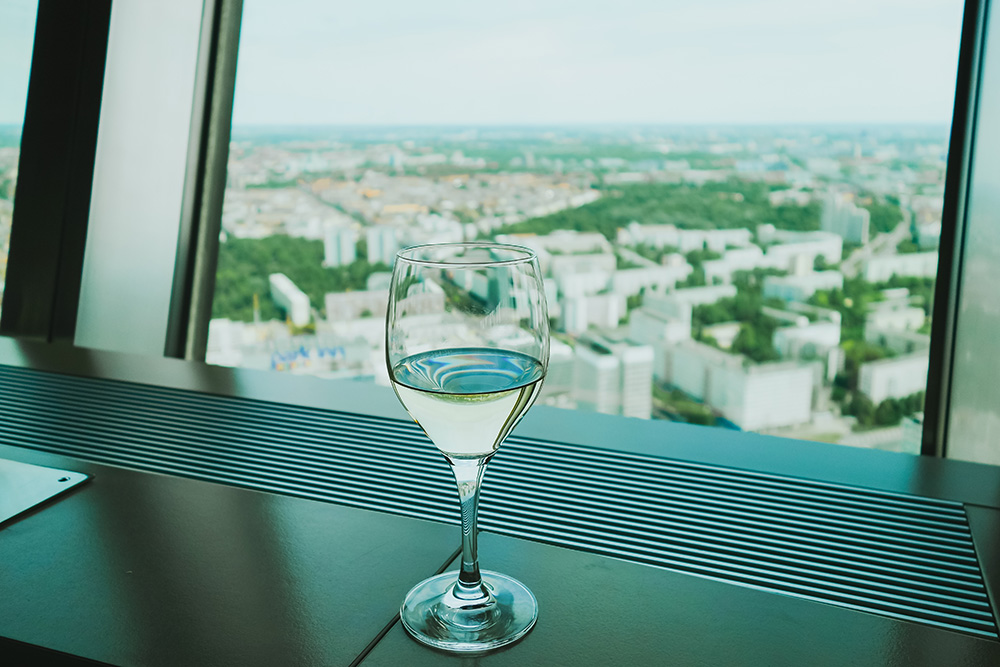 Can you spot the Berliner Dom? The Brandenburg Gate? What about the Reichstag? Or the Victory Column? I could see them all below me!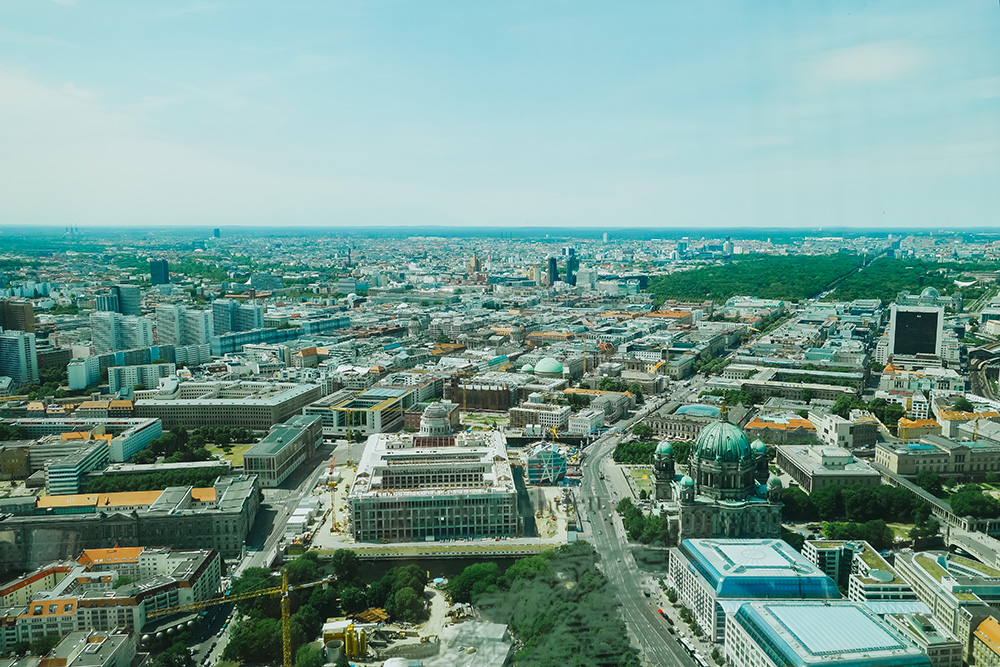 My lunch arrived shortly afterwards. I had gone with the main and dessert option of course For my main, I ordered the beef tenderloin with green beans, potato rosti and tree pepper sauce. A bread basket also promptly arrived. Overall the meal was of a high quality, even if the steak was overcooked.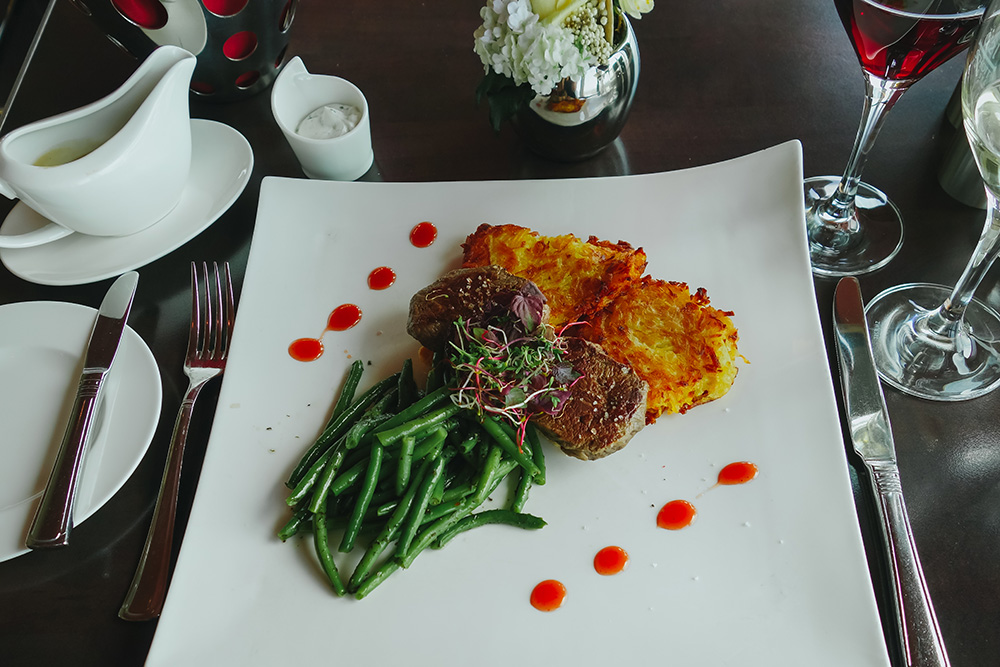 Next up was the second course: dessert. I requested the chocolate mousse with stewed apricots. I was also offered a coffee, so I happily obliged with an espresso. The dessert was delicious and was just the right combination of sweet chocolate mousse and tart fruit.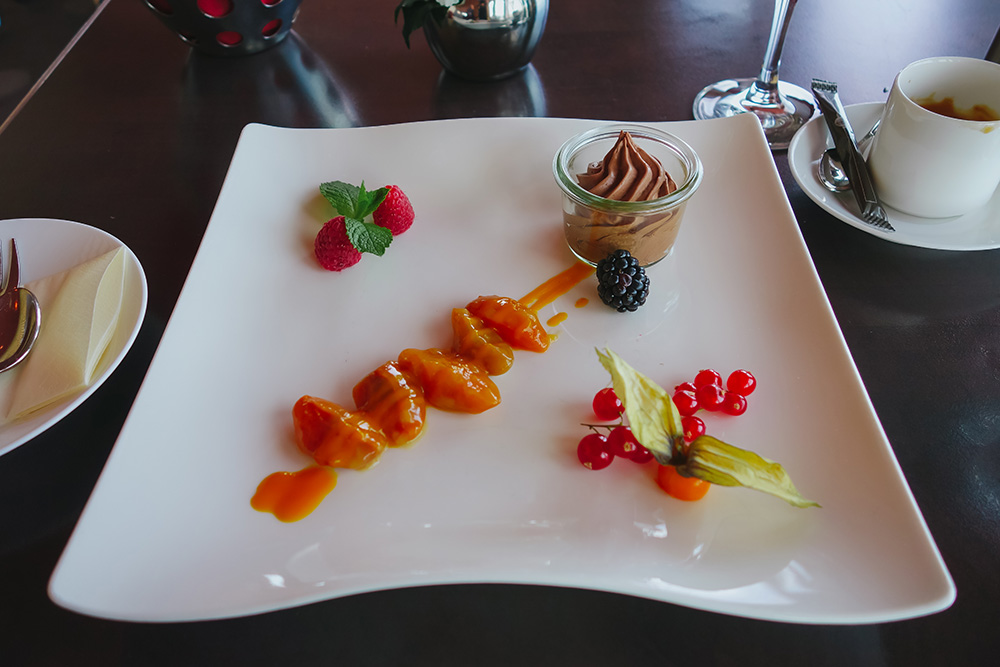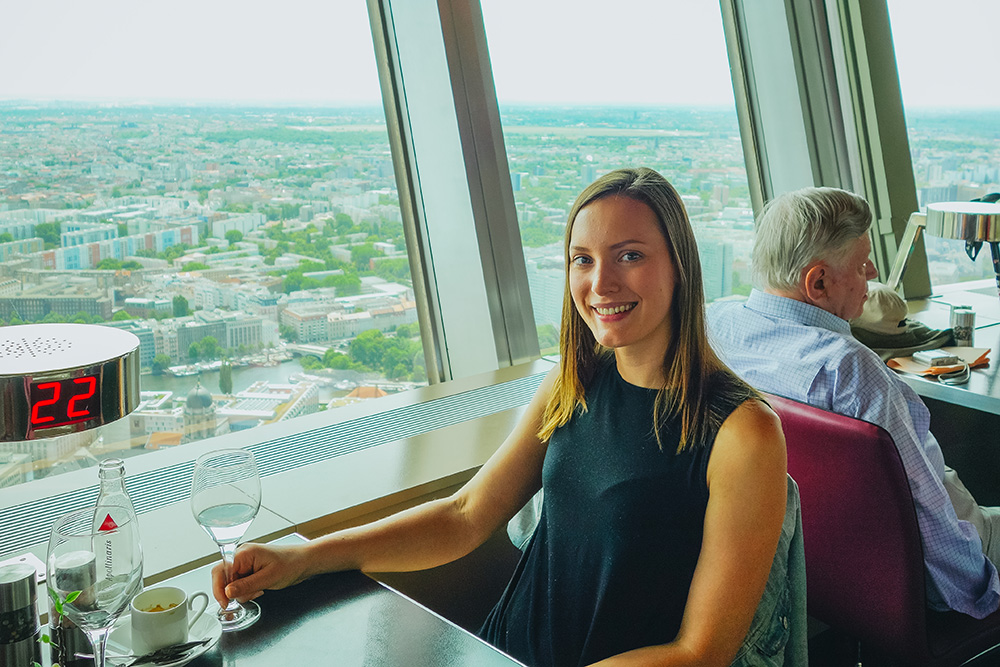 My table had only only been reserved for an hour, so I finished off my meal and it was time to go. I didn't need to sign any paperwork and the waitress confirmed that everything had been covered by my VIP lunch voucher. Too easy.
Book this Tinggly experience if:
♥ You're eager to see the best views of Berlin
♥ You don't like waiting endlessly in queues
♥ You're keen to visit one of Berlin's most iconic landmarks
♥ You're hungry!
What's next for my partnership with Tinggly?
I mentioned earlier that the Skip-The-Line Berlin TV Tower with Lunch or VIP Dinner was the only Tinggly offering currently in Berlin. I want to change that! There are so many fun and unique things to do across the city, so one of my next priorities will be to get some more options up there on the Experiences Map.
Have you visited the Berlin TV Tower? What was your impression?
---
Disclosure: I experienced the Skip-The-Line Berlin TV Tower with Lunch or VIP Dinner as a guest of Tinggly in exchange for this review. As always, my opinions are my own.