Istanbul. What can I say? You must go. End of post.
Seriously, though, there are just too many aspects of this incredible city that will blow your mind. One of these aspects of course is food. You've already had a little bit of a history and geography lesson in previous posts (such as this and this), so now let's talk about these Turkish delights.
I was looking forward to so many culinary treats once I'd touched down. I have to say that breakfast isn't my most favourite meal (especially now that I'm living in Europe, because no city does breakfasts like Melbourne), but my visit to Istanbul reminded me again of just how good this meal can be. Cafe Privato in the Galata district is renowned for its delectable, traditional Turkish breakfasts. In fact, this is the only option for breakfast. It did not disappoint.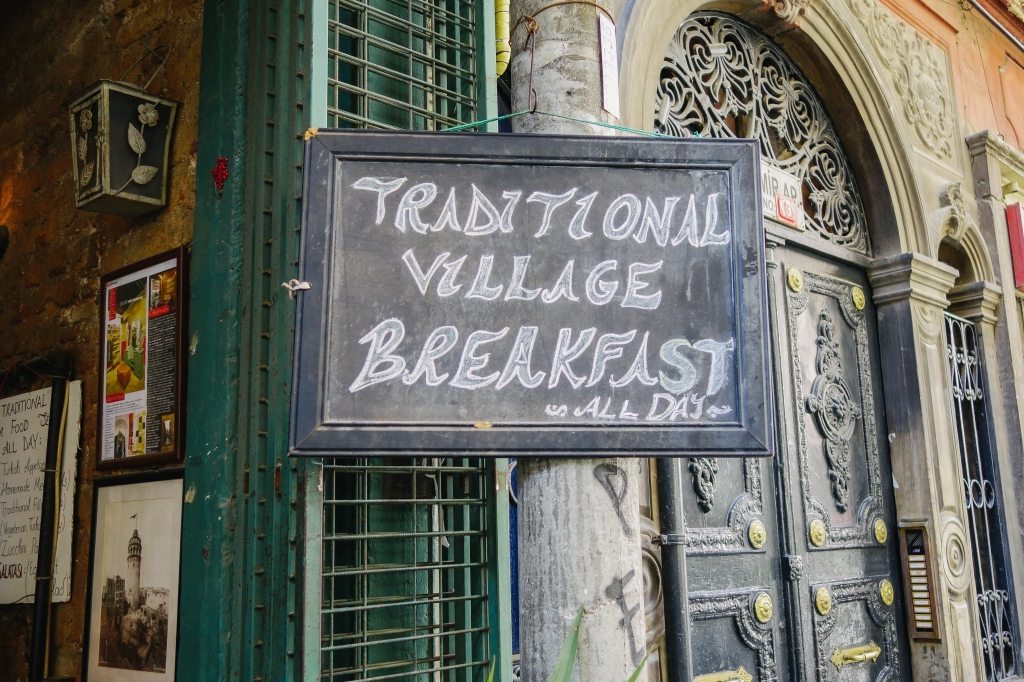 We ordered one breakfast to share and it was a feast. Homemade preserves using seasonal fruits, gözleme, börek, fried haloumi, spicy sausage, scrambled eggs infused with eastern Turkish spices, four kinds of fresh cheese, dips, olives, tomato and cucumber salad; a real breakfast meant to be enjoyed slowly. Surely we wouldn't need lunch?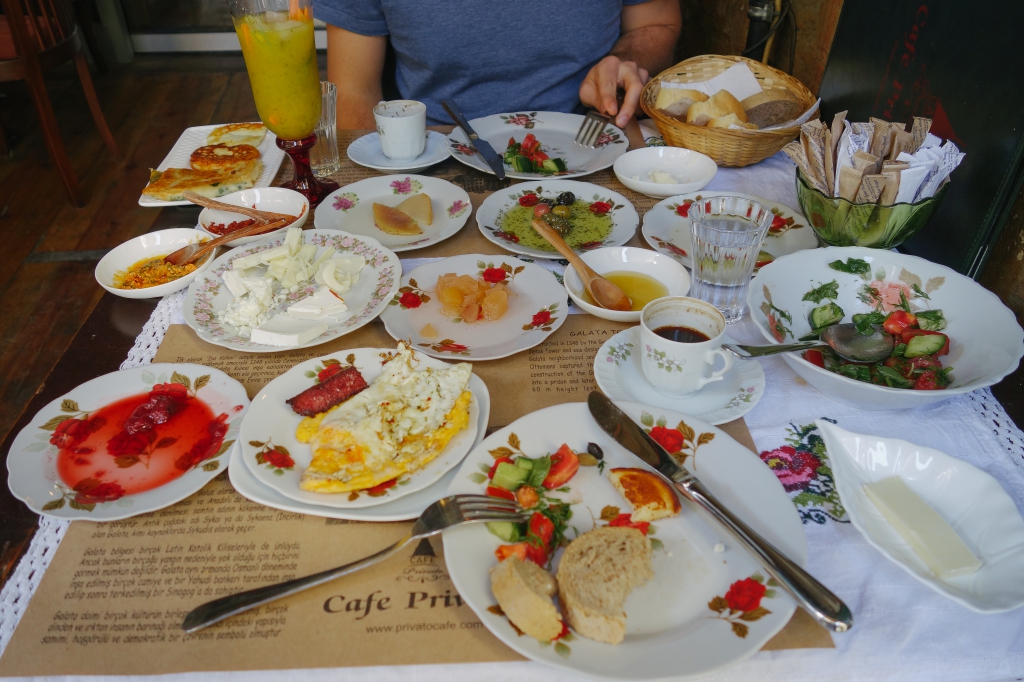 But how could I resist the out-of-this-world crazy good kebab at Dürümzade? You haven't had a dürüm (Turkish wrap) until you've had this. It's all about the bread here. After all, a sandwich is only ever as good as its bread. The grill masters here rub it with a mix of red pepper and spices before tossing it on the charcoal grill. Once it's cooked it's draped over the meat to absorb some of those tasty meat juices and to trap that beautiful smoke which infuses into the food before being served. I'm salivating again, just describing this.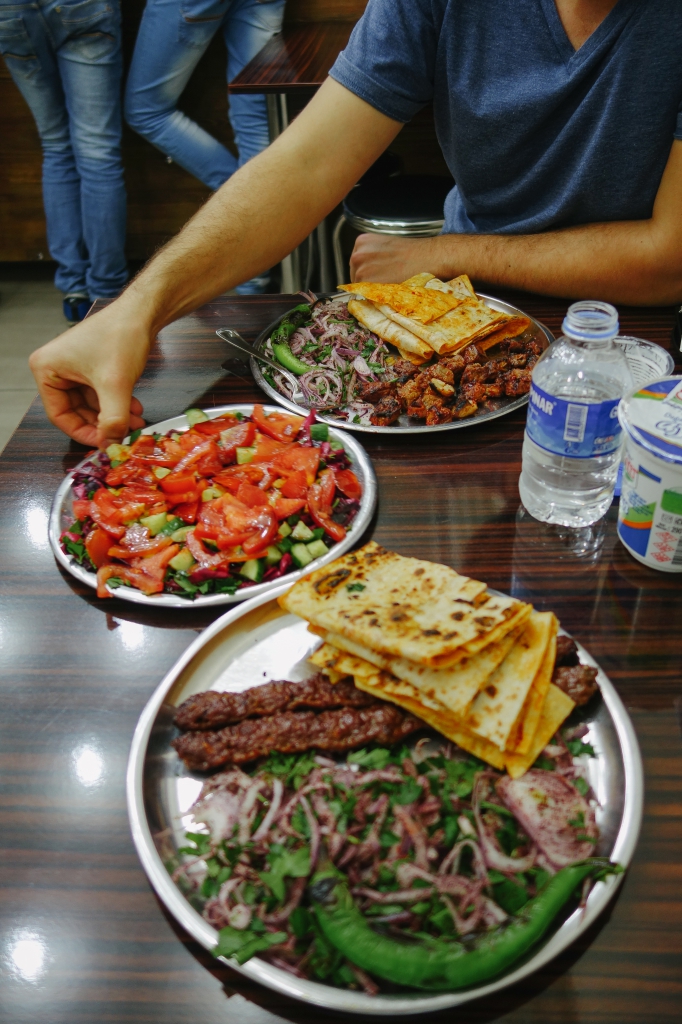 Or a fresh mackerel burger down at Eminönü pier in the late afternoon, with the call to prayer resonating across the city in the background?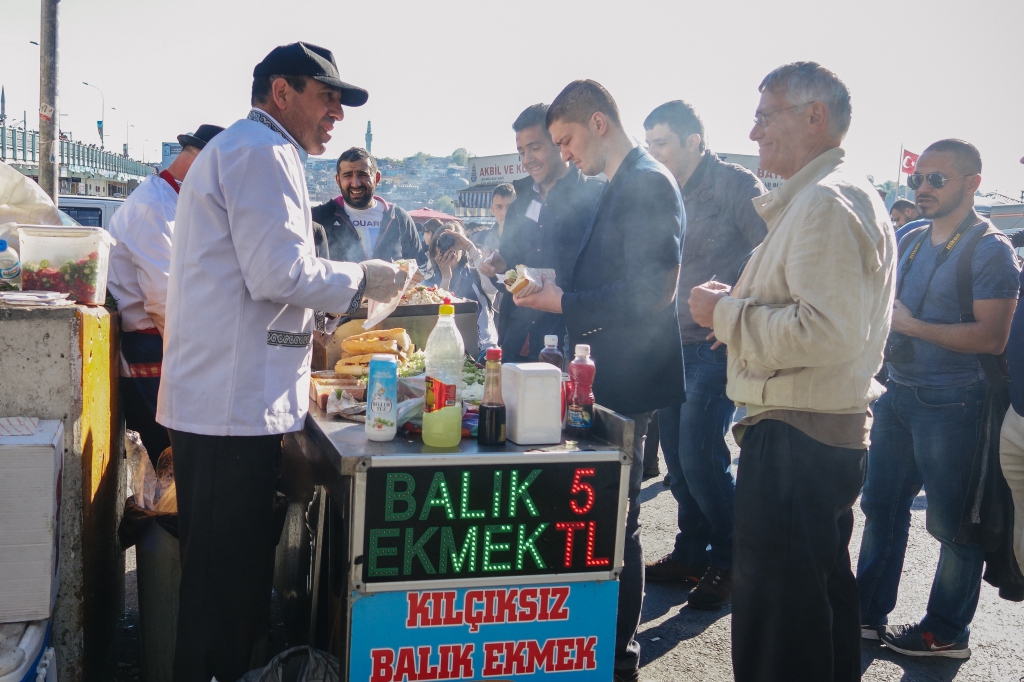 I didn't resist. And I didn't want to. Even though my belly was starting to bulge from too much tasty goodness. Even though our dinner reservation was in an hour. I arrived at the beautiful Meze by Lemon Tree restaurant not hungry in the slightest, but determined. This was one of the best high-end Turkish restaurants in Istanbul after all. Consequently, a selection of hot and cold meze as well as a plate of grilled butcher's meatballs was ordered, along with plenty of wine. All was enjoyed immensely.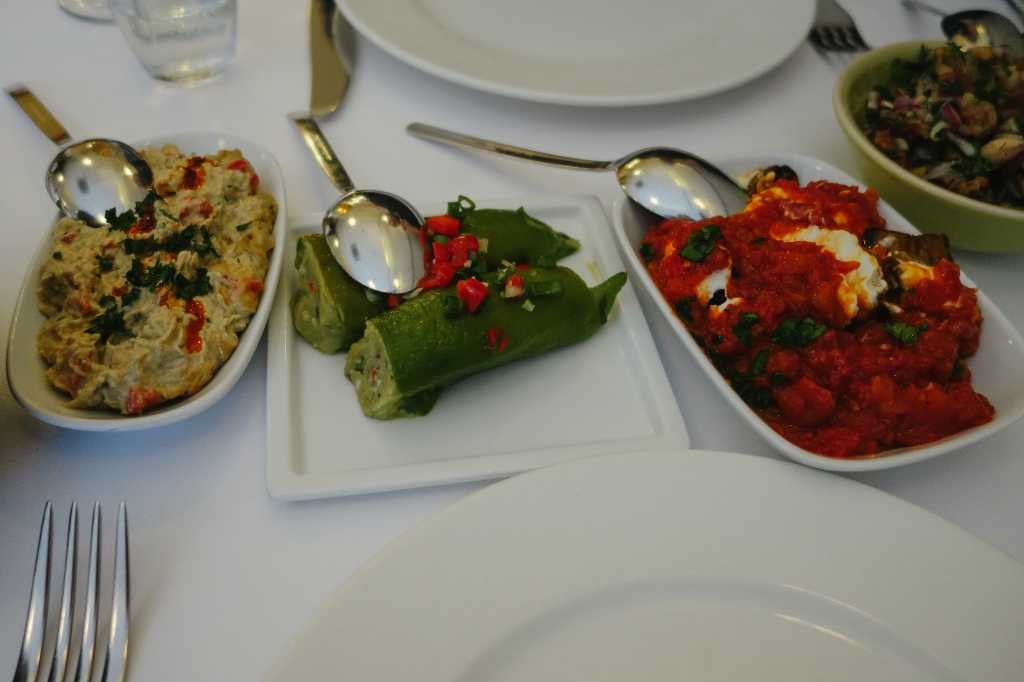 I feasted like this continually for my remaining three days in Istanbul. Every where I went, the smokiness wafting from charcoals followed me, calling, tempting. And I do admit that I succumbed. After all, who knew when I'd be in Istanbul again?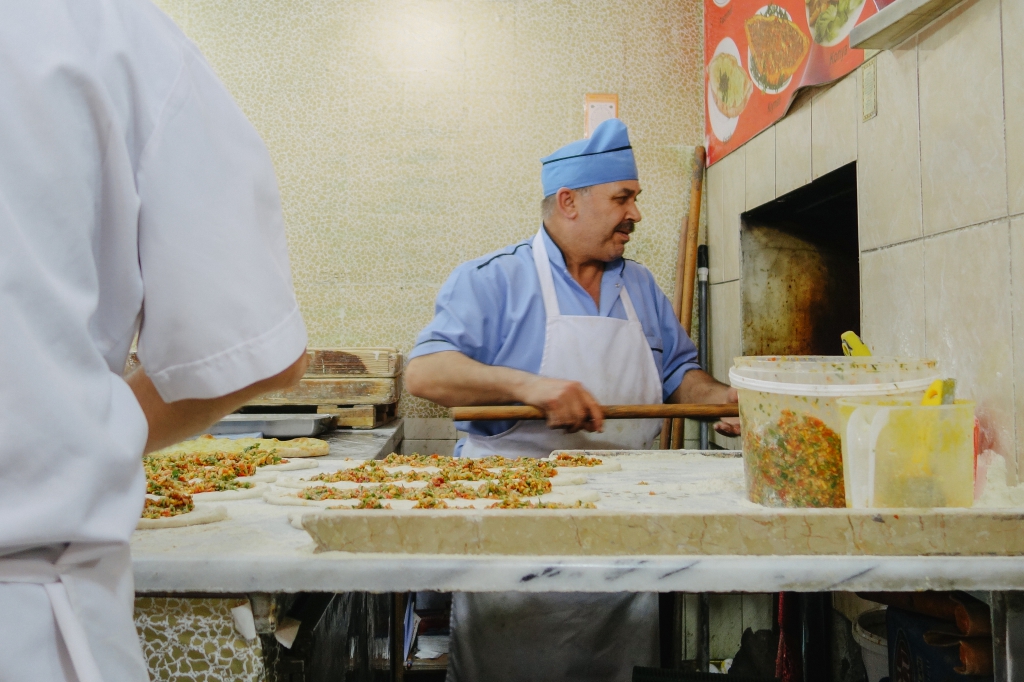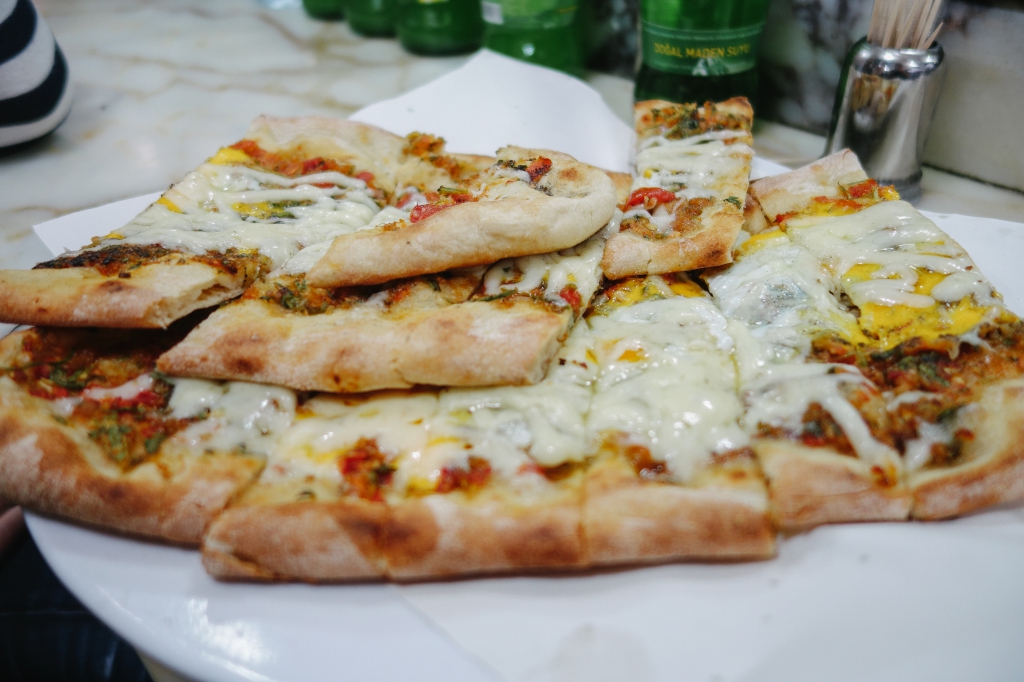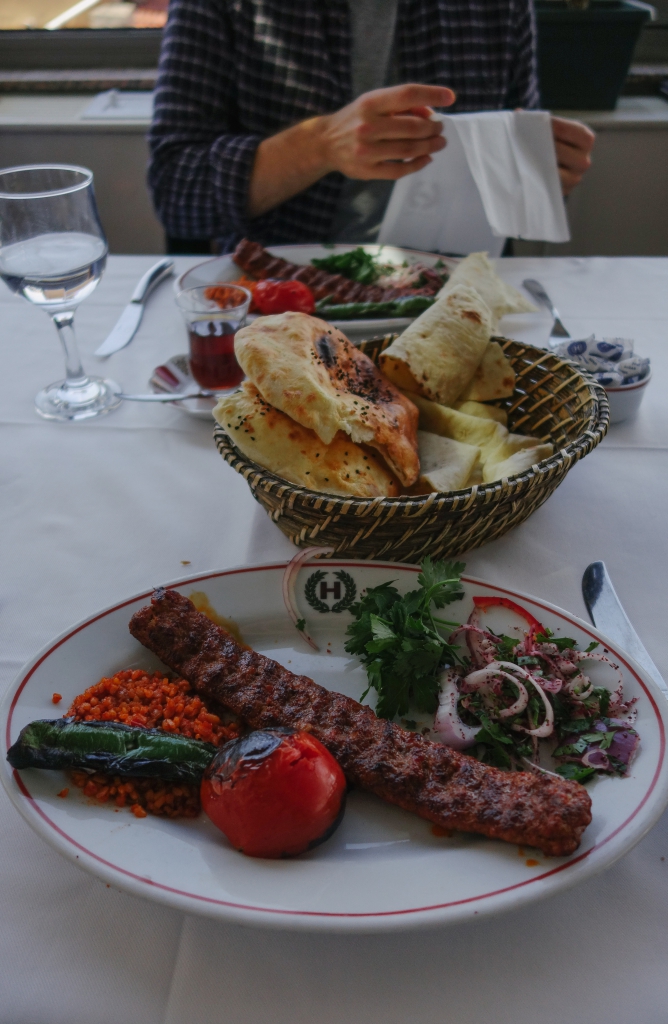 Yes, there were many more more kebabs. A lot more meze. Endless servings of tea and thick, sweet Turkish coffee. Refreshing cups of freshly pressed pomegranate juice and watermelon slices, available on every corner. And let's not forget the heavenly walnut and pistachio baklava. Those were my favourite varieties. Of course, the whole range of variations had to be sampled for me to come to that conclusion. Solid research skills. What foreign culinary delights have tempted you in faraway lands?