Travelling as a family can be one of the most rewarding and memorable experiences you'll ever have together. Already, I can't wait for the day our baby gets to come on our adventures with us! But try as you might, no matter how much you prepare (and how much you overpack!), you can't possibly anticipate everything that can go wrong when you're abroad with your little one. Today, we interview travel blogger, Elizabeth Georgian, from In Search Of, who tells us about the harrowing time her baby son ended up in hospital in Latvia.
When travel goes wrong: A sick child in a foreign hospital
1. It's great to have you here, Elizabeth! Could you tell us a little bit about yourself?
I'm so happy to share my experience here. Thanks, Rachel! I'm an American botanist, editor, and travel enthusiast from a small town in Connecticut. I've traveled close to home since I was a kid, but in graduate school I had the opportunity to live and work in rural China, where I learned that I loved the excitement and learning opportunities of living abroad. During that time, I met my husband, an elementary school teacher, who was up for the adventure of teaching abroad. Together we moved to Vilnius, Lithuania where we lived for four years, adopted a cat, and had a son. We're currently living and working in Florence, Italy, and we're excited to see where we'll end up next!
2. Okay, let's set the scene. What were your travel plans for this particular trip?
For this trip, our friends from the U.S. flew in with their one-year-old to meet our 10-month-old son and see our home in Vilnius, Lithuania. Our plans were to road trip in a massive rented van through the Baltic countries, ending with a few days in Helsinki. We had planned stops (with stays in cozy Airbnbs) in the resort town of Jurmala, Latvia; the culturally interesting Saaremaa Island, Estonia; and the vibrant Tallinn, Estonia before dropping off our car and jumping on a ferry to Helsinki, Finland.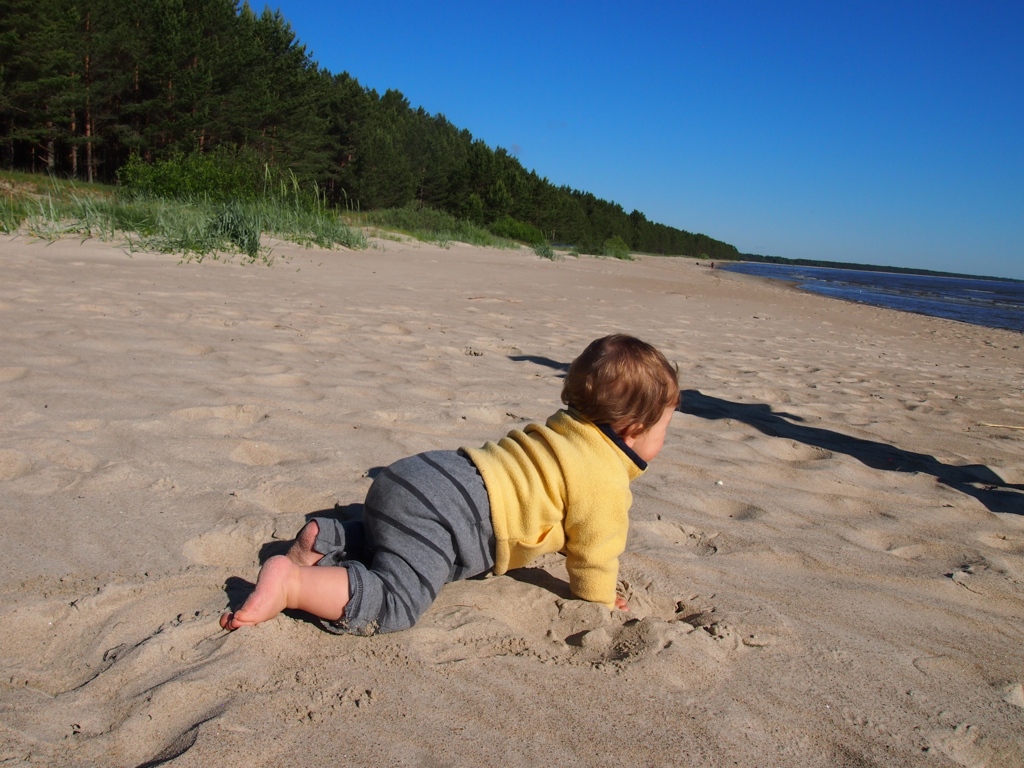 3. Unfortunately these plans didn't work out. What happened?
Prior to our trip, my son had broken out in a rash but his kind doctor, who made house calls, said it was likely not a problem and would probably go away in a week. She did indicate that it could turn out to be more serious but only time could tell. During the first leg of our trip, Jurmala, the rash wasn't an issue until the last night of our stay when it got worse and was accompanied by an increasingly high fever. So, we packed up the van and went to Riga, the capital of Latvia, to find a doctor.
4. When did you first become concerned about your son's health?
At 10 months old, my son frequently woke up a lot at night to nurse but the night he had a fever, he only woke once or twice. When I woke to check on him, I could feel that he had a fever, so I woke my husband and we started packing to leave.
5. That must have been very scary. What was going through your mind as you tried to seek medical attention for him?
It was super scary! He had never had a high fever before, so we were doing everything we could to keep him hydrated and lower the fever. It was actually really great having another set of parents with us because they had suggestions that we wouldn't have necessarily thought of.
Once we arrived in Riga, we set out to the first of the doctor's offices recommended by the U.S. Embassy but the first, and then the second, didn't have a paediatrician available. At that point, we were getting very nervous and even thought about returning to Vilnius (a four-hour drive away) so we could see our regular pediatrician. The staff at one of the clinics ended up suggesting we go to the paediatric hospital since they knew we could get treatment there.
6. Was there a language barrier when trying to communicate with the doctor?
We are very fortunate that most Baltic people under approximately 40 speak at least some English, so we weren't initially worried about a language barrier. The doctor we had spoke great English.
7. What was the treatment?
My son ended up having a viral rash that caused the high fever (so there was no medicine required), but he was dehydrated. He needed several IVs to replenish his fluids, a lot of breastfeeding and antipyretics to lower his fever. Keeping him still for the IV was so difficult and heart wrenching.
The treatment at the paediatric hospital was excellent, but this hospital had maintained an old Soviet rule where only one parent could be present in the room (maybe the point was to minimize the spread of germs?). I was with my son alone in the room for about five hours (my husband was nervously waiting in the lobby; we had given one of our phones to our friends and couldn't communicate to each other), but a young nurse took pity on us and finally brought my husband to come in to check on us. My husband, who is pretty tall and can be imposing, ended up just staying in the room for the rest of the treatment.
8. How did this impact upon the rest of your trip?
Our friends were awesome about it and had already booked us into a hotel for the night and contacted the Airbnb in Saaremaa to let them know we couldn't come. We ended up staying in Riga for two full days and nights — we stayed in the hotel with our son and they checked out the city alone — before continuing on to Tallinn and Helsinki.
9. Did you have travel insurance to cover the cancellation costs and medical expenses?
We didn't have travel insurance but through my husband's job, had a comprehensive international health insurance plan. We needed to pay upfront for the treatment — only about 70 EUR — and were able to get reimbursed later. Our friends canceled the Airbnb for us and they were able to get reimbursed by Airbnb since the situation was medical-related.
10. Do you have any plans to travel back to the area?
We lived in Vilnius for two years after that and have visited since, but we still haven't made it to Saaremaa. One day!
11. Have you learnt anything from the experience?
We learned that it is important to be flexible with plans and if traveling with friends, make sure that they are flexible and willing to help too! The situation would have been even more stressful if our friends hadn't been so supportive. And, if you're a parent, don't let one trip that goes wrong stop you from traveling as a family! It can be super rewarding to travel with a baby and toddler, even if they won't remember the trip when they're grown.
A big thanks to Elizabeth for sharing her story here on The Department of Wandering. Follow along on her family adventures on Instagram and Facebook.
Looking to read more accounts of travel plans going wrong? Check out our other interviews:
Like this post? Pin it for later!
Have you or someone you've been travelling with ever ended up in hospital abroad? Share your experience in the comments.