That time is creeping up again. The countdown is on and while I couldn't be more excited to be jetting off to bask in the European summer for a couple of months, I'm always decidedly less enthusiastic about the packing process. Even for a seasoned traveller, packing can still be the cause of stress and anxiety. I still despise the whole packing process (can't I just snap my fingers and arrive at my destination with a perfectly planned and packed case in tow?) but because I fly so much, I can do it fairly quickly nowadays. Once a serial overpacker with a 'when in doubt, pack it' mindset, these days I'm more of the opposite. Here are my best packing tips that will help you master the most common mistakes and have you quickly becoming a packing pro:
The 10 biggest packing mistakes you're making:
1. Not checking your airline's luggage limits
It might come as a bit of a surprise, but your luggage allowance depends on a few different things: the airline you're flying with, your class of ticket and your destination. Budget airlines generally only include carry-on in the base fare and you'll need to pay extra if you want to check bags. Checked baggage allowance also varies from airline to airline. For example, my upcoming flight to London with Qantas allows 30kg but my connecting flight from London to Berlin with British Airways only allows 23kg. Luckily I checked this beforehand! I've made sure I only packed 23kg to avoid hefty fees on my last leg. This is also where having lightweight luggage, like my American Tourister Lock 'N Roll 75cm spinner case is a lifesaver!
2. Packing slowly and as you think of things
A trap I've fallen into time and time again is slowly packing over a few days, placing items in my case as I go. Trust me when I say that this ALWAYS results in over-packing! What I started to do instead was devoting a specific chunk of time to pack and I laying out everything on the floor before putting anything in the case. This means that I can easily see what outfits work well together, which items are versatile and which aren't. This also helps me to avoid the urge to pack extra things 'just in case' I was forgetting something because I can see it all laid out in front of me.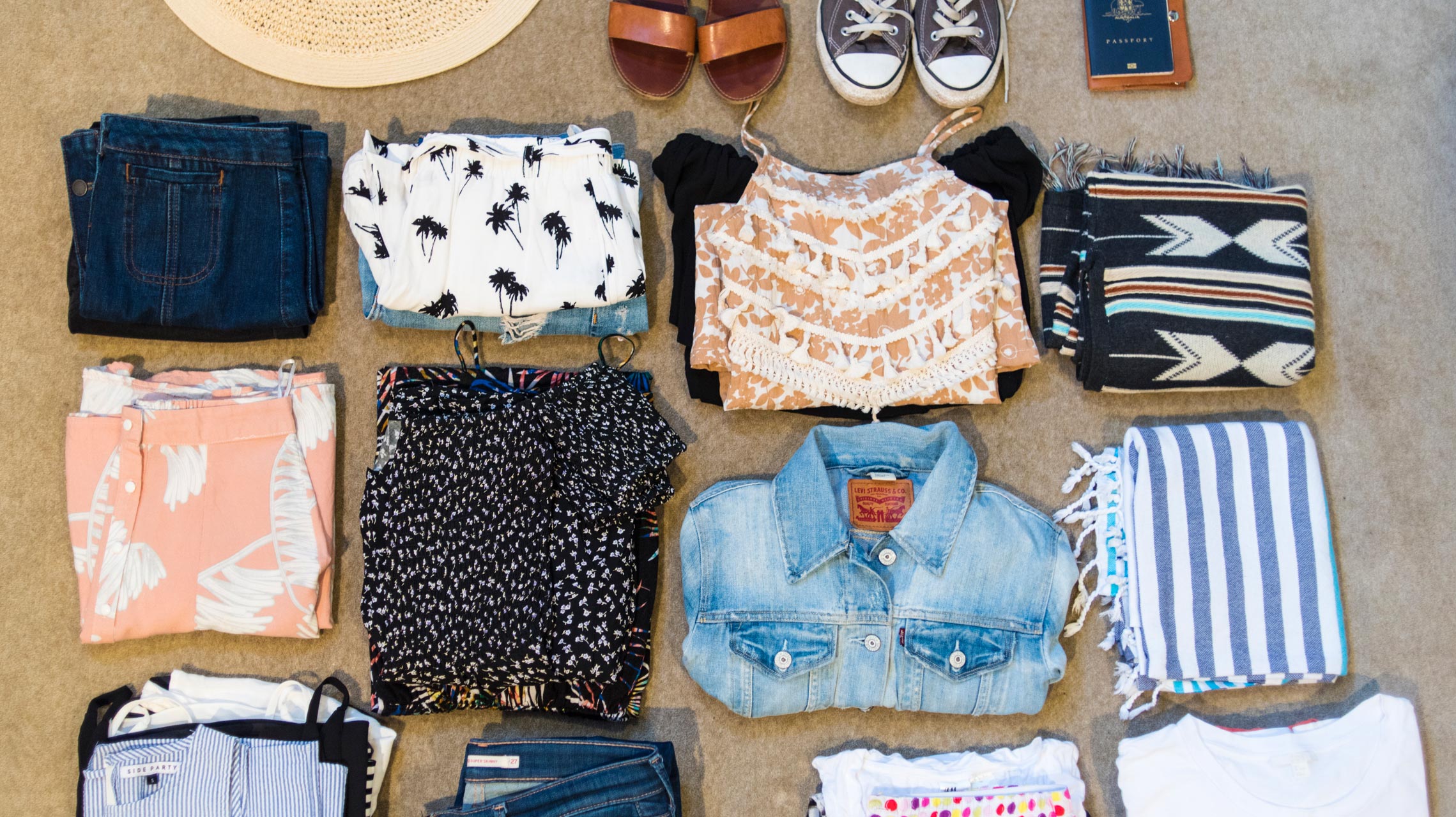 3. Not checking the weather before you travel
Okay, I know that the weather is always unpredictable, but it does help to check the upcoming forecast to get a sense of what the general climate will be like. It might be summer in your destination but the nights might still be cool or there might commonly be thunderstorms in the afternoons. Pack smart and arrive prepared for the weather conditions. The last thing you want to be doing when you arrive is madly hitting the shops in search of a raincoat or a sunhat!
4. Using a packing method that doesn't work for you
I've always been skeptical about this supposedly miracle method of rolling clothes to minimise creases and maxime space. Some people say it works wonders but I'm a folder through and through. I like my suitcase to be neat and structured and seeing all my clothes rolled up into little tubes would make me stressed. I also feel like rolling works better with soft cases. Hard cases seem to generally keep everything nice and neat anyway. Be sure to use a packing method that you're comfortable to help you feel in control.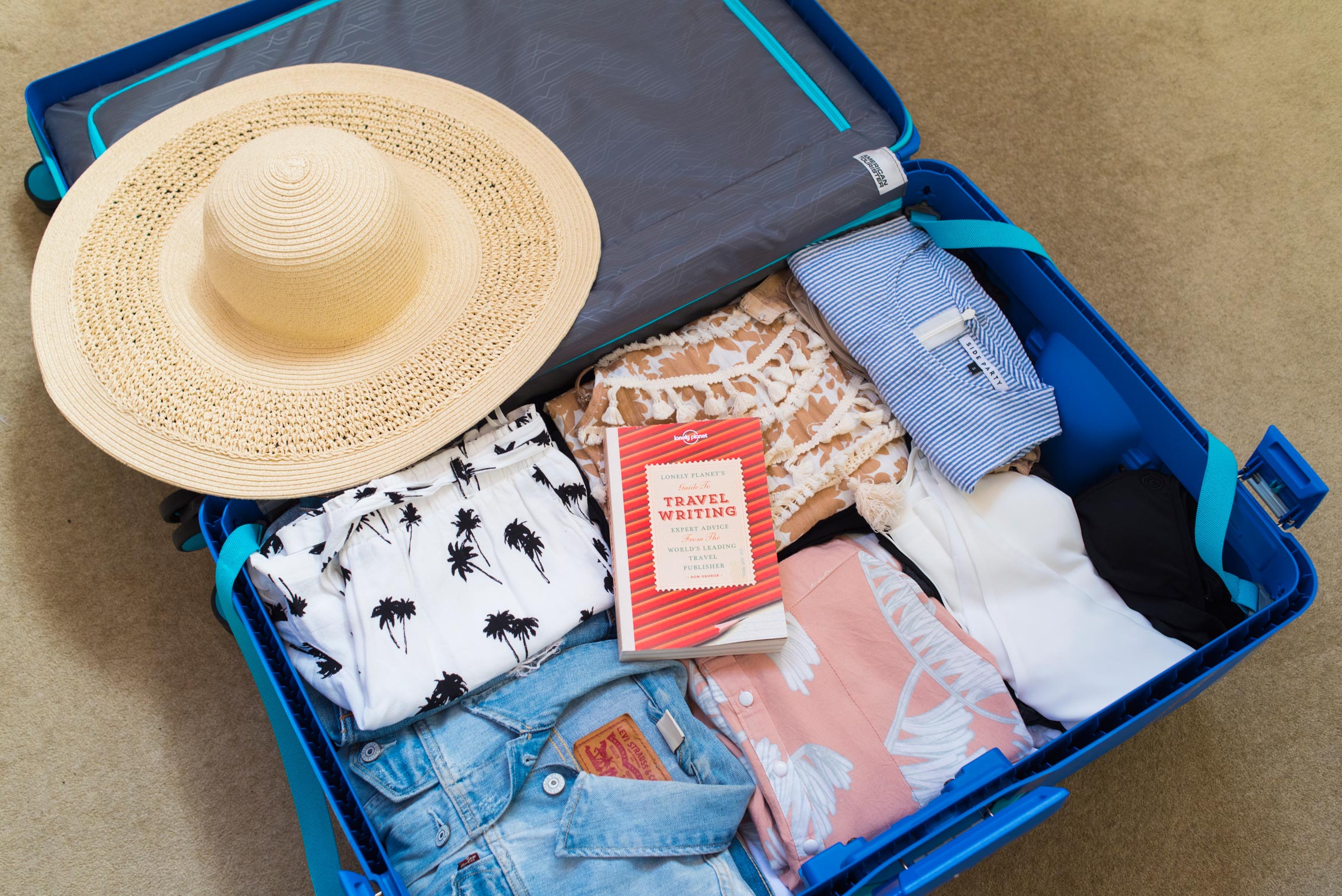 5. Letting hidden space go to waste
Space is sacred when you're packing your bag and it's sinful to let it go to waste. Pack smart by stuffing your socks, chargers and adaptors into your shoes, scrunching your underwear into the cups of your bras and even rolling a belt around a collared shirt.
6. Bringing mismatched outfits
The key to smart and effective packing is planning your outfits beforehand. Pack essentials that you can easily mix and match. Organise your outfits around a simple colour scheme like monochromes or neutrals, add a pop of colour with a scarf, hat or jewellery and you'll never be stuck for something to wear!
7. Not protecting containers of liquids
After a leaking bottle of perfume in my checked luggage ruined some of my clothes (worst surprise ever), now I never forget to protect my bottles of liquid. The changes in air pressure means that bottles can pop open or simply leak unexpectedly throughout the flight. Don't let this happen to you! Use some cling wrap under the lid of the bottle before screwing back on and and always wrap your toiletries back in an extra plastic bag to be doubly safe.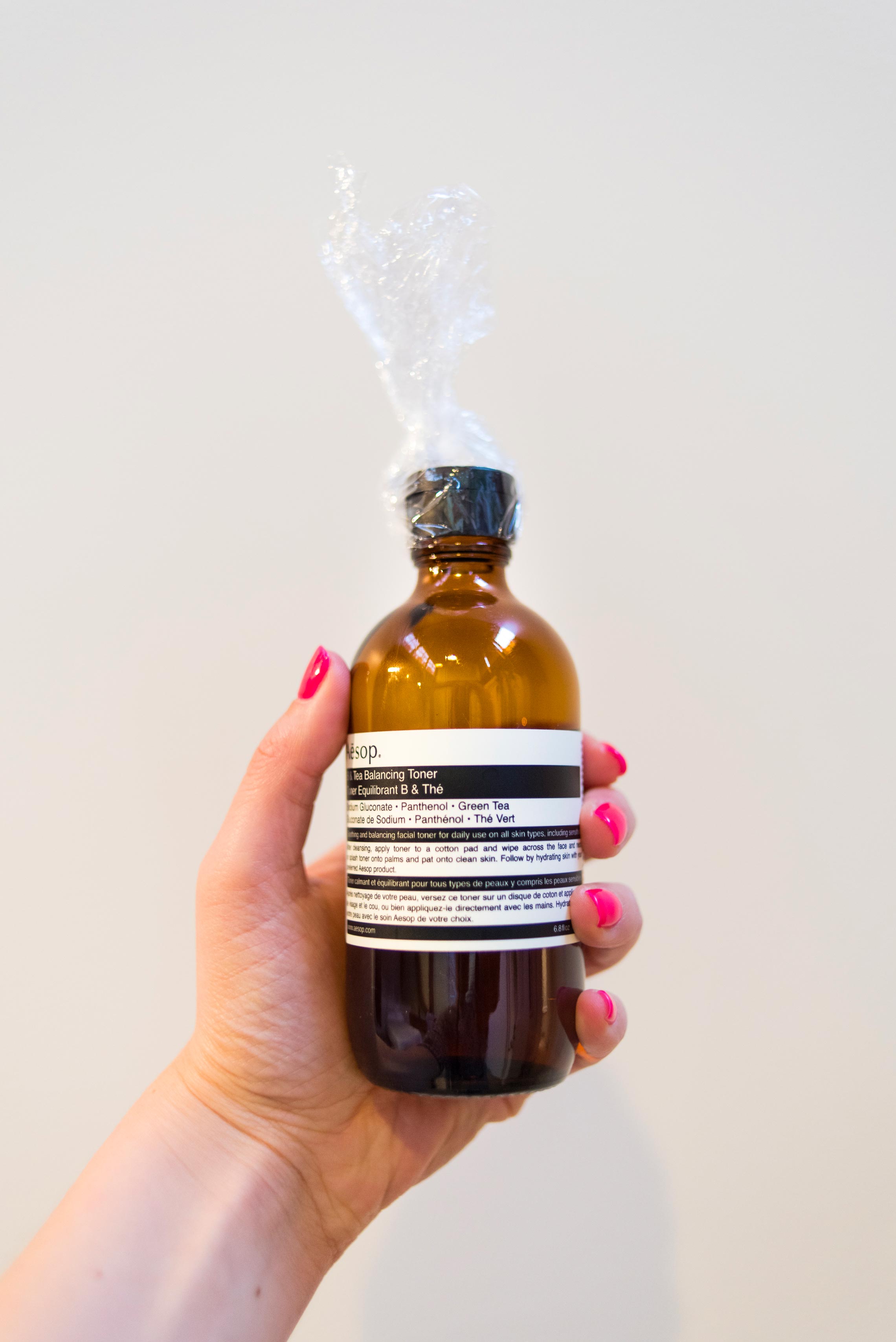 8. Packing heavy items that you can easily buy once you arrive
Leave that gigantic 1L bottle of conditioner at home! Seriously, that thing would take up most of your weight allowance alone. Instead, squeeze small amounts of liquids into travel-sized mini bottles and simply buy more when you arrive at your destination.
9. Bringing more than three pairs of shoes

Trust me when I say this, no matter where you're going and at what time of year, you'll never need more than three pairs of shoes. As long as you bring something comfortable for active days (sneakers), something casual (sandals or flats) and something more dressy (boots or heels), you've got all bases covered.
10. Using luggage that's difficult to use
I've tried and tested lots of different styles of bags over the years, from backpacks to canvas duffle bags to hard cases. When you have a bag that's difficult to carry or secure, especially when you're moving around a lot, it can cause endless frustration — believe me, I've been there! Most recently, I've been using the American Tourister Lock 'N Roll 75cm spinner case which has got to be the most secure, lightweight and easy-to-manoeuvre case I've ever used. Apart from having loads of space, it's got a really clever combination locking system (TSA approved) with no zips, meaning that it's super secure. I also love the fact that I can spot it on the luggage carousel a mile away in a sea of black bags. Don't underestimate the importance of good luggage when travelling and make sure you invest in the right bag for you.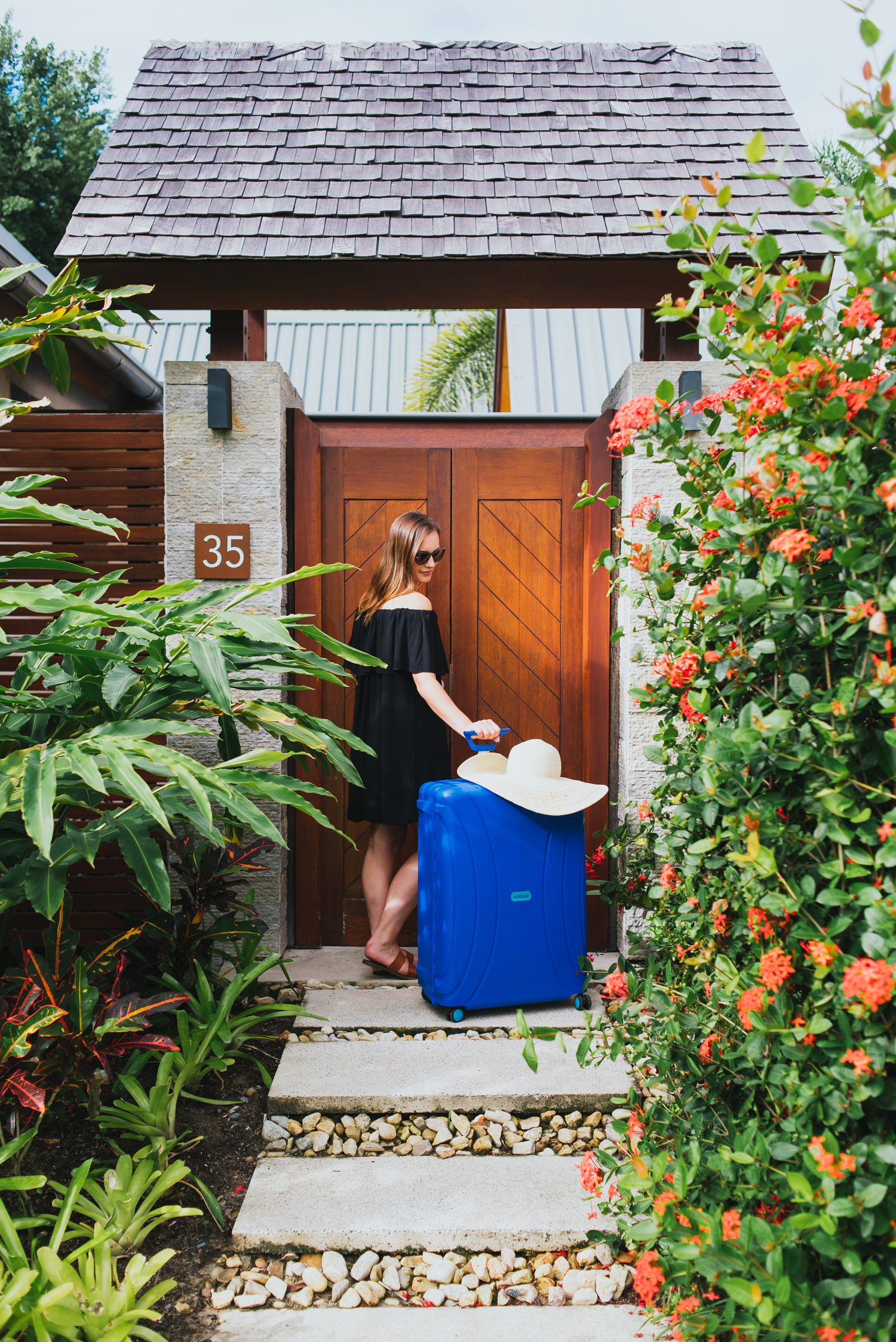 Shop the look:
---
Like this post? Pin it for later!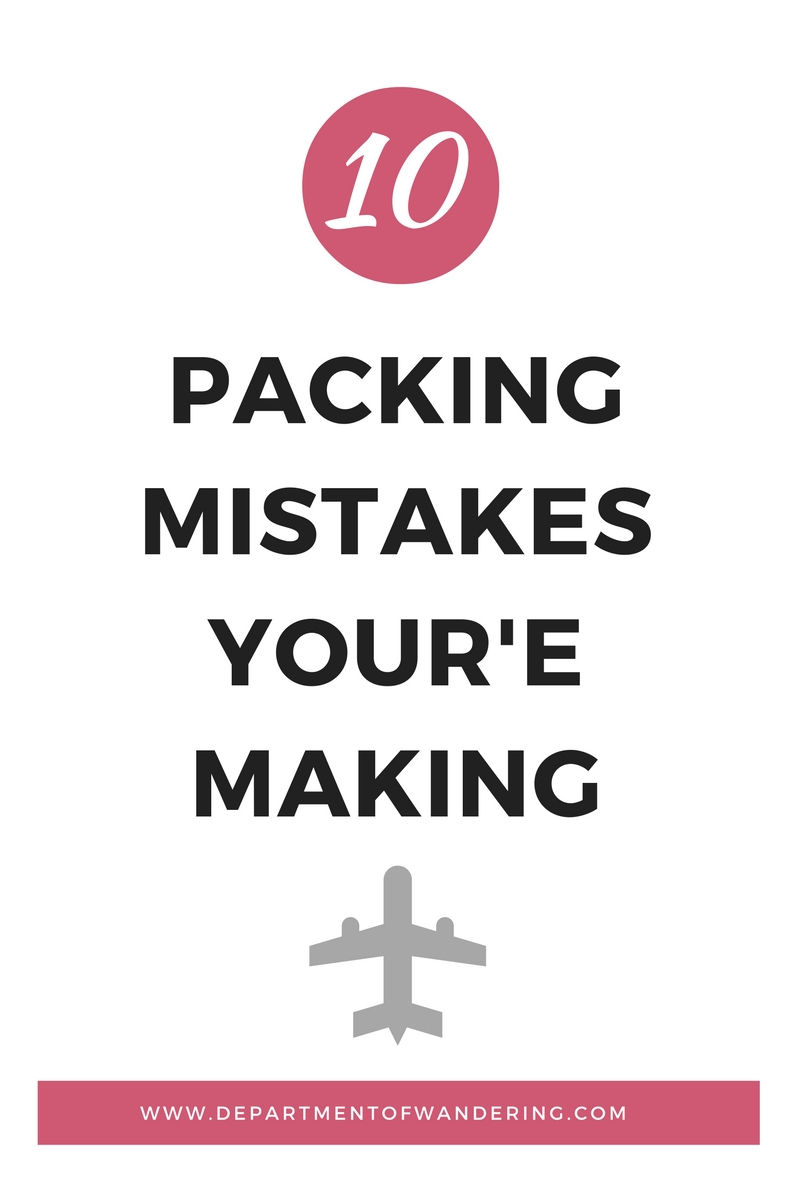 Disclosure: This post contains affiliate links and is in association with American Tourister. Like always, all opinions remain my own.
Do you have any packing tips? Share them in the comments below!