This article is written in collaboration with Expedia.com.
Known for its world-renowned fashion houses, cafe culture, and art, Paris is a bucket list destination for many. But while planning a trip to Paris is exciting, it can also be incredibly overwhelming. When visiting a city this big, it can be difficult to figure out exactly which attractions are worth visiting and which you're most excited to see.
If you're unsure how to start planning your trip, use this two-day Paris itinerary as a guide. Although 48 hours will only allow you a glimpse of this gorgeous city, this itinerary will take you to the city's main attractions (plus a few that may have escaped your notice!).
I recommend waking up early each day, and grabbing your meals from whichever cafe or restaurant that catches your eye. Paris is one of the few cities I visit without a set restaurant list in mind, because it's tough to eat at a bad restaurant here!
How to spend a magical 48 hours in Paris:
Where to stay in Paris
While budget will of course play a large role in choosing where to stay in Paris, it's important that you're fairly close to the neighborhoods you'll be visiting most often.
If you're on a budget and don't mind staying in a quieter neighborhood, the Bastille area is a great option. Although close to the Notre Dame Cathedral, this neighborhood is lesser known to tourists, which is partly why it's a cheaper area to stay in. You can also take the metro from the Place de la Bastille to most of the major attractions in the city.
Another budget-friendly neighborhood to stay in is Le Marais. It's an older area of the city that wasn't included in Haussman's renovations of Paris. Because of that, the streets in Le Marais are much smaller and cozier than most Parisian avenues.
For travelers with a larger budget, I recommend staying on the other side of the river in the area of Saint-Germain-des-Prés. This area is a little more luxe and is within walking distance to the Louvre Museum and the Jardin du Luxembourg. If you're taking a train from the airport into the city, this would be a great location to stay in as it's right off the RER B line.
Finally, if you don't want to mess around with taking your luggage onto the metro, it's probably best to stay in the 10th arrondissement. This is where the main train stations are, making it a good starting point for your Parisian adventures.
Expedia offers hotels on any budget in Paris.
Day 1
Explore the Montmartre area
Perched atop a large hill in the 18th arrondissement, the Montmartre area has one of the best views of Paris. Walk up to the Sacre-Coeur Basilica first thing in the morning to see the city wake up before the crowds arrive. After visiting the Basilica, give yourself time to meander aimlessly through the neighborhood. It's almost impossible to get lost in Montmartre, so enjoy your stroll!
Suggested time: 2-3 hours
Visit the Galeries Lafayette Haussmann
For the best free view of Paris, head to the top of the Galeries Lafayette. On your way back down, take in the art nouveau architecture and snap a few pictures. This department store is especially beautiful when it's decorated for the holidays.
Suggested time: 1 hour
Tour the Palais Garnier
The city's most famous opera house, the Palais Garnier is a must-visit during your stay in Paris. Tours of the building are available in both French and English and last about 90 minutes. After your tour, swing by the ticket office and see if any 10 Euro tickets are available for that night's show. Your view won't be the best, but you'll still have an amazing time.
Suggested time: 2 hours
Stroll down the Champs-Elysees
Continue your whirlwind tour of Paris with a stroll down the Champs-Elysees. Start at the Place de la Concorde and walk along the avenue towards the Arc de Triomphe. The Champs-Elysees is lined with dozens of luxury boutiques, restaurants, and more. Even if you're not an avid window shopper, this is one street in Paris you simply have to see for yourself.
Suggested time: 2-3 hours
See Paris at night from the Arc de Triomphe
If you have the energy for it, make your way up the Arc de Triomphe for a truly spectacular view of Paris at night. I think the view from the Arc de Triomphe is the best in the city, as you can see the Eiffel Tower in the distance.
Suggested time: 45 minutes
Day 2
Visit the Louvre Museum
The world's most visited art museum, the Louvre Museum is a mandatory stop during your trip to Paris. To make the most of your visit, buy your tickets online and get to the museum right when it opens so you can see as much as possible. The Louvre is massive, so give yourself plenty of time to see everything you want to. You'll likely spend most of your day inside the museum, but it's impossible to see everything in one visit.
Suggested time: 4+ hours
Stretch your legs in the Jardin du Tuileries
After you're finished at The Louvre, walk over to the Jardin du Tuileries and give yourself some much needed time off your feet. Take a stroll around the garden after you've rested, and enjoy whichever flowers are currently blooming.
Suggested time: 90 minutes
Grab a coffee at one of the nearby cafes
While in Paris, it's only fitting that you experience a taste of its cafe culture. There's a slew of quaint cafes to choose from near the Tuileries Garden, but if you're unsure which to pick Angelina is always a good choice. Though slightly touristy, no one can deny that Angelina serves the best hot chocolate in Paris.
Suggested time: 1 hour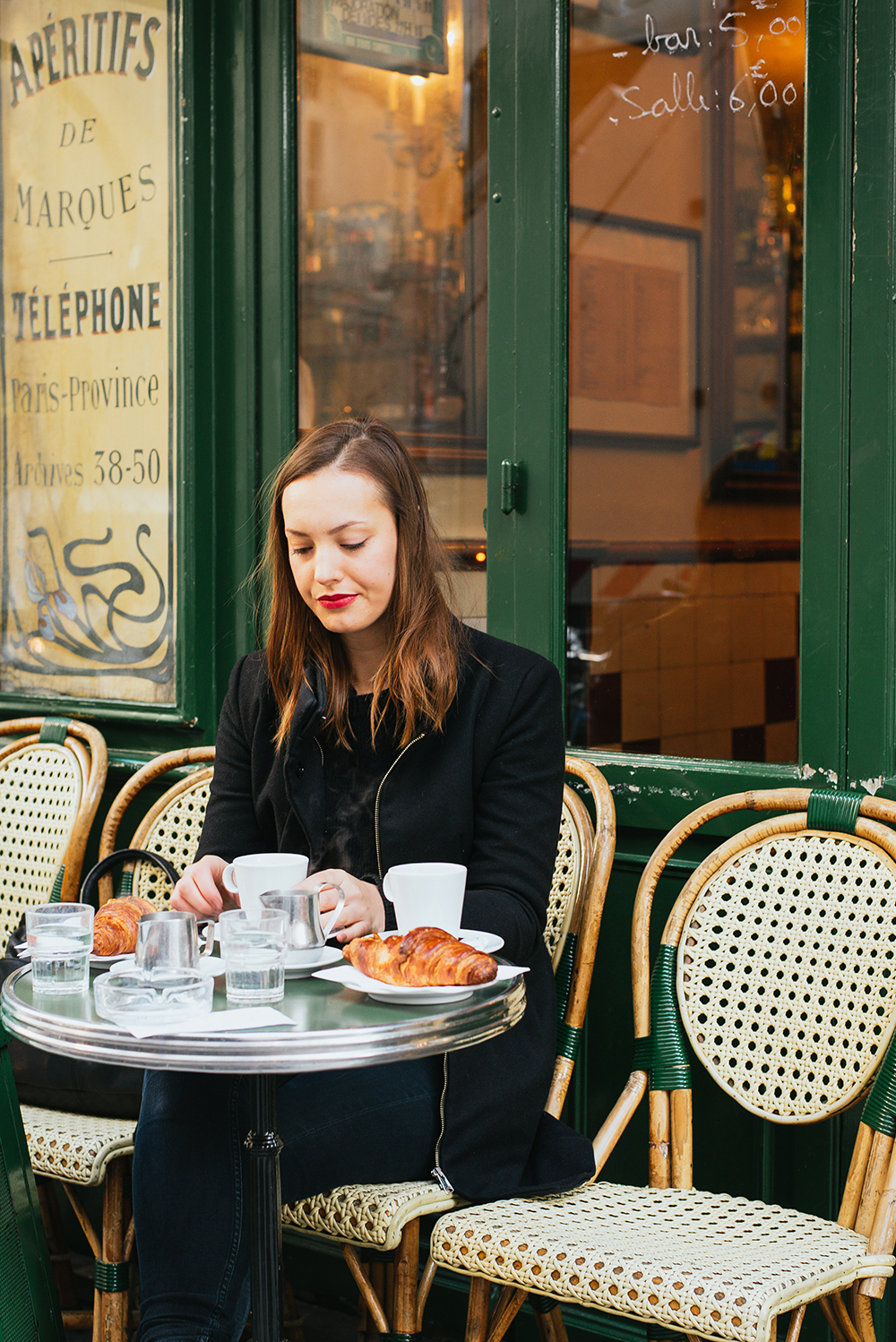 Visit the Notre Dame Cathedral
With luck, you'll be able to avoid the worst of the crowds by visiting the Notre Dame Cathedral near the end of the day. It's a beautiful example of French gothic architecture, and is the city's best known cathedral. Notre Dame sits on its own island in the middle of the Seine, which makes it look even more impressive!
Suggested time: 1 hour – 90 minutes
Watch the Eiffel Tower light show
From sundown to 1am, the Eiffel Tower shimmers and blinks for five minutes every hour. If it's warm enough, throw together a picnic for dinner and camp out beneath the Eiffel Tower to fully appreciate the light show. Otherwise, find a spot along the Seine with a view of the tower and enjoy the show from there.
Suggested time: 90 minutes

As I mentioned before, you can't see all of Paris (or even most of it!) in just 48 hours. But you can see a lot of the major attractions while still getting a good feel for the city. If you have more time in the city, look into taking a day trip to Versailles, visiting the botanical garden, strolling through the Luxembourg Gardens, or visiting another of the city's renowned museums. Don't stress if you can't squeeze in everything you want to in one trip; that's the beauty of Paris—there's always more to see and do here!
Looking to spend 48 hours in other cities? Read these posts next:
Like this post? Pin it for later!
Disclosure: This post is written in collaboration with Expedia.com. All opinions remain the writer's own.