A few weeks ago, Ben and I visited Bologna in northern Italy for a couple of nights. Although this was a city that I had never been to before, it was one that I was hugely excited about visiting, mainly so that I could eat my way around the gastronomical capital of northern Italy. Looking for a hotel that was comfortable and well-located, the four-star UNA Hotel Bologna was everything we needed for our short stay.

Location
The UNA Hotel Bologna is conveniently located directly opposite the Bologna centrale train station. Although we hadn't arrived by train (we had taken a flight from Berlin), the shuttle bus from the airport took us directly to the station in 20 minutes and all we had to do was cross the street and we were right on the hotel's doorstep. Too easy. Bologna's city centre is small and only a 15 minute walk away from the hotel, which meant that we could navigate the city by foot and didn't have to worry about public transport.
Checking in
We arrived at 1pm, a little early for check-in, which was at 2pm, but we were able to check in straight away and store our luggage until the room was ready without a problem. The lobby was bright and elliptical in shape and furnished with glass and metallic touches, giving the space a futuristic feel. The staff were helpful and efficient and after the paperwork was complete, I was kindly lent a giant umbrella so I could stay dry in the rain while I headed out to find some lunch. When we returned a few hours later, our room was ready.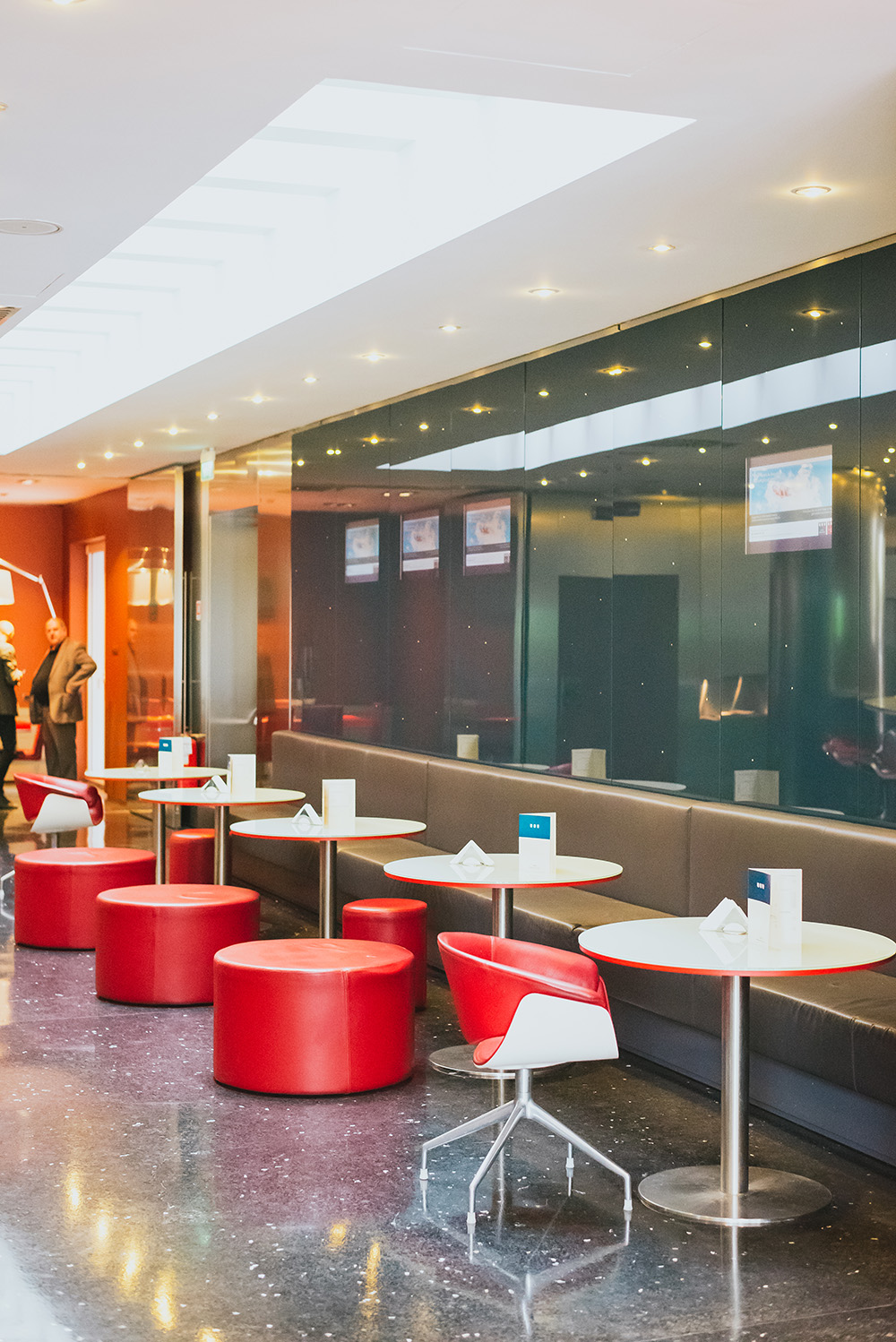 Rooms
My superior room was located on the second floor and was spacious and colourful. Each of the 93 rooms in the hotel is characterised by a different colour theme (ours was bright blue) and fitted out with a simple, yet comfortable design. The most striking aspect of the room was the large, backlit text feature above the bed, which was a passage of text from a travelogue in Greek; my kind of wall feature! Our room also had a long desk — very useful for when I needed to catch up on emails — as well as a separate sitting area, large, wall-mounted satellite TV as well as free Wi-Fi — everything we needed to feel comfortable and connected.
In total, there are four classes of rooms available in the UNA Hotel Bologna: classic, superior, executive rooms and suites. Some of the higher-end rooms also have exercise equipment in them — perfect for busy business travellers or the health-conscious who want to balance out their food indulgences (trust me, in Bologna you will want to eat EVERYTHING). For longer stays of a month or more, the UNA Hotel Bologna offers 6 apartments with state-of-the-art appliances, a fully equipped kitchen and a cosy and homely atmosphere.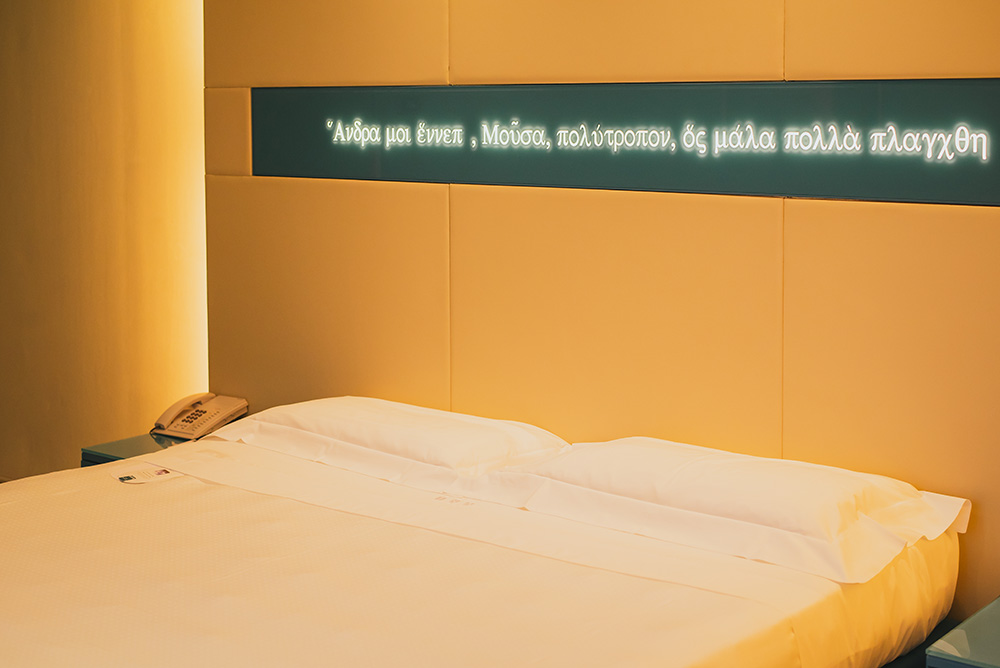 Ready to wind down after a big afternoon of exploring (and eating), we settled back into our room and discovered the pillow menu. I'm pretty picky about the pillow I sleep on and hate feeling uncomfortable if a hotel pillow is too flat, lumpy or offers no support, so I was a little bit excited at the prospect of being able to order my ideal pillow to help me get a good night sleep. There were four options available, each made from different fillings and of varying shapes and firmness and all were made from natural non-allergenic material. Which one to choose? I went with the Kapok pillow in the end, made from soft cotton that adapts to the shape of any neck. And the verdict? I slept like a baby.

The bathroom was large and bright and I loved the big bathtub. There was plenty of room to spread out all my toiletries along the vanity area, which I really appreciated because I hate it when there's no space for my cosmetics and toiletries in hotel bathrooms. Ladies, you get me, right? Thankfully, it wasn't a problem here.


Dining
The UNA restaurant is located on the ground floor of the hotel and overlooks the summer terrace. The bright red setting is welcoming and the intense hue definitely helps you wake up in the morning! A buffet breakfast is included in the room rate. The continental spread includes a variety of sweets freshly prepared every day, jams, fruit preserves, cereals, croissants, yoghurt, as well as cold cuts of meat, cheeses and eggs. A good gluten-free selection is available too. The breakfast staff are attentive and pleasant and are happy to make you an espresso or cappuccino that they'll serve you at your table.
The UNA restaurant is also open for lunch and dinner and offers a selection of international cuisine as well as favourite local dishes. If you feel like a lighter snack, the café in the lobby also serves bar snacks until midnight and there is a happy hour every day.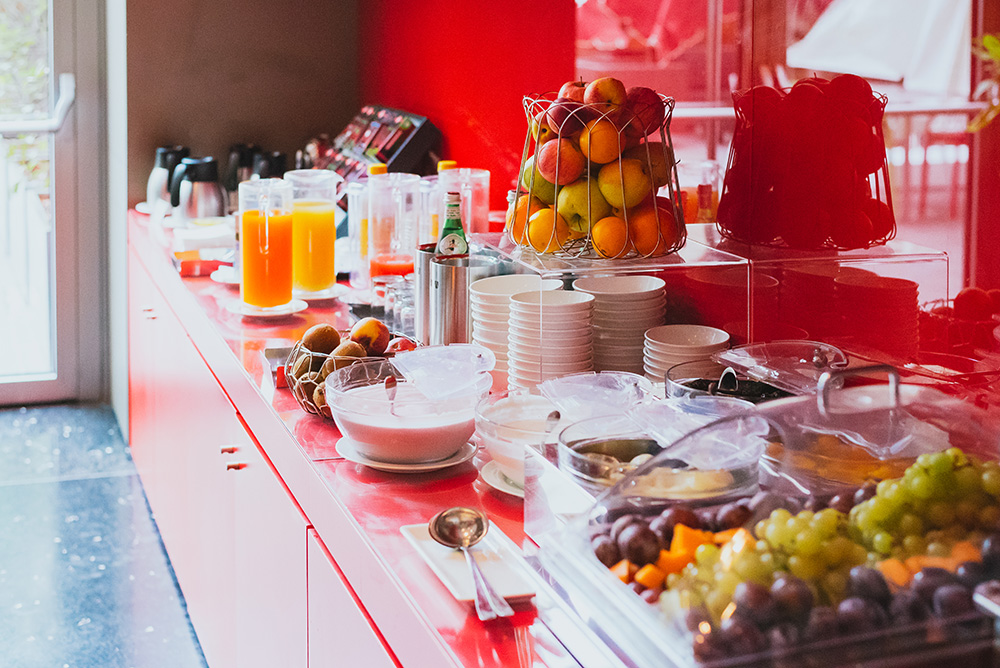 Other facilities
If you're exploring Italy by car, the UNA Hotel Bologna has a secure garage for you to use (with an extra charge) while you stay. Small pets are accepted at the hotel, which for some people is an important factor when deciding where to stay, especially among Europeans, many of whom like to travel with their furry friends. The UNA Hotel Bologna also offers a babysitting service as well as an ironing service. For business travellers, there are three meeting rooms that can accommodate between 20 and 30 people.
Book this hotel if…
For an affordable and comfortable stay in Bologna, the UNA Hotel Bologna is ideal. The hotel is in a great position with easy access to transport (bus and train) if needed, but within easy walking distance of the city centre. The staff were all helpful and happy to assist in any way and the added touches like the pillow menu, free wi-fi and included breakfast make for a relaxed place to base yourself while you explore charming Bologna.
Rooms can be booked through the UNA Hotel Bologna website.
---
Disclosure: I stayed at the UNA Hotel Bologna as a guest but, as always, this review is an honest reflection of my experience.