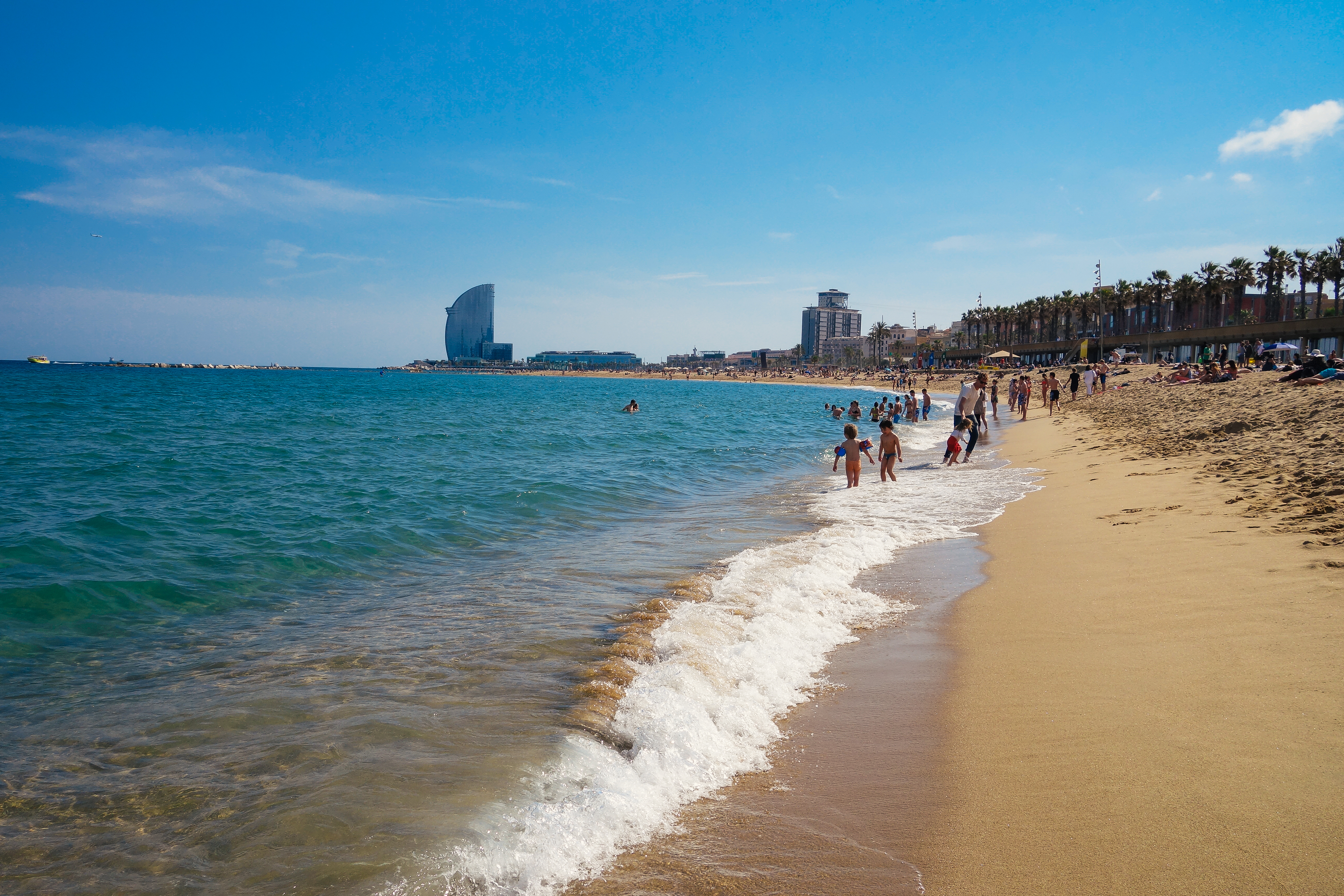 I couldn't be more glad to see the back of winter this year. My first European winter was tough. And, apparently, it was a very mild one in comparison to previous years. Last year in Berlin it was still snowing over Easter. Slightly worrying. I can't help but wonder whether the 2014/2015 winter will be extra brutal to make up for the 'gentleness' of this past one. I sure hope not. But in the meantime, now that the warmer weather has finally hit Europe, I intend to make the very most of these beautiful, balmy, summery months.
Obviously, a visit to the beach whilst I was in Barcelona last weekend was a given. I don't know what it is about the coast that is so comforting to me. The smell of the salty air, the sea breeze gently catching my hair, the squawk of sea birds as they hover above searching for an easy meal, the feel of the sand gently exfoliating my feet or the cool caress of the ocean around my ankles. I guess the beach just reminds me of home. As I slowly strolled along the water, I couldn't wipe the smile off my face. I breathed the sea air deeply and, turning my face into the warm sun, was full of gratitude. How lucky was I that I could fly to Barcelona for the weekend? That I could explore another ancient city, indulge in the best food and wander around the most picturesque of neighbourhoods, before taking a quick flight back to Berlin ready for work on Monday morning? Sometimes I really feel like pinching myself; I just feel so blessed to be living this life right now.
An afternoon at Barceloneta Beach:
Any visit to Barcelona should include an afternoon at Barceloneta beach. This strip of beach is located, unsurprisingly, in the Barceloneta neighbourhood, which is a traditional fishing district. Every day over the summer months, the beach is packed full of locals and tourists alike. The women are content sunbathing (topless of course), while the men enjoy a game of beach volleyball. Plenty of sunbeds are available to hire for a more comfortable few hours of sun worship, and roaming vendors selling fresh mojitos ensure that you will keep your hydration levels up. Finish your beach afternoon off with some fresh seafood or tapas at one of the bars along the beach or, better yet, at one of the more local hangouts in the small streets behind the beach in the Barceloneta neighbourhood. Guaranteed, you will end your day feeling pretty darn happy. I know I did.
Barceloneta beach is easily accessible on the L4 line of the Metro. If you are staying in El Born, it is easily within walking distance.
I'd love to hear about where you have enjoyed a day at the beach whilst you've been travelling. Share your experiences below!