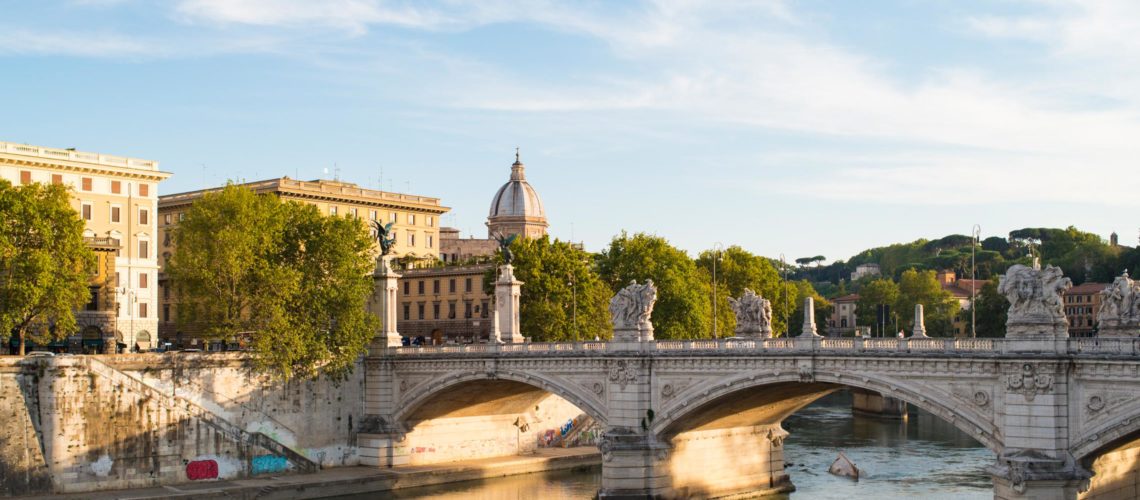 Travelling to Rome on a budget? Italy's capital is known for being one of the most expensive cities in the entire country and if you're not careful, you could very well return with a pretty big hole burnt into your pocket. While going to Rome on a budget might seem impossible, with some smart planning and insider tips, it's actually much easier than you think. There are a huge range of free things to do in Rome, helping to keep your bank balance in the green.
Here are the best free things to do in Rome:
Soak up the atmosphere in the piazzas
Rome is famous for it's piazzas, the cobblestoned squares that pulse with activity and life. Romans meet here to socialise, to sip espresso, to visit the markets and to catch up on all the latest news. Piazzas are everywhere in Rome and it won't be long before you stumble upon one. The most beautiful and famous is Piazza Navona, with its stunning Baroque architecture and ornate fountains.
Look to the heavens inside the Pantheon
Wander into the dark and cool Pantheon, one of ancient Rome's best-preserved and most important structures, and prepare to be amazed by its impressive architecture. Gaze upwards to the oculus at it's centre, open to the heavens rain, hail or shine. Once a pagan temple, it was converted to a Catholic church in the 7th century and entry is free. This is my favourite building in the entire city and I always make sure I visit every time I'm here.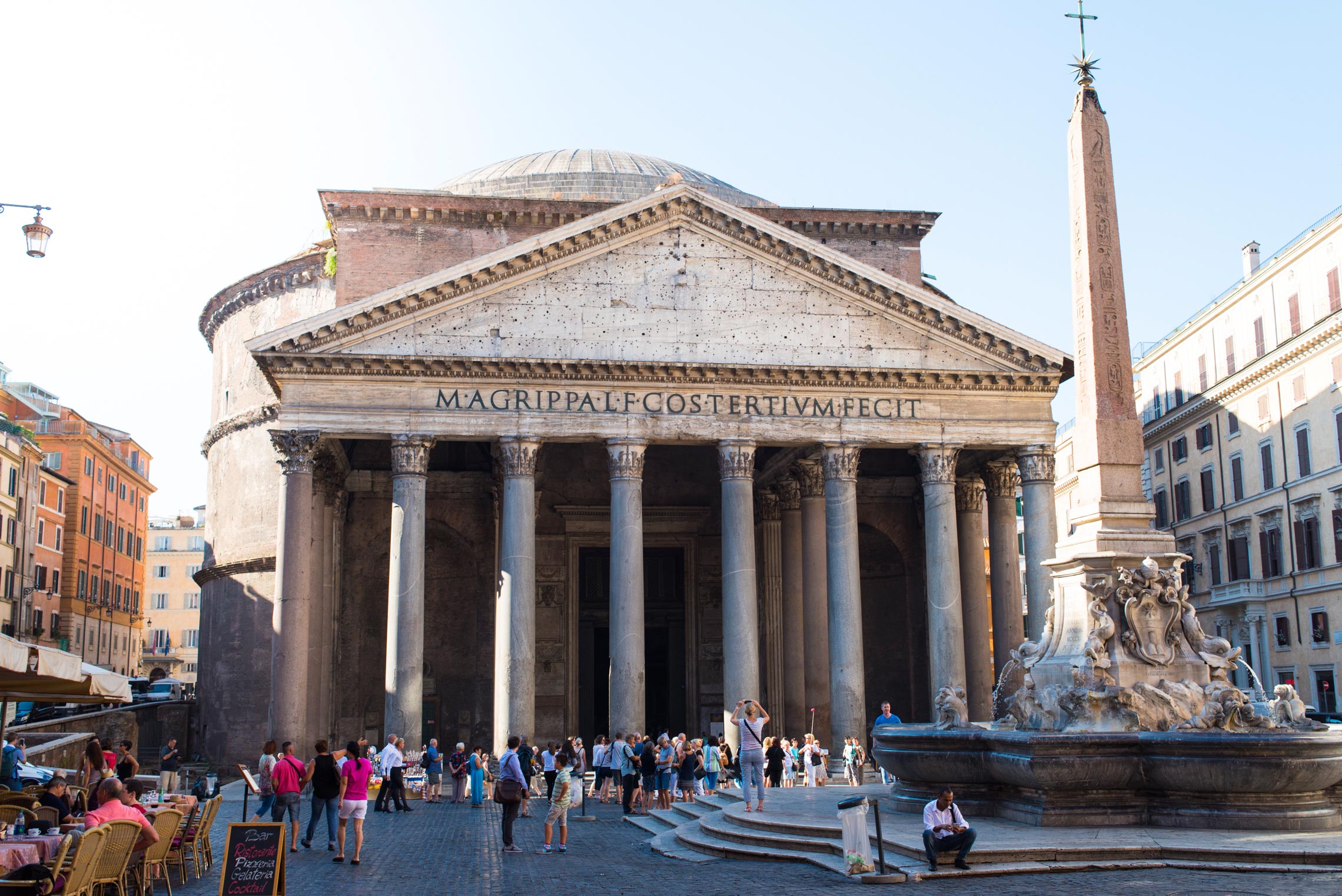 Stroll around Villa Borghese
The gardens of Villa Borghese west of the Tiber are some of the most expansive and beautiful in the entire city. For a cheap lunch, pack a picnic and relax in the grounds of this sprawling estate.
Catch sunset from the steps of the Altare della Patria
Sunsets are free for anybody to enjoy and catching one in Rome is absolutely magical. Climb to a high viewpoint, perhaps on top of one of Rome's seven hills or on the westward-facing steps of Altare della Patria, and watch as the sun's fiery orb slowly sinks below the horizon, leaving the sky streaked with the most brilliant purple and pink hues.
Climb one of Rome's seven hills
Although it might be hard to judge from the city sprawl, Rome is actually built on top of and around seven hills. They're actually more like small ridges rather than hills and really aren't very steep. Each of these famous hills has played a special part in Rome's history and each affords great views of the surrounding area.
Toss a coin into the Trevi Fountain
Okay, while technically not free, tossing a coin into the Trevi Fountain isn't going to set you back very much, especially considering that this is the only fountain in Rome you can wish upon! It's said that throwing a coin over your left shoulder into the fountain will guarantee a return to the Eternal City. That's a pretty rad deal, if you ask me!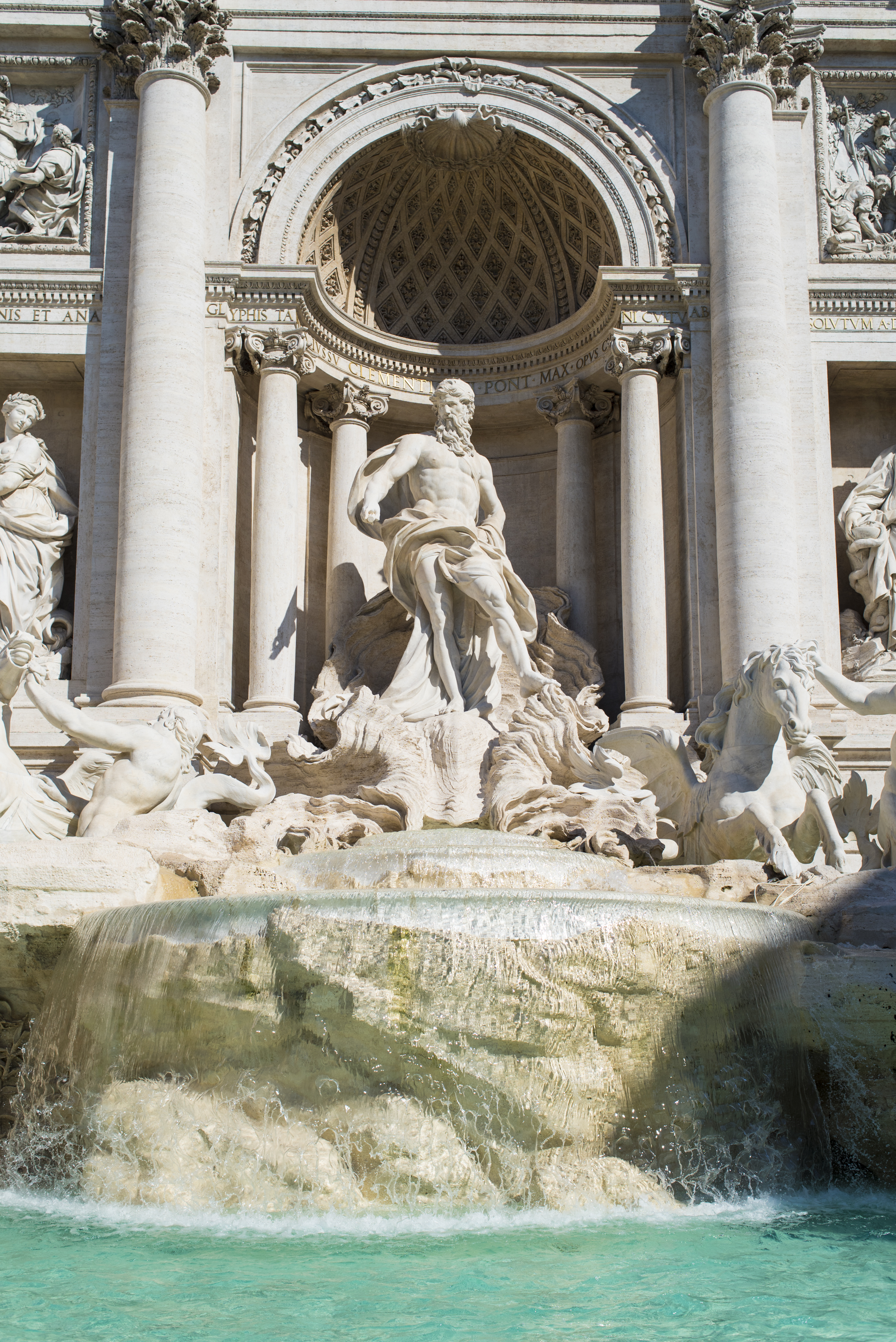 Stick your hand in the mouth of truth
Legend has it that if you put your hand into the gaping mouth of La Bocca della Verità and tell a lie, it will be bitten clean off! This grotesque sculpture, so-called the 'mouth of truth', can be found in the portico of the Basilica of Santa Maria in Cosmedin. Are you brave enough to test out the theory?
Spend golden hour wandering along the Tiber
Strolling along the banks of the Tiber river is a lovely way to spend golden hour in Rome. Start at Castel Sant'Angelo and follow the curve of the river south. The whole east side of the river glows warmly in the beautiful, late afternoon light. It's all pretty romantic.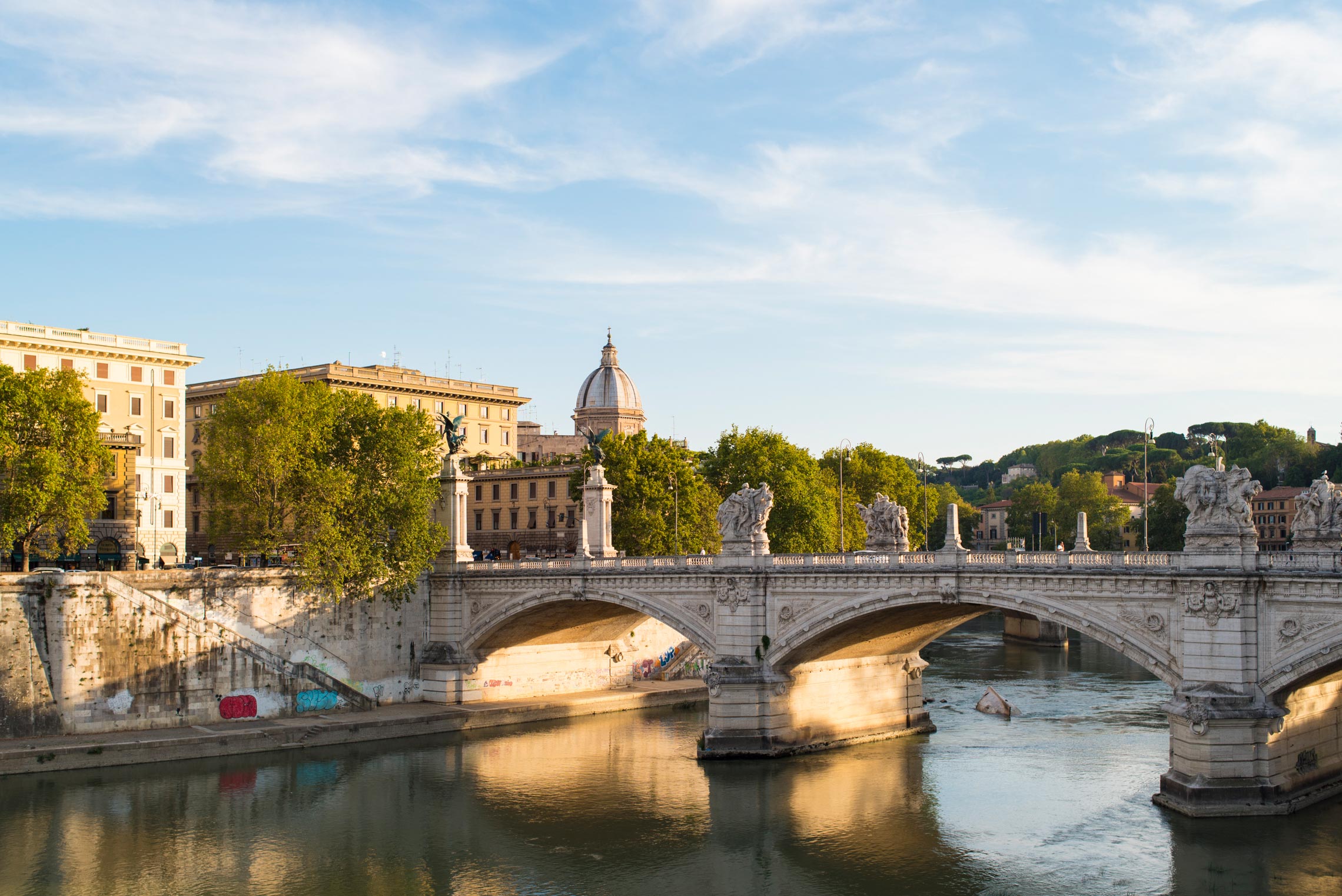 Find Instagram perfection at Arco degli Acetari
Instagrammers get ready. Just off Campo di Fiori at Via del Pellegrino 19 you'll spot a dark archway called Arco degli Acetari. Wander through and you'll find yourself in the most magical, medieval, secluded square that will you'll hardly be able to handle the cute. Framed by rust-coloured buildings with cascading, greenery spilling over every ledge, you won't be able to put your camera away.
Get lost in the backstreets of Trastevere
There's a rough charm about Trastevere that makes it one of the most delightful places to stroll around. There are many cute little places to stop at for a drink or a bite to eat, but if you want to save your pennies, simply go for a wander through the vine-covered backstreets and feel a world away from central Rome.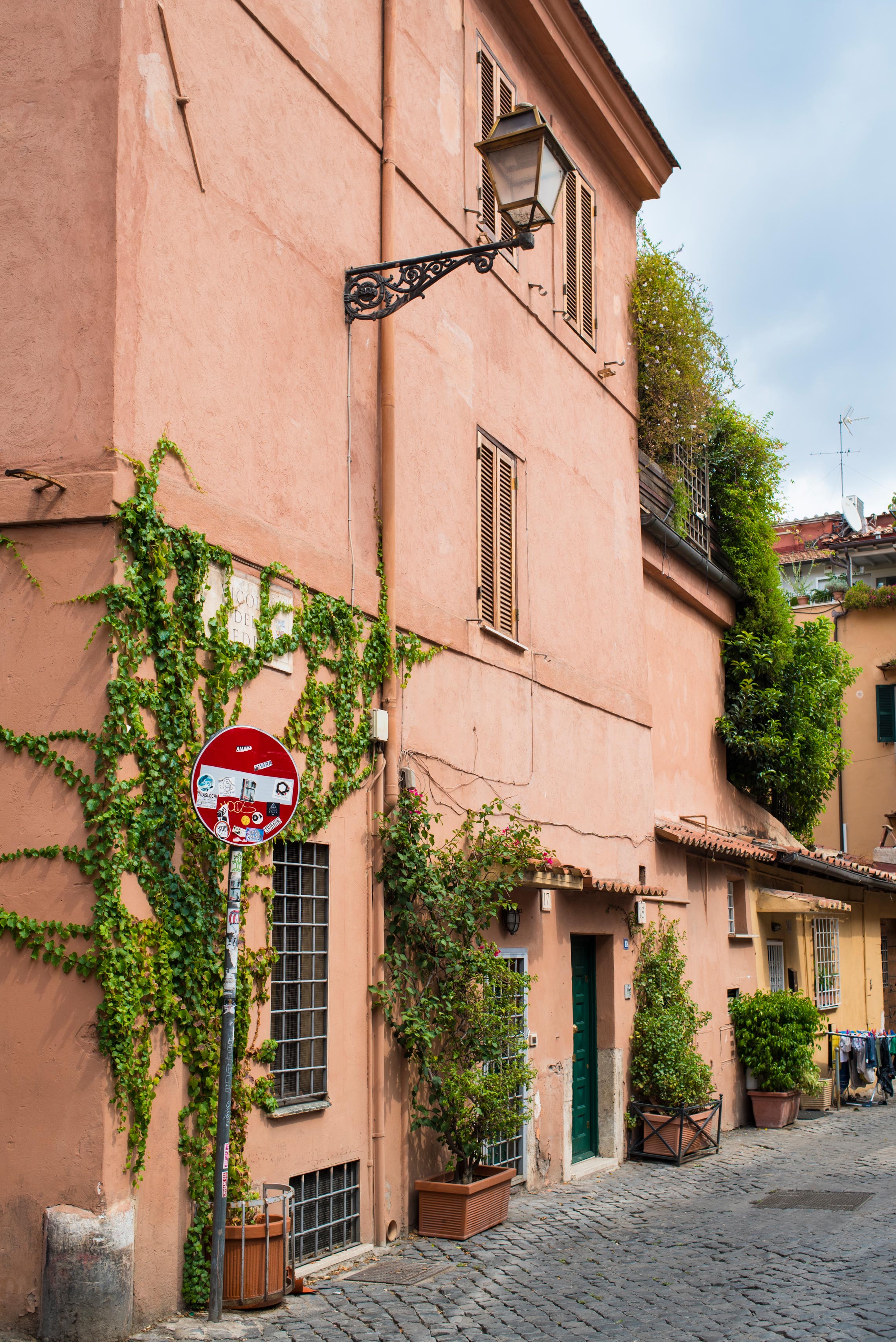 Fill up your plate for free at aperitivo time
Okay, so you'll have to buy a drink, but that's a pretty small price to pay especially when you can fill your plate for free. That's right, an aperitif (a pre-dinner drink designed to stimulate the appetite) is traditionally accompanied by complimentary pre-dinner snacks. The food will vary widely from place to place, ranging from potato chips, olives or nuts all the way to a lavish buffet filled with bruschetta, crostini, pizza and even cured meats and cheeses!
Look down into Caesar's assassination site
Just about the most famous murder of all time happened right in the centre of Rome at Largo di Torre Argentina. An excavation in 1929 revealed that this was the site of Julius Caesar's infamous murder on the steps of the Curia of Pompey in 44 BCE. The ruins themselves aren't accessible, but it's easy to look into the sunken site from above and it won't cost you a dime.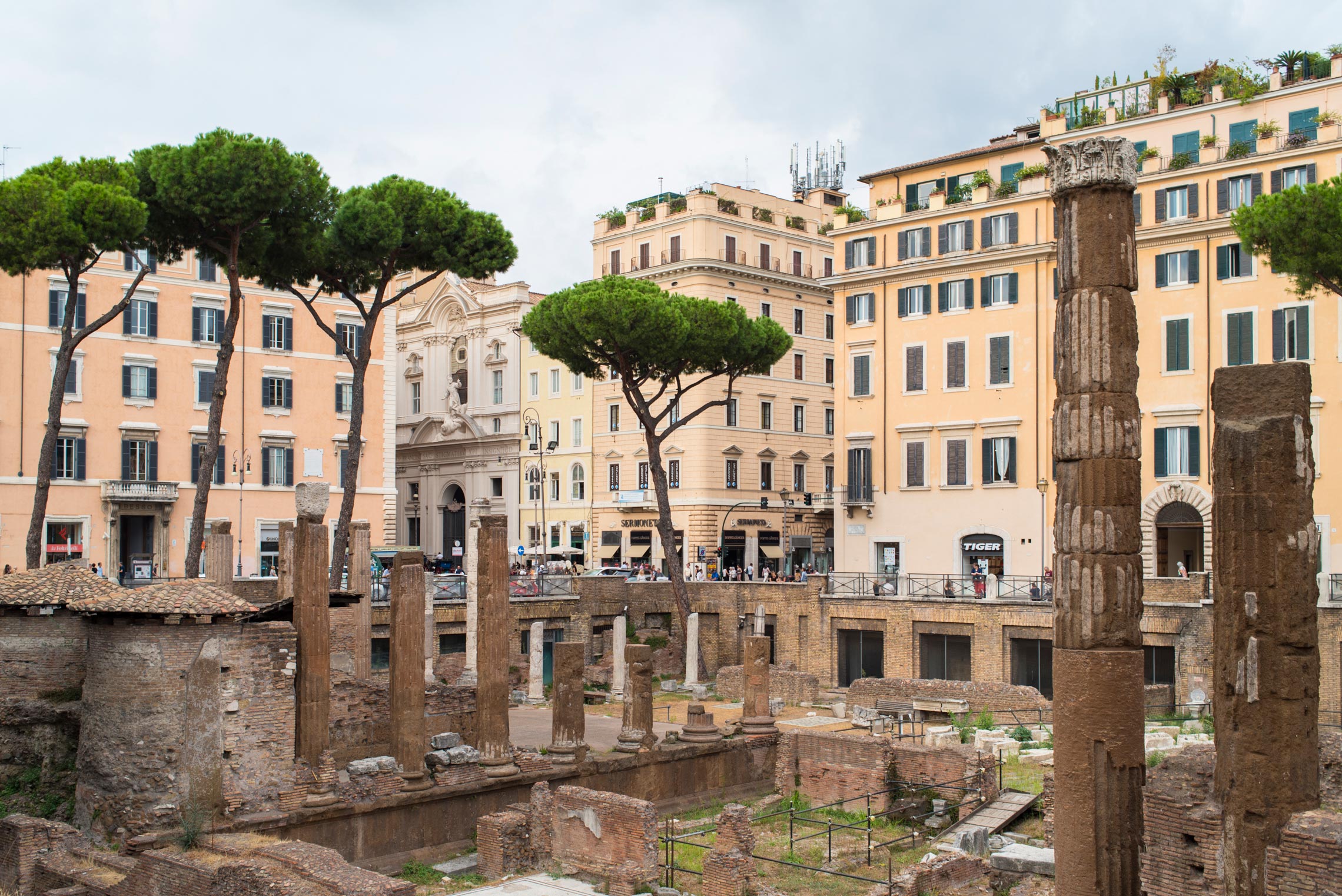 Explore the Jewish Ghetto
South of Campo di Fiori and stretching to the Tiber is the old Jewish Ghetto dating back hundreds of years and the oldest Jewish community in all of Europe. Today, not too many people set out to explore this part of Rome or know about its history but it's one of the most interesting and vibrant neighbourhoods in the city, filled with kosher bakeries, churches, synagogues and restaurants that beautifully combine the grand Roman architecture with Jewish culture.
Watch the Roman Forum light up at sundown
If you head up to the back side of Piazza del Campidoglio at sundown, you're in for a treat. It overlooks the Roman Forum and the Colosseum which light up at sundown, affording you the most spectacular views of the ancient heart of the city.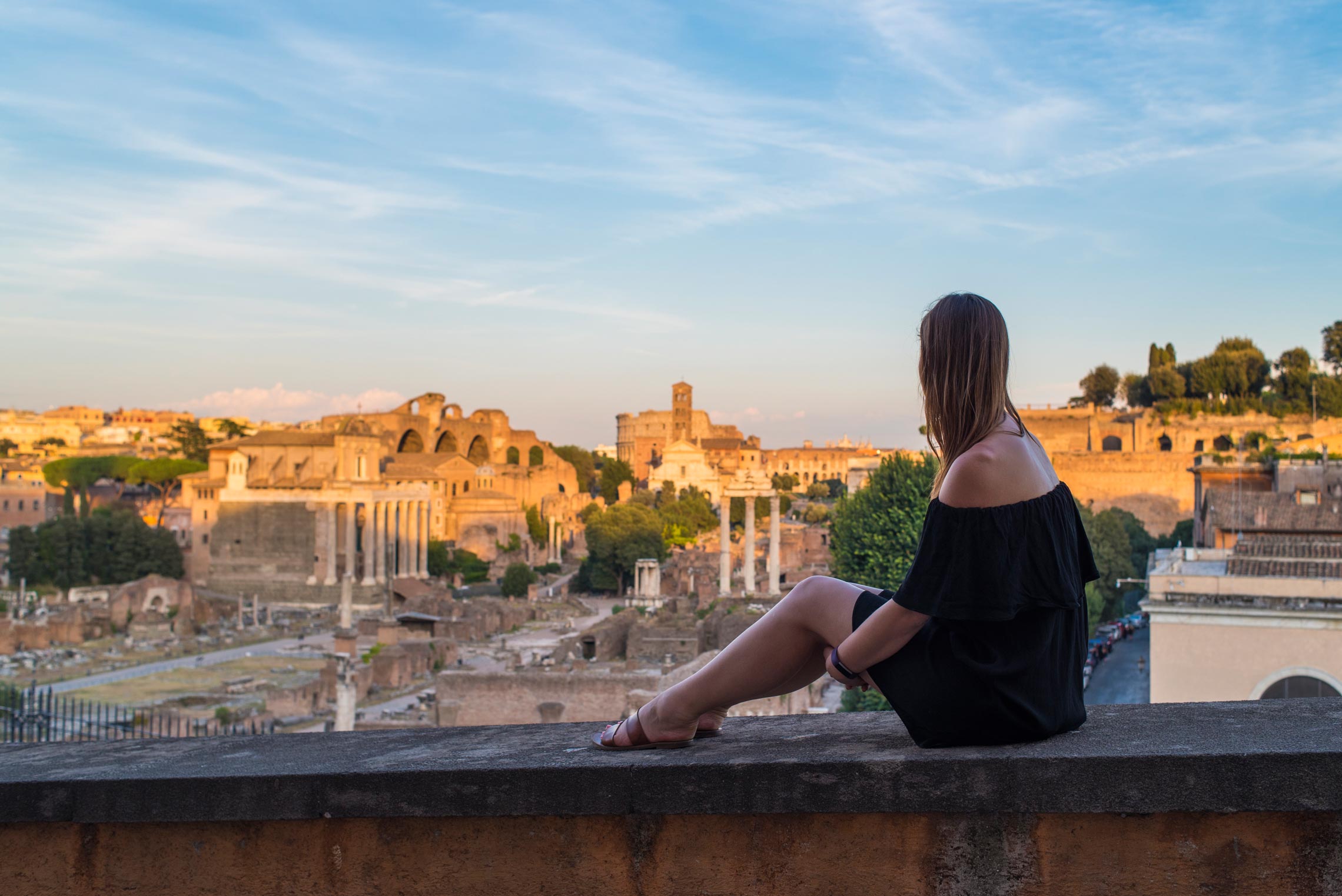 Shop the look:
People watch on the Spanish Steps
The Spanish Steps have always been a magnet for visitors. Settle down on one of the 135 steps – the longest and widest staircase in Europe – for a spot of people watching before climbing all the way to the top – if you have the energy!
Check out St Peter's Basilica
Yes, there might be one hell of a line, but don't expect to have to pay once you (eventually) reach the front. Entrance to St Peter's Basilica is free, so regardless of your religion, come and see the world's largest church and the centre of Christianity. The opulence is jaw-dropping. Be on the lookout for Michelangelo's hauntingly beautiful Pietà sculpture.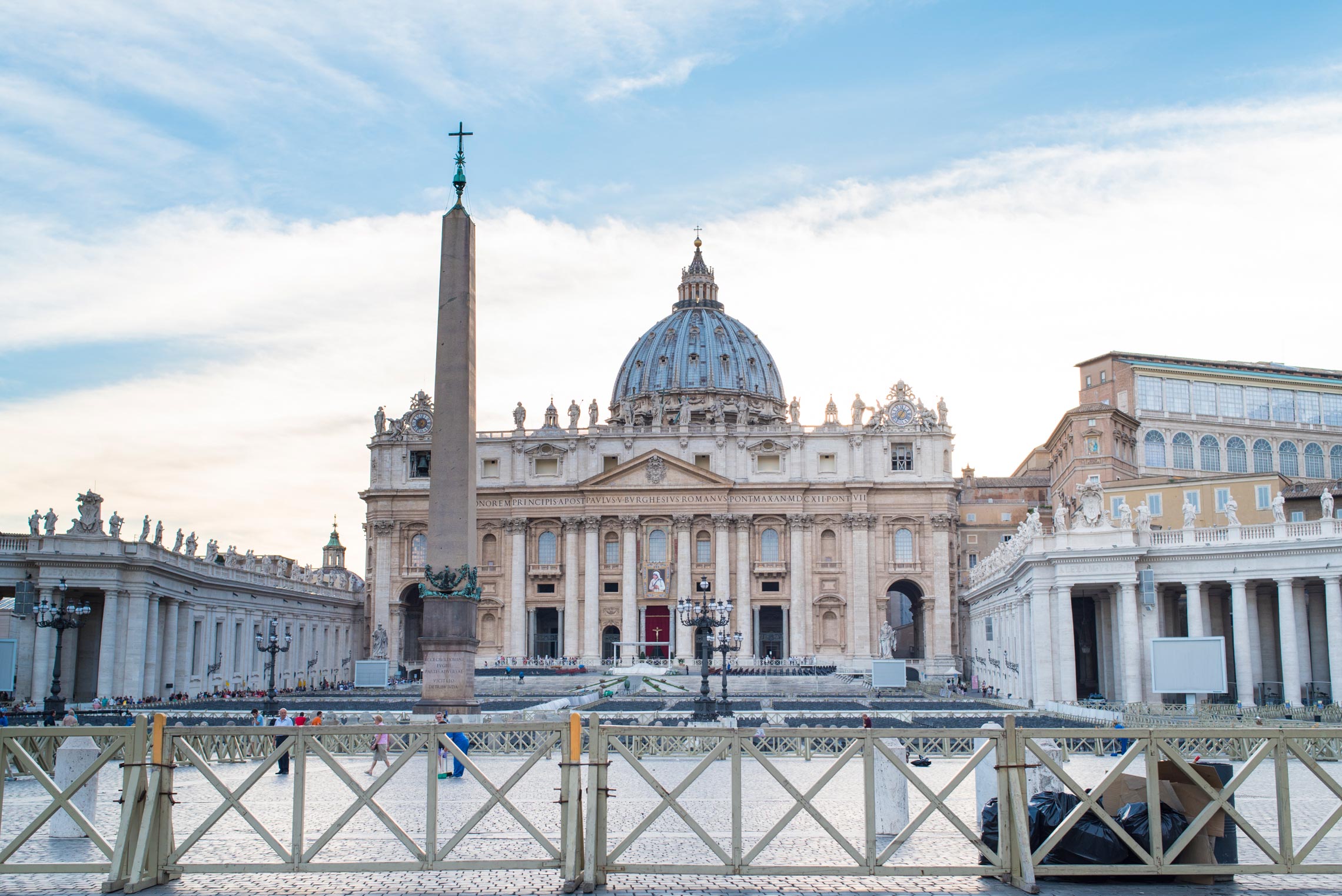 See first hand why 'all roads lead to Rome'
Want to know where that famous saying originated from? Catch a bus south of the city centre to Via Appia Antica, Rome's oldest and most important road and its gateway to the east. Built in 312 BC, this road was essentially the world's first highway, stretching for almost 400 miles. It's remarkably well-preserved so step right into history and see why it was known as the 'Queen of Roads'.
Take advantage of free entry day!
While entry to Rome's most popular tourist attractions are pricey, if you're in town on the first Sunday of the month, you've lucked out. On this day and this day only, entry is free to all the popular sites, including the Colosseum, the Roman Forum, Castel Sant'Anglelo and loads more. Be sure to line up bright and early as there will be many other people who also want to take advantage!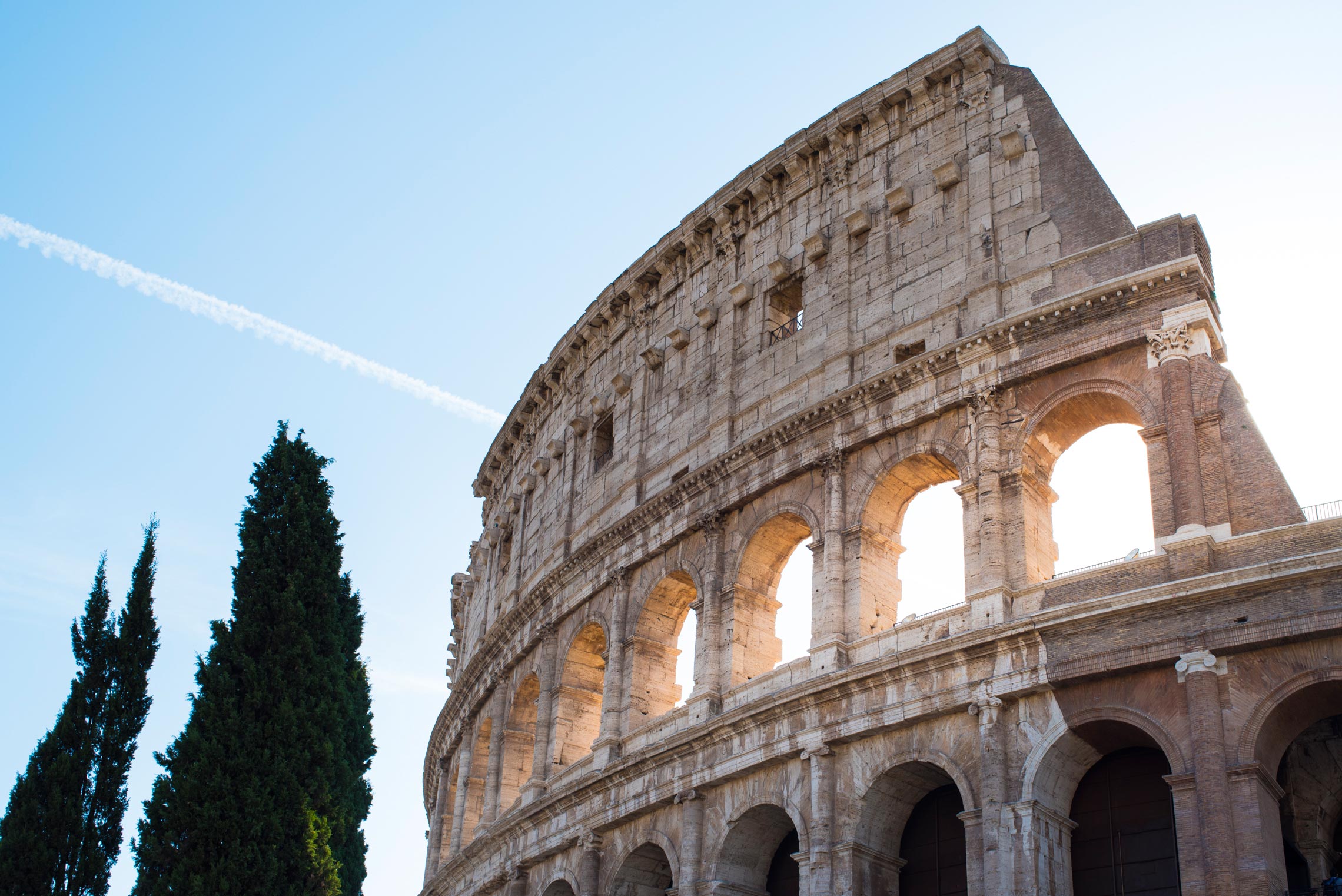 Poke around the morning market at Campo di Fiori
Campo di Fiori is a hive of activity and a wonderful place to stop by. In the mornings it's a bustling marketplace, so stop by for a poke around the food market and watch the lively locals go about their business. This is the place to pick up some cheap, fresh fruit for breakfast.
Release your inner cat lady at the Torre Argentina Cat Sanctuary
The murder site of Caesar is haunted – by hundreds of stray felines! After the ruins were excavated in 1929, Rome's feral cats moved in as they seemingly do with every ruin complex. Of course, the Italian cat ladies started feeding them and their population eventually grew to over 150. Today, there are volunteers there to look after them, clean them and feed them. If you fancy a bit of cat action yourself, the sanctuary is open to visitors.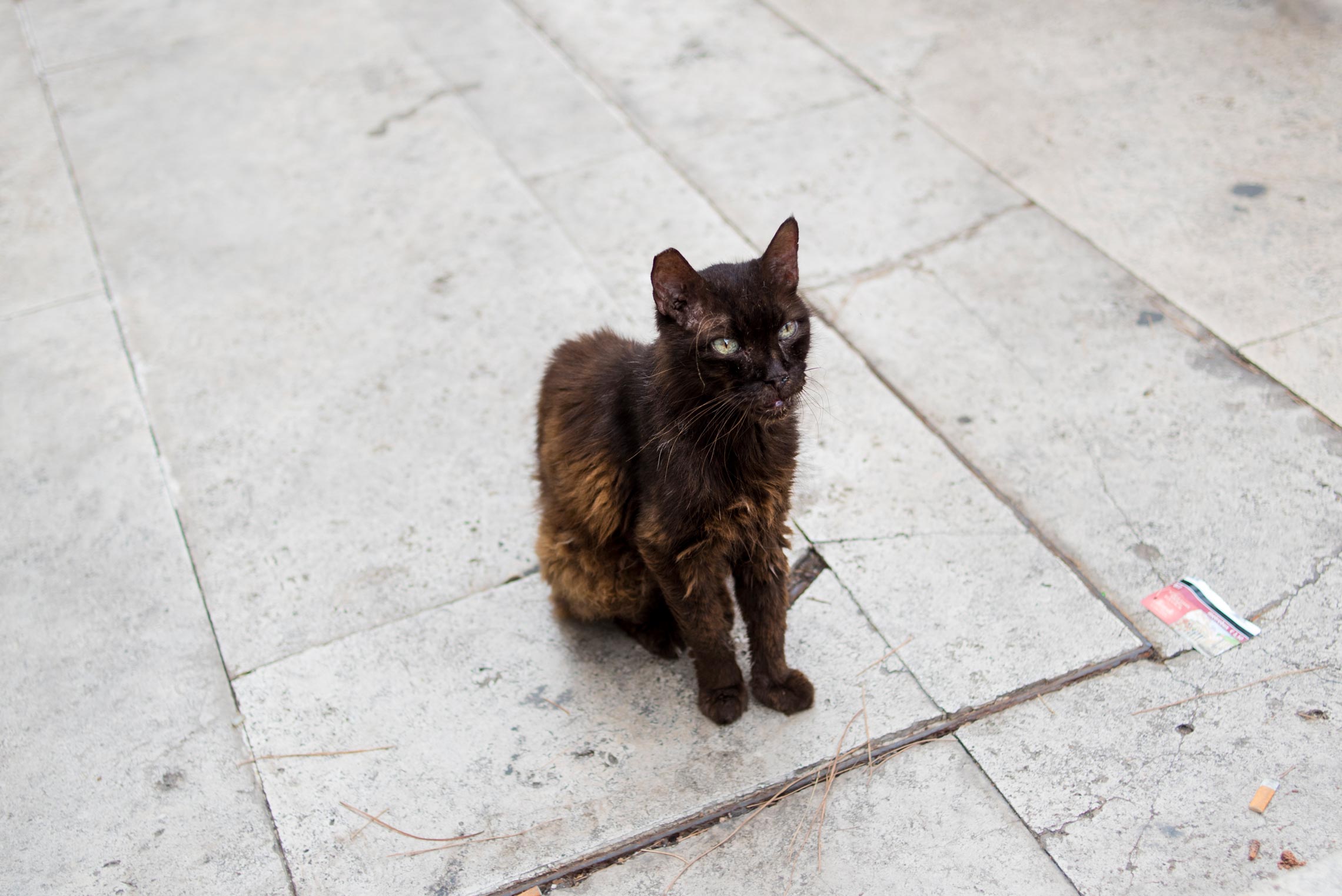 Do you have anything to add to this list? Share your tips in the comments below!
Disclosure: This post contains some affiliate links that earn me a small commission at no additional cost to you. Thank you for supporting The Department of Wandering.