The countdown was on. I was only days out from jetting off to escape Melbourne's winter to chase the European sun for a couple of months. I'd fallen in love with Melbourne all over again since I'd returned from my three years abroad and I seemed to slot back into life back home easier than I'd imagined. It's funny how quickly you settle back into a routine and end up doing the same things day in, day out!
So when the Art Series Hotel Group invited me on a last-minute staycation in The Larwill Studio to shake things up and help me see the city from a different perspective, I packed my overnight bag in an instant. Having recently stayed at The Watson, the group's Adelaide hotel for an indulgent weekend getaway in Adelaide, I knew I was in for a treat. Located in Parkville in Melbourne's north, the Larwill Studio was only a stone's throw away from my new flat in Collingwood. Perfect. Leaving Ben at home, I threw a change of clothes and my toothbrush into the backseat of the car and zipped across to check in.
Located directly next door to the Royal Children's Hospital, The Larwill Studio couldn't have been easier to find. I left the car in the driveway while I ran into the lobby to check in. The expansive, light-filled lobby was a calming antidote to Melbourne's traffic and the efficient reception staff had me checked in within a matter of minutes. I darted back to park the car ($25 per day) and headed up to the fourth floor to find my room.
As I opened the door to my corner king 'workspace' — all rooms are called workspaces to encourage guests to get creative during their stays — I was pretty happy to be calling this space home for the night. Not only was my room light-filled with panoramic views over the parklands and out into Melbourne's iconic skyline, but the nordic-inspired furnishings added a sophisticated edge. Splashes of colour came from both the original artwork by David Larwill, the hotel's namesake, that adorned the wall (each Art Series hotel is named after a celebrated local artist) as well as plush textiles that made me feel right at home already. A glass of wine definitely helped create that feeling too.
I love a hotel with a bit of personality and The Larwill Studio has loads. Scattered throughout the room were fun little notes and reminders to be passionate, playful and creative. There were even art supplies on hand for those unexpected moments when inspiration hits!
I must admit, after I had one of the best sleeps of my life at The Watson (seriously), I was pretty excited about the prospect of resting my head again in one of the Art Series' beds. There was a little note on the bed that invited me to 'Jump on the bed. You know you want to', giving me total permission to be a kid again. Okay then, if you insist.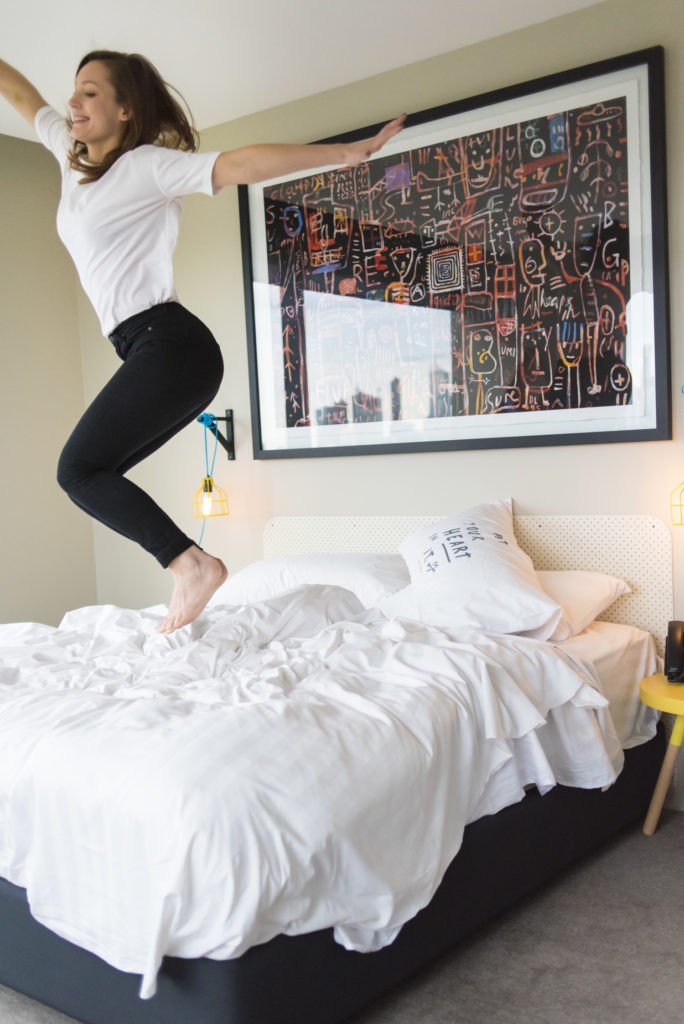 Aside from celebrating a unique Australian artist, every Art Series Hotel has a different, overarching theme. The Larwill Studio celebrates the 'Art of Wellness', with all hotel facilities designed to help guests achieve optimum health and wellbeing. The in-room yoga mat definitely came out for a few downward-facing dogs in the morning.
The best things to do while staying at The Larwill Studio
It's no secret that I love Melbourne's northside and I've always chosen to live on this side of town. The CBD is right on your doorstep, yet the vibe is artsy and edgy. You'll never be stuck for things to do when staying at The Larwill Studio, but as a local, here's my pick of the best of the area:
Get your coffee hit
You knew that this would be on the top of my list, didn't you? You'll find some of Melbourne's best cafés in this part of town. My favourites are:
7 Seeds Specialty Coffee in Carlton
Proud Mary in Collingwood
Industry Beans in Fitzroy
Auction Rooms in North Melbourne
Eat all the food
There are so many incredible cafés, bakeries and restaurants nearby and there seems to be new ones popping up on almost a daily basis. Melbourne has a massive foodie culture and in all of my travels, I've never had fresher or better-quality food than I've had back home. Some of my favourites in the area include:
The Carlton Wine Room in Carlton
Lune Croissanterie in Fitzroy
Lazerpig Pizza Parlour in Collingwood
Mr Ottorino in Fitzroy
Explore the urban art scene
This side of town is Melbourne's creative hub. It's edgy and hip and the streets are full of colour. Stop by an art or photography exhibition or take in the street art, which is a pretty cool gallery in itself.
Laneway street art in Fitzroy and Collingwood
Rose Street Artists' Market in Fitzroy
Gertrude Contemporary in Fitzroy
Ian Potter Museum of Art in Parkville

Get cultured
See for yourself why Melbourne is said to be the most cultured city in the southern hemisphere and get an insight into the heart and soul of the city with all these options right on your doorstep:
Melbourne Museum in Carlton
Royal Exhibition Building in Carlton
Centre for Contemporary Photography in Fitzroy
Queen Victoria Market in Melbourne
Have you been to Melbourne's northside? Share your favourite things to do in the comments below.
---
Disclosure: Many thanks to Olivia and the Art Series Hotel Group team for the invitation to experience The Larwill Studio as a guest. As always, this review is an honest reflection of my experience.