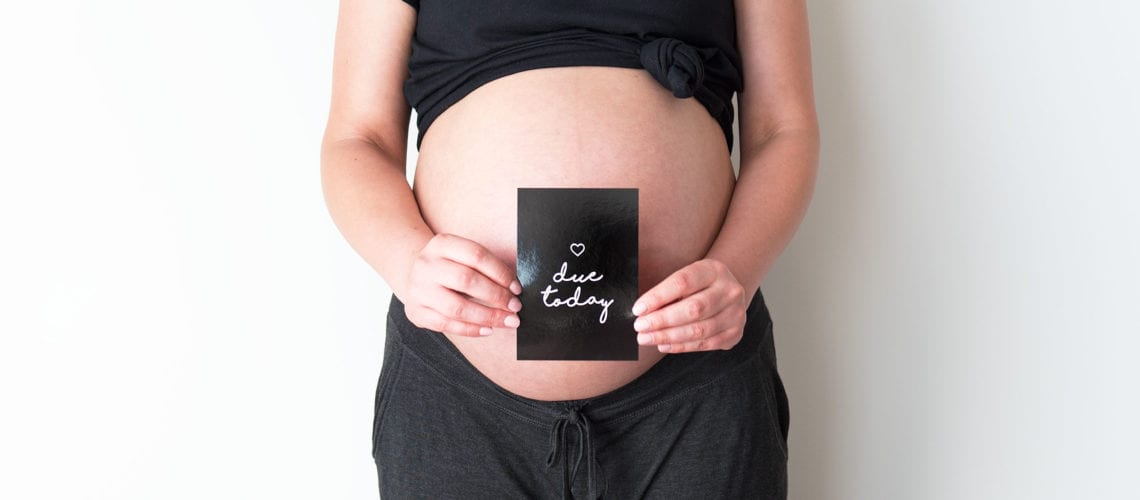 You know, for some reason I was quite convinced that this baby would come early. I don't know why, but I had it in my mind that we wouldn't quite make it to 40 weeks and we'd be holding our little bundle in our arms already. Well, it turns out that my hunch didn't actually mean a thing because look where we are now. Happy due date, my little dear! I also can't quite wrap my head around the fact that this is the VERY LAST bumpdate! Let me fill you in on everything that's happened in my last month of pregnancy during weeks 36-40, from spotting labour signs to an unexpected hospital visit!
Bumpdate: Weeks 36-40
I've said before that this pregnancy felt like it was flying by in the blink of an eye. Well, the last month of pregnancy has felt like an absolute ETERNITY. Each day drags on and on and on. I honestly feel like the concept of time has no meaning anymore, like it's groundhog day. I can't remember what it's like to not be pregnant now and it feels like this baby won't ever actually come out!
It's not so much that I'm feeling physically miserable – I can deal with the aches and pains and swelling and lack of sleep. I'm uncomfortable and tired but it's fine. It's more of the emotional side of things that I've been struggling with.
It's not that I'm anxious about birth. Actually, that couldn't be further from the truth. I'm so excited about the big adventure that it will be. I feel calm and prepared and I trust that my body and my baby know how to do this. I'm strong and healthy and I know that my body is designed perfectly for this.
It's more just the waiting game that's hard now. Once I hit full-term at 37 weeks, I realised that the baby could come at any time. 37 weeks isn't considered early. The baby is fully developed and ready for the world at this point. So I'd made sure that I was fully organised and prepared by this stage. The hospital bag was packed, the nursery was finished and the freezer completely stocked. Everything was ready for go-time.
But of course, our little love was pretty comfy in there and stayed put. So I busied myself with adding more and more items to my 'things to do before baby' checklist, convincing myself that they were vital tasks that absolutely needed to get done. In reality though, arranging my skin care by bottle size is probably not that essential, but hey.
For the first time a few weeks ago, I said to Ben that I finally felt ready for this pregnancy to be over. Up until that point, I was feeling quite sad at the prospect of it ending since I loved being pregnant so much. But it finally hit a point where I just wanted this baby in my arms more than anything in the world. I couldn't get a decent night's sleep for the life of me and I was feeling so hormonal and emotional. Everything seemed like a superhuman effort again like it did in the first trimester, even catching up with family and friends. All I wanted to do was hibernate, be alone and zone out.
Remember how I was saying that the original birth photographer we'd booked had fallen through? Well, I finally found another photographer who's style I loved. It took ages to find. But I'm so happy that we've locked in Kelly from Kelly Jordan Photography to capture our baby's birth. She came over to meet us and chat about how it would all work. She's now on call for us for whenever this little babe decides it's time to make an appearance!
The next week, we headed back into the hospital for my 38 week appointment. It was a quick and easy checkup and everything is still looking great. The baby is still posterior (no change there) and my blood pressure was fine. If you remember in my last appointment, I took the Group B strep test and I was worried that if it came back positive, we'd have to decide whether or not to go on antibiotics during labour. Thankfully though it had come back negative so now we didn't have to worry. So good.
It really felt like I was on the home stretch now. I could go into labour any minute, I thought! I suddenly felt the urge to get all my appointments ticked off. I booked in for a haircut, had a mani and pedi and even treated myself to a glorious pregnancy massage. Now is the time to get pampered after all – there won't be much time for that once the little milk monster is attached 24/7!
So I know you want to know if I've been having any labour signs. Well, I feel like I've been having signs for weeks but there's no baby yet! I've been feeling lots of pressure down there (the midwives keep telling me that baby's head is so low) and I've been having random tightening feelings here and there. Sometimes they feel like period pain down low and other times like a crampy stitch across the top of my belly. Maybe these are Braxton Hicks? I honestly don't really know.
On the night of the 7th October when I was 39 weeks and 2 days, I woke up in the night feeling SO much pelvic pressure. I could barely roll over in bed, it was that uncomfortable. The following morning, I woke up and found I'd lost my mucous plug.
The next day I had my 40-week midwife appointment, which was perfect timing. She said that losing my plug was a great step forward and that all the signs were pointing to the baby being here very soon. I felt positive and totally thought it would just be a matter of days before I went into labour. Well, it's been almost a week since that appointment and… I'm still very pregnant. I guess the baby is still working up enough courage to come out.
As usual, in this appointment I had my blood pressure taken and, for the first time in the entire pregnancy, it was on the higher side. I was so shocked. Was this the start of pre-eclampsia that I'd tested high-risk for earlier in my pregnancy? To play it safe, I was asked to do a urine test to check for protein in my urine (another key indicator for pre-eclampsia). Thankfully though, it was negative. The midwife took my blood pressure again towards the end of the appointment and it was back to normal. Must have just been one of those things.
I was also booked in to see an OB the following week, in my 41st week, to talk about possible induction steps if I don't end up going into labour spontaneously. Because by then I'll be post-date, they need to monitor things a little more closely too. I need to go in about an hour before my appointment for CTG monitoring, just to check that the baby is still doing well in there. So that's the plan for this week.
But… little did I realise that I'd be back at the hospital so soon. Last Wednesday, I became worried that I hadn't felt the baby move as much as usual. I'd had my usual acupuncture session in the morning, which always triggers a lot of movement, and then came home for an afternoon movie marathon. I remember feeling movement around 3pm but come 8pm, I couldn't remember the last time I'd felt anything. Usually the baby is super active in the afternoons and evenings and makes the biggest movements around this part of the day. But there was an unusual quietness that felt different.
I mentioned it to Ben and I tried to do all the things that usually gets the baby to move – poking my belly, drinking something sweet and cold and lying down. I DID feel some little movements, but it just didn't feel strong like normal. I didn't want to take any chances that something might be wrong so I called the hospital. The midwife said that if at any time I felt like there were reduced movements, I should come in for monitoring. So off we went to the hospital at about 10pm that night.
Right on cue though, as soon as I was hooked up to the monitors, the baby had one of the biggest dance parties in the history of its unborn life. It was like it was trying to burst out of my belly. Everything looked good on the CTG but because I was full-term, the midwife looking after me said that a doctor needed to do an ultrasound and to sign off on everything too. So in came the OB with the scanner. She measured the fluid (a healthy level) and checked that the baby was moving and practising breathing. Thankfully, all seemed normal.
I must admit that I felt a little silly after that as all the testing showed a very healthy and active baby but the midwife and doctor both reassured me that I'd done the right thing. They said to ALWAYS come in if something doesn't feel right because if something had been wrong and I'd ignored it and went to bed that night, it might have been too late come morning. The OB also said that although they can do all these tests and checks on the baby, the most important thing is a mother's intuition and they take that very seriously. So that was good to hear and I'm really glad I went in.
While I knew I could very well go into labour at any moment, I also knew I'd probably feel a little down if nothing seemed to be happening around my due date. I know that in reality, only 5% of babies are born on their due dates but I was just so hoping that this baby might be as eager to meet us as we were to meet them! It turns out that I've made quite a nice, cosy and comfortable home in there though so no such luck. To feel better, I took myself off for a beautiful pregnancy massage on my due date. It was so lovely.
So now all we can do is wait! I'm doing ALL the things to try to bring on labour naturally – acupuncture, walking, eating curries, bouncing on my fit ball, drinking buckets of raspberry leaf tea, doing deep squats, eating handfuls of dates. You name it and I'm doing it. Hopefully we don't get to the point where I have to be induced but I know that it's out of my hands now. This baby will come exactly as he/she intends to and I've got to trust in that.
That brings us up to date! Well, mostly. As I type this, I'm currently 40 weeks + 2 days. I'll be scheduling this post ahead so I have everything crossed (except my legs) that I have the baby by the time this is published. We'll see!
And that's it for the bumpdates! Wow. It's been such a big journey. If you're keen to go back and read about my pregnancy from start to finish, you can find them all here:
Like this post? Pin it for later!
Have you enjoyed reading my bumpdates? Let me know in the comments below 🙂