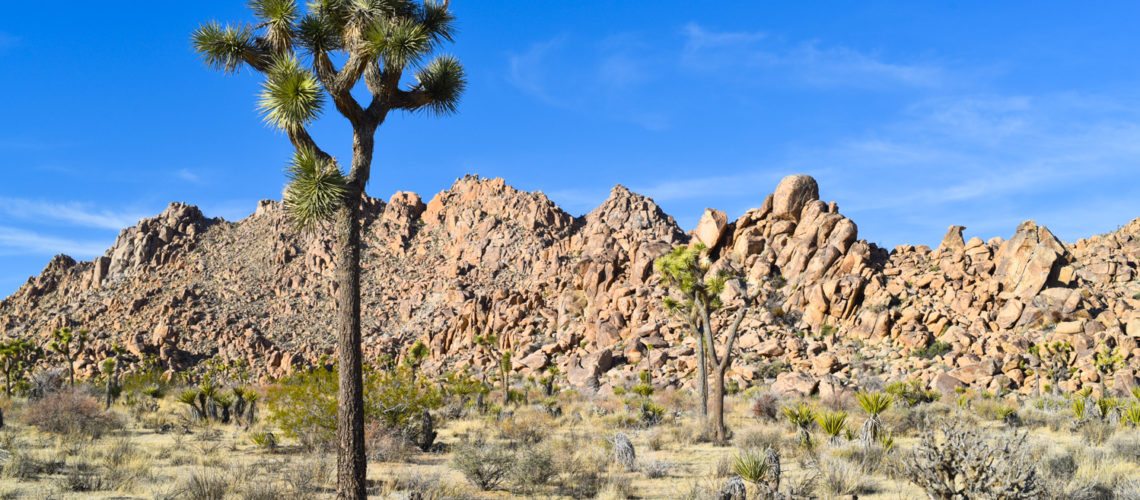 California, you sure know how to make a girl swoon. Every weekend is a chance for a new adventure and hitting the open road with an overnight bag, a full tank of gas and a car loaded with snacks is just about the most perfect weekend I can envision. I have been desperate to get out to Joshua Tree National Park since I began seeing this harsh, alien landscape on Instagram and it just had to be the destination of our first weekend adventure from LA. And oh, I'm so glad we went. Out there in the desert it's quiet and calm and there's this kind of palpable energy I haven't felt elsewhere. If you're looking to plan your next weekend getaway, here's how you can have an epic weekend in Joshua Tree National Park, like I did:
Getting there
We left LA at around 9am on a Saturday morning, filled the car with snacks, plugged our destination into our GPS and hit the road. The drive out of LA really isn't that interesting, but after an hour or so, it started to get a little more arid and the highway narrowed. All up, it took around two and a half hours to get to Yucca Valley, where we would be basing ourselves. As we pushed further and further into the desert, with the landscape becoming increasingly arid and rocky, the Queens of the Stone Age was the only soundtrack that would do. It was super exciting for us to self-drive into the desert, but if you're not so confident driving on your own, book a tour with a company like Grand American Adventures who will take the hassle out of it for you.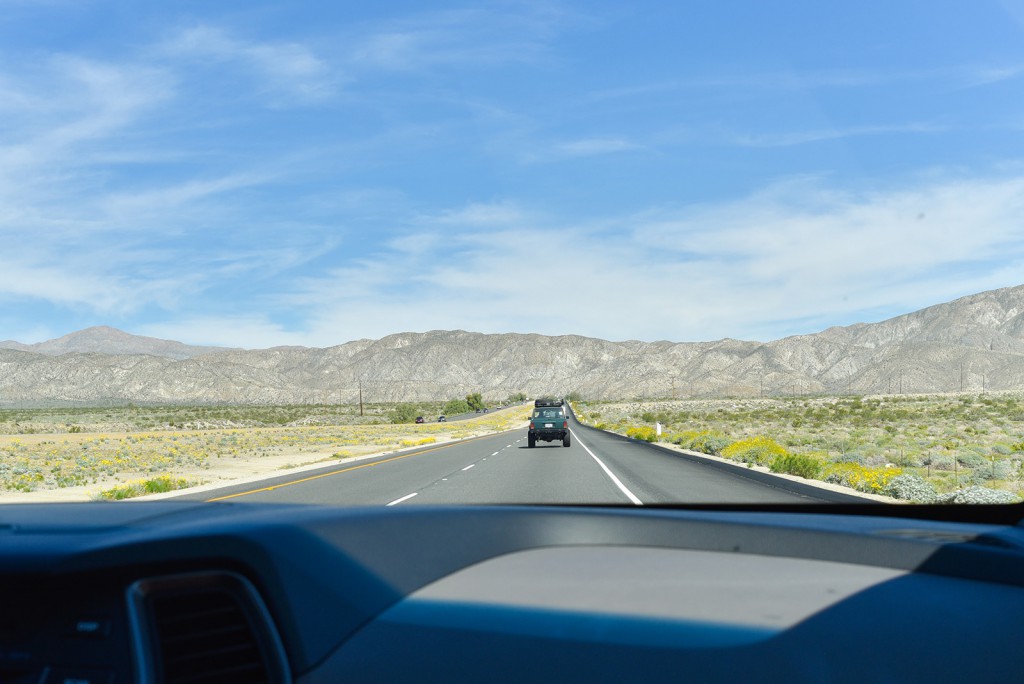 Brunch at La Copine
Since we had arrived before noon, our Airbnb wasn't quite ready yet and so we headed directly to La Copine for brunch. Located in the high desert a couple of miles north of Yucca Valley, this place is seriously in the middle of nowhere, but I'm pretty sure it was the hippest place going round. The menu was on point — I had the Tartine, which came with house cured salmon, caper cream cheese, tomato, cucumber, arugula and eggs mimosa on marbled rye bread and Ben couldn't go past the Biggie Shortie, which was a toasted baguette with braised short ribs, caramelized onion and fig jam, horseradish-cheddar fondue and greens. If you don't come here on your Joshua Tree adventure, you're missing out big time.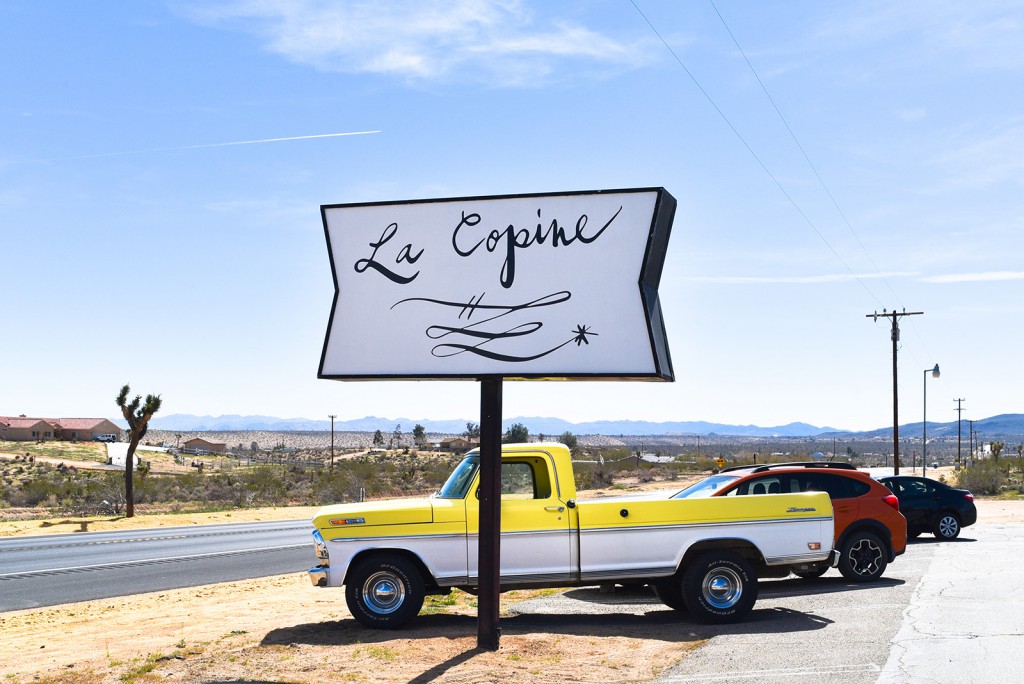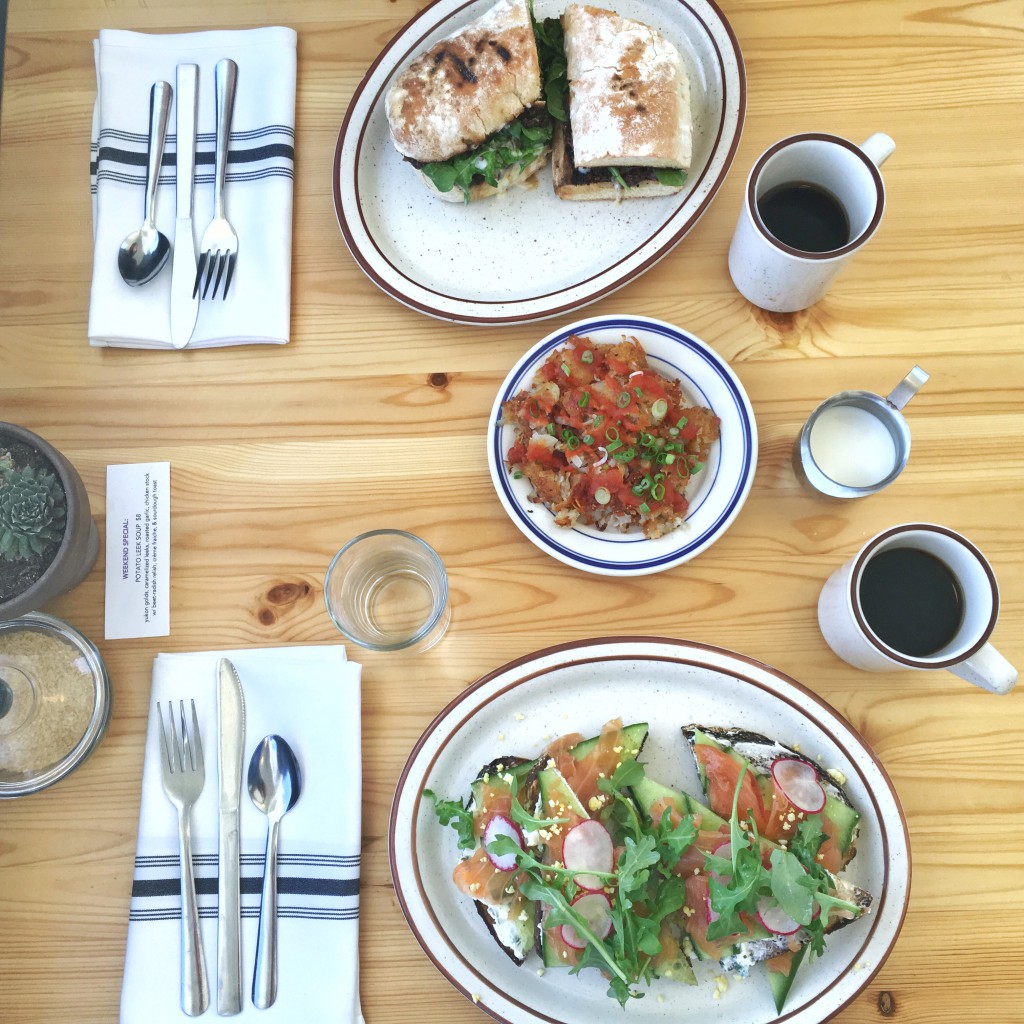 After brunch we headed back towards Yucca Valley to have a little look around the town while we were waiting for our Airbnb host to let us know when our studio was ready…with a few stops along the way!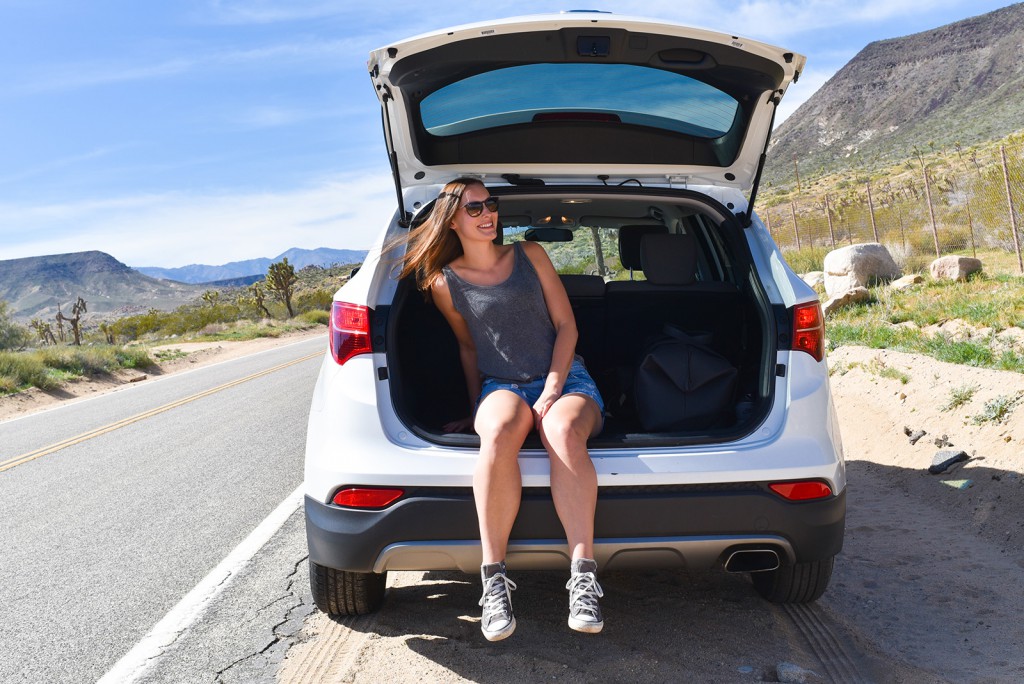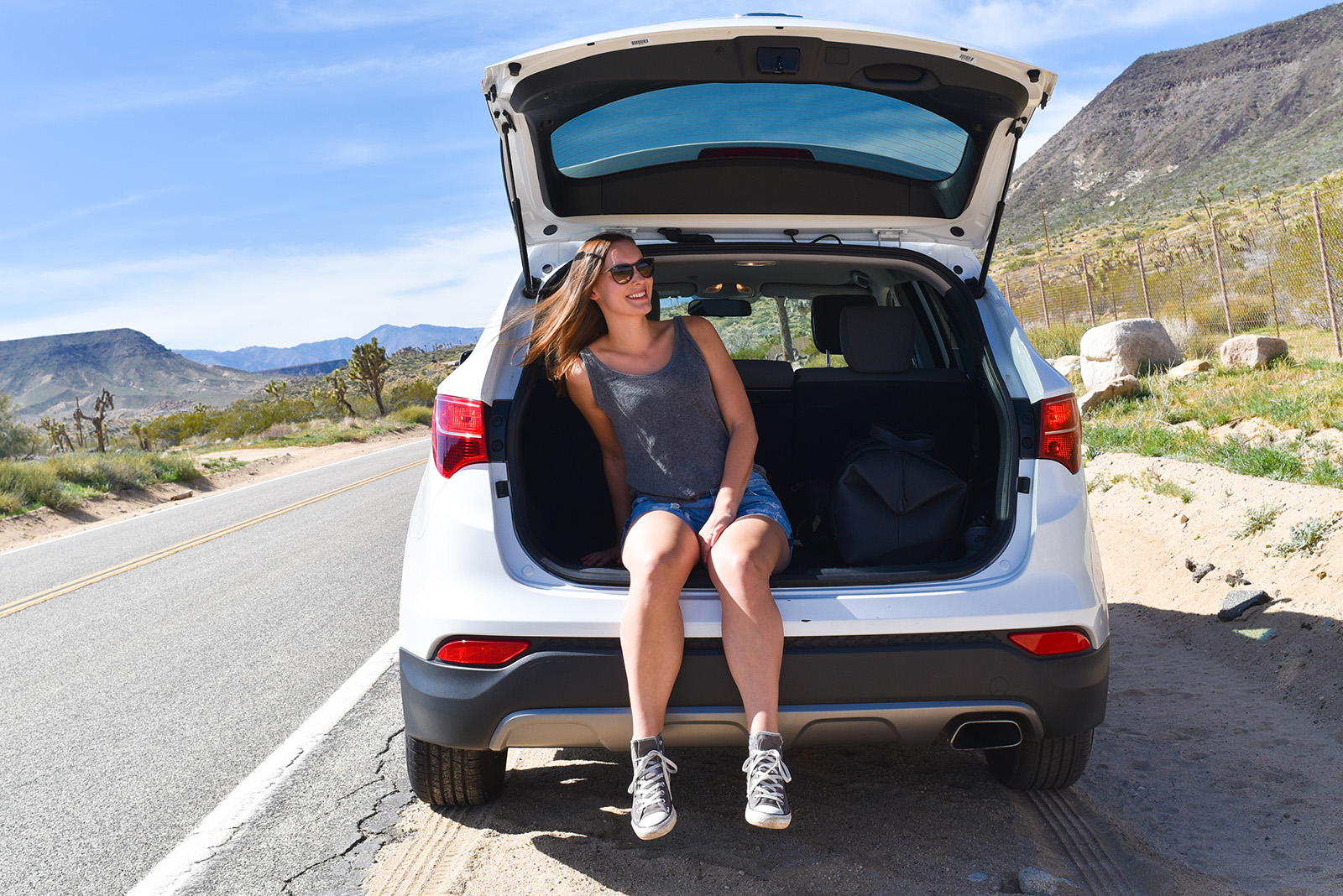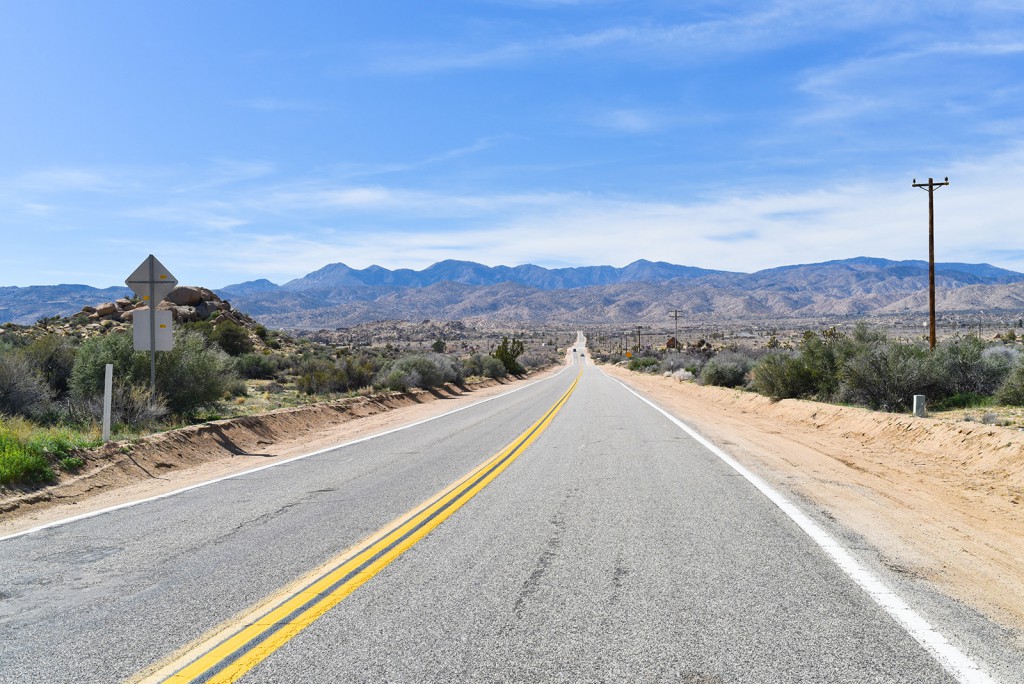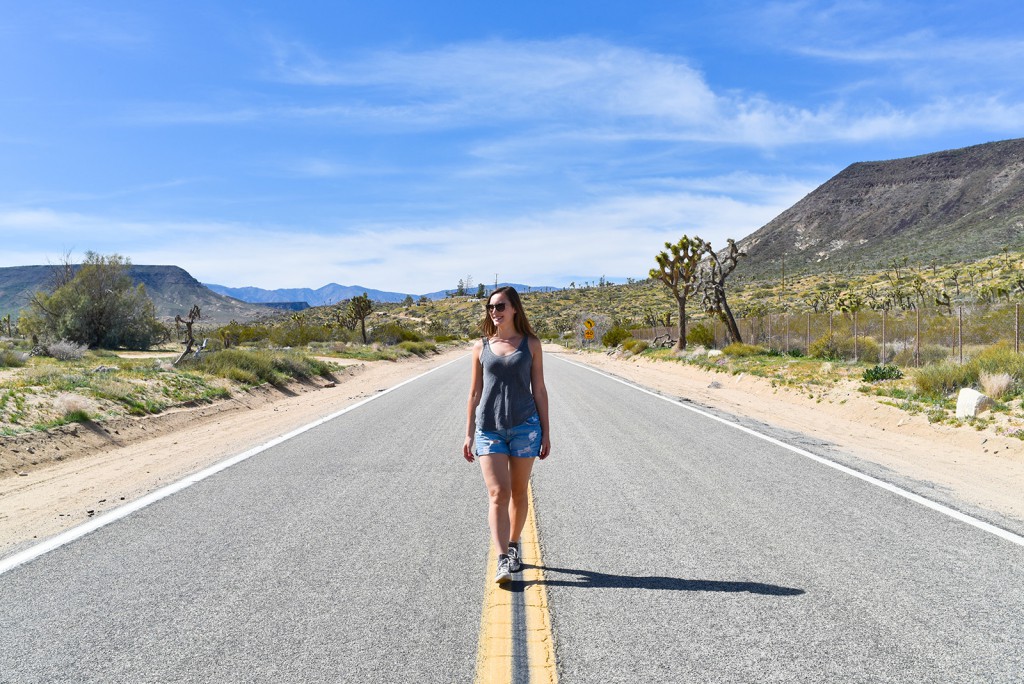 Shop the look:
Shopping in Yucca Valley
From antique stores selling housewares and one-of-a-kind treasures to vintage stores like Hoof & the Horn stocking everything you need to channel that desert boho vibe, the Yucca Valley makes for a great place to uncover unique items you're unlikely to find elsewhere.

Checking into our AirBnb
We stayed at a beautiful AirBnb studio apartment in the Yucca Valley that I discovered last-minute when planning the trip only a few days prior. I loved this place for its seclusion, great views and stylish interior. Our host, Mark, was super flexible and did everything he could to get us in as early as possible (we had arrived almost two hours before check in) and allowed us to use the studio for as long as we needed the following day since there were no other guests checking in.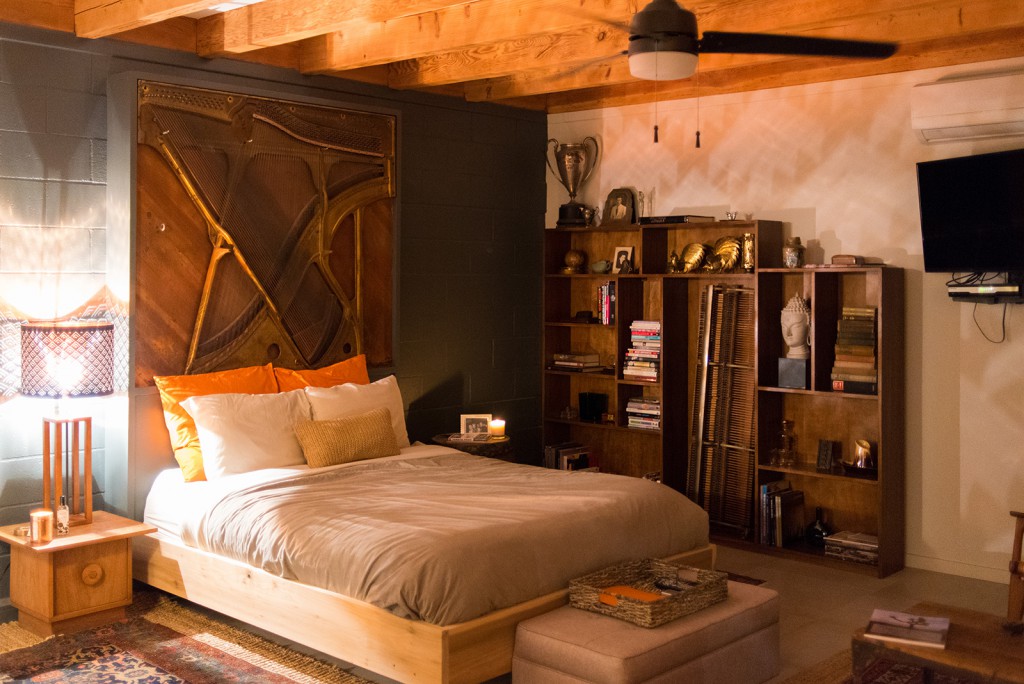 It was the perfect base for us to explore Joshua Tree. After dinner, we bought some beer from a nearby supermarket, sat around the fire pit and gazed up into the sparkling desert sky above. If you're new to AirBnb, get a discount on your first stay here.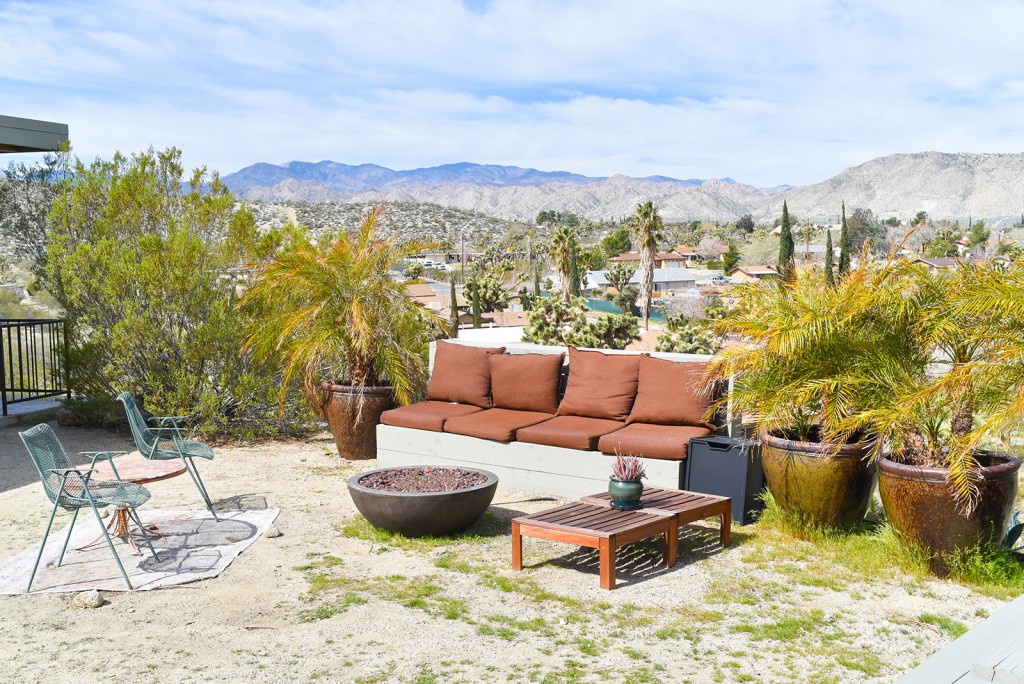 Into Joshua Tree National Park
It was now around 3pm and the light was looking softer so we headed for the Joshua Tree National Park Visitors Centre to pay the park entrance fee ($20 USD for 7 days) and pick up a map. From here, it's only 8 miles to the park. Show your receipt to the ranger at the gate and in you go.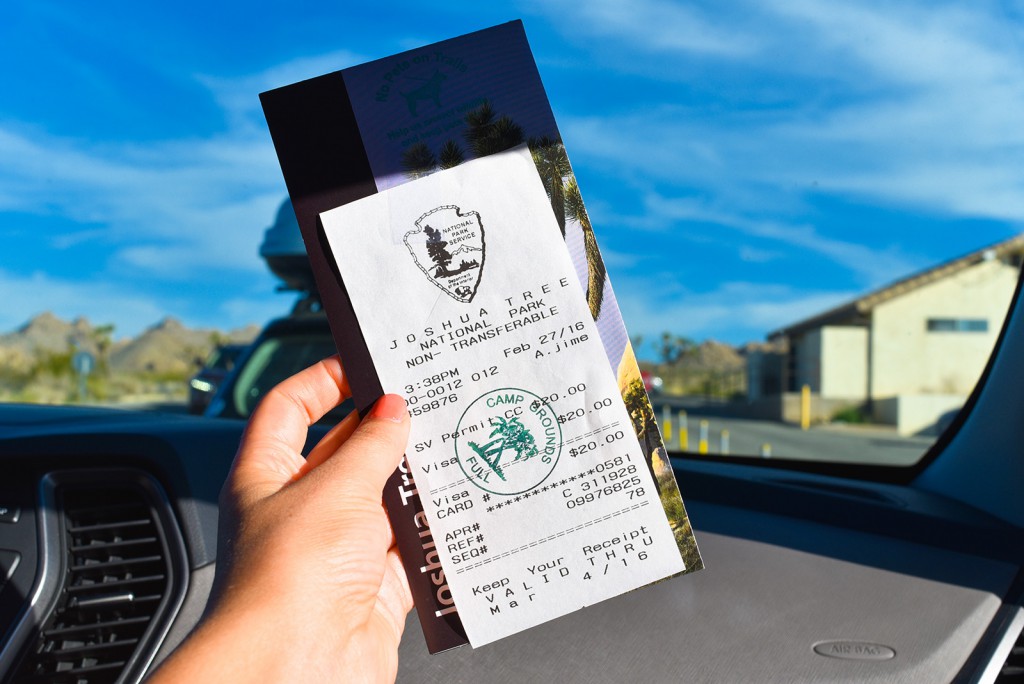 As soon as we entered the park, we just wanted to pull over to take photos around every single bend! The landscape was so alien — full of giant boulders (rock climbers know 'JT' as the best place to climb in California) and thousands of thick, twisted Joshua Trees straight out of Dr. Seuss' The Lorax.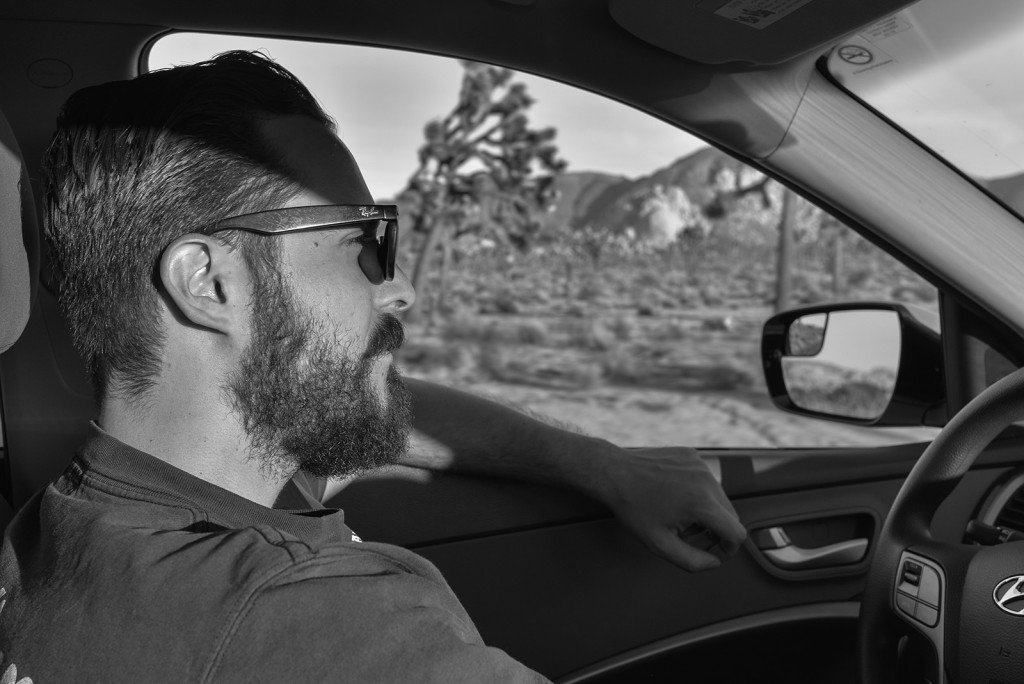 Hike the Hidden Valley loop at golden hour
There are extensive hiking trails all over Joshua Tree as well as some shorter nature trails. Since we didn't have much time before sunset, we headed to the short 1-mile Hidden Valley loop. The trail cut through a valley framed by rocky outcrops. We scrambled on top of boulders to behold the surreal landscape below and pretended we were cowboys in the wild west.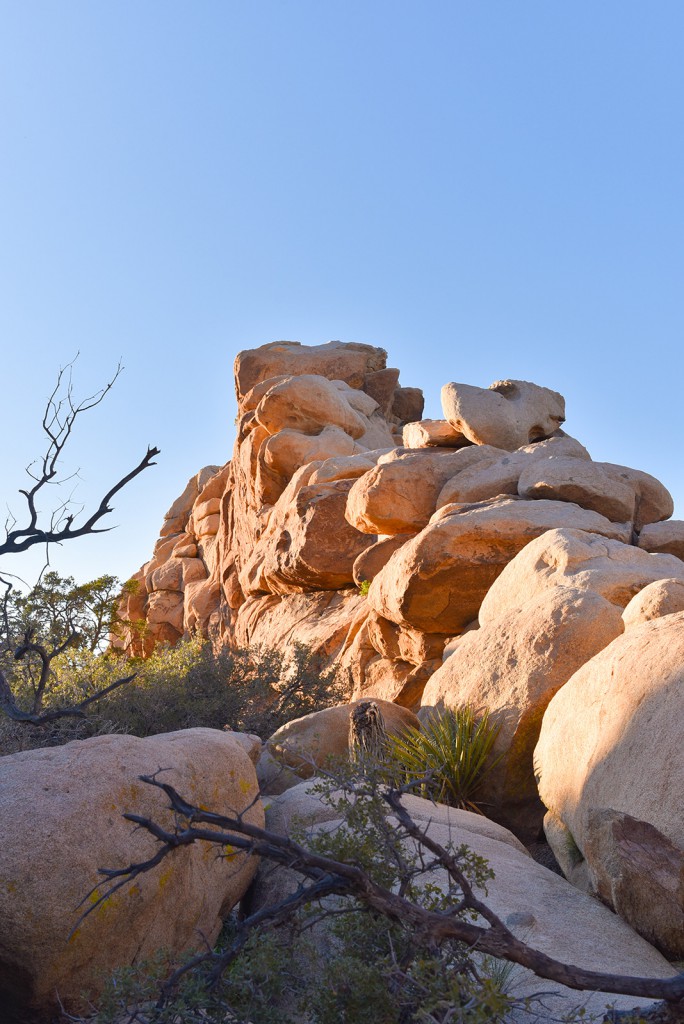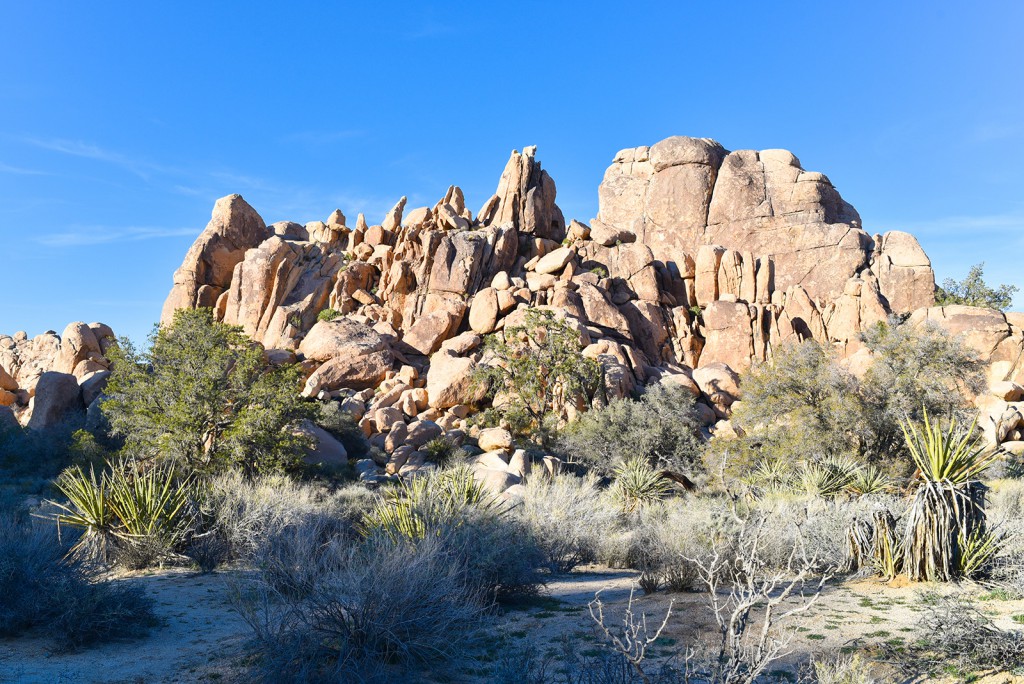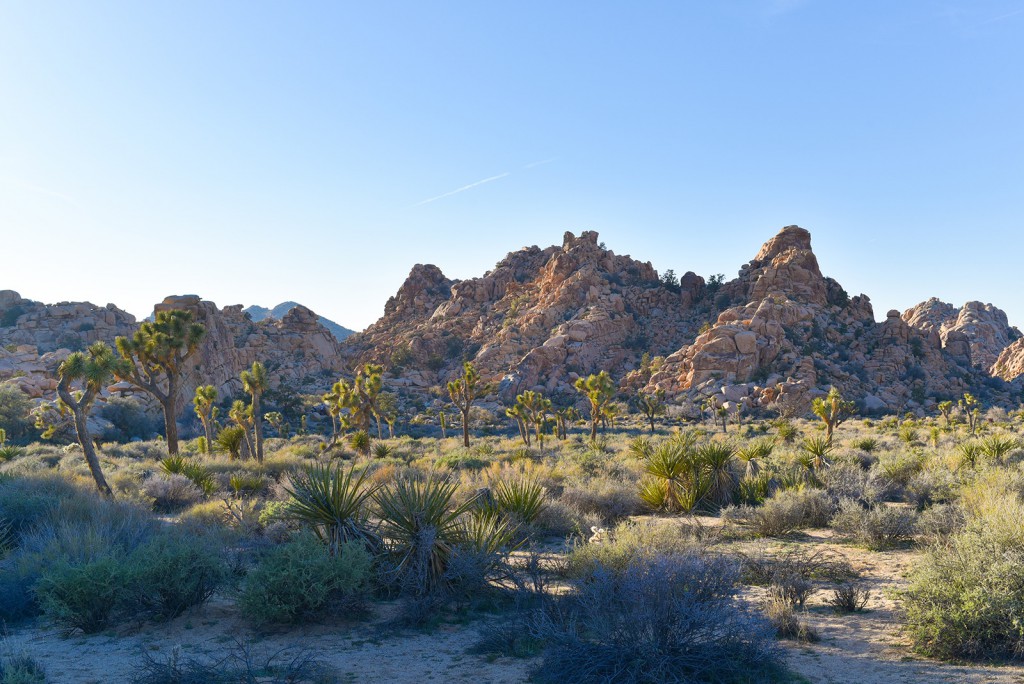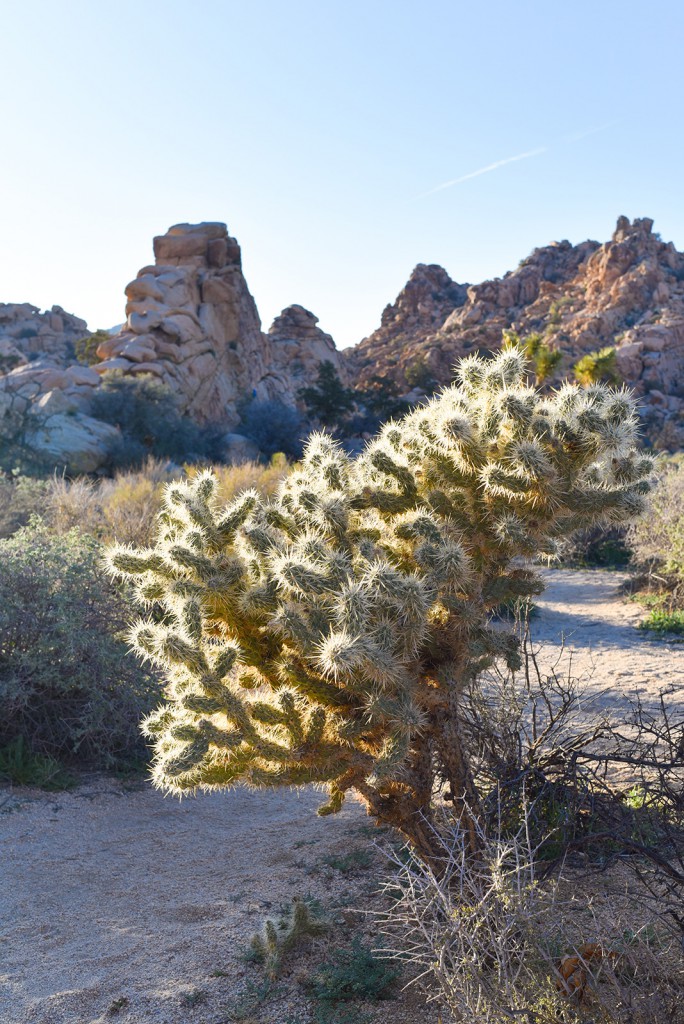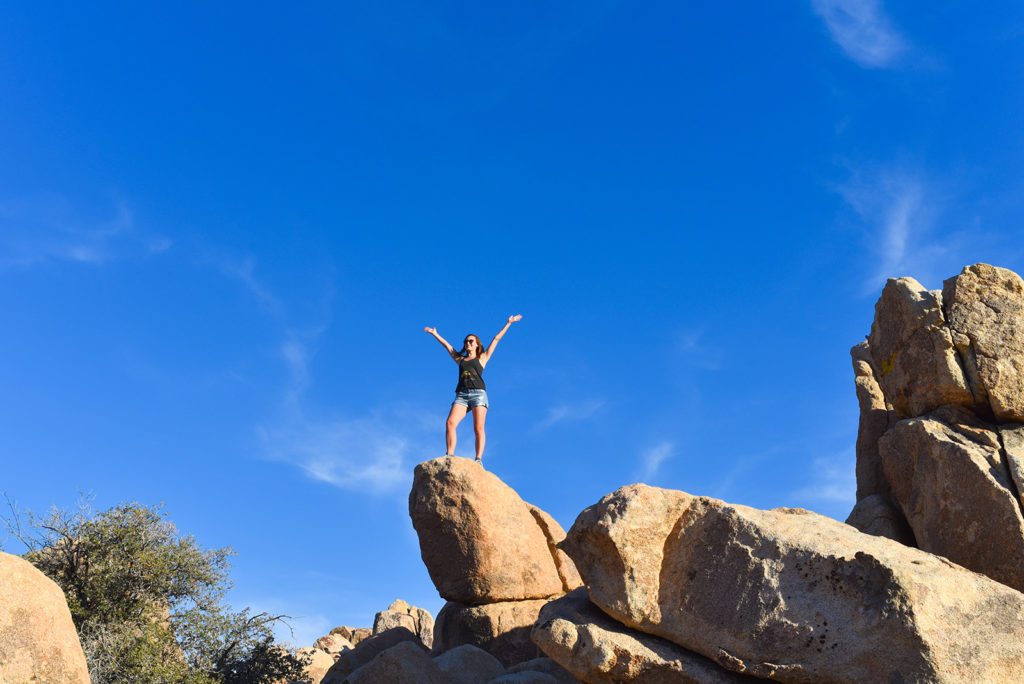 Since we visited in late February, we were really lucky to see some of the Joshua Trees flowering — waxy clusters of pale-green and white blooms that erupt from the spiky fronds.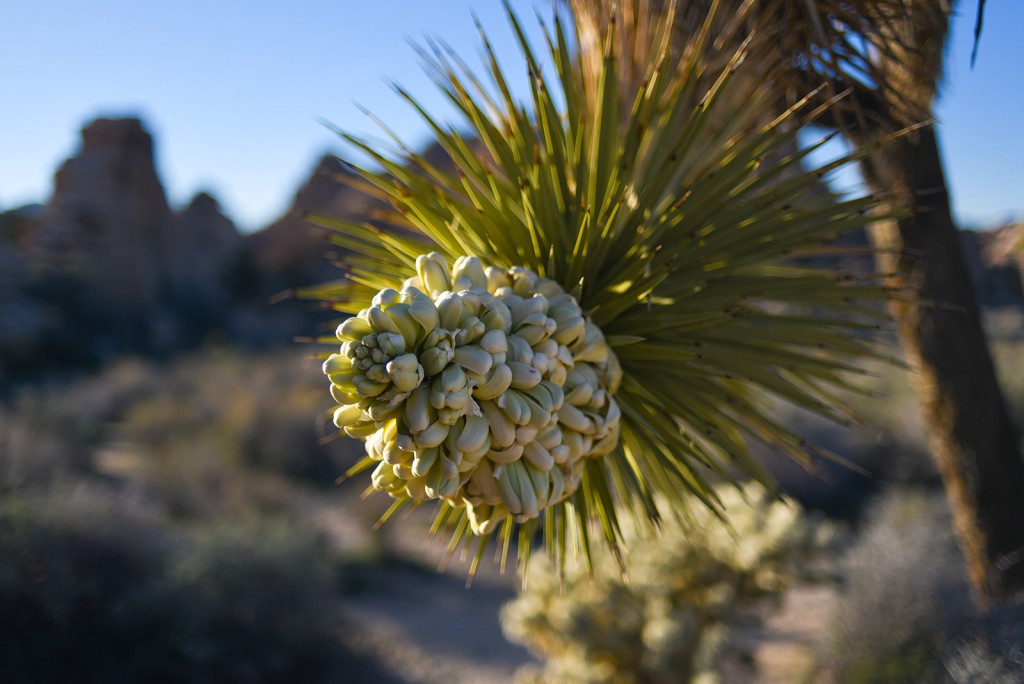 Sunset at Keys View
Time seemed to slip away and before we realised it, the sun was getting pretty low in the sky.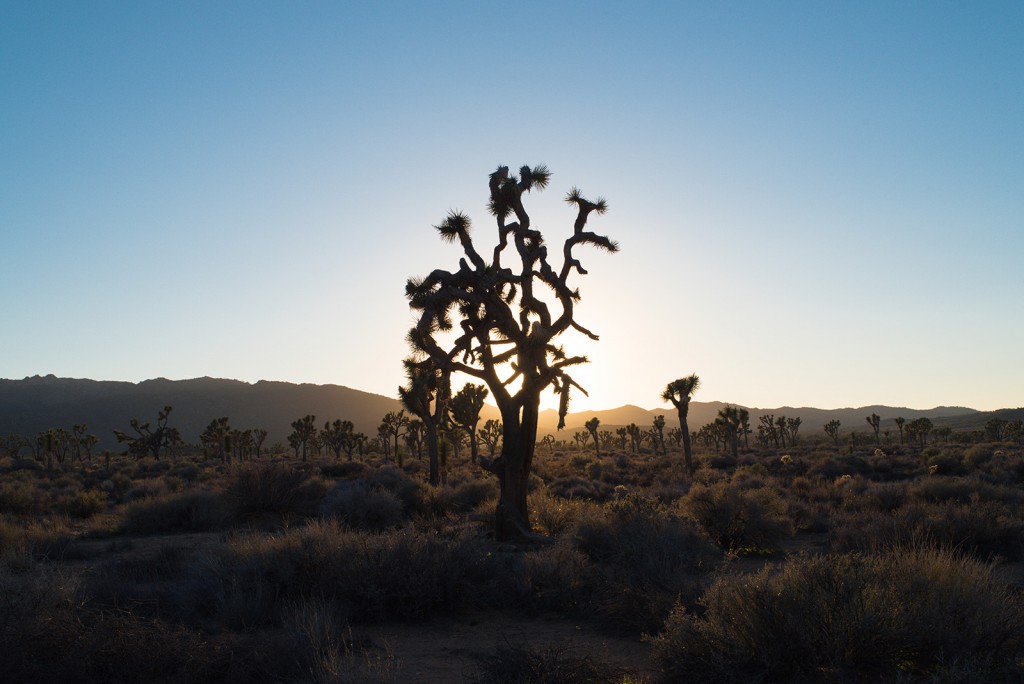 Not wanted to miss sunset, we hurried back to the car, set off into the valley and up to Keys View where I'd read was THE spot to be for sunset. It's the highest point in the entire national park that you can drive to, so it figures. Rounding the bend and sighting the packed parking lot up at the view point, it was clear that many others had the same thought… We pulled off to the side of the road prematurely, waded through the desert scrub and found our own hidden spot to watch the Coachella Valley below transform from gold to purple to blue.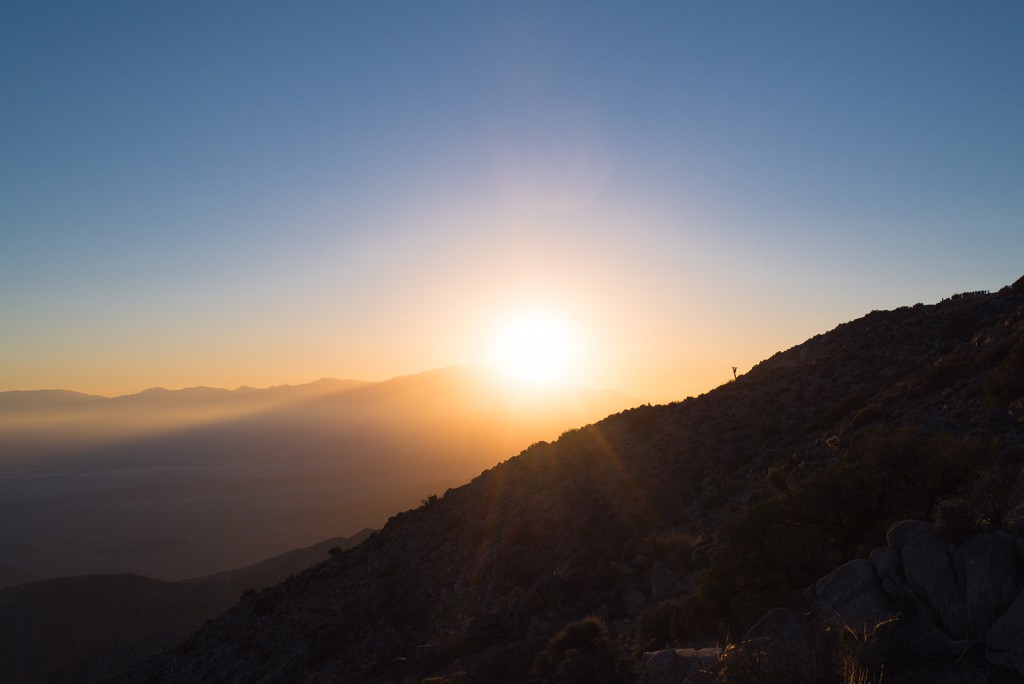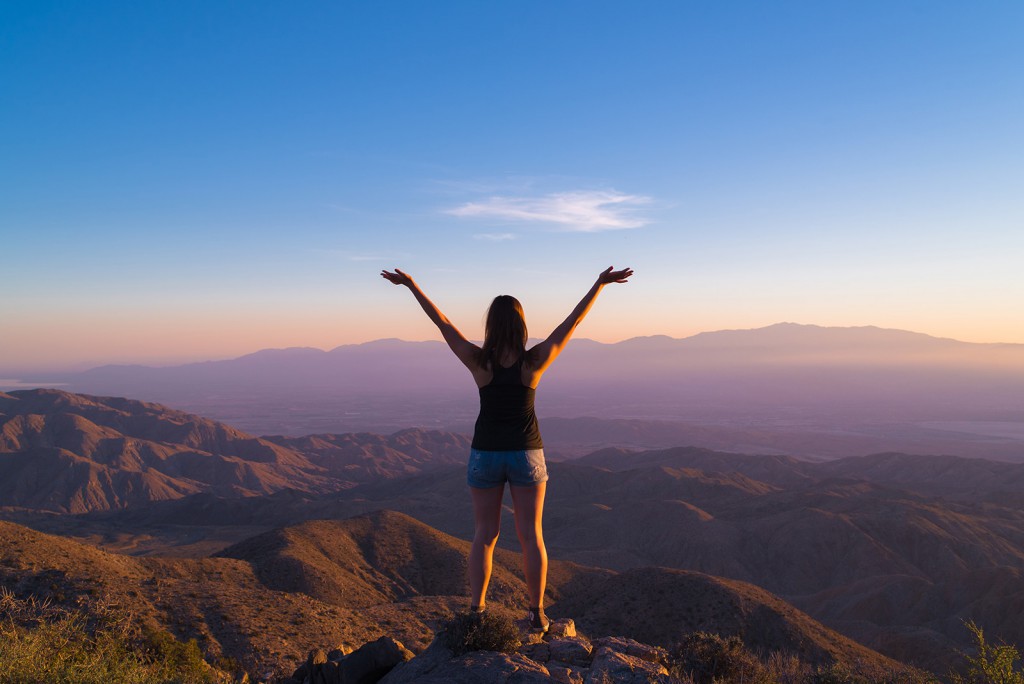 After most of the pretty colours faded, we hit the road to leave Joshua Tree for the night, but not without snapping some gorgeous shots of the road at sunset first!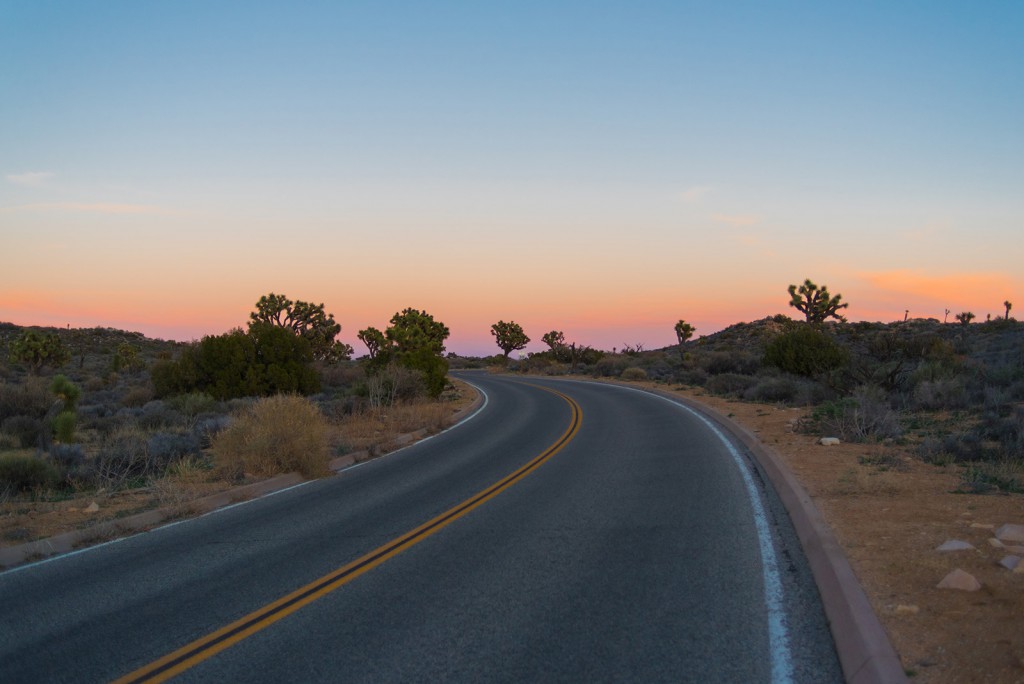 Dinner at Kasa Carniceria
On the way back to our AirBnb we stopped off at Kasa Carniceria for tacos on the recommendation of Yelp. I know what you're thinking. Tacos? In a grocery store? Yep. Down the back of this mexican grocer is a tiny kitchen serving up some seriously good, cheap mexican fare. We ordered carnitas tacos, rice and frijoles and drenched it in hot sauce and salsa. The best.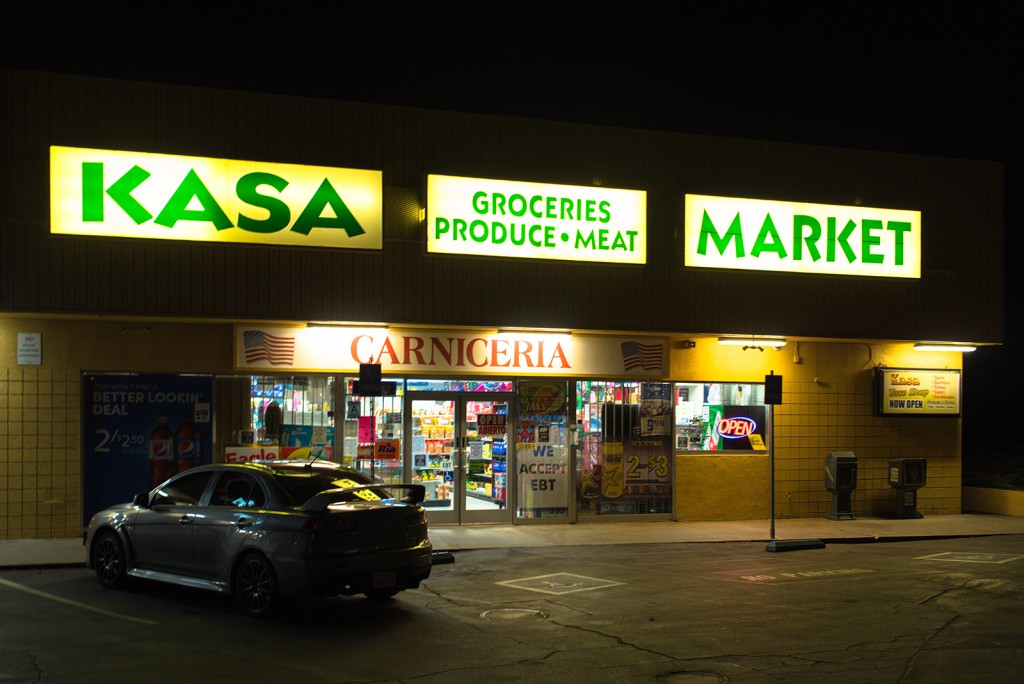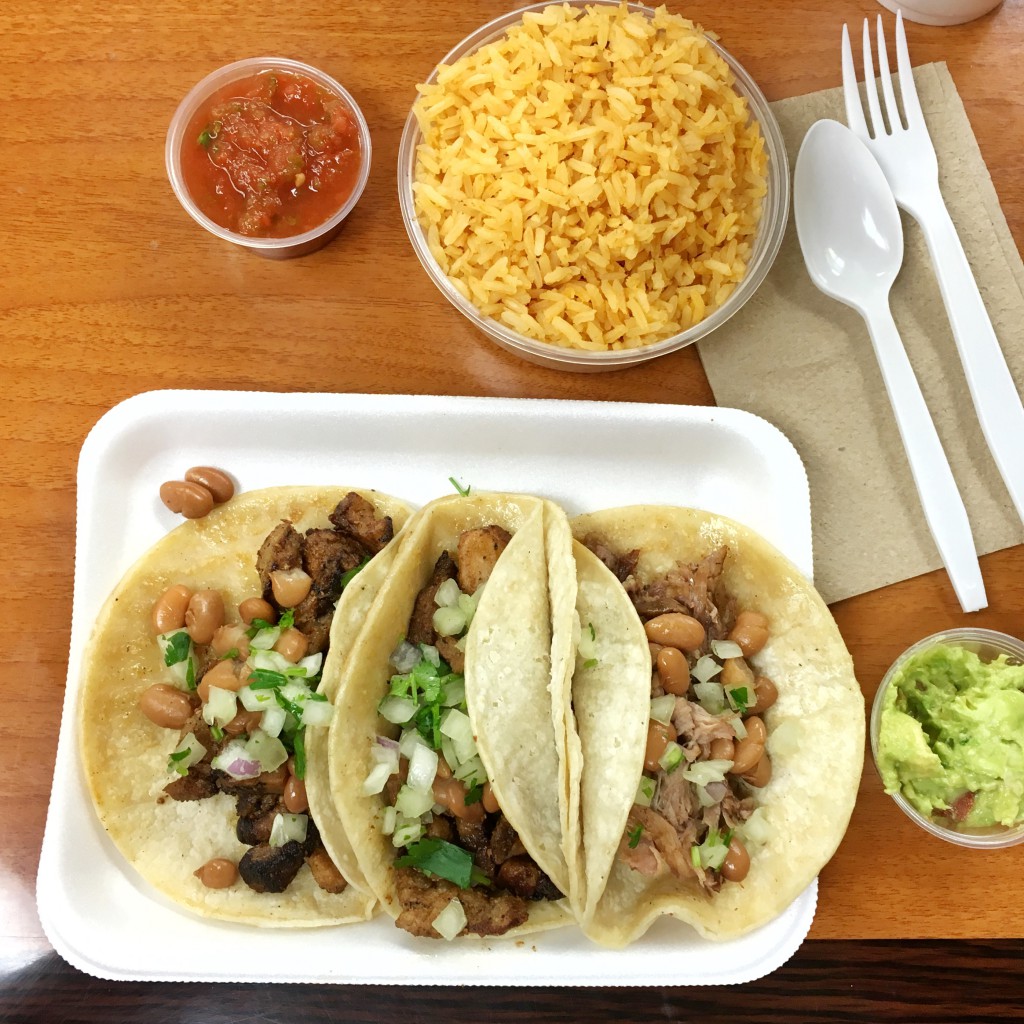 Sunrise at the Cholla Cactus Garden
There was no chance in hell that we were sleeping in and missing sunrise in the desert. Nope. We went to bed early and set the alarm for 4:30am with the aim to be on the road by 5:15am in order to have enough time to drive to the Cholla Cactus Garden, a spot we had sussed out as being particularly beautiful for sunrise. It's always a nightmarish struggle to drag yourself out of bed at such an ungodly hour, but once we were on the road and the sky began to glow with the coming dawn, we felt charged with energy!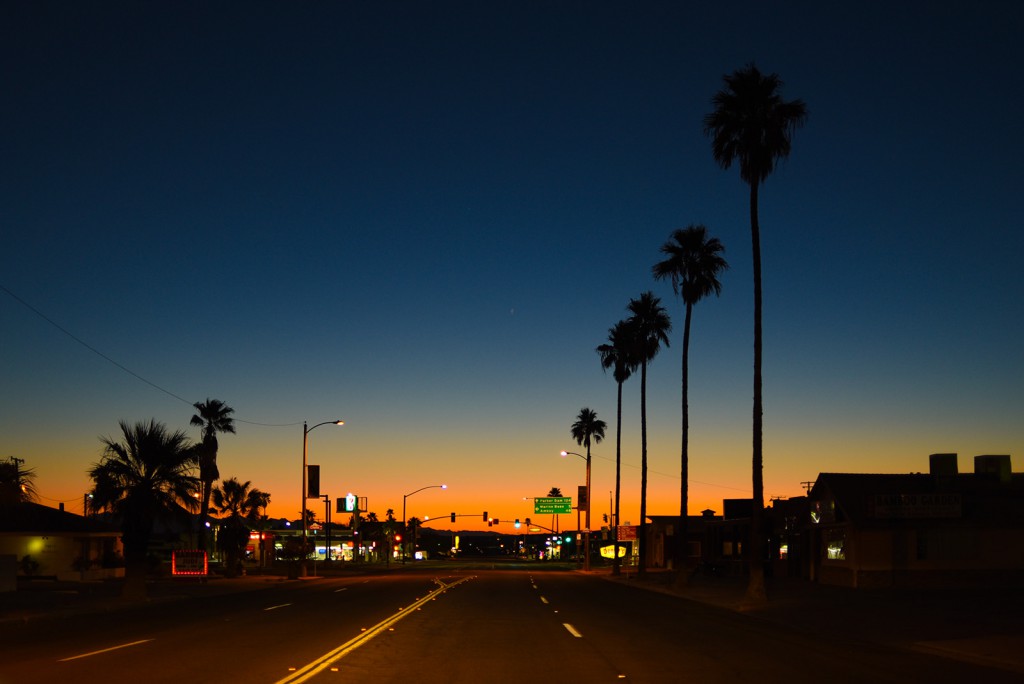 We entered the park just as the sky began to glow brilliantly warm and were mystified that there wasn't a single other car on the road. We felt like we had the whole desert to ourselves — what a magical way to begin the day.


Our destination was the Cholla Cactus Garden, located about 20 miles north of Cottonwood Visitor Centre on the southern entrance to the park. This 'garden' is one of Joshua Tree National Park's one-of-a-kind features. Located on the merging point between the Mojave Desert and the Lower Colorado Desert, you'll find an intense 'garden' of cholla cacti that are perfect for catching the early morning sun rays.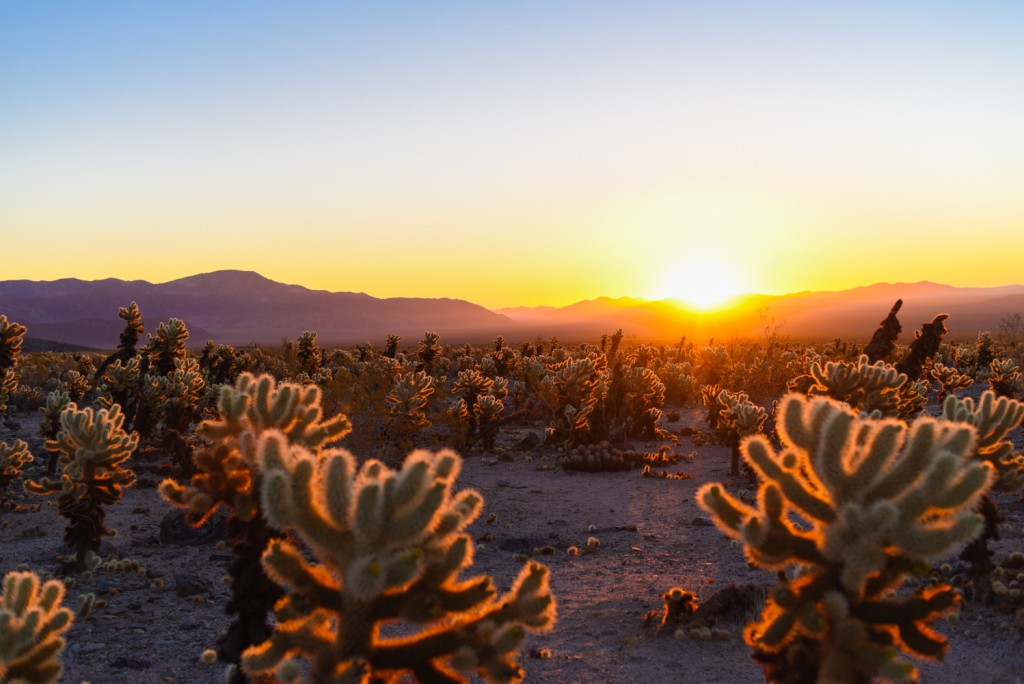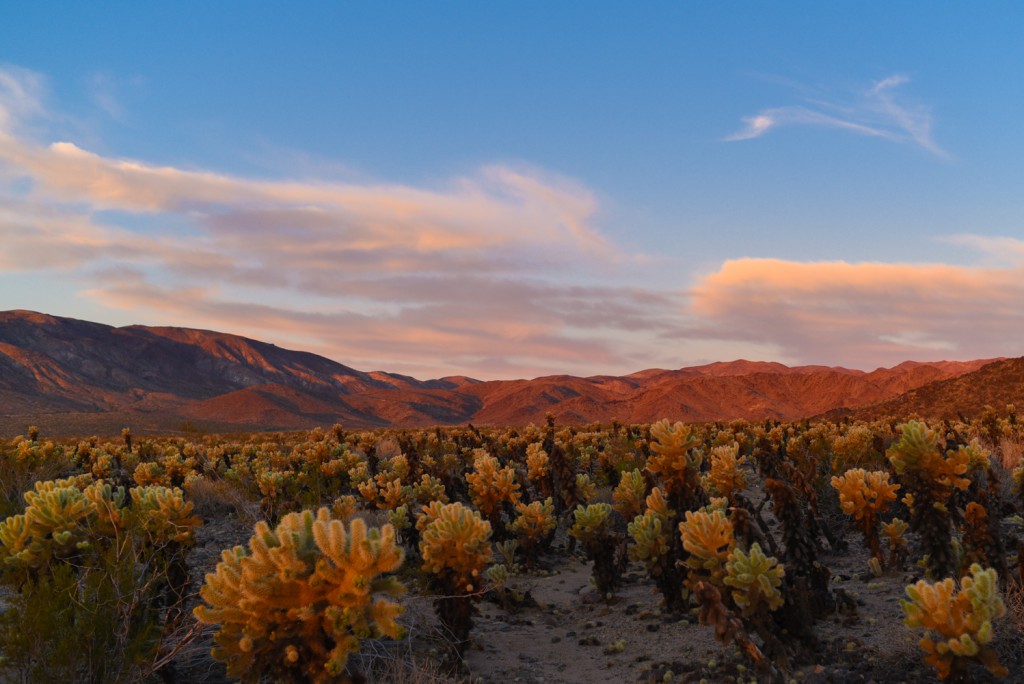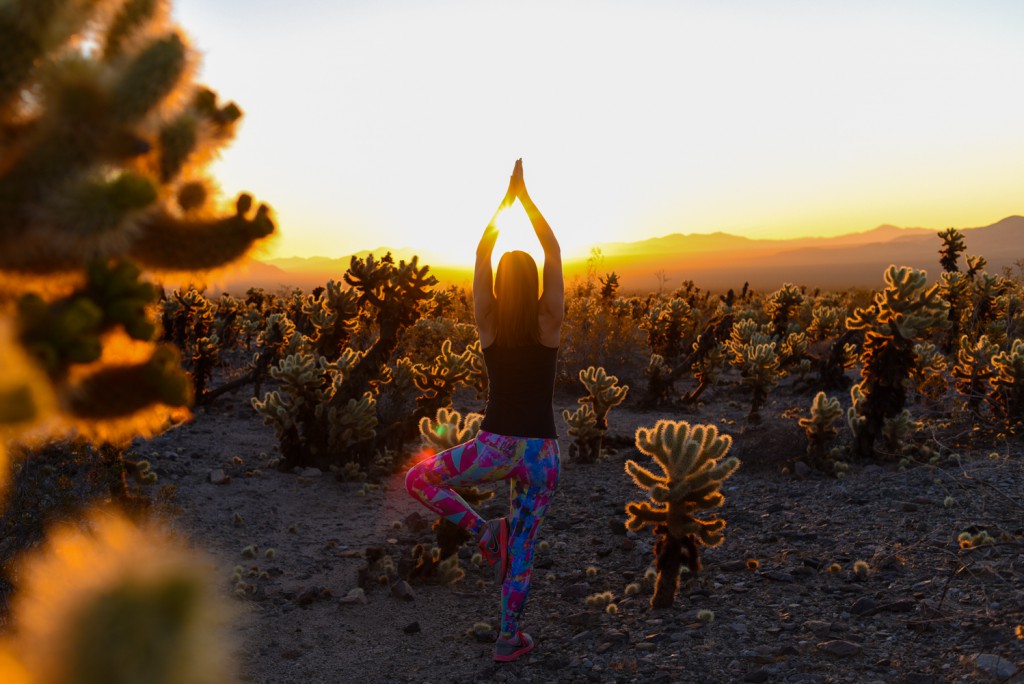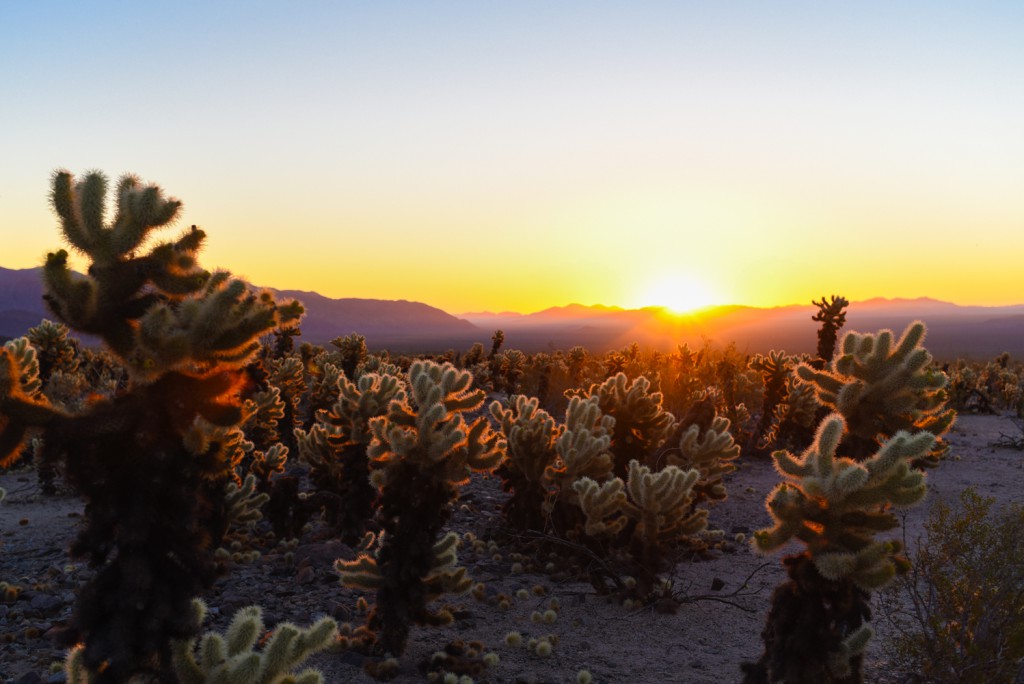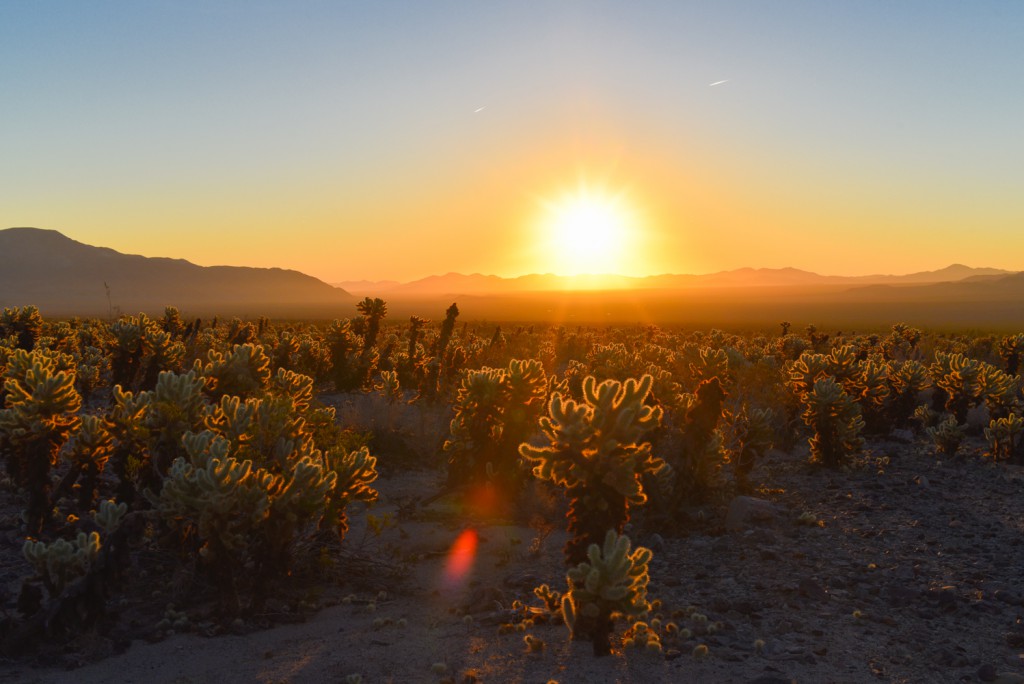 The sheer number of the cholla cacti in this basin is due to a reliable water supply at key times of the year as well as good-drainage. Although nicknamed the 'teddy bear' cactus, this is one teddy bear you definitely don't want to hug! Their other nickname is 'jumping' cacti for their propensity to insert their spines into into anything that brushes against them at the slightest touch. The trail is marked out for a reason — there are spiny pieces of cacti all over the ground among the cacti. We may have spent the next 10 minutes carefully picking the spiky bristles out of out shoes.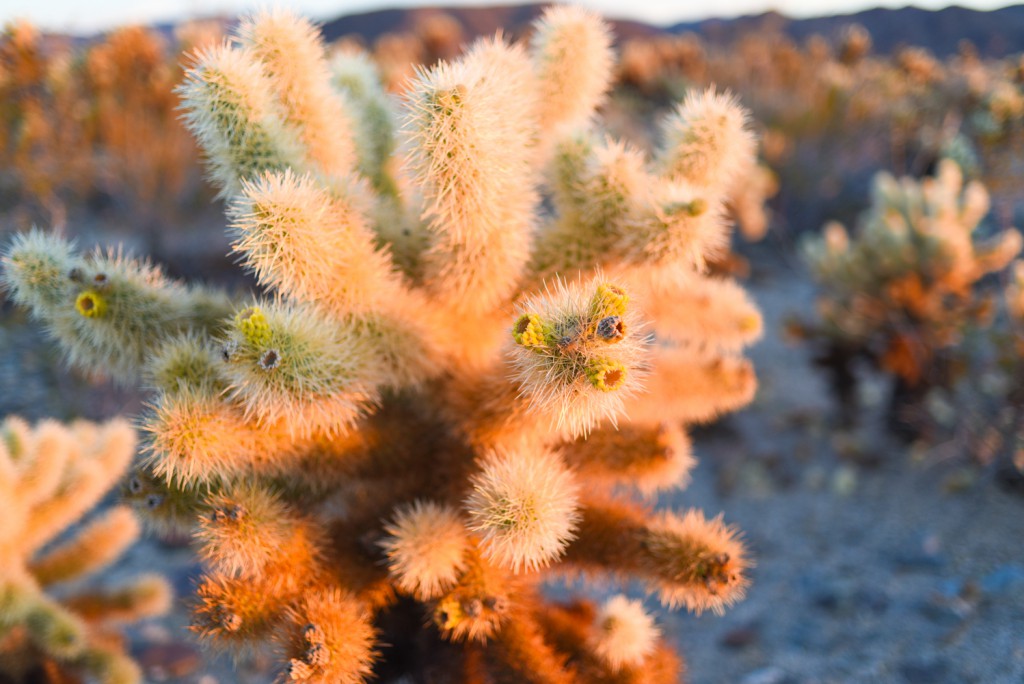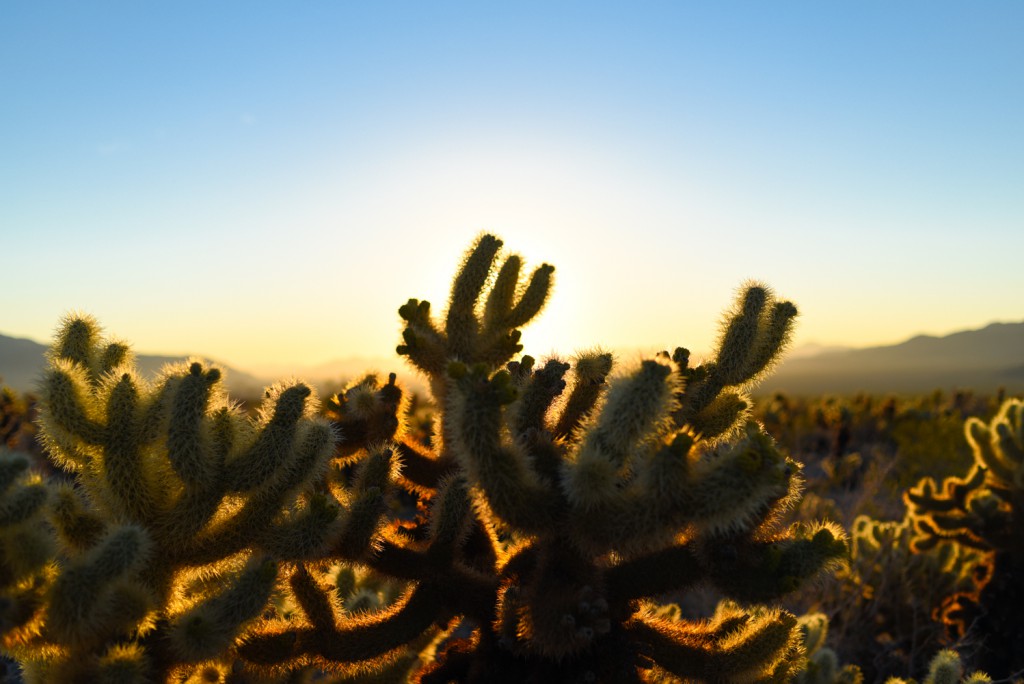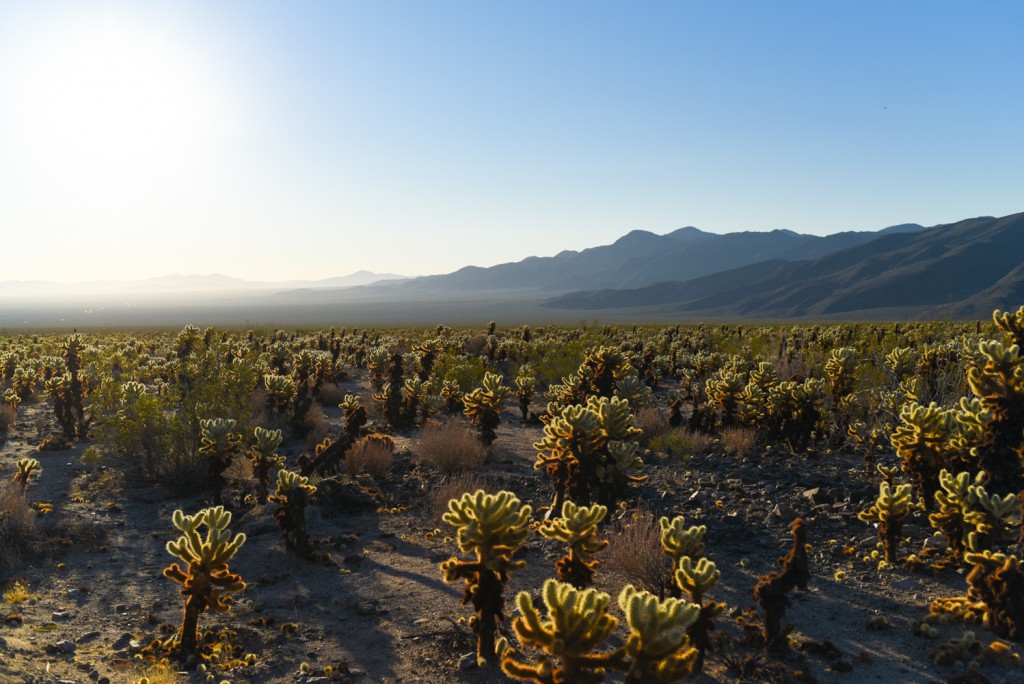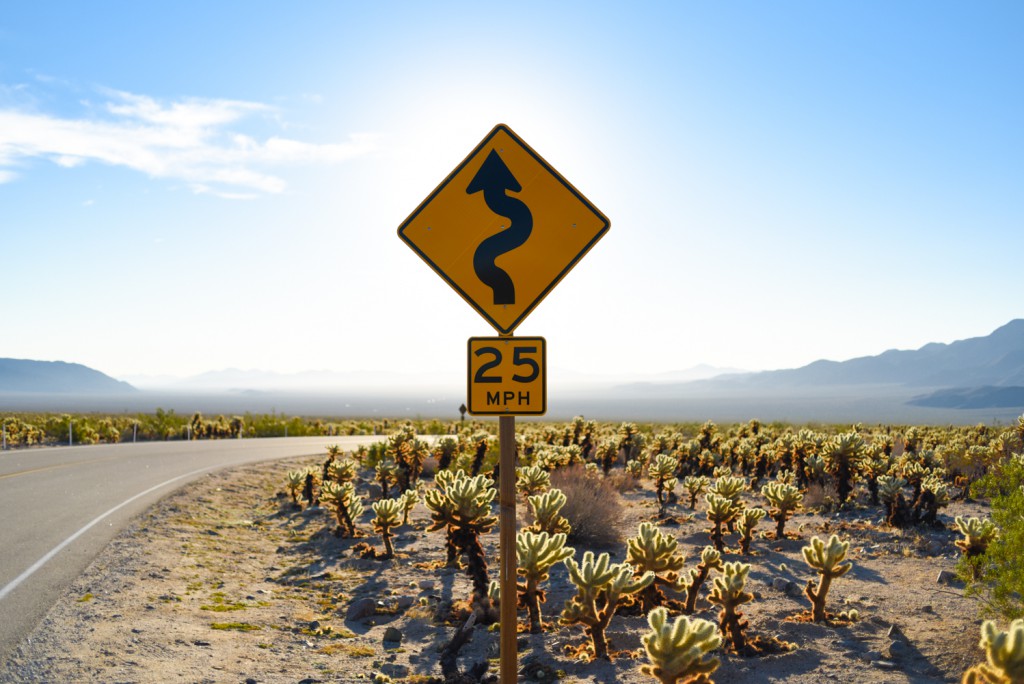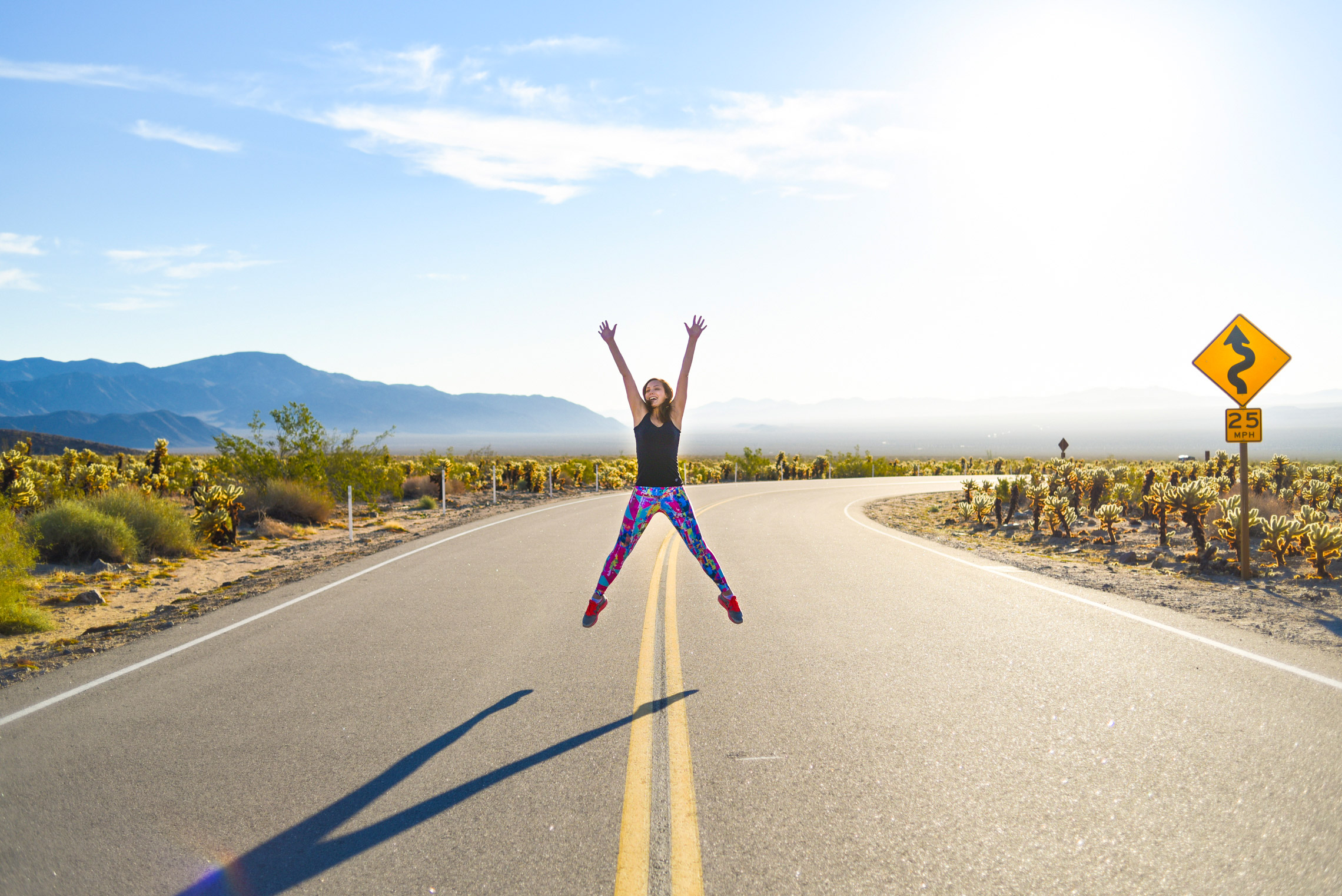 Hike to Arch Rock on the way out
Before leaving the park, we wanted to do one last hike so on our way north, we stopped off at the short Arch Rock trail which is just next to the White Tank Campground. I tell you, early morning is the very best time to get out and exploring. It's cool, quiet and so serene at this time of day and we had fun scrambling on top of rocks, finding (even more) killer views and beholding Arch Rock. While it doesn't compare to the incredible arches you'd find in Utah, it's still fascinating to see a 30 food granite arch — something I've certainly never seen before.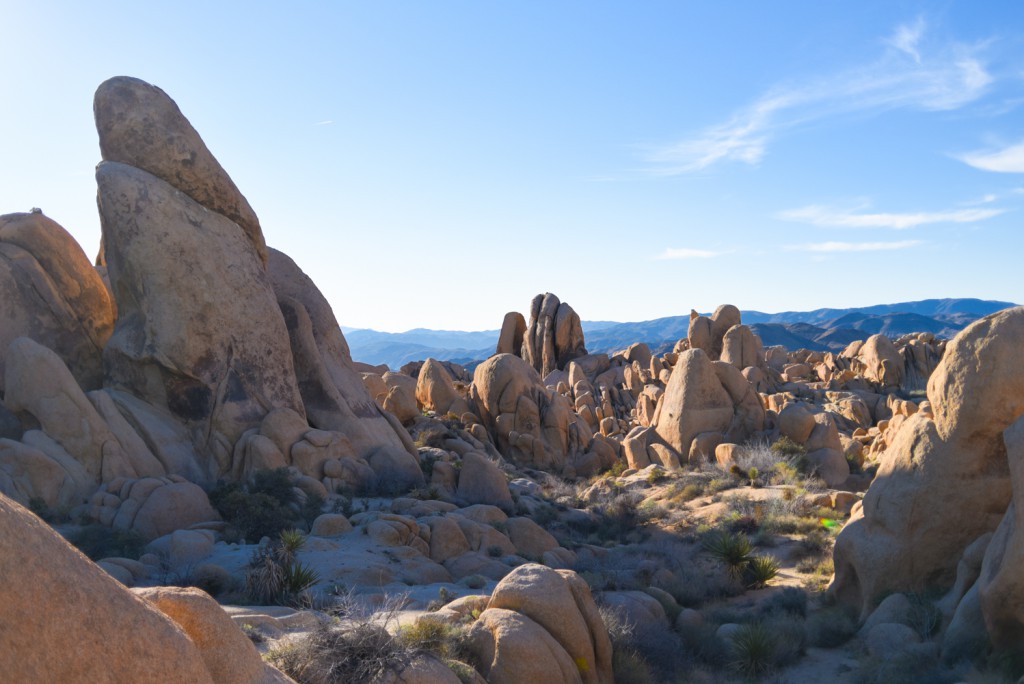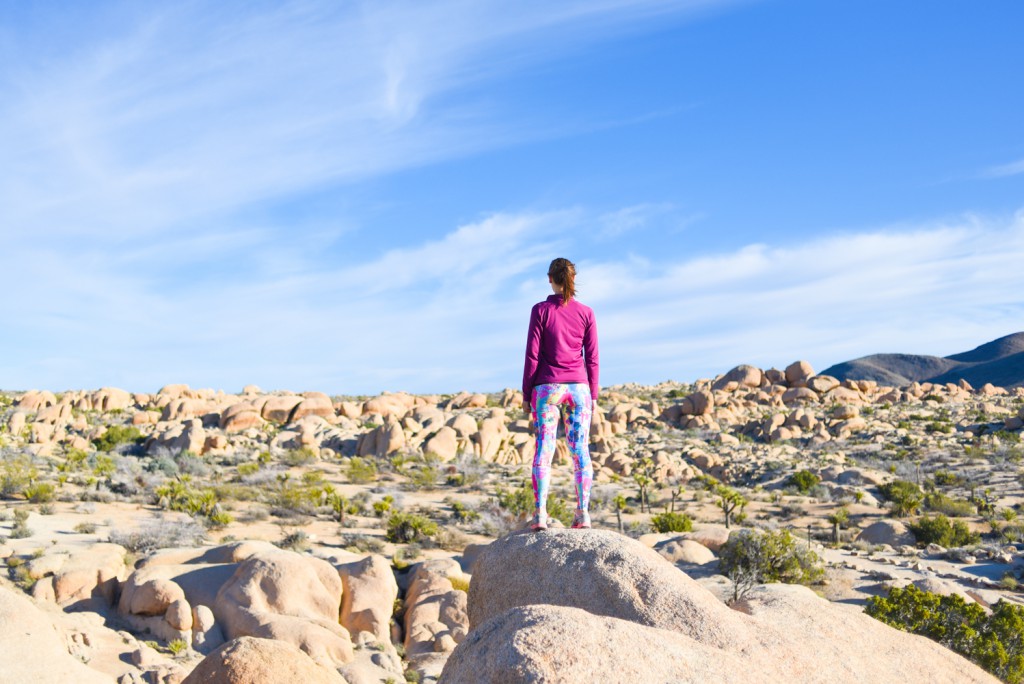 My fun, comfy Potential Wear tights were perfect for desert adventuring. If you want your own funky pair, you can score 10% off with the discount code DOW2016.
Coffee at Joshua Tree Coffee Company
Since we'd been up since 4:30am and were yet to have coffee (if you know me at all, you would know that I would seriously be struggling right about now), we headed out of the park and made a beeline for Joshua Tree Coffee Company. Who would have thought that this tiny town had a top-notch third wave cafe that served decent flat whites?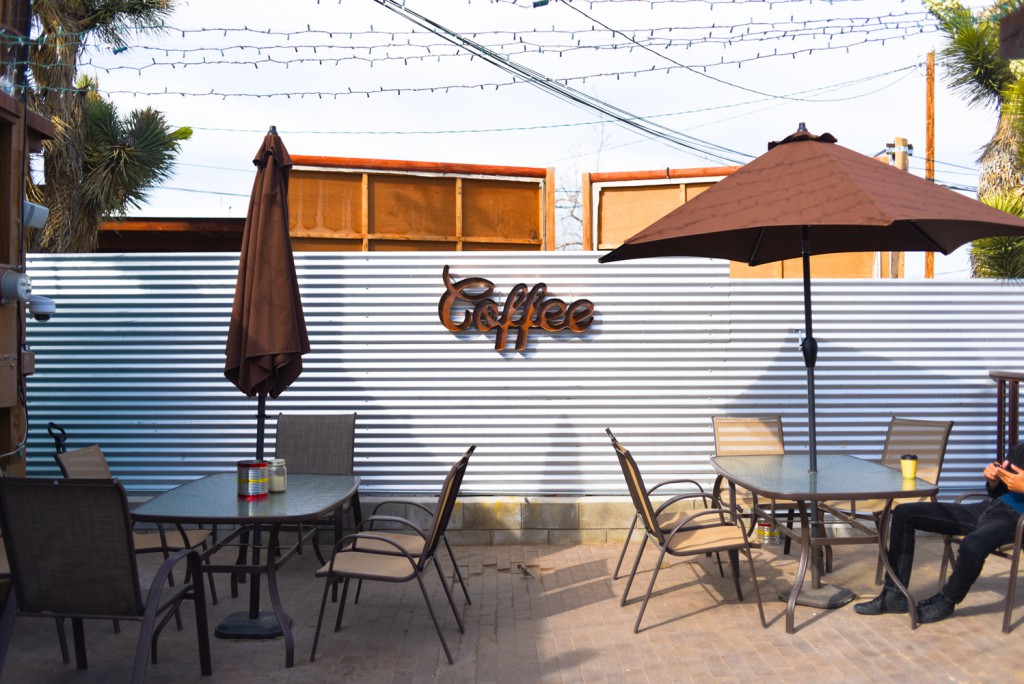 An American breakfast at Country Kitchen
Even though I've been in the States for almost three weeks, I still haven't had a traditional American breakfast. This was about to change with a visit to the Joshua Tree Country Kitchen. This is a favourite local hangout and is packed on weekends. It's run by a hilarious Cambodian couple and it really feels as though you're eating in their home. Ben and I ordered the 'small' breakfast which was actually huge, with a fried egg, toast, hash brown and bacon. Classic.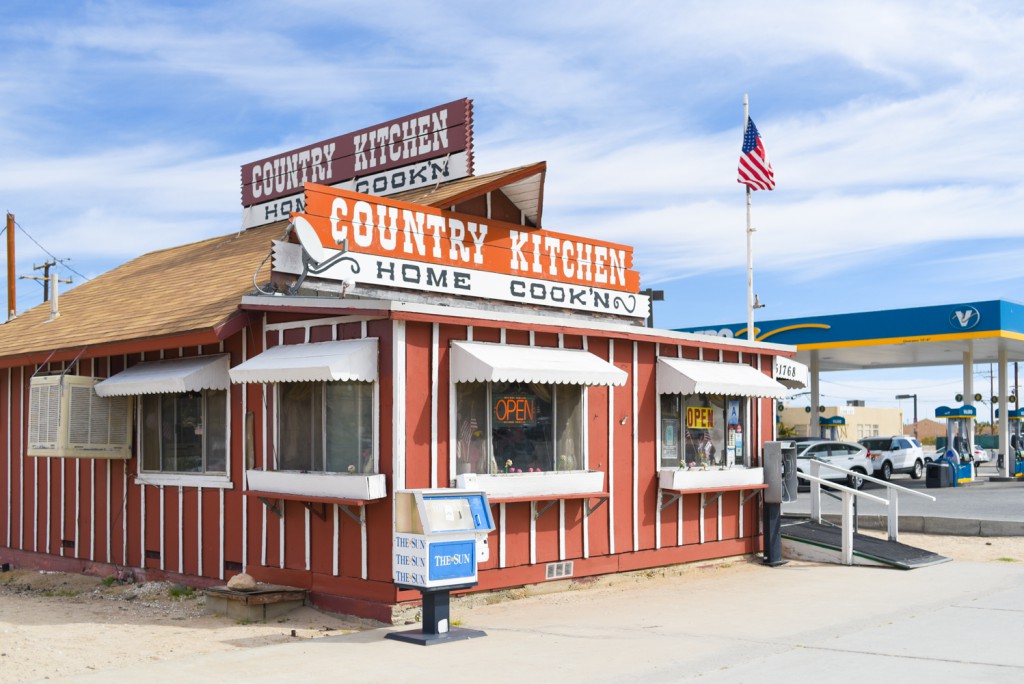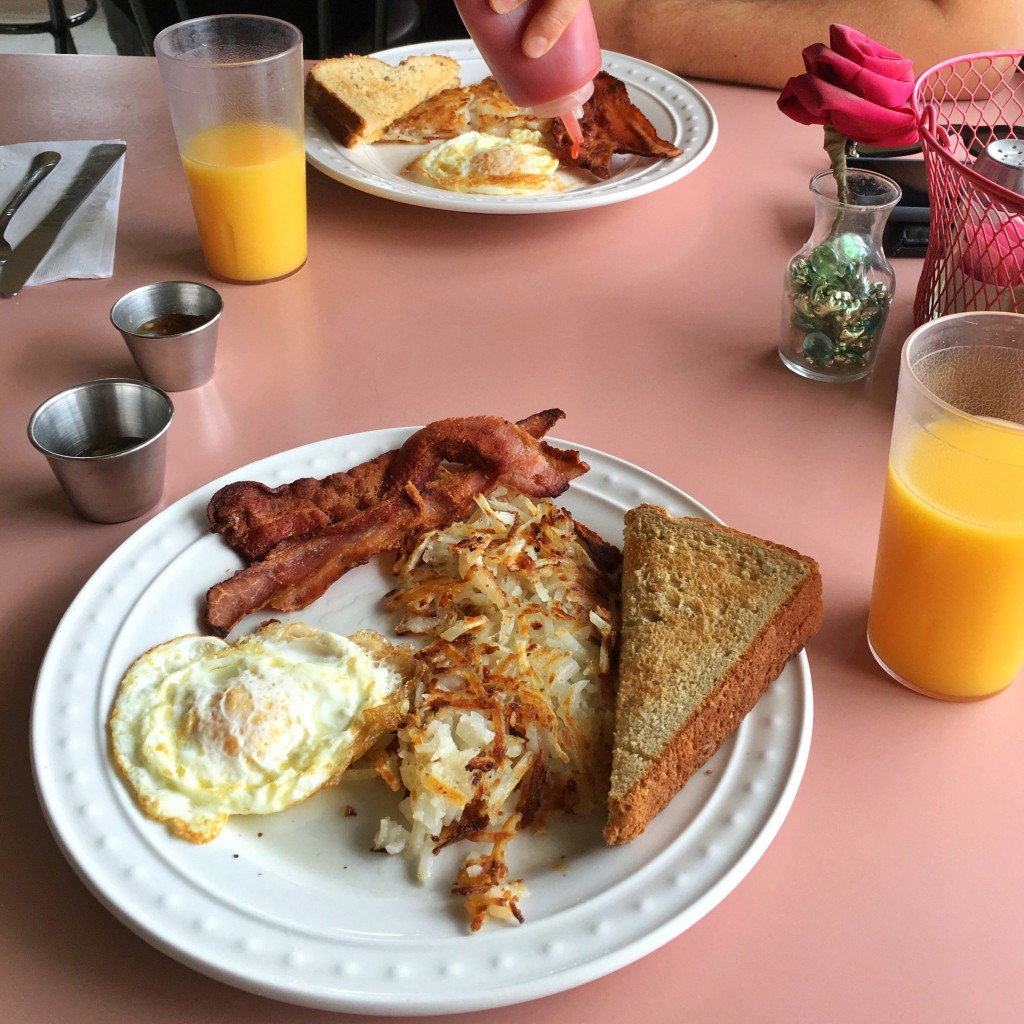 Lunch at Pappy and Harriet's
Ever since I'd watched Anthony Bourdain's No Reservations on the high desert, I knew that I had to come to Pappy and Harriet's. A true roadhouse in the middle of the desert, Pappy and Harriet's is a legendary country bar, restaurant and live music venue that has been attracting artists and musicians from all over the world for over 30 years. Here, cowboys, bikers and tourists all mix together. There are gigs on most nights, but you'll need to book tickets in advance because it's so popular. Yes, just because it's remote doesn't mean it's quiet. Make a reservation for dinner, otherwise stop in for an early lunch and sample some of the best barbeque going around.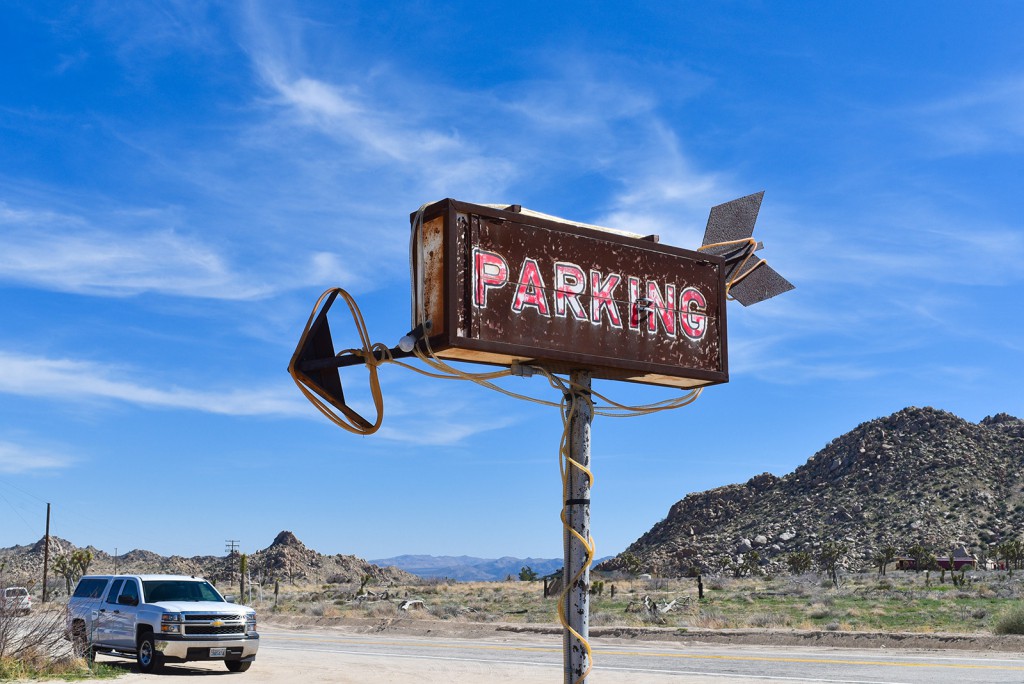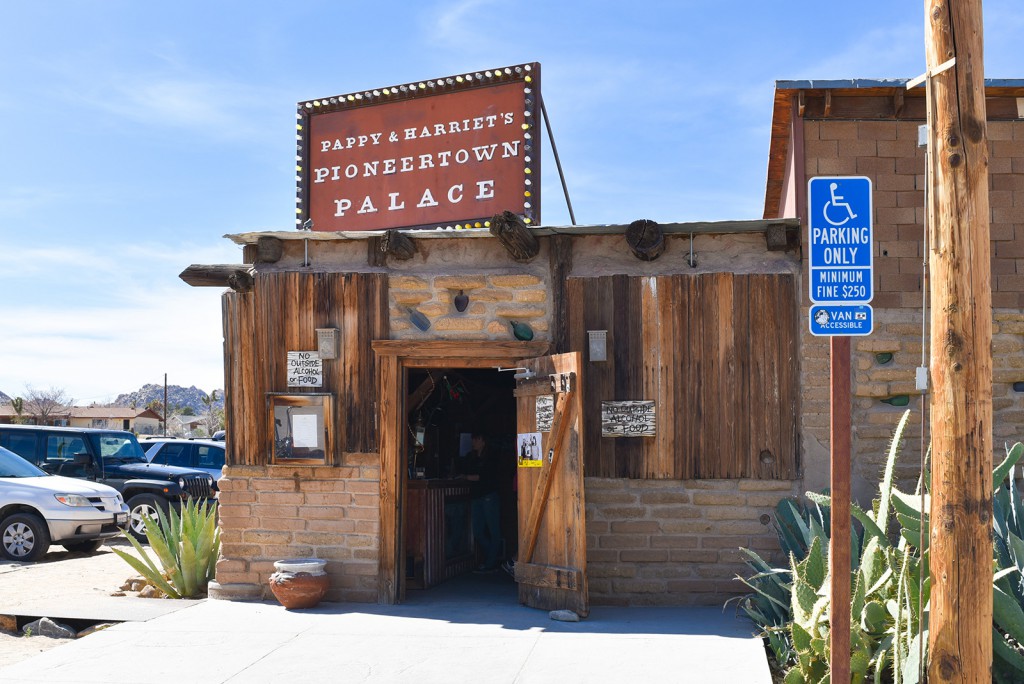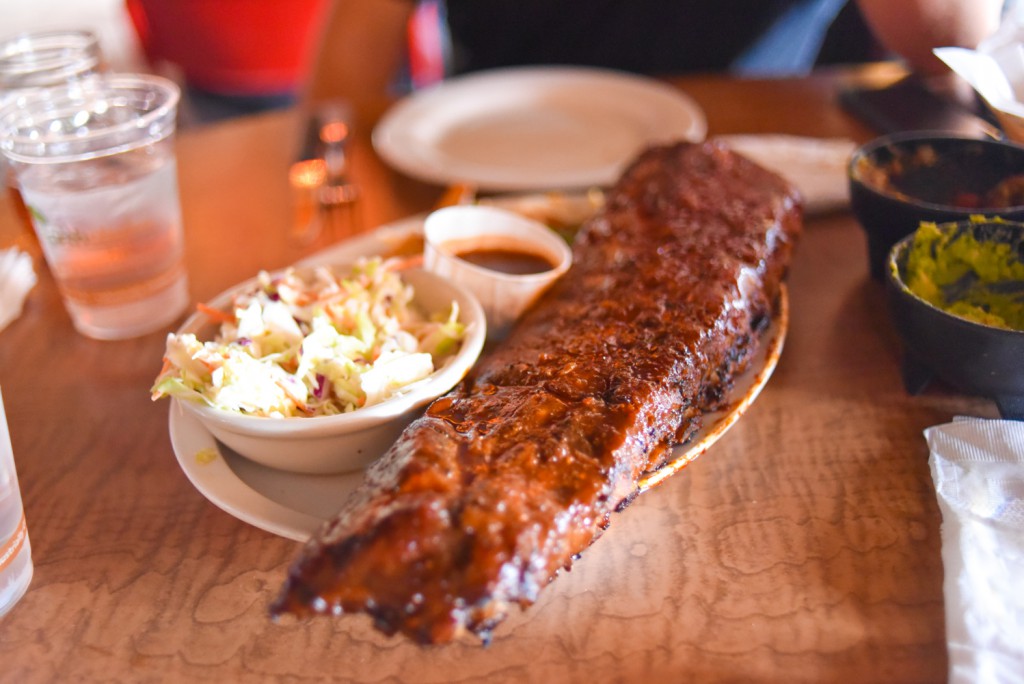 Pioneertown
Pappy and Harriet's is located in remote Pioneertown where there, frankly, isn't much else except an old western movie set. Take a walk after lunch to (try to) help your food digest and poke around the set, built in the 1940s.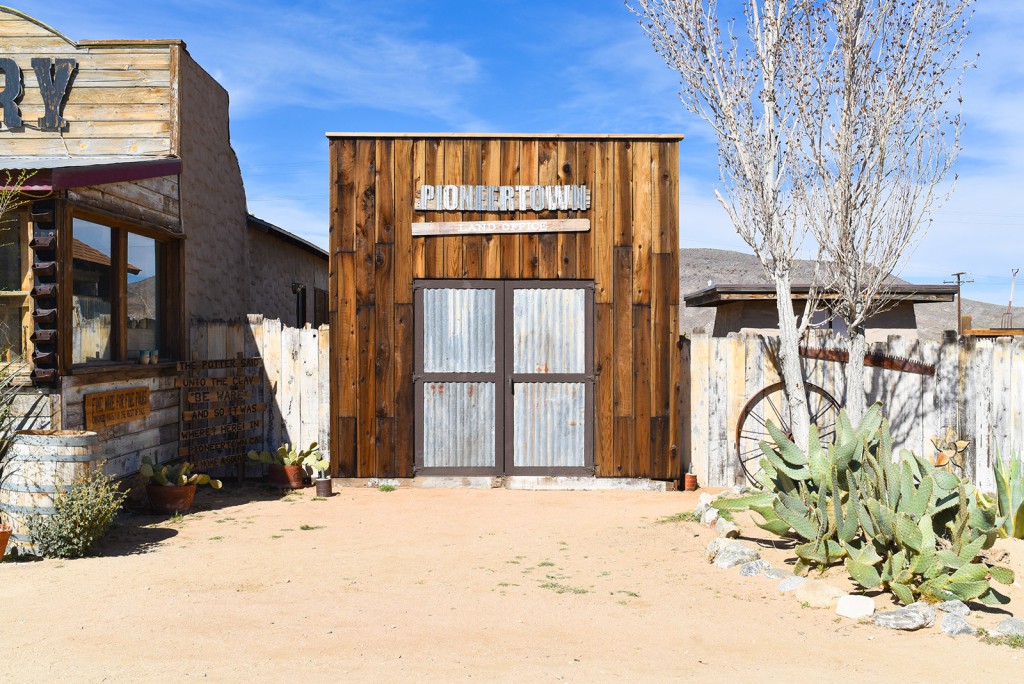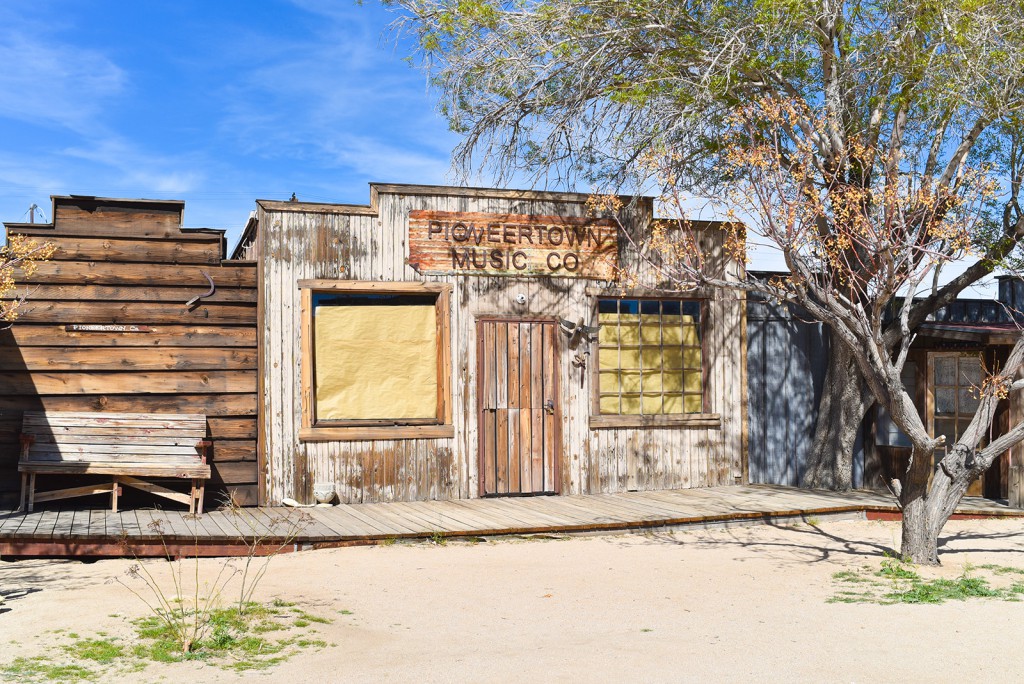 After our walk, we hit the road in the early afternoon to try to make it back to LA before the traffic got too bad. We had the most incredible weekend in Joshua Tree National Park and already can't wait for the next road trip!
Disclosure: this post is brought to you by Grand American Adventures and also contains affiliate links. Thank you for supporting The Department of Wandering!
Have you been to Joshua Tree National Park? What are your tips and recommendations?