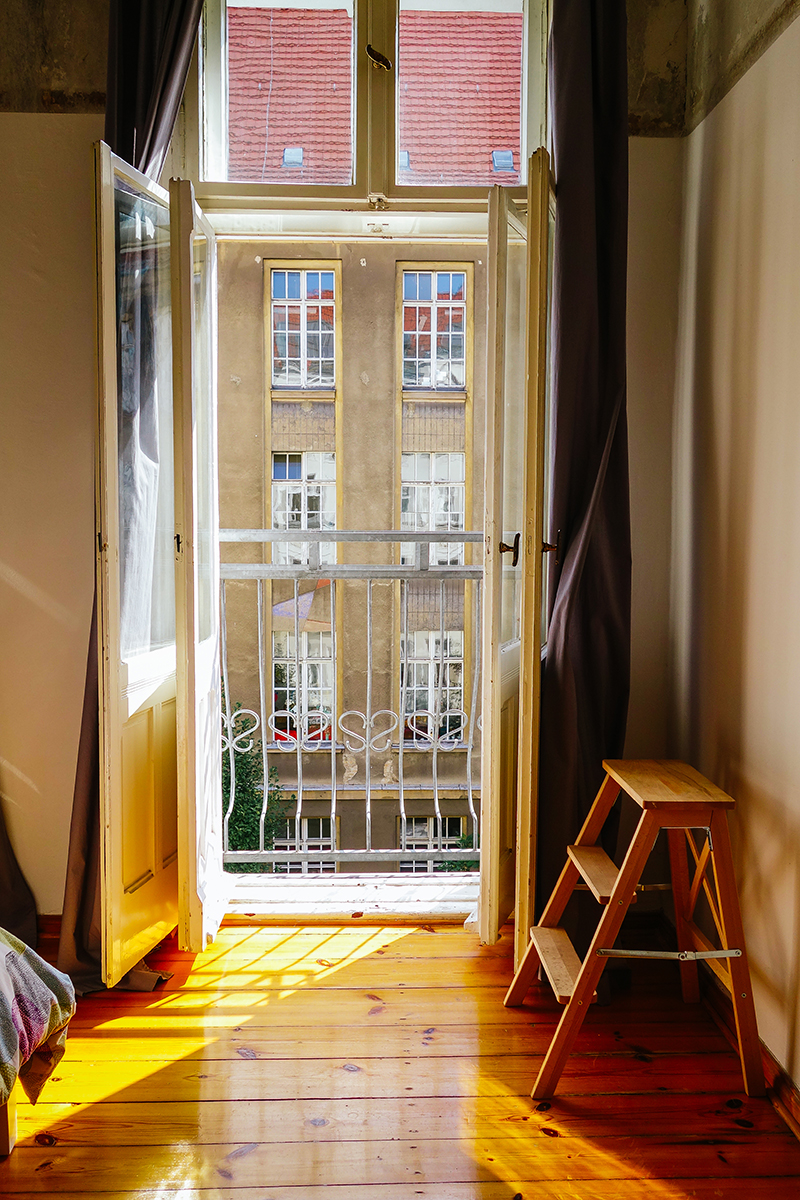 I've been living in my current apartment, rented from Airbnb for 12 months now… and I have no plans to move. I know I've got a good thing going here and if things are good, why change them?
Why I ended up in an Airbnb and not a 'real' flat:
I'll admit that I never intended to be here this long. Initially Ben and I signed on to this rental for six months after our previous lease was up. We were desperate to get out of our last flat located on Mulackstraße in Berlin's Mitte neighbourhood as we'd had some bad experiences there including being robbed of all our electronics. That, among other things including a hefty commission fee (over € 1600) an exorbitant deposit (€ 2400) and very pricey cleaning costs (€ 280) left us with a bad taste in our mouths. I can think of about seven thousand other things I would have preferred to spend that money on. So it's fairly safe to say that we wanted to avoid these unreasonably high costs in the future.
Yet, we still wanted to rent a fully-furnished flat. To be honest, I just couldn't be bothered furnishing an apartment from scratch. In Germany, unfurnished flats are exactly that: completely bare. No built-in cabinets, no kitchen sinks and, quite commonly, not even any lighting fixtures! Unless I saw myself committing to live in it for at least a good two to three years, it just wasn't worth the hassle and the cost. So we were stuck searching for fully-furnished options with no commission fee. Not an easy feat, I tell you.
And then the Airbnb light bulb flashed on. Some friends had rented a beautiful, bright and spacious Airbnb flat in Prenzlauer Berg with high ceilings, wooden floorboards and a homely feel for a few months and were approaching the end of their lease. After visiting them one evening, we immediately fell in love with the flat and got thinking: could an Airbnb be the best option for us? Yes indeed.
An Airbnb love affair
Our friends were due to move out just as our lease was ending at our old place so the timing couldn't have been more perfect. We contacted the host and were able to negotiate an even lower rate than what was listed on the Airbnb website given our wish the to book the apartment for a number of months. Score! The security deposit, can you believe, was only € 200 too. Double score! We booked for six months initially, you know, just in case we didn't love our new home (highly unlikely). As expected, we felt right at home from the beginning and settled in so comfortably that when the end of the initial lease approached, we weren't ready to leave. We immediately signed on for another six months and before we knew it, our Airbnb 12 month anniversary had snuck up on us.
A few weeks ago our friendly host who has been so wonderfully helpful with any issue that has arisen over the past year, visited to discuss our desire to extend the lease even further. She was more than happy to continue leasing the flat to us and so we signed another rental contract, this time outside of Airbnb, just between us. We're attached to this flat, you see, and we're not ready to leave just yet. It's been good to us. We've made a home together in these three rooms and it feels right. Will there be an expiration date? Of course, but not just yet.
What are your experiences with Airbnb? Share them below!