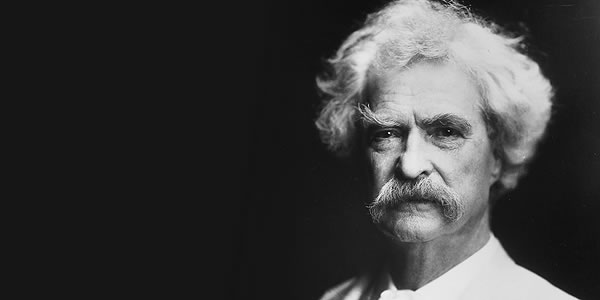 German is certainly not an easy language to master and no individual has documented the struggle more publicly than iconic American author, Mark Twain. In 1880 Twain published his infamous essay titled, 'The Awful German Language', a humorous exploration of the frustrations a foreign speaker experiences when learning German. Without a doubt, however, in all of Twain's criticisms, there does appear to be an inherent interest driving him to learn German. After all, he persevered with this 'awful' language for thirty years!
Mark Twain on 'The Awful German Language':
On the creation of the German language:
In early times some sufferer had to sit up with a toothache, and he put in the time inventing the German language.
On learning German:
I don't believe there is anything in the whole earth that you can't learn in Berlin except the German language.

My philological studies have satisfied me that a gifted person ought to learn English (barring spelling and pronouncing) in thirty hours, French in thirty days, and German in thirty years. It seems manifest, then, that the latter tongue ought to be trimmed down and repaired. If it is to remain as it is, it ought to be gently and reverently set aside among the dead languages, for only the dead have time to learn it.

How charmed I am when I overhear a German word which I understand!

I can understand German as well as the maniac that invented it, but I talk it best through an interpreter.

…never knew before what eternity was made for. It is to give some of us a chance to learn German.

It's awful undermining to the intellect, German is; you want to take it in small doses, or first you know your brains all run together, and you feel them flapping around in your head same as so much drawn butter.
On German grammar:
In German, a young lady has no sex, while a turnip has. Think what overwrought reverence that shows for the turnip, and what callous disrespect for the girl.

Whenever the literary German dives into a sentence, that is the last you are going to see of him till he emerges on the other side of his Atlantic with his verb in his mouth.

An average sentence, in a German newspaper, is a sublime and impressive curiosity; it occupies a quarter of a column; it contains all the ten parts of speech — not in regular order, but mixed; it is built mainly of compound words constructed by the writer on the spot, and not to be found in any dictionary — six or seven words compacted into one, without joint or seam — that is, without hyphens; it treats of fourteen or fifteen different subjects, each inclosed in a parenthesis of its own, with here and there extra parentheses which reinclose three or four of the minor parentheses, making pens within pens: finally, all the parentheses and reparentheses are massed together between a couple of king-parentheses, one of which is placed in the first line of the majestic sentence and the other in the middle of the last line of it — after which comes the VERB, and you find out for the first time what the man has been talking about; and after the verb — merely by way of ornament, as far as I can make out — the writer shovels in"haben sind gewesen gehabt haben geworden sein," or words to that effect, and the monument is finished.
Are you also experiencing frustrations learning a second language? Share your experiences in the comments!