You know that moment, don't you, when you first arrive at your accommodation for the evening, you gaze around in wonder, immediately sigh and lament the fact that you only booked a single night? Yeah. I know that moment. I had a moment like that at Agriturismo Rini.
This charming bed and breakfast, nestled neatly in the verdant valley of Bormio in northern Italy, is a pretty special spot to spend a night, but trust me, you won't be satisfied with just one. Situated on a working dairy farm and framed on all sides by the thrusting peaks of the Alps, the setting couldn't be more picturesque. One night in a place such as this just doesn't suffice.
The Rooms:
Agriturismo Rini's rooms are spacious, bright and are furnished with natural and high-quality materials: wide floorboards and supporting beams are cut from Spruce and Larch trees and the king-size bed is dressed with brushed, soft cottons and linens. The skylight together with the pale wood furnishings give the space a clean, open feel. Most rooms are appointed with a balcony overlooking Mount Vallecetta or Mount Reit; the perfect place to open a bottle of wine and watch the sun sink behind these peaks. The rooms are well appointed with all of the expected amenities: heated towel racks, satellite TV, a safe and free Wifi.
Agriturismo Rini offers guests the choice of five different room types, catering to all budgets and needs. We stayed in one of the 'Classic' rooms, pictured below, which was comfortable, cosy and bright. Large two-storey apartments are also available for bigger groups or families.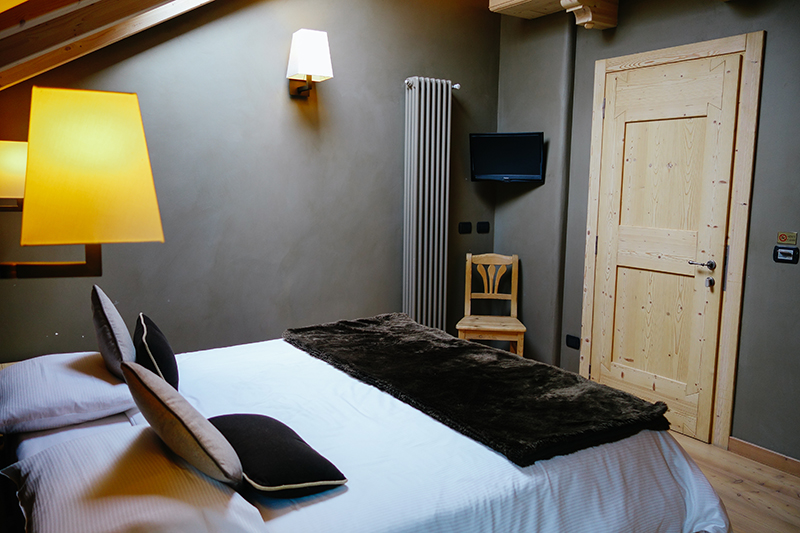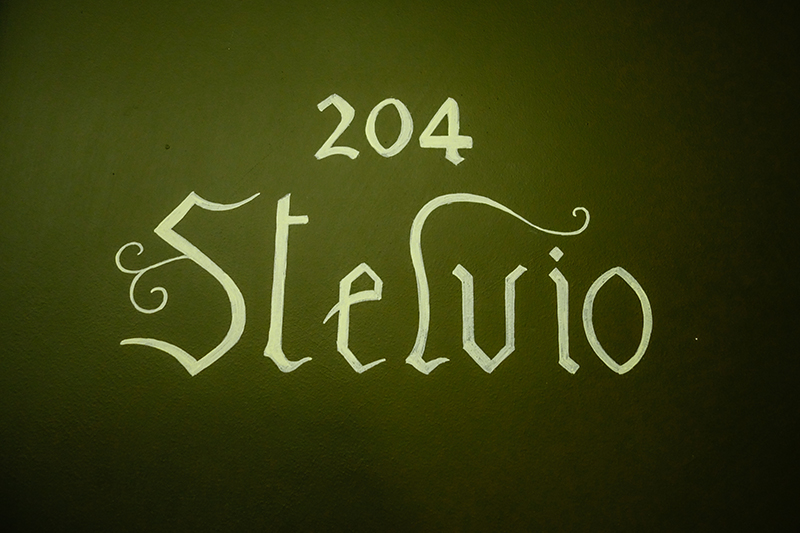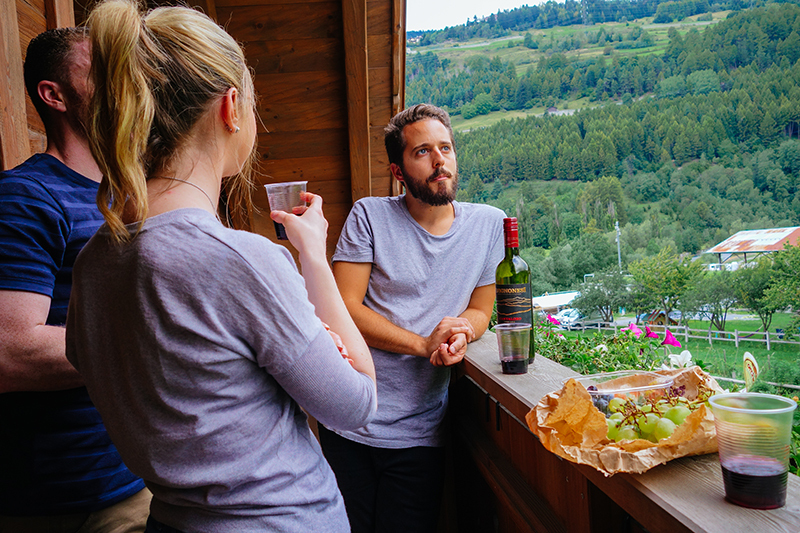 The Experience:
The Agriturismo Rini property is situated on a working dairy farm. The accommodation adjoins the stable, which is home to approximately 60 dairy cows who are strictly fed a natural diet of grass silage and waxy maize. During our stay, four newborn calves had been born recently; one of them only a few days old! Guests are free to wander around the property, watching the cows as they graze in adjoining paddocks, bells singing, enclosed on all sides by gentle rolling hills.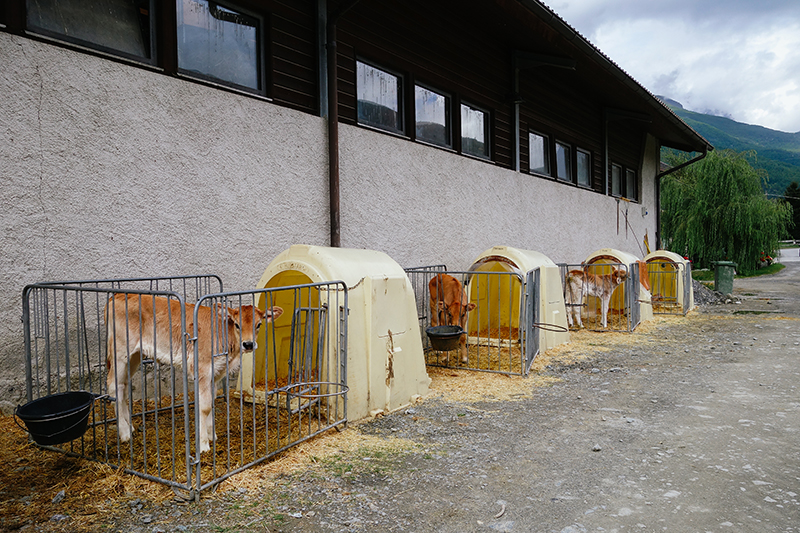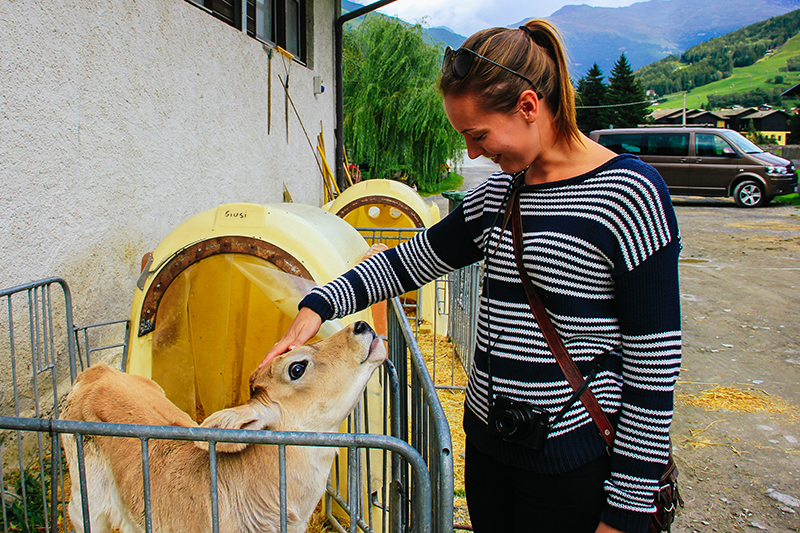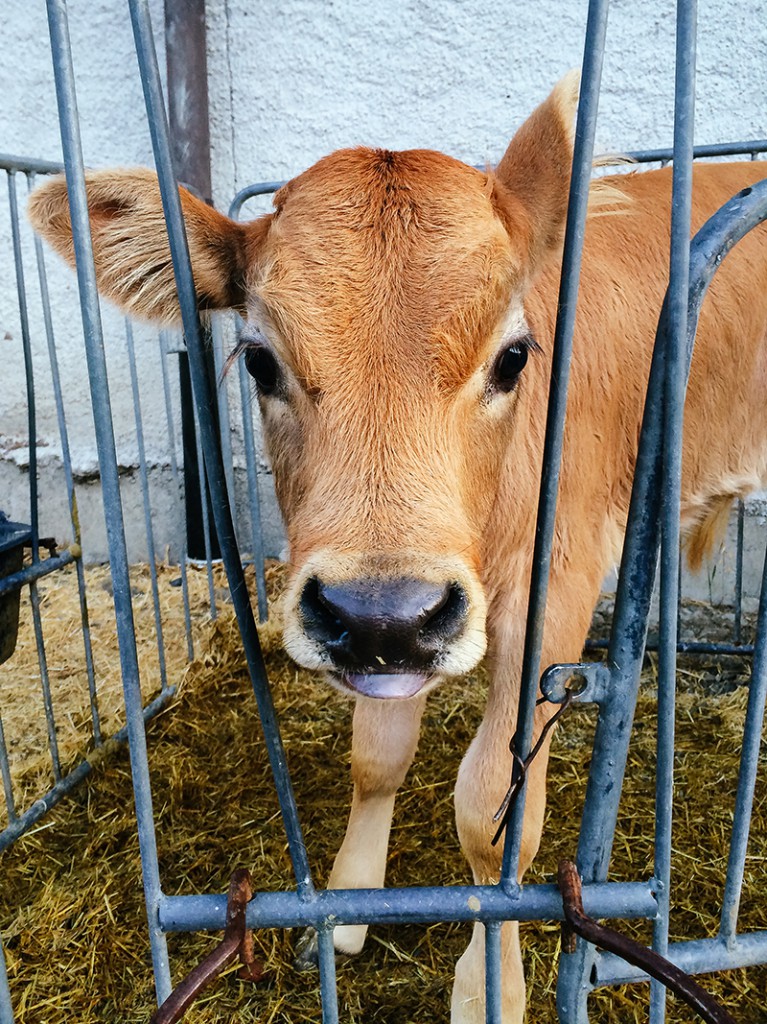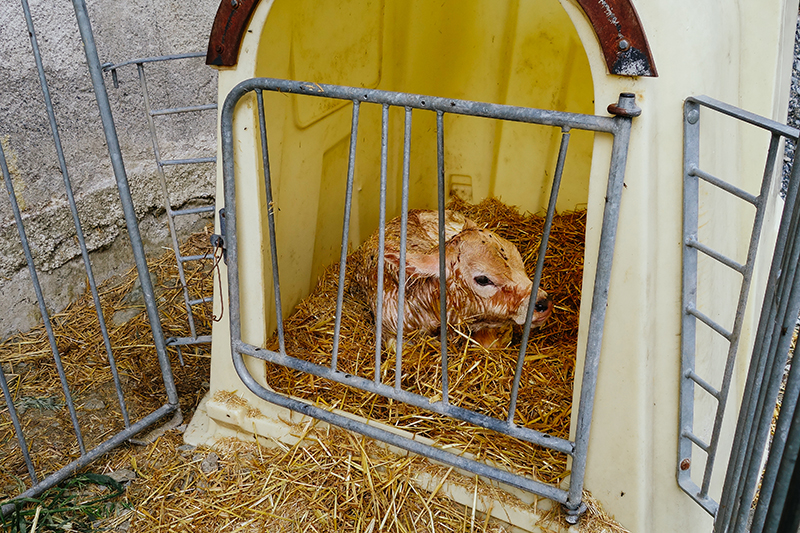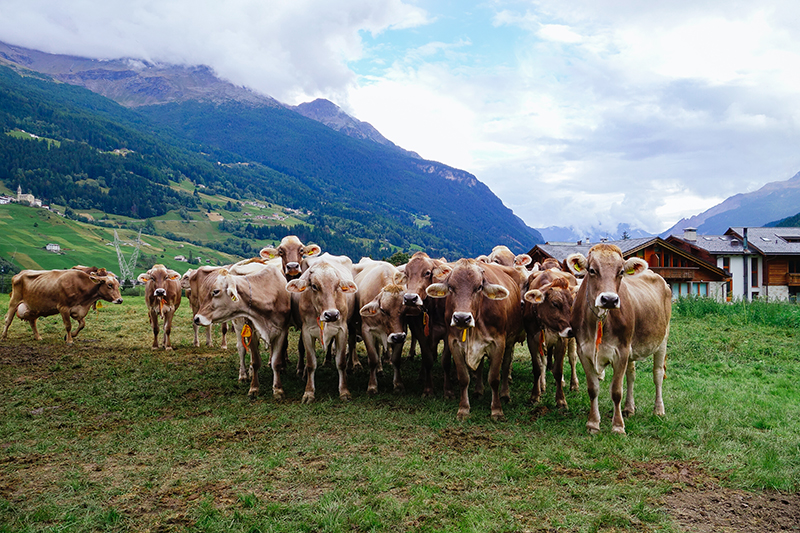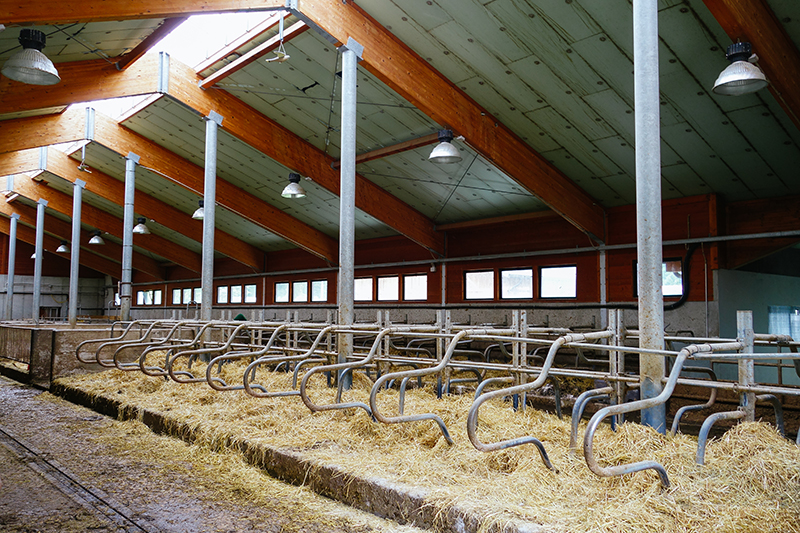 Farmers Aldo and Henry are up before dawn to tend to the cows, milking them before day breaks. The complimentary breakfast spread is generous and prepared with care: fresh milk straight from the cows, creamy yoghurt and a wide selection of cheeses, freshly churned butter and cold, cured meats are all produced on site. Fresh, warm croissants and bread, local honey, juices and crumbly tarts and pies straight from the oven are on offer too. Enjoy it all in the breakfast room, which boasts wide windows that look directly into the stable and the cows– what an awakening!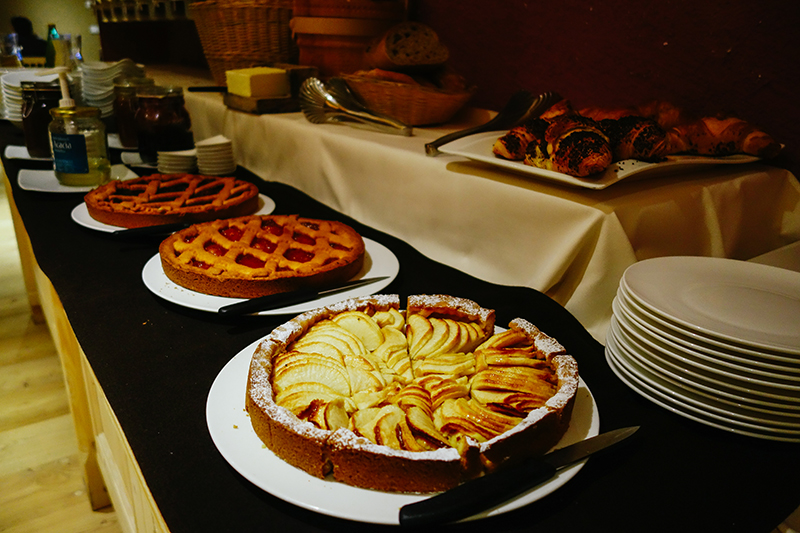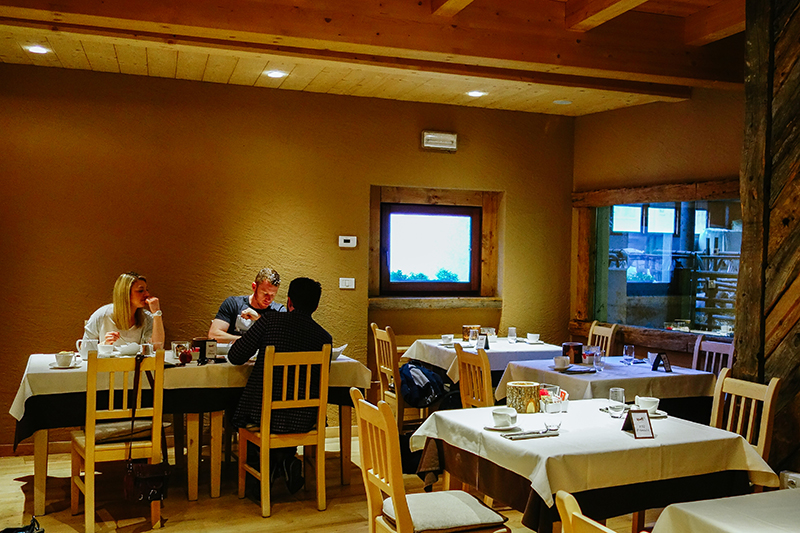 The option for half board is also available in the dining room and the set dinner menu showcases some of the farm and wider region's specialities. The restaurant is very popular, and is full most evenings, often with patrons who are staying in other parts of Bormio. Bookings are recommended to avoid disappointment.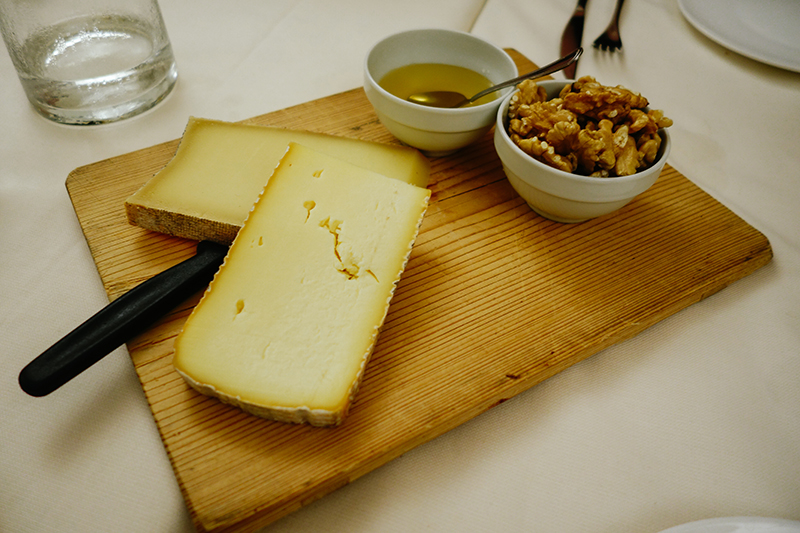 Price:
Prices begin at €110 per room, including breakfast, which is very reasonable considering how magical the Agriturismo Rini experience is. A number of special offers and packages are also available through the website.
Getting there and away:
The Agriturismo Rini farmstay is located in Bormio's agriculture area, which is a 10 minute walk from the centre of town. The fastest and most convenient way of reaching Agriturismo Rini is by car, taking one of the many spectacular mountain passes in the region, such as the Stelvio Pass. Public transportation is also possible, although transport times are much longer.
Have you ever stayed at a farm stay? Share your experiences below!