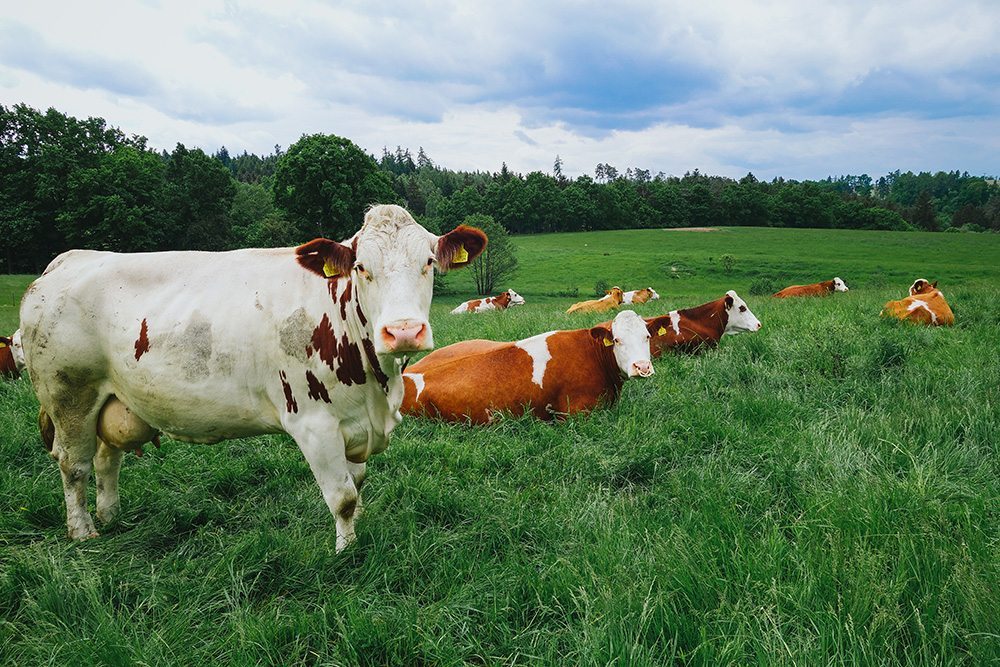 You know those travel experiences you find yourself remembering with a smile? Those ones that, when someone asks you about your trip, it's the first story you tell because it was just so memorable? This was one of those experiences.
You've already read how I spent an afternoon searching for a real Czech lunch before choosing to see Prague by night to avoid the crown crush of tourists. But I'm saving the best for last. When I booked the Bio Farm and Cannabis Castle Tour with Guidilo, I didn't have the slightest clue how special this experience would be. In fact, I have so many photos to share and so much to say about that one incredible day that I'm splitting this review into two parts!
Visiting a bio dairy farm near Prague
I'm always one for getting out of the city to get a taste of the local way of life. Spending a morning at a family-run bio dairy farm is about as local an experience as you can get!
Ready for a full day-trip outside of Prague, we arrived at Prague central train station at 8:45 am sharp where we had arranged to meet our local guide. As soon as I saw Misa, I knew we were in for a fun day. She had her eight-month-old happy little baby strapped to her back and she was super excited about the day ahead. She would be taking us to a place that was very close to her heart: her boyfriend's (and father of her baby's) family's bio dairy farm.
Our train departed shortly after 9 am. We were headed for the town of Benesov, about an hour's journey away. The train ride was lovely; we chatted to Misa about the plan for the day ahead, admired the beautiful, green, rolling hills of the countryside and played with giggly Jája, her son. We arrived in Benesov to find that Misa's boyfriend, Honza, was waiting in his car to pick us all up and drive us to his family's farm, which was about 10 minutes away in the little village of Okrouhlice. We pulled up to the farmhouse and went to the patio to meet the family and owners of Bio Vavřinec farm.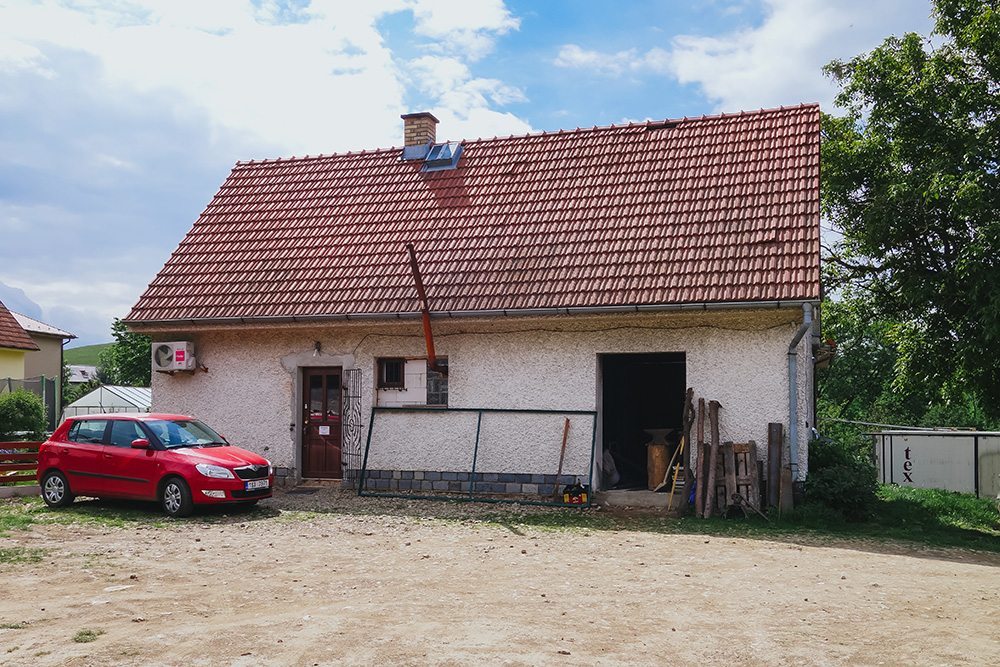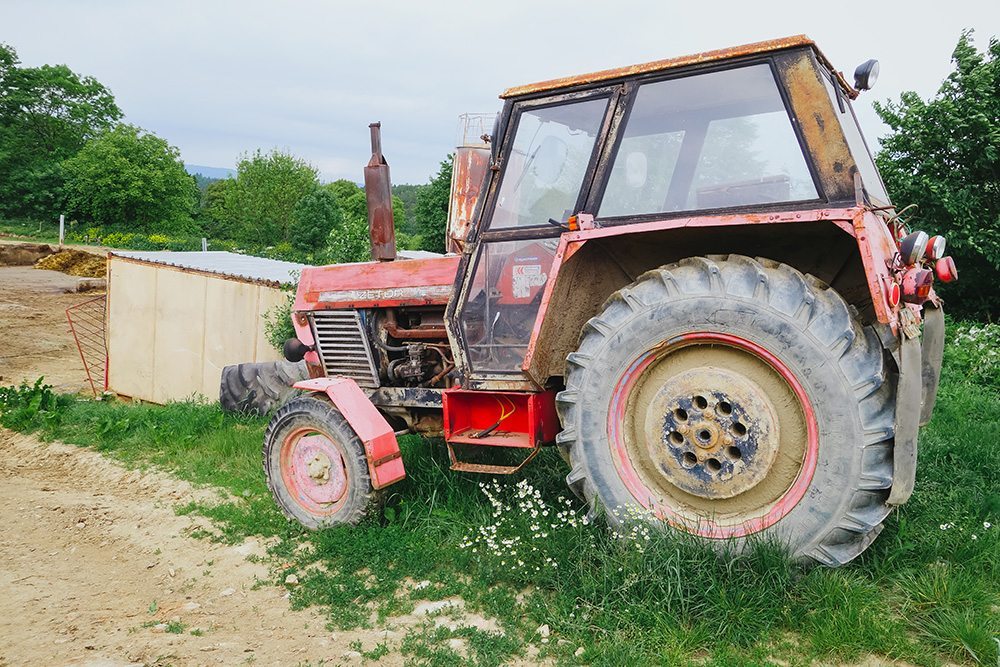 The owner of the farm, Antonín Šmakal, welcomed us and introduced us to his two children, Josh and Barbora. Over morning coffee and the most delicious cake made with freshly churned butter from the farm (delicious!), we chatted together about the farm's history, the dairy cows as well as what is produced on site.
History of Bio Vavřinec farm
We learnt that this bio dairy farm has been within the family for three generations and has survived a tumultuous past. When Czecholoslovakia was under communist control, Antonín's grandfather was forced to terminate his operations in 1953 due to the process of collectivization, as land reforms forbade the ownership of land over 50 hectares for a single family. He became an employee working for the benefit of the state on his own land and was forced to rent his property (which he actually owned outright) from the government. Many farmers were financially ruined by this brutal period, but the Bio Vavřinec farm miraculously survived. Farmer Antonín's father looked after the farm until the early 1990s when he took over operations.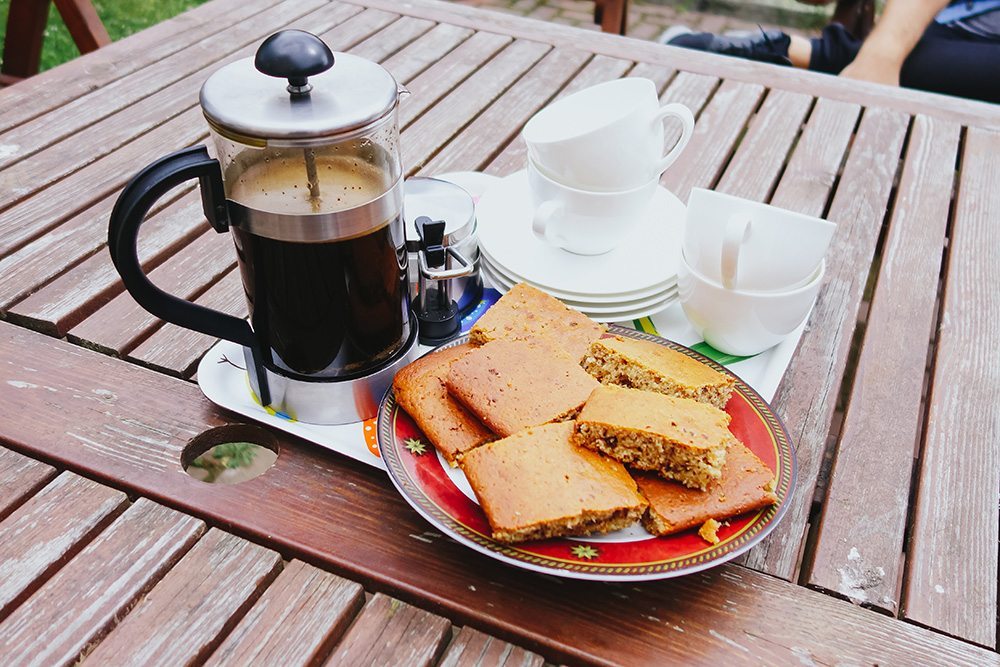 Meeting the cows
Caffeinated up, we were ready to meet the cows! We followed farmer Antonín for a tour of the property. Our first stop was the barn where we saw some cows resting and feeding. This is also where they are milked every day.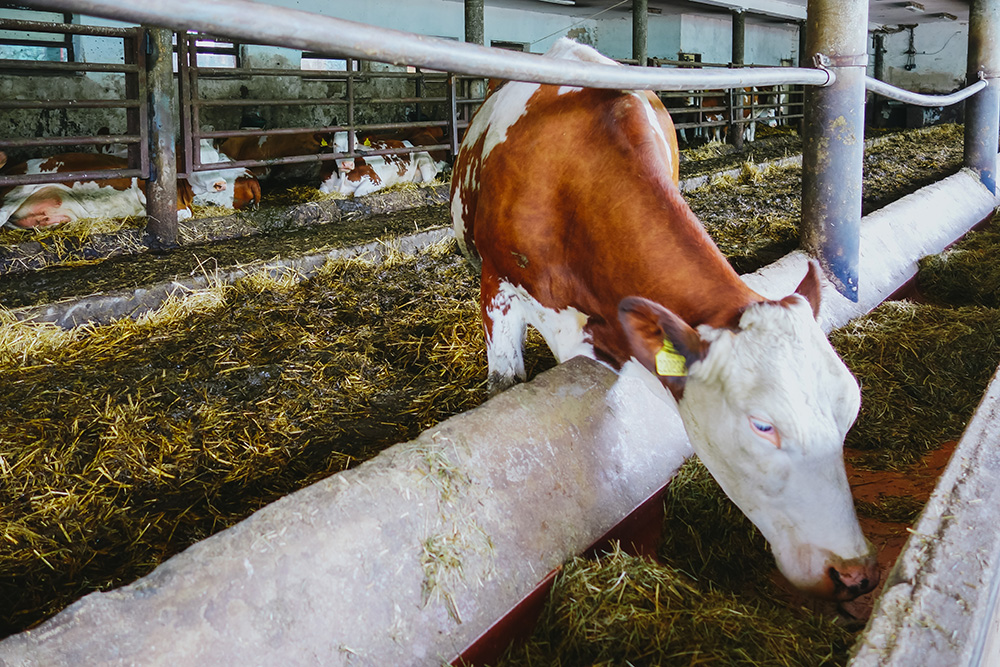 After a quick look around, we followed Antonín's lead into the paddock where most of the cows were grazing. The farm has 450 hectares of farmland, some of which is used to grow crops to feed the cows, all cultivated using organic farming principles. Usually cows can become disturbed when humans come close, but not these girls! They were incredibly curious of us and many of them wandered slowly over to have a better look at us. They seemed so healthy and happy and had the most beautiful, lush paddock to graze in all day. Antonín stressed that his priority was ensuring the longevity and health of this cows rather than focusing on quantities of milk production. This, in turn, increases the quality of the milk that the cows produce, ensuring a better final product.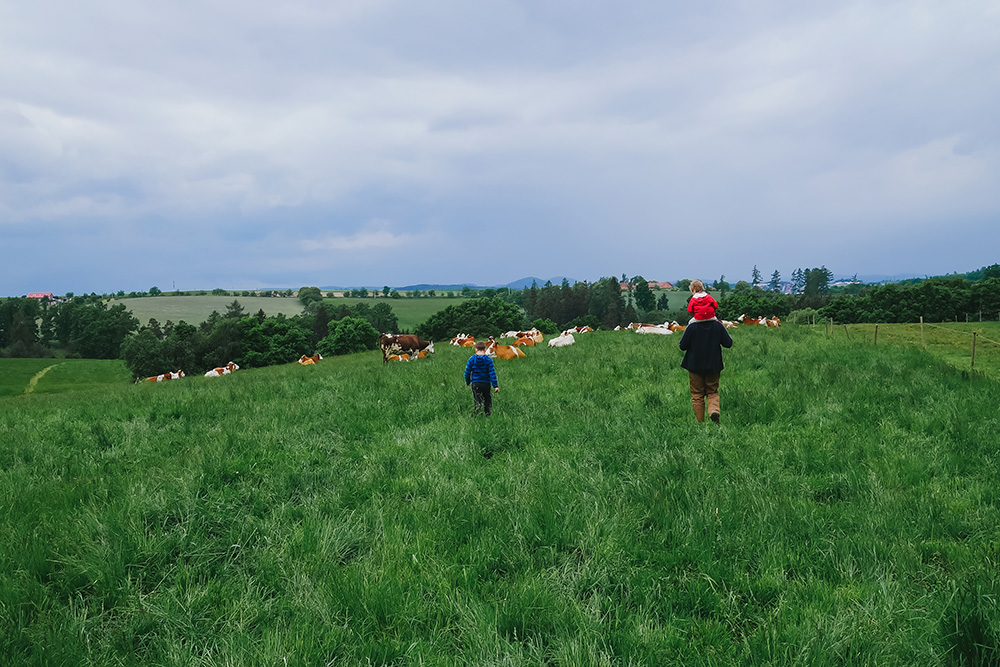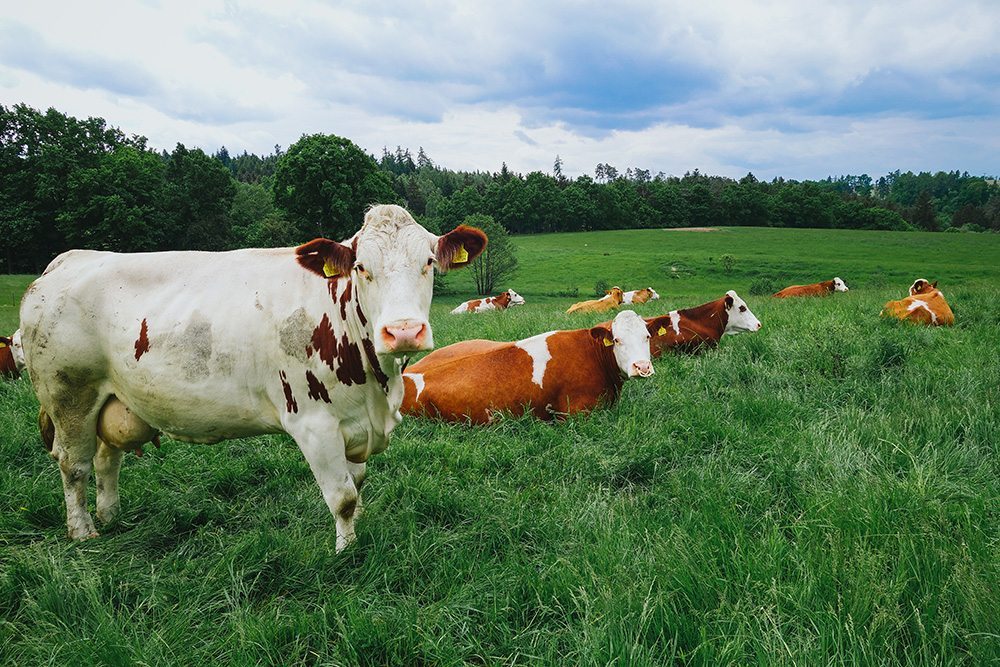 Learning about cheesemaking
After we had met the cows and I had successfully stepped in cow poo (it was to be expected in a paddock wasn't it?), we headed back for a tour of the cheese factory. We donned some protective clothing (a long coat, hairnet and shoe coverings) to ensure we didn't contaminate the facility. Antonín then carefully explained the entire cheesemaking process, from the process of pasteurizing the fresh milk, to culturing and then, finally, the ripening stage. More confident in communicating in Czech, Misa translated every word into English for us.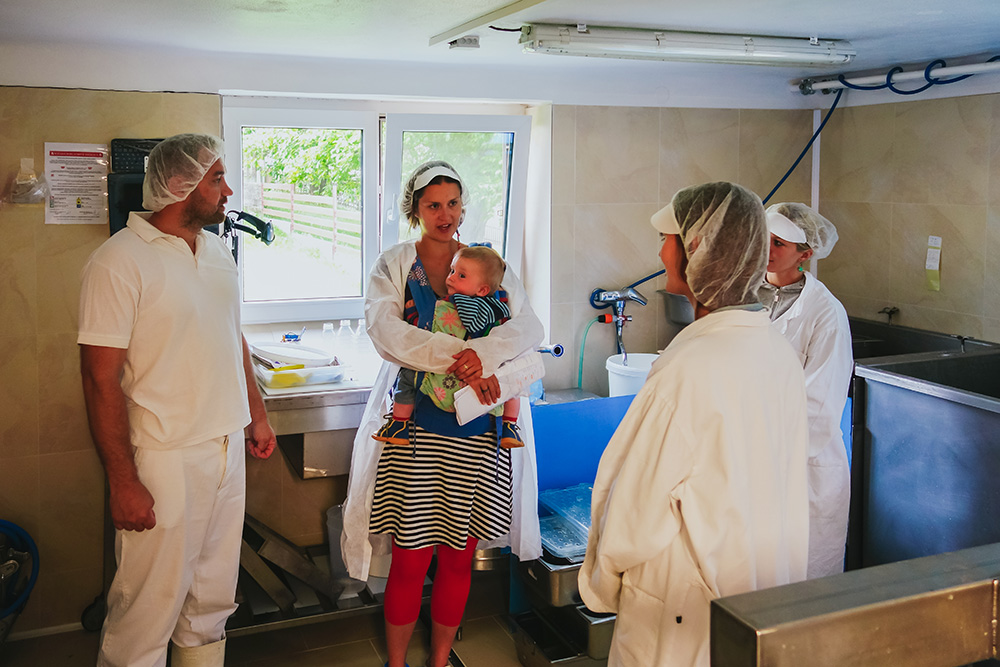 Antonín carefully explained the differences in process for creating the different varieties of yoghurt and cheese, opening up many samples to show us along the way.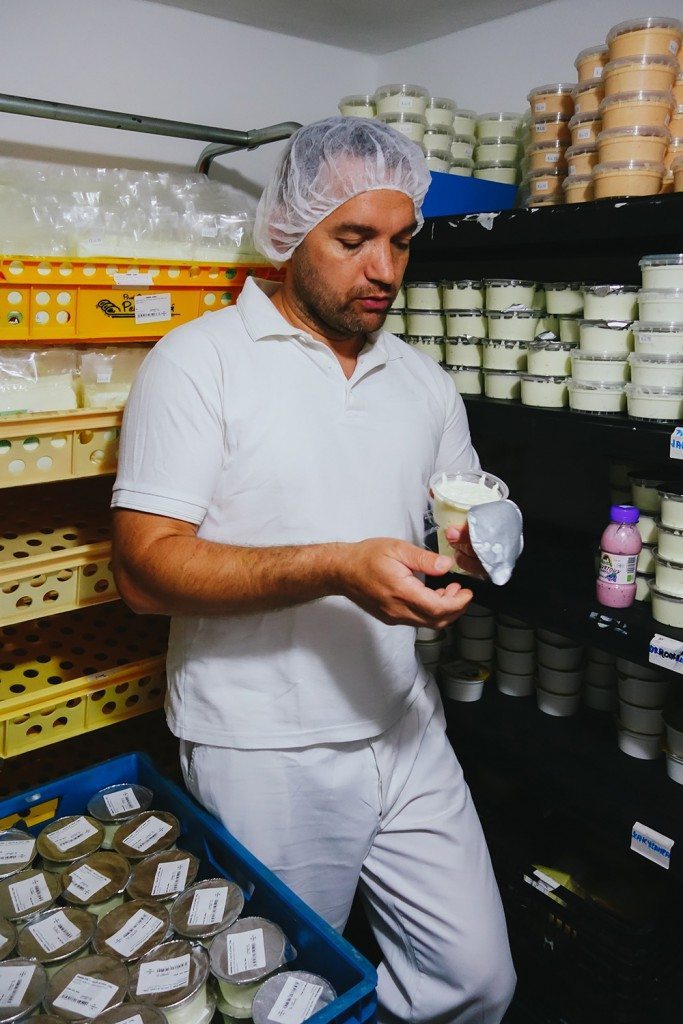 Of course, we got to taste test them all!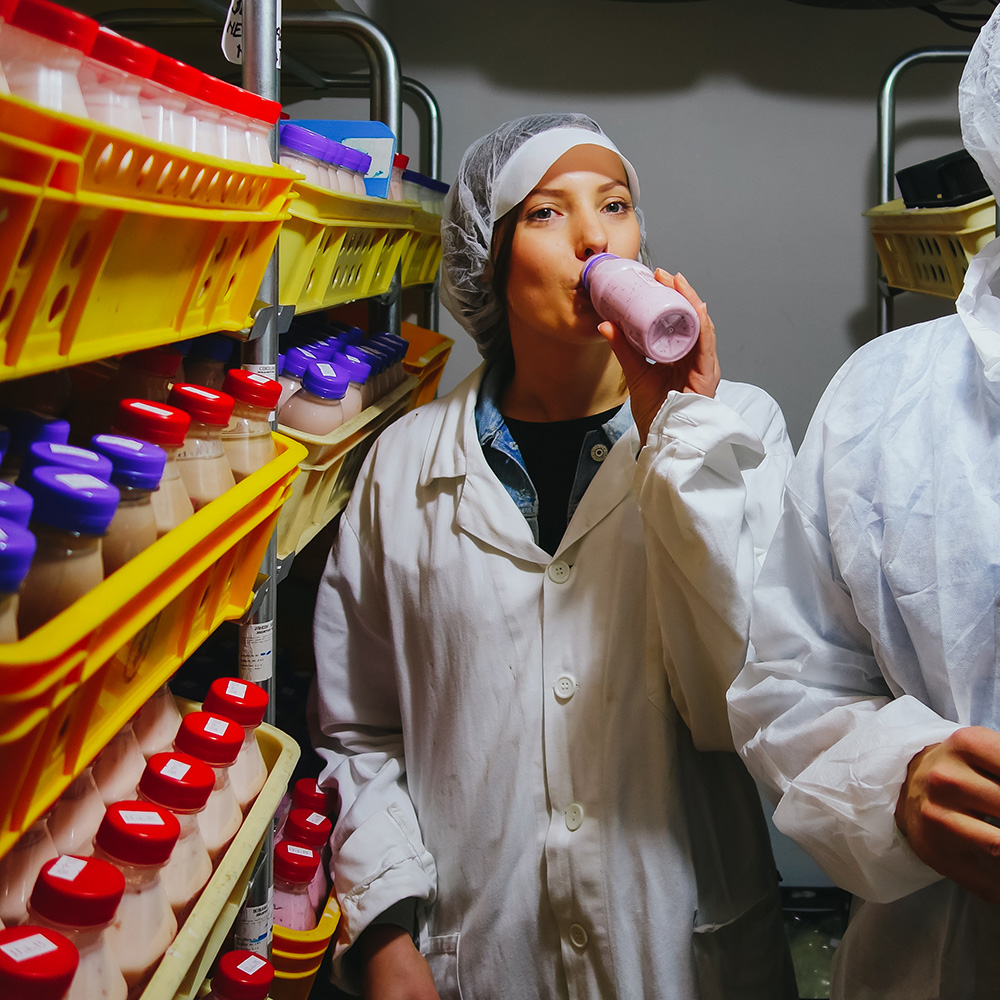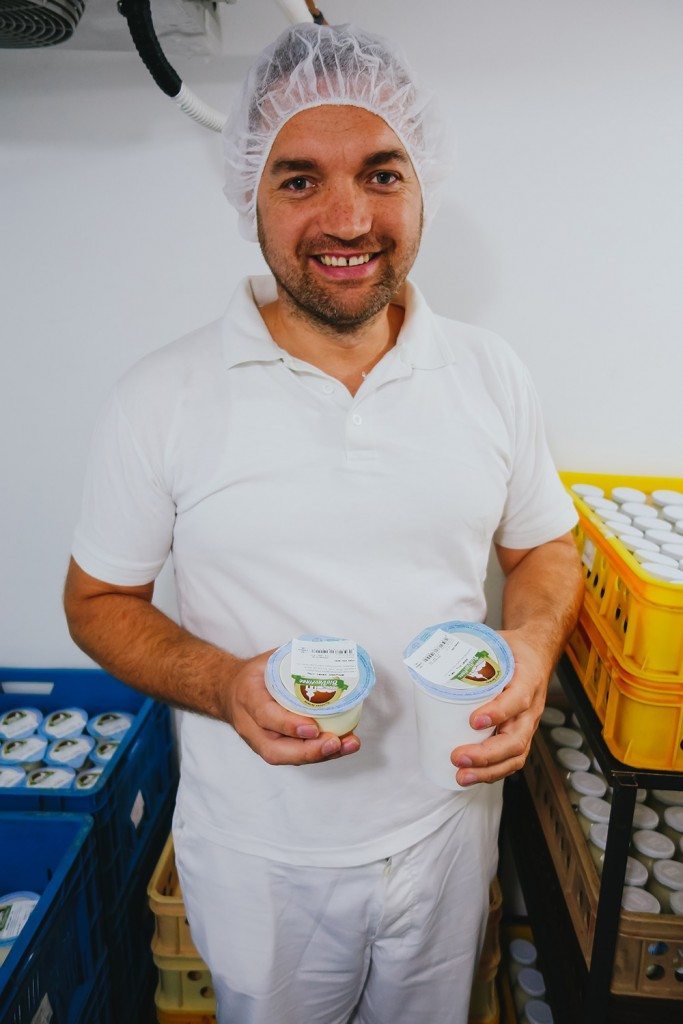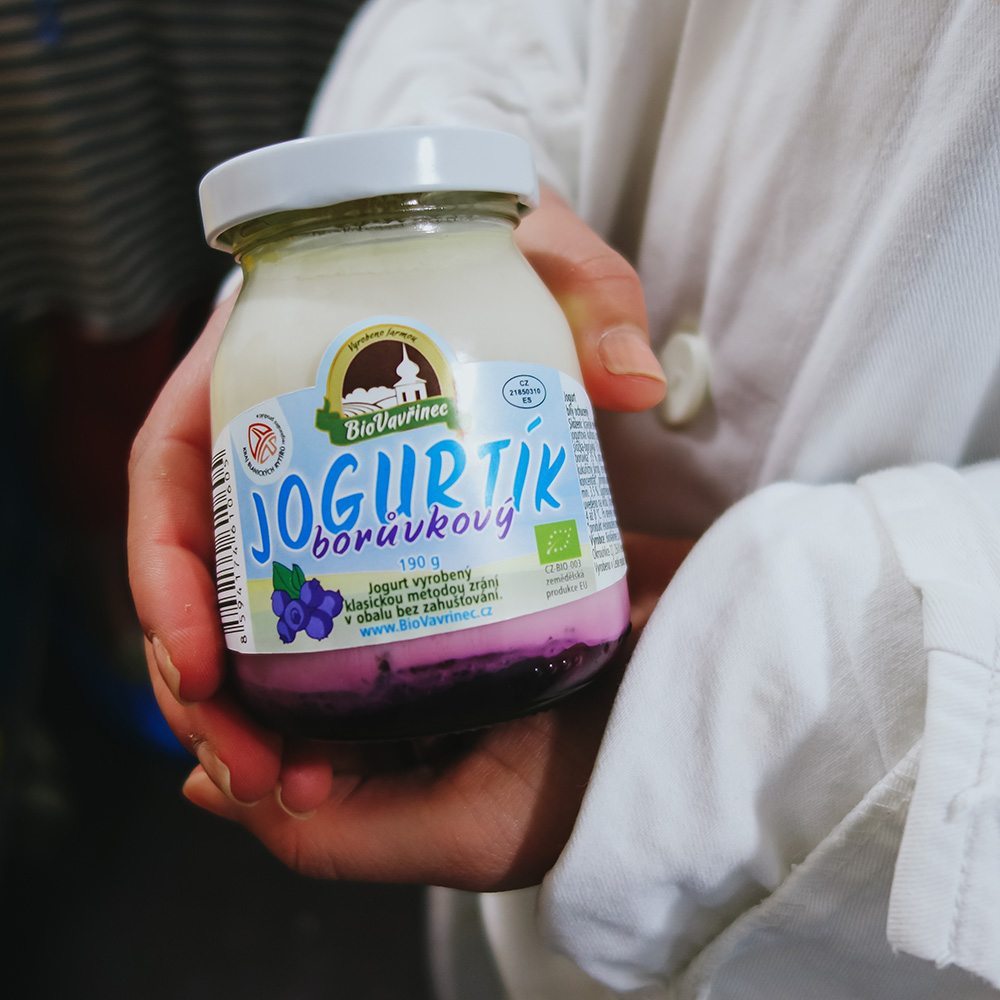 The small team at Bio Vavřinec only produce three varieties of cheese: the Vavřinecký, the Horský Sýr and the Barbora (named after his daughter). All are ripened together in the climate controlled cellar under the factory.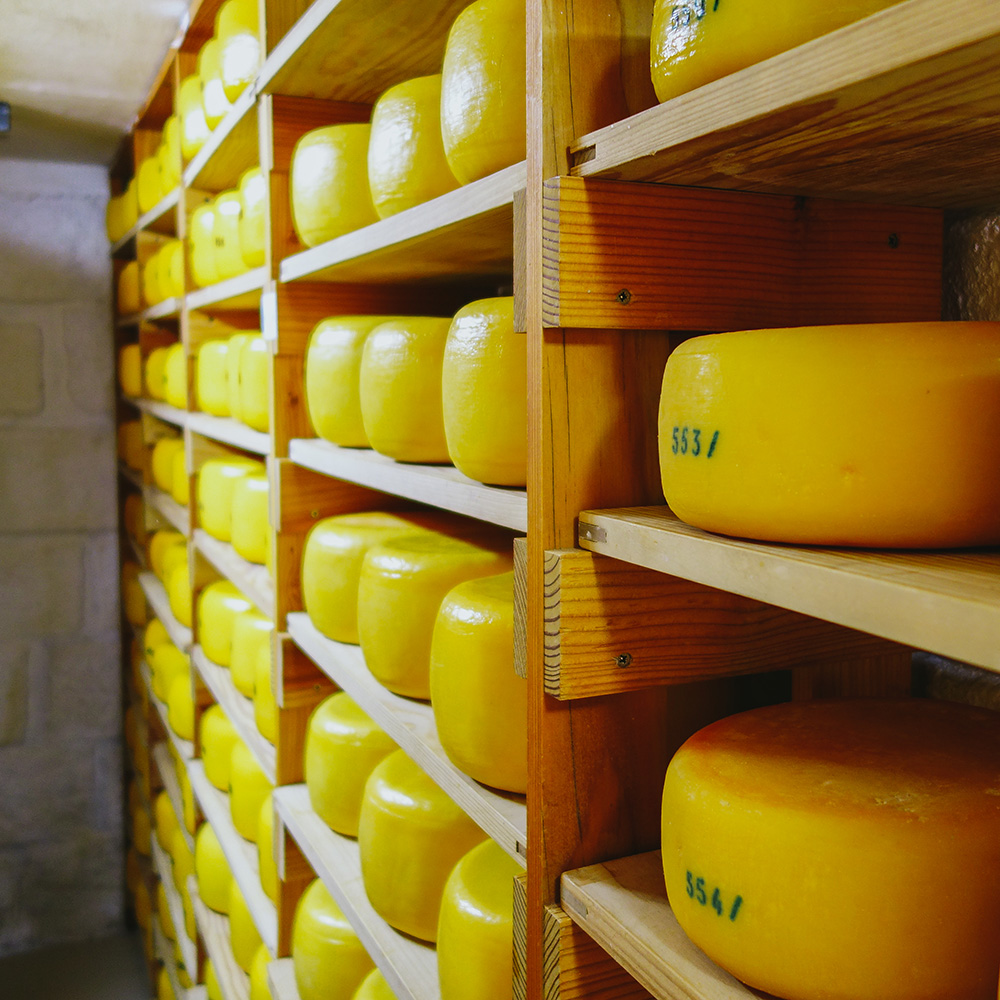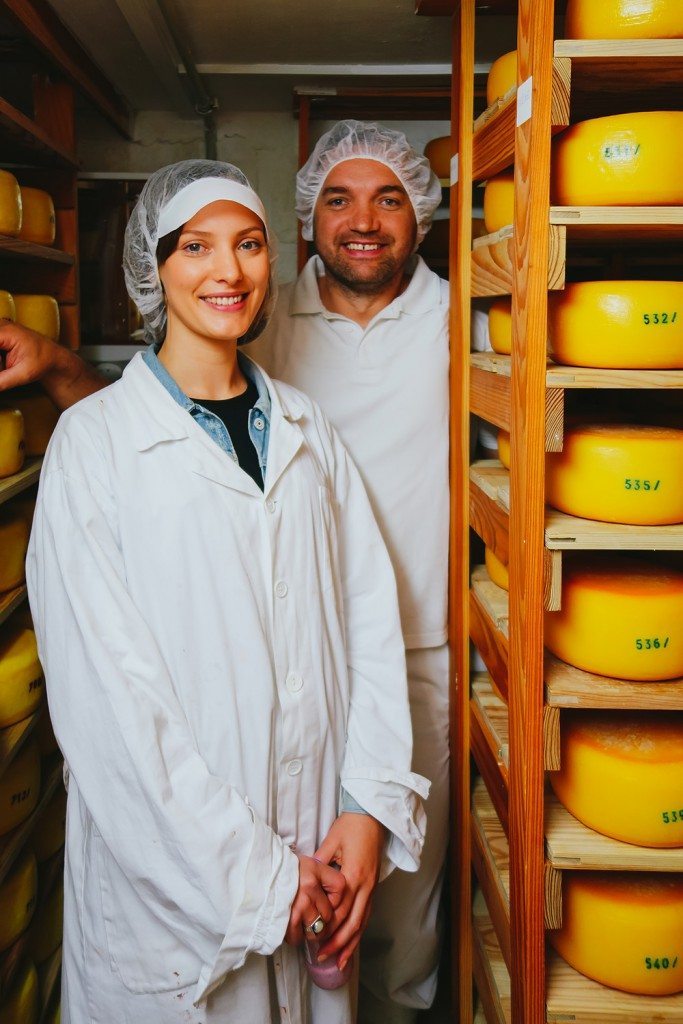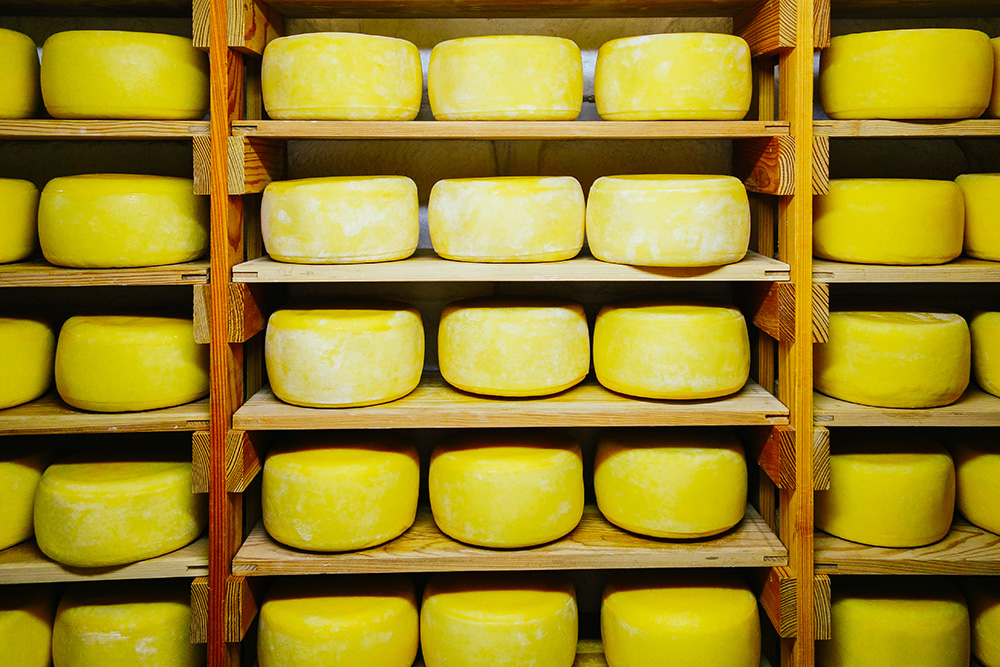 Taste testing
Remember how learning made you hungry at school? Well, lucky for us, it was time to taste test some more! After our enlightening tour of the intricacies of the cheese and yoghurt making processes, we headed down to the little shop at the entrance of the farm where we were joined by Zuzana, Antonín's wife. Here we sampled all three cheeses as well as a few other varieties currently being trialed and some more yoghurts, all vastly different from one another. All of the products are available to purchase at this little shop as well as some selected retailers around Prague.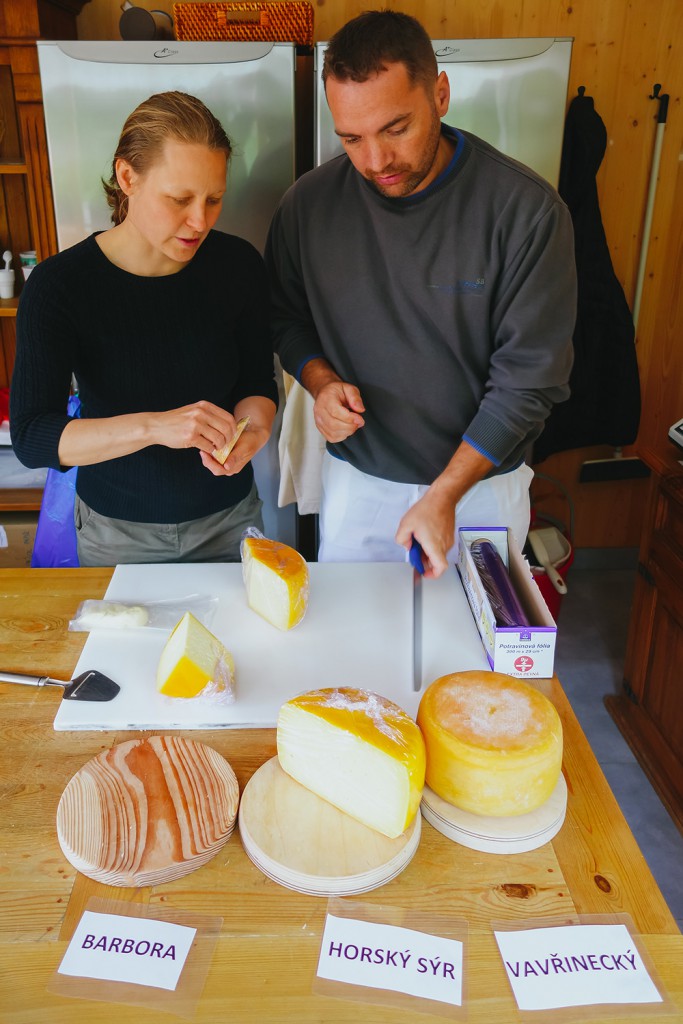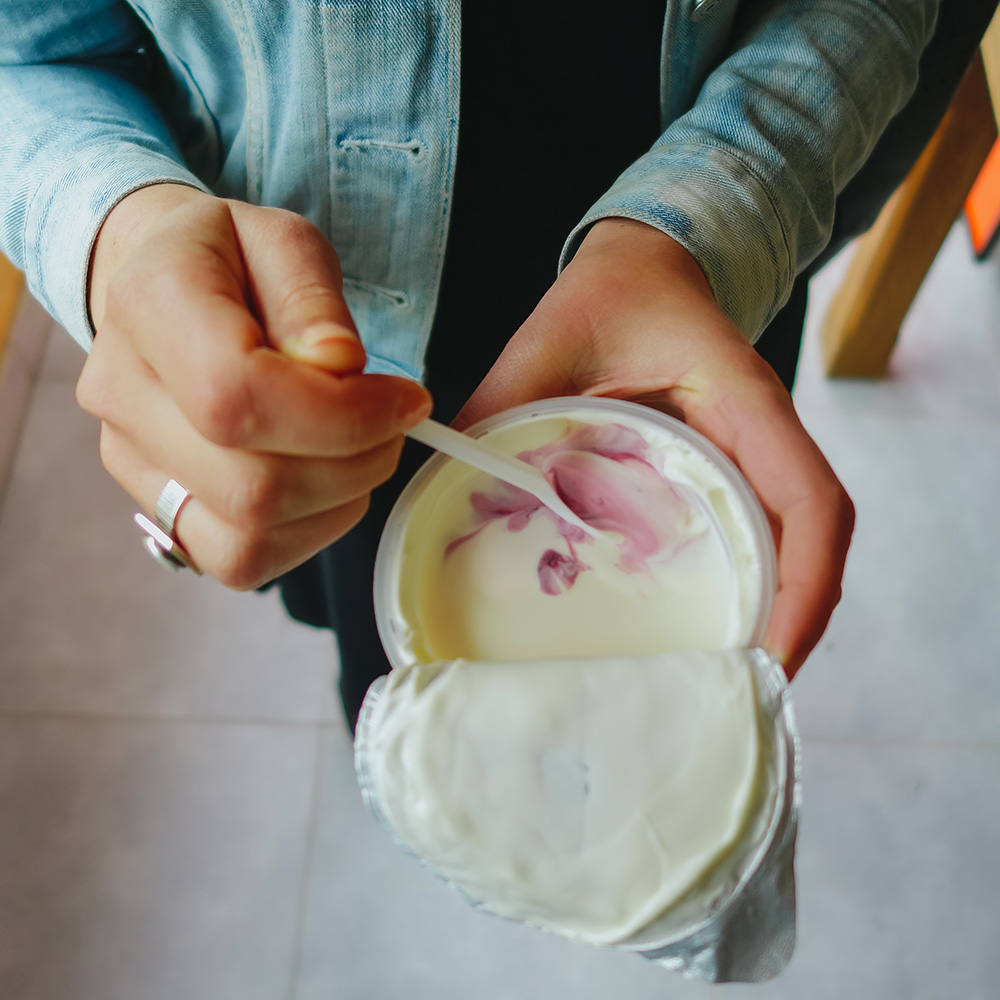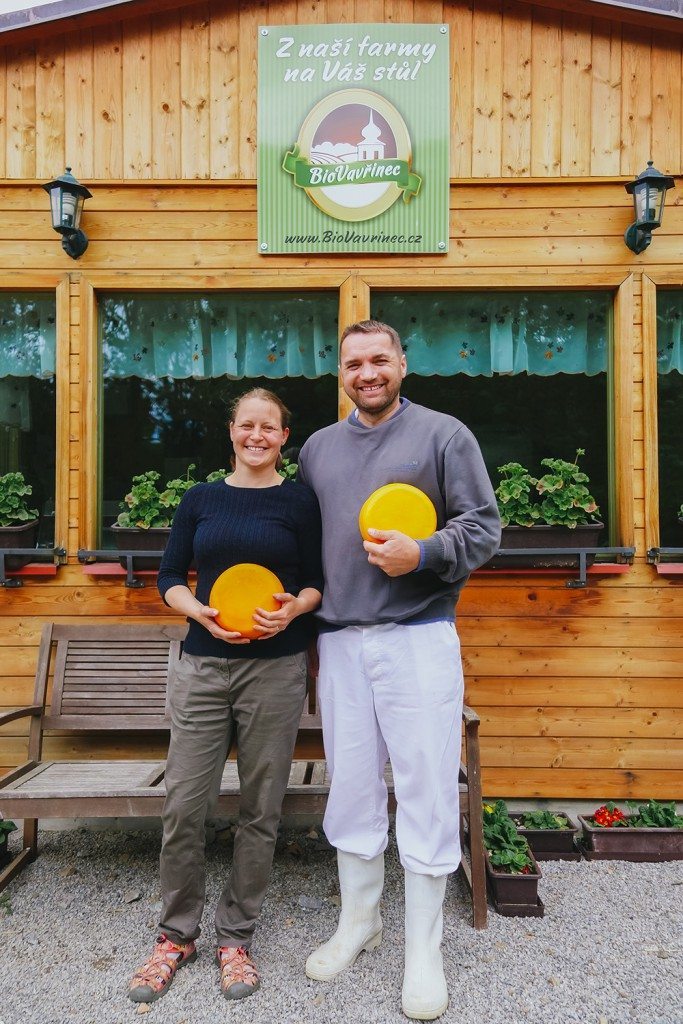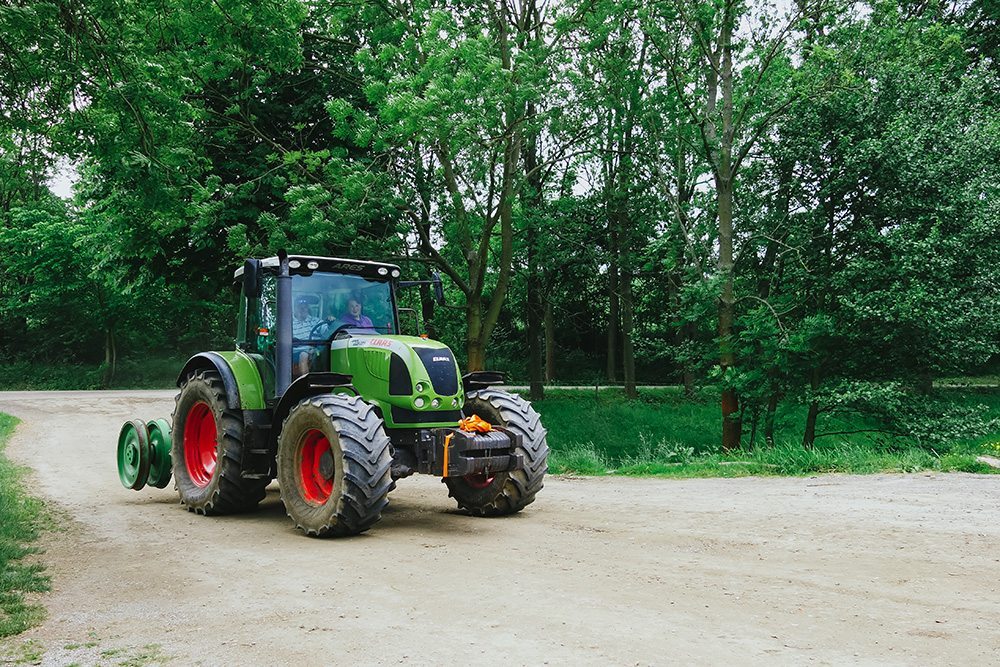 I felt so privileged to be able to spend an entire morning with such a warm-hearted and genuine Czech family on their bio dairy farm. I felt such a deep connection to these lovely people who were so passionate about their animals, the farm and their products and I was quite sad when it was time to say goodbye! Thanks to Guidilo, I had stepped into a local's world that most people who visit Prague never have the chance to do. This experience turned out to be the most special and authentic I had over my entire weekend in Prague.
But the day wasn't over yet! Find out what we got up to in the afternoon in Part Two of this review, coming very soon!
Have you ever spent time with a local family on your travels? I'd love to read about your experience in the comments below.
Disclosure: I attended this tour of the Bio Dairy Farm as a guest of Guidilo. As always, my opinions are my own.