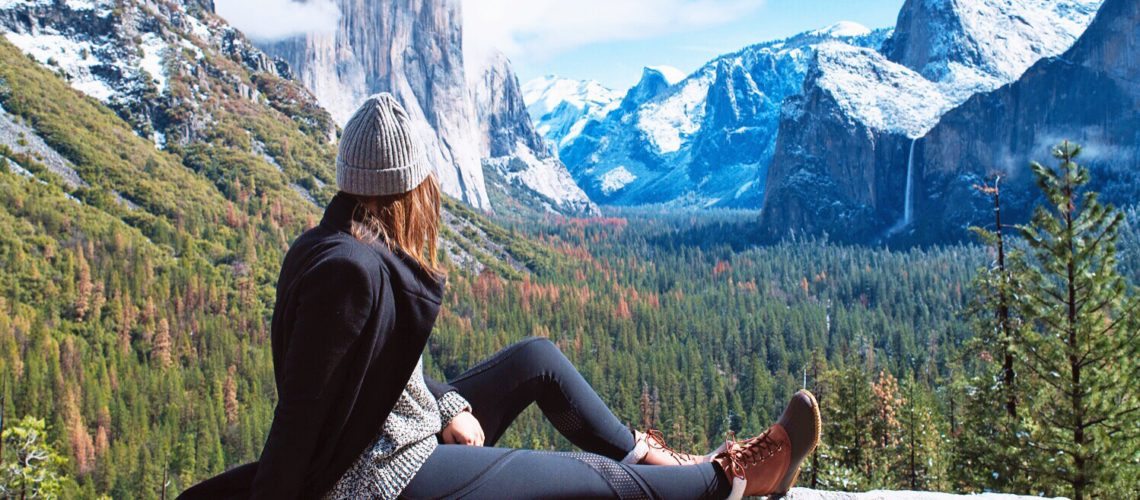 Going to the mountains is going home. ~ John Muir
Known the world over as one of the most spectacular national parks in existence, Yosemite National Park is an outdoor lover's paradise. With its towering granite cliffs, gushing waterfalls and giant sequoia trees thousands of years old, there's an awe-inspiring sight at every turn. Still 95% wilderness, a visit to Yosemite really does mean venturing into the wild, regaining a connection with nature and reminding ourselves just how spectacular our world really is. On my recent trip to the USA, we took a road trip to spend one of the most memorable weekends of our lives in this breathtakingly beautiful region. If you're planning your first trip to Yosemite, here's an overview of how you can spend a weekend you'll never forget: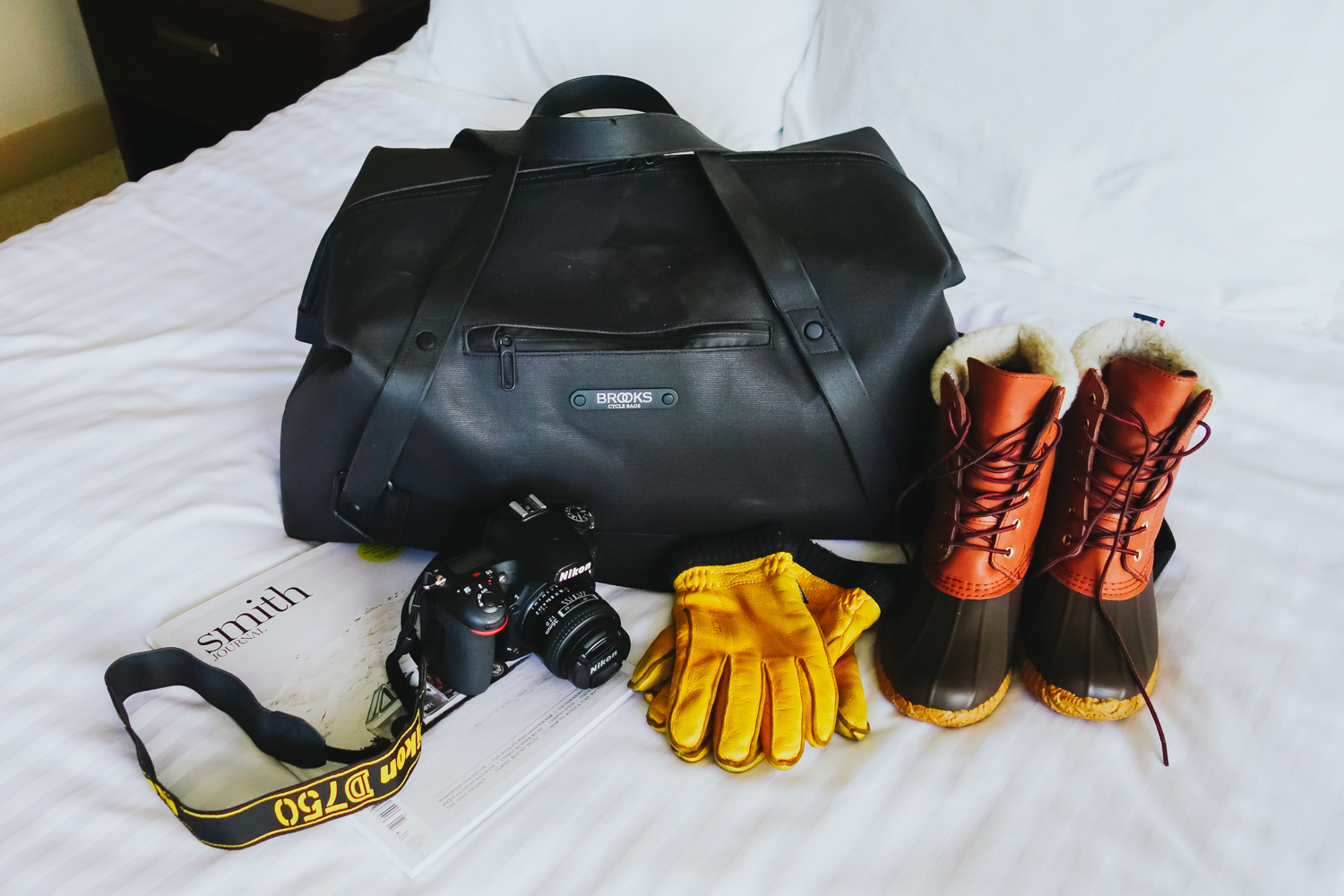 Getting there
Yosemite National Park can be reached in about 4.5 hours from LA or 3 hours from San Francisco, depending on traffic of course. We hit the road around 3pm on a Friday afternoon and made it to our first night's accommodation just outside of the park in Oakhurst at 8pm. We'd decided that we preferred to drive into the park in the daylight since it's supposed to be so beautiful, but accommodation inside the park is a lot pricier than outside it, so Oakhurst (only 15 minutes from the park's south entrance) became a great first base for us. We snagged a cheap room at the Best Western Plus Yosemite Gateway Inn overnight, had a delicious dinner at the South Gate Brewing Company (a great small-batch craft brewery) and hit the sack early in anticipation of the next day's adventures.
Into Yosemite National Park
Waking bright and early, we picked up some snow chains from one of the local service stations before reluctantly hitting the Starbucks drive-through (ain't no third wave coffee in this neck of the woods) because, you know, caffeine addicts anonymous over here. A light fog hung quietly in the valley and as we ascended, the morning light flickered magically between the trees.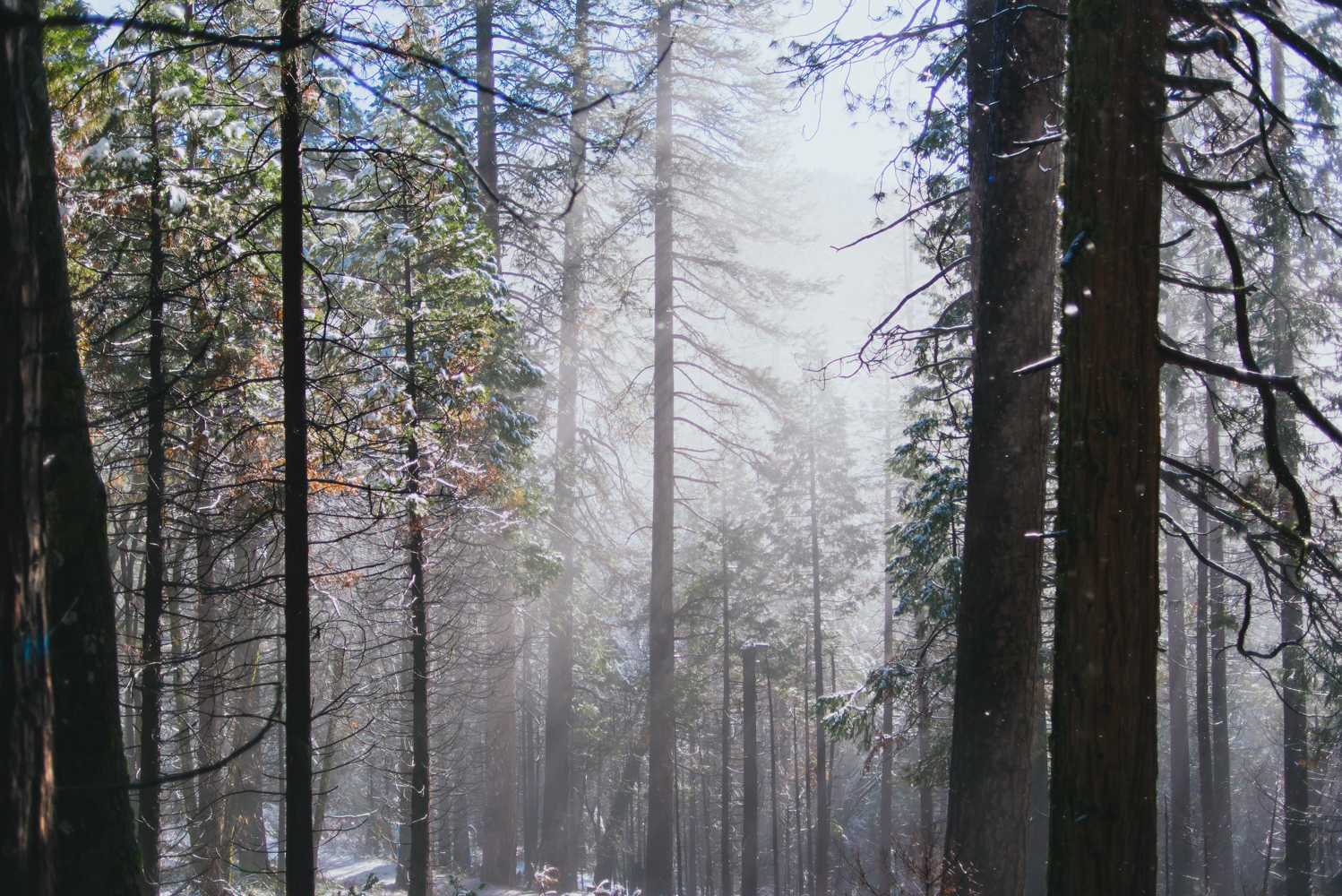 We drove onwards, through Fish Camp and were pretty sure we had found Narnia. It had snowed heavily the previous day and the entire landscape was blanketed in a thick, white frosting.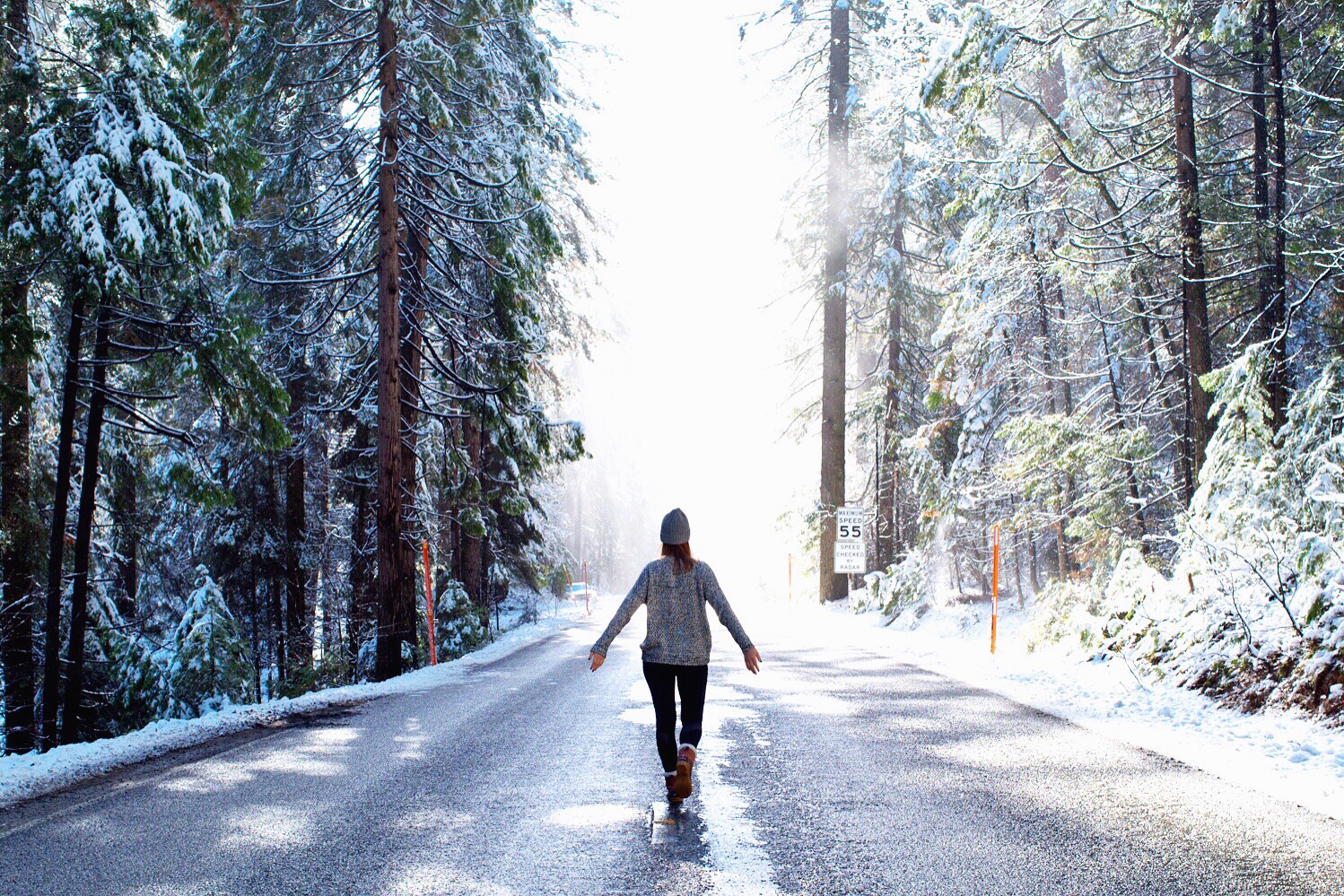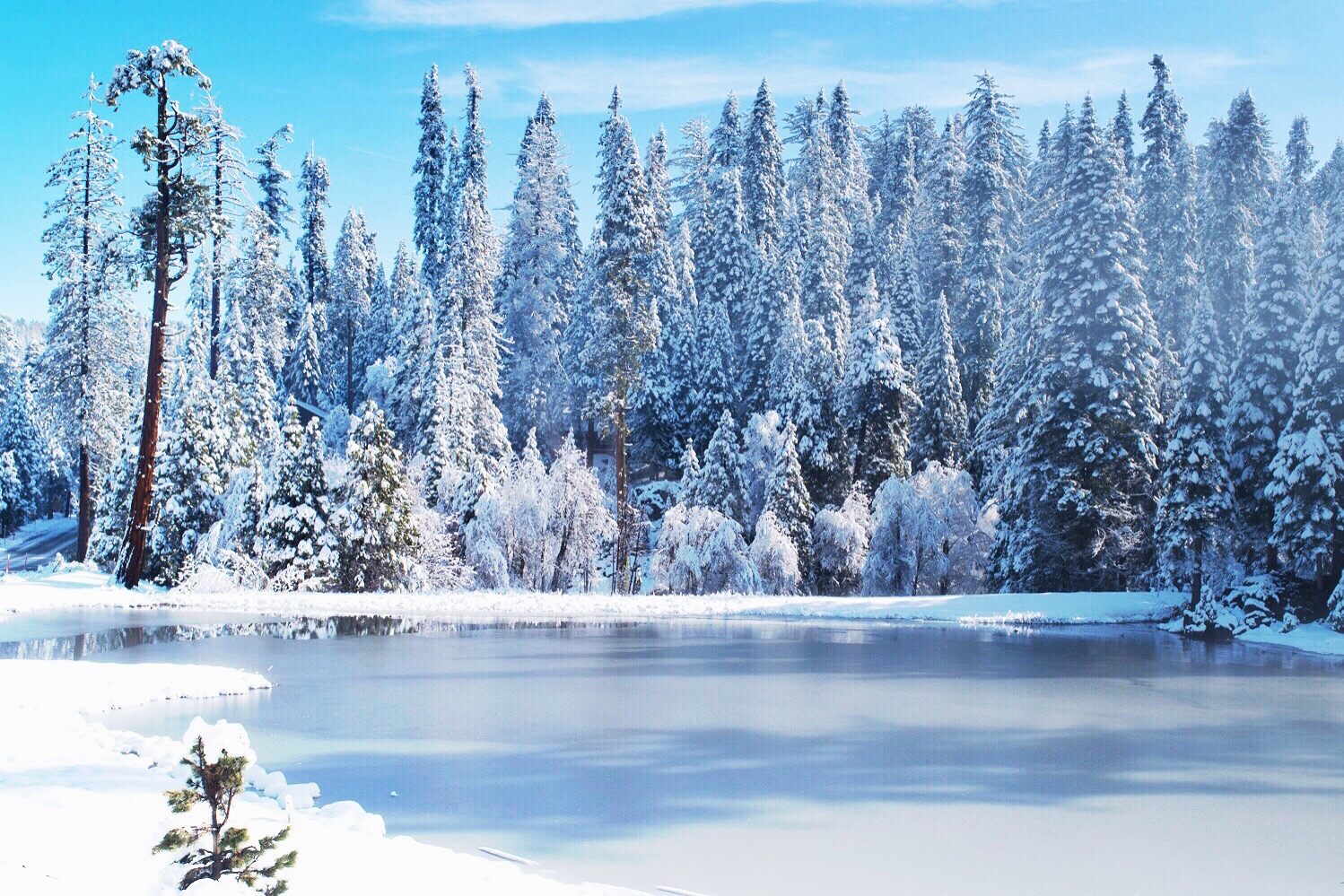 Shortly after, we reached the entry to the national park where we paid the US $25 entry fee and chatted to the ranger about the need for snow chains. We were definitely glad we had picked them up in Oakhurst, because we learned that it was mandatory to carry chains from November to March (and sometimes even later) and we were told that we needed to put them on soon after the entrance gate. Note: if driving on your own seems a bit intimidating, Trek America offer some really great trips you can join so you can kick back and relax instead.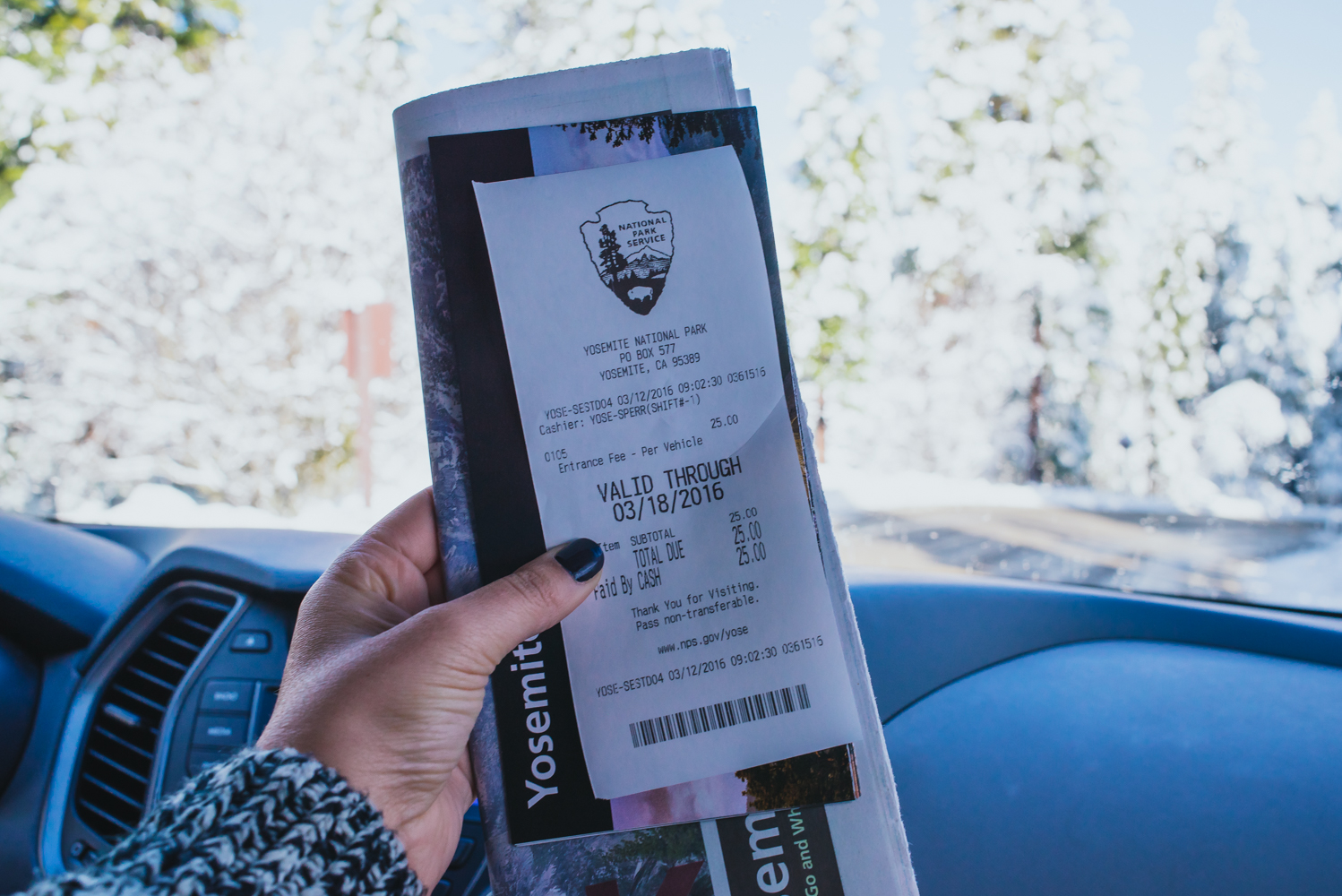 Tunnel View
Our first stop after entering the park was the famous Tunnel View. After exiting a tunnel carved through the mountain, the most astounding, expansive views of the entire Yosemite Valley are afforded. I could hardly believe my eyes when they adjusted to the morning glare and the vista before me was revealed. From the imposing peaks of Half Dome and El Capitan, to the gushing Bridalveil Falls, it was clear that Yosemite National Park truly does lives up to its grand reputation. If this was only our first stop for the day, I couldn't wait to get down to the valley floor and start exploring!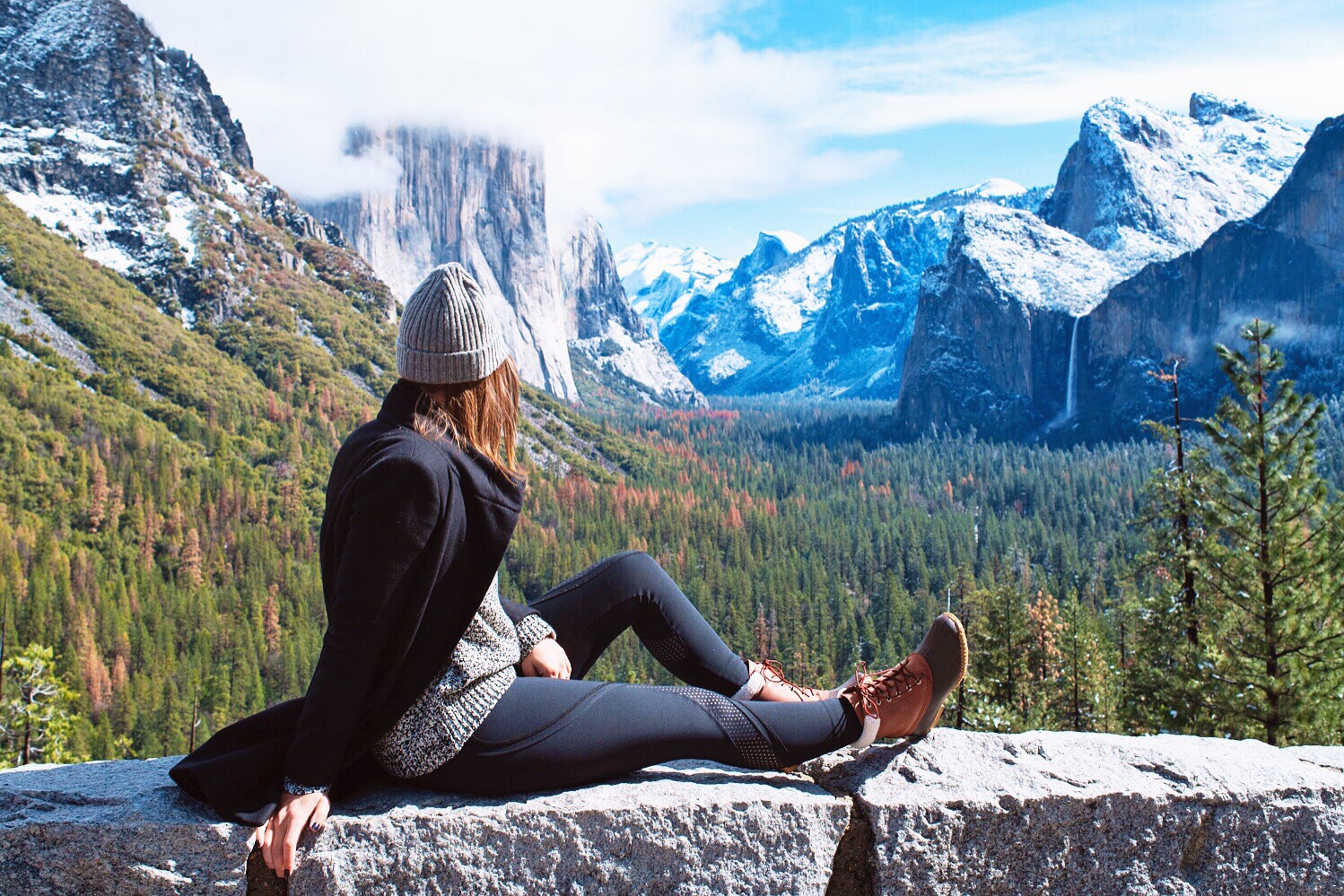 Yosemite Valley
From Tunnel View, the road quickly descends into the Yosemite Valley, about 15 miles away. This unique glacial valley is only 7 miles long and less than a mile wide, but what it lacks in size, it makes up in grandeur. Sheer, granite cliff faces jut straight up from the valley floor, reaching for the heavens, waterfalls burst with spring's fresh melt and lush meadows nurture the greatest wildlife diversity out of anywhere in the park.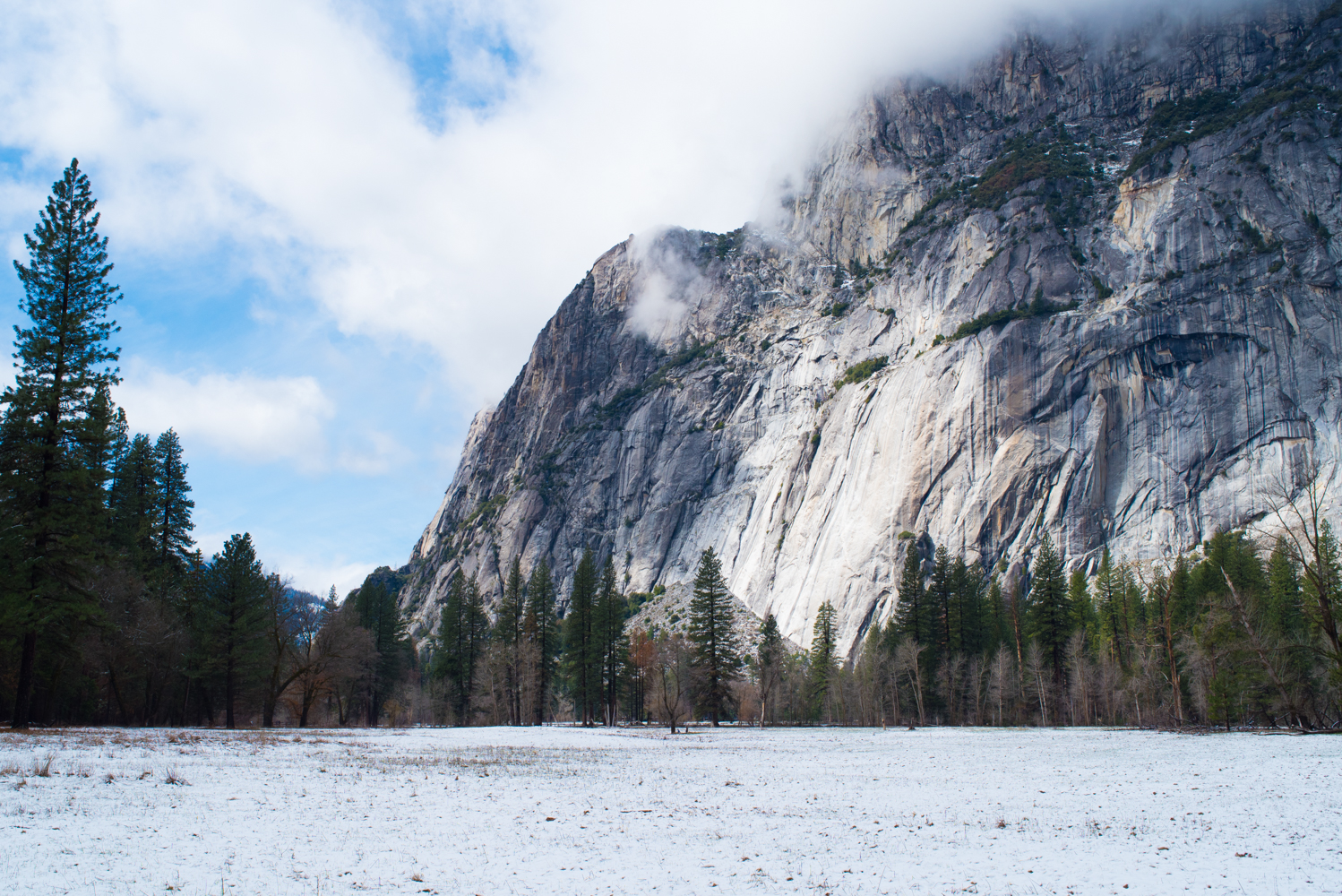 Bridalveil Falls
Before you reach the valley floor, however, there is a turn-off to Bridalveil Falls. A small trail meanders through lush forest to the base of the thundering waterfall, which plunges 189 metres down the cliff-face. The falls were absolutely pounding the rocks below when we visited in early spring so we couldn't get too close or we'd be soaked! It was here at Bridalveil Falls that we actually removed our snow chains as there was no snow on the roads at all in the Yosemite Valley and we only really needed them coming in on the higher elevation where it was icy.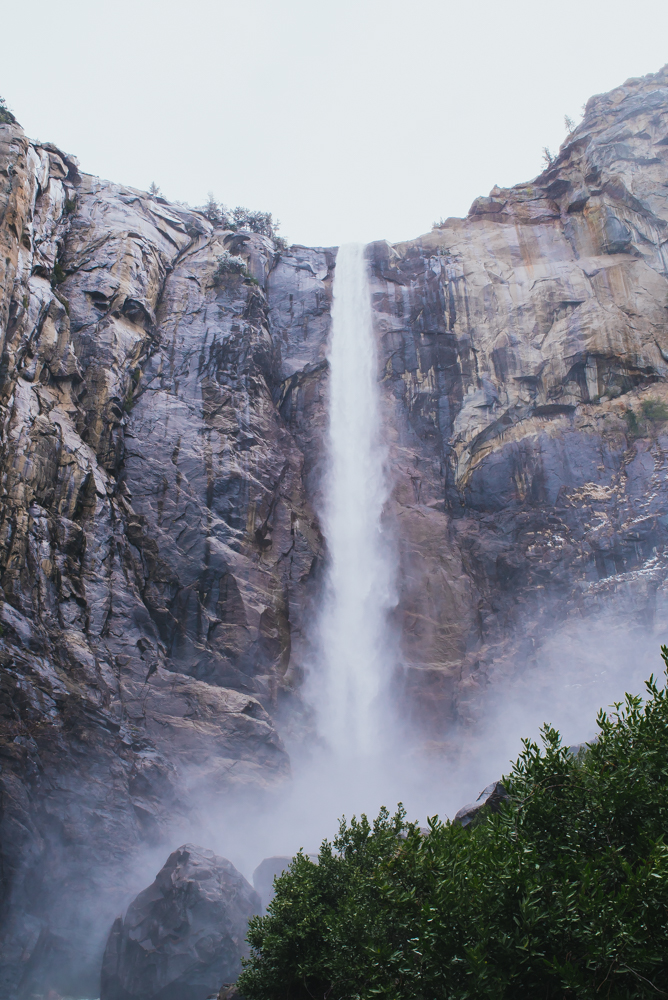 Lunch in the valley township
Because we had been stopping at every turn for photos, before we knew it, most of the morning had already passed us by! We decided to fuel up in the valley and have a quick look around town before planning the afternoon's adventures. There are a couple of options for lunch in the valley. There's a decent General Store if you want to buy some snacks or supplies and make your own lunch or and there are some restaurants too. We headed for Degnan's Deli for fresh made-to-order sandwiches which were tasty and satisfying and coffee, which was less so. Fuelled up, we were ready to get back out there!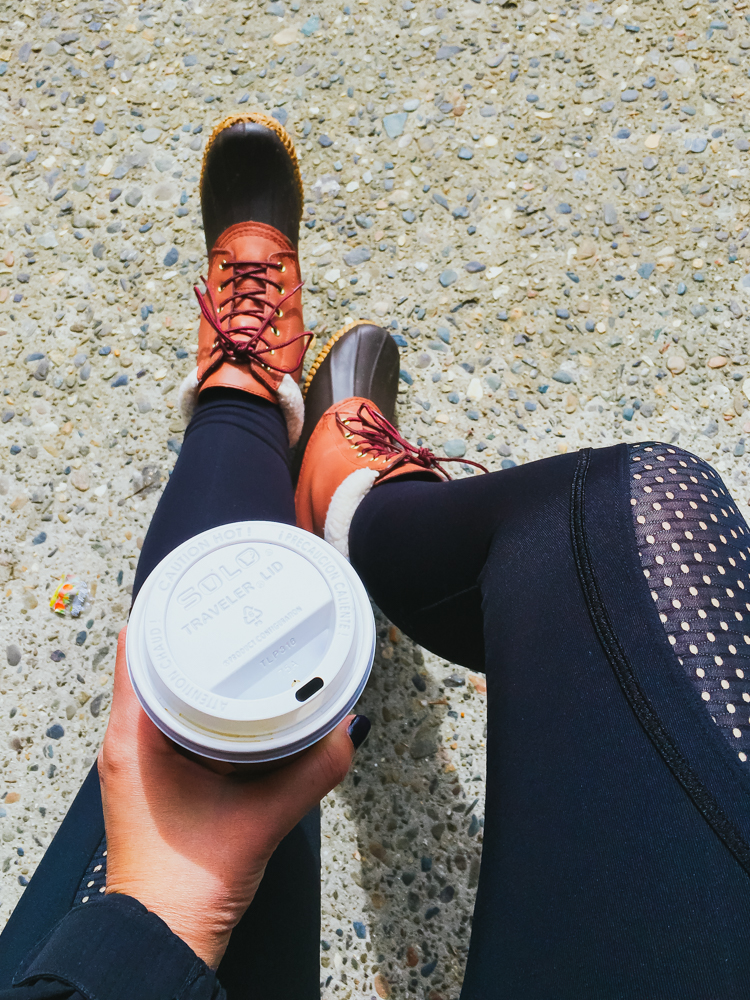 Mirror Lake Hike
Whilst Yosemite National Park is a hiker's paradise, we didn't have a huge amount of time to explore the trails after lunch. The sun still sets relatively early this time of year so we settled for the short hike to Mirror Lake. The trail is an easy, paved mile to the lake, but we opted to continue on past the lake to follow alongside Tenaya Creek in the forest. When we reached the lake, it was immediately clear that it deserved its name. It was as smooth as glass and brilliantly reflected towering Half Dome that looks over it in the water like a mirror's image.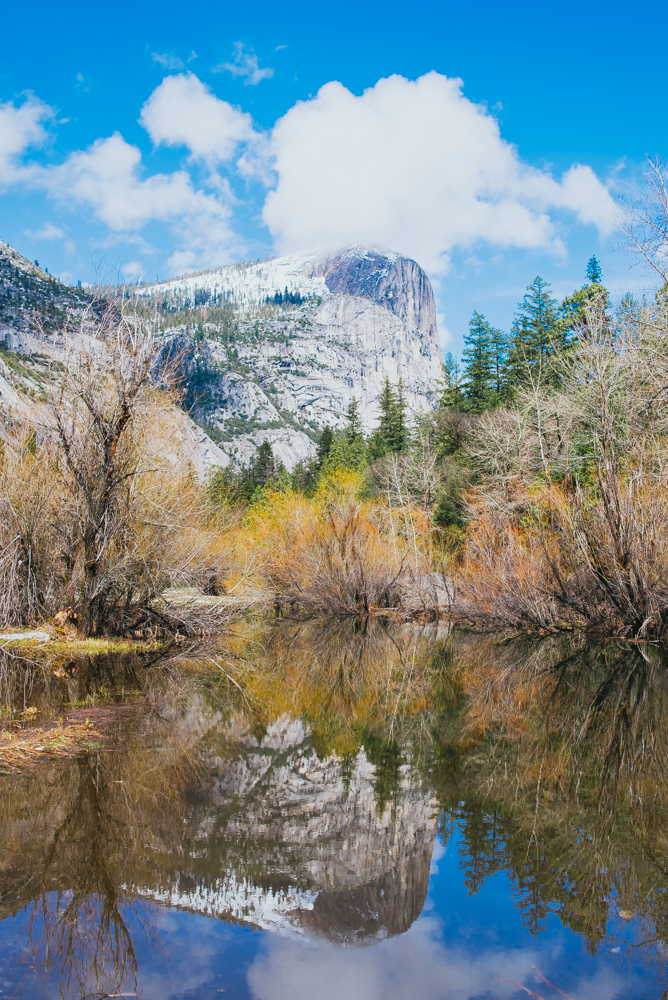 Stoneman Meadow
Returning from Mirror Lake, we found ourselves alongside the expansive Stoneman Meadow and went for a little wander down the boardwalk. It's really important that visitors respect the signage and don't walk on the meadow, as there are a lot of nests and small animals hidden under the vegetation that are at risk of being trampled.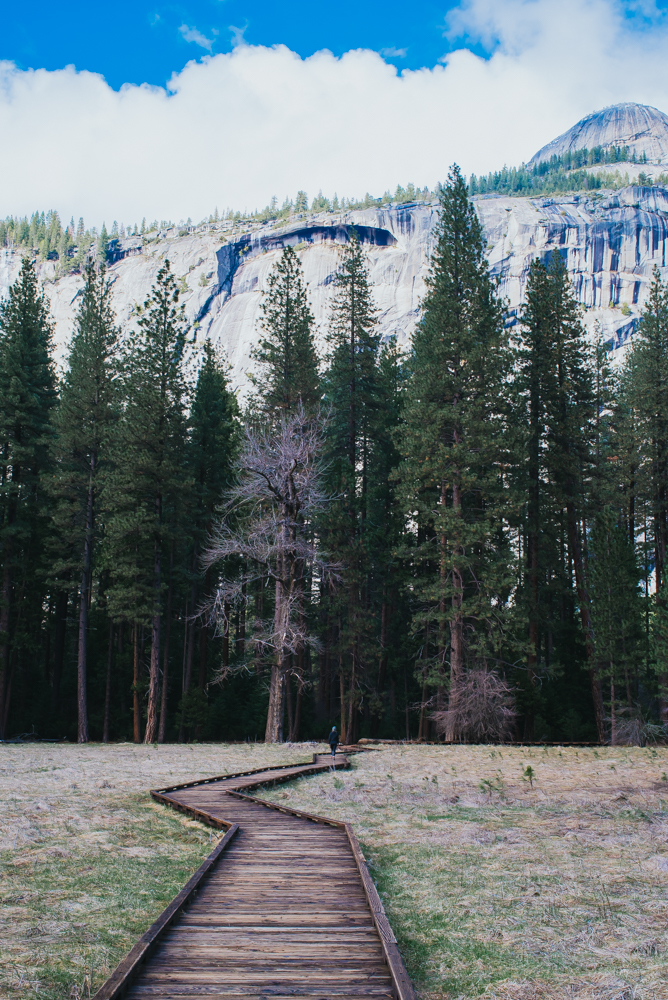 Yosemite Falls
Keen for one last stop before the sun dipped too far below the peaks, we headed for Yosemite Falls, North America's tallest waterfall. Gushing from a height of 739m, Yosemite Falls is an incredible sight to behold. Since it was getting so late, we unfortunately couldn't take the Upper Yosemite Falls trail, which is steep and rocky and is a 7 mile (6 – 8 hours round trip. Instead, we took the short mile-long Lower Yosemite Falls loop to the base of the falls. I was so happy to see the falls thundering with full force since in the summer months, it's common for it to run completely dry.
Dinner at The Majestic Hotel
There's really no other way to end a day in one of America's grandest locations but to match it with an equally grand dinner. Make a reservation in advance at the historic Majestic Yosemite Hotel (formerly the Ahwahnee Lodge), Yosemite's finest hotel which dates from 1927. After such a huge day exploring in the wilderness, we arrived at the lodge an hour before our dinner reservation and cosied up next to the roaring fireplace in the Great Lounge with a hot cocoa. The dining room is a spectacular setting for dinner, with towering 34-foot ceilings, chandeliers and a homely lodge atmosphere the generously portioned dishes is comfort food at its very best.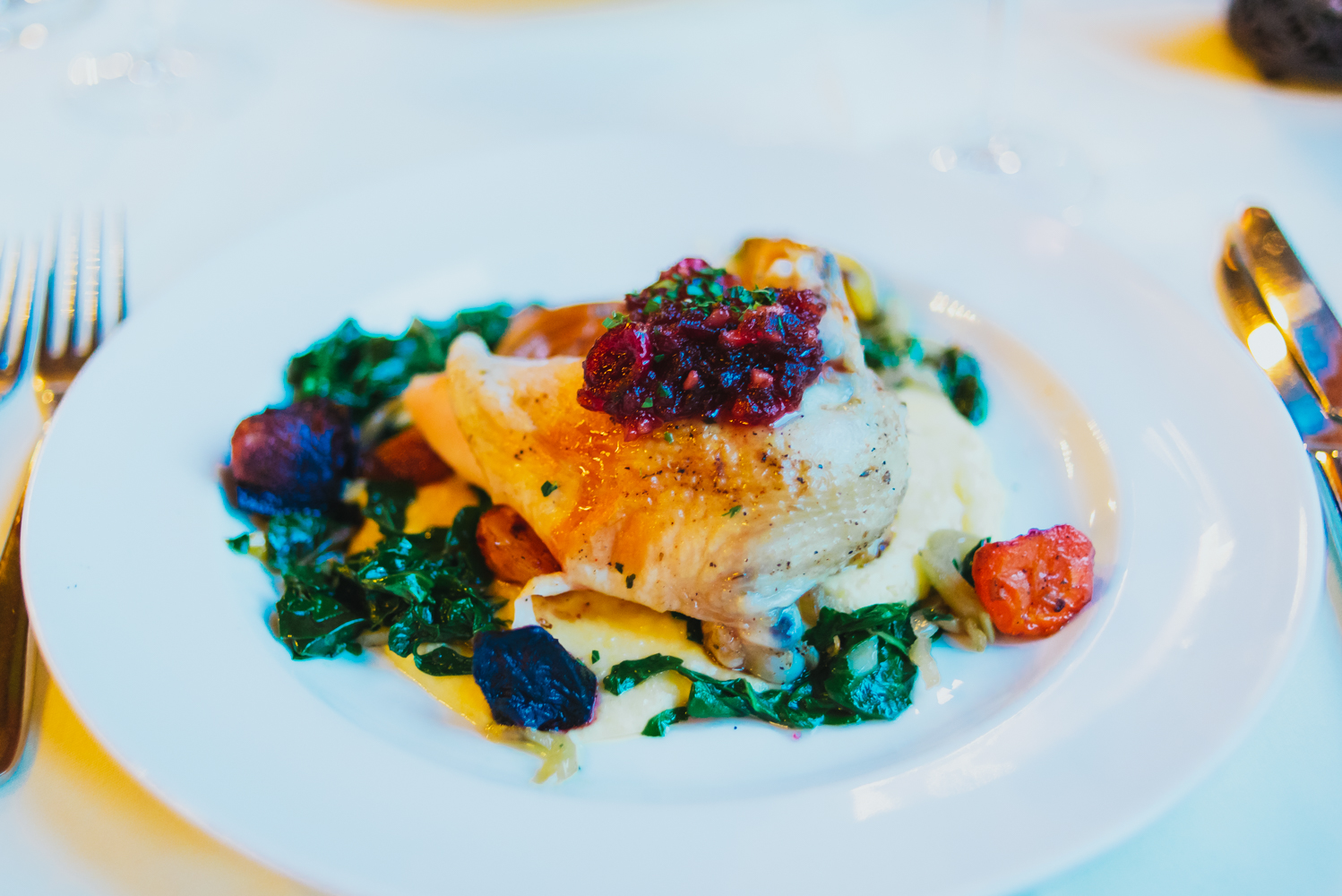 Overnight in Fish Camp
Bellies, hearts and memory cards full, it was time to leave Yosemite National Park for the day and return to Fish Camp where we had booked a room at the charming Narrow Gauge Inn. Although we had originally been keen on staying inside the park itself overnight, we planned our trip too late and most of the remaining available accommodation was either booked out or too expensive. In the end though, we were so happy that we stayed here though. The inn was super cosy and cute, we had a beautiful view into the forest and the complimentary breakfast was hearty and fresh.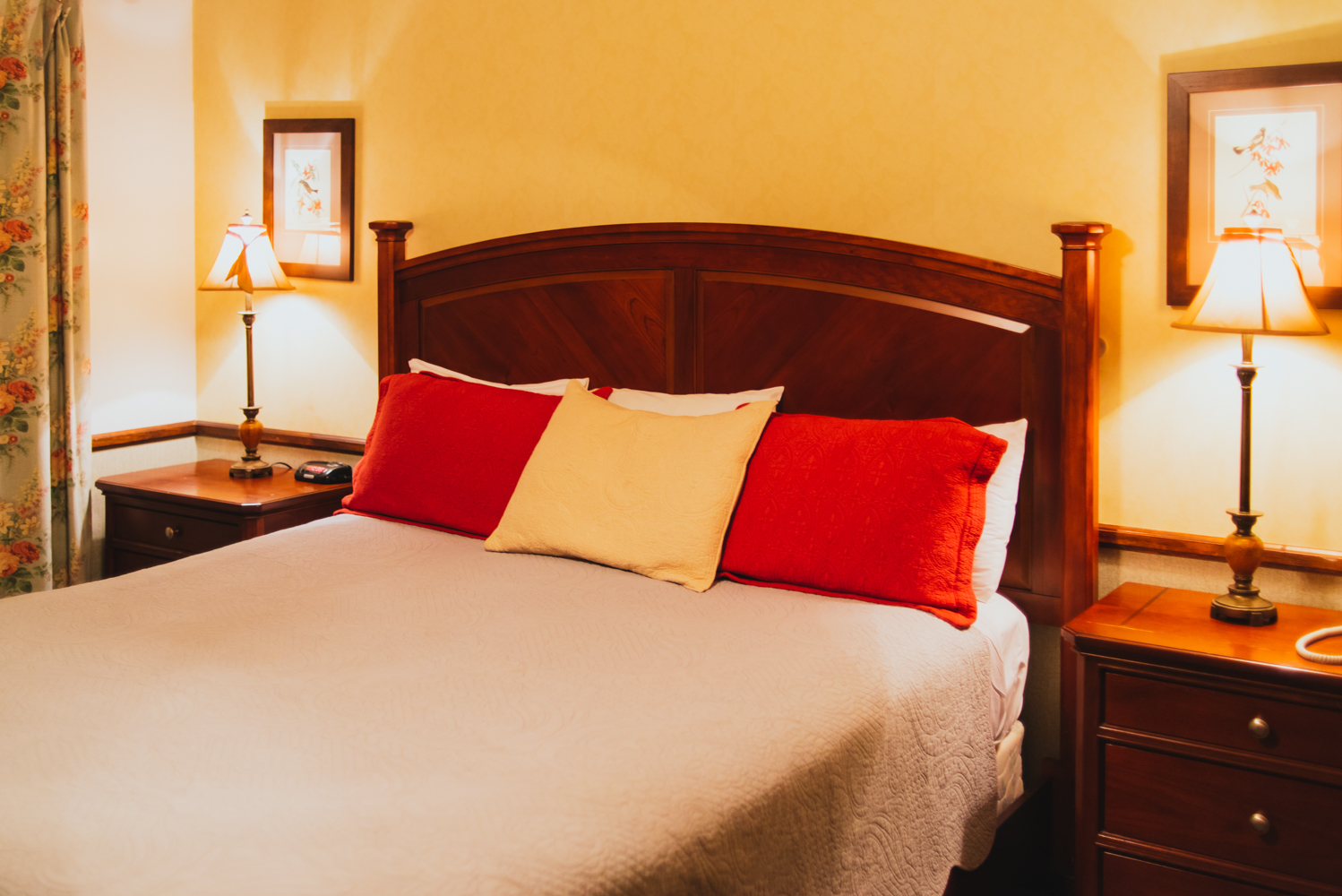 Unfortunately a heavy rainstorm came through overnight and was forecast to hang around all day so while we would have loved to try and wait it out and get back into the park in the afternoon, we still had the big drive back to LA to tackle. It was tough, but we made the decision to hit the road around midday and so had to settle with only a single day of Yosemite adventuring even though we had planned to fit so much more in! I guess that's the thing with mountain ranges — the weather systems can be unpredictable and changeable and you just have to roll with it. Even though we had experienced such a phenomenal day in Yosemite National Park, our appetites had only just been whet. We're now keener than ever to get back and explore even more next time!
Shop my Yosemite look:
Have you been to Yosemite National Park? How did you spend your time there?
---
Disclosure: this post is brought to you by Trek America and also contains some affiliate links that earn me a small commission at no extra cost to you. Thank you for support!