After a busy month in the USA, there was nothing that Ben and I craved more than to escape to the beach and do absolutely nothing for a few days. So, after celebrating the launch of Electrify Mag in NYC, we hopped on a plane and headed south to chase the sun in Mexico. I had been dreaming of visiting laid-back Tulum on Mexico's Yucatan Peninsula ever since I'd seen it start to pop up on Instagram feeds and travel blogs as the ultimate in bohemian, barefoot chic. The USA had been intense with work, events and the pressure to see as much as we could while we were there so a beachy break at the end of our trip was definitely in order. We headed to the hip Papaya Playa Project, a Design Hotel™, for a few days of beachside bliss.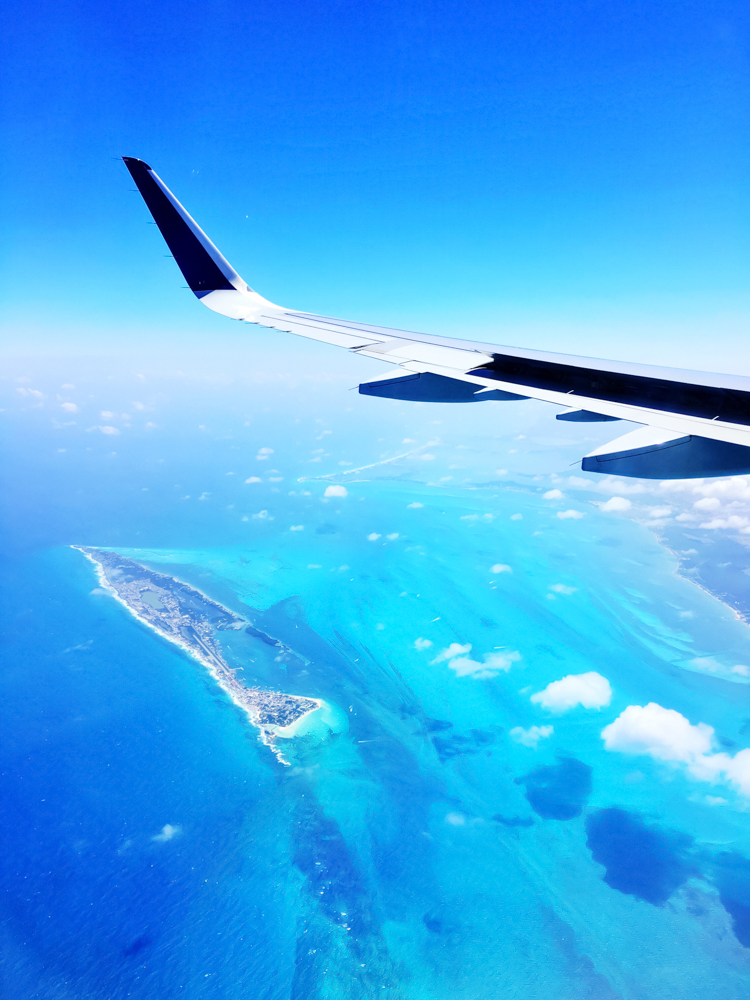 Location
When choosing a hotel, for me, it's all about location and the location of the Papaya Playa Project in Tulum couldn't be more perfect. Situated on a 900m long stretch of pristine Caribbean coastline in between the archaeological ruins and the Sian Ka'an biosphere reserve, everything we needed could be reached either by foot, bicycle or with a short taxi ride. Being on the beachfront was super important to us during our time in Tulum — we wanted to soak up as much beach time as humanly possible — and at the Papaya Playa Project we were only steps away.
An easy 90 minutes south of Cancun, we took a taxi both ways and found it to be significantly cheaper than private transfer options which are very overpriced. I wanted to save those pesos for extra margaritas!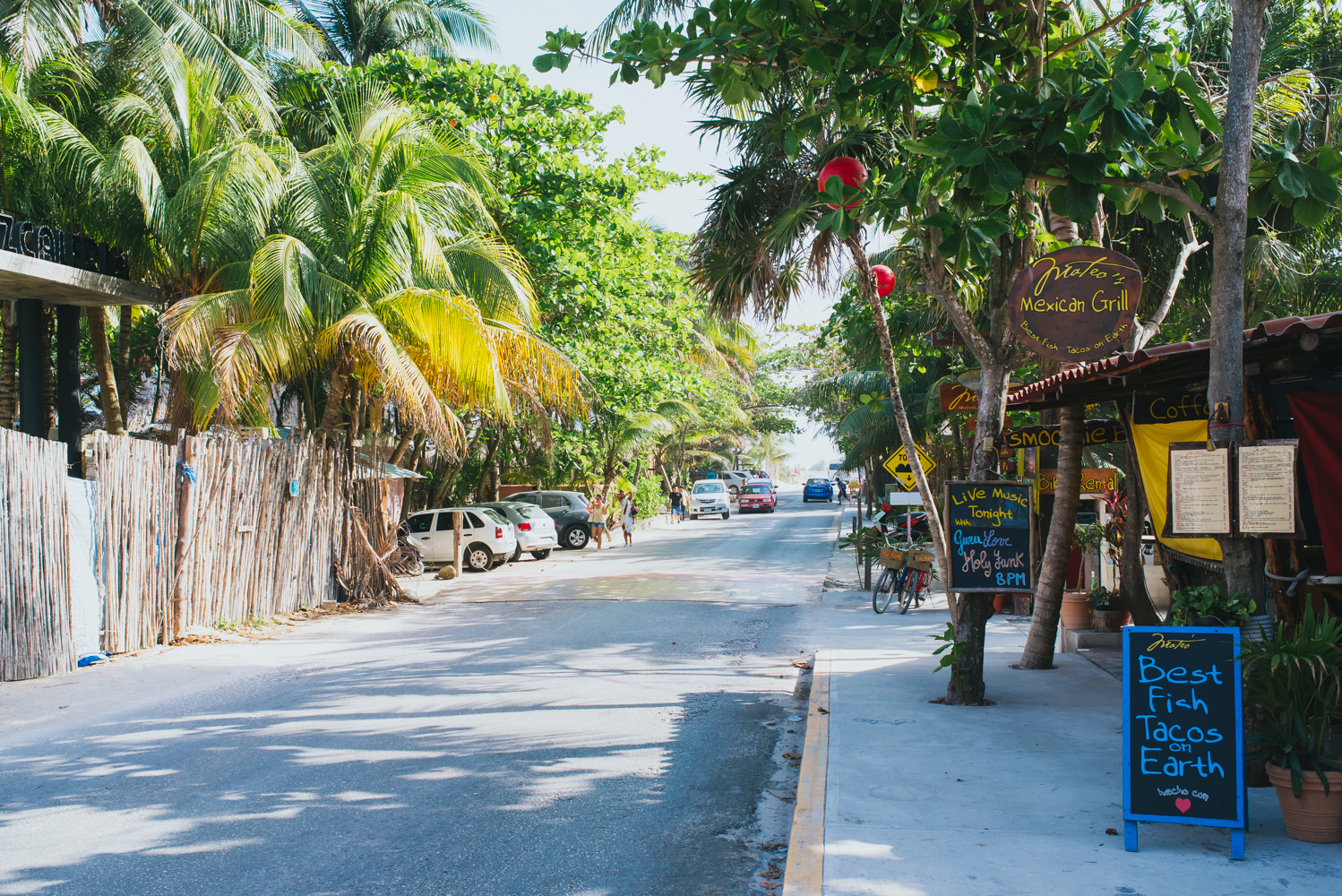 Design concept
What first attracted me to the Papaya Playa Project was how the sustainable property naturally fuses into the surrounding environment. Every building, from the luxurious oceanfront suites to the beach club and restaurant, is ecologically built using only indigenous materials and local construction techniques. Born as a hotel pop-up in 2011, the Design Hotels™ creative team completely refurbished the site to transform into into a luxe, communal playground for young creatives and is now the destination of choice for the international globetrotting crowd.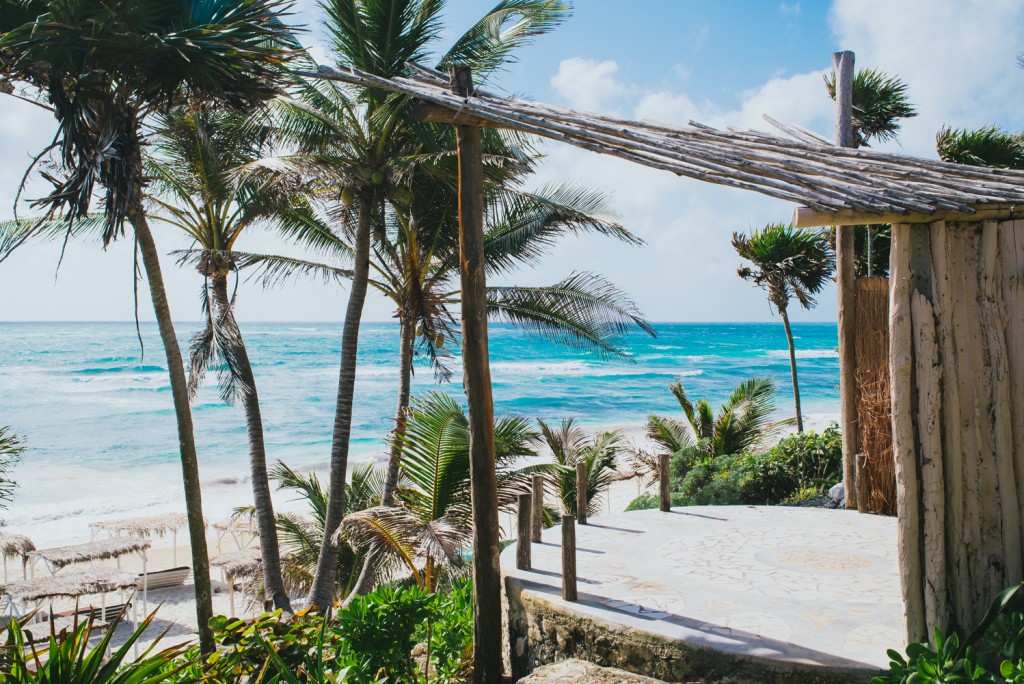 Checking in
As soon as I stepped into the open-air lobby, I immediately felt like I was on holiday. The reception desk stood under a thatched roof, allowing the warm ocean breeze to gently drift through. Check-in was speedy and efficient and key information was explained to us including a warning to avoid drinking the tap water (it comes from unfiltered cenotes), to always wear the provided thread bracelet to identify us as hotel guests, and the recommendation to start a restaurant 'voucher' (or tab) with our credit card. Before we knew it, our bags were loaded onto a trolley and were pushed into the jungle towards our room.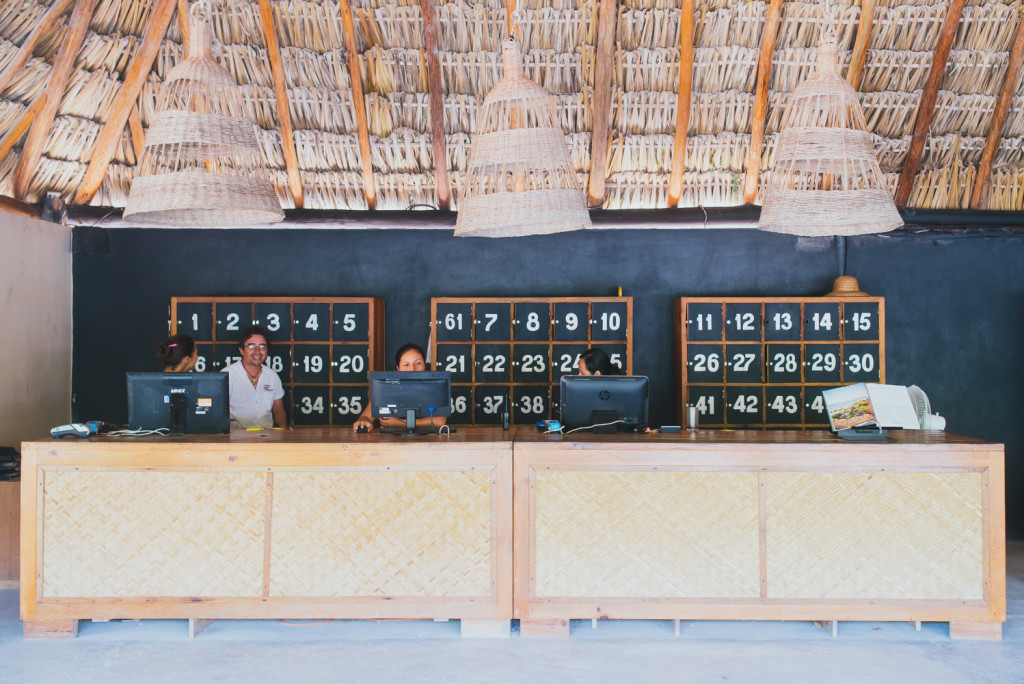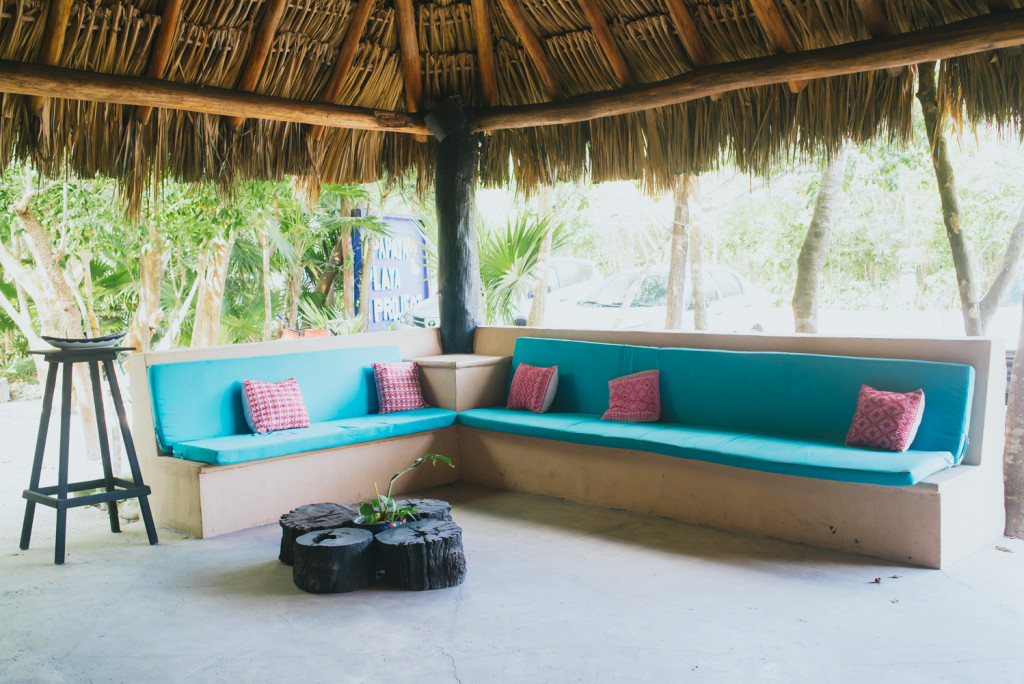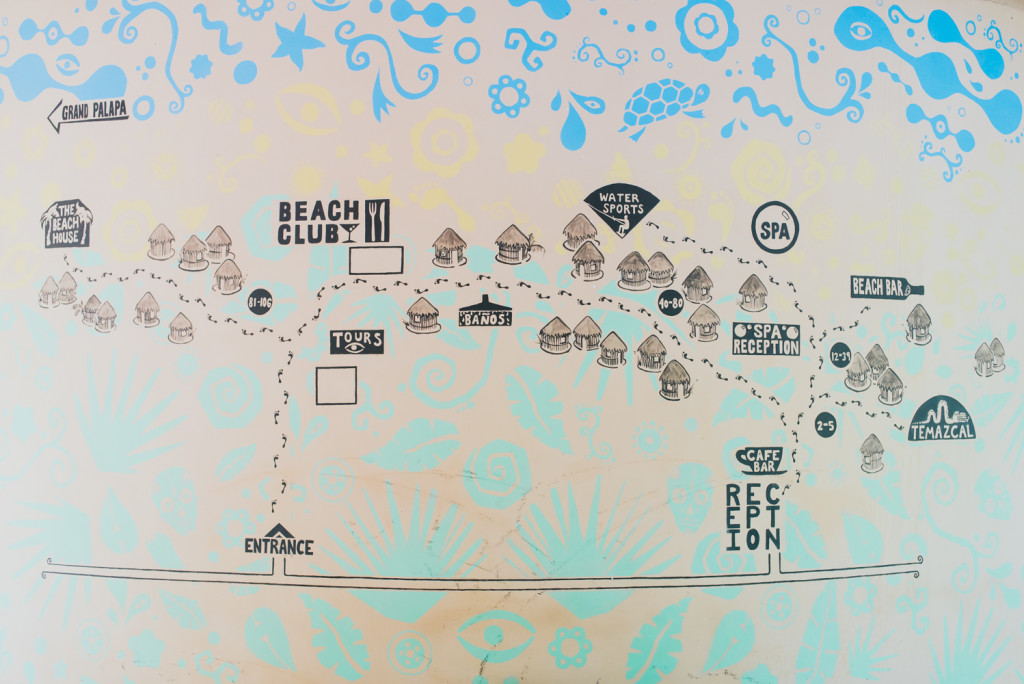 Rooms
What struck me as we journeyed from Reception to our room was just what a huge complex the Papaya Playa Project is. The sprawling estate offers 80 individual cabañas and casitas, with further construction still taking place. We weaved in and out along winding, shaded paths for quite a while before we reached our room, one of the stand-alone, beachfront new casitas. Despite the size of the property, its thoughtful design means that the new casitas still feel secluded, with lush, tropical vegetation separating them from one another. After delivering our bags, our bell boy took time to explain to us how everything in the room operated before leaving us to settle into our beautiful home for the next two nights.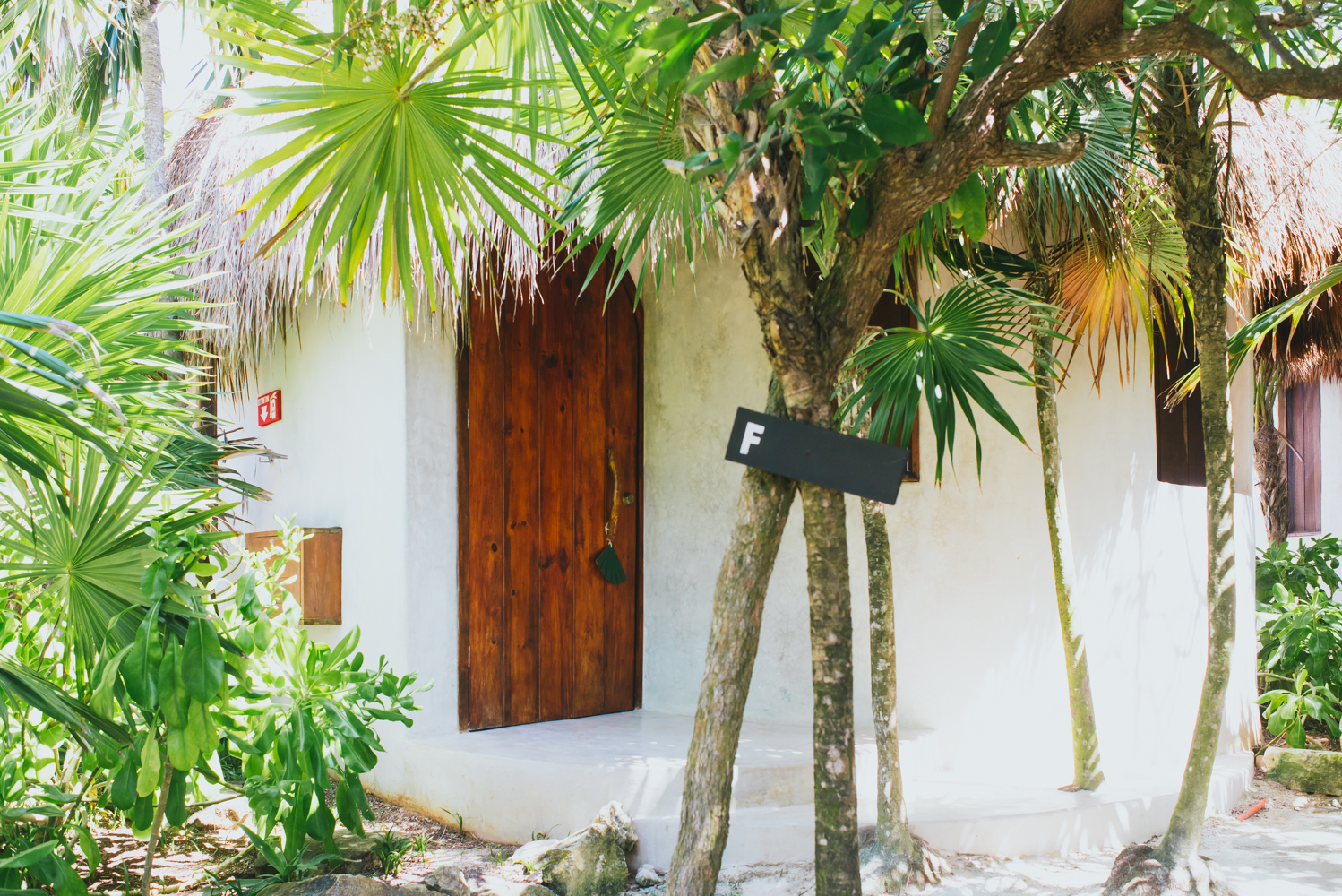 Our newly built casita was spacious, bright and private — everything we wanted for our little beach escape. Constructed from locally-sourced and low-impact materials such as wood, clay and palapa (thatched) roofing, the casitas are built to withstand the tropical, coastal climate and blend in naturally to the surroundings. The interior is styled with natural, fresh textiles and thoughtful simplicity, encouraging us to connect with the environment right on our doorstep. Whilst air conditioning was available in our room, we found we hardly used it, preferring instead to let the ocean breeze keep us cool during the day. There's no Wi-Fi signal in the rooms, which to be honest, I didn't mind one bit. It was wonderfully freeing to be able to disconnect, if only temporarily, and only check-in with the world at the beach club or reception where the signal was available.
The giant king size bed was comfortable and wide and we drifted off to sleep every night against the chorus of crashing waves only metres away. A mosquito net would have made a welcome addition in the evenings though, given the healthy mozzie population in these parts!
I loved the open bathroom behind the main living area with views out to our private patio and the ocean. The rain shower was roomy and luxurious and there was loads of space on the vanity for all my bits and pieces, which I loved. The towels were soft and the all-natural bath products smelt heavenly.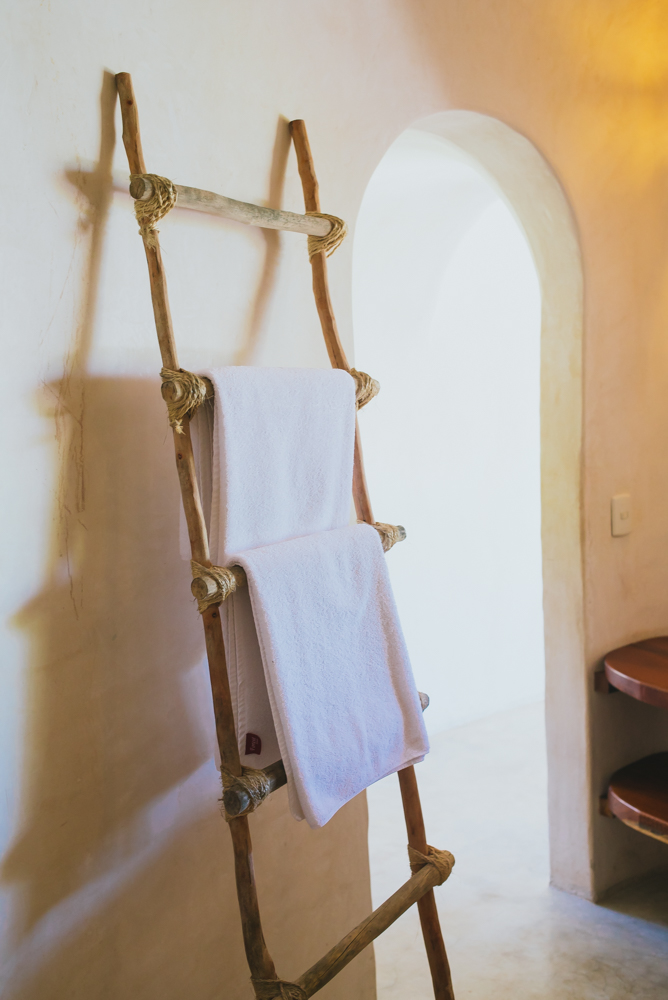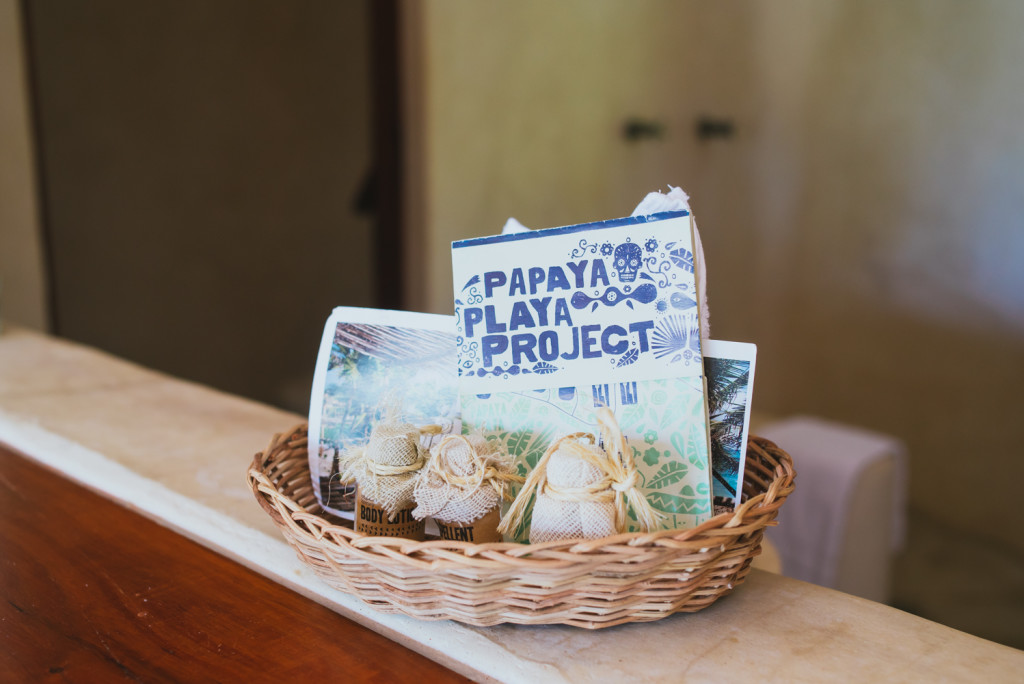 But let's talk for a minute about the best thing about this room: that view. Reclining in one of those deck chairs, overlooking the palms and into that sparkling, turquoise sea just ahead, had me envisioning throwing everything away to become a beachy bohemian where shoes don't exist and the rhythm of the days is tied only to the weather and sea. I could have been totally happy to remain there for my entire stay, if the beach palapas, open-air beach club and spa wasn't luring me to explore beyond my front door.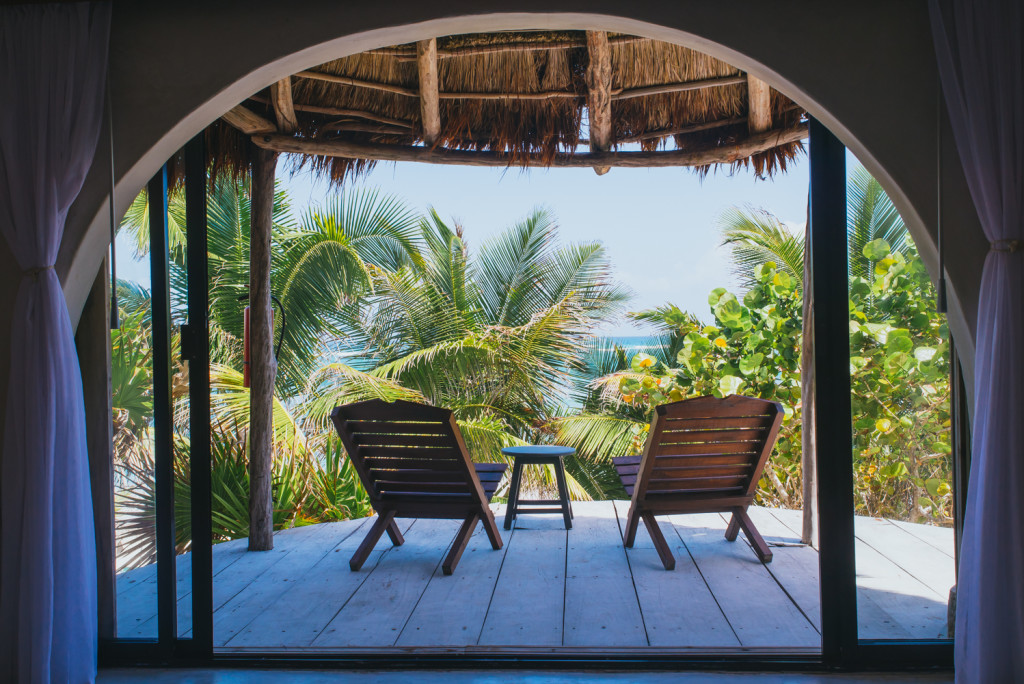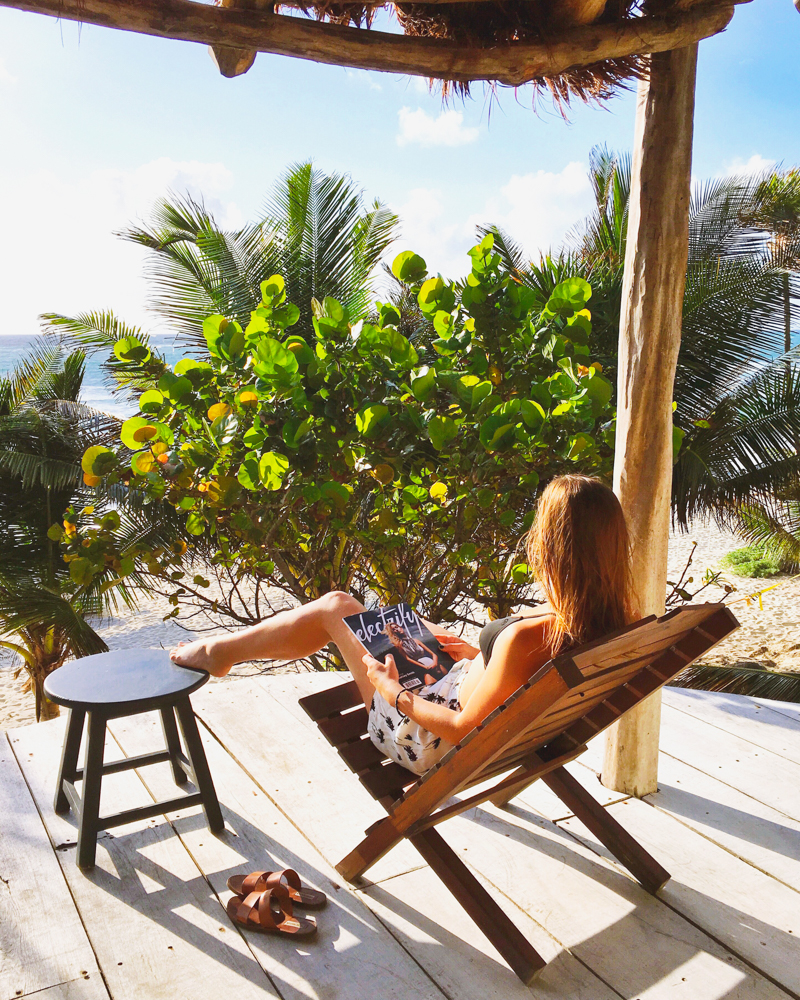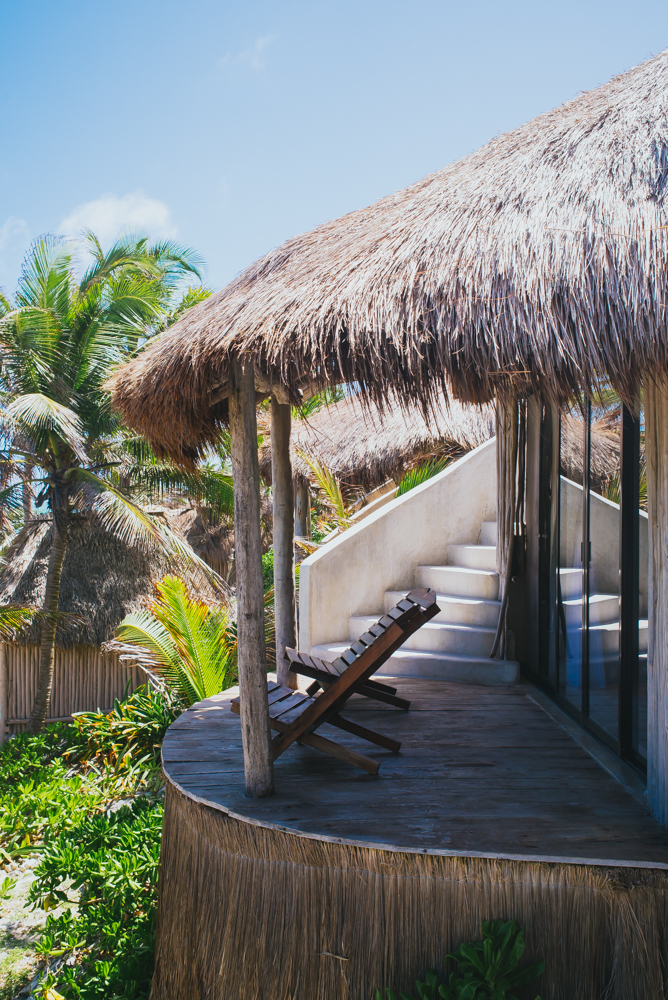 If one terrace wasn't quite enough, an exterior staircase led to an additional private roof deck from which we had even more spectacular views out into the Caribbean Sea. You can be sure that we were up here every morning at the crack of dawn to watch the sunrise over the ocean. Sleeping in is near impossible here. The days are too bright and beautiful to spend a dark morning indoors.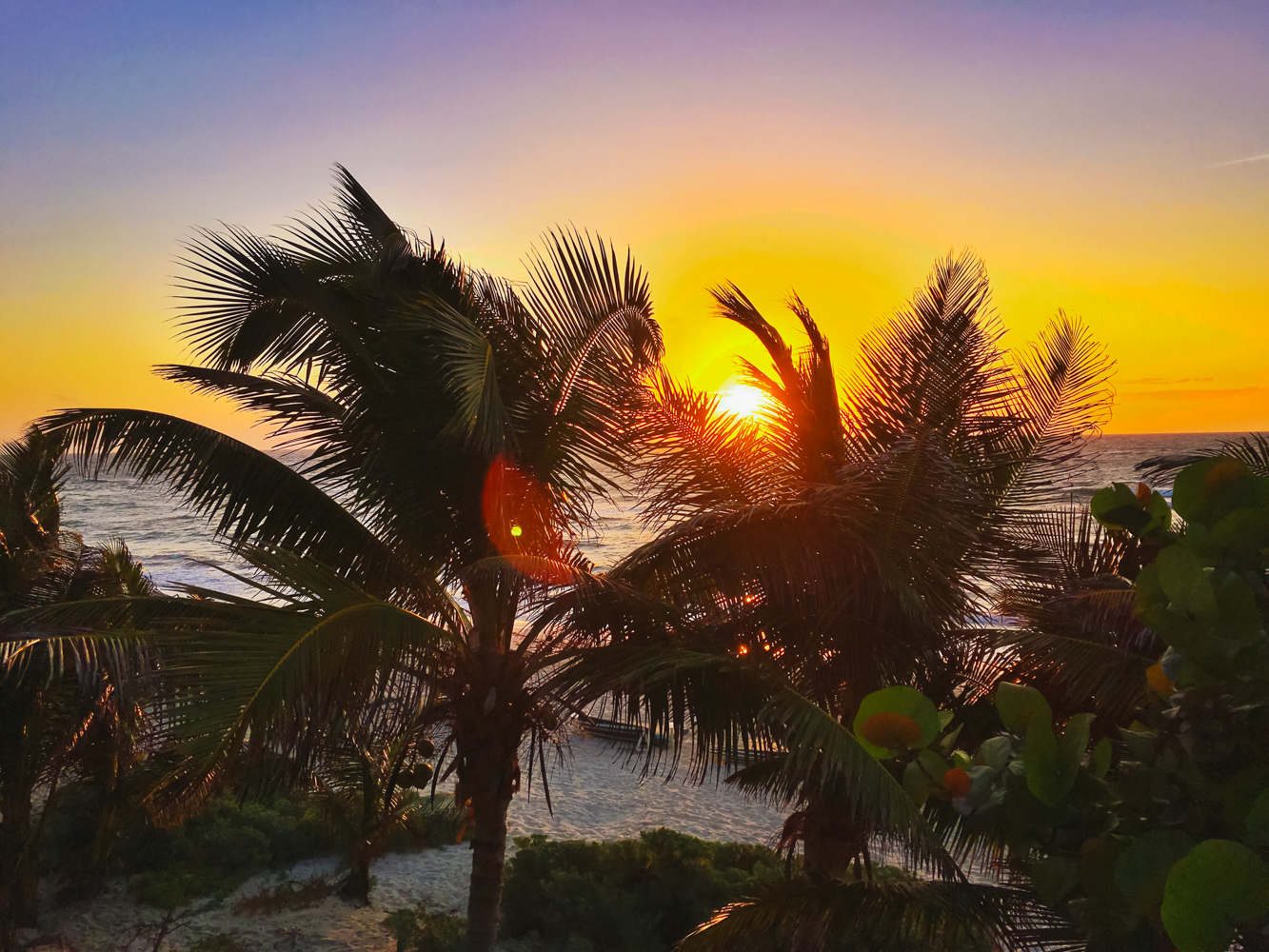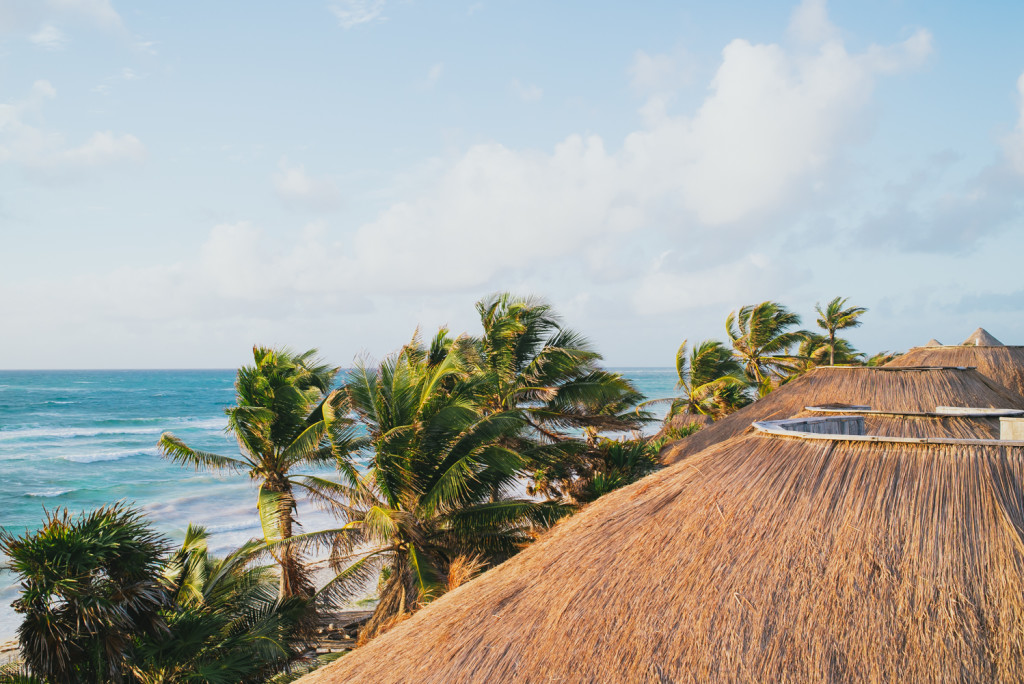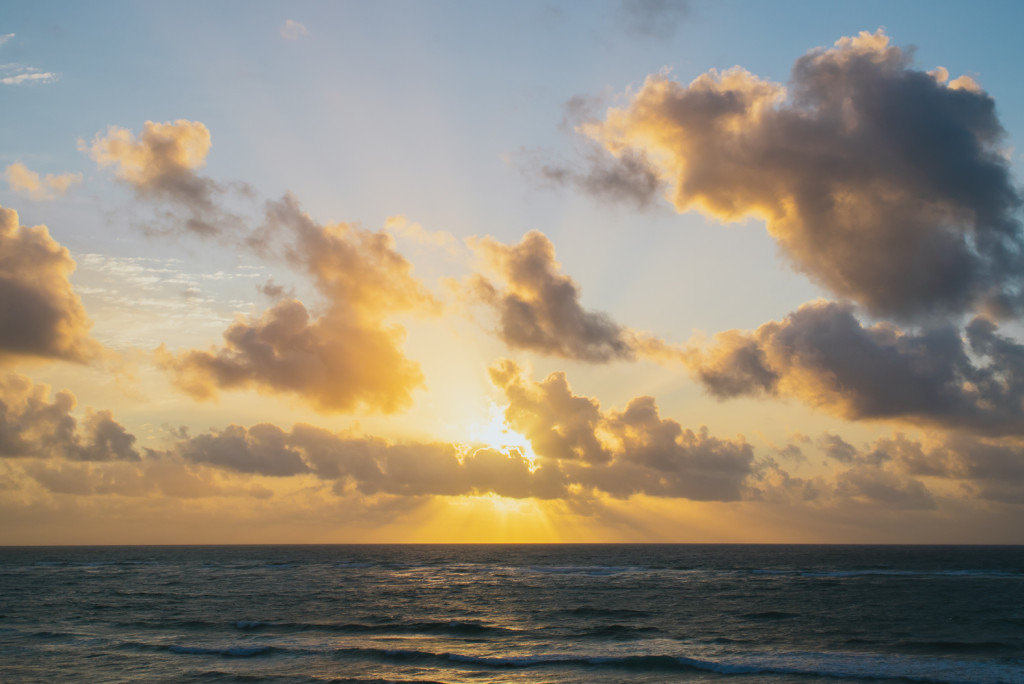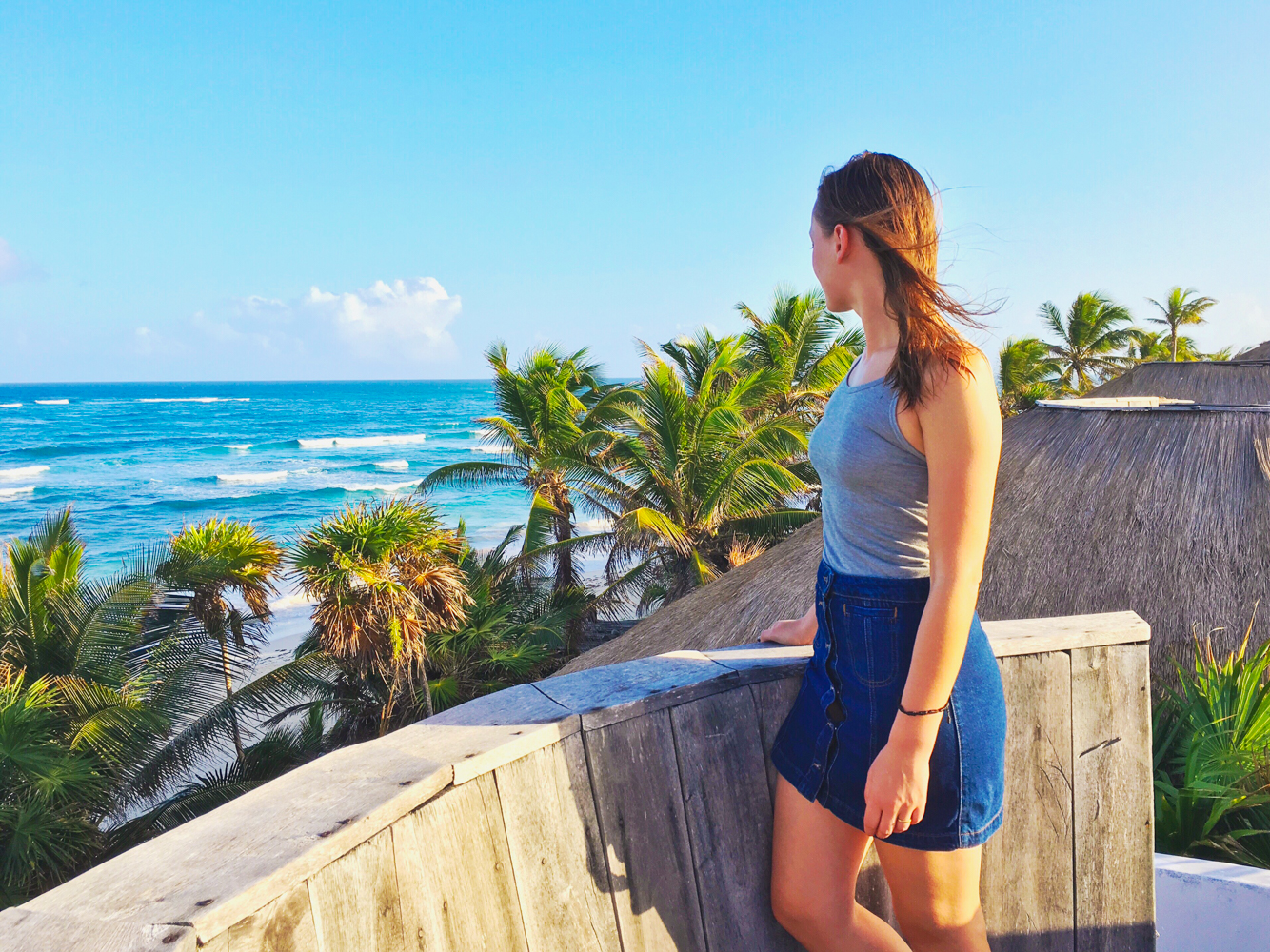 The other thing that I particularly loved about the new casitas is that you have your very own exclusive beach palapa that is reserved solely for your use. I loved not having to feel like I had to fight for a spot on the beach! We wandered down to the beach, only steps away from our room, any time we liked with our books, and settled into our palapa shaded by palm fronds for the afternoon. And the best thing about all of this? There's beachside service meaning that you can have cocktails or food delivered directly to your palapa all day long — my very definition of heaven!

Dining
The buzzing beach club and restaurant serves up delicious fare in a hip setting. There are seating options aplenty, from the semi-ampitheatre's seating enclave, to the overhanging double-story beach bar, there's no shortage of dining (or drinking) options.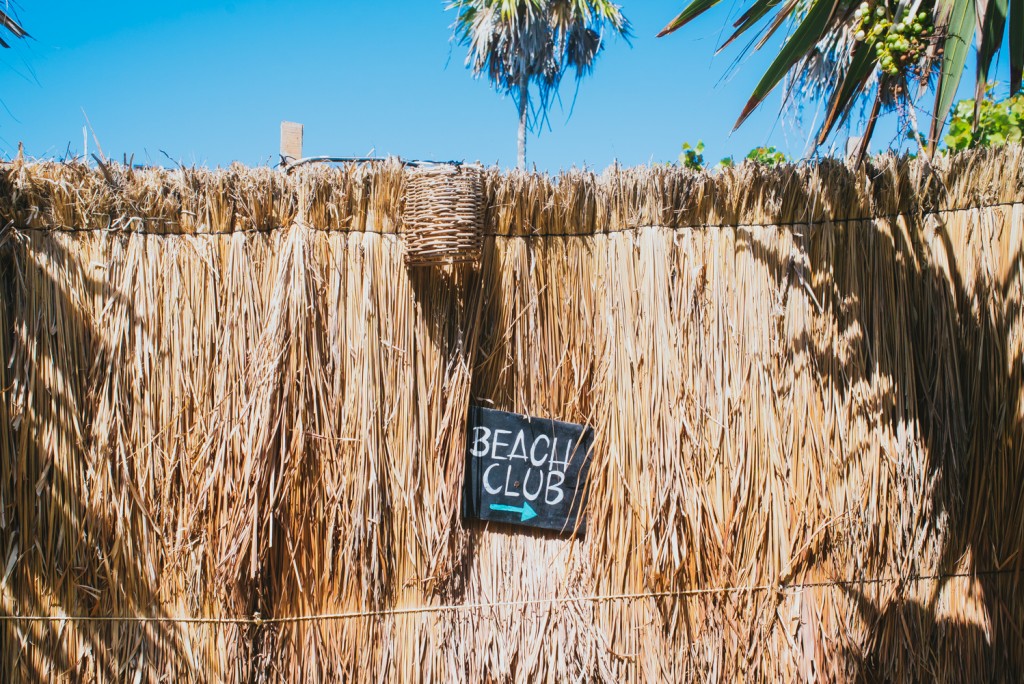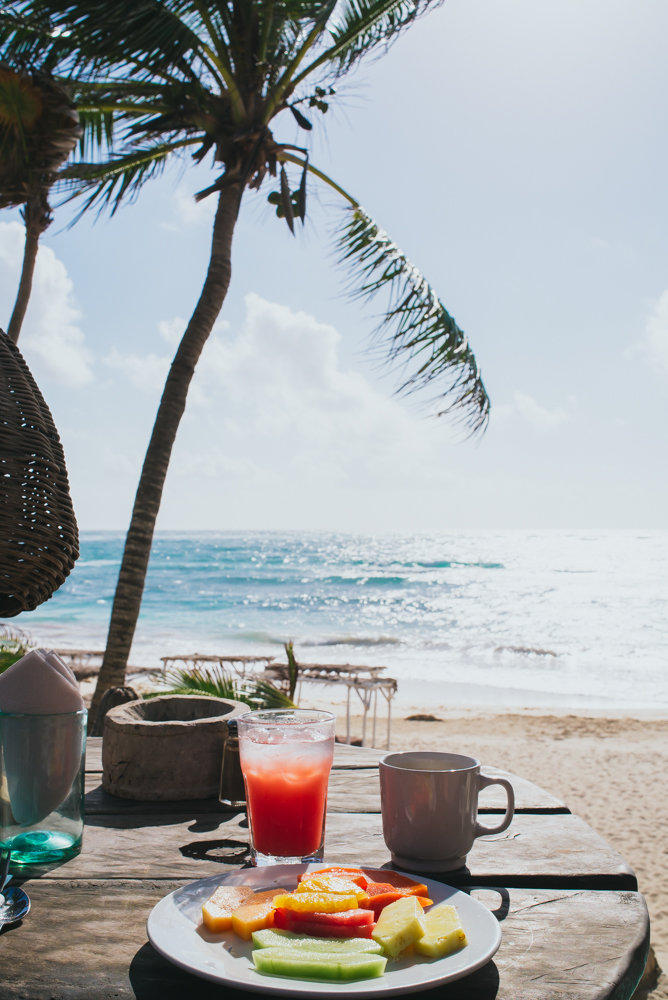 The menu is largely influenced by Mayan and Mexican traditions with a little experimentation. I loved the Baja fish tacos and either a green juice or cheeky lunchtime piña colada! Remember to leave your credit card with reception and begin a 'voucher' credit, otherwise you'll always need to settle the bill in cash after your meal.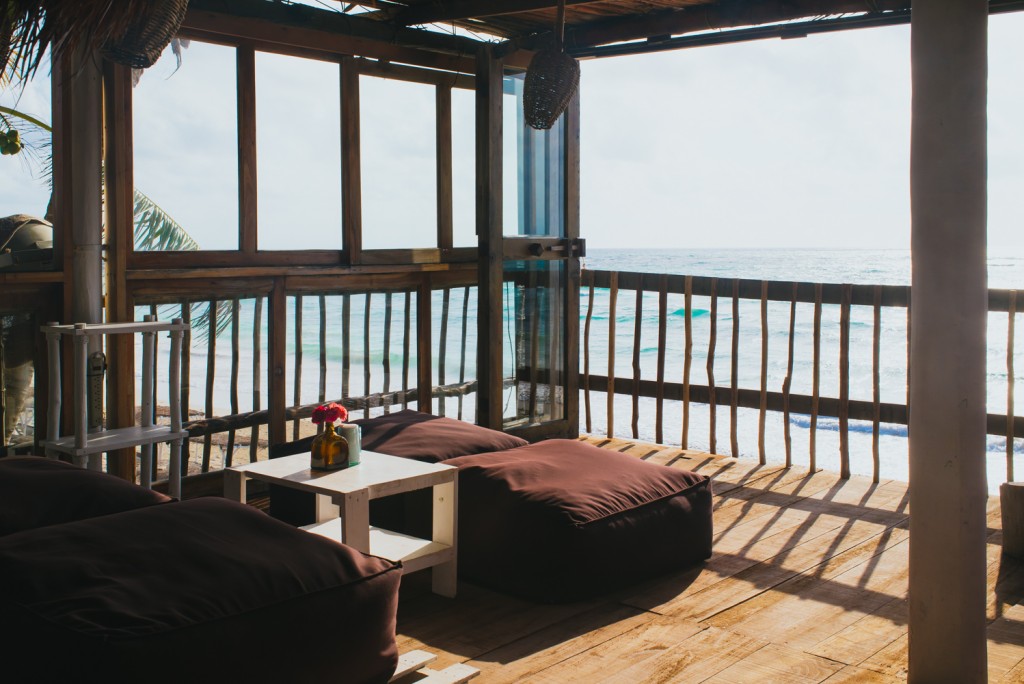 The Papaya Playa Project is known for its beach club parties where international DJs set up shop every Saturday night and pump out the beats until 3am. It is especially known for its monthly Full Moon Parties, attracting a young, energetic and party-loving clientele. If you're not into this scene, I recommend booking a room further away from the Beach Club. Since I visited midweek, there were no parties scheduled during my visit — and I was more than okay with quiet nights that simply involved tacos, margaritas and my favourite person.
Other facilities and services
The Papaya Playa Project offers a range of services and activities to keep guests occupied, just in case all that relaxation starts to lose its appeal after a few days.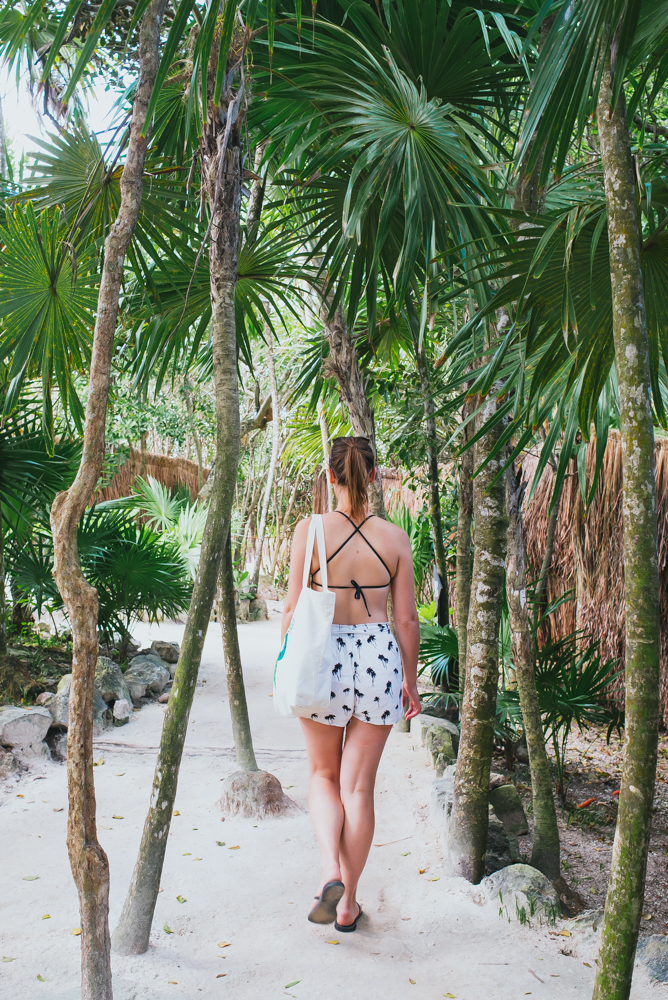 The beach
It can't be denied that the azure Caribbean Sea is the star attraction of the hotel. You don't come to a place as beautiful as Tulum and want to hide away from the beach. The entire hotel is constructed with the vision that the beach is, indeed, the centrepoint. We tended to go exploring in the mornings, either to Coba and the cenotes or the nearby Tulum ruins and then, returning a sweaty mess, would bliss out over Caribbean-side cocktails all afternoon long.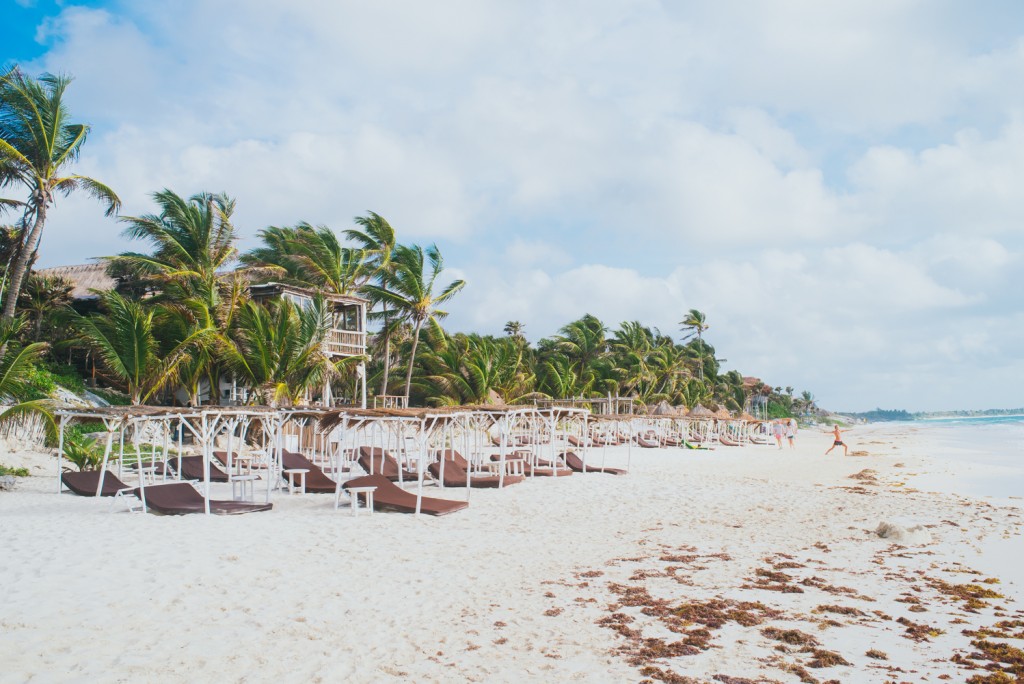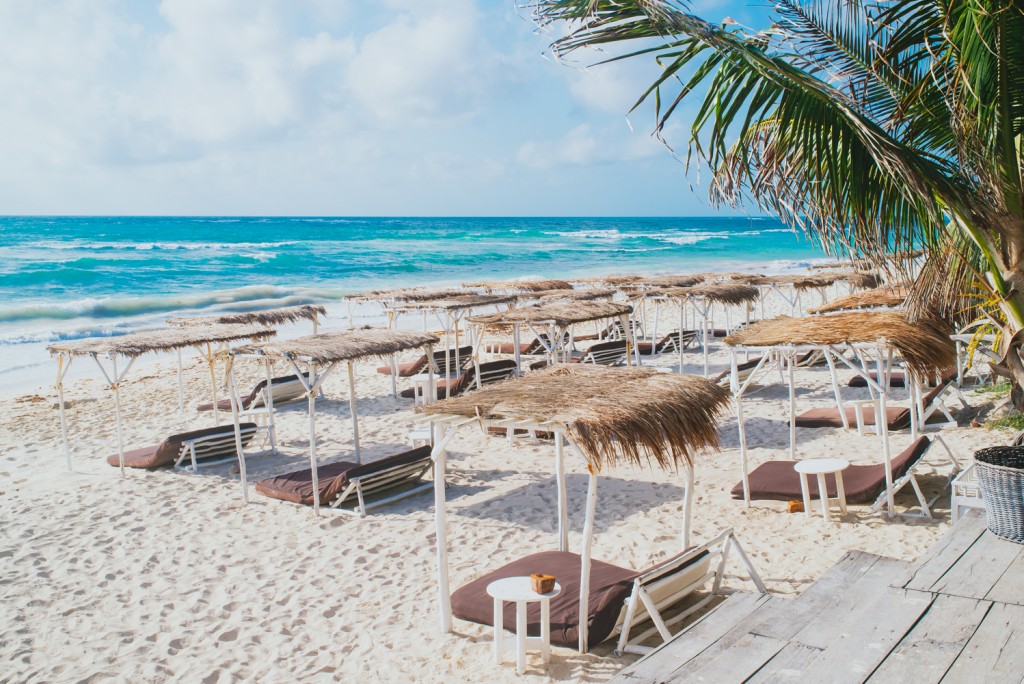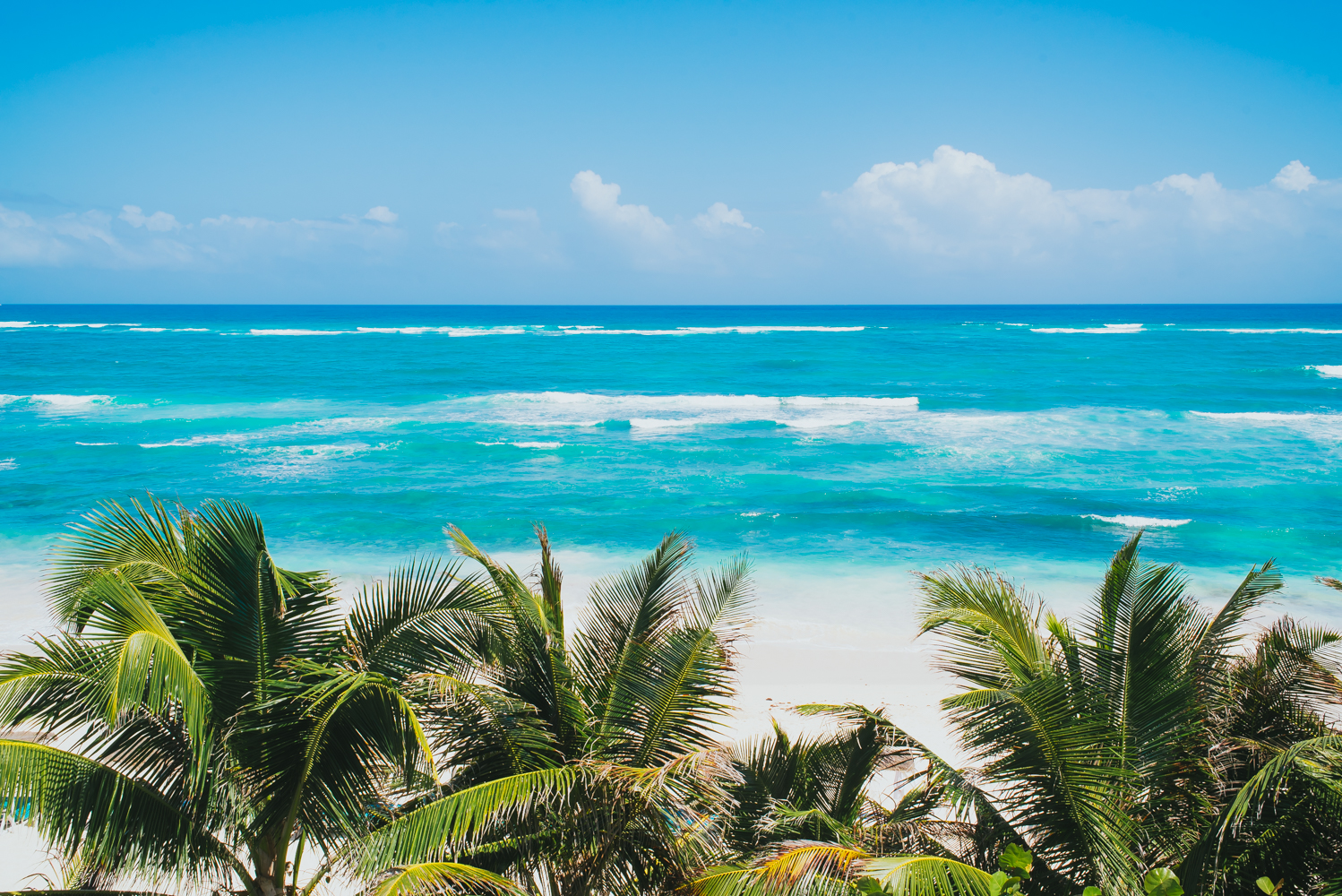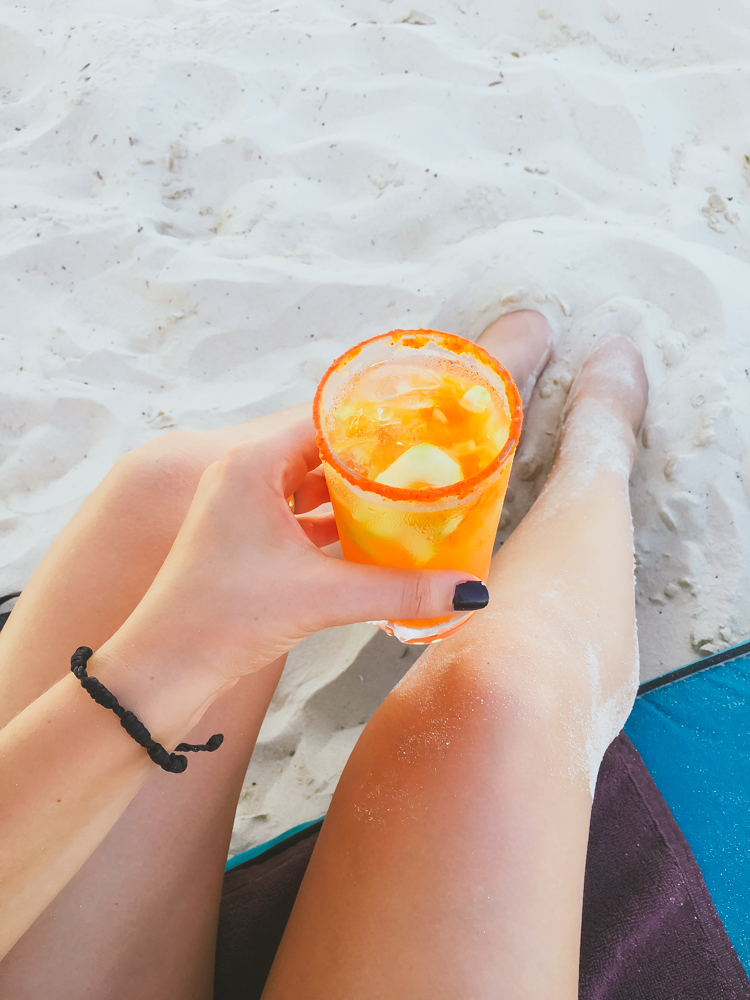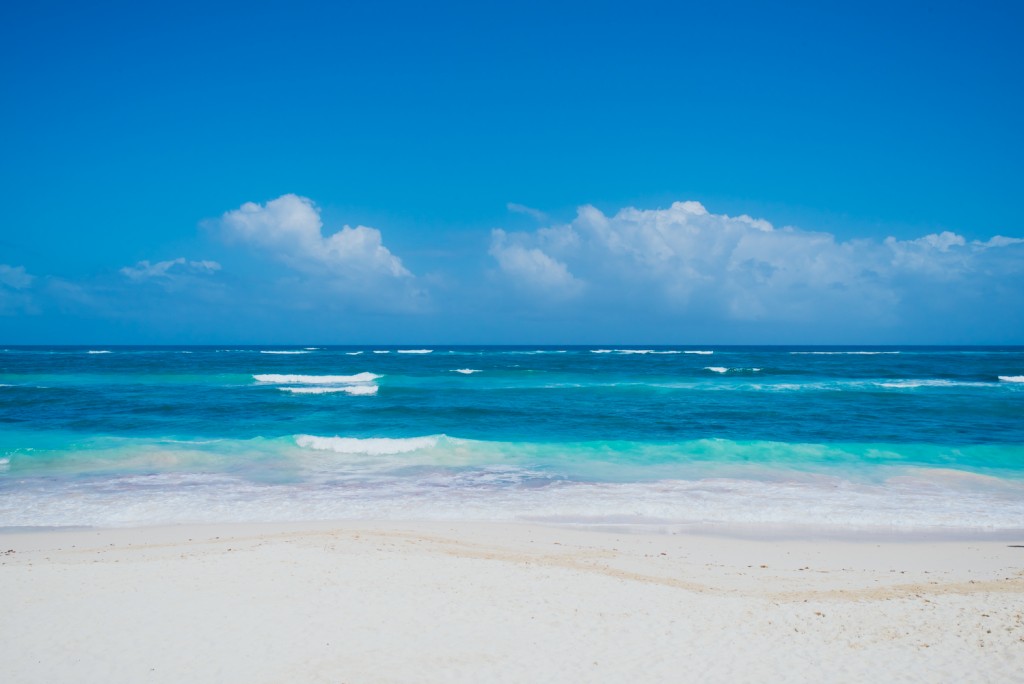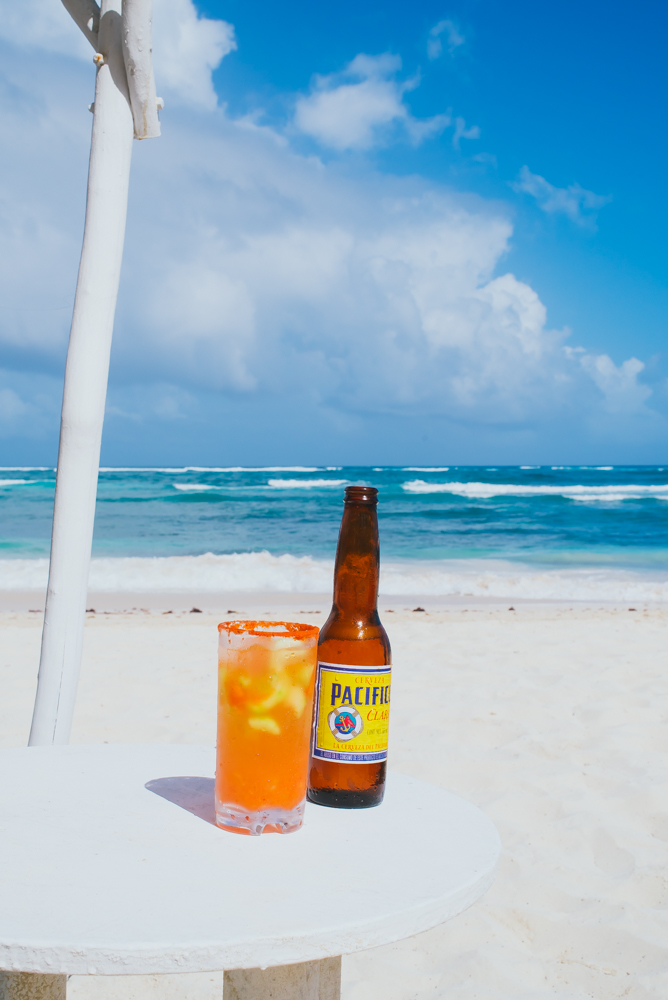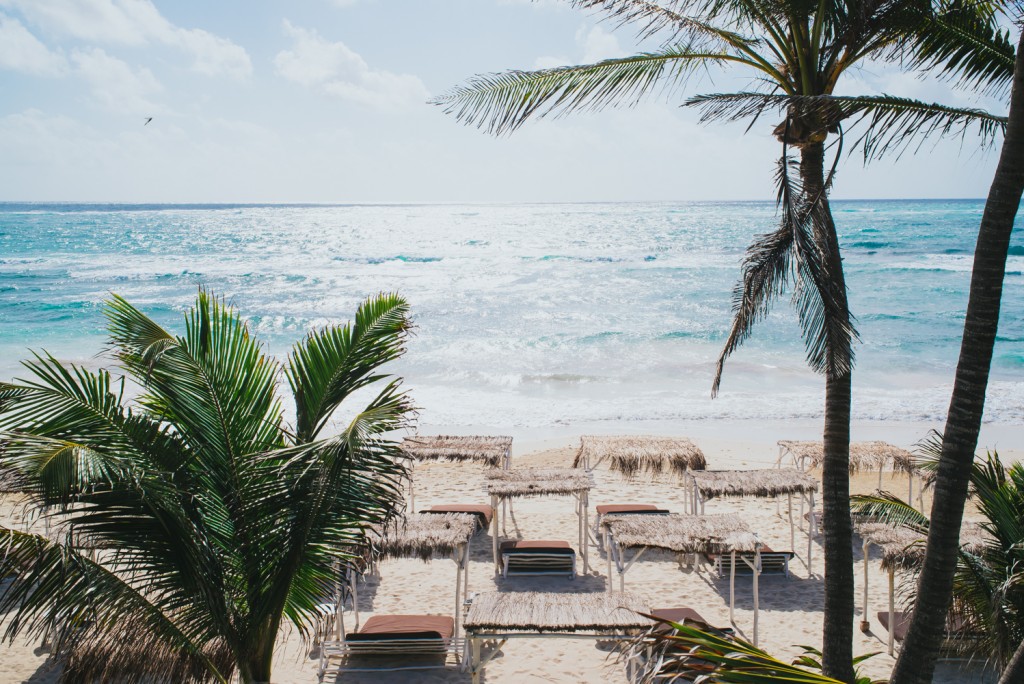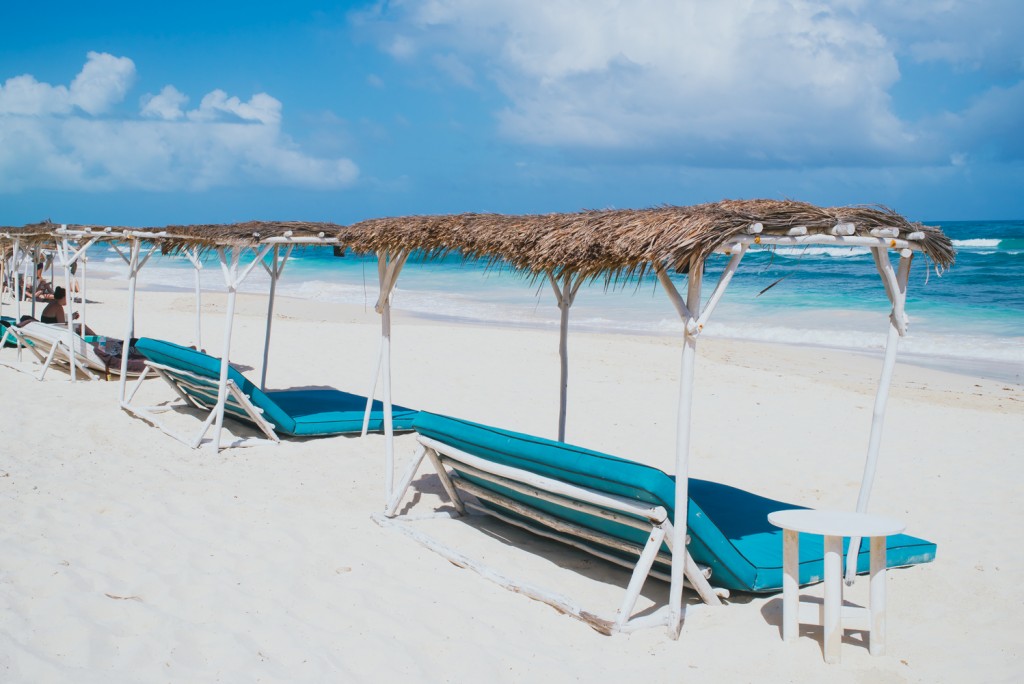 Spa
The hotel's Sensorial Spa offers a range of traditional Mayan treatments, thereby offering a truly unique relaxation experience. You can choose to have your treatment either indoors or on an outdoor pavilion with a stunning view over the beach (it never gets old). There's also a Temazcal (traditional Mayan sweat lodge) on site and you can even book a cleansing ritual with a Shaman.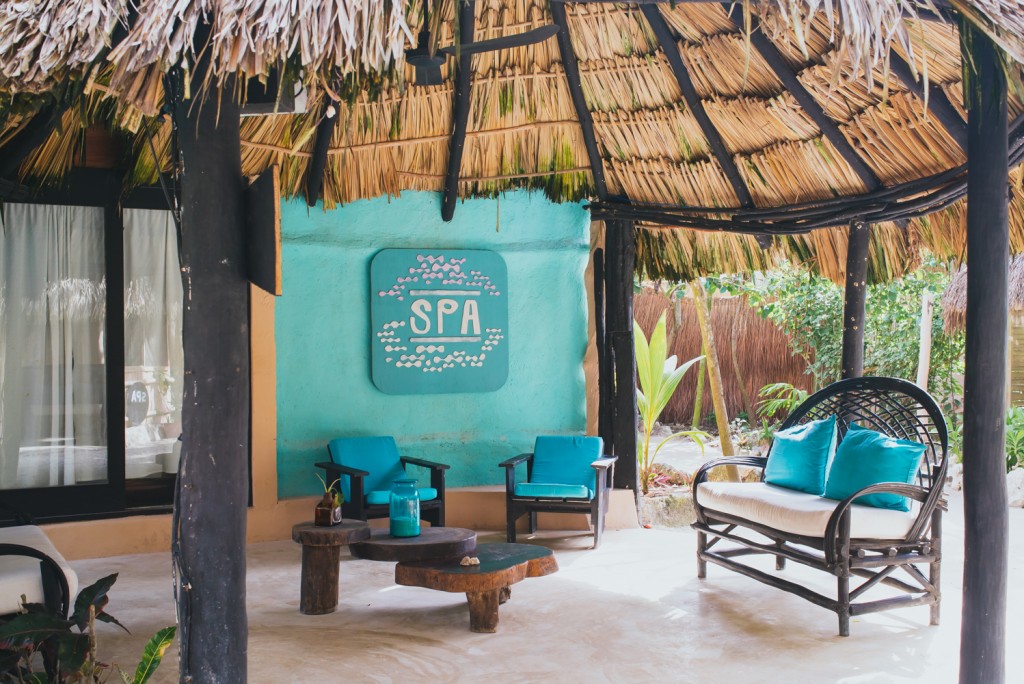 Little pockets of relaxation
If the ocean currents are too strong, you'll find little swimming pools dotted around the grounds like this one to keep you relaxed. There are also plenty of hammocks to go around too.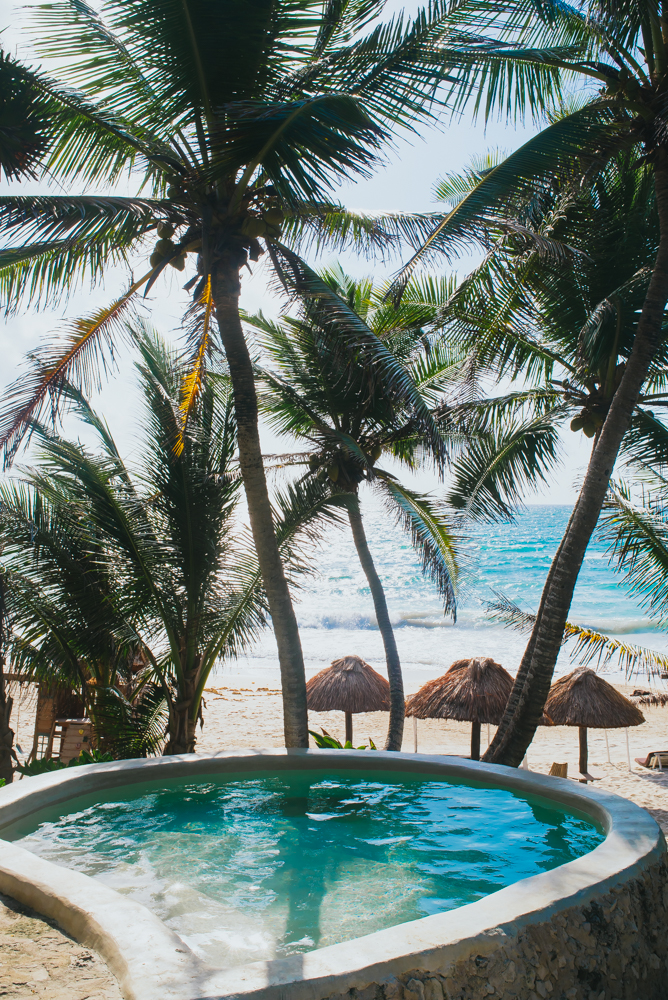 Activities
If all that relaxation is getting a bit much, the tour centre adjoining reception arranges a variety of popular day trips from excursions to Mayan ruins such as Chichen Itza and Coba to water based activities such as diving and snorkelling in the nearby cenotes and the pristine Sian Ka'an biosphere. While we didn't take an organised tour, we did hire a couple of bikes from the tour centre to go exploring with.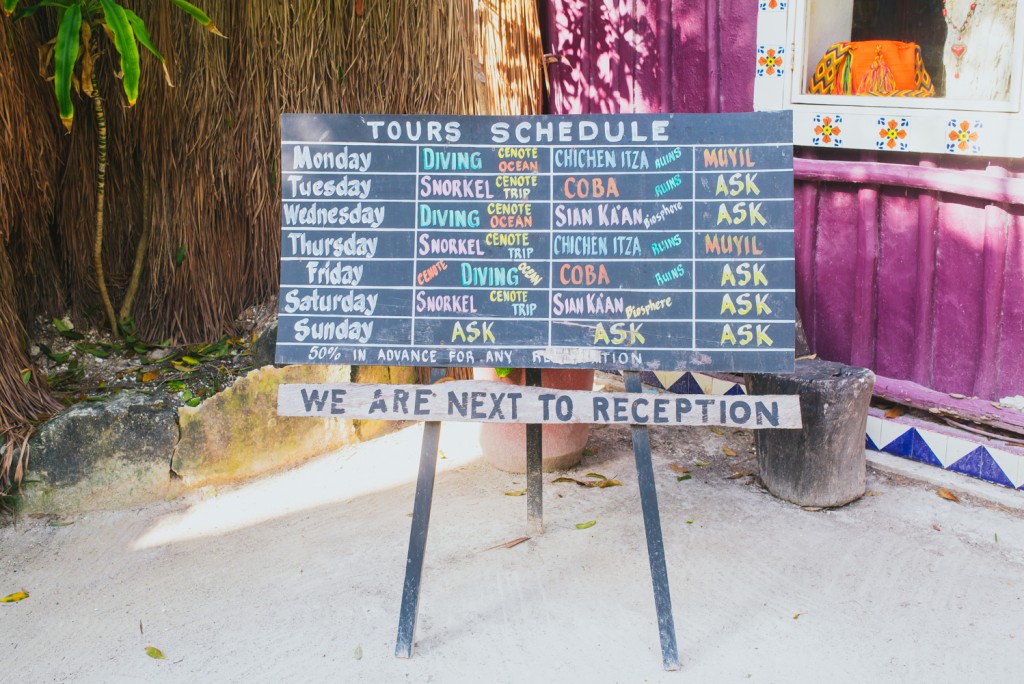 There's also a Kite Surf School on site that can organise lessons as well as paddle yoga, kayaking and paddle boarding — plenty to keep you busy! Complimentary yoga classes are also offered to guests every morning at 8am.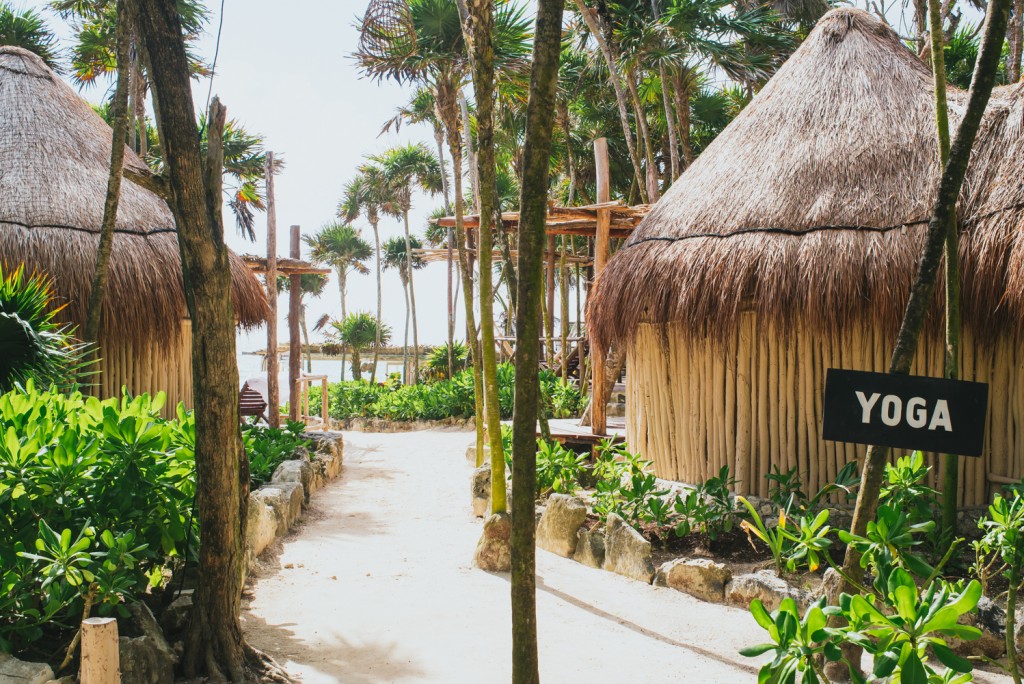 Book this hotel if…
If you're someone who is ecologically minded but who appreciates quality design, the Papaya Playa Project won't disappoint. Despite the hotel's reputation for its party atmosphere, my midweek stay had me feeling nothing but totally relaxed. My room was luxurious and spacious and it's prime beachfront location was absolutely divine. I loved this room class' air of exclusivity and it was definitely too easy to get used to that private beach palapa (not to mention the beachside service)! While seclusion and intimacy is prioritised, there was always the option to be social in the vibrant atmosphere of the beach club and restaurant, which I liked. If you're not into the party scene so much, I'd recommend planning a midweek stay and avoiding the full moon events, but if you're a party animal, why not plan your trip around these dates instead! The staff were helpful and did their best to meet the needs of all guests. I'm already itching to come back to the Papaya Playa Project and check out some of their other accommodation options, like their private ocean beach houses. I can only dream!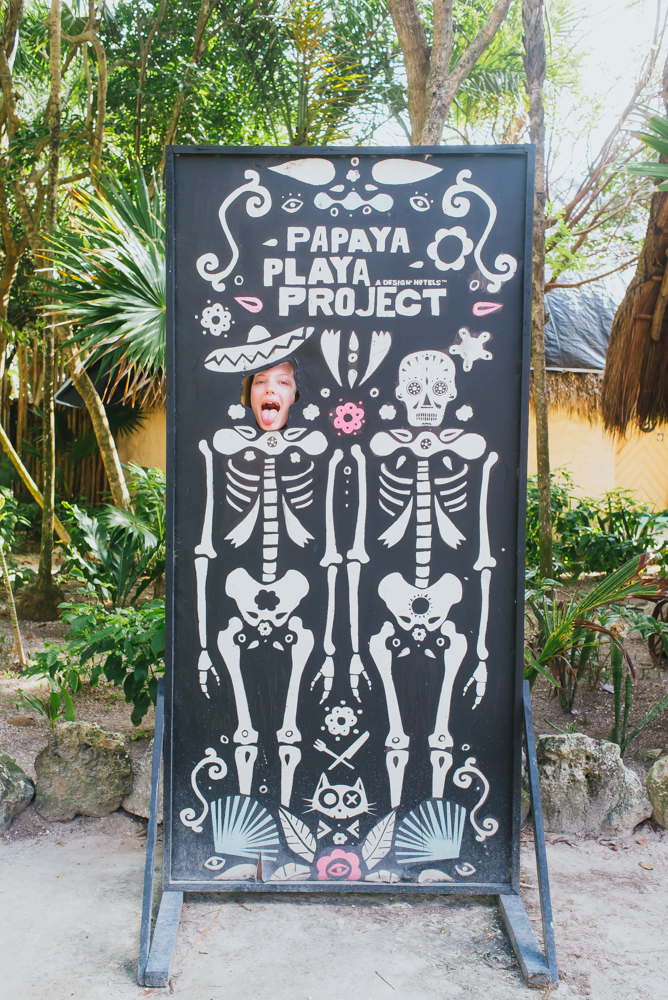 Rooms can be booked through the Design Hotels™ website.
---
Disclosure: I was welcomed at the Papaya Playa Project as a guest of Design Hotels, but as always, this review is an honest reflection of my experience. This post contains some affiliate links that earn me a small commission at no extra cost to you. Thank you for support!