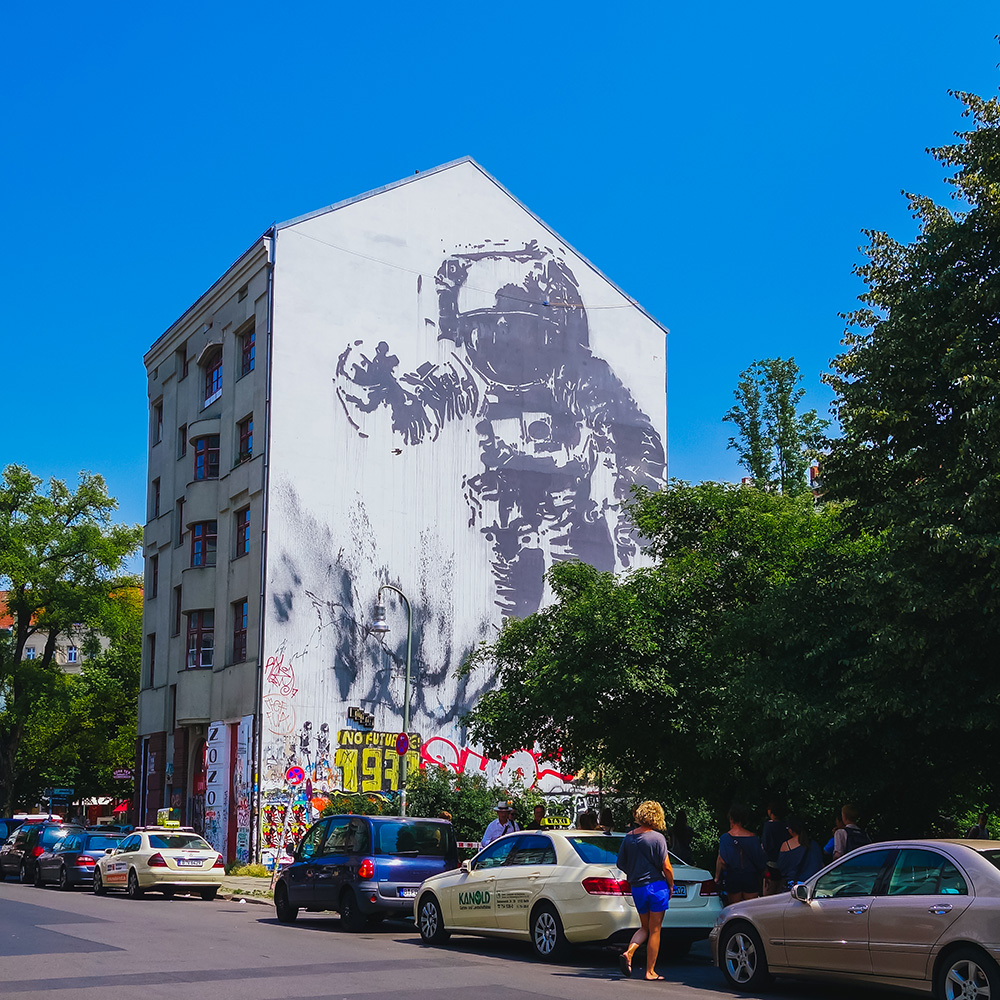 Known for its creativity, culture and freedom of expression, Berlin has long been a global street art capital, up there with the likes of Philadelphia and São Paulo. Some of Europe's biggest names in street art have used all corners of the city as their canvas, telling a unique story with their pieces. You can't come to Berlin and not see some of the city's most iconic pieces so here's The Department of Wandering guide to where you should go to find them.
Where to find Berlin's best street art
In a nutshell? Kreuzberg. While great street art can be found all over the city, if you're looking to see some of Berlin's most iconic works all within a close distance of one another, the neighbourhood of Kreuzberg is where you should head. All of the pieces below are clustered around the U-Bahn stations of Görlitzer Park and Schlesisches Tor.
'Astronaut / Cosmonaut', Victor Ash
The artist's most famous work, it's difficult to miss Victor Ash's Astronaut / Cosmonaut piece on the side of a multi-story building. Commissioned by the city, this 22m-high piece is thought to be one of the largest stencils in the world. This piece is so highly regarded, it has been re-printed on t-shirts and posters. For great views, catch the U-Bahn between Kotbusser Tor and Görlitzer Park and see it from above. This is one you should definitely not miss — it's size makes it quite hard to, anyway!
LOCATION: Mariannenstraße, Kreuzberg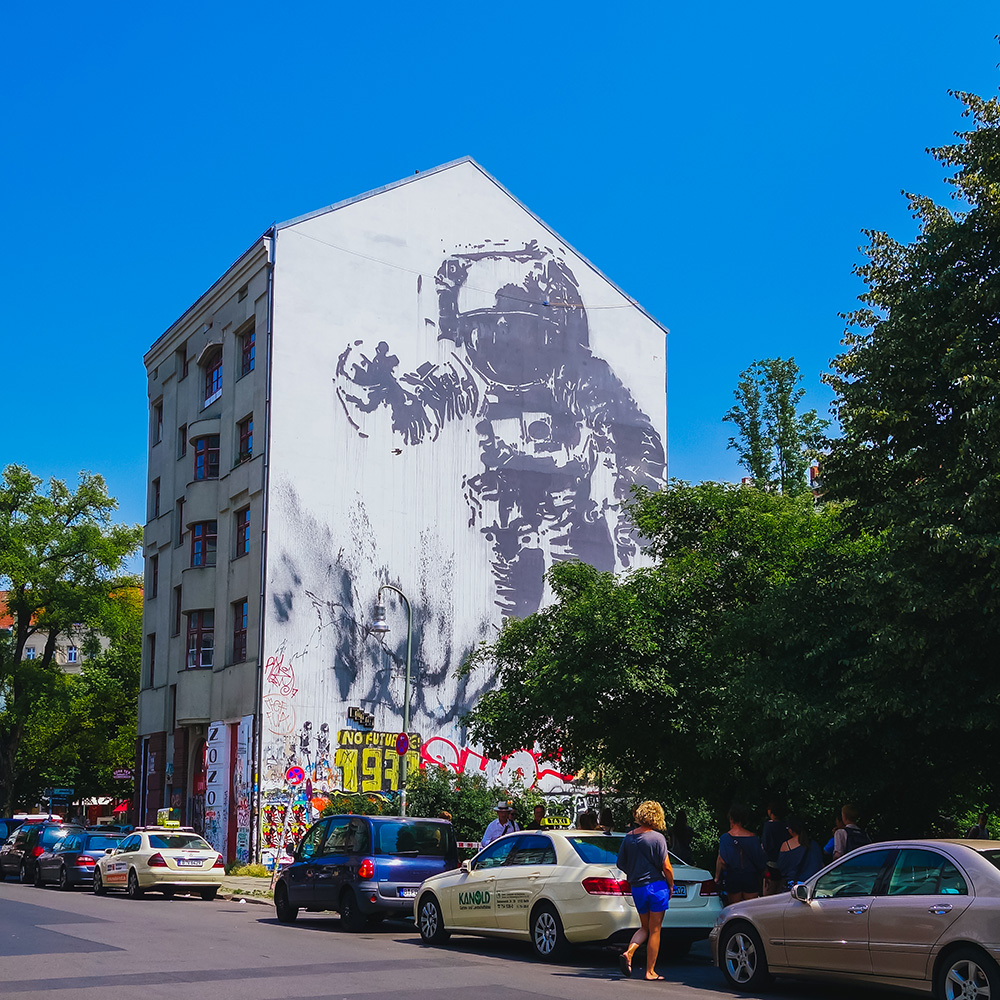 'The Pink Man', BLU
Italian artist, BLU, has made his mark on Berlin in more ways than one. A number of his works are featured across the city, with 'The Pink Man' being one of the most famous. The enormous pink creature at the centre of this piece is made up of many, small humans fighting one another to make a single entity. The monster is about to consume a lone, white figure, the one individual who is different from the rest. This piece has an important political message, like most of BLU's art. Many have interpreted the message behind the piece as a representation of the evil engine of society that rewards conformity and punishes individuality and difference, reminiscent of the Nazi regime of control.
LOCATION: Oberbaum Bridge, Kreuzberg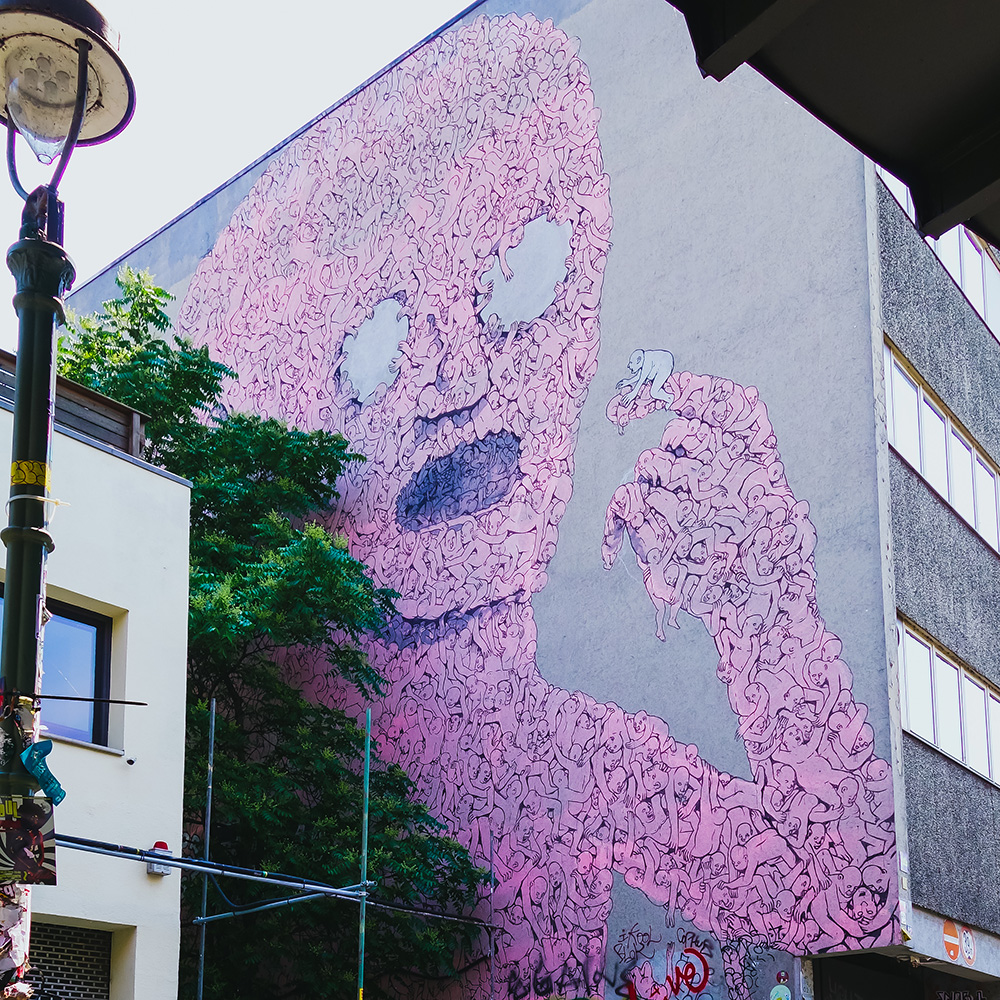 'Hanging Animals', Roa
Belgian-born artist, Roa, is famous for his street art depicting local animals native to the region. Dealing with the themes of death and decay, Roa's large-scale murals depict the fate of the animals as a result of urban development. Impressively detailed and created with spray cans in monotones, Roa's works make a lasting impression.
LOCATION: Oranienstraße, Kreuzberg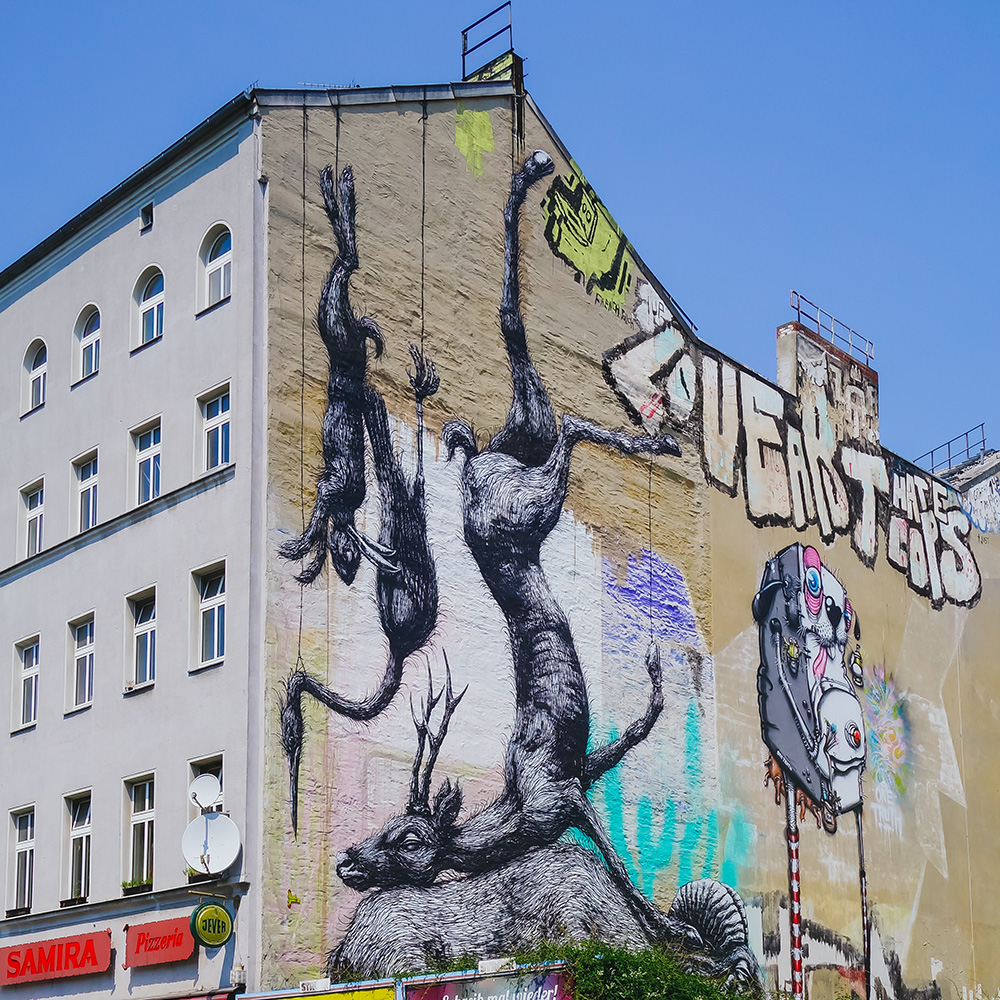 'Yellow Man', Os Gêmeos
These Brazilian twins have made quite an impact on the street art scene in Berlin. Their signature cartoon-like murals depict unusually-proportioned and strangely dressed characters with yellow skin.
LOCATION: Oppelner Straße, Kreuzberg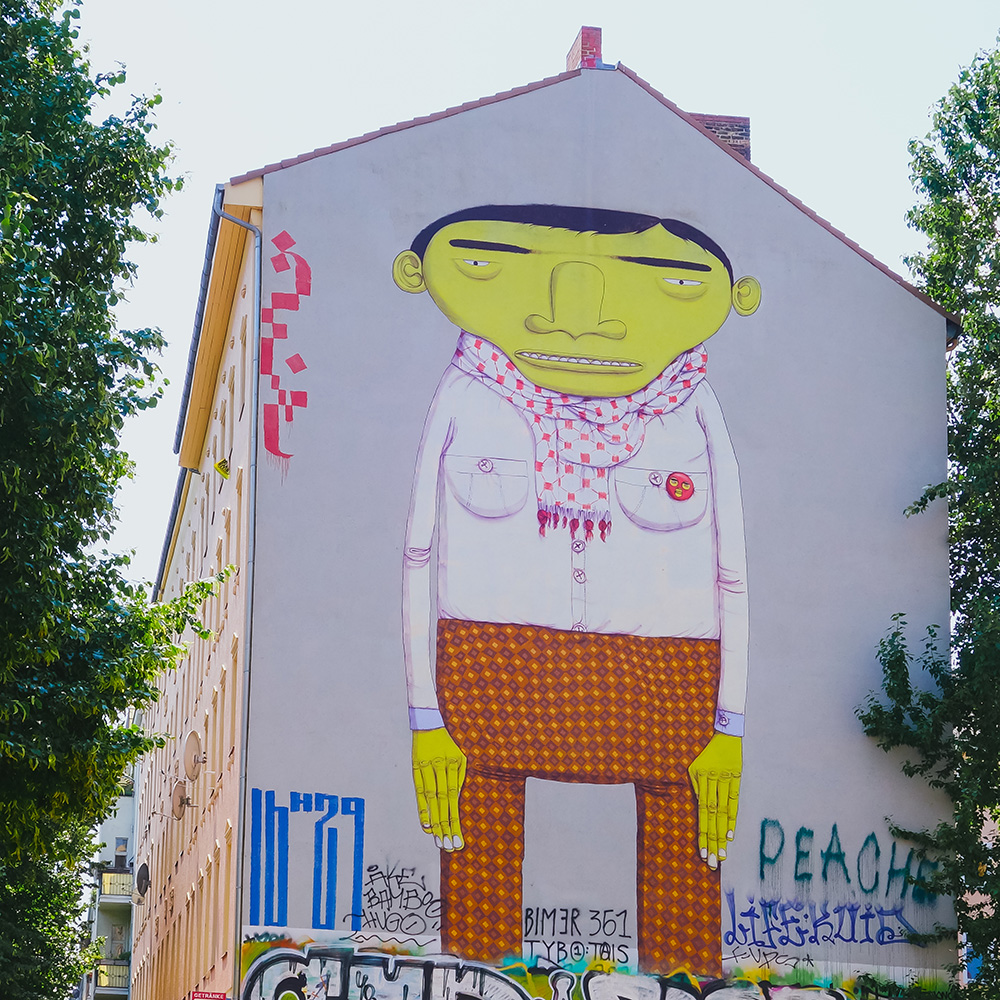 'Businessman in Chains', BLU
This piece by BLU, painted eight years ago, was the undisputed Berlin street art icon until it was recently painted over by the artist himself. The most famous of all street art murals in the entire city, the piece gained worldwide attention, depicting a businessman chained by his golden watches, a commentary on modern employees' enslavement to corporations. The popularity of the piece drove prices up in the local area and unfortunately, the process of gentrification started forcing the Kreuzberg locals out of their own homes. Locals began protesting passionately against rising rents and BLU, realising that the mural had contributed greatly to this process, came to recognise that they were their own biggest enemies. So, in the middle of the night on Thursday 11th December, 2014, BLU and a group of other artists painted over the piece out of sorrow for what it had caused and in protest against the 'zombification' of the city.
LOCATION: Curvystraße, Kreuzberg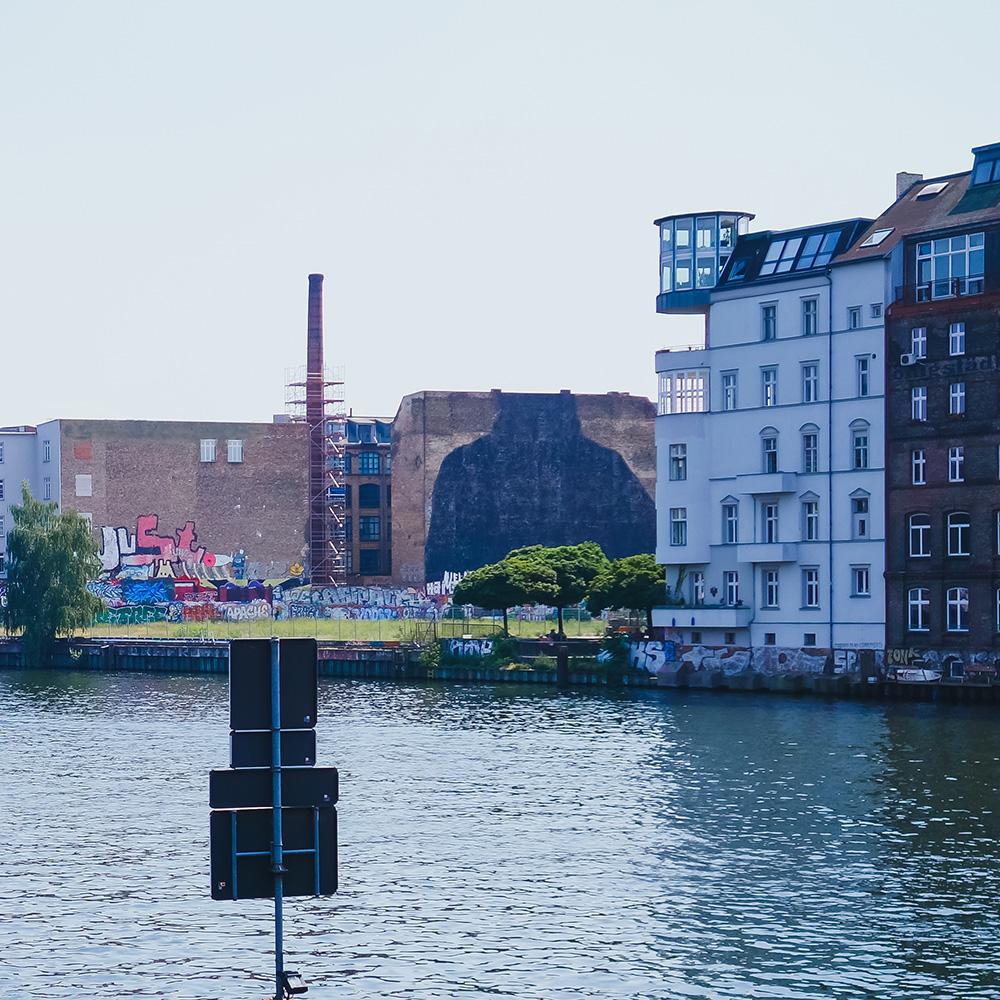 'Kermit the Frog', Robi the Dog
Robi the Dog is a Swiss street artist who is known for working with multi-layer stencils sprayed on paste-ups. His work, which can be seen all over Berlin, aims to show everyday situations from a new, amusing point of view.
LOCATION: Oppelner Straße, Kreuzberg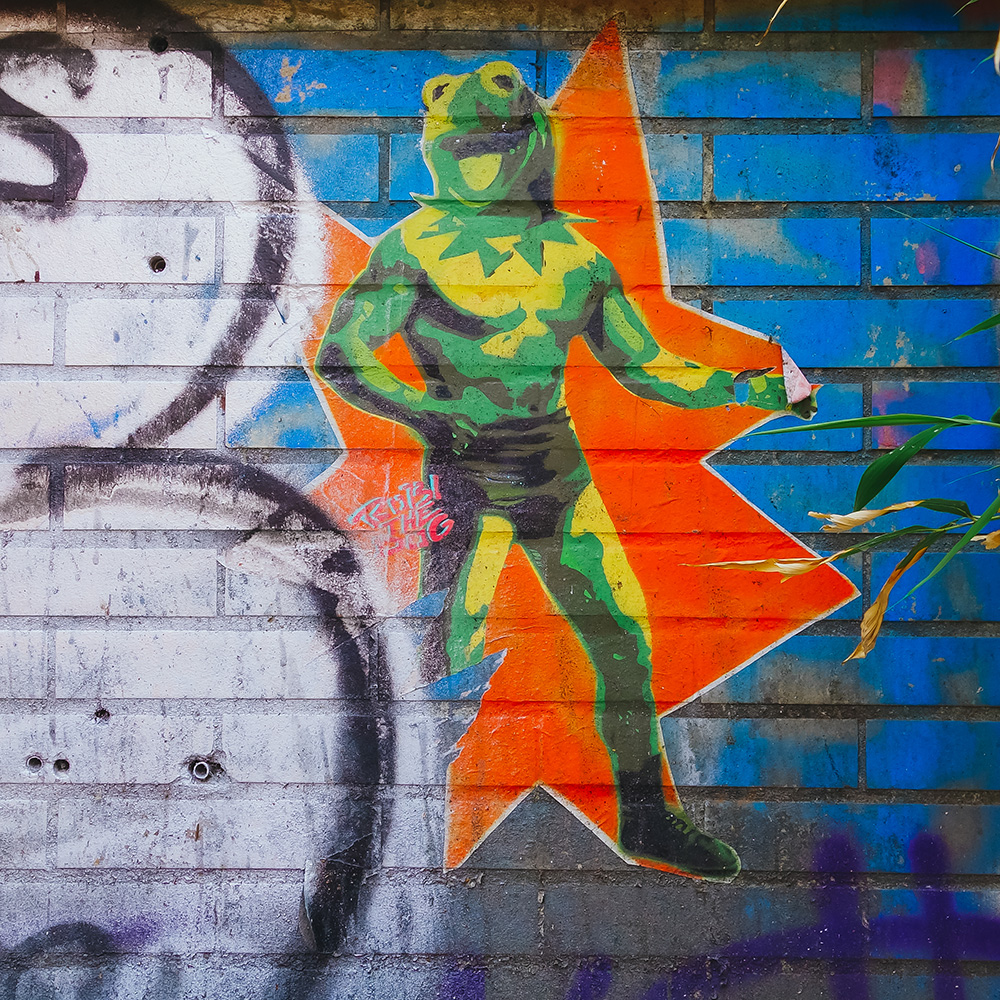 All of these pieces can be seen on an Alternative Berlin Street Art Workshop and Tour, which runs everyday except Tuesday and Sundays and costs €18.
---
Disclosure: I attended this Alternative Berlin Street Art Workshop and Tour as a guest of Visit Berlin. As always, my opinions are my own.
Where have you been impressed by street art on your travels? Share in the comments below!