After spending some time reflecting on everything that happened last year and noting down all the lessons 2017 taught me, it's time to think about what I want for the year ahead. I know a lot of people think setting resolutions or goals is pointless but I think it's quite powerful to articulate a vision for the coming year. It forces you to think about what you want, what's working and what's not serving you. You guys know that I've been doing lots of reflecting on the blog lately so of course I wanted to share my goals for 2018 with you. By publishing them here, I also feel like it's a great way to stay accountable!
My goals for 2018:
1. Use technology more intentionally
While I started to do this a little last year, I really want to make it a priority this year. We all waste countless hours scrolling mindlessly through social media feeds, apps and websites. It would actually be scary to add up just how much time we waste online. This year I want to be more conscious of using my laptop and phone with intention. I want technology to be less of a distraction and more of a tool. I've just downloaded the Moment app to monitor my usage time too.
2. Read more books
Last year I read a total of 12 books (see what I read here). This year, I'm setting myself the goal to read 15. There are SO MANY books I want to read so I know I won't have a problem in actually finding books. If I want to reach my goal, I'll need to read a book about every three weeks, which I think is totally doable. If you have any book recommendations for my 2018 reading list, I'd love to hear them!
3. Get to the heart of it
It's easy to write and share about the happy, positive times but it's a lot harder to share the dark times. One of the roles of a blogger is to inspire others. This can sometimes mean that our blogs and social media channels can become beautifully curated highlights reels. And even though we're constantly sharing, are we sharing what's REALLY important? A lot of times, I think the answer is no. This year I want to share more of the whole picture. I want to shine more of a light into my heart and talk about what really matters to me. I started to do a bit more of this towards the end of last year with my Journal posts and it helped me more than I can say.
4. Be more present
Another one of my main goals for 2018 is to be more present in my day-to-day. Often, I find myself thinking about things related to my blog and business, making plans in my mind or daydreaming about the future. What I really want to practise doing though is switching my mind off to just be in the moment. It's hard because there is so much I want to do and achieve but I have to remember that the present is so precious. In fact, the only thing we have for certain is right now. I find that practising yoga really helps so I'm going to aim to do at least one yoga class per week this year.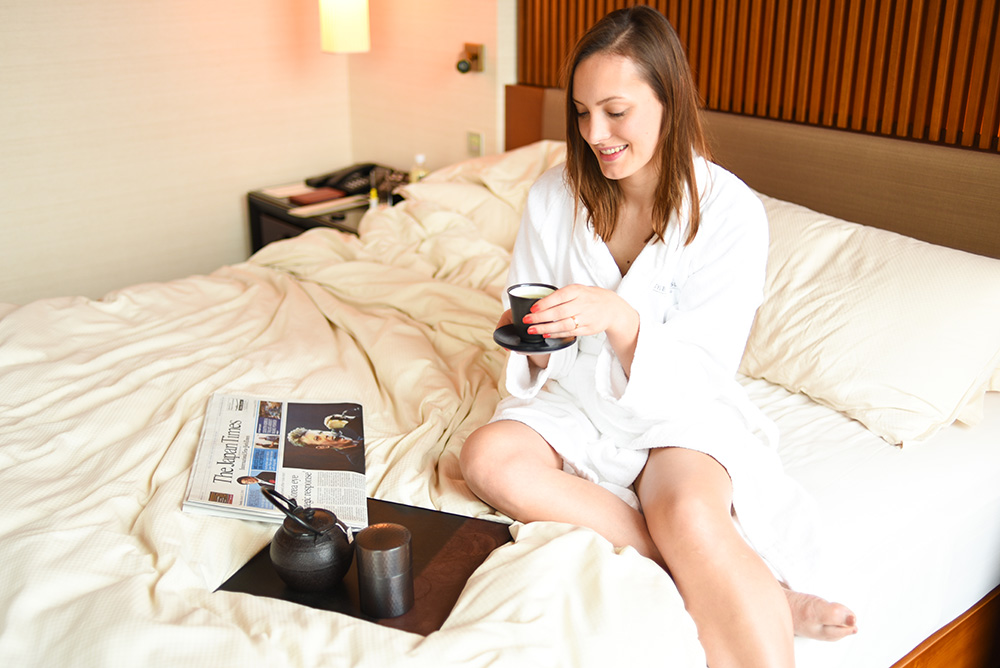 5. Launch the Blogging E-Course
The Blogging E-Course has been a vision of mine for a long time. Despite my best intentions, I didn't quite have it ready to launch last year as planned. So 2018 is the year for it! The content is almost all written and ready to go so over the next month or so I'll be recording the audio, filming and putting together the workbook and bonus modules. We'll be doing a beta launch in a month or two before gearing up for the final launch soon after. If you want to be notified of updates, join the waitlist here!
6. Let this blog evolve alongside me
While The Department of Wandering will always primarily be a travel blog, that doesn't mean travel will be the ONLY topic covered on here. I want the blog to evolve with me as I move through different stages of my life and that means writing about more than just travel. I think I've always done this to some extent as we've covered expat life and freelancing from the beginning and last year I posted about some more personal topics including my wedding. But I want to expand that next year. I want to feel free to talk about anything that's in my heart – from interior styling, to pregnancy, to family, to who knows what else! I don't want to pigeon-hole myself and feel like I can only write about certain topics. While travel will continue to be the main focus, as I grow and change, I want this blog to do so too.
7. Give myself a break
The thing about running your own business is that there is ALWAYS something you feel you should be doing. There are just so many things that need to be done. Last year, whenever I needed to take some time out, I felt so guilty. And then of course, I found it hard to enjoy the time I'd taken because I kept thinking about the work I 'should' be doing instead! But this isn't healthy or sustainable. This year I want to be kinder to myself and more forgiving.
8. Get more comfortable with video
I'm a complete introvert so I hate video! I don't mind filming but I just feel so awkward talking directly to the camera. I know that everyone feels this way right at the beginning though so it's only natural. This year I want to step out of my comfort zone and do more of it. I think the more I do it, the more I'll get used to it. I love watching other people's videos and feel like it really adds another layer of connection. What do you think? Would you like to see more videos from me?
9. Learn to love Instagram again
Last year I fell out of love with Instagram, like a lot of people did. The change to the algorithm meant a huge drop in visibility and engagement for me. I felt paralysed by the pursuit of perfection, thinking that if I just posted more perfect photos, I'd get more comments and likes. I stopped posting consistently and spent less and less time on the app. I became completely disengaged from it. But then I decided to post this image and all of that changed. It wasn't a pretty image by any means – it was just a harsh snapshot of reality. The response that flooded in afterwards made me remember what a powerful, connecting platform it is. This year, I'm taking Instagram back for me. Expect a lot more real talk on there this year. Fitting the mould is so 2017.
10. Prepare my business for a baby
I know that when I'm pregnant and then, when I have a baby, it will turn everything upside down. This year I want to prepare my business for it. If I'm not feeling good during pregnancy and don't feel like working or if I want to take time off after having a baby, I need to put some systems in place now to essentially 'baby proof' my business. I want to streamline and simplify some processes so that The Department of Wandering is sustainable for when I move into a new life phase. There's no way to know how a baby will affect things so that's why I think it's a smart idea to prepare for it in advance.
11. Outsource more
Outsourcing is not only going to help prepare my business for a baby but also just generally going to help me get more sh*t done. Last year I made the first step in outsourcing blog content to two regular contributors. This year I want to expand this. I want to hire a virtual assistant this year to help with admin and social media. I know how important it is to invest in my business if I want to see growth and how I have to be very wise with how I spend my time.
Looking for other reflective posts? Read these ones next:
Like this post? Pin it for later?
What are your goals for 2018? Tell me in the comments below!