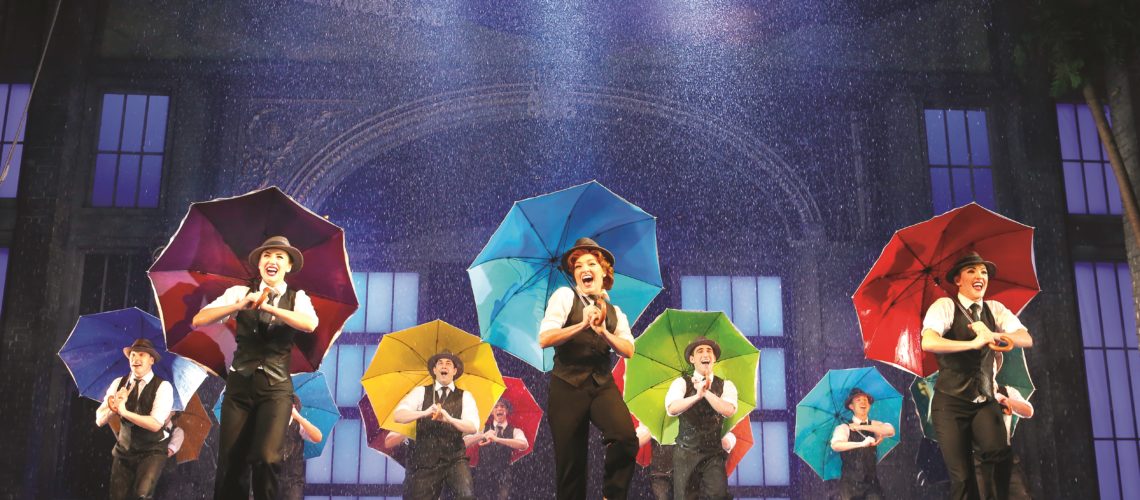 This post is brought to you by Nuffnang and Singin' In The Rain.
I'm sure that just about everyone has heard, of if not seen, the classic 1952 film starring Gene Kelly which acquired legendary status. Now, after a wildly successful sell-out season in West-End, the stage adaptation of Singin' In The Rain has now hit Australian shores to delight us down under and has just opened in Melbourne. Featuring a charming and talented cast and full of Tinseltown glamour, the most impressive attraction, however, is the 12,000 litres of water that rains down on each performance, creating a downpour on stage! When I was invited to review this new splash-hit at Her Majesty's Theatre last weekend, I couldn't wait to experience the musical that has taken the stage by storm. Literally.
The storyline revolves around the central character of Don Lockwood, played by Adam Garcia, a silent film star during the exciting time of transition from silent films to the first talking pictures. Together with his famous on-screen partner, Lina Lamont, the two must prepare themselves to star in the first motion picture film. But there's one small problem. Lina's voice is the vocal equivalent of nails down a chalkboard and there's no possibility of success without dubbing over it. Fortunately, Don meets the beautiful aspiring actress, Kathy Selden, who has an equally beautiful voice, and she is contracted to record Lina's part for dubbing over. Don falls madly in love for her and joyfully begins singing in the rain about his happy feelings. While Lina tries her best to sabotage the relationship, she is eventually exposed for being a fake in a hilarious twist.
The entire show is full of colour, clever one-liners and impressive choreography, but my favourite part was the way the production was brought to life with the help of 12,000 litres of recycled water to create a rainstorm on stage! I've never seen anything like that before and it made Don Lockwood's rendition of the famous 'Singin' In The Rain' routine all that more impressive and realistic. Audience members in the first three rows can splash around with the stars too, since they're officially considered to be in the 'splash zone'. Don't worry, complimentary ponchos are provided and it's all part of the experience!
The production is full of colour, energetic choreography and clever stage engineering; a visual feast and a shower of everything you could ever want in a musical. Tickets can be booked through the Singin' In The Rain website.
Disclosure: I was invited to Singin' In The Rain as a guest and was also compensated for my time in writing this review. All opinions remain my own and I genuinely loved this performance!