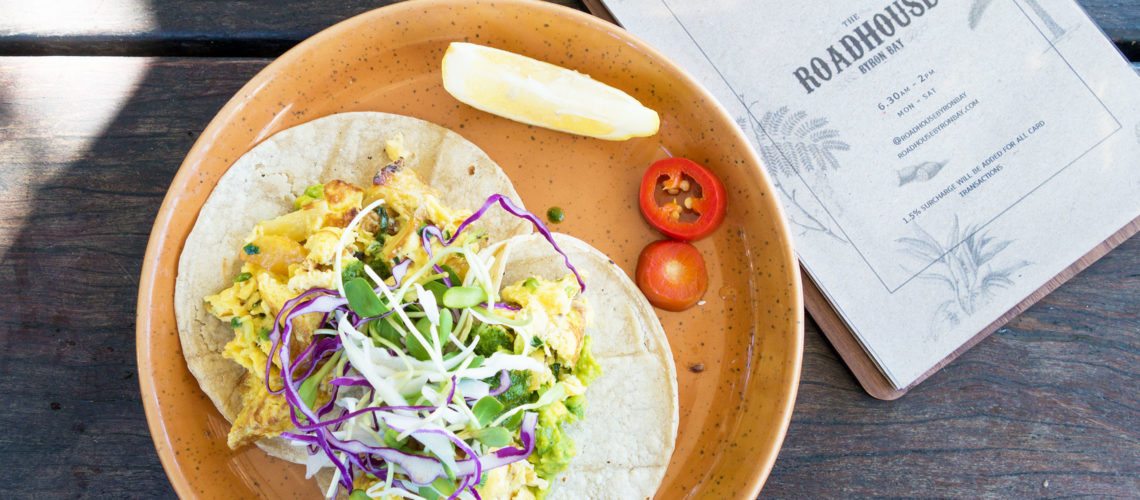 There's a lot to love about Byron Bay on Australia's northern New South Wales coast. There's just something about its pristine surf beaches, laid-back boho vibe and kicking food scene that makes it irresistible to both Aussies and international visitors alike. Most come to Byron Bay to soak up the magic of its natural setting, but many stay for the food revolution that's stamped the northern rivers region well and truly on the foodie map. From turmeric lattes to acai bowls, kombucha to raw bliss balls, here's our foodie's guide to Byron Bay. We hope you're hungry!
A foodie's guide to Byron Bay:
The Top Shop
Keen to get away from the tangle of traffic clogging up town? Follow the locals up to The Top Shop where you'll find a relaxed little café perched on top of a hill (hence the name). Staying true to its roots as a milk bar, the space has had a face-lift but is still a favourite local haunt and a magnet for surfers and families. The vibe is super laid-back, with many popping in for a bite to eat as they're still drying off from the beach. The coffee and food are both great – try the tropical acai bowl or the breakfast burger. If you can't find a table, sprawl out on a sunny spot on the lawn.
Location: 65 Carlyle St, Byron Bay, NSW 2481
Folk
This tiny café hidden away at the Byron Bay Holiday Park might be on the outskirts of town but that doesn't mean it's not buzzing from early morning onwards. This pretty place offers only has a handful of seats so beat the crowds and arrive early to grab a table. With a dreamy design aesthetic – think 70s decor, vintage ceramics, whitewashed walls, hanging greenery and recycled wood – Folk is every Instagrammer's dream.
For breakfast, tuck into a nourishing 'abundance bowl', filled with local brown rice, organic quinoa, toasted almonds, raisins, roast pumpkin, brussel sprouts, kale, apple slaw, house kraut, local greens and a poached egg. With a strong focus on organic, ethical, plant-based, local food, you'll leave with a happy heart (and belly).
Location: 1/399 Ewingsdale Rd, Byron Bay, NSW 2481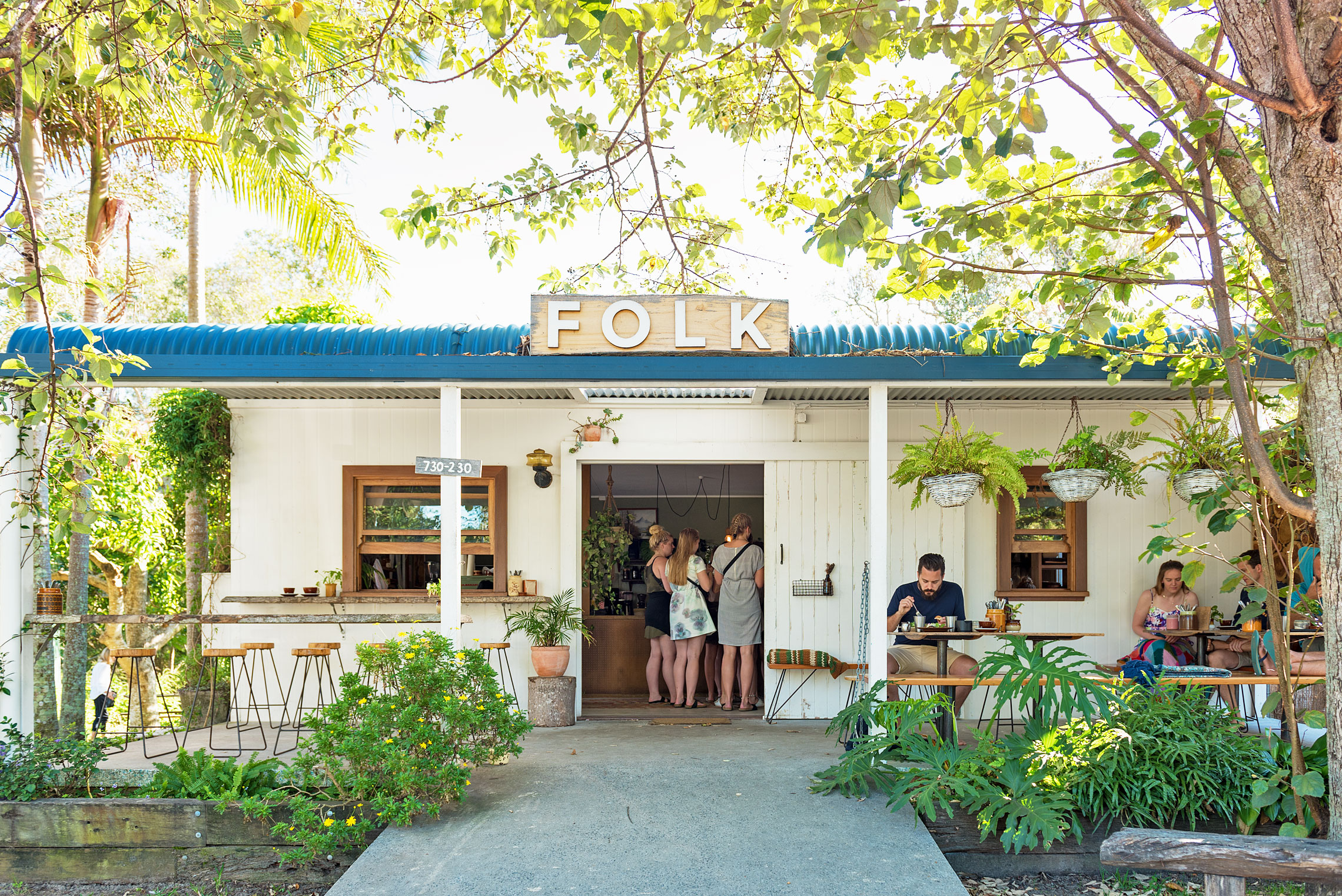 Naked Treaties
If Byron Bay did not have a raw food bar, something would be amiss. Enter Naked Treaties, the place where all your clean eating dreams come true. This place takes healthy eating to the next level and celebrates everything that is organic, vegan and gluten-, dairy- and sugar-free. They're most famous for their desserts, but also serve everything from smoothies to chia cups, crêpes to bliss balls. What's not to love?
Location: 2/3 Marvell St, Byron Bay, NSW 2481
Woods
If you can't get enough of Folk, head to Woods, their sister cafe in nearby Bangalow. Only a 20 minute drive away, Bangalow is a wonderfully eclectic country town to explore in its own right. Tucked away from the main street, Woods channels North American reservation vibes with giant cacti in pots, huge, wooden doors and warm tones. The menu mirrors the plant-based and ethically-sourced fare of Folk so if you love the concept (how can you not), you won't be disappointed.
Location: 10 Station St, Bangalow, NSW 2479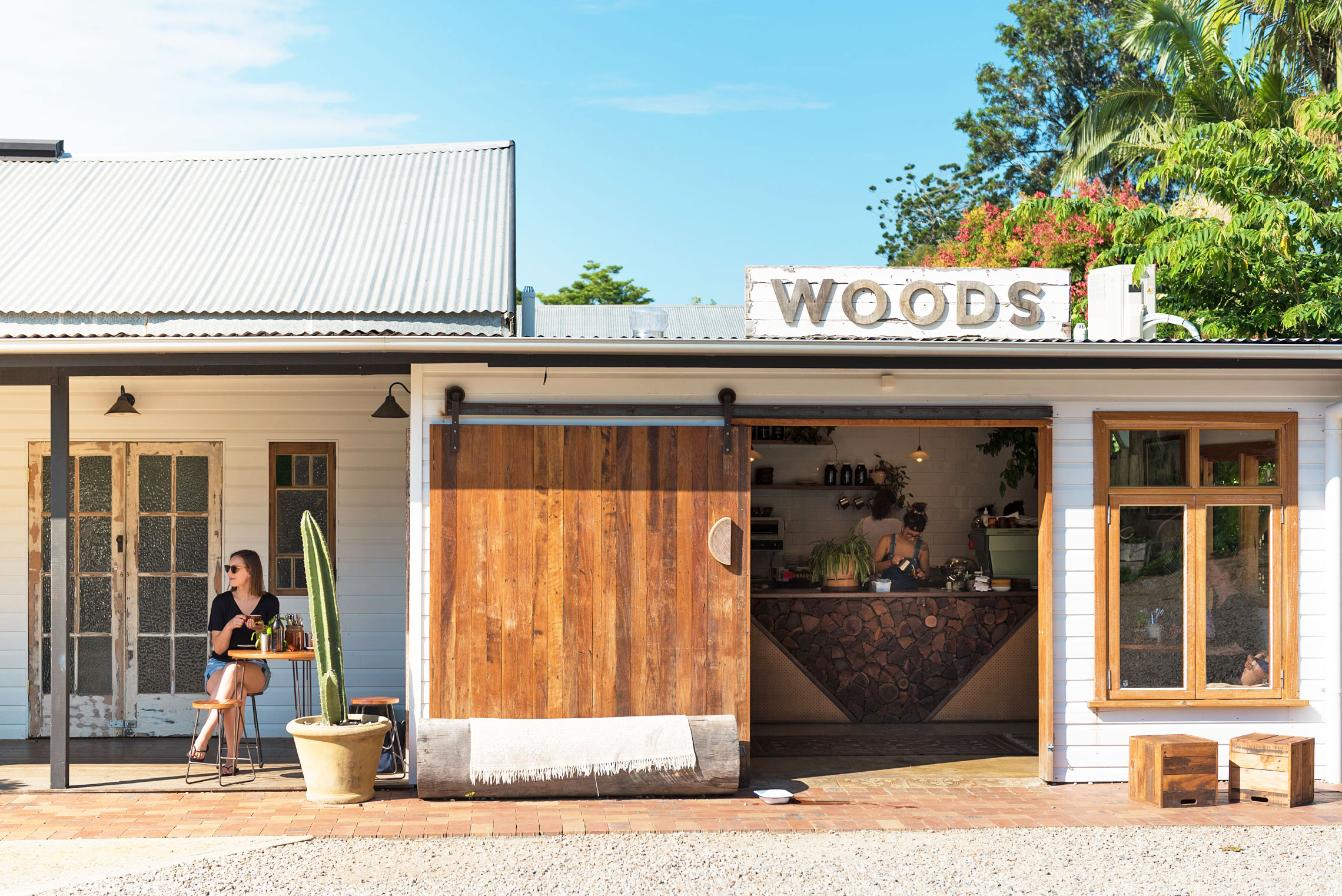 Harvest Café
Just a 20 minute drive from Byron sits sleepy little Newrybar, a small town just off the Pacific Hwy. Harvest Café is its prime drawcard, so make a beeline for the lovingly restored, century-old weatherboard cottage and you'll soon see what all the fuss is about. Oozing with country charm, Harvest Café serves up organic, local fare, with ingredients sourced from the surrounding hinterland. If you can score a table, consider yourself lucky, otherwise grab a coffee and an artisanal pastry to enjoy in the kitchen garden.
Location: 18-22 Old Pacific Hwy, Newrybar Village, NSW 2479
Combi
Originally a Melbourne institution, it was only natural for the owners of Combi to open an outpost up in Byron Bay where the demand for organic, raw and vegan food has exploded. Craving a smoothie bowl? Get your sweet little thing down to Combi – as long as you're prepared for all future smoothie bowls to never measure up from this day forward. Don't go past the organic acai bowl blended with banana, blueberries, medjool dates, house made nut mylk and topped with crispy coconut flakes, activated caramelised buckinis and a big scoop of peanut butter. And, because you're in Byron, order a double espresso shot in a fresh, green coconut. If you didn't know you were on holiday, you certainly do now.
Location: Shop 5b, 21/25 Fletcher St, Byron Bay, NSW 2481
Byron Bay Farmers' Market
If you're in town on a Thursday morning, join the locals at the Byron Bay Farmers' Market and meet the farmers who are responsible for the region's famed wholesome produce, grown in fertile, volcanic soil. Pop down between 8-11am, grab a fresh juice or coffee and taste-test your way around the various stalls. You'll only find the actual producers here; no re-sellers are permitted.
Location: Butler St, Byron Bay, NSW 2481
Three Blue Ducks at The Farm
Just 10 minutes outside town on Ewingsdale Rd sits The Farm, a much-loved Byron Bay icon. This 32-hectare working farm focuses heavily on sustainable farming practises designed to 'grow, feed and educate' the community. Home to not only pigs, chickens and cattle, The Farm also houses a collection of micro-businesses, all of which are dedicated to supporting the environment and contributing to a healthier lifestyle.
On site you'll find the celebrated Three Blue Ducks restaurant, cafe and produce store. An outpost of the Bronte institution by the same name, a meal here will be one of the absolute highlights of your Byron Bay foodie foray. With a focus on sourcing as much produce as possible directly from the farm. The setting is low-key and casual and the food honest, fresh and unbelievably tasty. It doesn't get much better than this. After lunch, be sure to take a walk around the farm to say hello to the pigs and stock up in the produce store and flower shop.
Location: 11 Ewingsdale Rd, Ewingsdale, NSW 2481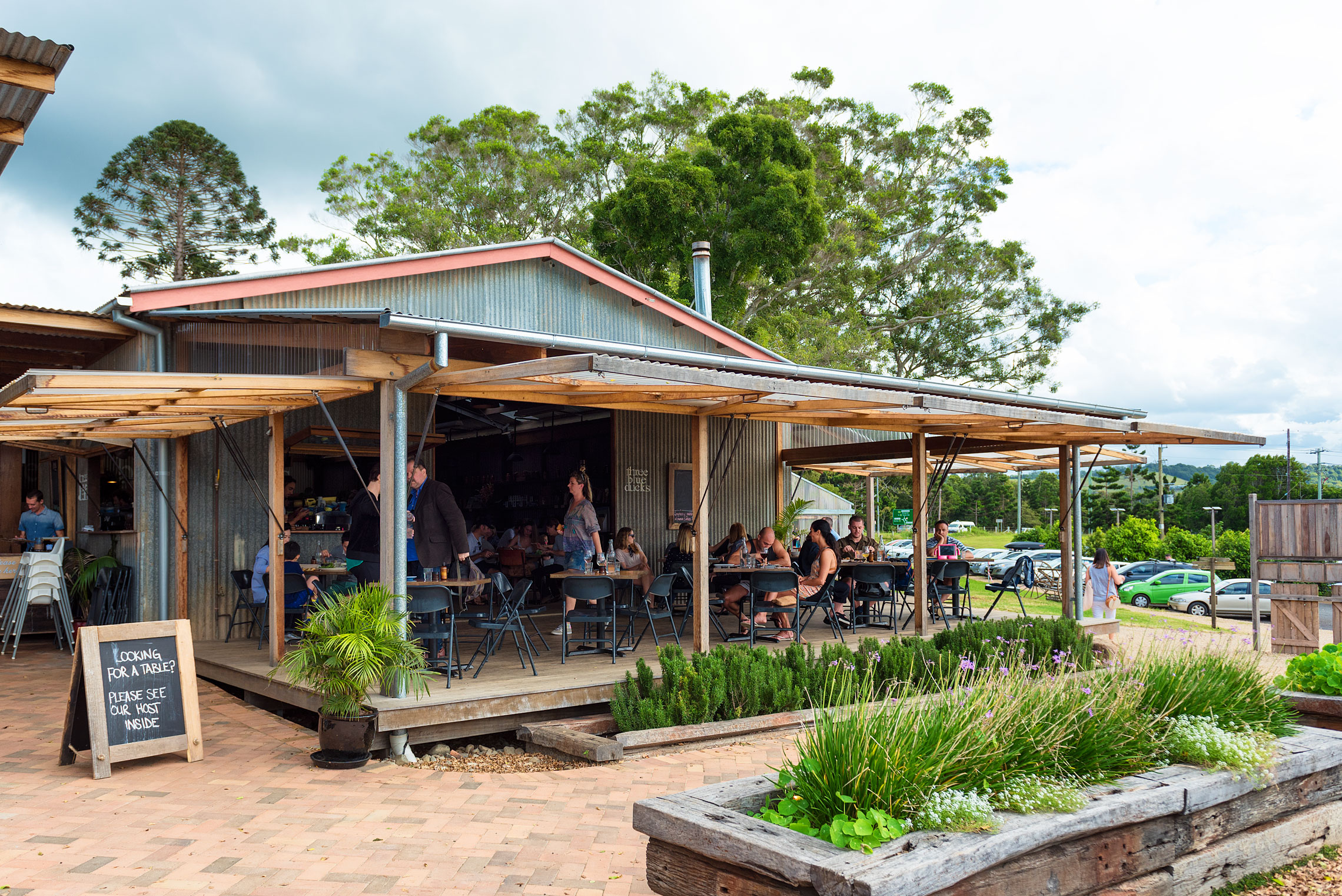 Fleet
As a finalist for Gourmet Traveller's 'Best Regional Restaurant' and 'Wine List of the Year', Fleet in nearby Brunswick Heads (15 minutes north of town) is a much-coveted dining destination. This tiny wine bar seats only 21 but what it lacks in size, it makes up for in sophistication. The wine list is extensive and exciting (all wines are sourced from local, biodynamic vineyards) and the menu reflects an inventive use of unusual local produce. It's edgy, minimalist and brings a whole new level of cool to this relaxed beach town.
Location: 2/16 The Terrace, Brunswick Heads, NSW 2483
Beach Byron Bay
To come to a beach town of this standing and not have at least one meal at a beachside restaurant would be sacrosanct. Book a table at Beach for lunch to savour the views of the Pacific Ocean over the dunes of Clarkes Beach or opt for a dinner reservation for a more intimate affair. There's a cute takeaway coffee kiosk out the front too in case you're in need of a quick, caffeine hit. The menu is simple and Mediterranean-inspired with only a handful of ingredients gracing each plate, all of which are sourced locally. Whatever you do, make sure you sample the drool-worthy local prawns served with basil and butter. Image via.
Location: Lawson St, Byron Bay, NSW 2481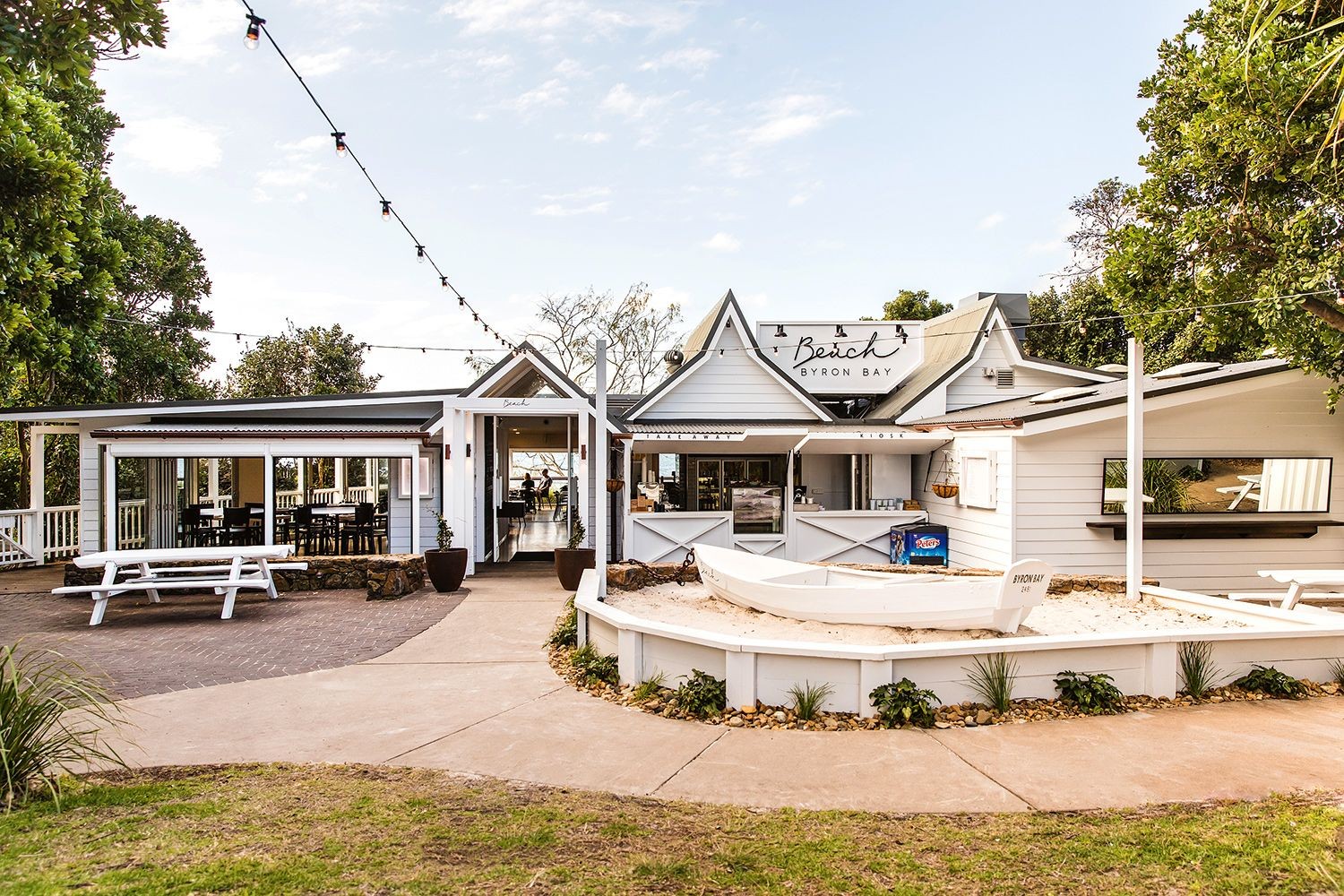 Milk and Honey
If you've got a hankering for pizza, Milk and Honey in nearby Mullumbimby (just a 25 minute drive from Byron Bay) is said to serve the best in the region. Their artisanal, wood-fired pizzas showcase the ever-changing produce of the seasons and the menu lets the high-quality ingredients speak for themselves.
Location: 5/59a Station St, Mullumbimby, NSW 2482
The Roadhouse
Sure, Byron has its fair-share of drinking holes, but none can compare to the understated cool Roadhouse. Located on the outskirts of town, there isn't much else around, but 'the Roady', as it's known, is a destination in its own right. Run by a small group of friends who believe in sustainable farming practises and nourishing wholefoods (are you noticing a pattern with the food culture here yet?), a meal at the Roadhouses promises a tasty, feel-good feed. Filled with Byron locals and in-the-know, stylish out-of-towners, come for breakfast or lunch, settle in under the shady palms and just TRY to look as cool as the rest of the crowd. Order the breakfast tacos and a homemade kombucha, tonic or elixir and you're set.
Location: 6/142 Bangalow Rd, Byron Bay NSW 2481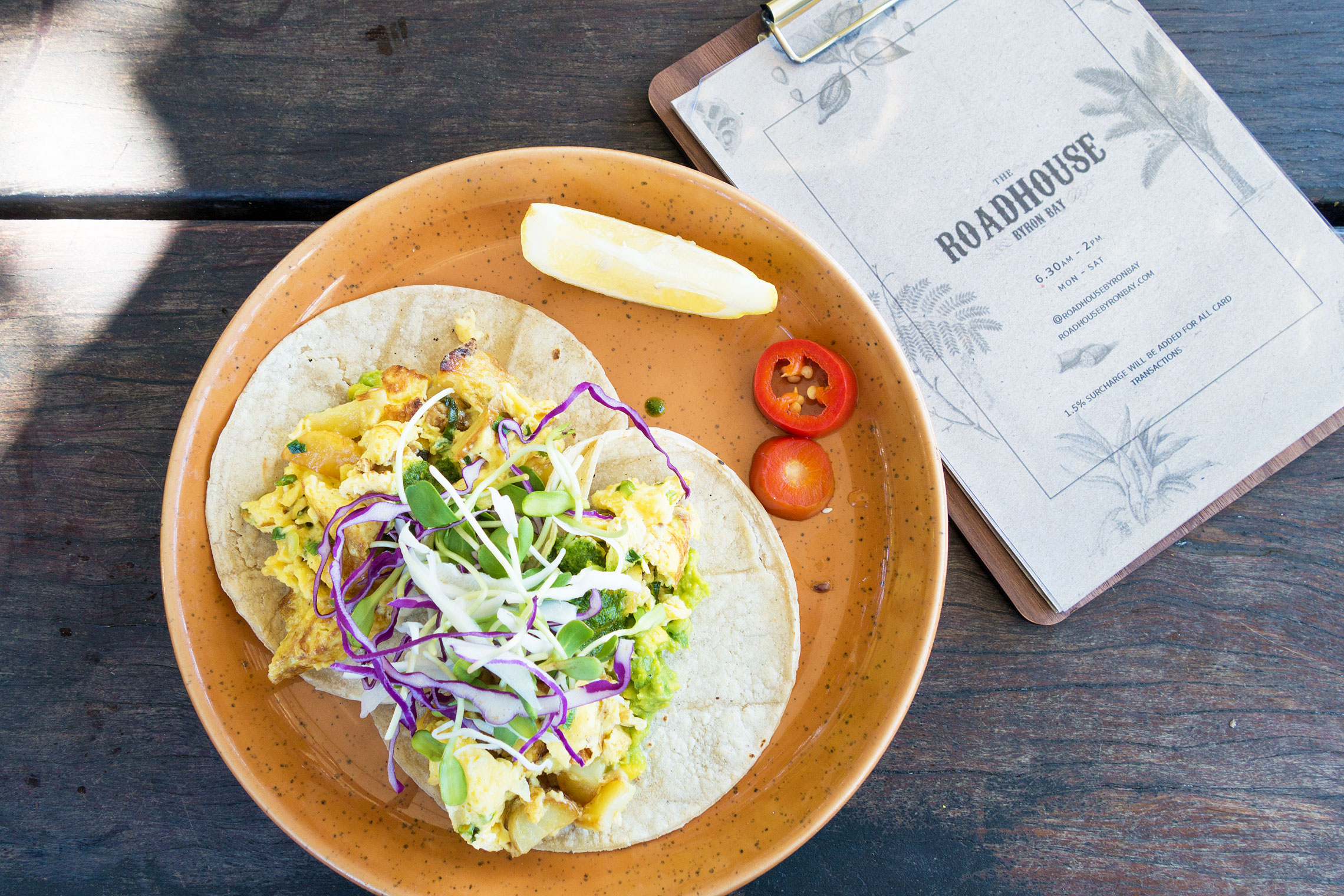 Chihuahua Taqueria
If you weren't looking for it, you'd totally miss. This tiny, hole in the wall taqueria serves up the best, most authentic Mexican in town. You can find these guys off Jonson St down Ferros Arcade. The food at Chihuahua is legit: think corn tortillas topped with ethically-sourced local meat and fish, charcoaled corn on the cob with chipotle aioli and totopos with pico de gallo and guacamole. Swoop on a table if you see one – there aren't many.
Location: 25 Jonson St, Byron Bay, NSW 2481
Bayleaf
Probably THE most happening breakfast and lunch spot in town, Bayleaf is a loved for good reason. The owners are serious coffee aficionados – they've even got their own dedicated coffee bar on site– so this is the spot to come for a good brew. Be prepared to wait for a table because you're not the only one who wants to get their hands on killer coffee and innovative, wholesome food. Tables outside are hot property so if you can nab yourself one, count yourself lucky. If you fancy eating on the beach rather than in town, pop into Leaf & Grain, their takeaway shop next door for one of their legendary salads.
Location: 87 Marvell St, Byron Bay, NSW 2481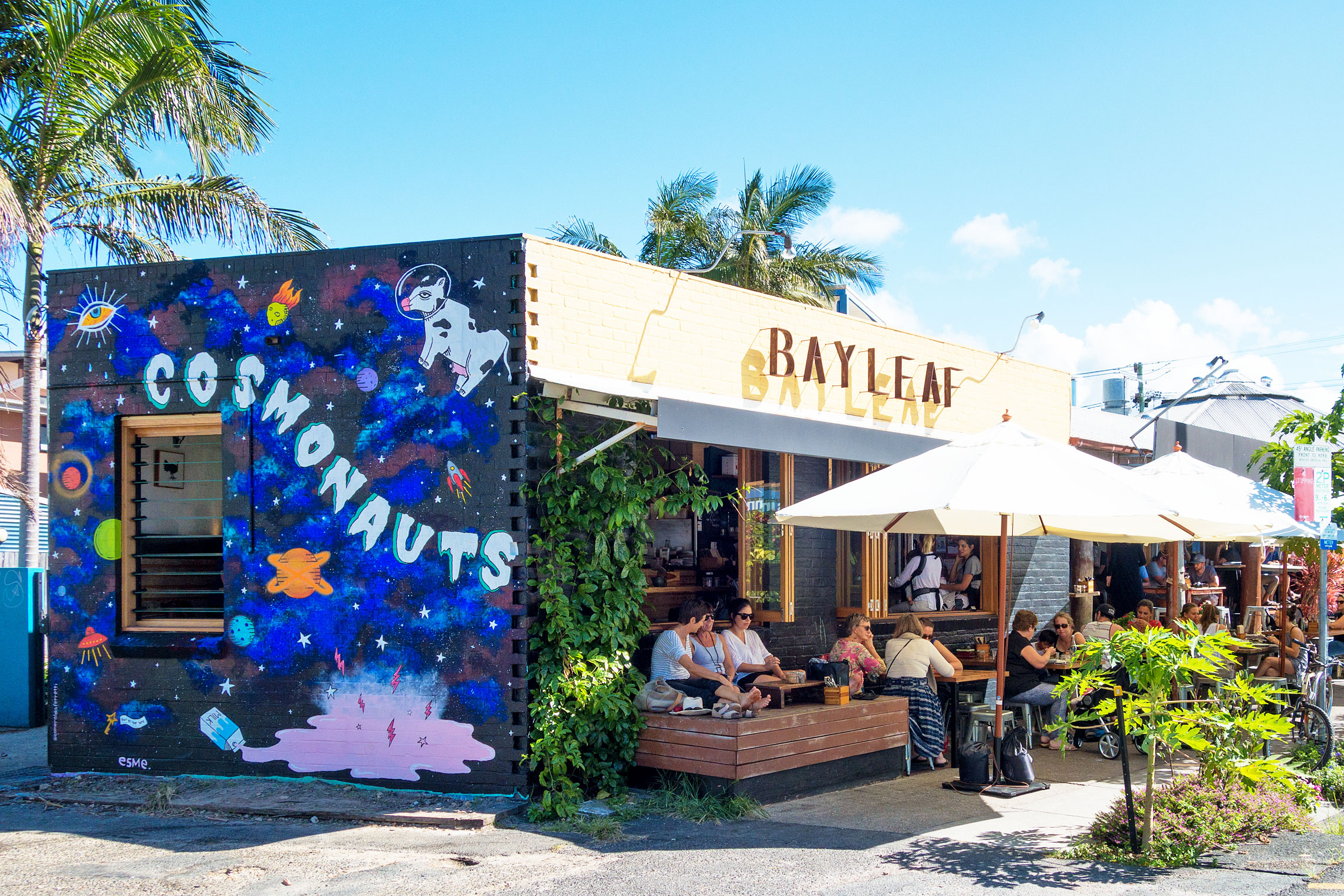 Looking for more NSW destination inspiration? Read these posts next:
Like this post? Pin it for later!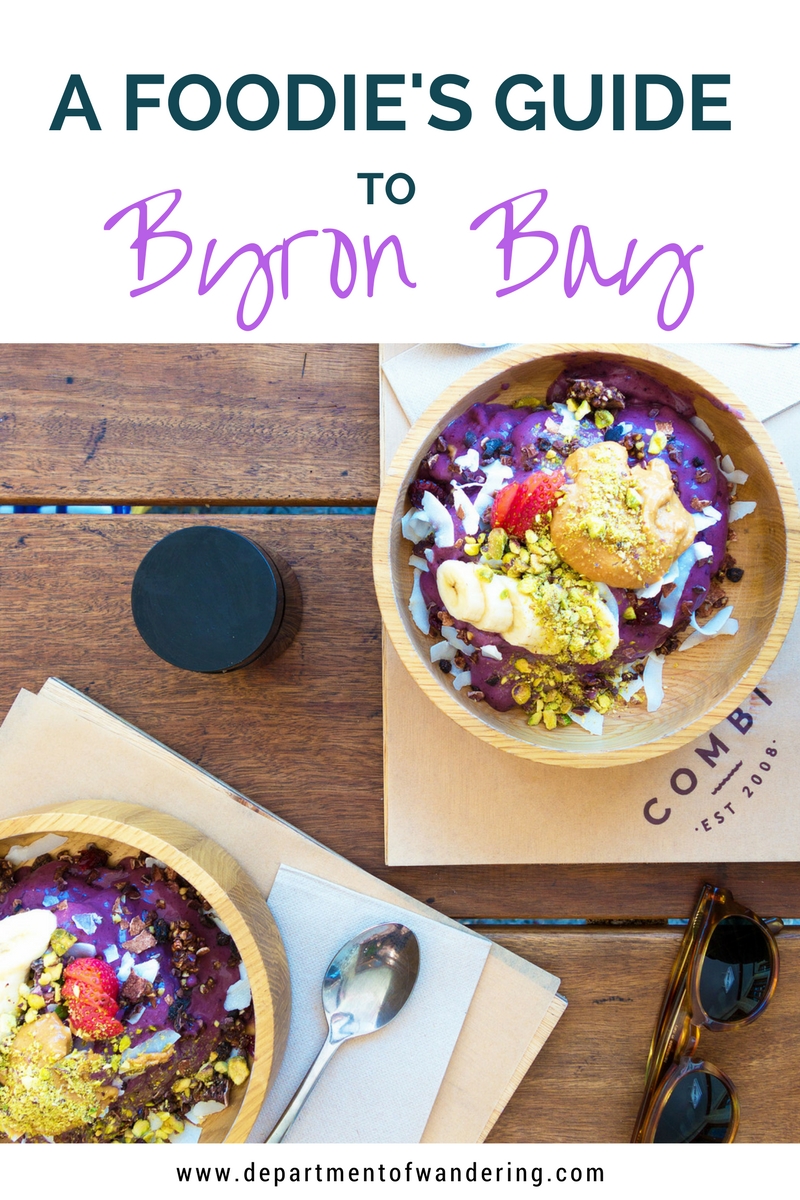 Have you been to Byron Bay? Share your foodie recommendations with us in the comments!