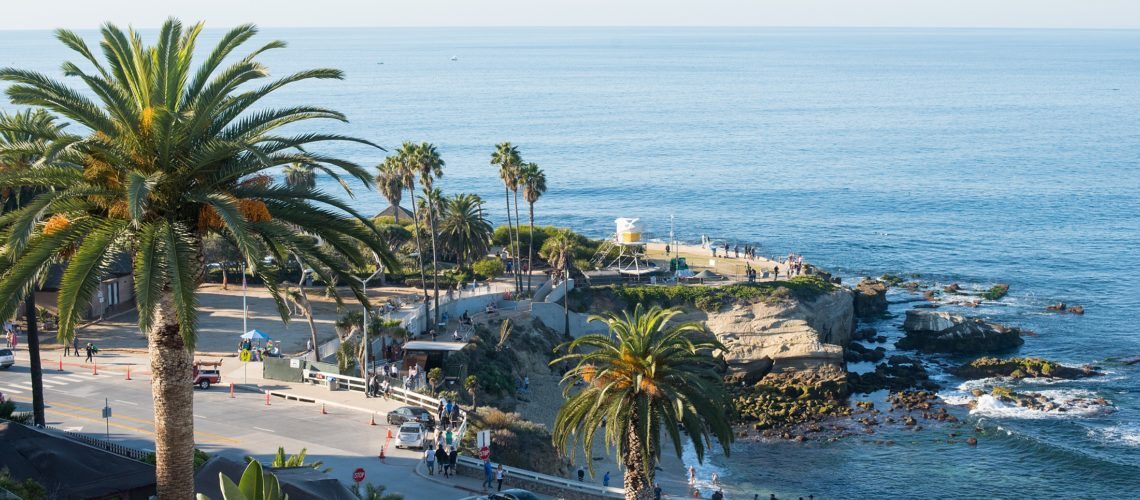 I've grown to truly adore San Diego, which is located on the western coast of the United States. It's one of the southern most cities in the state of California, close to the border of Mexico. Its temperate climate, beautiful beaches and tasty breweries are a few things that make it one of my favorite destinations. Visiting is always relaxing and enjoyable; I encourage anyone to travel there for a few days vacation. Make the most of your stay with our complete guide to the best of San Diego for first-timers. Here, you'll find some touristy hot spots simply because they're not-to-miss but you'll also find a lot of locations less widely known too. Here at The Department of Wandering we love nothing more than discovering those hidden gems!
The Best of San Diego: A First Timer's Guide
We'll travel up the coast of the county in three parts, starting closest to the airport, which is where you're likely to arrive (airport code "SAN"). After we explore the Downtown area in the south, we'll head towards the middle area of the county around La Jolla and Miramar, and then finish up north in Carlsbad, Encinitas and Solana Beach.
The best mode of transportation for your trip would be a rental car. Note it's worth avoiding key travel during rush hour as California traffic is legendary. But with organized pre-planning (which we're here to help you with), you'll be golden!
Downtown
Little Italy
This is a great area to walk around after your arrival. There are plenty of restaurants to grab a meal at, whether it's breakfast, lunch or dinner time. It's the largest 'Little Italy' in the United States at 48 square blocks so you won't be at a loss for what to do! On the weekends there's usually a Farmers Market either on a Saturday or Sunday nearly year-round (thanks to that San Diego temperate climate). They have a lot of special events as well. I was able to see some amazing chalk artists creating their pieces during their 'Festa!' in October; be sure to check their website's calendar.
Balboa Park
This place has my heart. This was really an unexpected love affair for me. I went with zero expectations – my boyfriend used to live in San Diego and was thinking of places to show me I hadn't previously visited – and wow! I was blown away. We enjoyed walking around the gorgeous park, complete with a formal garden area, a greenhouse with a botanical garden, both a cacti and rose garden, beautiful architecture, a sculpture garden, and restaurants with al fresco dining (swoon!) over the course of a few hours. They have a few museums on the property as well and event venues that attract singers and performers from all over. I am sure to return here every time we visit.
San Diego Zoo
This is one of the best around. Animals in captivity may be controversial (I'm torn as well) but the San Diego Zoo participates in a lot of conservation efforts and programs that make me hopeful they're doing what they can for the animals inside and species overall. I have to say it's truly beautifully done and provides a day of excitement and intrigue. If you go to this attraction (it's right near Balboa Park), know parking is free (yay!) and you should plan to spend the better part of, it not the entire, day there. You'll certainly get a lot of exercise from walking as everything from its 'Elephant Odyssey' to 'Discovery Outpost' exhibits, and more, cover about 100 acres.
In-N-Out Burger
This brand has international acclaim and a reputation that precedes it – all well deserved! There are a decent number of locations around San Diego and any I've hit up have a drive through if you aren't in the mood to park and go inside. If you are, however, head inside and sit at their tables to enjoy their simple yet mighty menu. I recommend ordering a cheeseburger 'animal style' (which is not on their menu but a common way to order known by locals) which adds a special sauce (quite like Russian dressing) and sautéed onions to the burger. Don't forget to order french fries too! There's one close to the SAN airport so if you are craving it as soon as you arrive or haven't had time to experience it before you leave, be sure to visit that location. Look for an off-white building with red lettering and a huge yellow arrow!
La Jolla and Miramar
Birch Aquarium
'Scripps Aquarium', as many people call it, is a wonderful little aquatic oasis (it's especially wonderful if the weather is inclement and you need an indoor activity for a couple hours). Parking is free here as well and it's worth noting the last tickets of the day are sold at 4:30pm. It has some wonderful exhibits including jellyfish and octopus, a Hall of Fishes and a kelp forest. My favorite is the Leafy Seadragons. Be sure to go outside to the touch Tide Pool – the view from there is spectacular!
La Jolla
Head to this shore town for true serenity by the beach. It may be ironic but if you want to relax with a meal after the aquarium, I have a fabulous restaurant recommendation where the views and fish tacos are worth the trip: Georges at the Cove. You can make a reservation ahead of time but in case you haven't, they accept walk-ins too. There's usually a wait at their 'Ocean Terrace' level but grab a cocktail at the bar and be patient because it's worth it! There's a lot of shopping on the street near the entrance and street parking is available. If you are able to leave your car at your hotel, however, I recommend that. Be sure to visit La Jolla Cove afterwards to explore the coastline and catch a glimpse of pelicans and sea lions.
Ballast Point Brewery
San Diego has some of the best beer I've ever tasted. The number of breweries and tasting rooms you can visit in the county seems endless but one worth noting is Ballast Point Brewery's Miramar location. They have plenty of parking (but don't drink and drive please!) and free brewery tours four times a day. Be sure to sign up ahead of time on their website or as soon as you arrive at the hostess stand. They serve food and beer in their restaurant and you're welcome to walk around the brewery tour with your beer in hand!
North/Carlsbad, Encinitas, Del Mar and Solana Beach
Carlsbad
Carlsbad is a truly rad area. If you're in the mood to people-watch, try walking over to the beach and grabbing a drink at Harbor Fish Cafe, a little fish-fry type restaurant as close to the water as you'll get for food and beverages. Carlsbad Village is a short walk and an even quicker drive away and full of options to partake in happy hour, dinner or even dessert.
Encinitas
A short drive away is the village of Encinitas. They have a wonderful coffee shop called Better Buzz Coffee I stop at every trip. I recommend the turkey pesto sandwich (the melted mozzarella on that sandwich is heavenly) and their top-notch avocado toast! Be sure to visit the Self-Realization Meditation Gardens: whether you meditate or not it's such a peaceful location. Anyone would love their beautiful gardens and incredible view where you're almost guaranteed to see surfers if you look below. Note that it is closed on Mondays.
Legoland
Legoland is worth noting as it's located in this area. If you are a theme park junkie like me you're always on the hunt for themed entertainment! While it's a little more geared towards kids, it's still got some great attractions for children of all ages. They have two parks: a water park and amusement park with small roller coasters, dark rides and other thrilling attractions. If you go, plan to spend the better part of a full day here too, if not more.
Solana Beach
Lastly is a stop that always inspires my creative side. Cedros Ave Design District in Solana Beach is a bit of an artist's haven. The street is lined with shops with cute beach attire, jewelry, art, home furnishings and irresistible cafés. Be on the lookout for street art here even if you have to navigate behind some shops to find it.
Planning a visit to the west coast of the United States? Check out these posts:
Like this post? Pin it for later!
Have you been to San Diego? Share your favourite spots in the comments below!