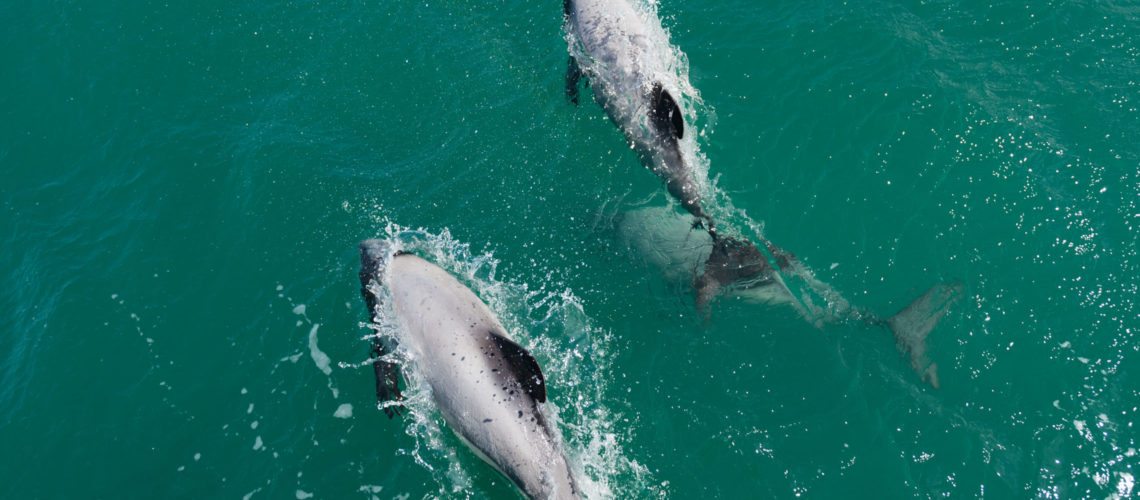 I don't know about you guys, but for me, having a wildlife encounter on a trip always makes it that extra bit special. I get such a thrill from observing animals in the wild and it's such a treat to see unique species found nowhere else in the world. I had been really looking forward to going whale watching in Kaikoura in New Zealand, but due to the earthquake, we were forced to cancel our trip there. Boo hoo! I was still pretty keen to get out onto the water to spot some marine life though, so when we arrived in Akaroa on the beautiful Banks Peninsula, we headed straight out into the bay in the hope of spotting the world's smallest and rarest dolphin, the Hector's dolphin, found only in New Zealand's South Island.
The Banks Peninsula
Let's talk for a minute about where we are exactly first. Located 90 minutes from Christchurch, the Banks Peninsula is one of the most idyllic places I've ever been. The dramatic landform along this part of the South Island's east coast is actually a crater of an extinct volcano – impressive right? The drive into the peninsula is absolutely beautiful and the steep, windy road slices through green, rolling hills dotted with grazing sheep. As you make it over the crest, you'll see the whole bay stretching out before you.
There are a bunch of cute little towns to stay in on the peninsula and we chose Akaroa, loved for its French influence and charm. Akaroa is New Zealand's only French colonial settlement and it it's history has been beautifully preserved. Wandering around town, you'll find street signs in French and you'll see French flags waving from windows – it's like nowhere else in New Zealand.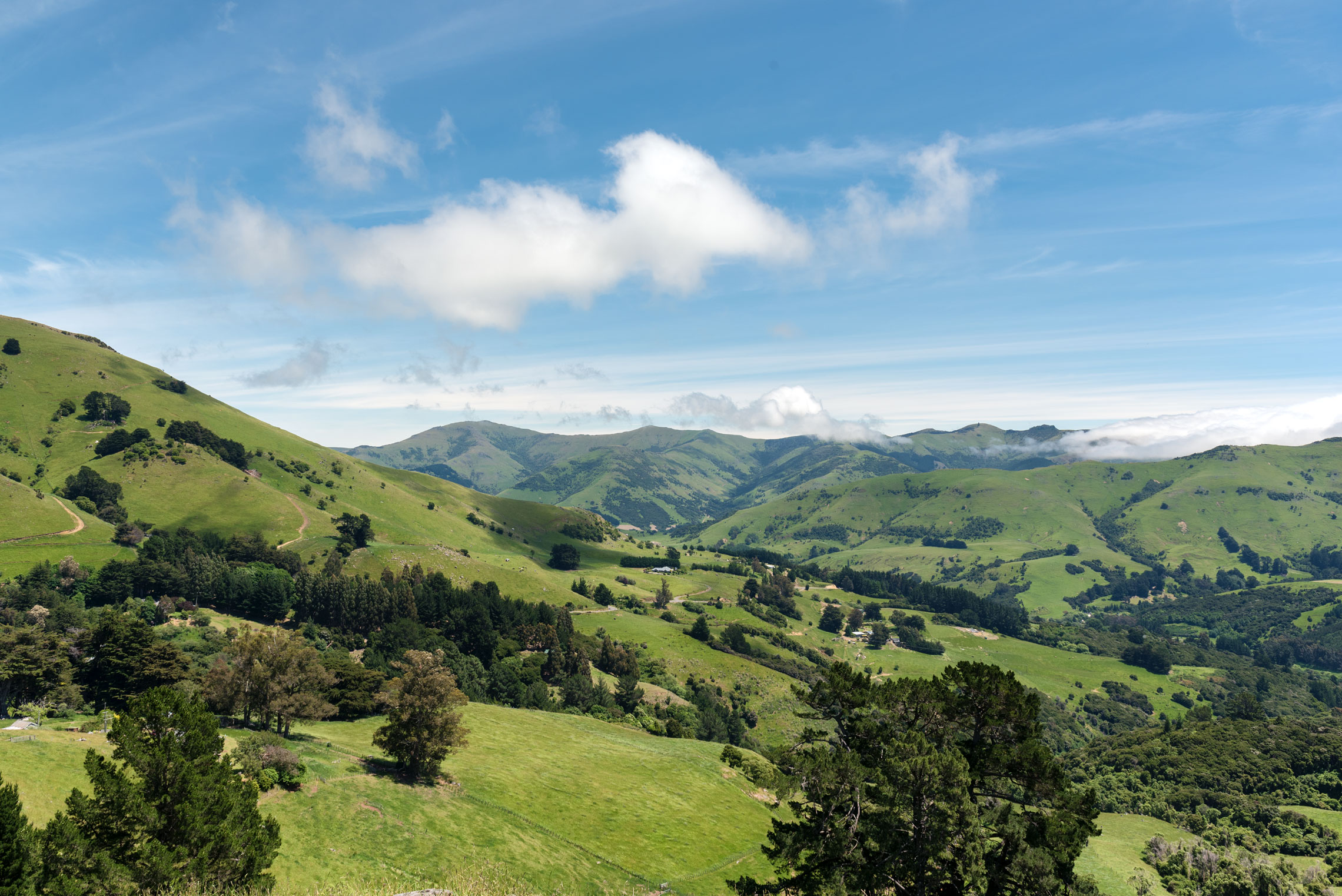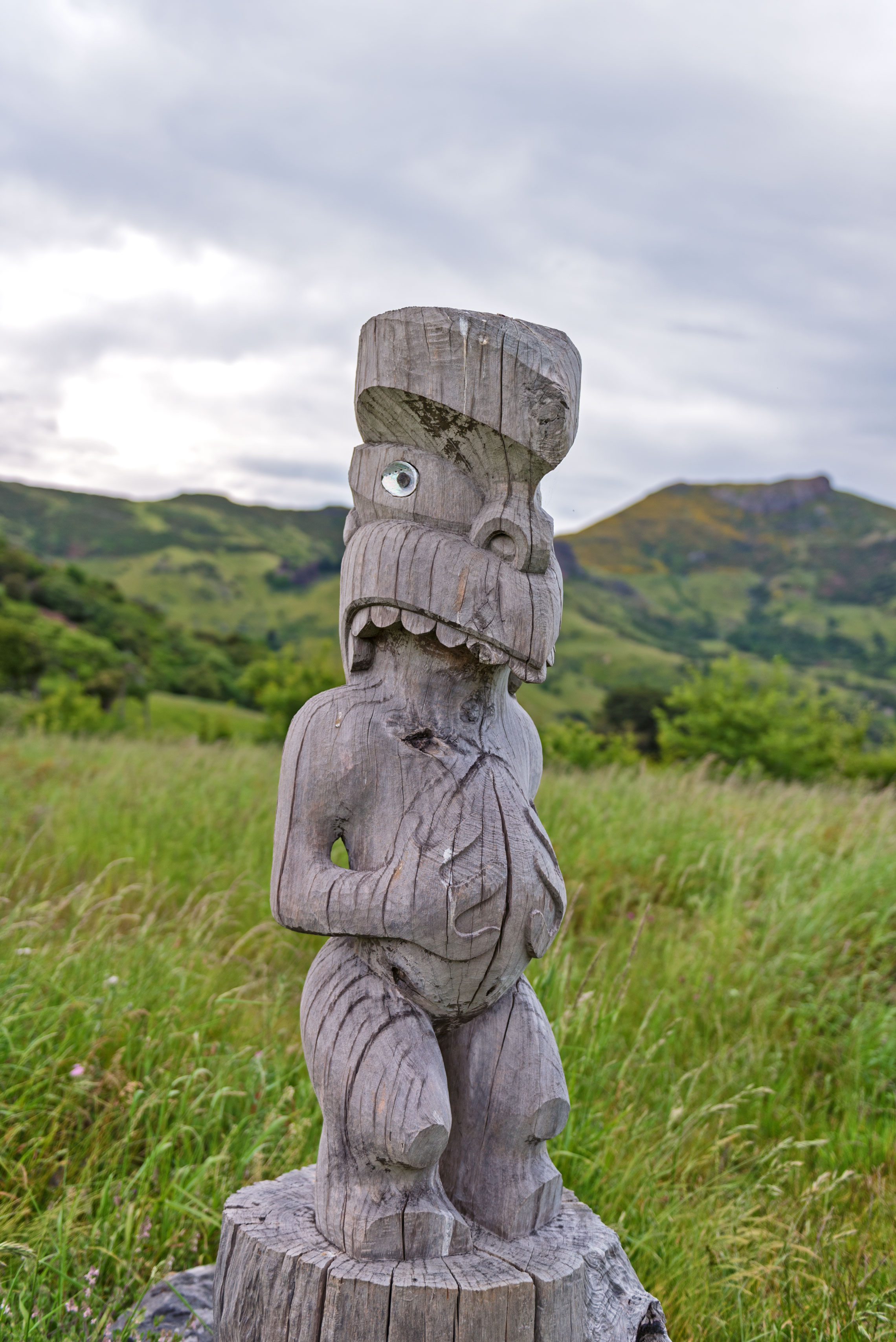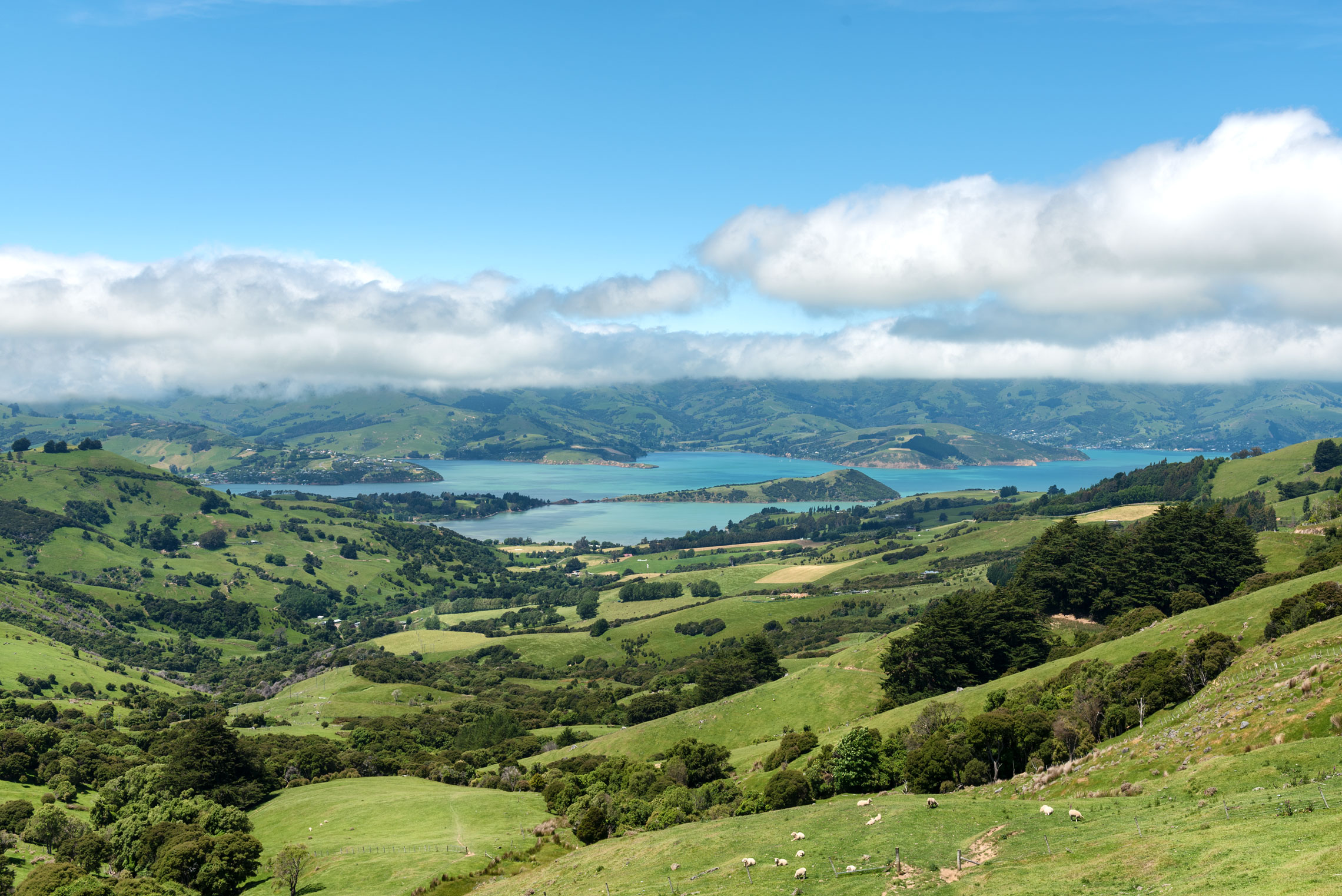 Spotting the rarest and smallest dolphin in the world
The peninsula is particularly known for its rich array of marine life so after a quick lunch, we headed directly for the harbour where we boarded a cruise with Akaroa Dolphins. Despite the sunny weather, it had become increasingly windy. The sea was pretty choppy when we departed, which was definitely not ideal for sailing, but I was happy to be heading out on the water nonetheless. We wrapped ourselves up in heavy jackets, settled down with a delicious glass of Marlborough Sauvignon Blanc and away we went.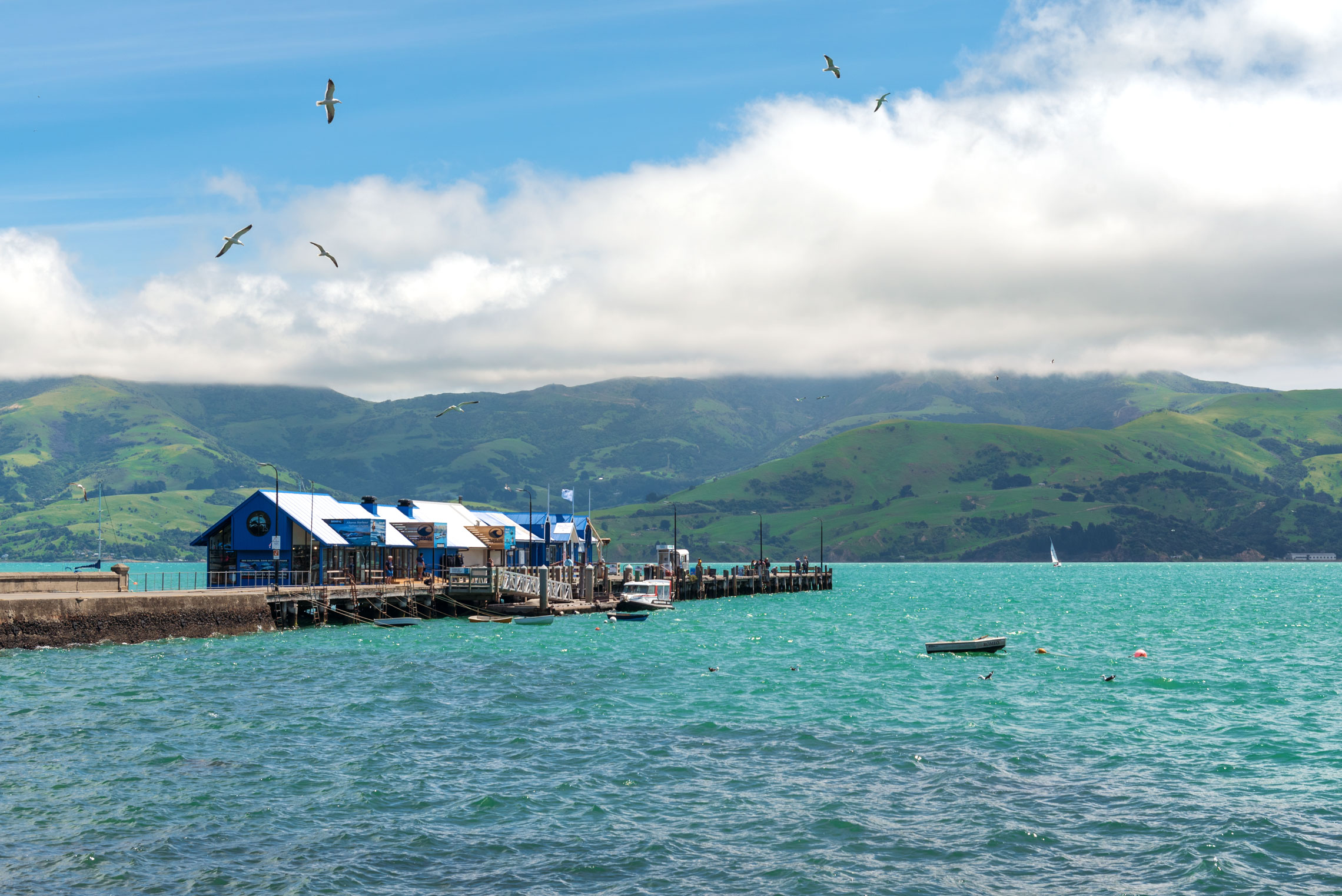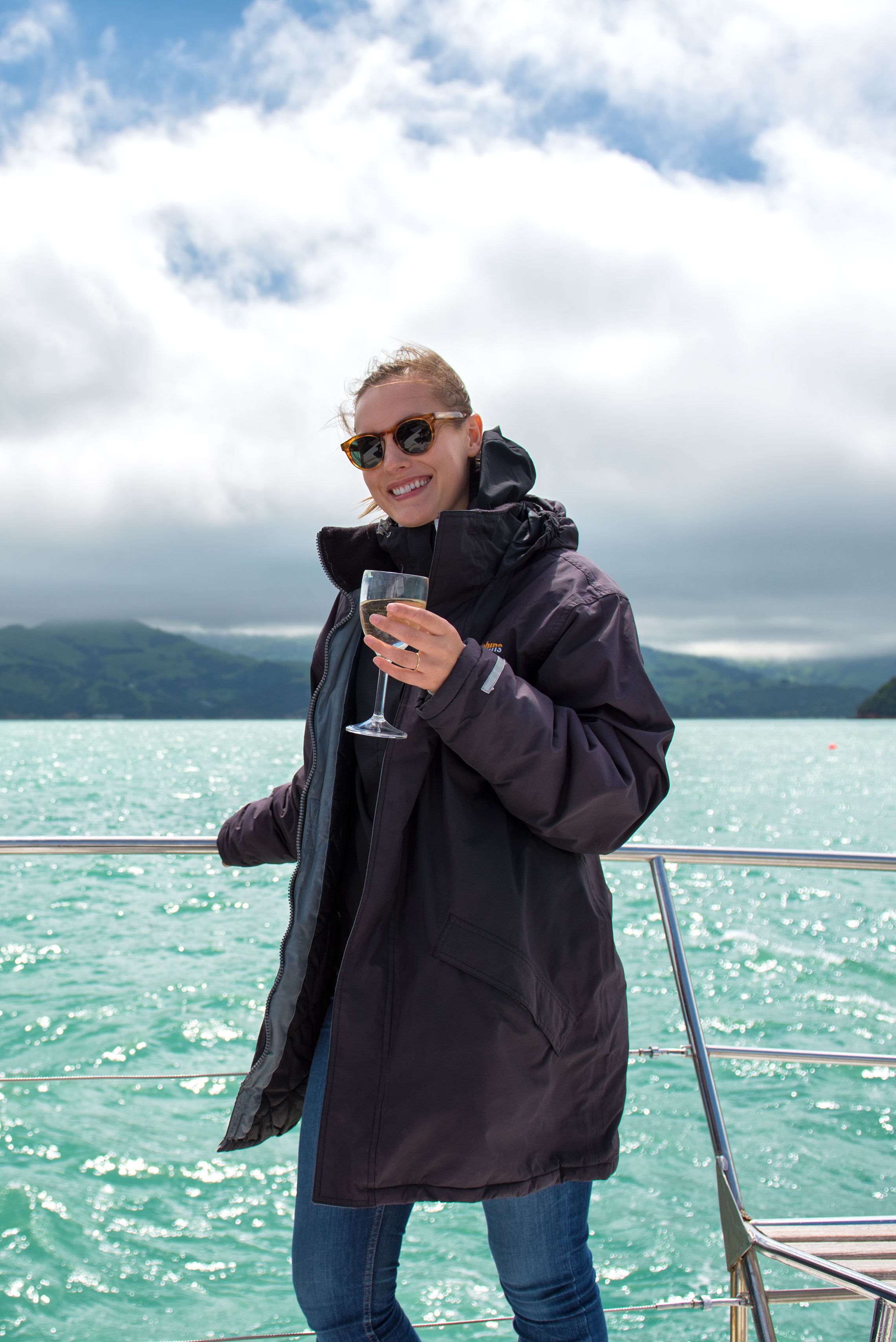 Claiming a spot on the bough of the boat, we had a prime vantage point for spotting dolphins. We were also introduced to 'Buster', a two-year-old miniature schnauzer pup, fully kitted out in his own life jacket, who would be our dolphin spotter (or rather 'hearer') for the trip. With his excellent hearing, Buster is able to hear the dolphins when they are nearby and we were warned that he would go crazy with excitement when he located them. We kicked back, took in the beautiful scenery (how about that turquoise water!) and waited for Buster to do his thing.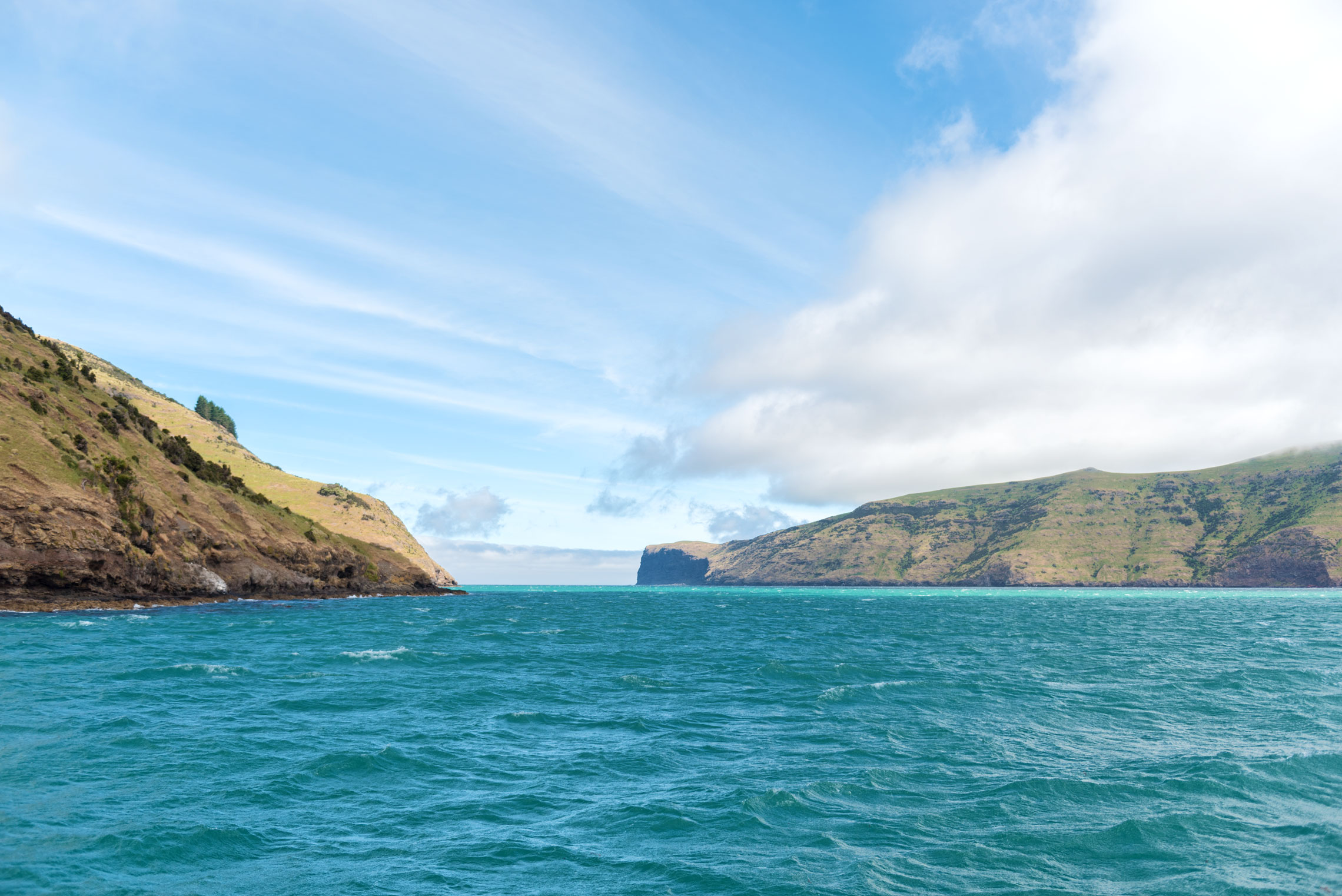 I was so hopeful of spotting some Hector's dolphins on this cruise. This particular species of dolphin is endangered and is only found in the waters of the South Island. They're really tiny in comparison to common dolphins and only grow to 1.5 metres in length. They have high-contrast white and black markings and quite a round, black dorsal fin which is shaped like a Mickey Mouse ear. All of these unusual characteristics made me desperate for a sighting even more.
And we were in luck! Within only about 15 minutes of setting off from the dock, Buster lunged for the side of the boat and began barking like mad! He had heard a pod of dolphins nearby before we'd had any clue they were around. We followed his lead and lo and behold, there they were sprinting alongside the boat! Buster almost went overboard with excitement (hence the lifejacket – it'd happened before we were told) as the playful pod raced forward to dance in the bow waves ahead of us.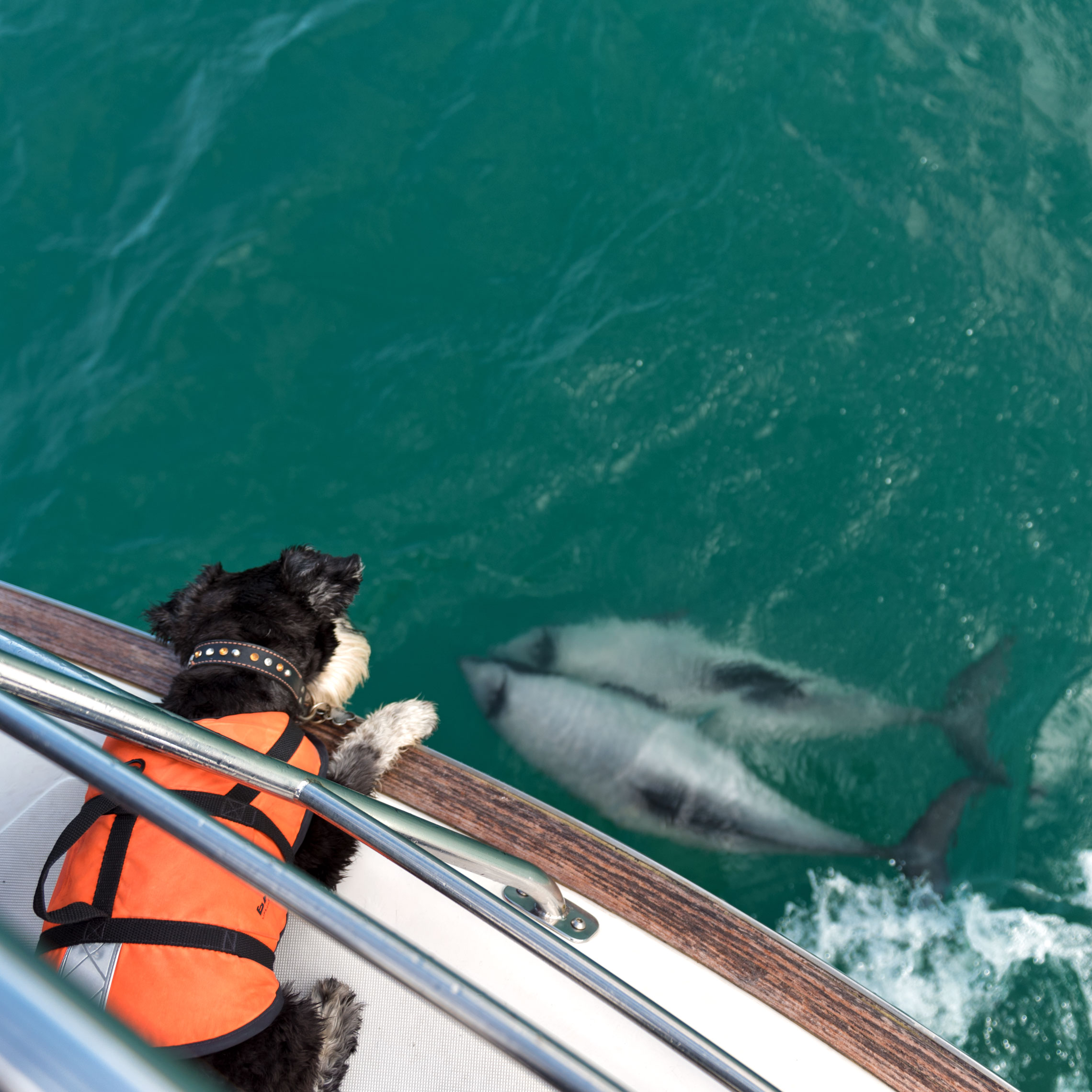 I think they were just as curious about us as we were about them as they stayed with us for what seemed like an age! It was so special to be have experienced a sighting like this and even the operators commented that they'd really put on a performance for us.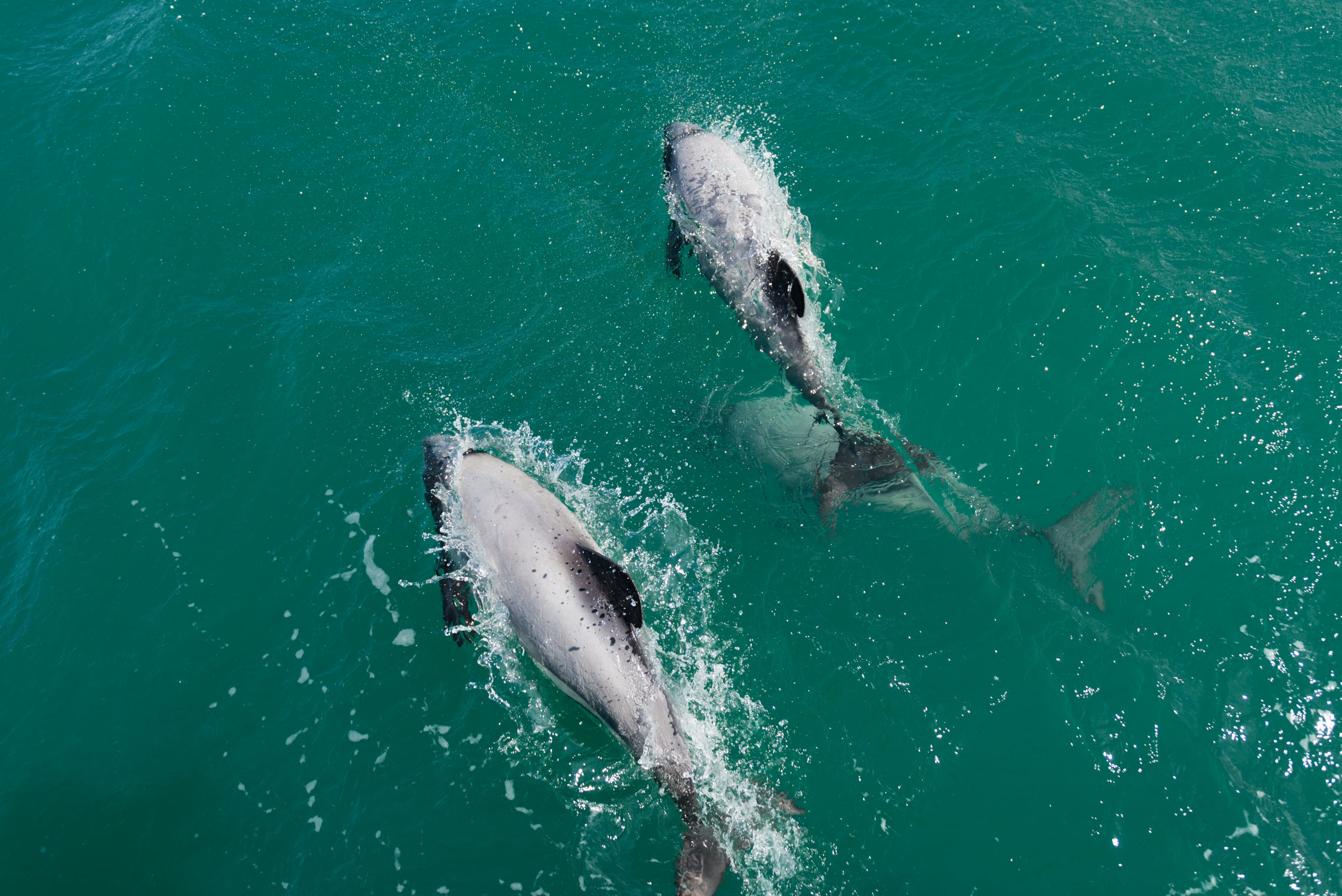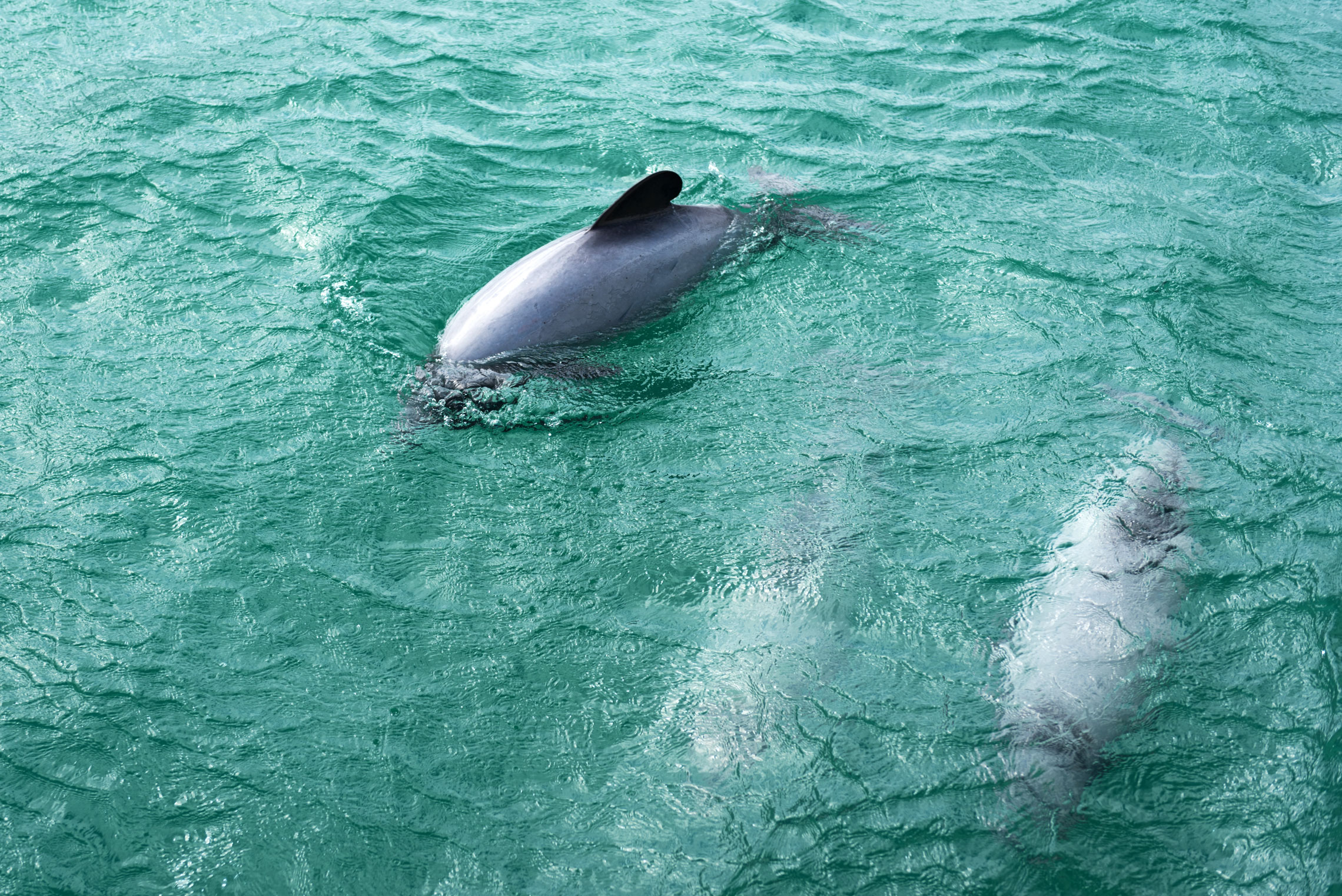 We headed out briefly to the Pacific Ocean, but it was too rough out in the open water to stay out there for long so we retreated back into the sheltered harbour to spotted fur seals chilling out on the rocks and also sail past a salmon farm and a pearl farm. This cruise was definitely a highlight of our trip to the Banks Peninsula and one that I'd recommend to anyone in the region.
Where to stay
There are a few motels, inns and holiday homes available in Akaroa, but we opted for something a little more special for our one and only night there: a stunning two bedroom seaview cottage at Akaroa Cottages: Heritage Boutique Collection. It was perched on a hill and overlooked the shimmering harbour and the rolling green hills of the peninsula. We picked up some fish and chips from town and ate dinner on the patio watching the sun set across the harbour.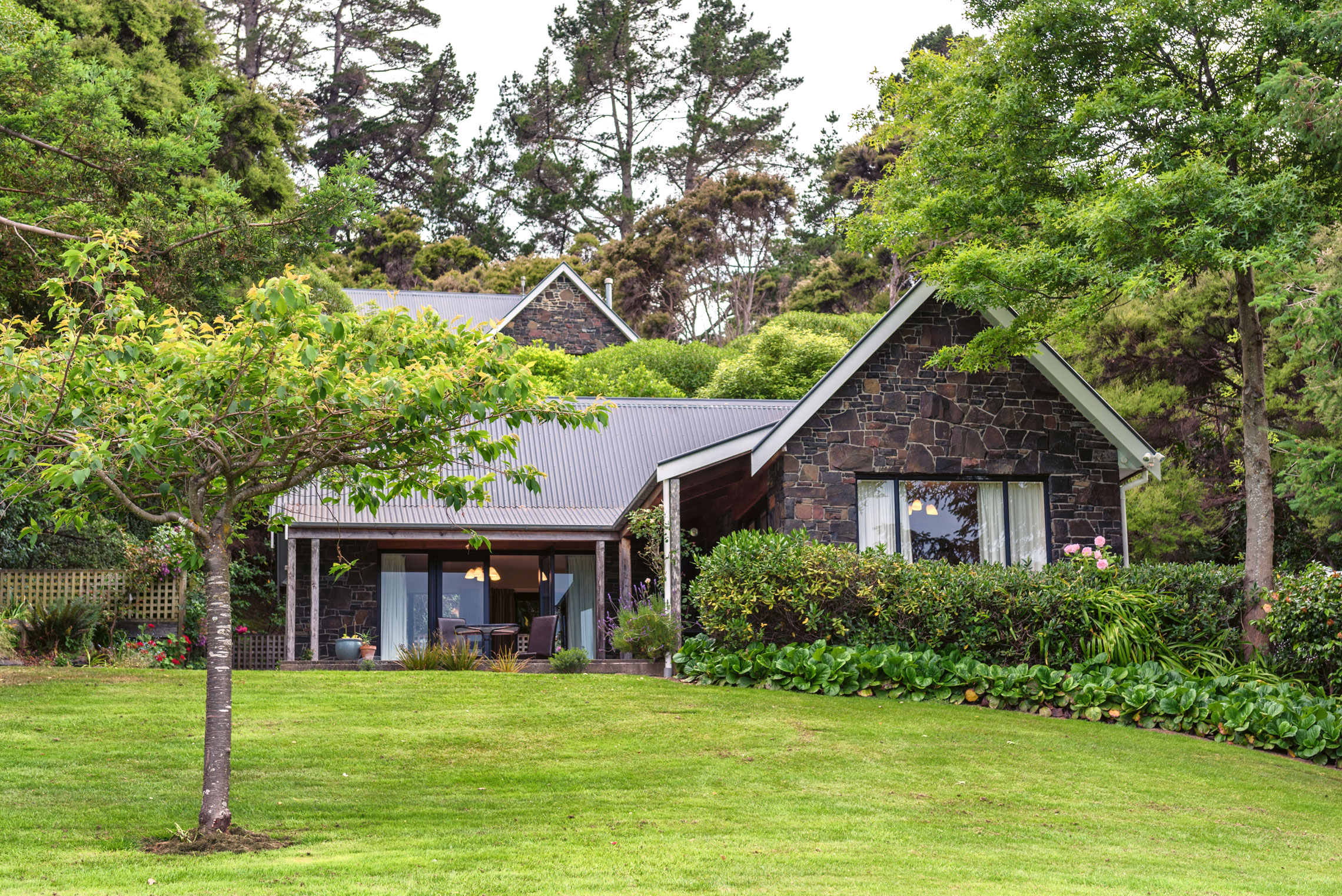 Other great things to do around Akaroa
Wander around the charming streets of New Zealand's first and only French settlement
Join a seal colony tour to see the local population of fur seals hanging out on the rocky shore
Go kayaking in the sheltered harbour and spot some of the varied marine wildlife
Hike the Summit Walkway, a multi-day hike which traverses the ridge of the peninsula
Take a tour to visit the penguin colony at Pohatu Marine Reserve
Do the Misty Peaks hike, an easy 30 minute walk from the town centre
Planning a trip to New Zealand and looking for more inspiration? You might like to read:
Disclosure: this post contains some affiliate links that earn me a small commission at no extra cost to you. Thank you for your support!
Have you been to Akaroa? Share your tips below!