As a blogger, a big part of your job is to publish consistent, valuable and interesting content for your readers. But let's be honest for a second, shall we? Some days the words just don't flow. As much as you try to force it, there are days where your creative juices will have seemingly dried up. Whilst we all wish that we could sit down at our desks day after day and write freely, the reality is that it just doesn't happen this way. Try as you might, chain yourself to your desk even, but when inspiration decides to pick up and leave, you can't force it back. So the next time you're sitting there staring at a blank 'Add New Post' screen and getting a whole lot of nothing done, focus on improving your blog with one of these 21 other blogging tasks instead.
21 blogging tasks for when you don't feel like writing:
1. Promote old blog posts on social media
I'm sure you've got some killer, old blog posts that are just sitting there forgotten. Give them renewed life and promote them across your social channels again. You have so much great content on your site that it would be a shame to not draw attention to it.
2. Edit photos for upcoming blog posts
One of my favourite things to do when I don't feel like writing is to edit photos. It uses a completely different part of the brain and I find it relaxing. Sometimes, I also find that it inspires me to get writing once I have the visuals in front of me. Editing photos is an essential task for any blog post and it's a great thing to do when you want to work on a post but aren't motivated to write.
3. Check for broken links and repair
Over time, broken links appear on your blog. This might be because sites and pages you linked to don't exist anymore. Having a site full of broken links is not only frustrating for your readers but it's also terrible for SEO and negatively impacts your domain authority. Tip: the Broken Link Checker plugin scans your site for bad links and alerts you to where they are.
4. Respond to comments
Your community is everything so you should always set aside time to connect with those who have made the effort to leave a comment on your blog. I do my best to reply to every comment left on my posts – it's just a nice way to say thank you and let your readers know you appreciate them. Tip: make sure you've got the plugin Comment Reply Notification installed which will notify them of your reply!
5. Create Pinterest-friendly graphics
Ideally, for every blog post you publish you should create a pinnable image for Pinterest. I find that Canva is the easiest tool to use for this. Go back to your most popular blog posts and create Pinterest-friendly images for these and get pinning! It will drive lots more traffic to your site (Pinterest is The Department of Wandering's biggest referrer).
6. Update old content and re-share
Over time, your writing, photography and formatting styles might change and that's completely natural. Go back to some of your early blog posts and give them a little refresh, updating them to be more consistent with your more recent posts. Once you're happy with them, promote them across social media.
7. Plan your monthly editorial calendar
When I'm not in the mood to write but still want to think about content, I love planning my monthly editorial calendar. I open up the blank month and start penciling in the content for each week. Doing this helps me feel less overwhelmed and also clarifies what I need to focus on for the week ahead. If I feel frazzled, I find it really hard to focus on being creative.

8. Connect with other bloggers online
Even though you might hesitate to reach out, bloggers love to hear from other bloggers – I definitely do! Blogging can be a lonely business so connecting with others is actually really important. If you've been following along with a blogger for a while, take a moment to send them an email or contact them through social media. Remember, you're not competing against one another. You're in the same industry so use this to lift each other up and support one another.
9. Re-organise your menus
Have a look at your menu structure. Is it logical and clear? Does it point your readers to everything they need? Having a solid menu structure works wonders for helping readers find their way around your blog. You want to make it easy for them, not hard! I did a big menu overhaul a while back and it I really feel like it's made The Department of Wandering more organised and accessible.
10. Update plugins and install new ones
Always make sure that your plugins are up to date. Having old versions installed can open you up to security attacks. Now is also a good time to research other plugins that might be useful to install. Don't go crazy though – having too many plugins can slow down your site. Only install the ones that you actually need.
11. Start a newsletter
In addition to notifying readers of new posts via RSS, do you also send out a weekly newsletter? If not, this might be a good time to look into setting one up. Email newsletters are a key marketing tool you can use to connect with your audience, send out news and updates. They're more simple than ever to use and there are a bunch of good providers out there. I send a weekly newsletter out to all my subscribers every weekend using Mad Mimi. Speaking of which, have you signed up?
12. Insert internal links in old posts
A great task for when you're feeling uninspired to write is to do a SEO blitz on your blog! Go back to old posts and see if you can insert internal links to other relevant blog posts or pages. It might even be something as simple as a link at the end of the post on what to read next. These healthy links will boost the authority of your site and assist in page ranking.
13. Give your blog a makeover with a new theme
Are you happy with the design of your blog? If not, it might be time to update. All bloggers will want to refresh the look of their blogs at some stage so don't think you have to stick to the first design you launched with. Purchasing a professional looking theme is one of the first and best investments you should make with your blog. You can purchase great themes through sites like Theme Forest.
14. Create business cards
Every serious blogger should have business cards. Having a business card to give to potential future clients and business contacts sends the message that you are a professional. Getting business cards made up is really easy. There are lots of providers out there that you can use. I got mine through Moo.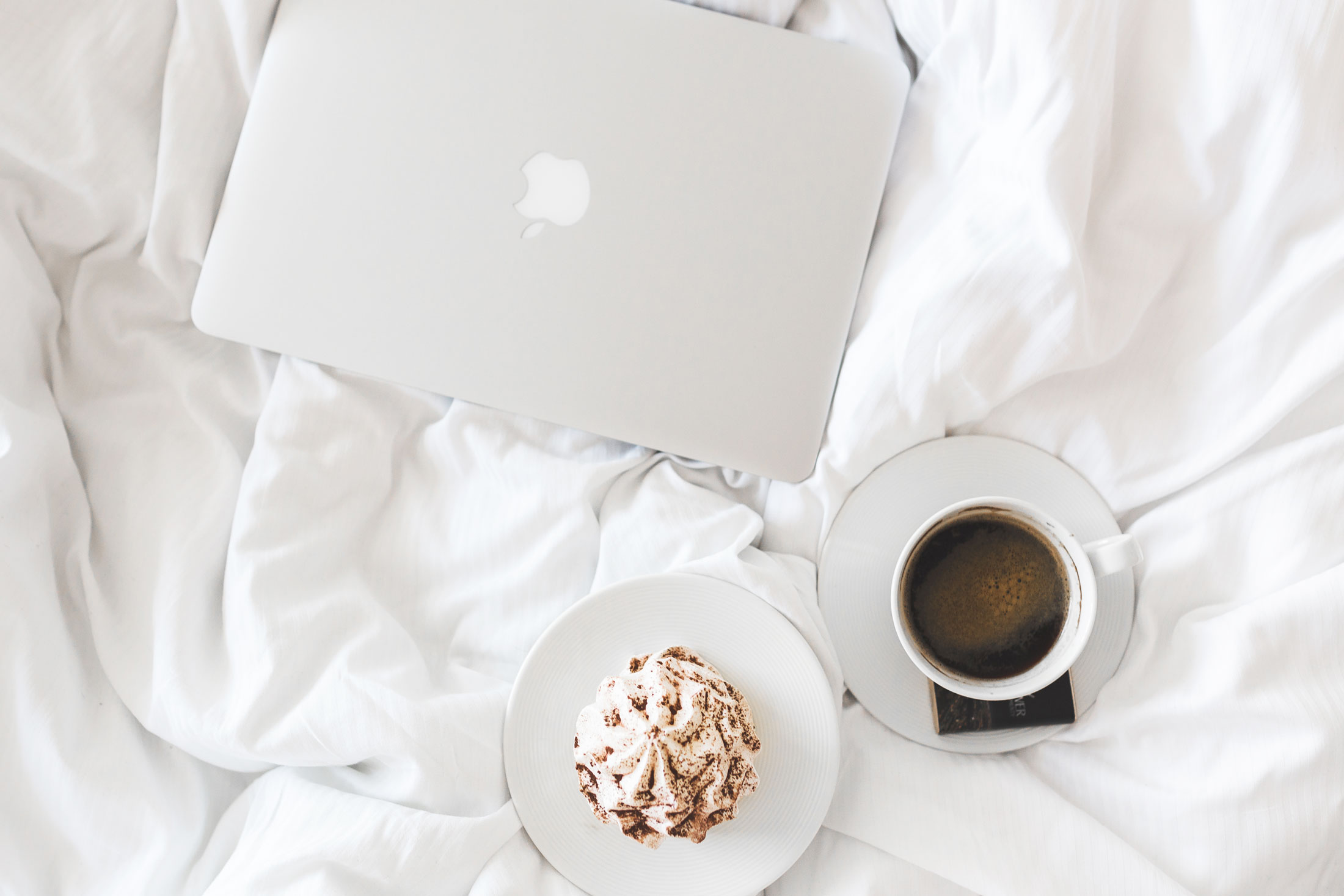 15. Sign up for affiliate programs and start inserting links in your posts
If you're at the point where you're starting to think about monetising your blog, affiliates are a good place to start. Have a think about what kinds of affiliates you could potentially work with depending on your niche. There's a huge range of affiliate programs out there. Travel bloggers might like to work with hotel affiliates like Booking.com, fashion bloggers could sign up to Reward Style and photographers might get the best value out of Amazon Associates.
16. Customise your sidebar
Our sidebars can do with a spruce-up from time to time. Have a look at yours. Are you happy with it? Does it contain all the essential elements you need there? What can you do to make it even BETTER? Perhaps you want to have a slightly different sidebar for different sections of your site. Now's a good time to play around with some options.
17. Invite contributors to guest post
If you're in a blogging slump or feeling overwhelmed trying to keep up with everything, perhaps this is a good time to place a call-out to contributing writers. The Department of Wandering works with contributors, not only to offer different perspectives on the blog, but also to enable me to focus on other aspects of the business while keeping up with content.
18. Read other blogs in your niche and leave a comment
When I don't feel like writing, something I just love getting up to date with the latest posts from all my favourite bloggers. I usually keep track of new posts through tools like Bloglovin'. It's inspiring to see others publish new content and it helps to motivate you to get creative with your own. Leaving comments on blogs you follow is a lovely touch and lets others know you appreciate what they're producing. Never comment on a blog just to promote a link back to your own site though. It comes across as insincere. Your comments should always be relevant and valuable.
19. Update your media kit
It's important that your media kit/page remains up to date. If you don't have one, this might be a great time to start creating one. Make sure it reflects statistics on audience and demographics, previous collaborations, testimonials as well as information on the services you provide. This is all vital information for brands and agencies interested in collaborating with you.
20. Pitch brands for new collaborations
Whilst publishing killer content will undoubtedly help your blog grow, so does working with brands. If the pressure of producing yet another great article is getting to you today, why not spend the day putting together a great pitch for a new collaboration? Put yourself out there and see what happens. You never know where it could lead!
21. Don't be so hard on yourself – do nothing at all!
You know what? If you don't feel like writing, switch off from your blog completely and just take some time out! We can get so caught up in always feeling like we should be productive but sometimes you just need to step away from it all. Close your laptop. Go for a walk and get some fresh air. Take a book to your local cafe. Go meet a friend for lunch. Switch off from your blog for a while and you're almost guaranteed to come back to it with renewed energy.
Like this post? Pin it for later!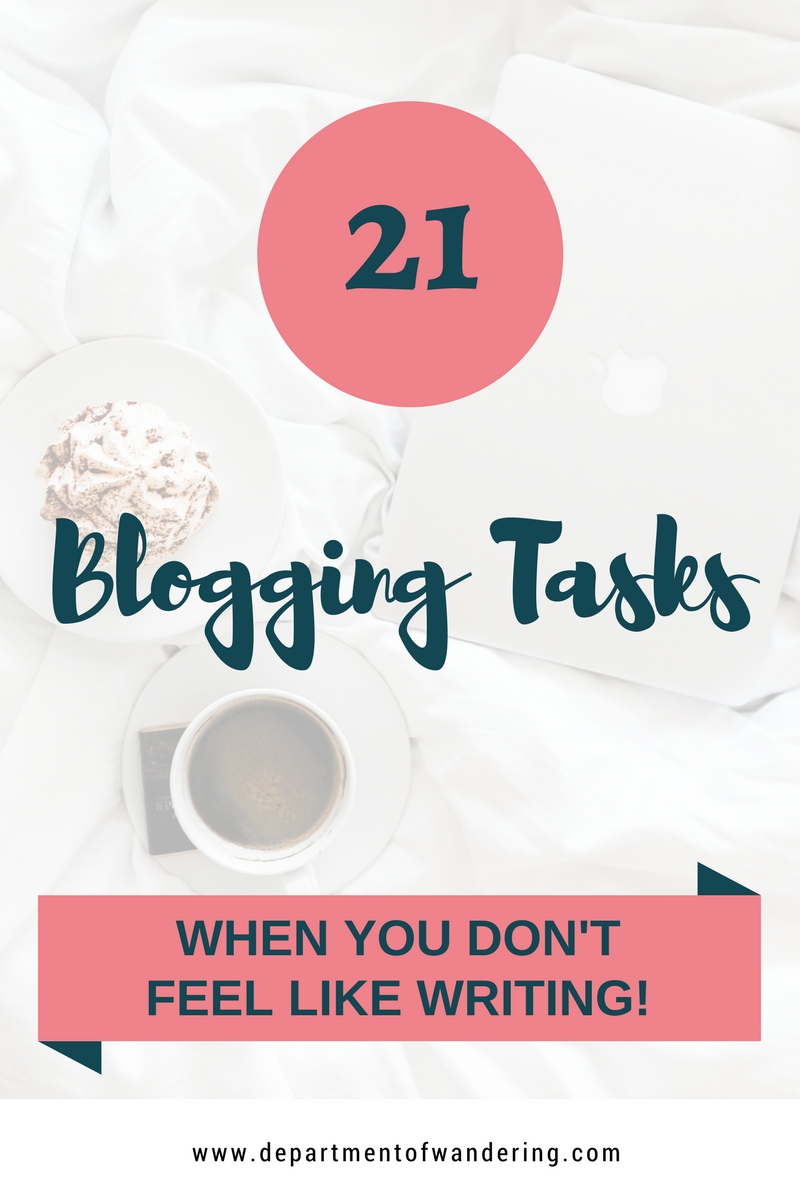 Looking for more blogging tips and tricks? Read these next:
Disclosure: this post contains some affiliate links.
Over to you! Are you a blogger? What do you do when you don't feel like writing?