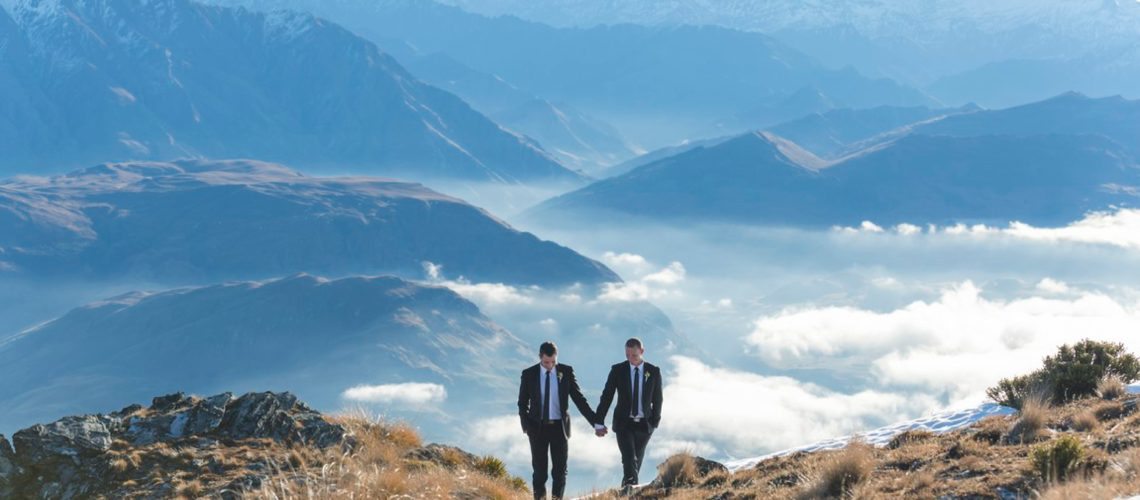 If you have a wanderlust soul and the heart of a hopeless romantic, chances are you're craving a destination wedding. But how do you decide where to get married? Where do you even begin to narrow down your list? We asked five top international wedding bloggers to share their favorite destination wedding locations and our hearts are aflutter with their answers!
Secrets Spilled: The Most Beautiful Destination Wedding Locations
Los Cabos, Mexico
Budget Savvy Bride founder and editor Jessica Bishop, has a top pick of the stunning Mexican city, Los Cabos:
My favorite location for a destination wedding would have to be Los Cabos, Mexico. It's fairly simple to get to from all areas of the US, and the region is partially popular because of its beautiful weather. Cabo's temperatures are bearable because of the dry heat – a.k.a the bride's hair won't have to fight the humidity on her wedding day! Besides being picturesque, there's also plenty of things to see and experience such as sailing to the arch of Cabo San Lucas or exploring the nightlife scene. Don't forget about the amazing food and delicious local flavors! Overall, you can't go wrong with Cabo!
For more information on the Sheraton in Cabo read more from this budget conscious wedding post. Photos by Mikkel Paige Photography.
Croatia
Burnett's Boards Founder and Editor, Sara Burnett, recently visited this popular country and quickly named it her top choice:
If you're looking for a Euro-chic wedding but don't want the price tag of something in Italy (or the crowds), then Croatia is the perfect place for you. I'm going to get slammed for saying this BUT IT'S TRUE: Croatia is not only insanely gorgeous (hello Dalmatian Islands!) but it's the 'cheaper, better Italy'. You can get married in the square where Marco Polo lived, amongst Roman ruins, dressed as Khaleesi in one of the Game of Thrones filming locations like Dubrovnik or Split, or in a chic hotel in the city of Hvar where celebrities from Beyonce to Bono hang out. The possibilities are endless and you'll have plenty of money leftover to cruise along Croatia's Adriatic Coast in a private yacht for your honeymoon. It really doesn't get any better than that.
Sara has an incredibly gorgeous Croatian bridal portrait inspiration shoot on her site including the photos below by Erika Parker Photography.
Rhode Island, United States
Glamour and Grace Founder and Editor, Megan Acosta, has chosen this glamorous small state for elegant affairs:
Last year I went to Rhode Island and really fell in love. It is the perfect destination wedding location for a vintage loving couple. For that Gilded Age glamour, the mansions in Newport will transport you back to an age of extravagant elegance and beauty unlike anything else you will find in the rest of the US. Rosecliff Mansion in particular is like something out of a storybook! In Rhode Island's popular harbor city of Newport, you can get married at the same church JFK married Jackie O, or go to Castle Hill Inn and stay where Grace Kelly resided during filming High Society (she even has a beach named after her). If you love vintage glamour, Rhode Island is the place to say 'I Do' without having to leave the country.
Check out her informative post on the location here and all the posts on her site for more vintage glam and heirloom wedding touches. Exterior Rosecliff Mansion venue photo by Melissa Robotti Photography, interior by Megan.
New Zealand
Her Bride His Groom, a popular wedding resource based in Australia run by Sam Meathrel, adores New Zealand:
I absolutely love New Zealand as a destination wedding location. The scenery is stunning and it provides such a memorable backdrop for a couple's special day. If you are a real nature lover, New Zealand is the way to go. I particularly love Queenstown in Otago; it is surrounded by mountains and is often referred to as a 'resort town', so the people are very laid back and easy going. Same-sex marriage is legal in New Zealand, and around 50% of same-sex couples married there are from overseas. There are a large number of wedding venues in the area, covering all different types of wedding styles from intimate gatherings to large affairs. There's so much charm to Queenstown – it's easy to see why couples love it so much.
For more heart-warming weddings from Her Bride His Groom, check out these amazing real weddings. A special thank you to Rich Baley Photography for the stunning image below.
Kauai, Hawaii
Last but certainly not least, Stacy Stahl, Founder and Director of the most popular proposal site out there, How He Asked by The Knot, shares her favorite destination wedding location. Her pick is Kauai, Hawaii:
Kauai is a magical place full of rainbows, bright green hiking trails, beautiful dolphin-filled blue waters, and gorgeous sunsets. With so many amazing things to do and see, you have the ability to get more creative with typical wedding festivities than elsewhere. A sunset cruise for your rehearsal dinner, a morning hike along the Na Pali Coast (which is one of the most scenic hikes you may ever find yourself doing), or a day-after beach party can set your wedding weekend apart from your friends' for you and your guests. Kauai has a laid back vibe, which can be very helpful when you're planning an otherwise stressful event. It's also entirely possible to have a double rainbow behind you as you say your vows. There's no going wrong with this stunning destination!
Check out amazing destinations (and tear-jerking proposals) on How He Asked. Photo by Mikkel Paige Photography.
Planning a wedding? Take a look at our other incredible resources!
What would be your dream destination wedding location?
Like this post? Pin it for later!