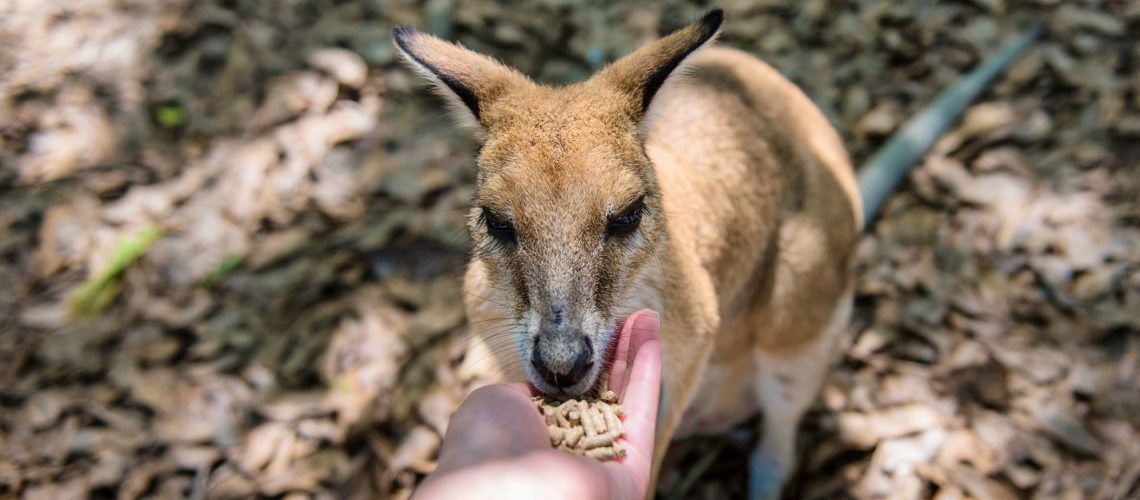 Wildlife encounters make for some of the most exciting and memorable travel experiences. I love learning about different native animals and being able to spot them in the wild is always a highlight of any trip. Australia is home to some of the most unique and interesting animals on the planet so many visitors are keen to have a wildlife experience when they visit. Far North Queensland in particular is one of the best parts of the country to spot some really interesting animals including fearsome saltwater crocodiles, the striking southern cassowary, vibrantly coloured tropical fish, cute koalas and so much more. If you're travelling up north soon, be sure to stop by one of these locations to spot some of Australia's most iconic wildlife.
Where to spot wildlife in Far North Queensland:
The Great Barrier Reef
What to spot: turtles, manta rays, tropical fish, dolphins and whales
One of the primary places to spot beautiful creatures is of course under the sea! Take a day trip out to the Great Barrier Reef, grab some fins and a snorkel, stick your head under the water and be prepared to be astounded by the variety of life see. While Africa has 'The Big 5', the Great Barrier Reef boasts 'The Great 8'. The eight iconic residents of this magnificent underwater ecosystem include manta rays, clown fish (aka 'Nemo'), reef sharks, turtles, the Maori wrasse, potato cods, giant clams and humpback whales. You're pretty likely to spot one of these striking creatures on a trip out to the reef so have your underwater camera ready!
Related: First Time to the Great Barrier Reef? 10 Things to Know Before You Go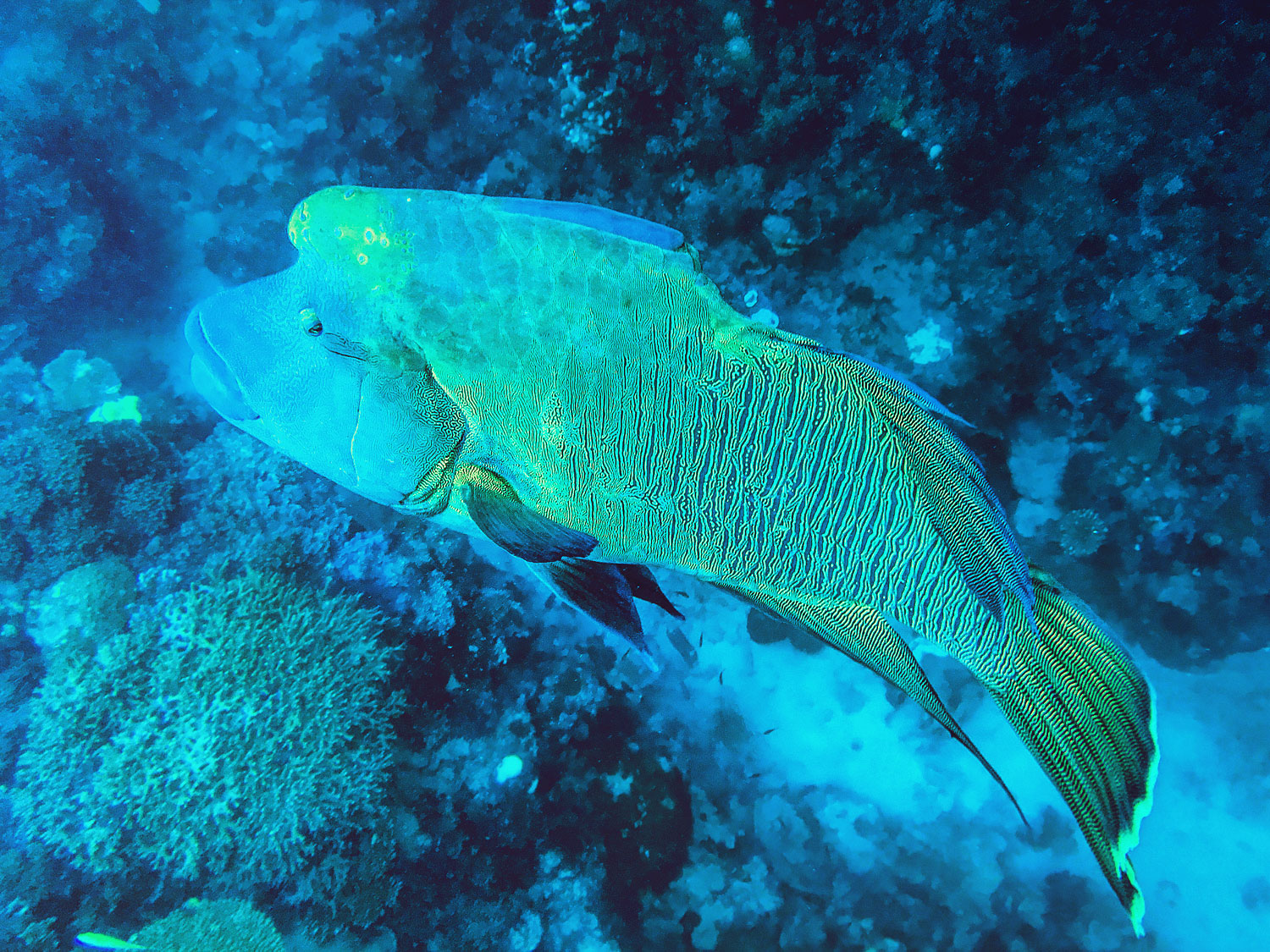 Wildlife Habitat
What to spot: all kinds of native Australian animals from the local area
If you're looking to get up close and personal with native Australian wildlife, make a beeline for Wildlife Habitat in Port Douglas. I've visited the habitat a few times now and since I go weak at the knees at the sight of cute and cuddly marsupials, it's one of my favourite things to do when in Far North Queensland. Entirely independently funded, the Wildlife Habitat is committed to the conservation of wildlife and provides a quality ecotourism experience.
Unlike many other parks, the Wildlife Habitat provides a fully immersive wildlife experience for visitors. The various habitats are open and interactive, allowing guests and wildlife to mingle in a spacious natural setting. You literally walk right through the animals' habitats on a series of elevated boardwalks while they go about their business and roam freely. Pick up some kangaroo feed from the entry and stop to feed the roos and wallabies – they'll come right up and nibble from your hand!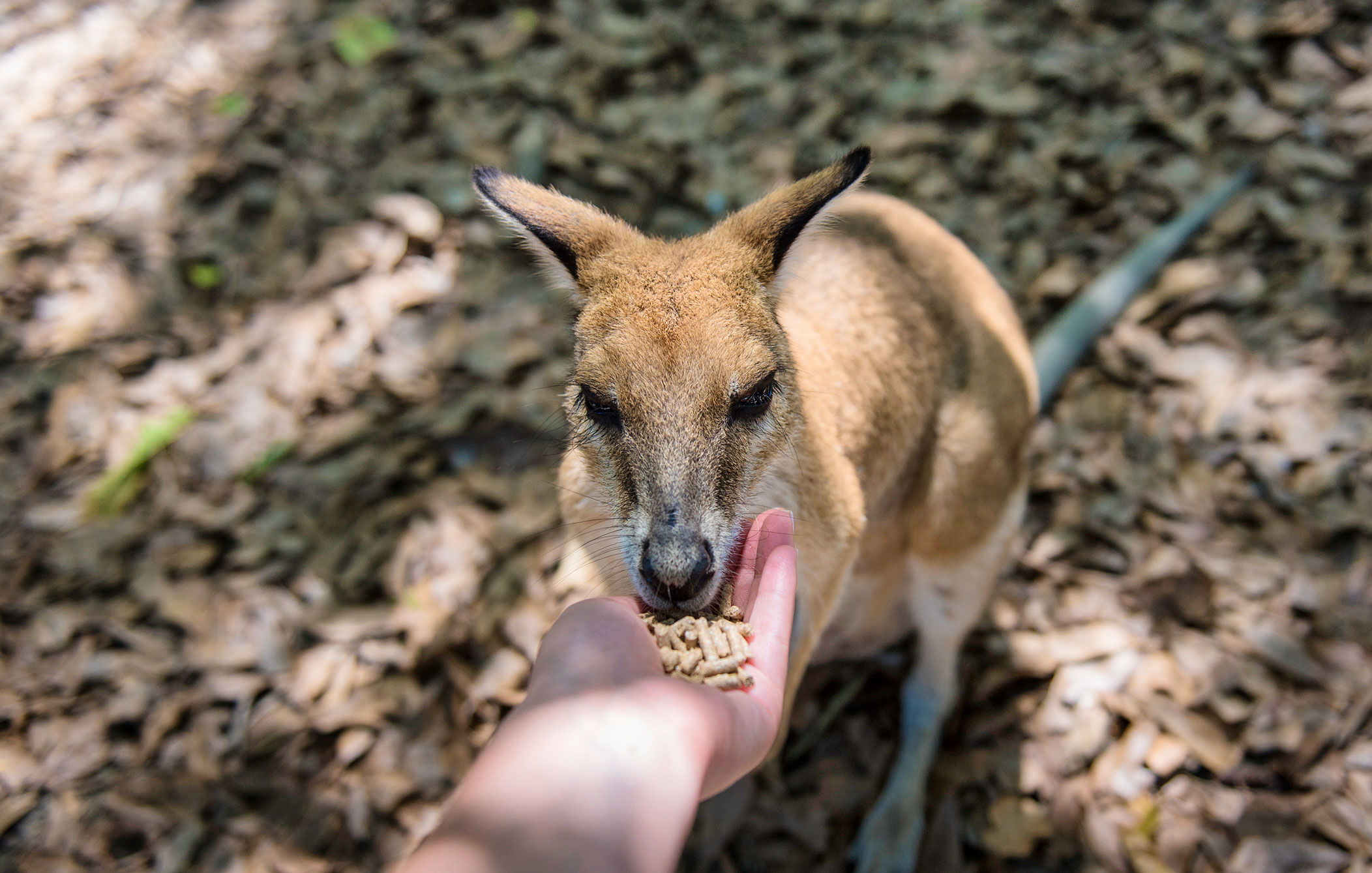 I'd highly recommend booking a 'Your Wildlife Habitat' tour, which is a 2 hr private guide with one of the keepers. We kicked our tour off with a private breakfast on the rainforest beach, dining amongst the birds as they flitted by.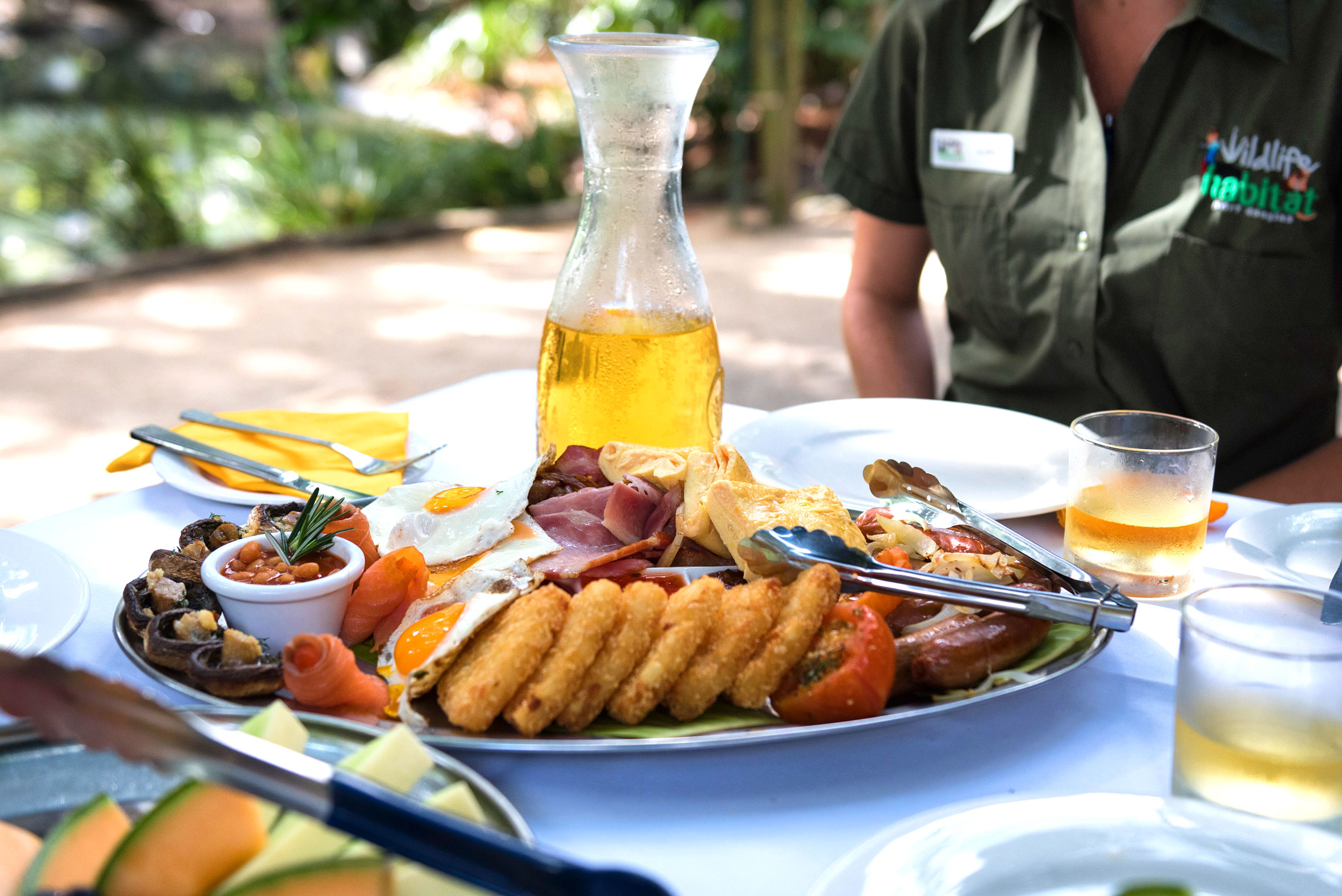 Afterwards, we made our way through the various habitats including the woodland, rainforest and wetlands areas. One of the highlights was seeing a black-necked stork nest with its newly-hatched chicks. Impressively, the Wildlife Habitat is the only park in the world that is successfully breeding this species. The male, who was guarding the nest was huge – up to 150cm tall.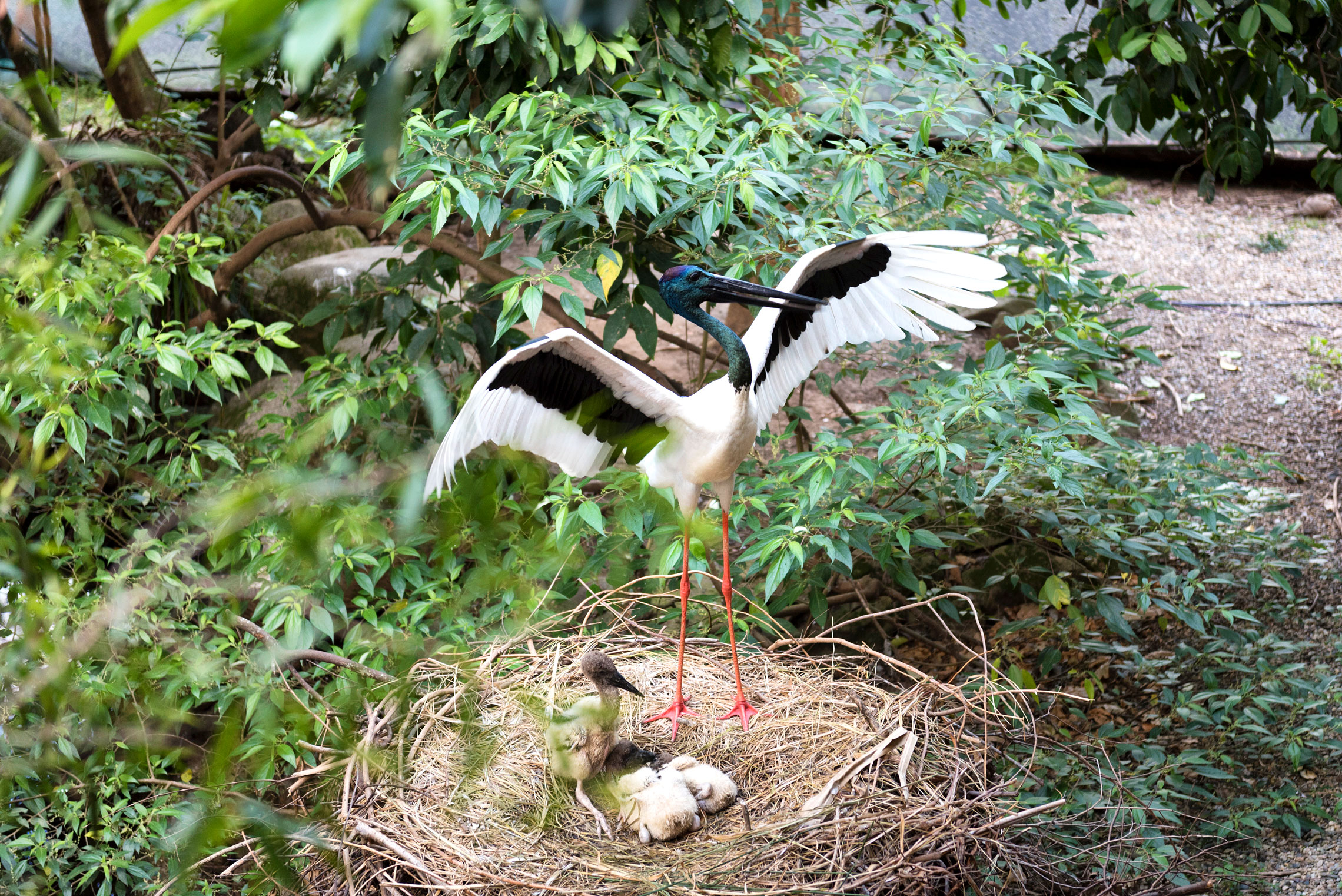 We also had opportunities to engage with animals that had been rescued. The Wildlife Habitat is committed to conservation through its wildlife rescue program. We were able to enter the koala enclosure and get up close to this small female who was suffering from chlamydia, as unfortunately many koalas are.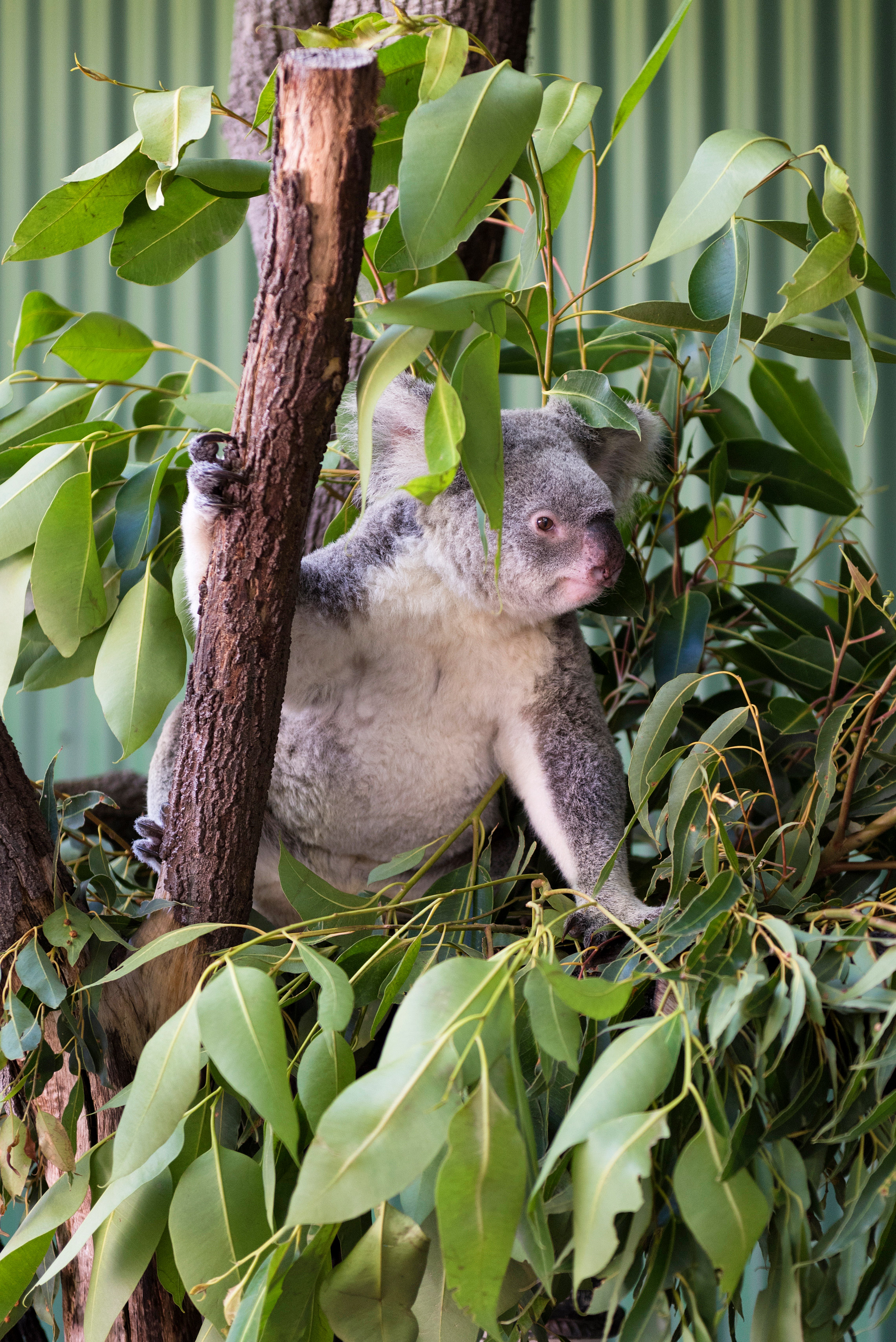 We were also able to cuddle a koala, an experience only available in a few Australian states, including Queensland. Wildlife experiences such as this are strictly monitored and subject to Australian law with the animal permitted to only be brought out for a small timeframe.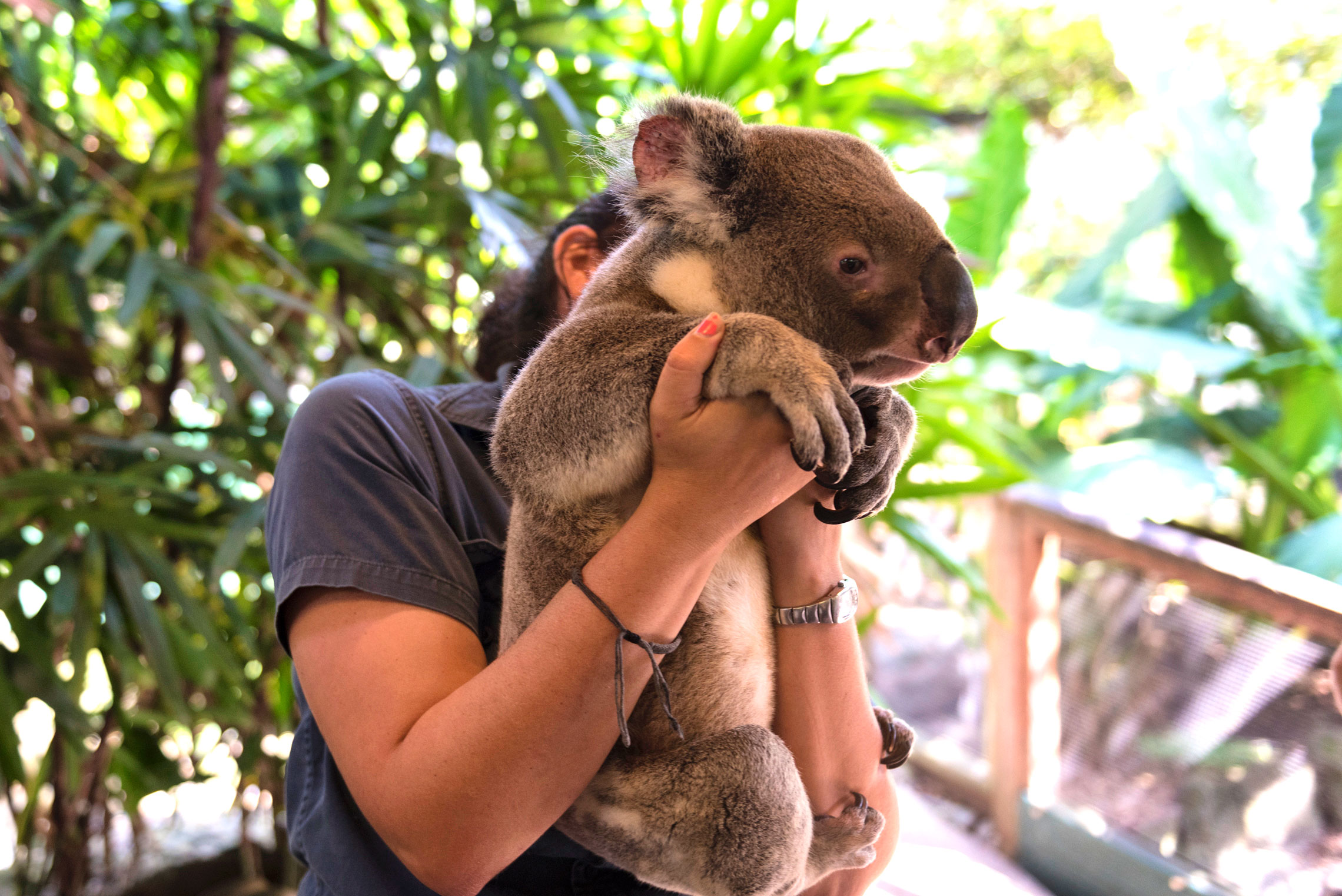 The Wildlife Habitat is also committed to conservation via its wildlife rescue program. Injured, sick or orphaned animals are taken in and rehabilitated at the Wildlife Care Centre on the property. Another great thing about the 'Your Wildlife Habitat' tour is that you get a behind-the-scenes look at the rehabilitation centre. Clare, our guide, took us into one of the facilities and once we were inside with the door safely closed behind us, she opened up the sliding door which led to the main room. Out bounded two curious, little joeys, one a four-month-old kangaroo who was abandoned by her mother and another, year-old baby wallaby. My heart just melted! The centre is caring for them here until they're big enough to be moved to an outdoor enclosure and be exposed to other, older kangaroos and wallabies.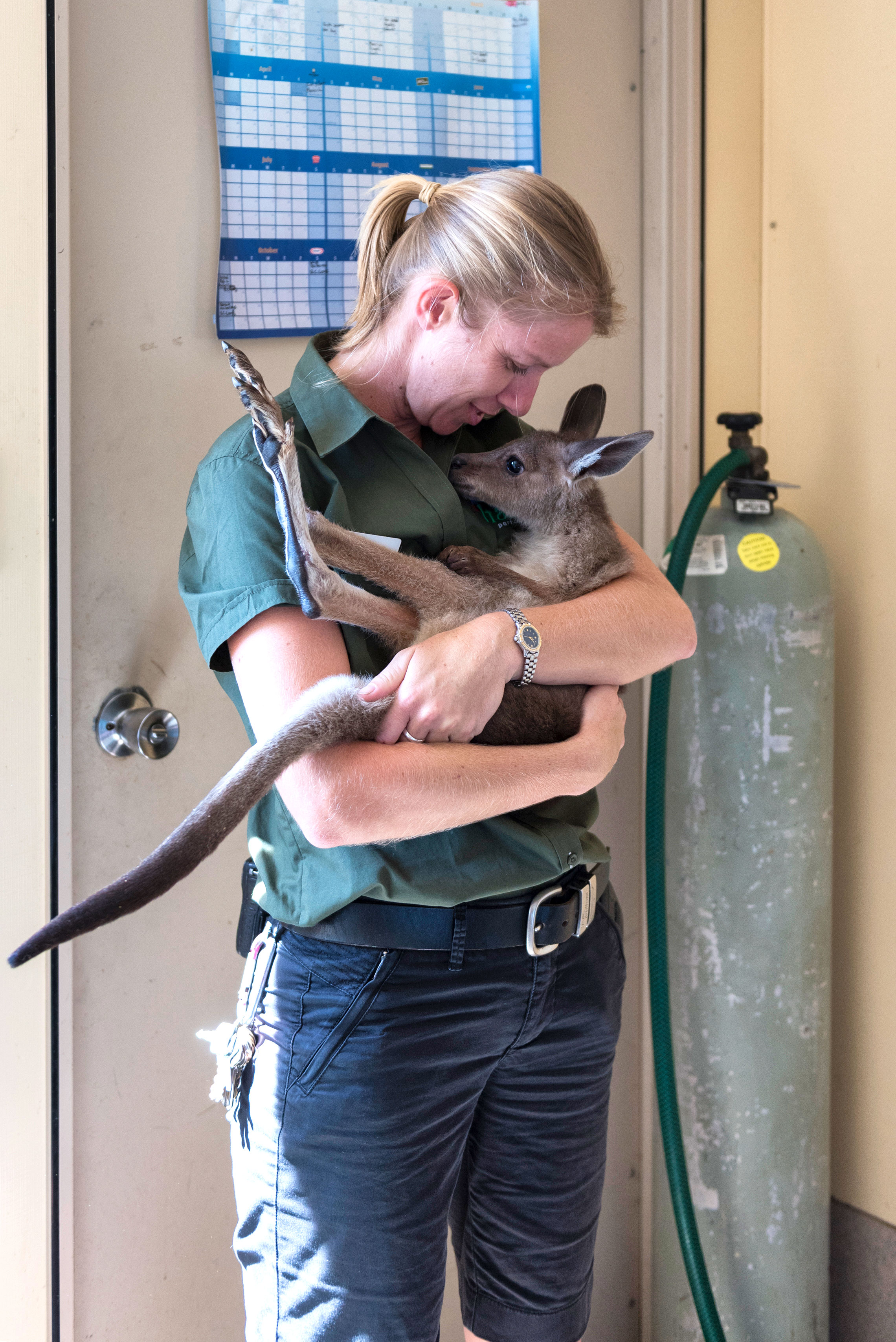 The Daintree River
What to spot: saltwater crocodiles, frogs, snakes, bats and birds
Along the beaches and estuaries in Far North Queensland, you might seen the big, yellow 'WARNING' signs about crocodiles inhabiting the area. Trust me, they're there for a reason. This area is home to 'salties' – large and fearsome predators that inhabit tidal rivers, saltwater creeks and even the shallow beaches. While attacks are rare, they do happen and most likely occur as a result of carelessness around the water's edge. While you certainly don't want a nasty surprise by one of these beasts, they are marvellous, prehistoric creatures that are fascinating to observe from a safe distance.
One of the best places to see them is on the Daintree River where a number of operators run croc-spotting wildlife cruises. I'd highly recommend heading out on a one-hour cruise with the eco-friendly Solar Whisper. The quiet and clean electric boat allows you to get up close to the wildlife without disturbing it or polluting the river. There's a 99% success rate of spotting crocodiles (if you don't spot one, you can come again for free), as well as a range of other wildlife including snakes, frogs, fish and bats. Within only a couple of minutes of boarding the boat, we spotted this 2.5 metre crocodile known as 'Gump' swimming alongside the bank.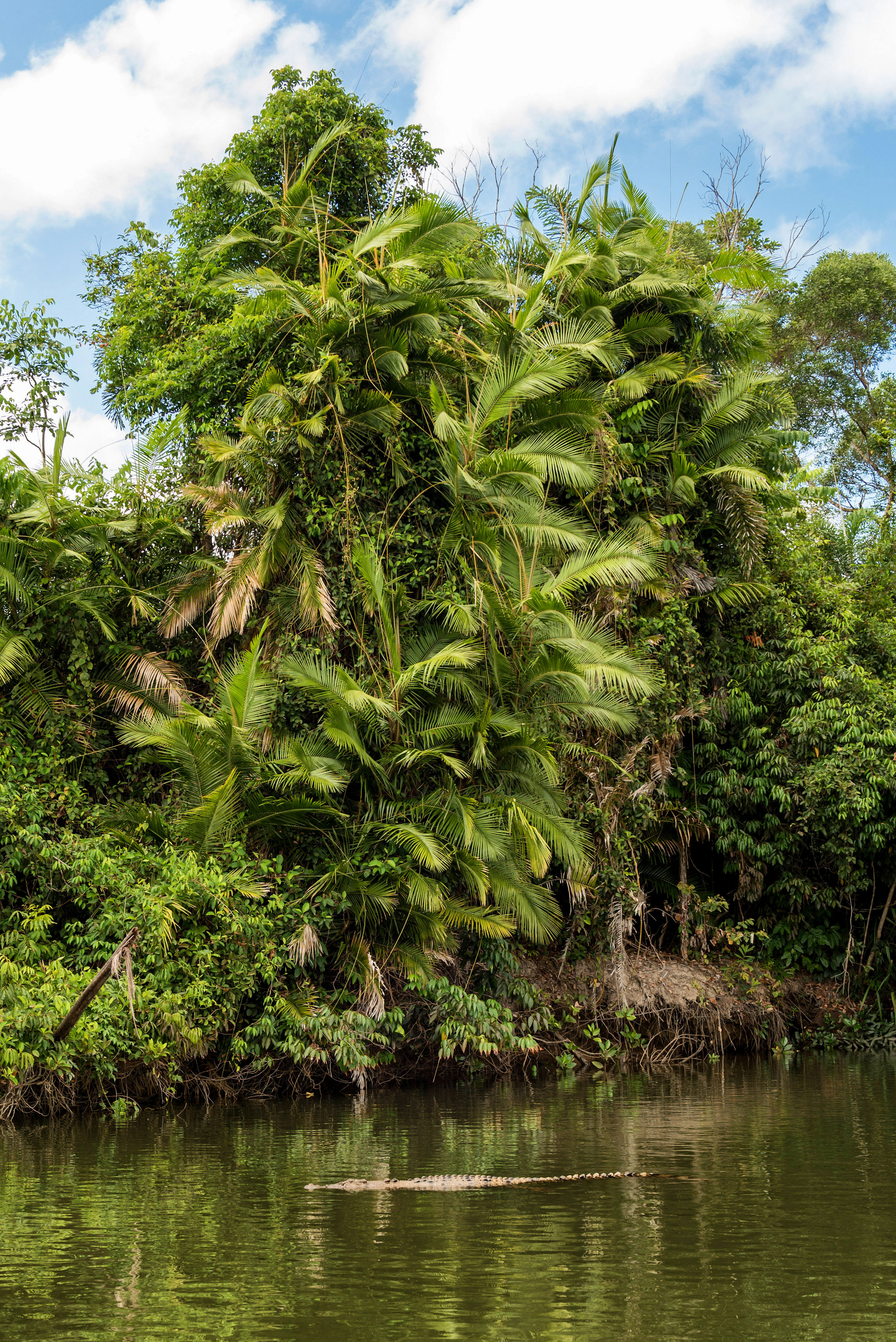 David, the interpretative guide, is incredibly knowledgeable about the Daintree Rainforest, its nuances and wildlife and tailors the tour according to the wildlife present. The 'Croc Cam' on board allows him to focus on the wildlife with his powerful camera and project it on the onboard screen, magnifying it for all to see while remaining at a safe distance. Because the boat is quite small, you're able to explore smaller rainforest creeks to take you deep into the pristine rainforest.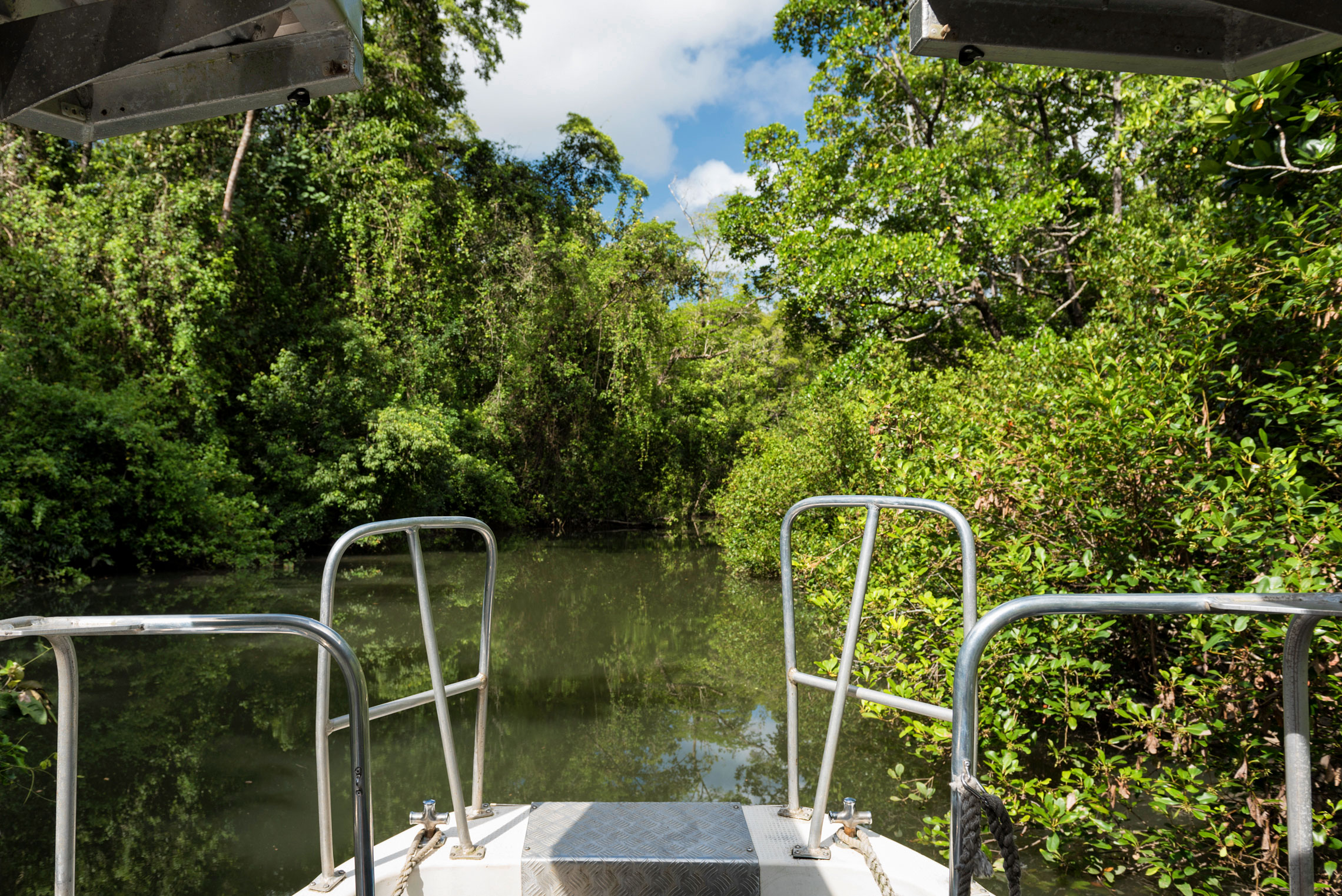 Daintree Rainforest
What to spot: southern cassowary, frogs, flying foxes, birds, lizards and snakes
The World Heritage listed Daintree Rainforest is one of the only places in the world where the rainforest meets the reef but it is its antiquity that really sets it apart. It's the oldest tropical rainforest on earth and is thought to be between 110 – 200 million years old. To put that into perspective, the Amazon Rainforest is only about seven million years old. It's a complex ecosystem and a place of striking biodiversity; it boasts the highest variety of plants and animals found in any tropical rainforest on the planet. It's also home to some of Australia's most beautiful wildlife including the endangered southern cassowary, ulysses butterflies, tree kangaroos, white-lipped tree frogs, Boyd's forest dragons and much more.
The best way to learn about the rainforest, its history and the creatures that live in it is at the Daintree Discovery Centre, located 10km north of the Daintree River. The centre has an advanced ecotourism accreditation with every structure having been built off the ground to allow for minimal environmental impact. Grab an audio guide (try the indigenous interpretive commentary) and make your way across the spectacular 11m-high aerial walkway towards the canopy tower that reaches 23m high. From up here, you'll be able to spot all kinds of wildlife that you wouldn't otherwise see from down below. Afterwards, explore the rainforest via the elevated boardwalks which allow you to see, smell and experience the rainforest first-hand without disturbing the fragile root systems.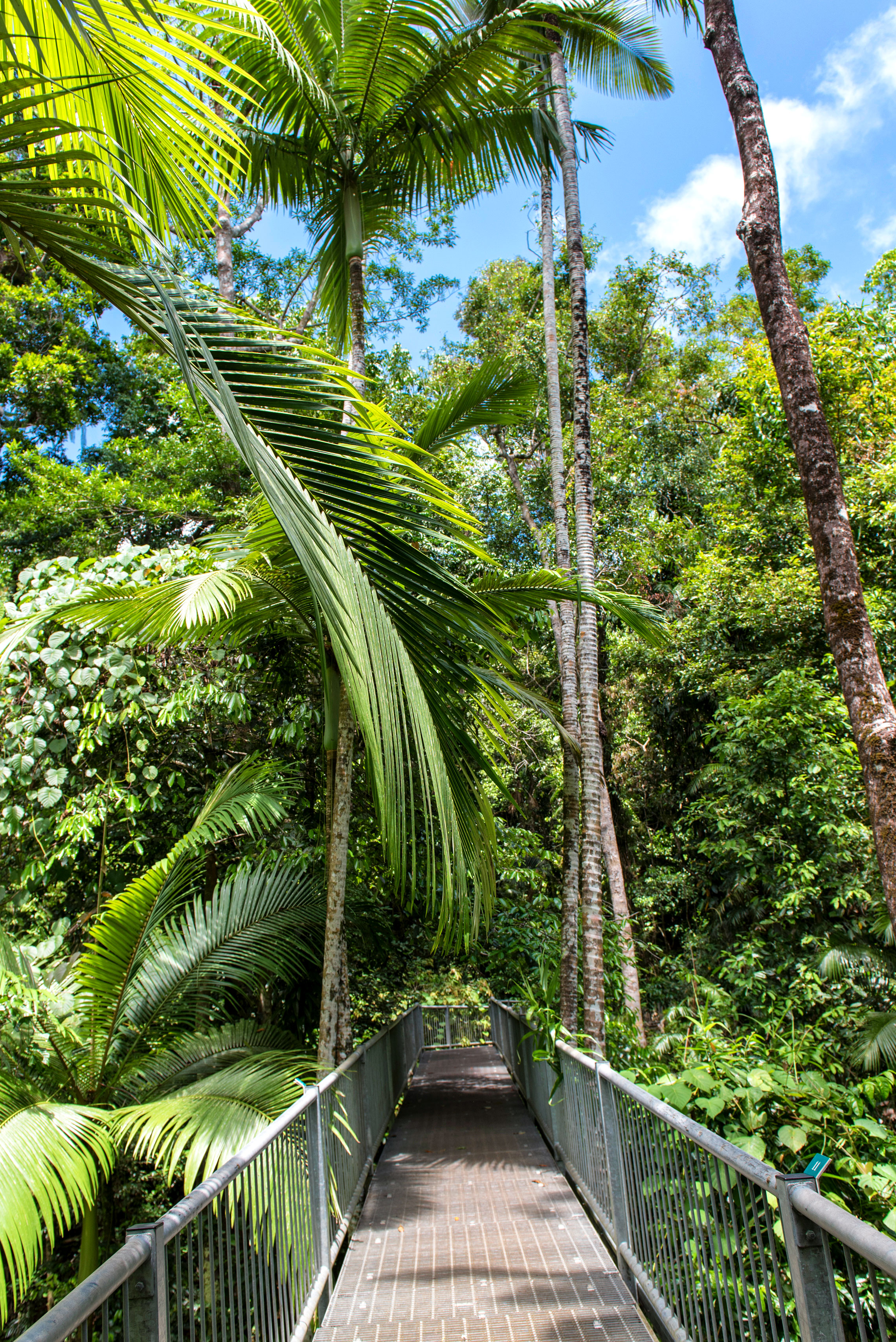 Southern cassowaries are endangered and it's rare to see them in the wild, although they sometimes make an appearance at the Daintree Discovery Centre. We weren't so lucky to see any there though. After our morning exploring in the rainforest, our luck changed when we were heading back down to Port Douglas and a cassowary popped out of the dense rainforest right in front of us! We were so surprised and excited to see one! We stopped the car since it was heading for the road and had to flash our lights and beep the horn to warn oncoming traffic to slow down. It took a few steps along the road and then disappeared back into the rainforest as quickly as it had emerged. What a treat!

Looking for more inspiration on travel in Far North Queensland? Take a peek at these posts:
Stuck on where to stay? Check out these great accommodation options:
Have you ever had any encounters with Australian wildlife? Share your story below!
Disclosure: Many thanks to Tanya, Tara and the rest of the team at Port Douglas and Daintree Tourism for inviting me to experience this beautiful part of the world. All opinions remain my own of course.