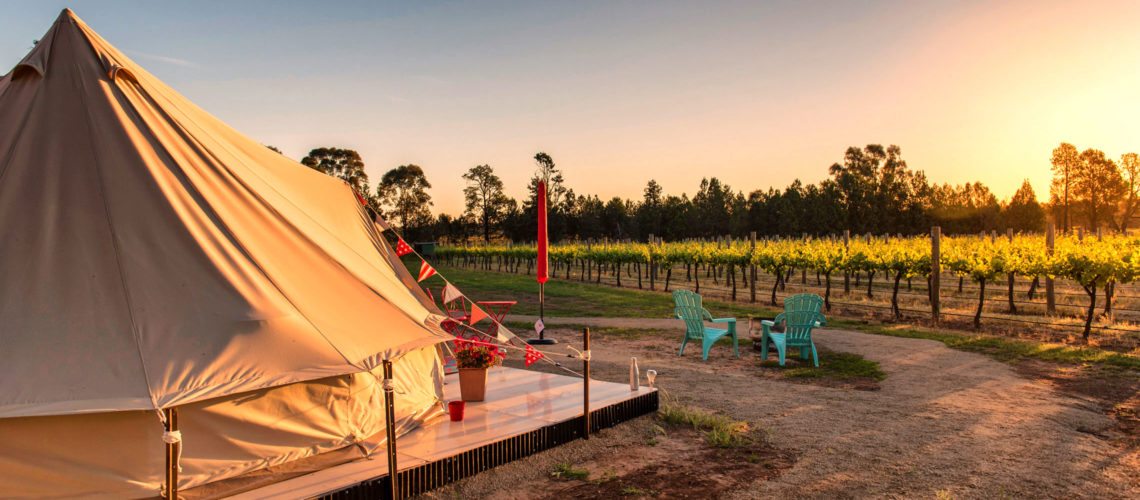 Wine lovers take note: I've found you the accommodation that all your wine dreams are made of.
After a long lunch at historical winery, All Saints Estate, followed by a little pedal power to cellar door hop around town (read about our ultimate wine experience in Rutherglen here), Camilla from The Alimental Sage and I were all smiles as we pulled into Cofield Wines in the late afternoon. After a full day exploring one of Victoria's most celebrated wine regions, we couldn't have dreamed of a more fitting place to rest our heads than here at a winery. Beaming with excitement, we knew that this wasn't going to be your standard boutique winery accommodation experience. No, this was something far more special. Here at Cofield Wines, a new luxury campsite positioned right on the edge of the vineyard has just opened up and we were thrilled to be one of the first guests to experience Grapevine Glamping. While glamping might not be a new concept in Victoria, this is the only place you can glamp in a working vineyard, making it a pretty special experience for all the wine lovers out there, myself included (obviously).
Grapevine Glamping in Rutherglen
Location
Grapevine Glamping is located in the heart of the Rutherglen wine region, approximately a three hour drive north of Melbourne. Cofield Wines is situated in the small town of Wahgunyah on the southern banks of the Murray River and just a 10 minute drive from Rutherglen.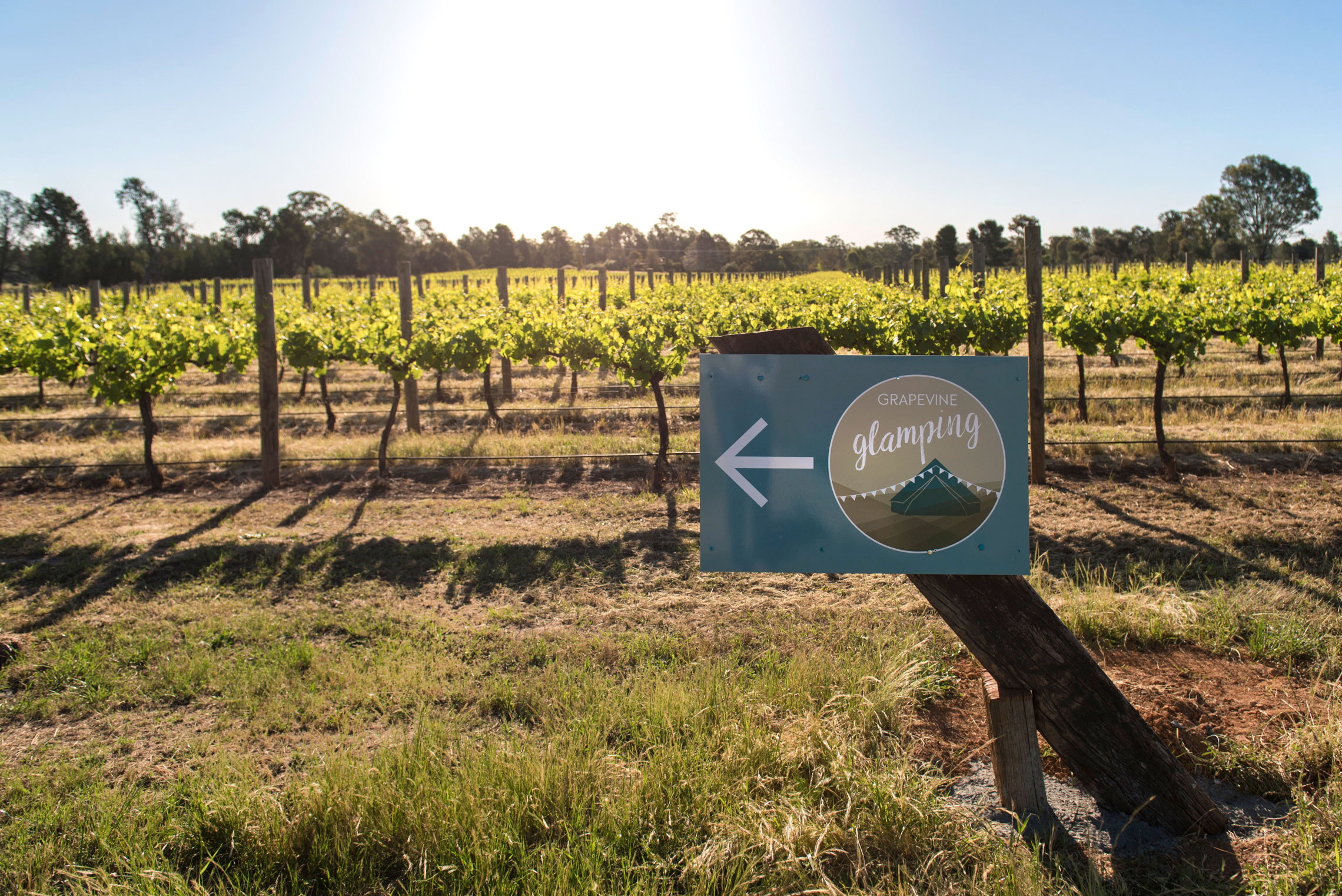 The design concept
Grapevine Glamping is a joint venture between Cofield Wines and The Pickled Sisters Café, also onsite. The partnership couldn't be more perfect and the launch of the glamping site was really just a natural extension of the business. Cofield Wines provides the stunning location on the edge of the vineyard, while The Pickled Sisters Café prepares the gourmet food and, importantly, delivers fresh coffee directly to your tent in the morning! If you think you'll be roughing it at this camping site, think again. The entire Grapevine Glamping experience has been designed with luxury, comfort and privacy at the forefront. There are only two tents on the property, making it the perfect option either for a group getaway (hello girls' wine weekend!) or a special couple's escape. If you only want to book one tent, no problem. They're angled away from each other so you can relax in privacy.
Checking in
You know you're going to have a great night when the check-in counter also doubles as the cellar door. We arrived at 5pm to the warmest welcome by Melanie from Cofield Wines and Marion from The Pickled Sisters Café and we chatted away over a quick tasting before being shown down to our tents. These ladies are so passionate and excited about this new accommodation experience they have created and when I rounded the corner and spotted the tents, I instantly could see why.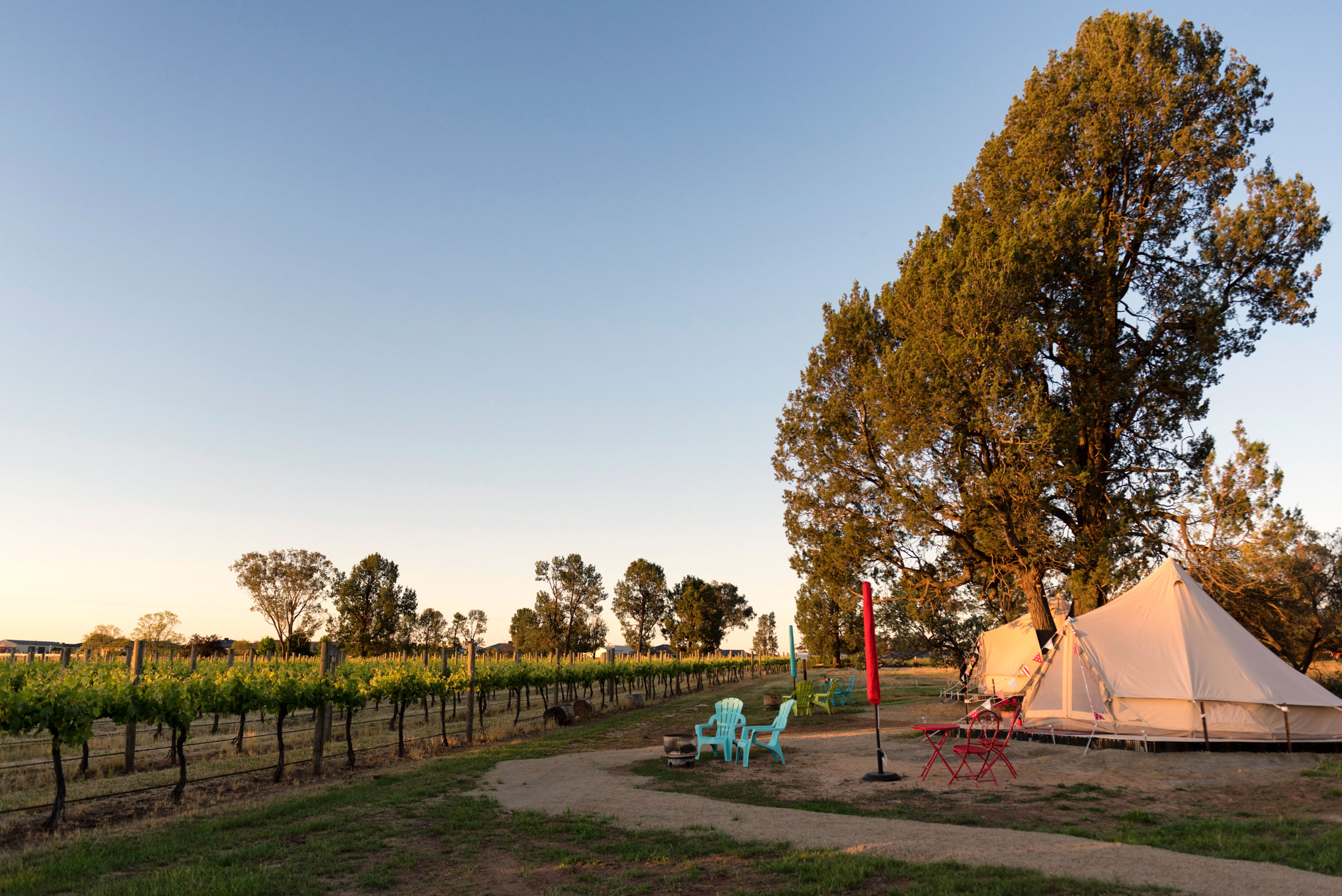 Rooms
Each picking one of the five metre bell tents, we entered to find a fully furnished, luxurious space that was so far removed from any camping experience I've ever had (I'm looking at you, Nepal when I trekked the Himalayas and camped in the snow in -22°C). To be honest, camping isn't really my kind of thing. What, really, was I thinking in Nepal? It's no wonder I haven't pitched a tent since. I could totally see myself glamping every other weekend when it looks like this though.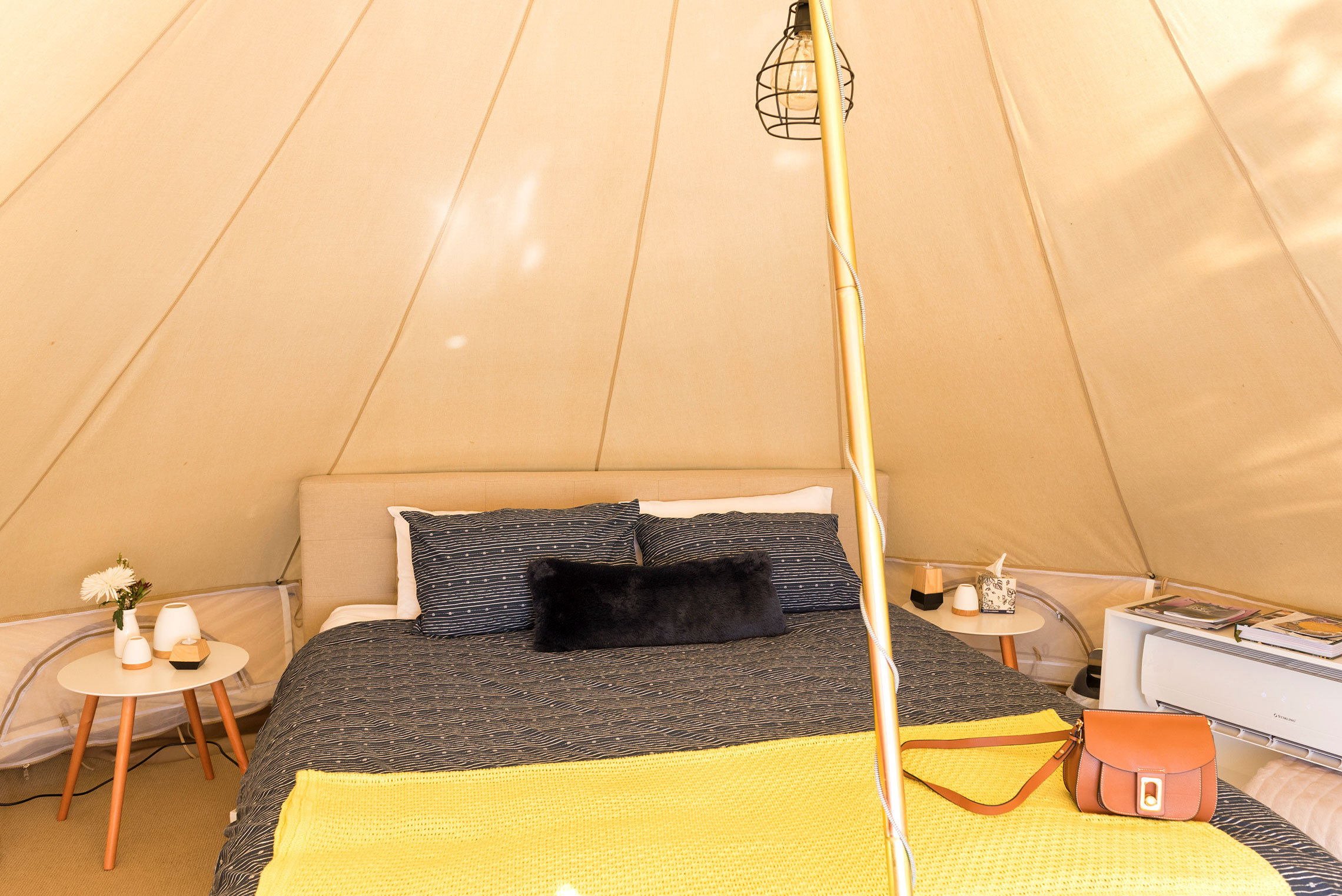 Melanie and Marion have literally thought of everything to ensure that guests have the most comfortable, special and luxurious stay possible. From the real, plush king sized beds to the split system air-conditioner, from the electric lights to the soft bathrobes, I was well and truly in my element. Not only was there a complimentary bottle of Cofield sparkling wine on ice in each tent, but there were board games, a stack of food and wine books and magazines, a stargazing kit (the stars are so big and bright out here!) and even fishing gear – plenty to keep even the most restless of guests occupied.
Each tent is also fully supplied with all manner of mosquito repellents and insect sprays (in nature there are lots of bugs), but the service and care for guests doesn't stop there. When Camilla had a nasty allergic reaction to mosquito bites in the evening, Marion personally brought down some anti-histamines to us from her own cupboard!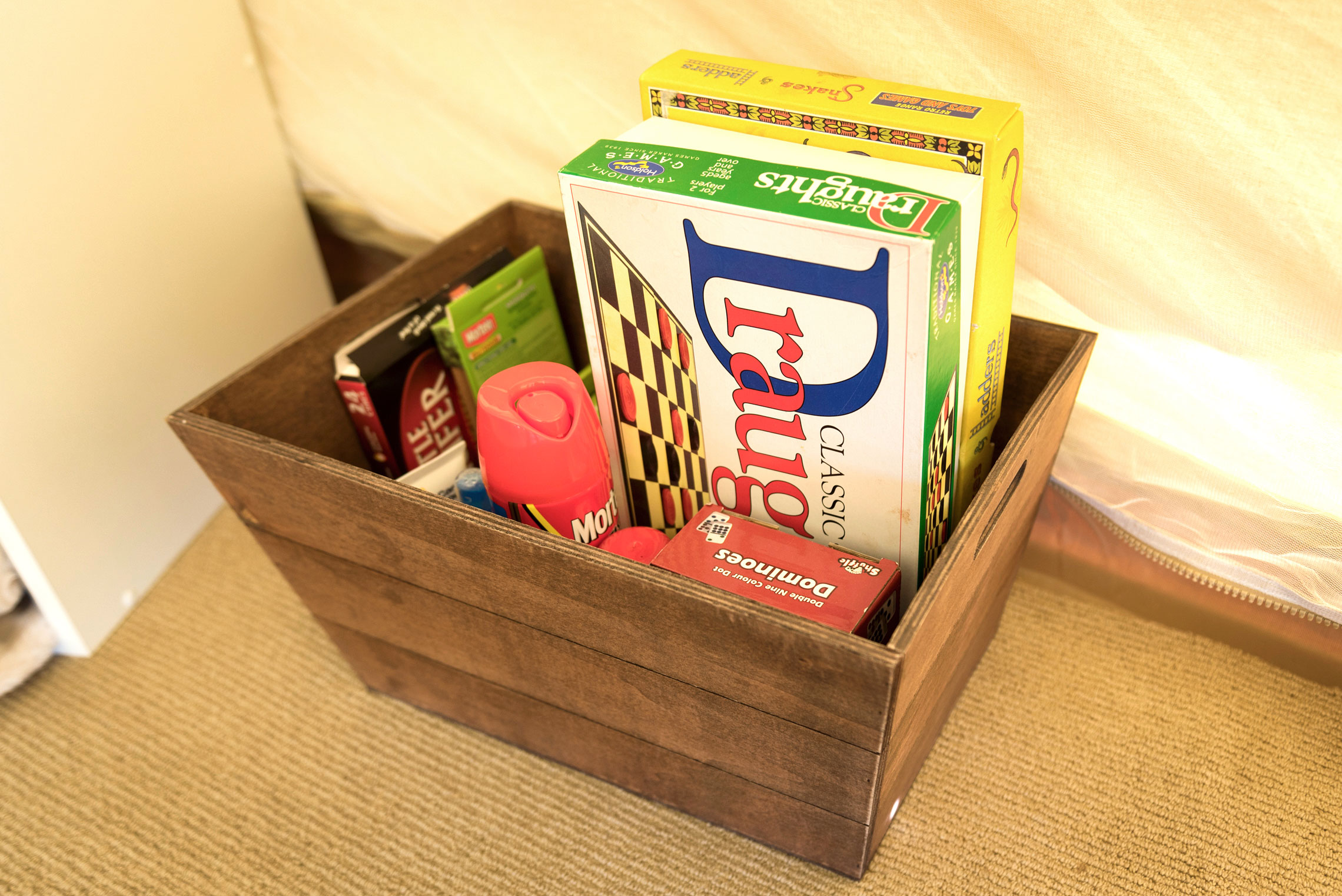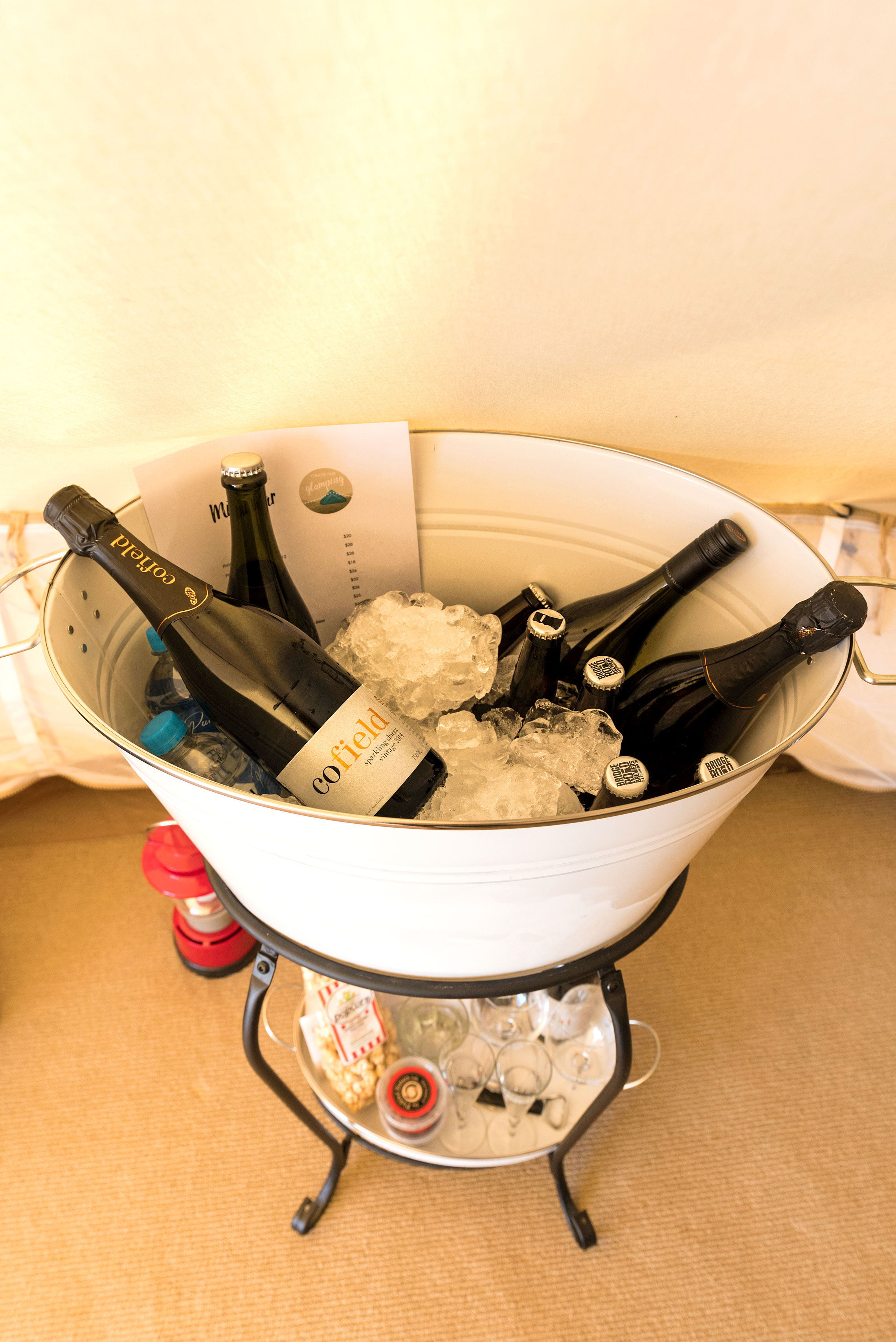 The shared bathroom is in the cutest, converted caravan and is located just behind the tents for easy access. It's pretty swish inside and contains a shower, toilet, sink and beautiful, sweet-smelling toiletries. You might be in the great outdoors, but that's no reason to rough it.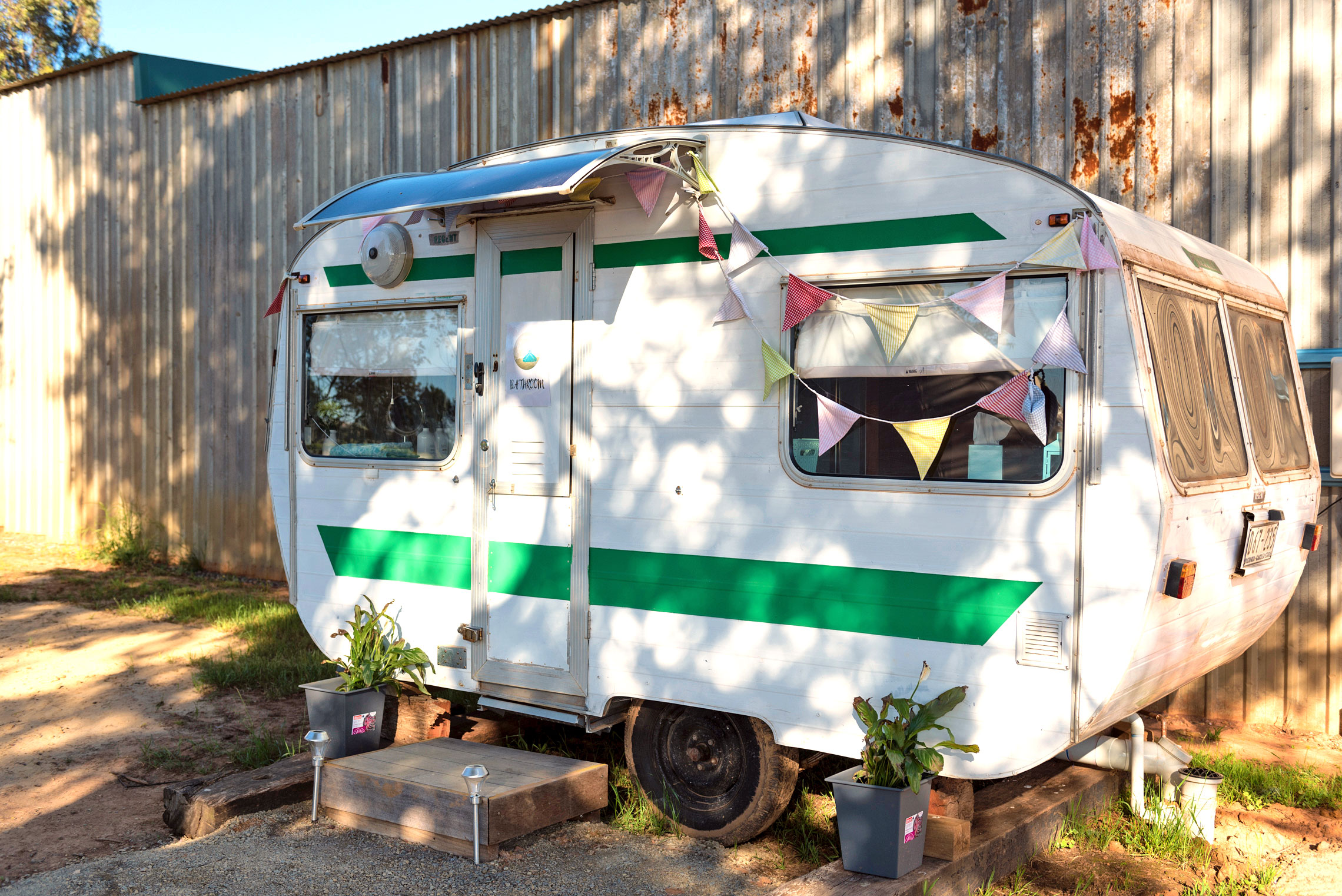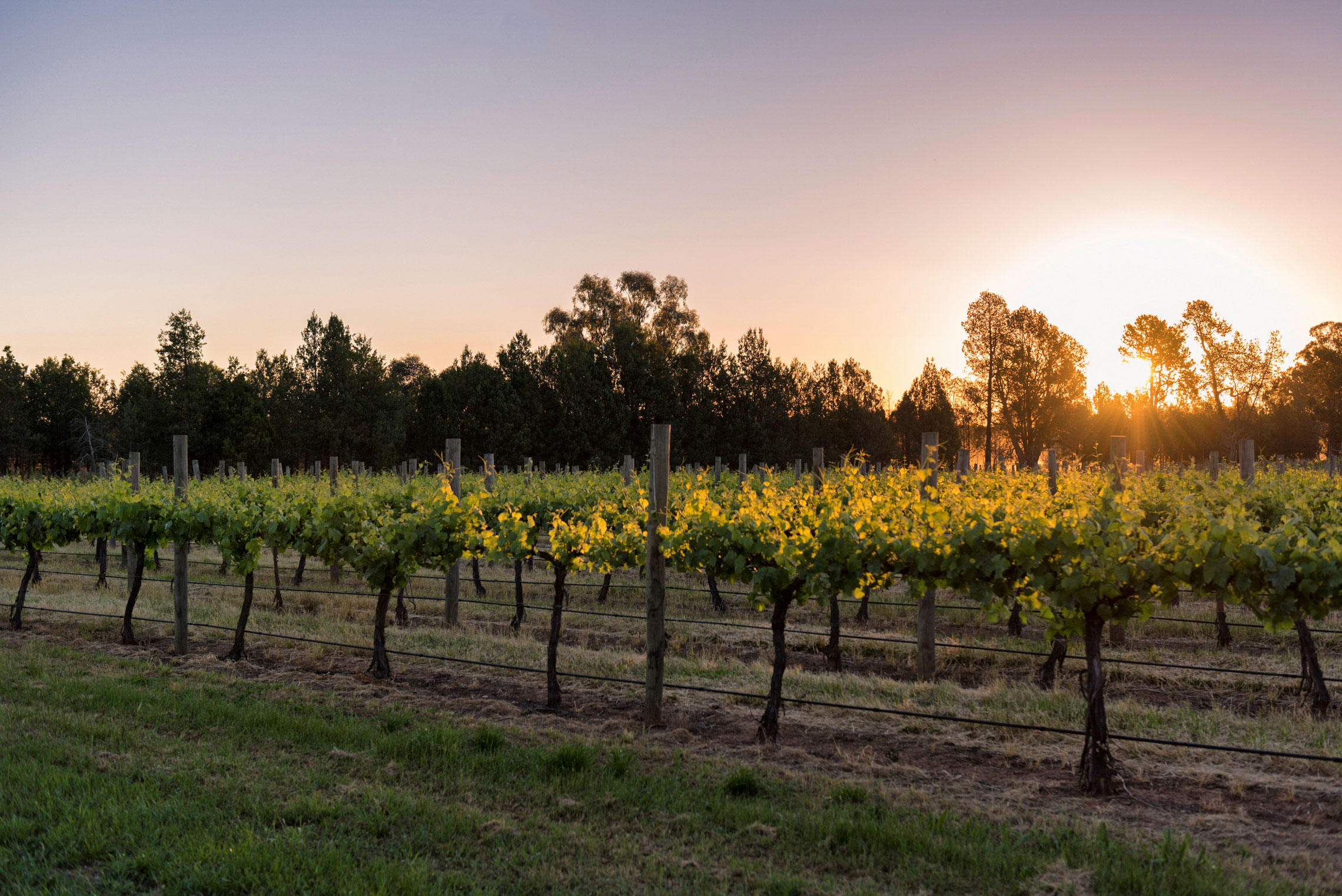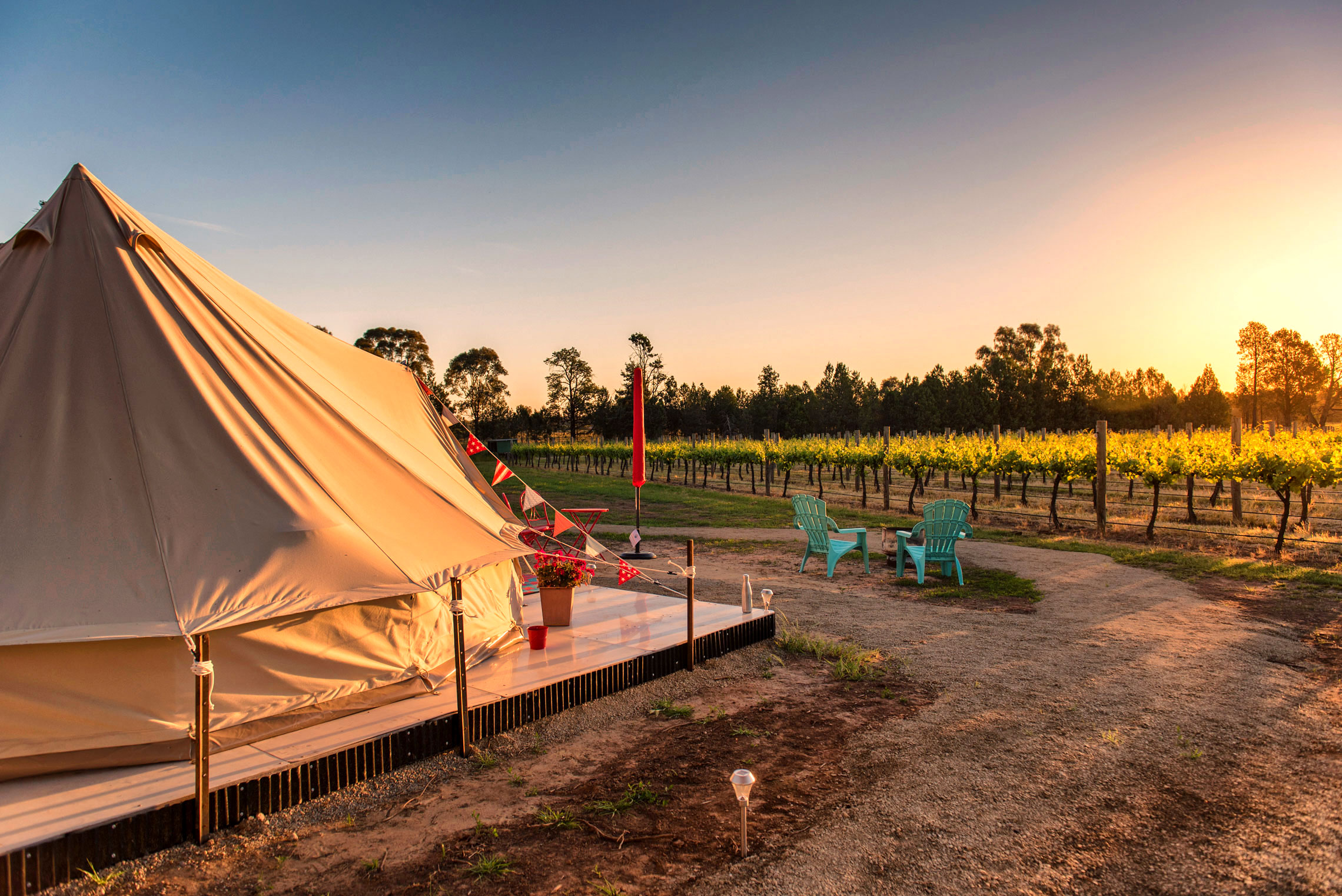 Dining
As the sun started to dip lower, we headed up to the Camp Kitchen to collect our dinner hamper, personally packed by Marion from The Pickled Sisters Café. Even though our hamper catered for two, there was enough food in there to feed an army! Opening up our picnic basket we found a range of gourmet, local delicacies to feast on, starting with house baked bread with extra virgin olive oil and an antipasto platter of Milawa cheese, spiced eggplant, smoked trout mousse and Gooramadda olives. Rummaging down further into our hamper, we discovered a chicken terrine with peach chutney and a dish of sliced beef rubbed with mustard and served on a bed of Gnangara greens and roast tomatoes. Then came the salads, including a roasted beetroot, chevre and hazelnut salad and a smoked salmon salad with horseradish and potatoes. And of course, cake. No meal is complete without cake. We definitely weren't going to go hungry!
I'd highly recommend pre-ordering one of the gourmet hampers so you can kick back and relax in this gorgeous location, but if you're in the mood for cooking, you'll find everything you need in the Camp Kitchen including a BBQ, fridge, pots and pans, cutlery and plates, tea and coffee making facilities and more. Everything is right at your fingertips. If you fancy a bit of kumbaya after dinner, light the camp fires and get some marshmallows toasting (all provided of course).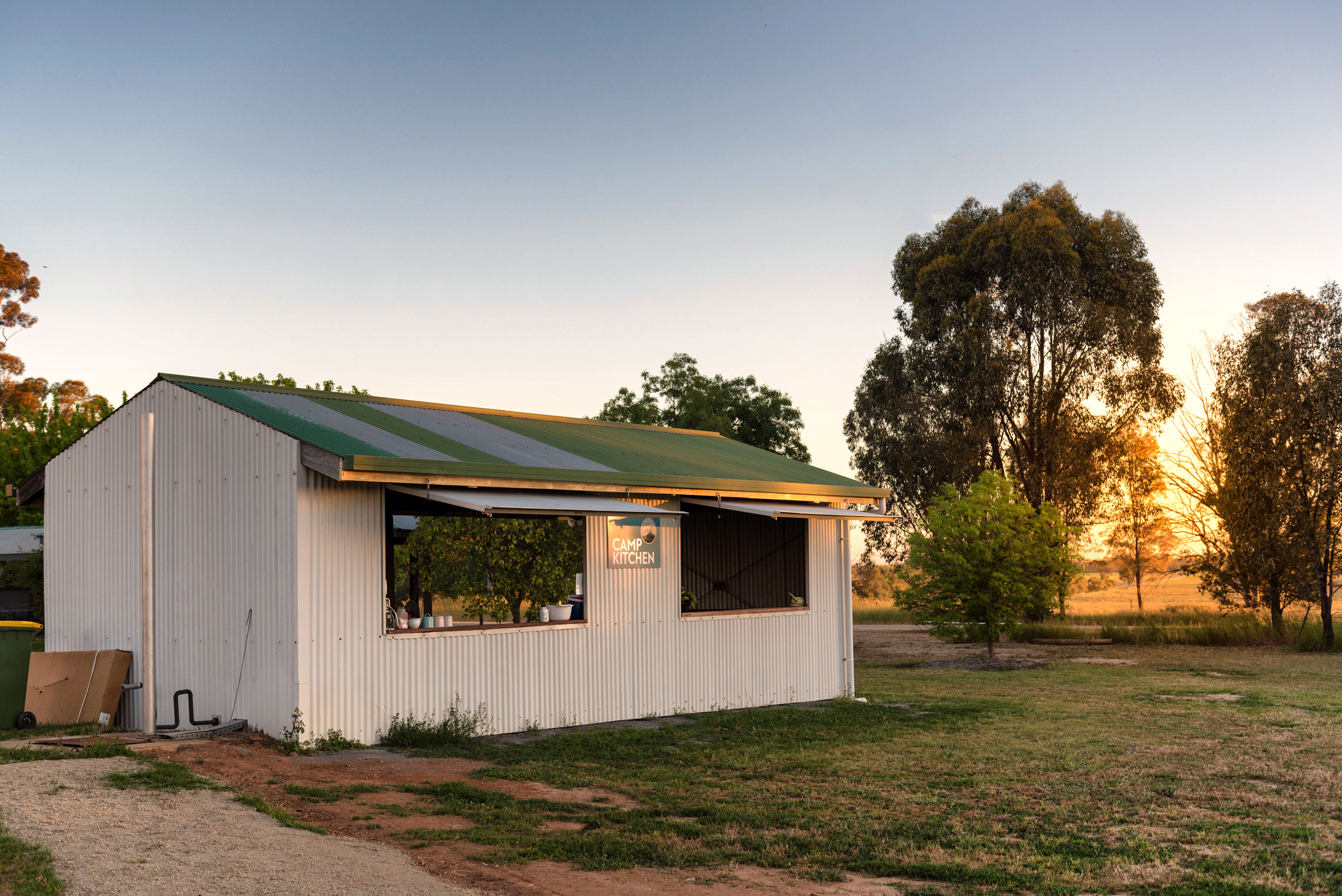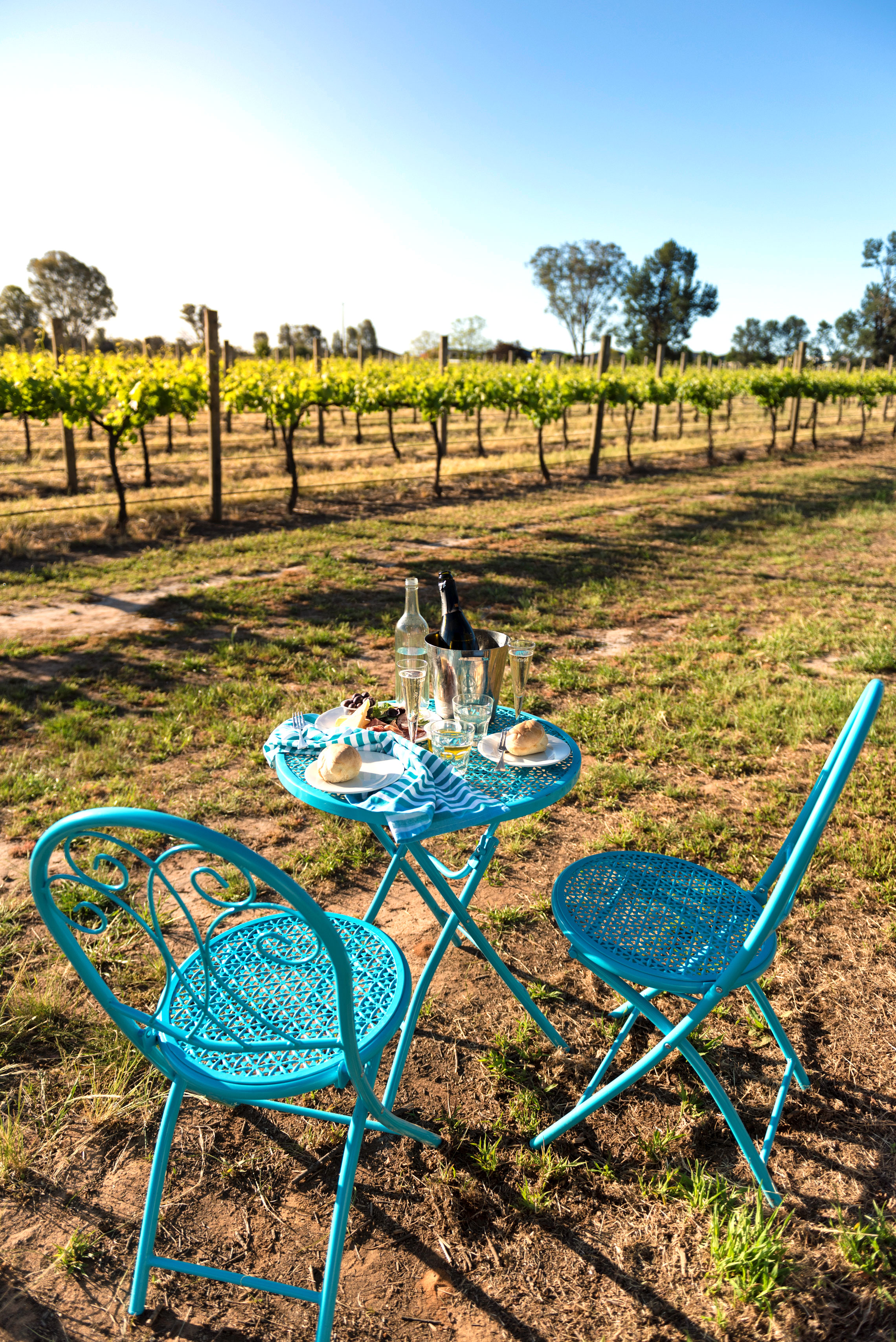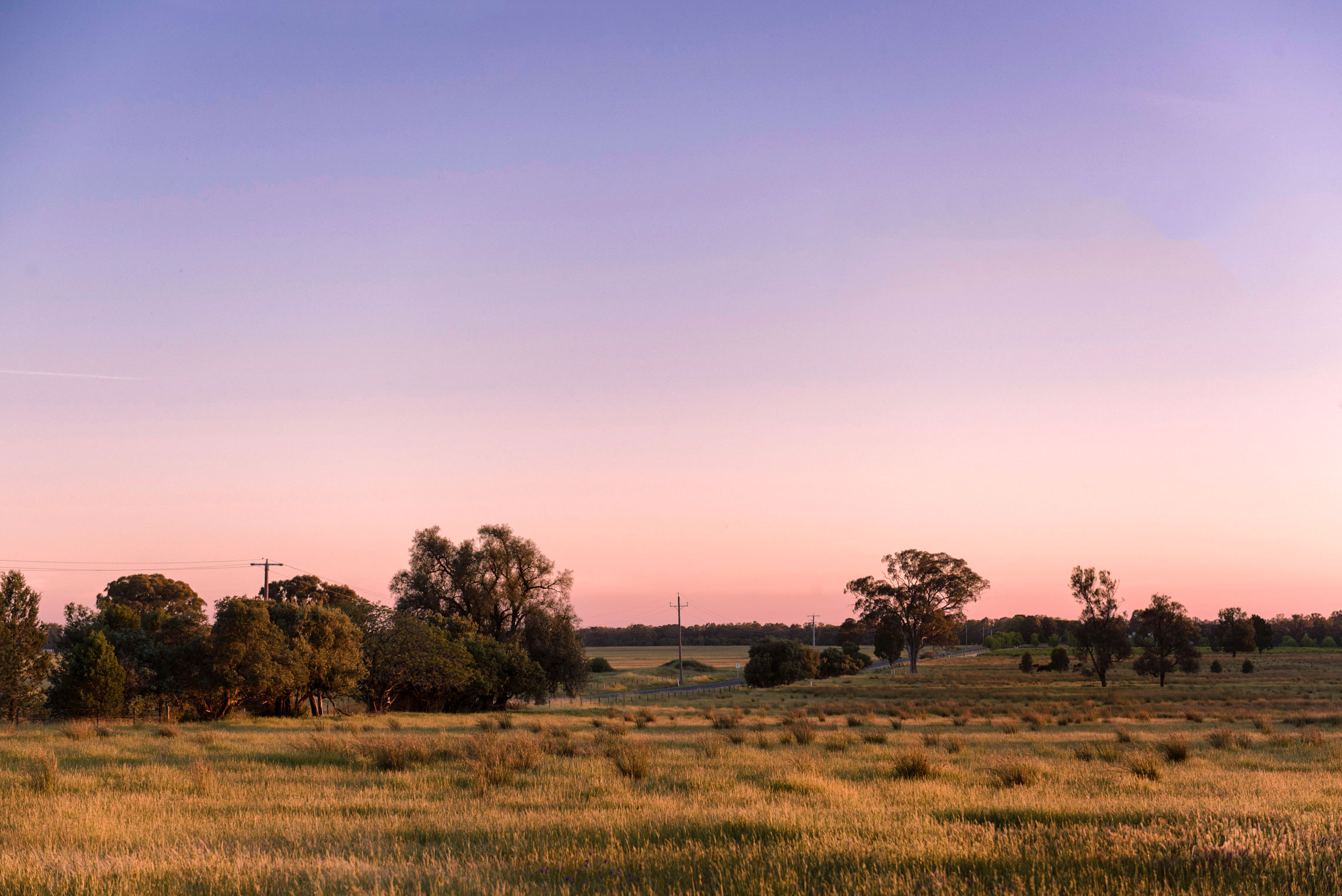 I drifted off to sleep against the lullaby of crickets and frogs outside and after the cosiest, deepest slumber, awoke to birdsong as the sun slowly streamed through the walls of my tent. Grabbing my robe and a fluffy towel, I headed off for a shower before Marion popped down with a fresh coffee delivery along with a breakfast hamper. Once again, the quality of the produce was exceptional and we feasted on bircher muesli with summer berries, coconut and natural yoghurt, fresh danishes and croissants from nearby Nord Bakery, The Pickled Sisters' own homemade jams and preserves along with freshly squeezed orange juice. We nibbled, chatted and wished so much we could stay longer.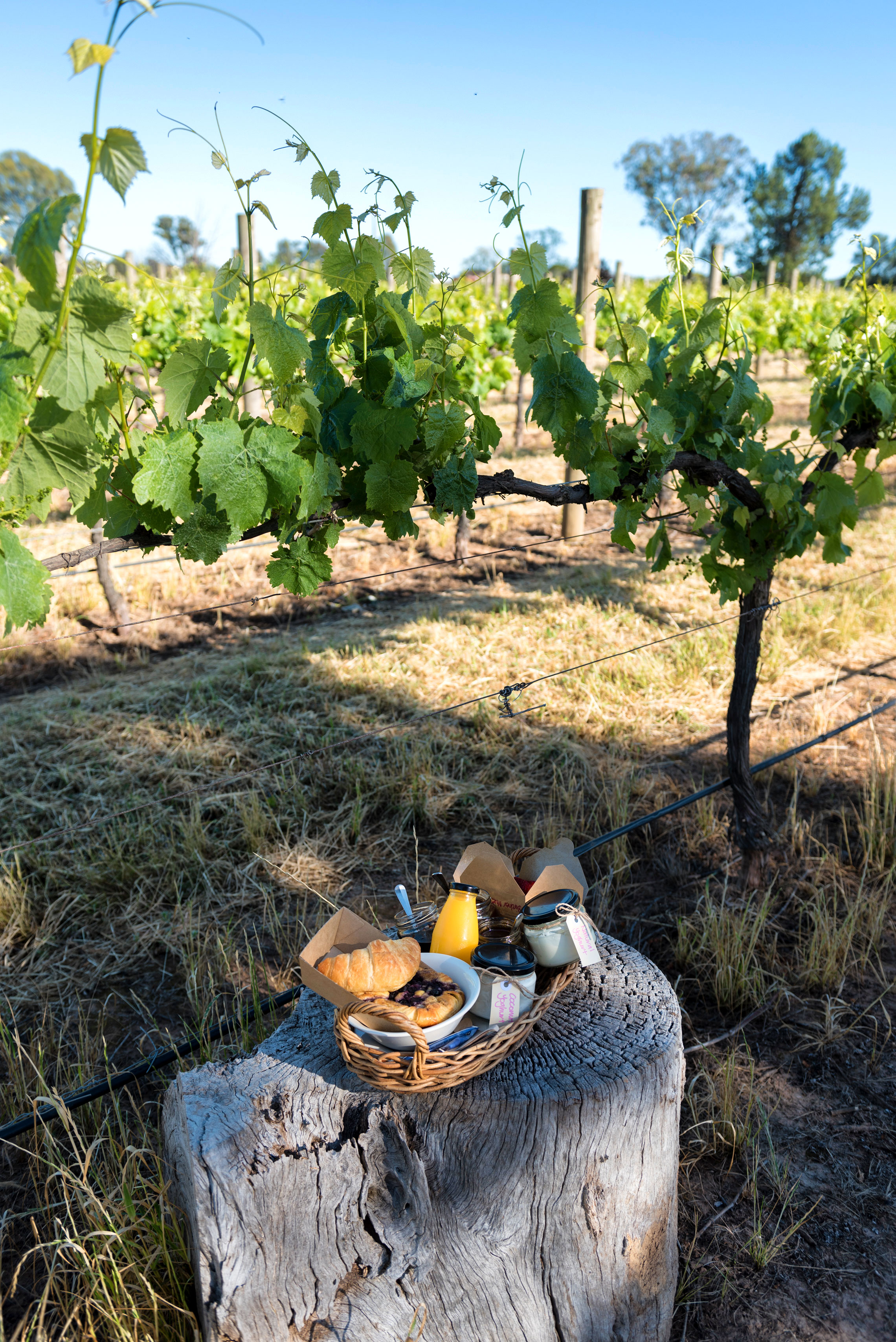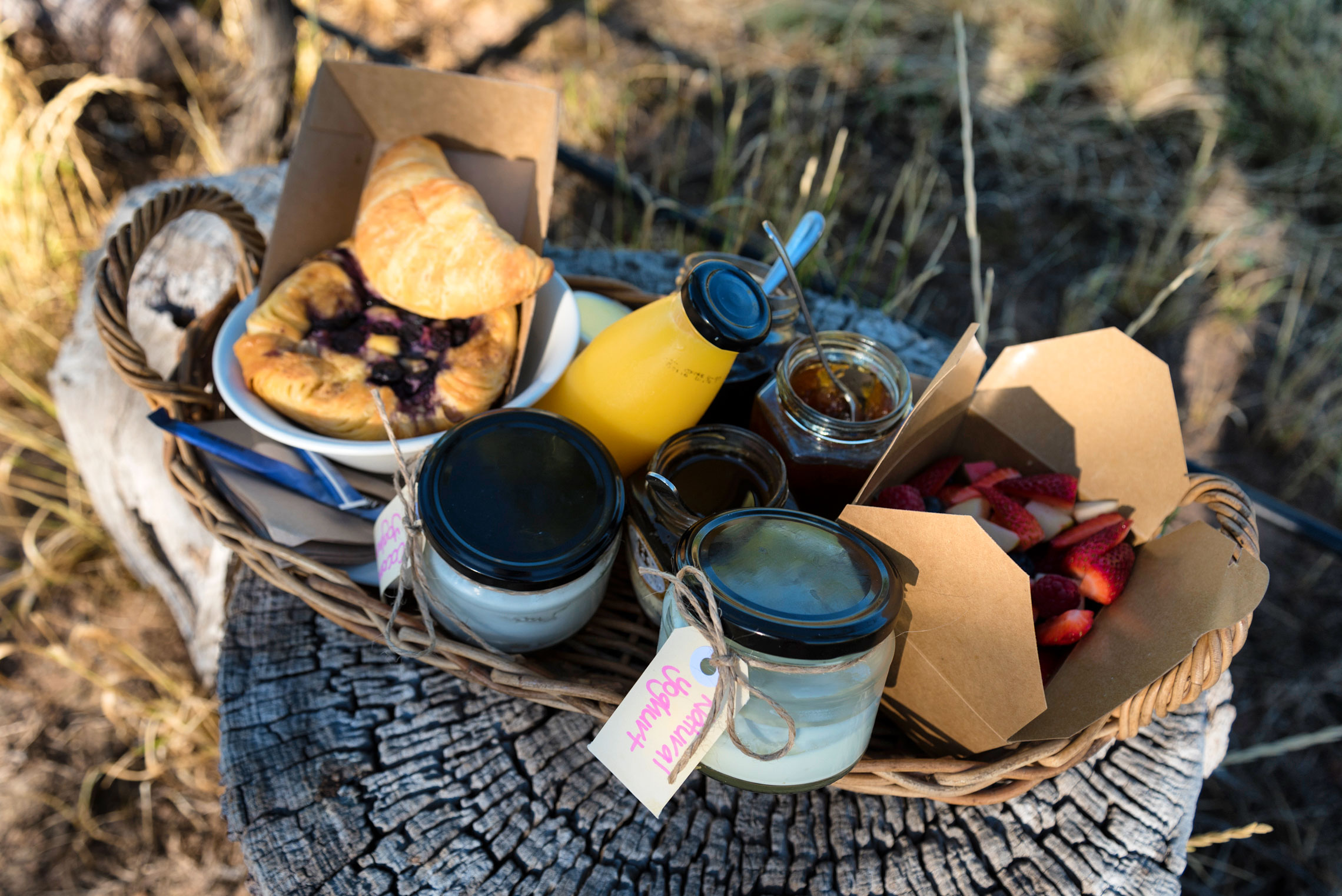 Book this accommodation if…
If you love the outdoors but aren't too keen on sacrificing luxury and comfort, Grapevine Glamping at Cofield Wines is your place. Even though it's only newly launched, the setup here couldn't be better. With gourmet hampers available, cellar door tastings only a few metres away and the vineyard right on your doorstep (literally), this really is the ultimate accommodation experience for wine lovers. Whether you choose to book both tents for a group trip or just one for a couple's getaway, you're guaranteed to have such a memorable experience. Every luxury has been afforded and guests really couldn't want for anything. I can't wait to return for round two!
Tents can be booked through this website.
If you're planning a more basic camping experience, click here to find some great jackets that will keep you warm.
Planning a getaway to Victoria's high country? Be sure to read this post before you go:
Looking for some other unique accommodation options in a beautiful natural setting? You might like to read about:
Disclosure: I experienced Grapevine Glamping as a guest of Indigo Shire Council. A big thank you to Melanie and Marion for such a warm welcome. All opinions remain my own of course!
Have you ever been glamping? Share your experience in the comments below!