I've never understood the kind of people who don't like to visit the same destination more than once, the kind of 'been there, done that' mindset. For me, returning to a place I've been before always unveils new layers and vastly different experiences. A first visit is almost always spent trying to see as many of the sights as possible, scuttling around from one attraction to the next. The delight of a second visit, however, is that there's no pressure to 'see' anything and instead, your days can be spent discovering an alternate side of the place you may have missed last time.
For me, food is the medium through which I always choose to discover a destination. It tells such a wonderful, delicious story about the people, their past, their values and traditions. When I was in Rome recently, I planned my whole trip around the food, since this was my second visit to the city. From the coveted Italian cappuccinos, to the late afternoon aperitivos, the fresh taglione handmade by nonna in the kitchen to the mouthwatering platters of prosciutto, porchetta and cheeses, Rome fed me very well indeed. If you're heading to Rome soon and you're wondering where to eat, here's my food diary of everything I ate and where.
My Rome food diary:
Coffee
Antigua Tazza D'oro
The Italian coffee tradition needs no introduction; it's an intrinsic part of the local culture and an important daily ritual. One of my favourite cafés for a morning cappuccino and cornetto is Antigua Tazza D'oro, just a stone's throw away from the Pantheon. This is one of Rome's best coffee houses; the beans are roasted on site and shipped all over the world. It's busy here and rightly so – Romans and tourists alike flock in for a quick caffeine hit at one of the city's most celebrated institutions. To order a coffee, head to the back of the café and order and pay at the cashier first. Take your receipt to one of the baristas behind the counter where they'll look after you. There's no real seating so do as the Romans do and perch at the marble countertop and throw back your coffee fast before moving on to make room for others.
Location: Via degli Orfani, 84, 00186 Rome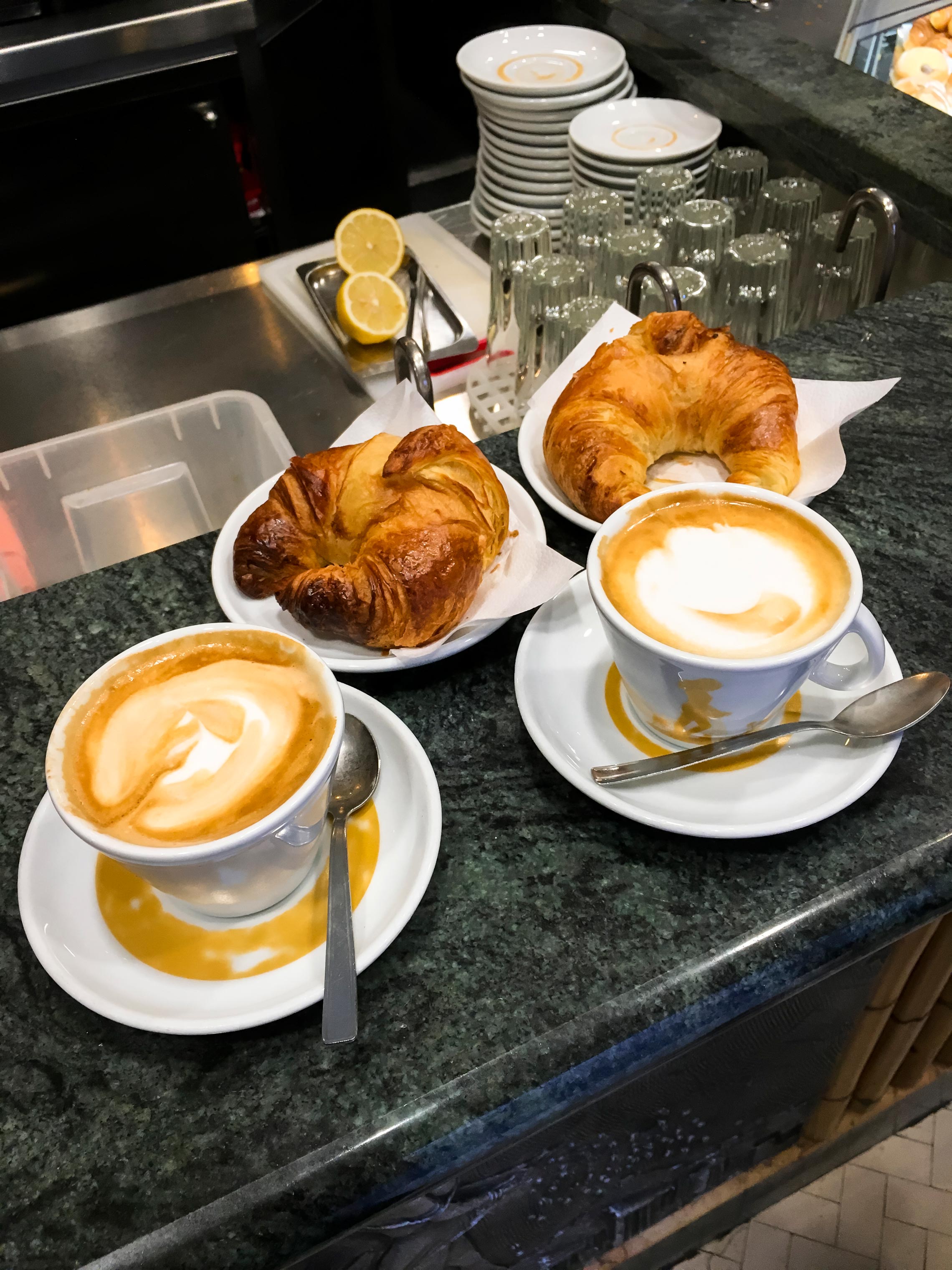 Sant'Eustachio Il Caffè
The tiny Sant'Eustachio Il Caffè first opened its doors way back in 1938 and has remained open ever since. This is probably the most famous coffee house in all of Rome and the place where many say serves up the best coffee. If you want to sit and enjoy your coffee more slowly, sit at one of the handful of tables out the front overlooking a quiet little square, but be warned, there's a cover charge for table service. The crema here is said to be the best in the world (they've even built a wall around their espresso machine to protect their secret), but on a 34 degree day I just couldn't resist the urge to order 'La Granita', a creamy blend of frozen coffee topped with whipped cream and a waffle. So deliciously refreshing!
Location: Piazza di S. Eustachio, 82, 00186 Rome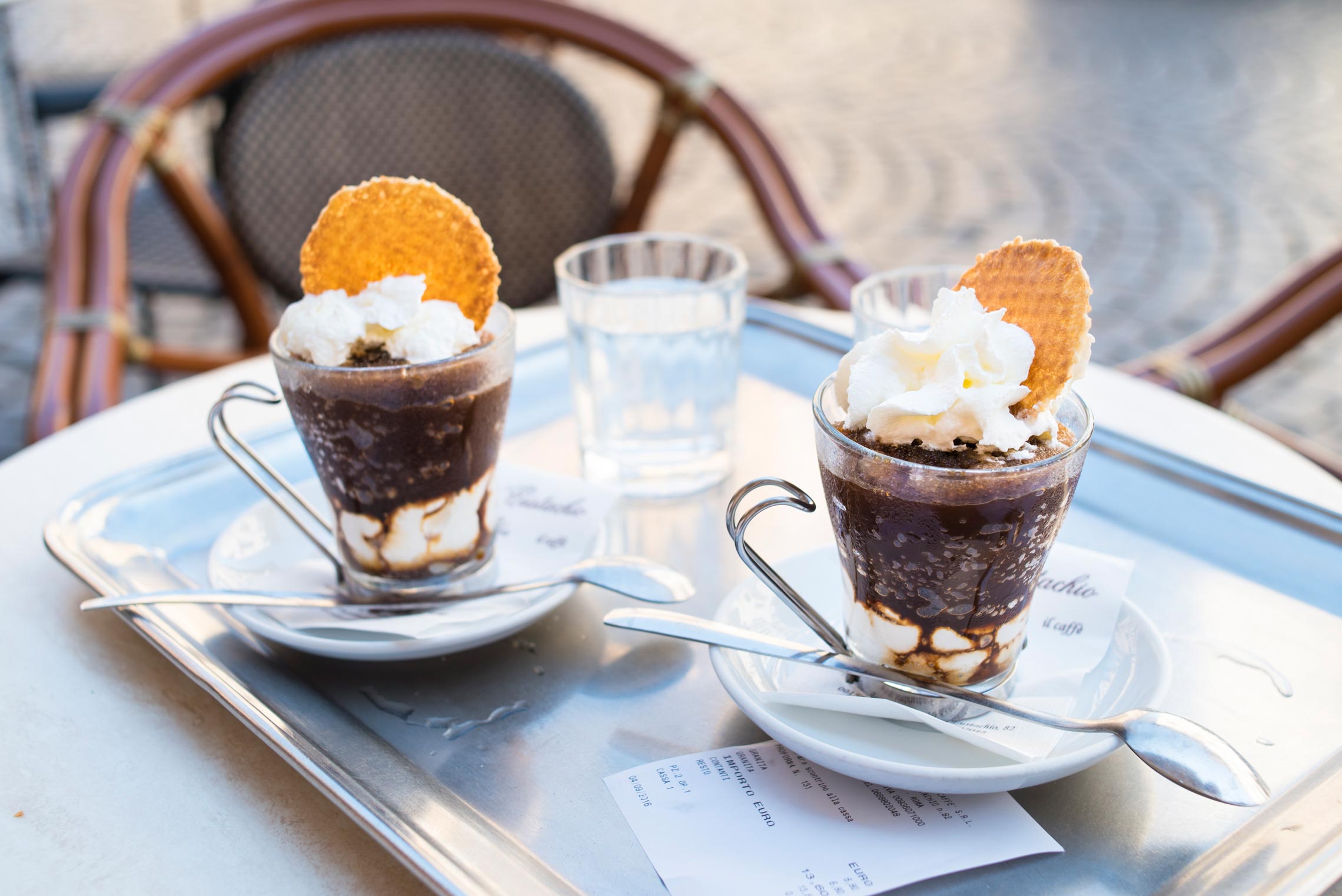 Breakfast
Ginger Sapori e Salute
If you're craving something a little more substantial that the famous '30 second breakfast' of a coffee and pastry, head to Ginger Sapori e Salute, less than a 10 minute walk from the Trevi Fountain. Here, you can fulfil all of your açaí bowl fantasies and also get fresh cold pressed juices, smoothies and fruit platters. When you know you're going to be eating your body weight in pasta, cheese and porchetta over the next few days, your body will thank you for this healthy interlude!
Location: Via Borgognona, 43-46, 00187 Rome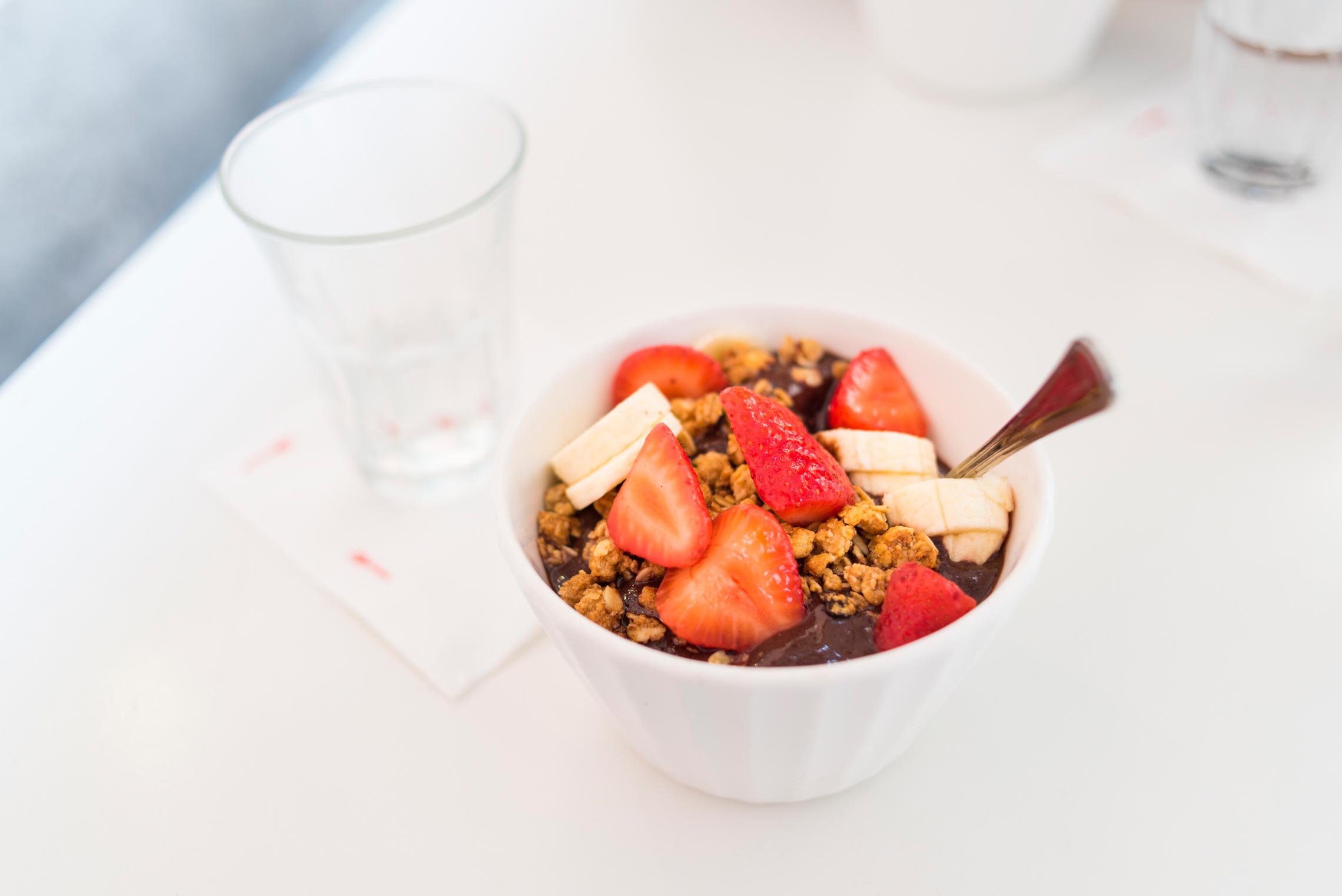 Lunch & Dinner
Antico Forno Roscioli
If you're not in the mood for a heavy, sit-down lunch, head to Antico Forno Roscioli, a historic bakery and all-round Roman institution. Lots of food tours stop by here and for good reason: the Roscioli family (three generations deep) are celebrated as being some of the best bakers in all of Rome. This is a favourite spot among locals who come here daily to pick up their loaves of bread, biscotti or a slice of the famed pizza bianca that they are known most especially for. We stopped in for a 'second lunch', a snack of suppli (breaded and fried arborio rice balls made with tomato sauce and stuffed with mozarella), and I immediately understood why this is one of the city's favourite street foods.
Location: Via dei Chiavari, 34, Rome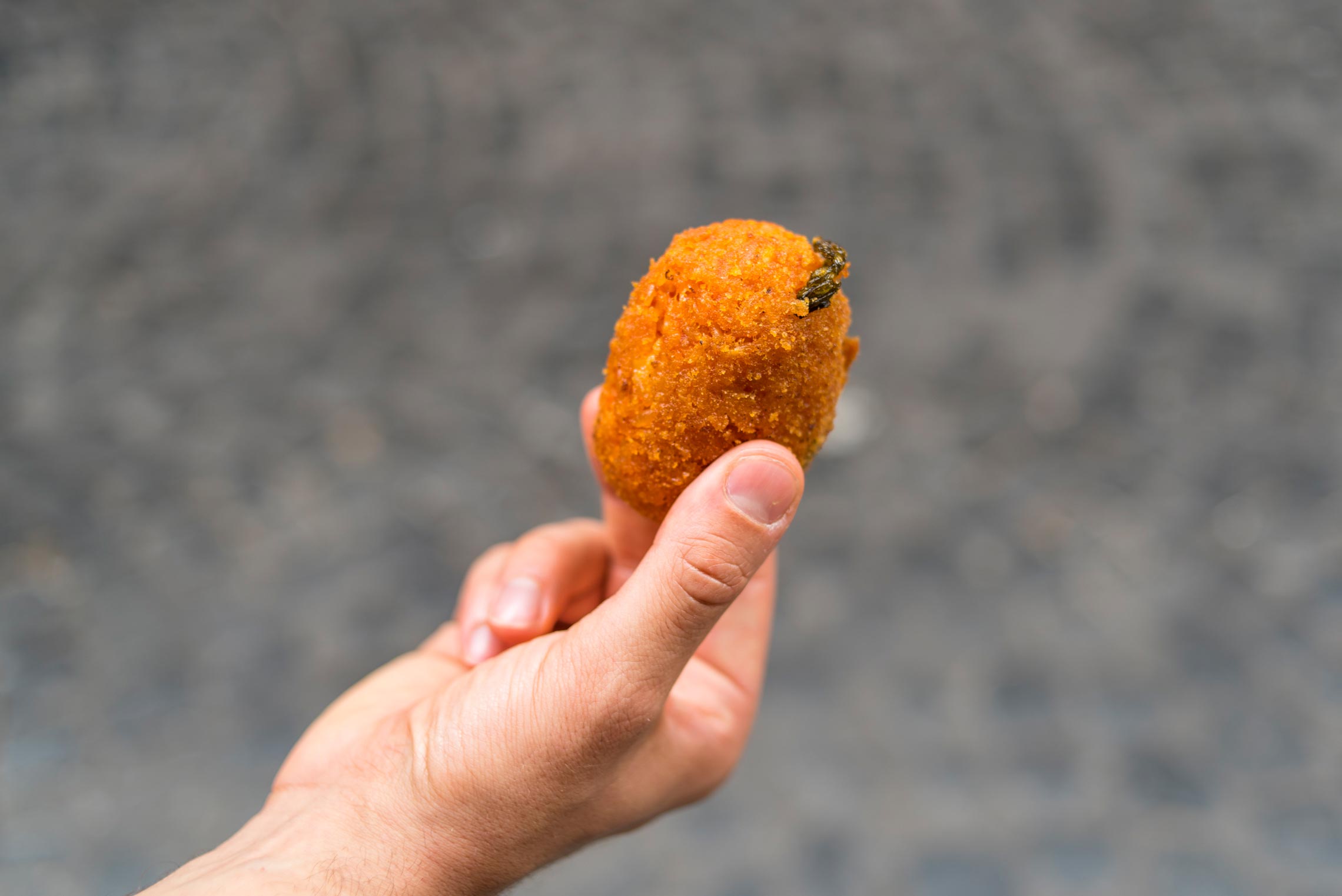 La Locanda del Prosciutto
If you're someone whose idea of heaven is a crisp glass of wine alongside a board packed full of cheeses, cold, cured meats and antipasti, La Locanda del Prosciutto, will deliver you straight there. Tucked away on a quiet lane near the Pantheon, this tiny enoteca serves up the most mouthwatering charcuterie you'll sample in Rome. All the produce is organic, free from preservatives and all prepared fresh from the deli counter in the front. The food here was so good, we returned the very next day for round two!
Location: Via del Gesù, 81, 00186 Rome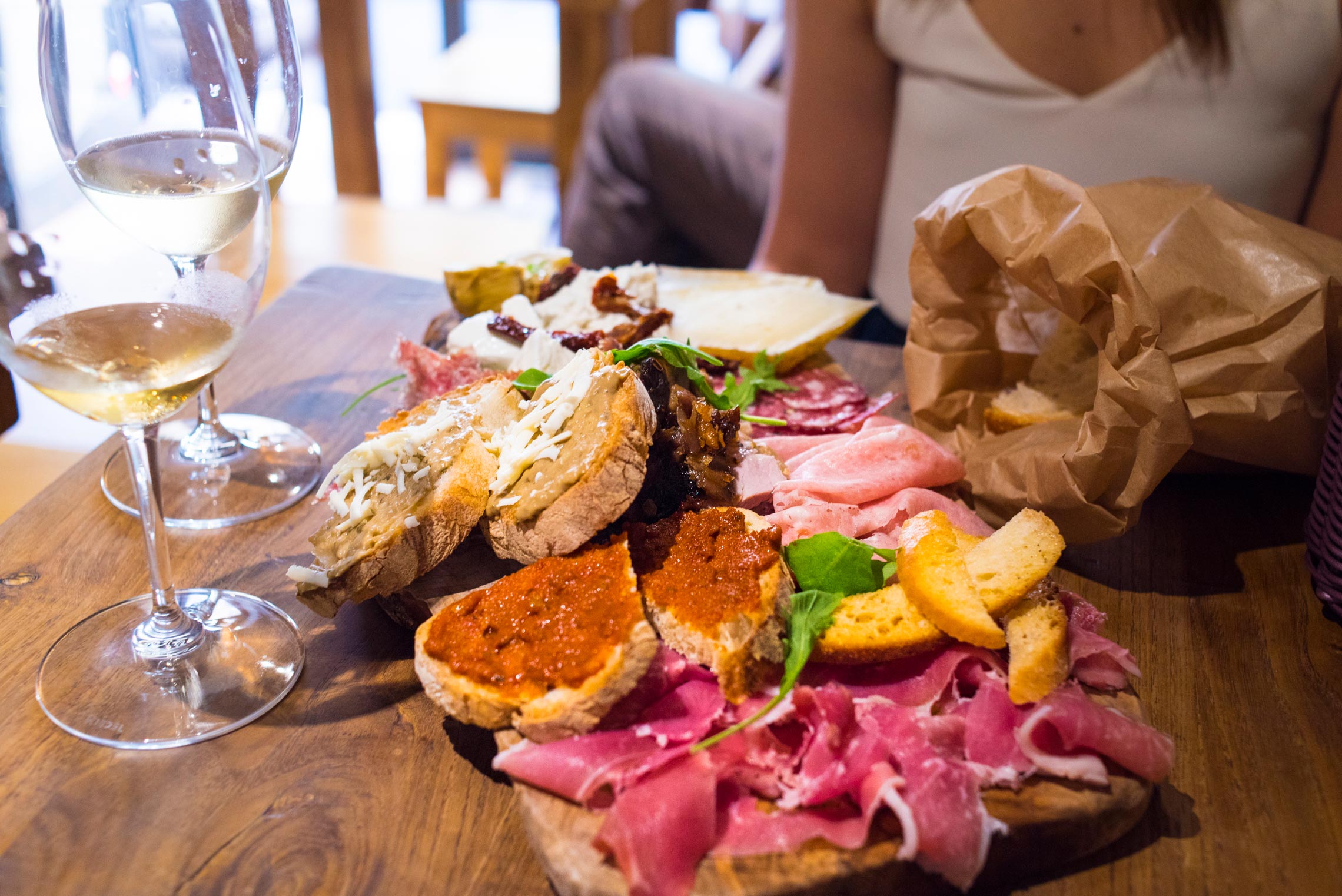 Osteria da Fortunata
I love the area around Campo di Fiori – it's just so vibrant and full of life. Eager for pasta one night, we headed to Osteria da Fortunata, just off the square. I love this restaurant with its very typical Roman menu and traditional, handmade pasta made by nonna in the window. Choose your pasta of choice and match it with your desired sauce. I chose the fresh tagliolini with zucchini flowers, guanciale and pecorino and of course, the panna cotta with summer berries to share for dessert. We ate outside on a warm, September evening before slowly ambling back to our hotel after sunset.
Location: Via del Pellegrino, 11, Rome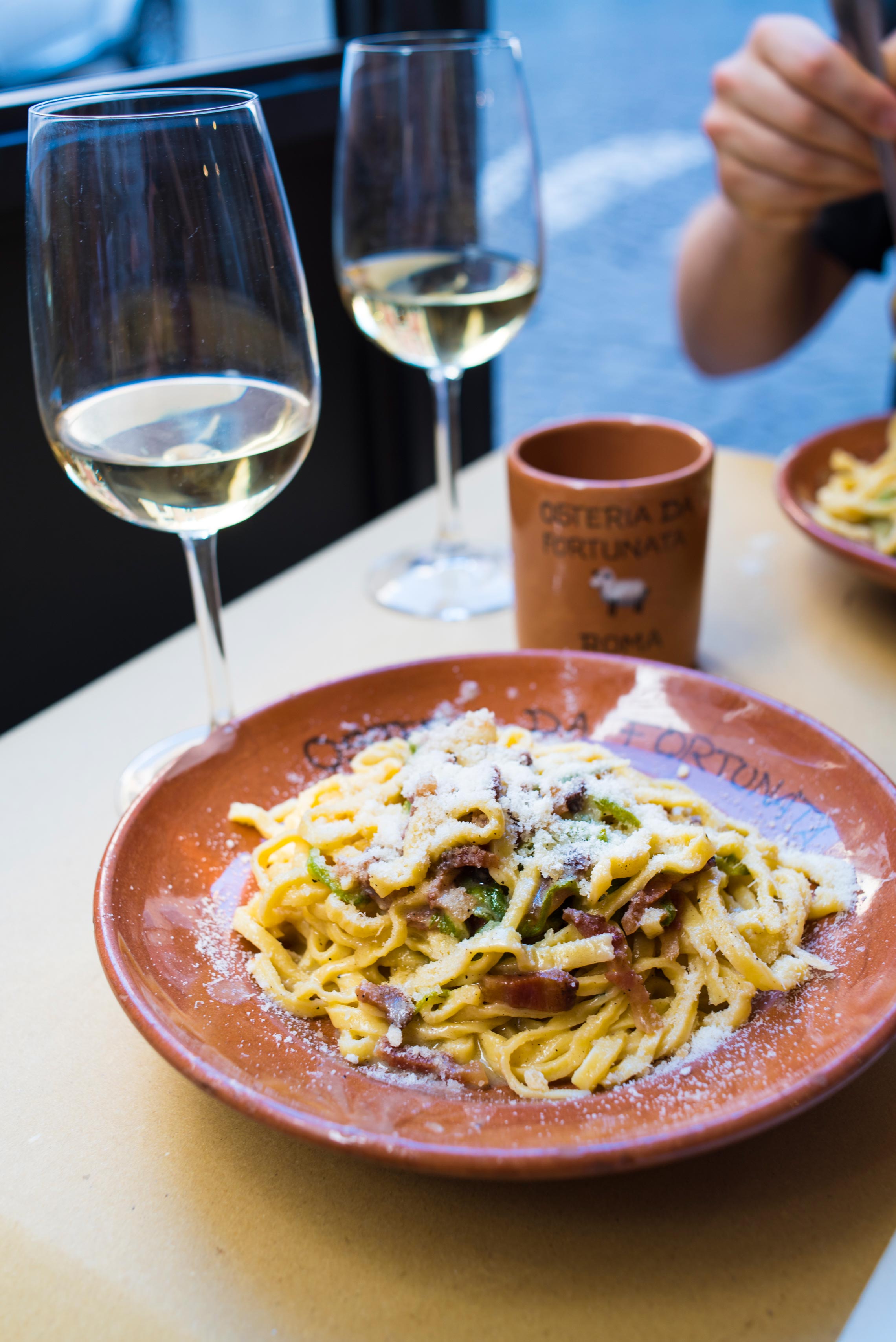 Gelato
Don Nino
Although this definitely isn't the cheapest gelateria in town, it is definitely one of the cutest. All the gelato at Don Nino is handcrafted from fresh, seasonal ingredients and stored in gleaming, metal tubs with lids – the sign of quality gelato. The interior is white, elegant and minimalistic and the attention to detail is impressive. Headed up by master ice-cream maker, Francesco Mastroianni, crowned champion Italian ice-cream maker five times already, this is a sweet little paradise you don't want to miss.
Location: Three locations across Rome. I went to the one at Via dei Pastini, 134.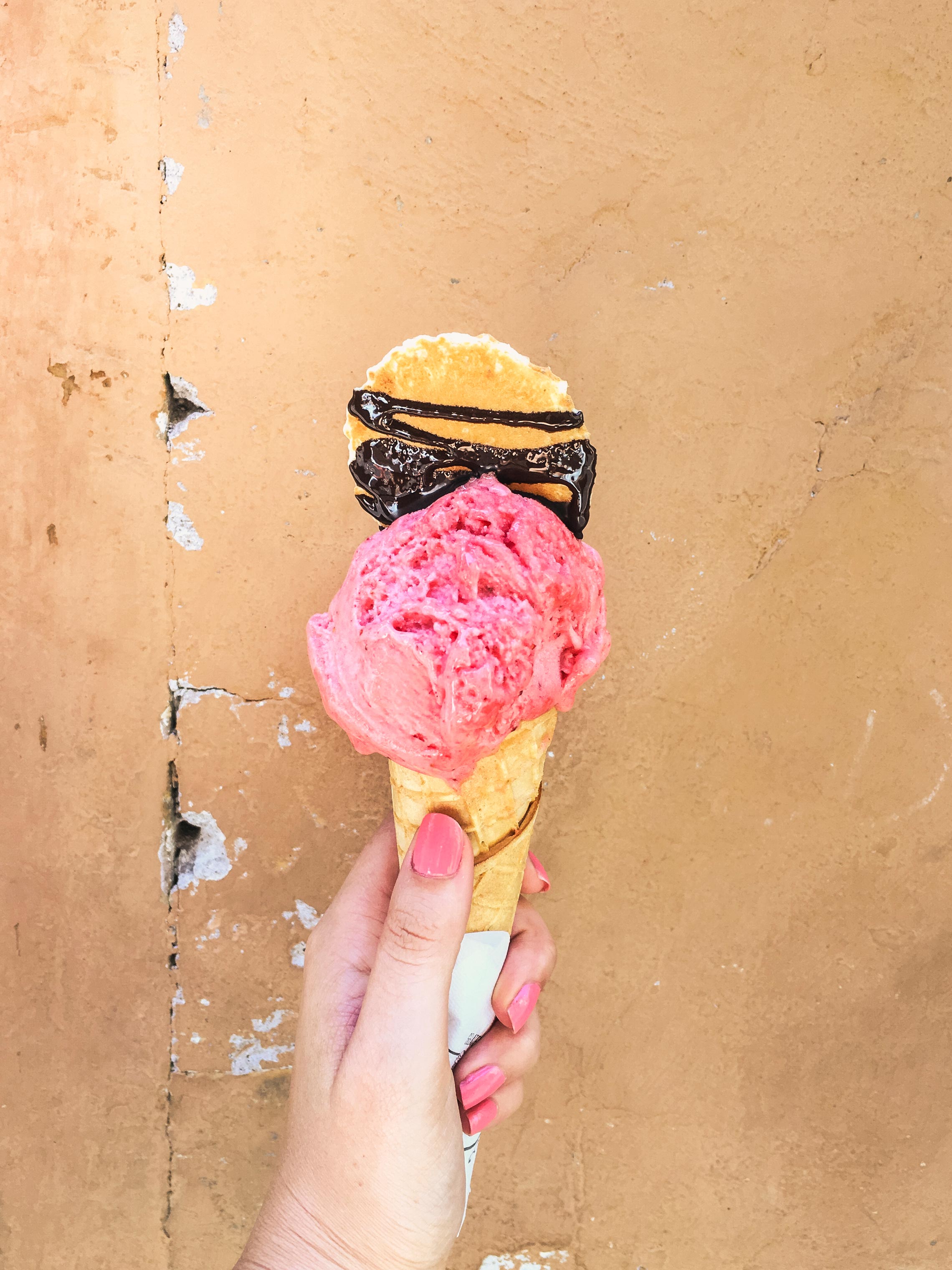 Interested in discovering other destinations through its food? Read other food diaries on Bologna, NYC and London here or browse the Food and Wine category.
If you're planning a trip to Rome soon, you might like to read:
Got any foodie tips for Rome? Share them in the comments below!