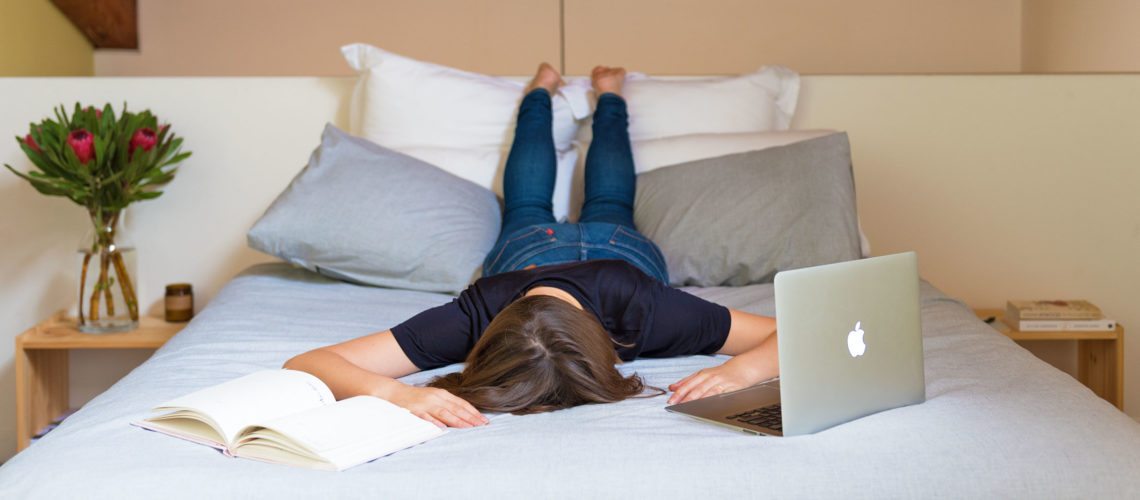 Been blogging for a while but feeling constantly overwhelmed, uninspired and utterly exhausted? Has blogging become a source of anxiety for you instead of a source of light? Feeling as though no matter how much time you pour into your blog, it seems to be going nowhere? Well, stop right there because you could be in the express lane to blogger burnout.
No matter how big or small your blog is or how long you've been blogging, blogger burnout can happen to anyone. In fact, most bloggers will have gone through a burnout at some stage. About 18 months ago I went through a period of blogger burnout which had me seriously questioning whether it was something I wanted to continue pursuing. It came to a point where I DREADED working on The Department of Wandering and I felt like I never had any interesting or worthwhile ideas. I was also seriously struggling to keep up with my freelance writing in general. There wasn't anything that triggered it; it manifested itself slowly over time. Thankfully, I was able to get through it and learn to love my blog again. If you feel like you're wearing yourself thin and you're not in a good place with your blog, here are my best tips for avoiding blogger burnout.
Are you on the brink of blogger burnout? Here's how to avoid it!
Recognise the signs
The most important thing you can do to prevent a burnout is of course learning to recognise when you're on the brink of one! If you recognise the signs early, you can reflect, seek help and make the changes you need before falling in a heap. Some of the most common early warning signs include:
Constantly feeling uninspired and out of ideas
Feeling as though no matter how much content you churn out, your audience isn't growing
Experiencing guilt when you spend any time away from your blog, even if it comes at a cost to your relationships
Starting to feel as though your blog is draining all of your energy away
Feeling like you've become a slave to your blog
If you start to recognise any of these in yourself, it could be a sign you're burning out.
Get yourself a great planner
If you suspect that you're on the brink of blogger burnout, there are a few things you can do to get back in a positive space with your blog. Firstly, make sure you're getting all those swirling thoughts out of your head and on to paper. Writing things down, categorising and prioritising them helps you feel so much more in control. Start making a daily to-do list and prioritise your three most important tasks. Writing them down on paper somehow makes the tasks more actionable. There's also a great satisfaction in crossing each one off when it's accomplished!
A planner is also great for planning your editorial schedule as well as your medium-term goals. Getting into the habit of planning your content out in advance will really help to stop that last-minute freak-out of I haven't published anything in a week and I have no freaking idea what to write about! Hello stress. My favourite planner is this one from Emma Kate. Co.
Related: 8 Easy Ways to Blog More Consistently and Grow Your Audience
Set realistic expectations
Even though you wish you were Wonderwoman (you are pretty amazing), you have to set realistic expectations for yourself. How much time can you realistically dedicate to blogging every week? Do you have to fit it in amongst other commitments such as work or study? What about family commitments? If you're trying to juggle a full-time job, are running around after a little one AND you still have the goal of posting on your blog every day, I hate to break it to you, but it just ain't gonna happen.
Try to always set realistic expectations for yourself. For me, I know that I can't manage more than one to two posts per week. I'm juggling a bunch of other things behind the scenes of The Department of Wandering including regular freelance commissions, brand collaborations and developing a blogging e-course (not to mention planning a wedding at the same time!). If I were to set a goal to publish a new blog post every day of the week, I'd just be setting myself up for failure (not to mention all those nasty feelings of guilt, overwhelm and inadequacy).
Start outsourcing
Blogs are high-maintenance and if you're trying to do every little thing yourself, you'll completely wear yourself into the ground. There's ALWAYS something that can be done to improve your blog and it can get pretty overwhelming when it's just you trying to keep it afloat. From social media scheduling and management, to keyword research, from SEO, to writing editorial content, there's just one heck of a lot that needs to get done. Too often, bloggers can find that their days are sucked away with time-consuming admin work before they've even had a chance to work on anything creative.
If you can, start investing in your blog by outsourcing some of the tasks that are holding you back from your important projects. Hire a virtual assistant or bring another writer onto your editorial team to help you where you need it most. You'll feel so much less overwhelmed and will be able to focus your energy on your important work. Here at The Department of Wandering, we have recently invested in bringing two more writers on board (our little team is growing!). This is already making a huge impact. Not only are we now able to create more content, but it's also helping us develop some pretty exciting projects in the background, like our upcoming blogging e-course. Be sure to sign up for the latest updates at the end of this post!
Say 'no' more
I've always been a 'yes' girl since way before blogging was my full-time gig. I always wanted to do the best job I could, keep my bosses happy and work hard to set myself up for success. Ha! What a good little employee I was. Sure, the company loved this but I wore myself right into the ground. I didn't look after myself and completely burnt out, eventually quitting my full-time job because of the toll it was taking on my health.
When your blog is quite young and you're trying to grow your audience, it can be really tempting to take absolutely every opportunity to gain exposure that comes your way. When I'd open my inbox, I'd see request after request after request: for interviews, for unpaid guest posts on other sites, for free product reviews, you name it. And most of the time, I'd take it on. Because isn't that the way you get ahead? The way you get noticed? Maybe, but it's also the way you can get pretty disillusioned about blogging.
Nowadays, I'm more of a 'no' girl than a 'yes' girl. I've realised that in order to get my important work done, I need to stop doing all the unimportant work. Once you focus on doing the things that really matter to your blog and your business, the rewards will come on their own.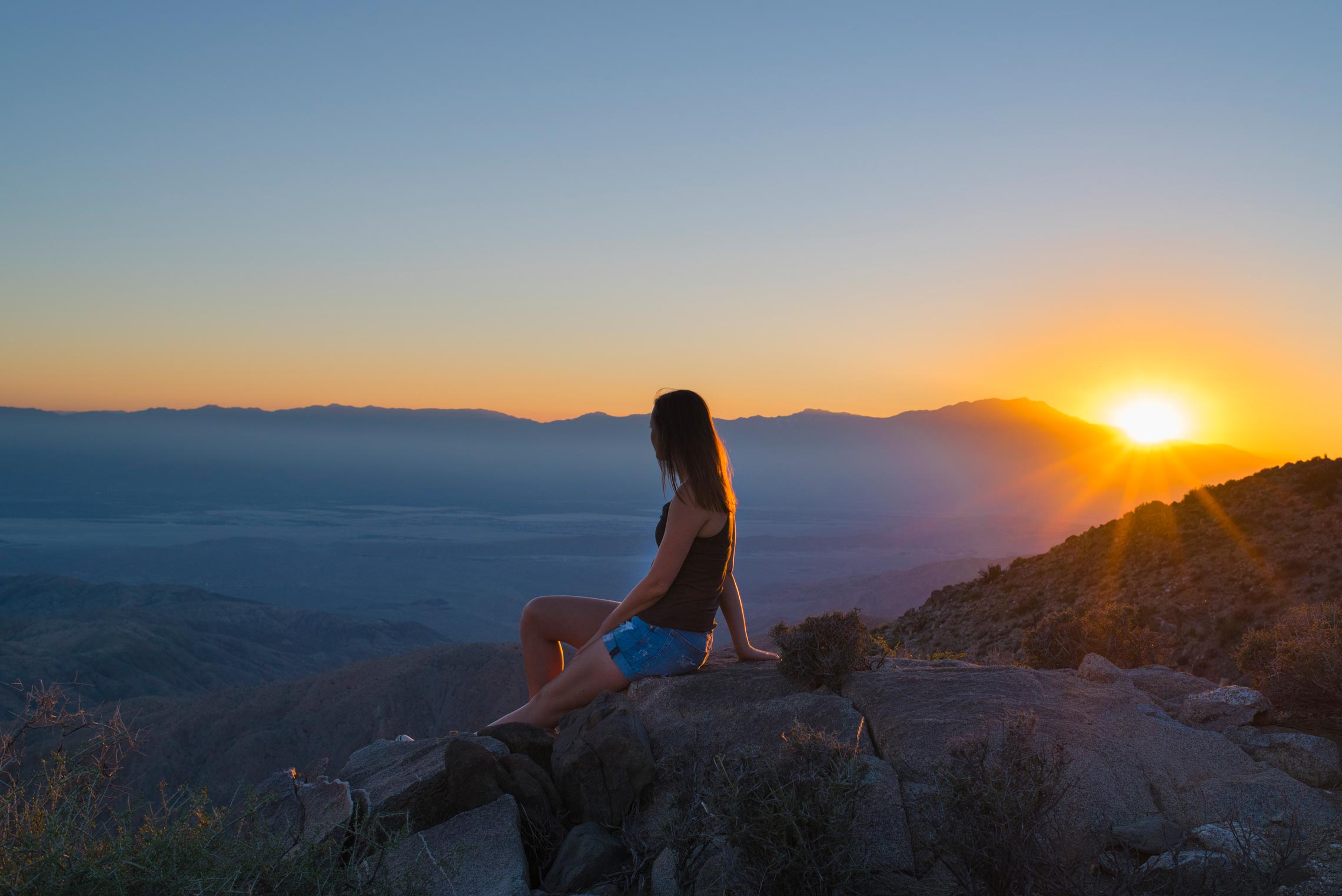 Clarify your priorities
If you're someone who's constantly getting caught up in small, day-to-day tasks and you feel like you never get anywhere with your important, longer-term goals, it's time to clarify your priorities. If your days just get sucked away and you don't feel like you're moving closer towards your vision, it's time to take a step back and re-evaluate. A good way to combat this is to not only set daily goals, but also weekly and monthly goals too. Then, when you write your to-do list each day, include some actions that will help you achieve your weekly and monthly goals too. This will help you stay on track and help you stay focused on working towards what's important.
Stop playing the comparison game
Getting caught up in the comparison game is a surefire path to blogger burnout… fast. It's easy to look around at all the other bloggers out there who seem to be growing in bounds and leaps while you feel like you're stagnating. Maybe their social media numbers are going through the roof whilst yours are barely moving. Are their posts going viral while yours are hardly attracting any clicks? Do they seem to be inundated with opportunities while your inbox sits empty?
Comparing yourself to others doesn't do anything except steal your joy and leave you feeling inadequate. If you stop focusing on others and instead pour your energy into simply creating YOUR best work, you'll notice that the growth will happen organically on its own.
Related: 9 Reasons Why No One is Reading Your Blog (And How to Fix It!)
Have a life outside of blogging
If all you ever do is live and breathe your blog, it's actually really unhealthy. We all need to have a life outside of blogging and the online world. Whilst you might pour a huge number of hours into your blog (blogging might be your full-time job after all), it shouldn't be your be all and end all. Remember to schedule coffee dates with friends, go and exercise and spend time with your family. Have interests outside of blogging (I for one love reading and cooking) and make an effort to go and do fun, new things on the weekends with someone you like to hang with.
Seek support from your community
Whenever you're going through something difficult, it's always important to reach out for support. Letting people know that you're struggling isn't a sign of weakness, it's a sign of strength. Connect with your audience via your blog and social media and be honest about the challenges you're facing. You'll probably be amazed by the show of support and encouragement from your readers.
Also reach out to other bloggers about how you're feeling – these are the people that will really GET what you're going through and, chances are, they've probably also been through a similar thing. Chat to them to see if they can recommend any strategies for dealing with burnout and, if you can, get offline and organise to catch up over coffee for a good old spill sesh. I also love connecting with all the wonderful bloggers in The Department of Wandering's Laptop Army, our free, private Facebook group. Speaking of which, come on over! There's lots of room for you too.
Take a blogging break
One of the best ways to combat blogger burnout is to just take a good old fashioned break from your blog. For creative people, some of the best ideas come when we're having a break. Give your readers a heads up and let them know you'll be going offline for a few weeks. I did this during my burnout. I took a few weeks off, focused on other things and was amazed at how re-energised and motivated I felt when I came to my blog again.
Looking for more blogging tips? Be sure to access our FREE Blogging Resource Library! You'll also love these other posts of ours:
Like this post? Pin it for later!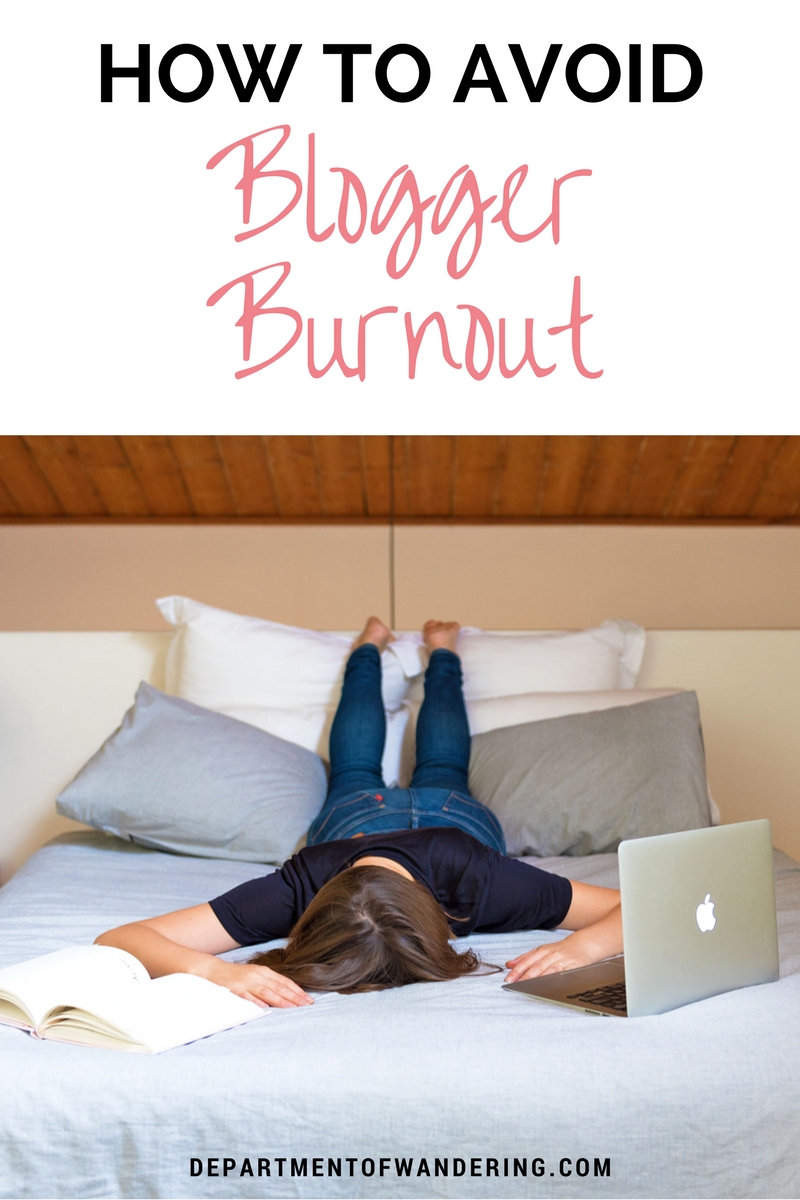 Have you ever experienced blogger burnout?